Are you hosting a dinner party, throwing a birthday bash or creating the perfect atmosphere for a gathering of friends? It's not always easy to find tasteful decorating themes that aren't too…well…theme-y! Today our goal is to inspire you with these fun yet classy entertaining motifs.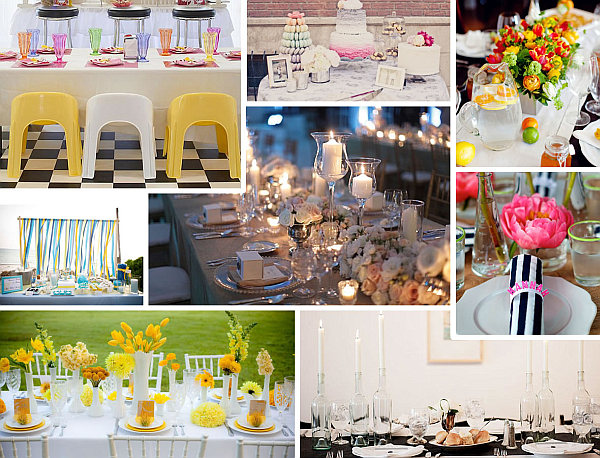 From party tables that make a big statement to subtle spreads with a touch of festivity, the ideas below will inspire you with their creativity and flair. If sticking with a color scheme is too rigid for your taste, opt for an eclectic table that manages to shine without being too matchy-matchy. If you're after a polished spread, enjoy coordinating every last detail. Look for your party personality in the images that follow:
Golden Candlelight
Our first featured table looks best in the moonlight–or shall we say candlelight? Perfect for a nighttime gathering, a clever choice of colors and lighting brings the look to life. Opt for a golden tablecloth and roses in white and blush. Light candles of various heights and watch as your decorations dance in the shimmering shadows of evening. [photo by Jessica Claire via Elizabeth Anne Designs]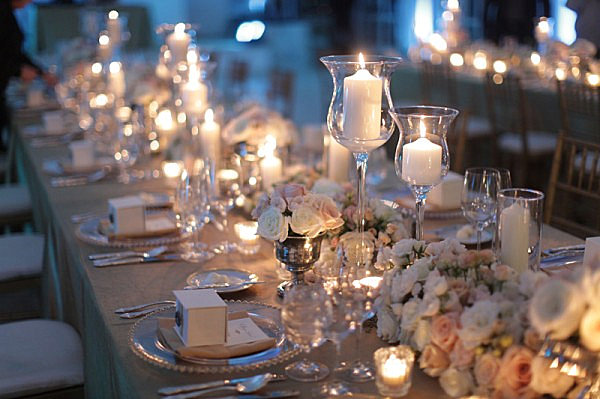 A Vision in Green
Sometimes a strong color says it all! Lime green is a vibrant shade that adds power to a party table, especially when you accent the spread with verdant spider mums. To maximize the effect, choose a tablecloth in an alternate shade of green, but repeat the lime hue in an edible treat such as candy. [from Caroline and Even Photography via Chic Sweets]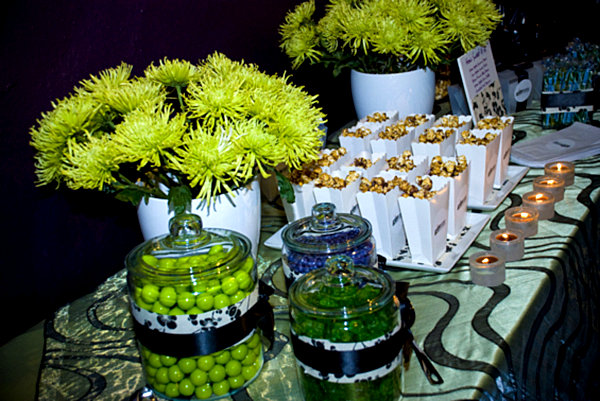 A Sunny Table
Celebrating the sunshine of a bright day is a great way to create a glowing party atmosphere. Nothing echoes the sun's energy like bright yellow flowers! To make these blooms pop, surround them with white table decor. For a unique touch, use pin-cushion protea as place card holders, as shown below. [photo by She-n-He Photography via Camille Styles]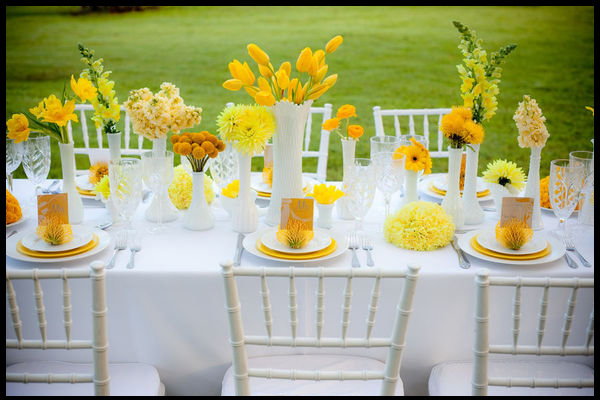 Rustic Lavender
Lavender is soothing and fragrant. Place bundles of these blooms in vintage glass bottles for an understated yet charming effect. [photo by KT Merry via Elizabeth Anne Designs]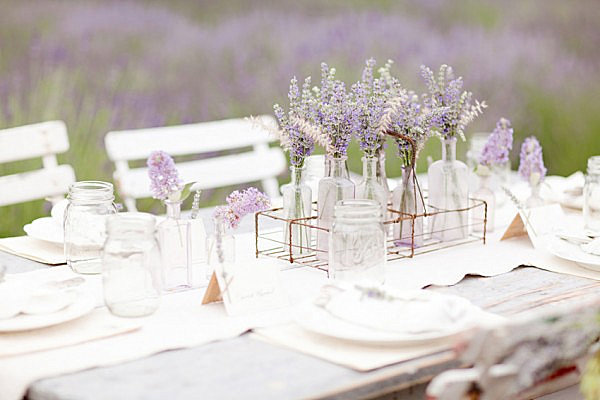 Pretty in Pink
Girly and classic, pink can also go glam, elegant, and vintage. A strawberry pink theme is alive and well in the image below, which showcases a birthday table for a four-year-old. Note how tissue paper flowers add pizzazz to this motif. Not to mention, desserts look extra sweet when surrounded by rosy hues. [from Kiki's List via Kara's Party Ideas]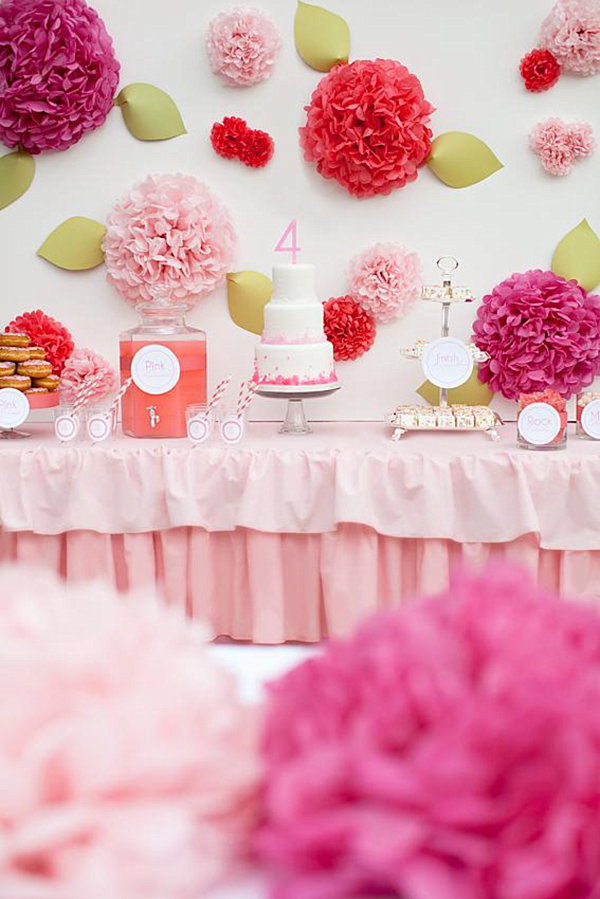 Two-Color Scheme
One of today's popular party trends involves choosing two colors and repeating them in the decor. While an official color scheme can be overbearing if overdone, it can also be stunning when used sparsely, as in the red and blue birthday spread below. Note how the airy room and white walls keep the bright hues from overpowering the vignette. [from Dulce Sobremesa via Eat Drink Pretty]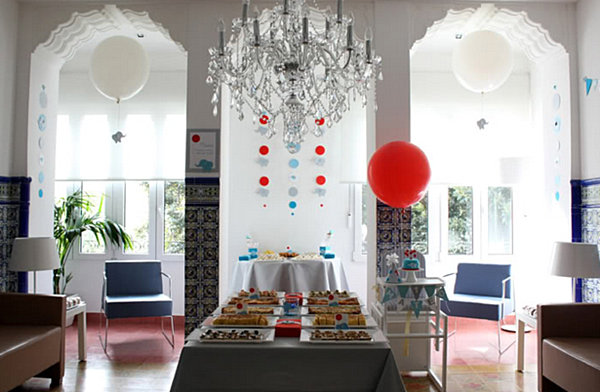 A Modern Rainbow
Speaking of sparse, sometimes less is more when it comes to party decor. In this next image, rainbow colors take center stage precisely because the party table is subtle. Origami cubes hang from the ceiling while rainbow edibles repeat the multi-hued motif. [from Annily Green]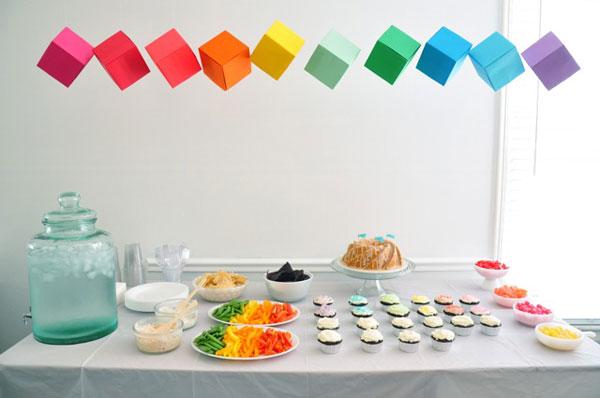 Clear and Simple
On a similar note, keeping tabletop decor clear and simple can help create a modern vintage look. In the image below, classic white plates are perfectly chic, especially when complemented by candlesticks in clear glass bottles. [from Turner Creative Photography via Style Me Pretty]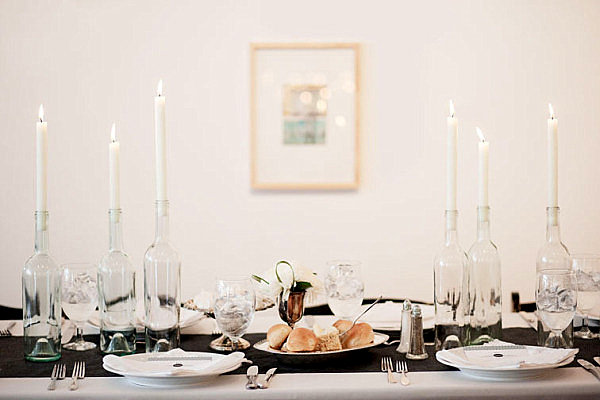 English Elegance
If flowers will be the focus of your party, consider creating an English garden effect by filling urns with an assortment of blooms such as peonies. [from Simply Bloom Photography via Style Me Pretty]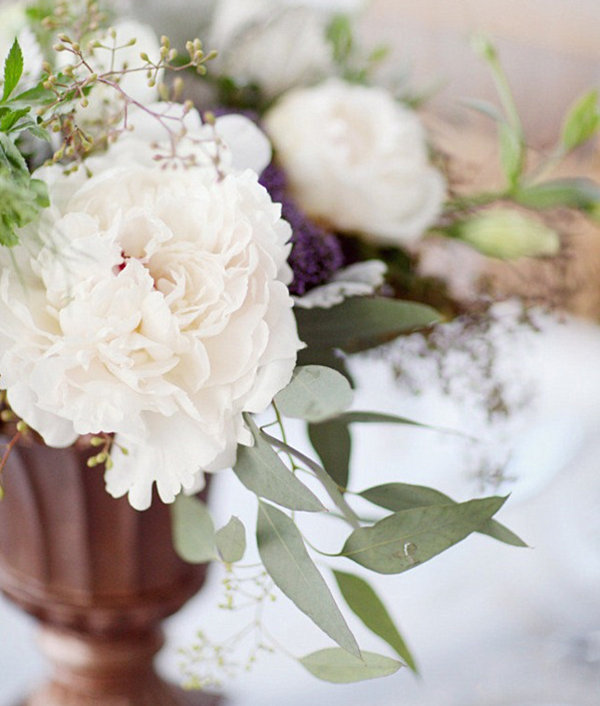 Contemporary Tea Party
Nothing says charming like an afternoon tea party! Consider adding a contemporary vibe by channeling the clean-lined decor of a Japanese tea ceremony. To top it all off, check out a tutorial for the DIY paper lanterns below at MarthaStewart.com.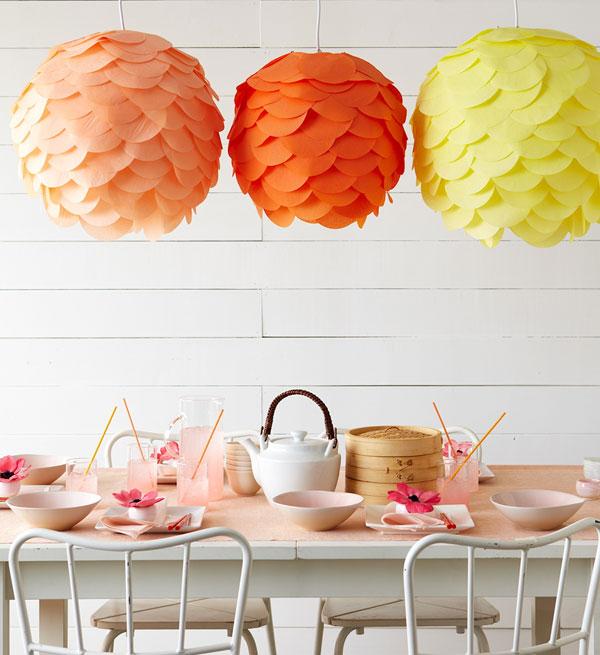 A Little Bit Country
Go country with a dessert-filled table. Earthy touches like woven baskets enliven this county fair theme, as do an abundance of delectable goodies such as cupcakes and rhubarb pie. Fresh fruit jams are the icing on the cake! [from Half Dozen Designs via Kara's Party Ideas]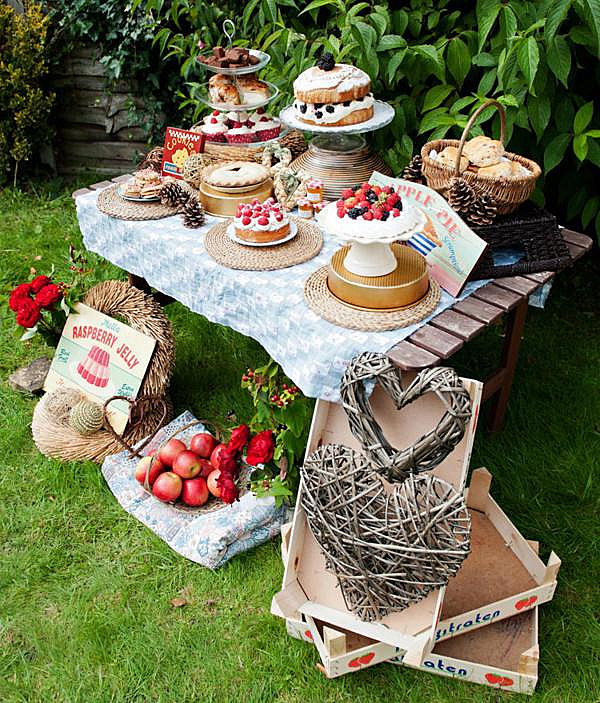 Picnic Style
If you know you'll be outdoors, consider going with a picnic theme. Checkered patterns on both tablecloth and napkins intensify the picnic effect, as do sandwiches, tea and fruit. [from Latest Furniture Trends]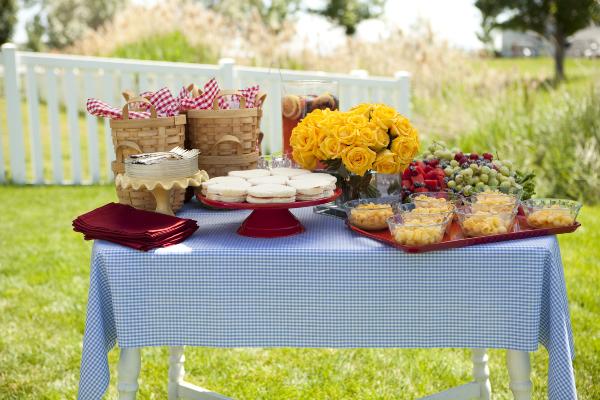 Garden Party
For a garden party to remember, bring blooms to the table with the help of glass bottles. Tall flowers with long stems, such as peonies, are perfect for this arrangement. Low candles are an ideal contrast to the floral centerpiece. For added festivity, string globe lights from branch to branch. [from Better Homes and Gardens]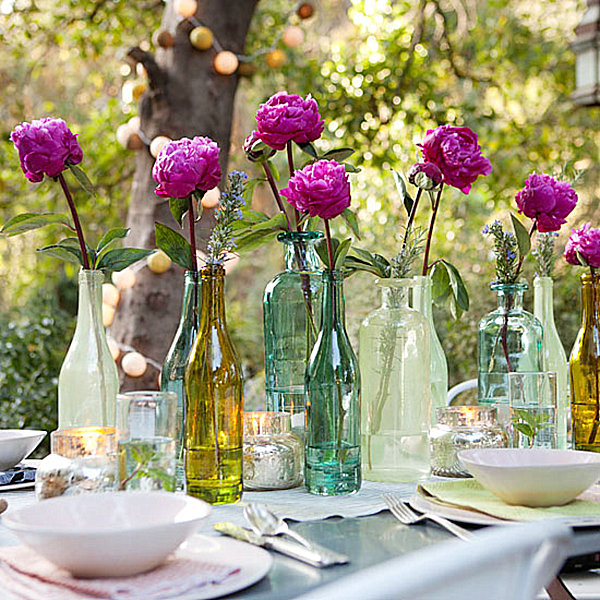 Say It With Citrus
Citrus hues are eye-catching, especially when reflected in flower and fruit. Below we see blooms in shades of yellow and orange. Lemons and limes help define the motif, as do freshly cut citrus slice garnishes. For more decorative details, check out Elizabeth Anne Designs. [image by Olivia Leigh Photographie]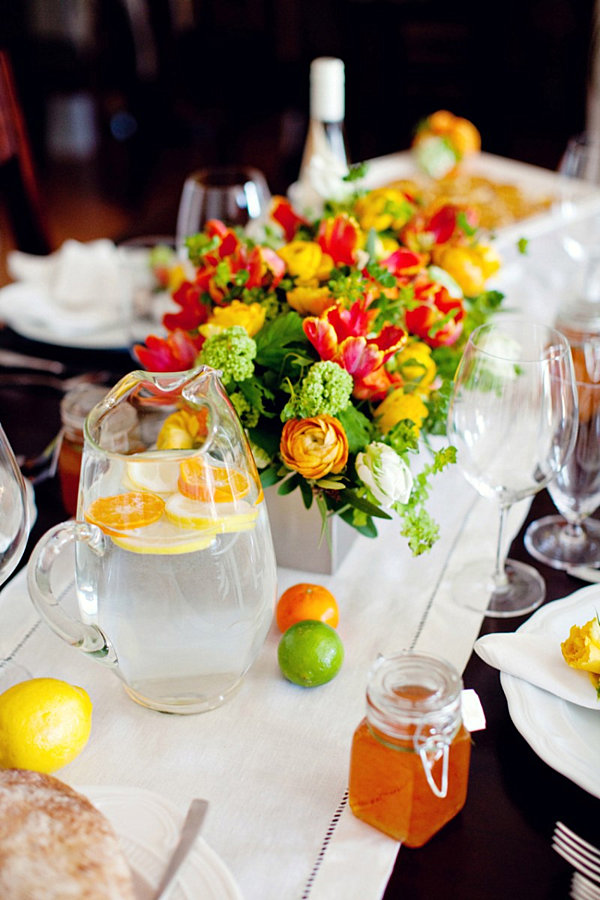 Summer Stripes
Navy and white stripes are ultra summery, especially when offset by vibrant hot pink flowers. Glasses with lime green rims complete the look. If you enjoy the thrill of a good craft project, the DIY napkin ring place card project below is for you! Check out the full tutorial at Camille Styles.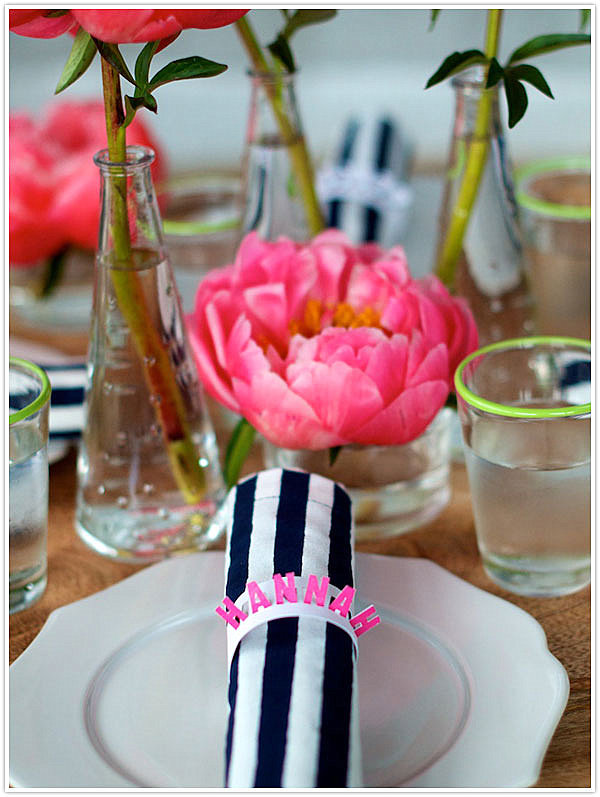 Guest of Honor
When the point of the party is to honor a special someone, place the honoree at center of it all. The letters of his or her name are a great place to start! Keep things classy by creating a dot banner as a party table backdrop, and stick with subtle hues for an understated effect. [from Dulce Sobremesa]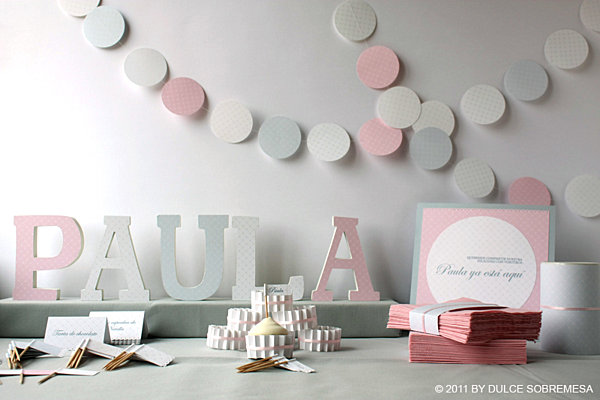 A Touch of the Sea
This next party theme is anything but subtle! Wooden sailboat table toppers, a flag banner and white sailor hats contribute to the nautical motif. Don't forget the navy tablecloth! [from Sweet Designs]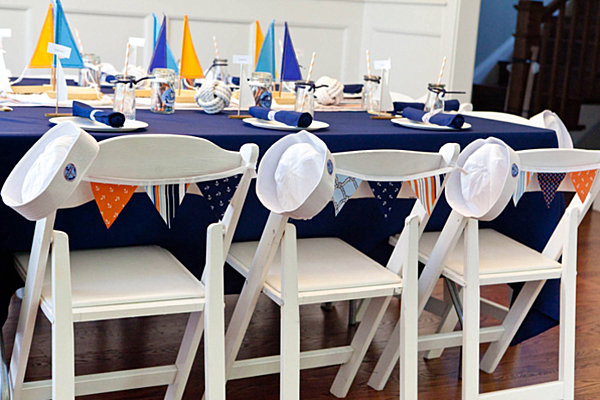 Circus Chic
For another bold theme, go with a vintage circus motif. Red and white stripes are a great place to start. Shades of blue are an excellent primary color contrast. Not to mention, the whimsical nature of circus decor paves the way for an assortment of treats from childhood. Bring on the caramel corn! [from Phillip Lloyd Photography via Chic Sweets]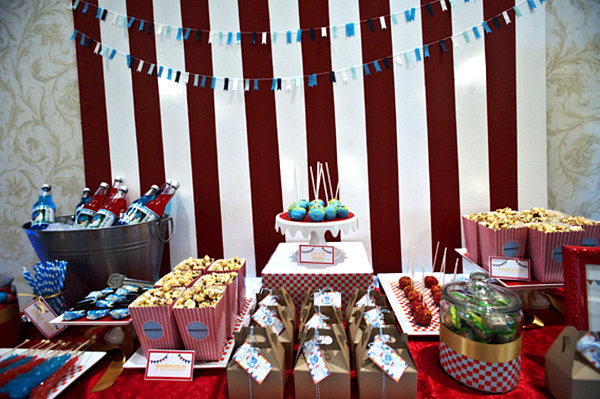 Modern Fairy Tale
Another child-friendly party motif involves updating the fairy tales of yesterday with today's contemporary style. In the image below, a Snow White and the Seven Dwarves-themed party features an apple-topped cake, a "mirror" centerpiece and renderings of woodland creatures on food labels. [from Dulce Sobremesa]
Worldly Wise
It's time to travel the world with the help of your imagination! A vintage globe, an antique map and earth-toned decor complete the retro vagabond look of this next featured party. [from Sweet Designs]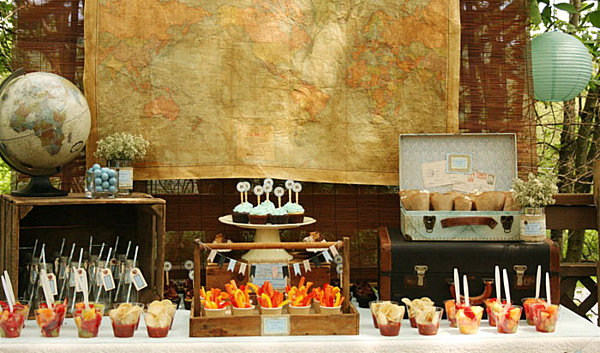 Something Sweet
If sweets are the edibles of choice, create the DIY dessert bar below. Designed by Chic Sweets, this yellow and blue spread can be yours with the help of a full tutorial at Style Me Pretty. [image by Limelight Photography]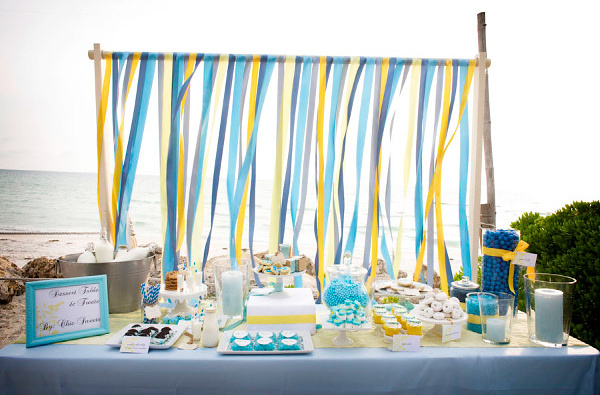 Pastel Pastries
There's just something magical about a spread of pastel desserts on vintage cake stands in soft hues! Treats like strawberry marshmallows, lemon drops, cupcakes and frosting-covered cakes are almost too pretty to eat! But somehow you'll find the strength to dig in! [from Minted and Vintage via Sweet Designs]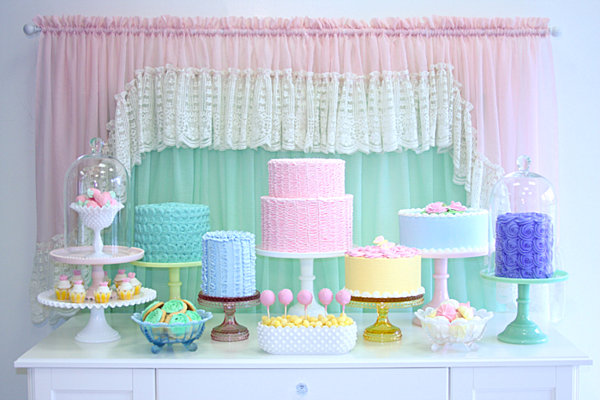 Stack It!
For a similar look, continue with a soft color scheme and stack serving pieces high with goodies. For example, a macaroon tower and layered cake nicely complement dessert domes of various heights. On a side note, the strategic coloring of frosting results in a gradient effect that emphasizes the cake's tall form. [from Onelove Photography via Sweet Tooth]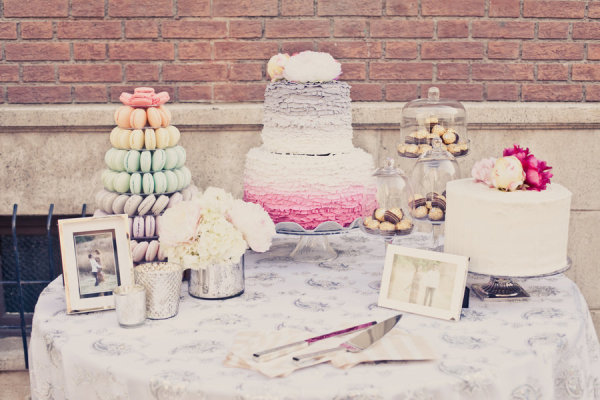 Ice Cream Social
We can't forget about the appeal of chilled treats, especially when the hot weather hits. For an ice cream social party motif, create a bistro-style setup that combines elegance with an abundance of tasty possibilities. Designed by Jeni's Splendid Ice Creams, the sundae bar below includes pie crust cookies, fruit sauces and garnishes, all labeled so guests can be sufficiently tempted. [from Better Homes and Gardens]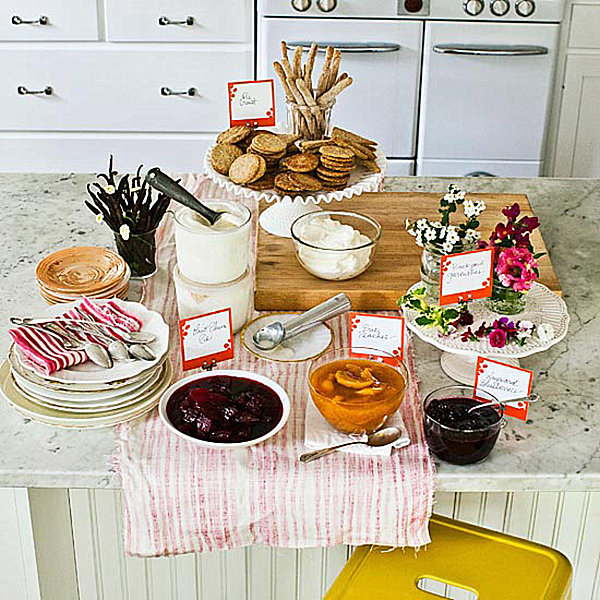 Malt Shop Magic
We end with a malt shop party theme that's perfect for children's gatherings. In fact, the sweet shoppe-style decor below was showcased at a joint birthday party for both a little girl and a little boy. Sweet treats included macaroons and cake pops. [from Kara's Party Ideas]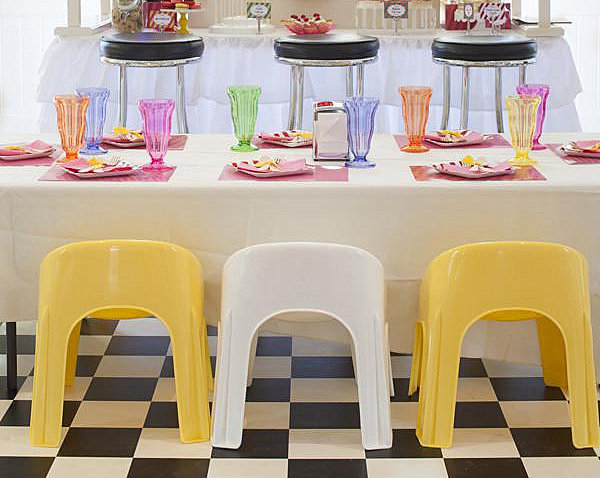 As you can see, party planning isn't what it used to be! Many of the tables above were styled by professionals who were hired to create the perfect party atmosphere. Yet others were the result of a little imagination and DIY determination. Even if a party isn't lurking on your horizon, setting a special table for loved ones can bring flair to everyday life. To create your party table, use what you have, make what you don't, or go all out with a few fancy purchases to achieve the party of your dreams!