Bringing wood accents into a room is a perfect way to add warmth and comfort to the space. Using tree trunks as furniture has become increasingly popular and for good reason – they are versatile pieces that can be cut in different ways and used as tables or as seating. The fact that you can also bring in nature without the use of plants is wonderful, because it's a reminder of the beauty of trees right inside our homes.
Solid Tree Trunk Tables
This rustic trunk is massive! I love the use of wheels on this piece, because it's obviously practical – moving around a trunk this size would be difficult to do! It's also very beautiful because it's not polished in any way. The bark has been taken off, but the edges remain a little rough and the color is completely natural. [Via Dishfunctonal Designs]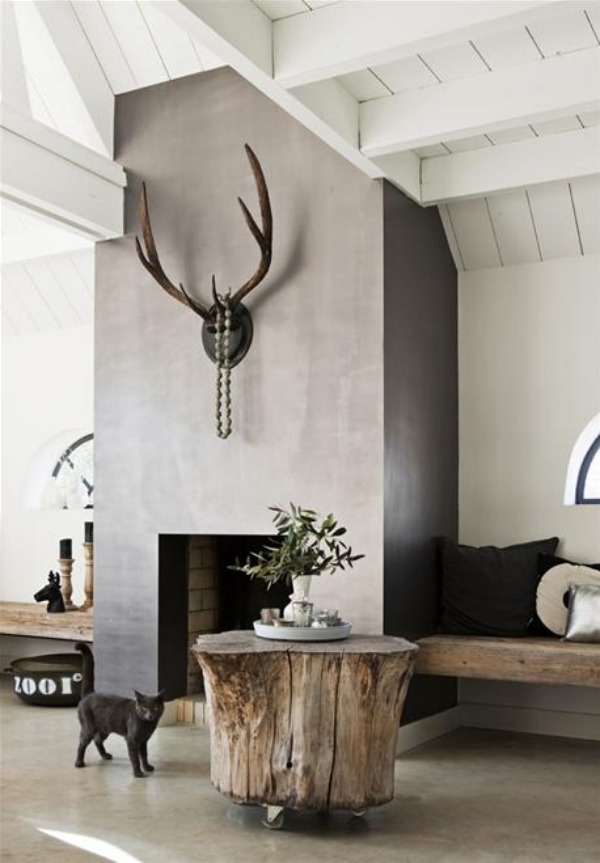 Again, these are on wheels – you will notice a theme here, because these tree trunks are very heavy, indeed, and if they are to be functional, they need to be moved easily. These would make great stools for extra seating when you have guests over, and can even easily be moved outdoors if need be! [Via &Suus]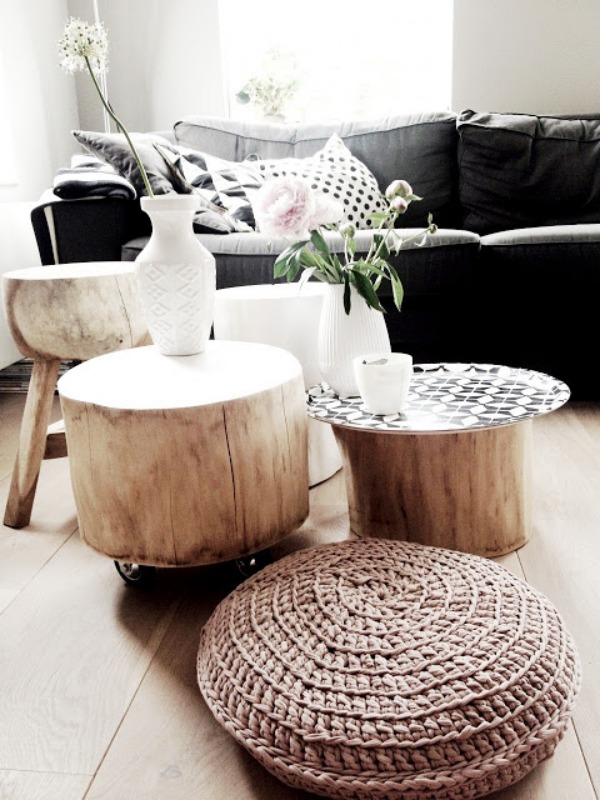 How amazing is the shape on these? I love that the trunk is not just a rounded piece, but the natural shape of the tree trunk has been maintained. These are white-washed, and they look quite stunning, but also a little more polished than the ones with rougher edges and natural coloring. This would be a great addition to a beachy room. [Via A Beautiful Mess]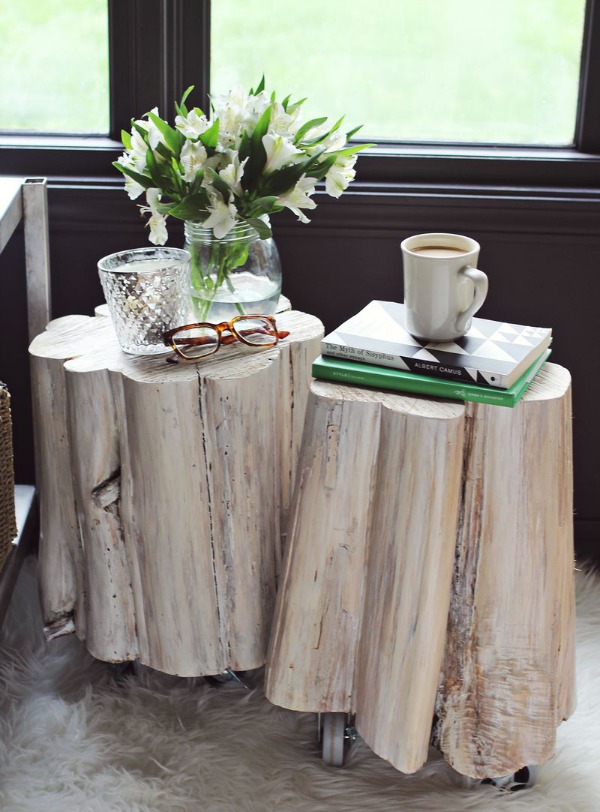 Rather than using wheels to lighten the load, this trunk table has carved legs, which also make the piece appear lighter. I love that the decor of the room is light and airy, and the shades of grey really pop on the tree stump, thanks to the muted greys in the room. Such a great combination of warmth with cool colors. [Via Vintage Piken]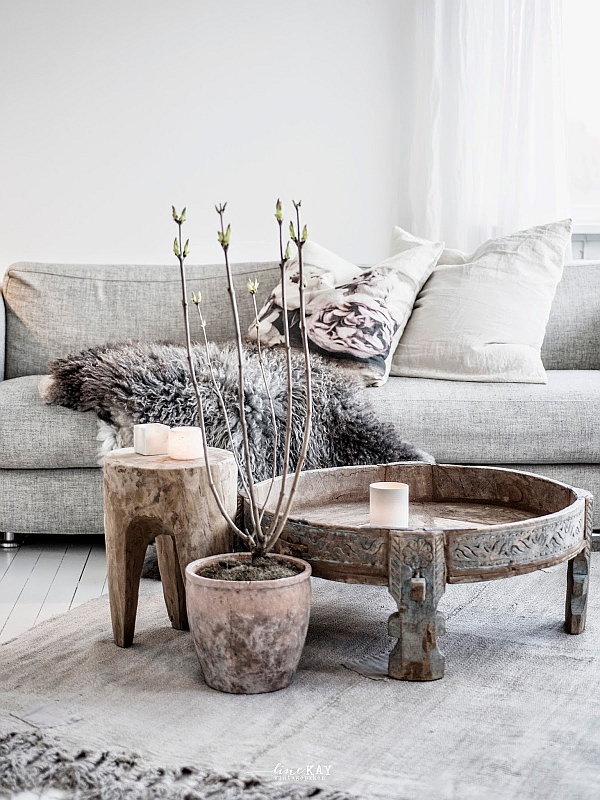 Horizontal Trunk Slices as Tabletops
I love how light and airy this piece looks, and yet it probably weighs a ton! The thin metal legs adds a weightlessness to this normally chunky piece of wood, and it look so perfectly smooth. It must have taken a long time to sand this puppy down! [Via Very Rosenberry]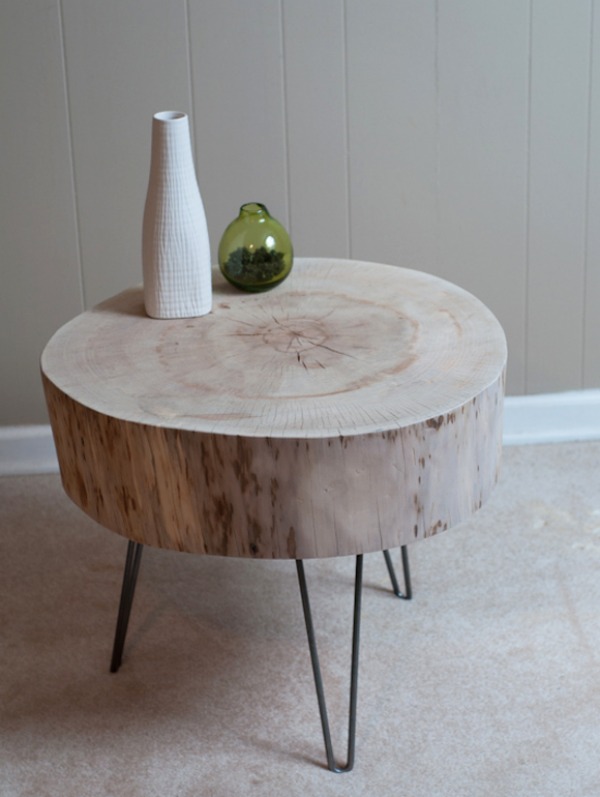 Although these have similar legs to the last table, they have a drastically different look. The bark was removed, but the natural shape and colors, and also the natural cracks in the wood have been kept and give these a much warmer and more rustic feel. However, I could see these in almost any room – from bringing natural tones to a traditional room, to bringing a touch of the outdoors to a modern space. [Via My Modern House]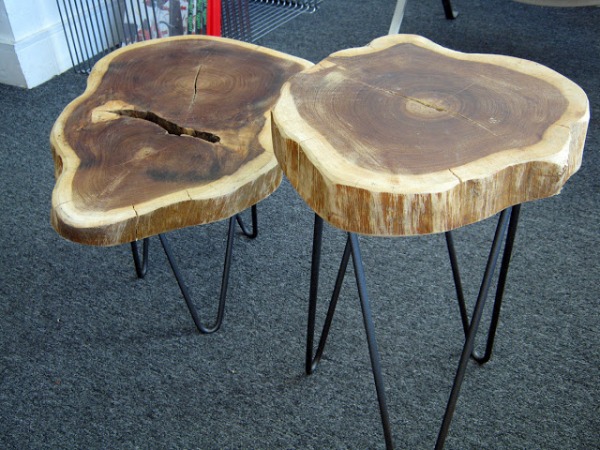 You want a stool/side table that has rustic and modern qualities? Well here it is. This little slice (pun intended) is exactly the perfect mix of two elements that are not normally seen together, but when done right, it just works! The great part about this is that it's also a DIY project! [Via Apartment Therapy]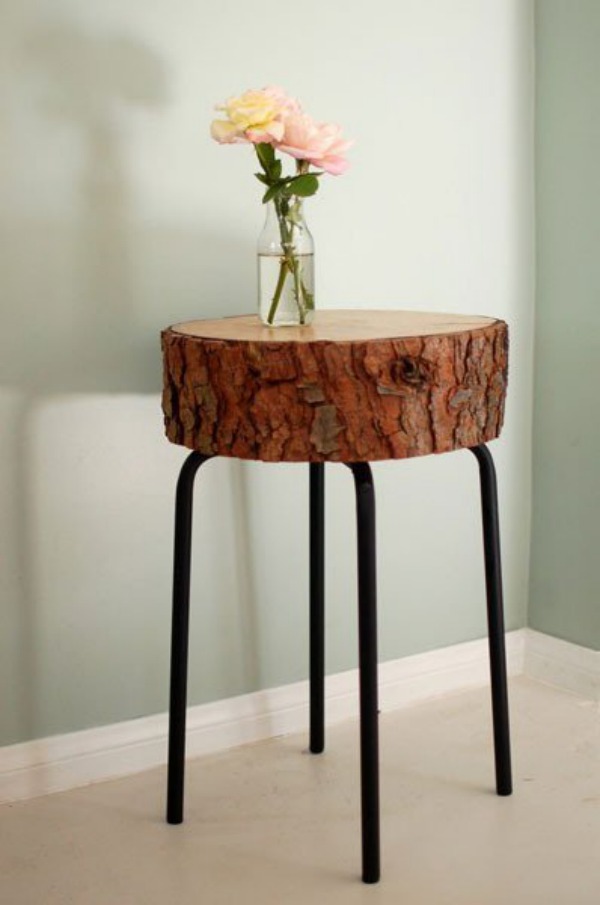 Vertical Trunk Slices as Tabletops
More wheels, but this time we get a long and low coffee table. By slicing the trunks vertically, you get a large flat surface. This could easily be made into a dining table with some taller legs, too! Also note: how great are those low floor cushions?! [Via Bjorkheim]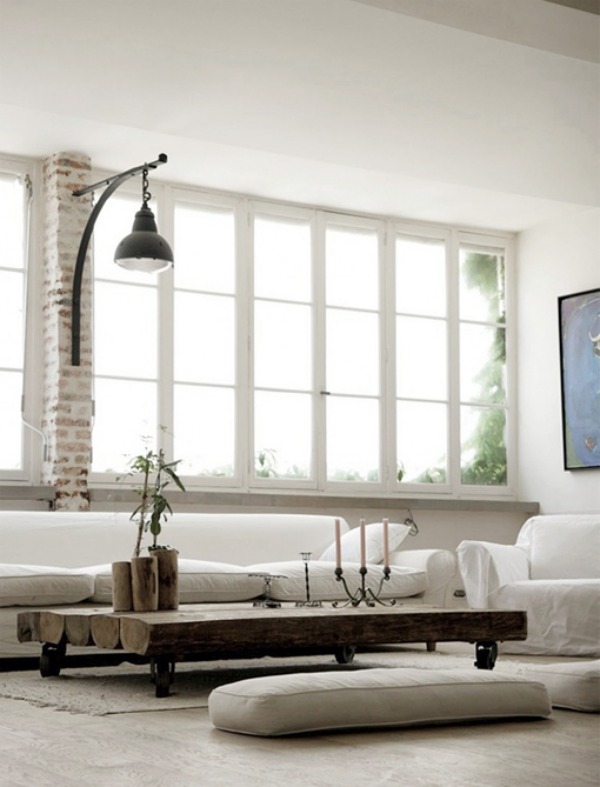 Take one very large tree and cut a slice through it, from top to bottom, and you have the most unique, most amazing tabletop! The colors, the knots, the swirls – they are all wonderful and make this a truly one-of-a-kind piece. Another great mix of minimal and rustic. [Via Contemporist]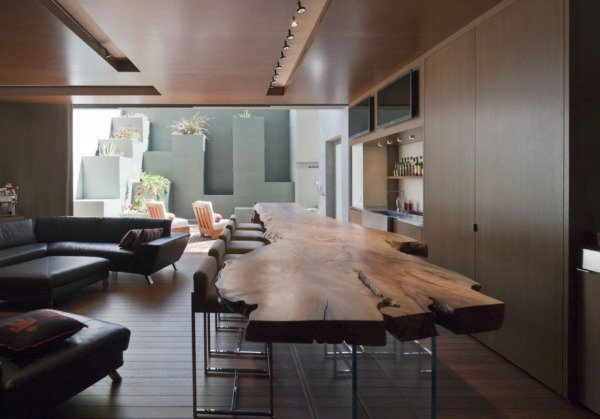 Can I start by saying that these are IKEA legs? Pretty awesome and a bit industrial looking when paired with this chunk of tree as the tabletop, right? I love the juxtaposition of the daintiness of a vanity being made a little rougher by having an unfinished piece of wood on top. [Via Apartment Therapy]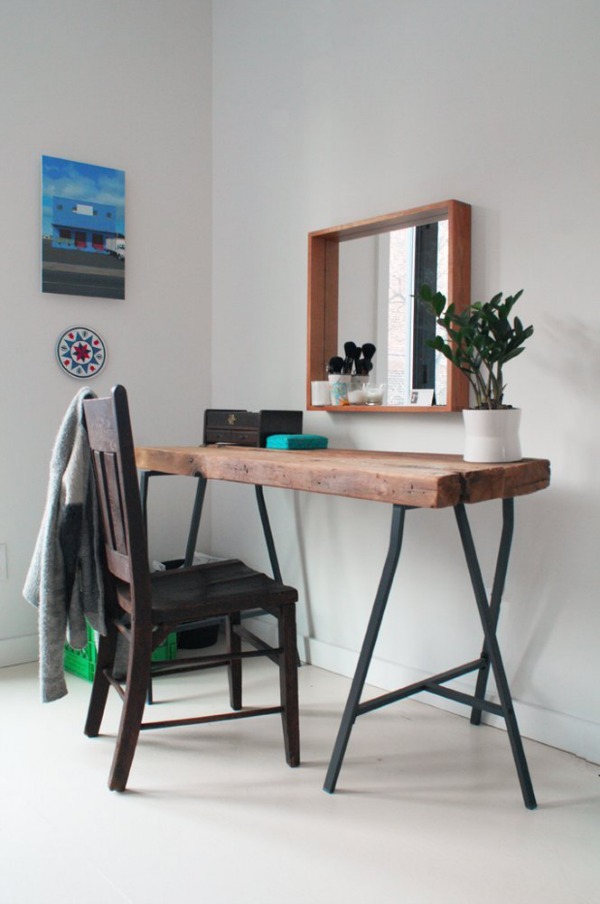 Personally, I have two tree trunk chunks waiting to be finished in my garage, and I am now filled to the brim with inspiration for what to do with them. How about you? Any plans to makeover a hunk of wood into something beautiful and useful for your home? It sure is tempting, isn't it?