Three reasons to love stainless steel: it's durable, it reflects the light, and it's stain- and heat-resistant. We at Decoist have recently been profiling interiors featuring this wonder surface, including kitchens with stainless steel countertops and stainless steel backsplashes. Did we mention that stainless steel is easy to clean? Today we explore a new realm for this metallic material–the stainless steel kitchen island. Check out the stylish spaces that follow and discover a new way to bring the shine of stainless steel into your culinary space…
Stainless Steel Kitchen Island Style
Let's start by talking style. In which types of kitchens do stainless steel islands typically appear? And what types of variations in design do we see when it comes to the form of the island itself? Turns out these functional focal points are also truly versatile. Below we see a modern eclectic Brooklyn loft kitchen featuring a custom stainless steel kitchen island. This space is anything but minimalist. Yet the clean lines and silver sheen of the island give it a sleek, contemporary feel. [from Corynne Pless via Houzz]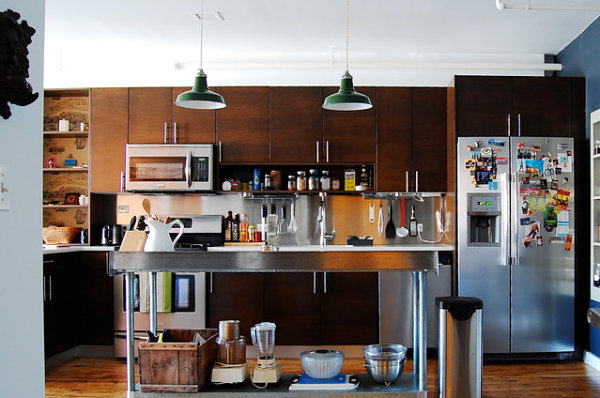 Stainless steel is perfect for kitchens featuring clean lines and neutral tones. The overall effect is clean, crisp and modern, as shown below. [from Birdseye Building]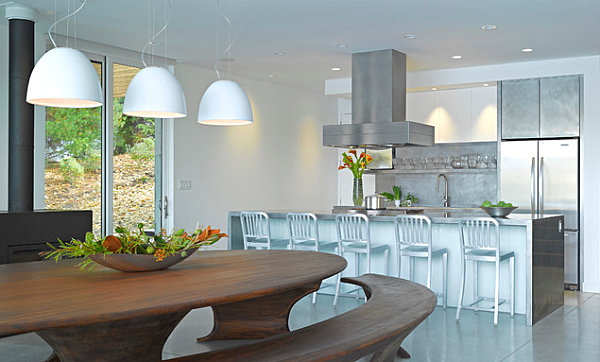 Some kitchen islands double as dining tables. Note how the island below is the perfect spot for a bite. Not to mention, it easily looks at home in this tropical space filled with warm tones and signs of nature's bounty, from the dish of fruit to the lush greenery just outside the window. [from Maienza Wilson]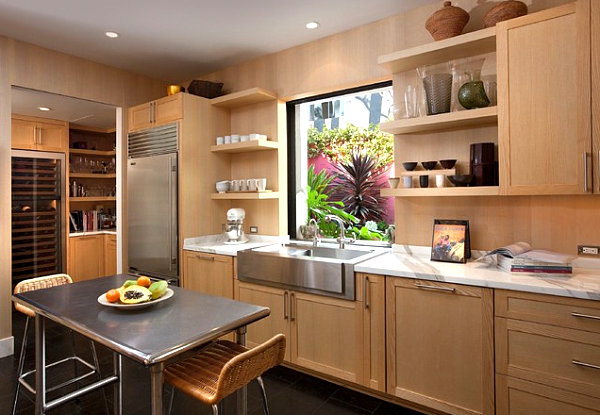 "Industrial" is the word in this stainless steel kitchen! Note the pedestal base of the island, which instantly makes the feature a standout in this gleaming space. [from Citywide Builders]
This next featured kitchen has a lived-in look, thanks to the functional island with below-level storage. The space is modern, industrial and practical, with a clean feel that invites you in to prepare or enjoy a delicious meal. [from Archipelago Hawaii]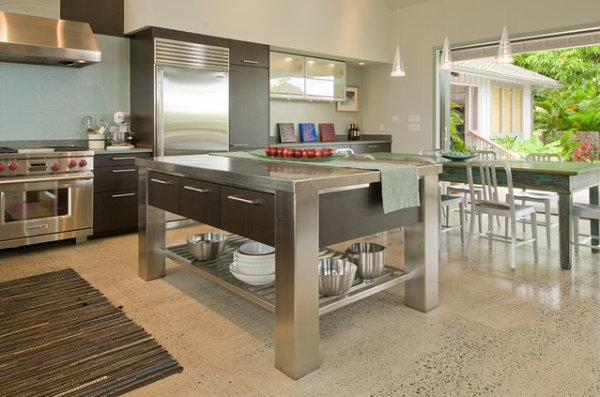 Love the historic feel of the next kitchen, which features a black and white tile floor, as well as crisp white walls and cabinetry. [from Gardner/Fox]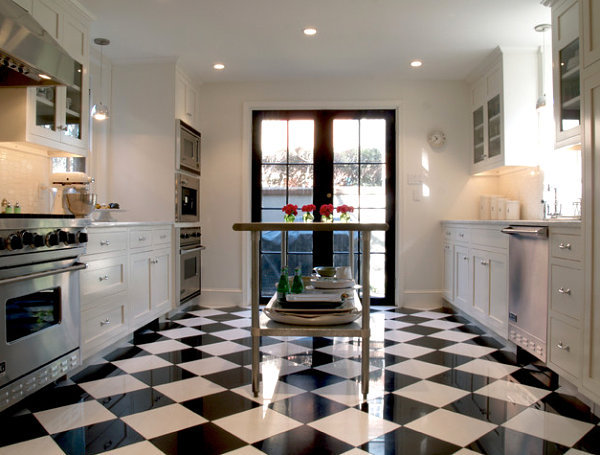 Keep in mind that not all stainless steel kitchen islands boast stainless steel surfaces. Sometimes the very top is made from another material, such as marble. In the kitchen below, long lines are key, and the island with a built-in stove is the perfect shape for the space. Also note the handy storage function it provides. [from Ira Frazin Architect]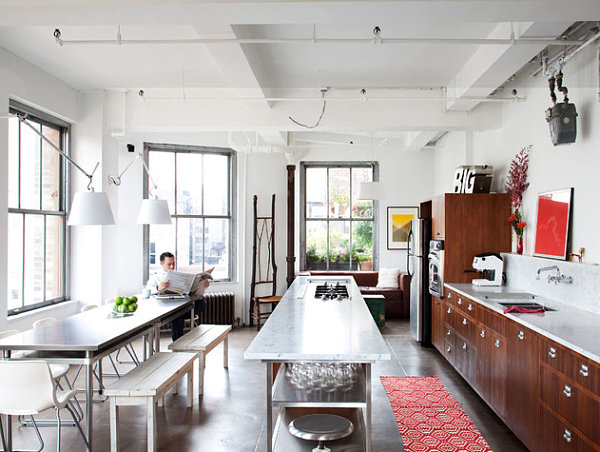 Accessorizing Your Stainless Steel Kitchen Island
Exactly how do you go about accessorizing your kitchen island? There are no hard and fast rules–and plenty of good ideas. Below we feature a few of them. For example, the island in the next featured image reinforces the neutral tones of this modern kitchen. Yet the red Series 7 stools (available at Design Within Reach) truly make the space pop. [from Ziger/Snead]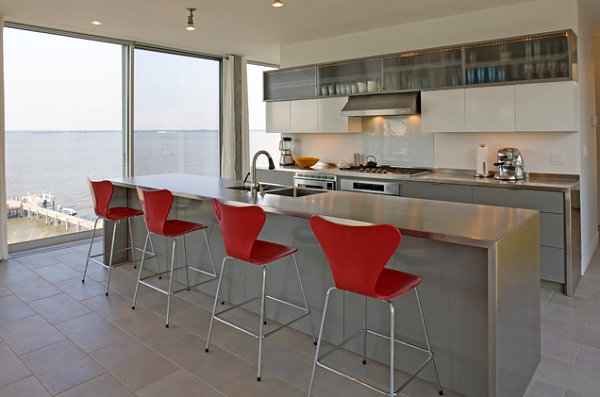 When it comes to accent pieces for your stainless steel island, you don't have to rely on a heavy dose of color. Sometimes a little bit of greenery can add life to the space, as can a bowl of fresh produce. [from Gregory Phillips Architects]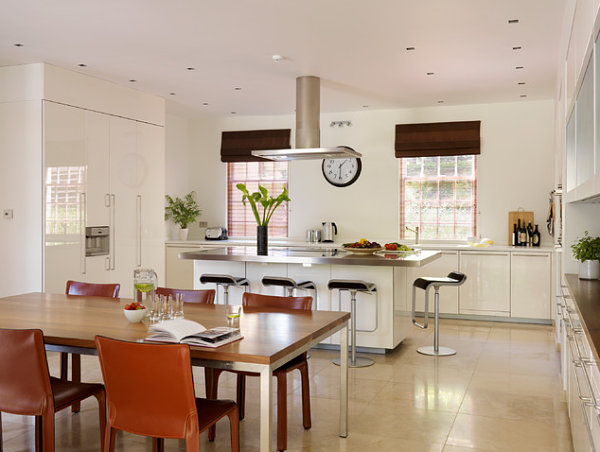 …and there's nothing like a vase of vibrant flowers! Also note how the reflective shine of the stainless steel is perfect for a bright space like the kitchen below. Not to mention, the chandelier overhead proves that the right accessory can dress up your kitchen–and the island that inhabits it. [photo by Ken Gutmaker for Lucy Interior Design]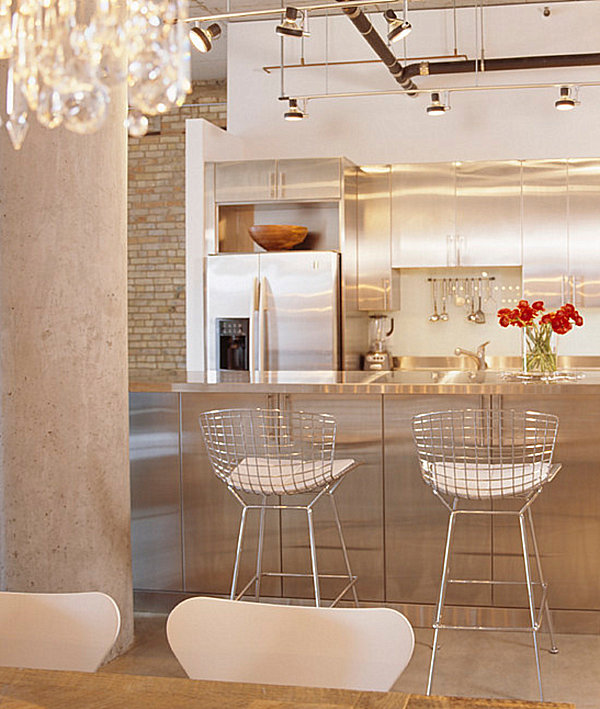 Flowers and produce are by far the most popular stainless steel island accents. And if there's built-in shelving or storage, you have another opportunity to make a stylish statement with a group of serving pieces or other collectibles.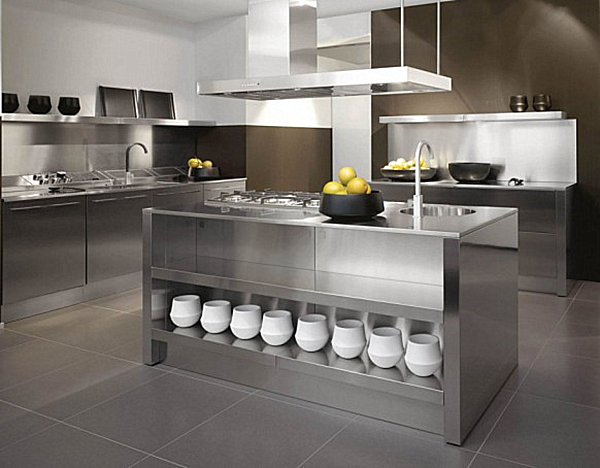 But remember, sometimes the best accessory is no accessory at all. In this minimalist kitchen, shiny surfaces take enter stage, along with a modern marble backsplash. With no clutter on the kitchen island and countertops, the materials themselves are allowed to truly shine. [from Jorie Clark Design]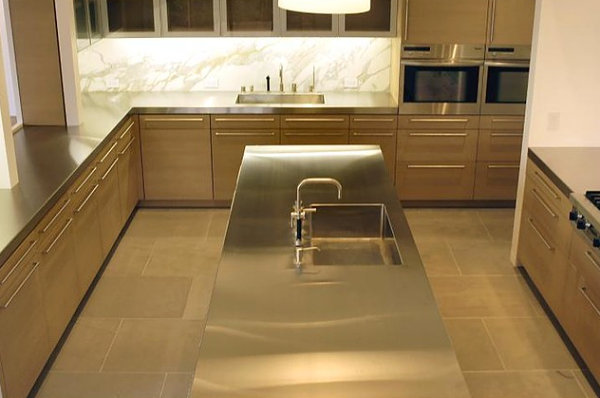 Liked the story? Share it with friends.