When it comes to kitchen countertops, why go with stainless steel? For one thing, this metallic material is extremely durable. No wonder so many industrial kitchens feature stainless steel! On that note, stainless steel can create an industrial look, yet it's so versatile that it can also look sleek in the right setting. Not to mention, many bistro kitchens feature this material on the counters. Then there's the ability of stainless steel to reflect the light, which adds a handy and stylish level of brightness to your culinary space.
Stain-resistant, heat-resistant and practical, stainless steel countertops are long-lasting and attention-grabbing. Today we feature 15 kitchens that showcase this wonder material, from bright white spaces to sleek, dark interiors. If you're considering going with stainless steel in your culinary space, check out the images that follow. Not only will you see beautifully designed examples of kitchens that incorporate stainless steel into the mix, you just might pick up some helpful kitchen decorating tips as well…
White Walls and Stainless Steel
There's no denying that stainless steel pops against a white background. Not to mention, nothing beats the clean, refreshing look of white walls and stainless steel countertops. [from HITMEDU]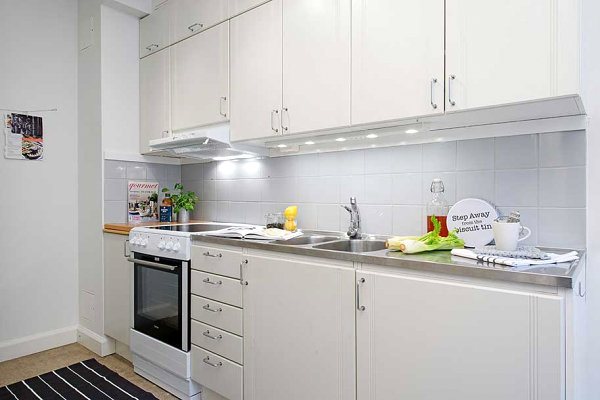 One popular design choice: a high-gloss finish on the cabinetry and stainless steel on the countertops. Add a tile backsplash, and you have a refreshing modern space. [from Venegas and Company]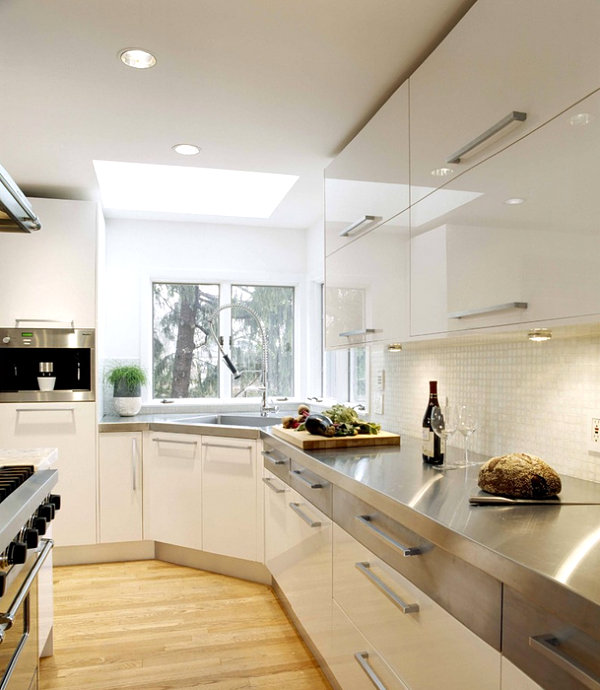 A large number of white kitchens featuring stainless steel also showcase tile, such as the subway tile shown below. Open shelving, sleek hardware and pops of blue and green help give this culinary space its standout look. [from Cameron MacNeil Designer]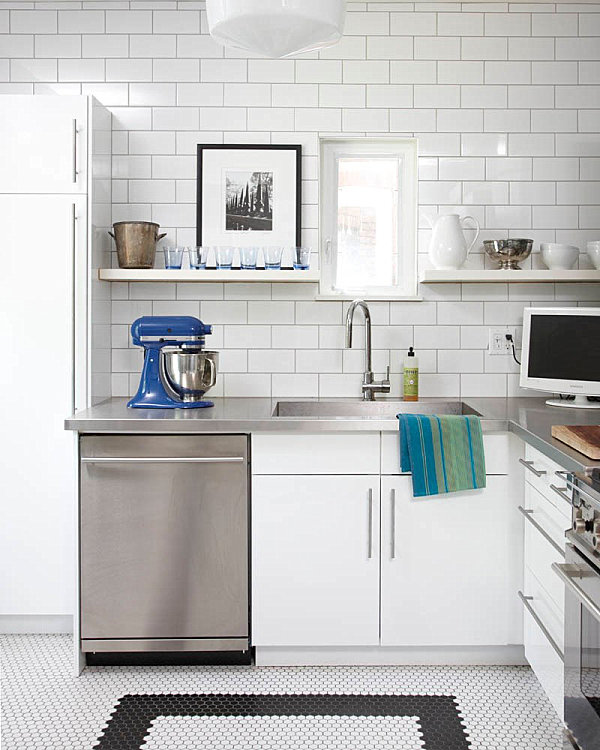 Because stainless steel is often used in industrial spaces, it has the ability to add interest to traditional kitchens. A chandelier may be hanging over the gorgeous kitchen below, but the stainless steel countertops help create an upscale modern vibe that's anything but formal. [from KitchenLab]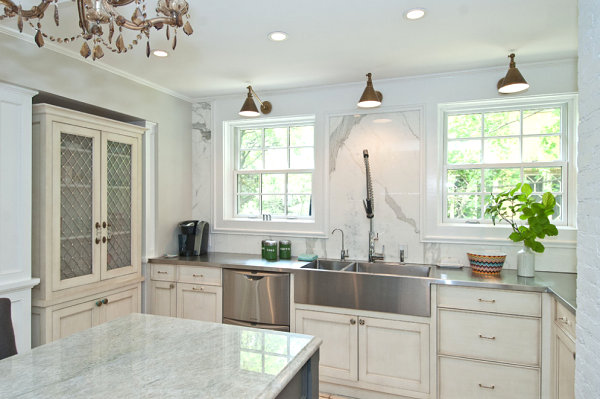 Modern kitchens that feature a mix of white walls and stainless steel countertops run the risk of looking stark. Sometimes the most interesting of culinary spaces feature an array of inviting details. Fresh herbs in vases and bowls of fruit are colorful accents that soften the sleek modern kitchen.
[by Tinsley Hutson-Wiley Interior Design and Dehn Bloom Design; from Alex Amend Photography via Houzz]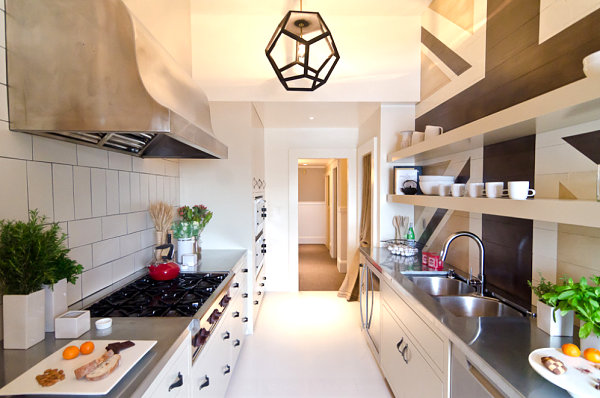 Warm Details in the Stainless Steel Kitchen
Stainless steel has a modern, cool-toned look that makes it an ideal counterpart to warm-toned materials such as wood. Looking to add a golden glow to your culinary space featuring stainless steel countertops? Try wooden accents such as bar stools, cutting boards and storage bins. [from APL Fabricators, Inc. & Stone, LLC]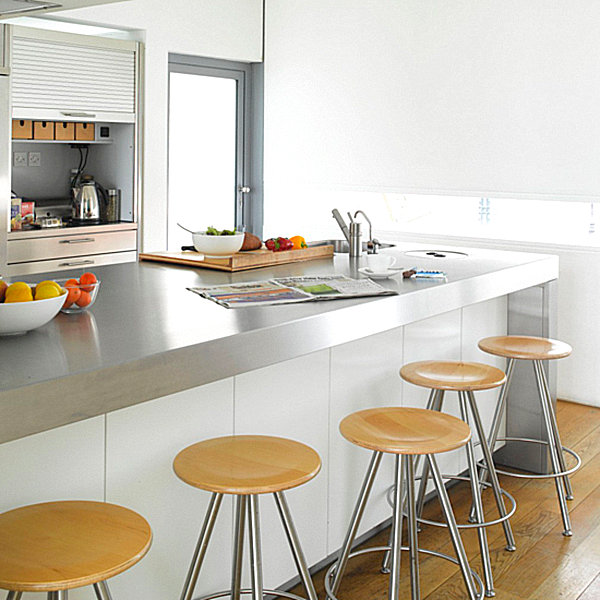 Or install a kitchen island in wood. Note how the cream cabinetry below ties together the cooler tones of the stainless steel and the warmer hue of the island. [from Cameron MacNeil Designer]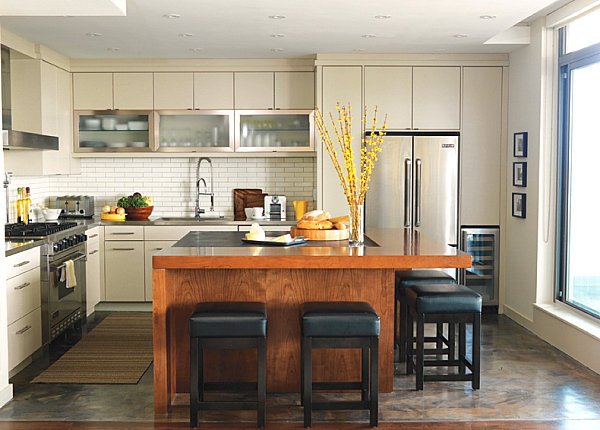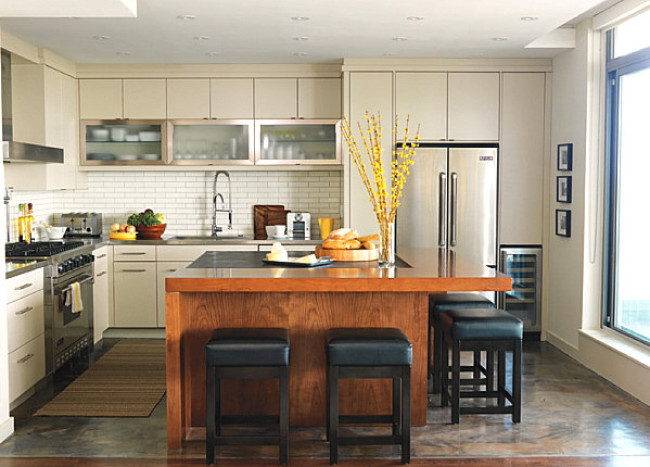 Hardwood floors are the anchor of the next culinary space, which features other wooden items such as a credenza and a dining table. Yet white walls and bar stools, and stainless steel countertops and appliances are the cool yin to the warm-toned yang of this room. [photo by Arnal Photography for Linebox Studio]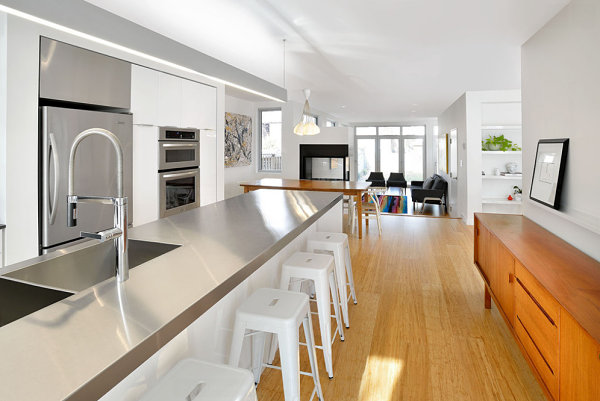 When the cabinets are made of wood, stainless steel is an ideal contrast. Note the use of stainless steel appliances, countertops, pendant lights and bar stools below. The result: a perfectly balanced space! [from Stephen Dalton Architects]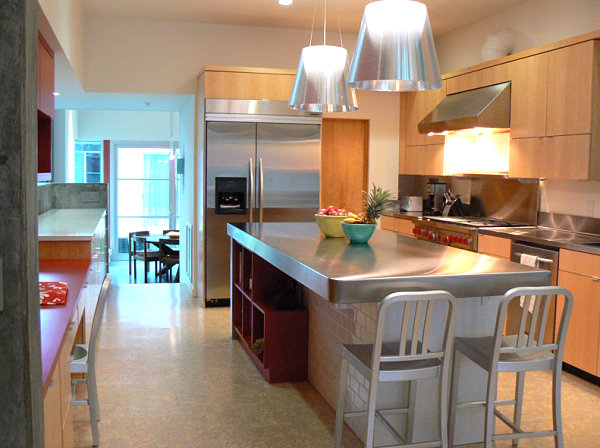 There's no shortage of wooden planks in the kitchen below! In fact, the entire room exudes a golden glow. To keep the warm tones from overwhelming this culinary space, metallic accents are put to good use. From the appliances and bar stools to the stainless steel countertops, the addition of silver-toned features creates true design symmetry. [from Swatt Miers]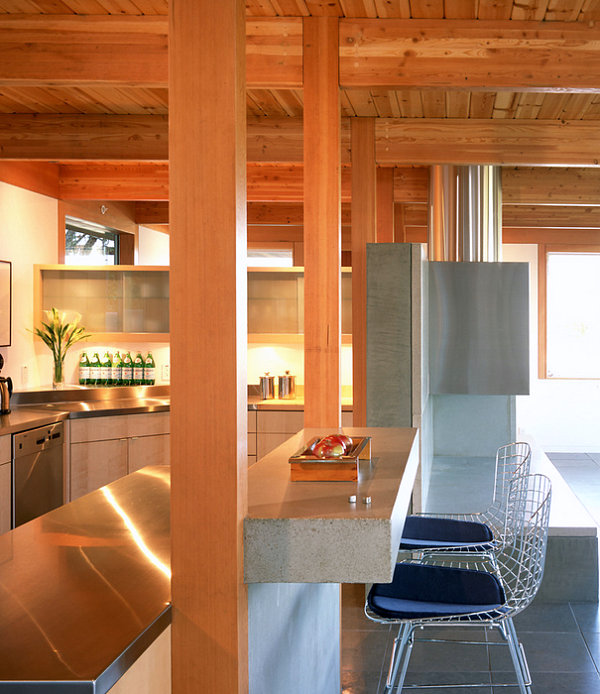 Stainless Steel Adds Light to the Dark Kitchen
Many of today's most stunning modern kitchens showcase dark finishes in paint, tile and cabinetry. Stainless steel has the power to brighten darker kitchens, because it reflects the light. Whether this light is the glow of the pendant fixtures overhead or the beams of sun streaming in from a nearby window, stainless steel will amplify the brightness. [from Cameron MacNeil Designer via Decorpad]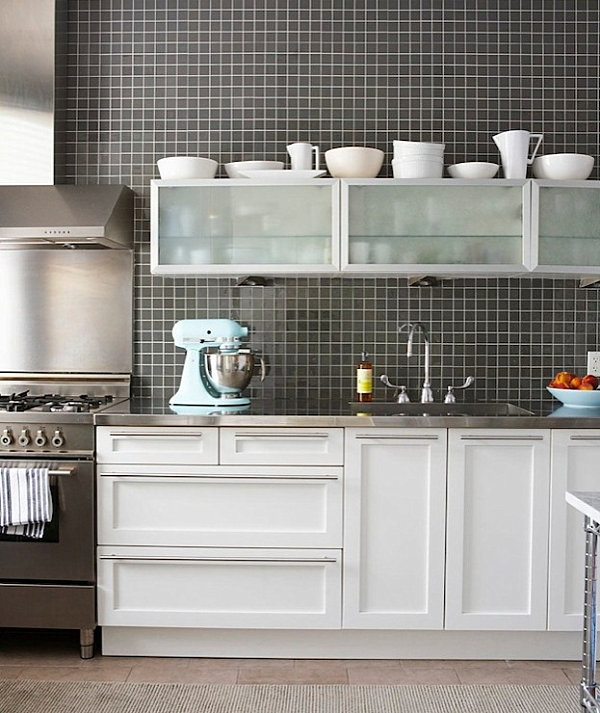 Isn't the kitchen below stunning? Especially at night! Adding to the sleek look are the stainless steel countertops, island surface, appliances and backsplash. They seamlessly blend with this cool-toned space while adding a sense of brightness at the same time. [from Countertops & More]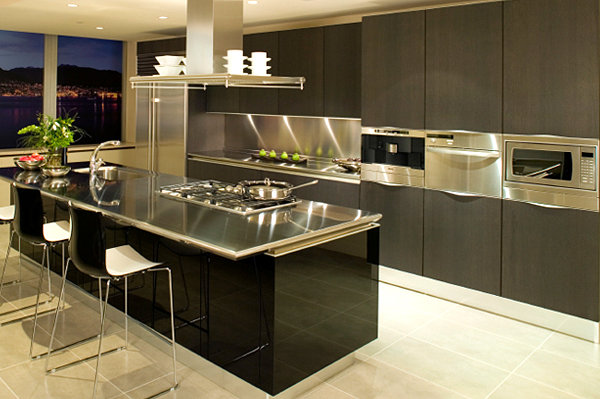 Below we see a similar look, but this time the cabinets are a bit more traditional and the flooring is wood rather than tile. The use of stainless steel countertops creates a much-needed contrast between dark and light tones, as well as warm and cool tones. [from Design Centers International]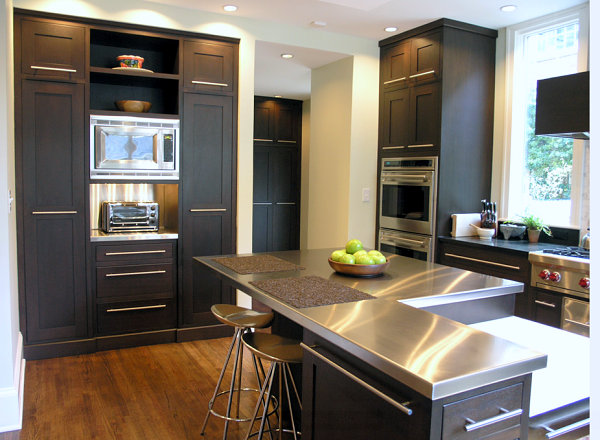 Stainless Steel in the Colorful Kitchen
If you're a fan of modern design in the kitchen, you've likely noticed the trend of incorporating cabinetry in vivid hues, such as lime green and hot pink. These spaces are absolutely radiant, especially when hi-gloss finishes are involved. Sure, bright white cabinets can enhance the vibrancy, but stainless steel is an even more interesting choice. The cool tone of the metal calms colorful kitchens without detracting from their modern vibe. [from Jeni Lee/Carousel Media via Houzz]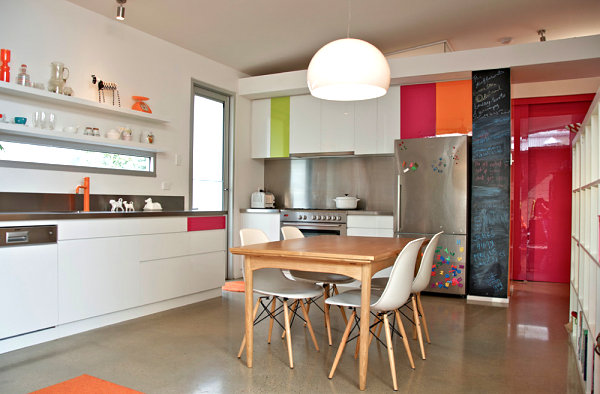 Even when the cabinetry is subdued, bright colors are the perfect complement to stainless steel countertops. Note how the use of red barstools (from Series 7) is the perfect choice for the grey and white kitchen below. [from Ziger/Snead]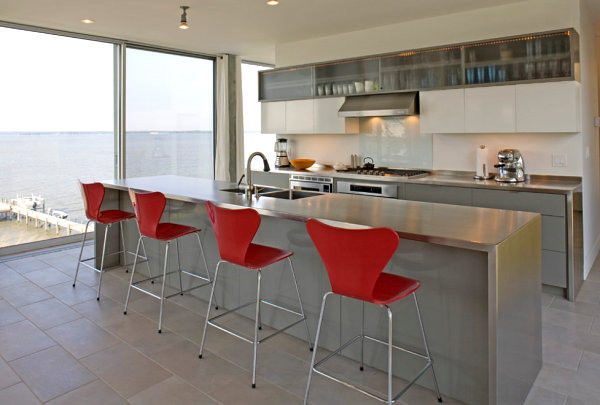 Today's featured kitchens prove that stainless steel countertops beautifully enhance light kitchens, dark kitchens, kitchens featuring wood, and kitchens filled with bright colors. In other words, it's hard to imagine a kitchen that wouldn't benefit from the look of stainless steel. Add to that the material's hardiness and ability to reflect light, and you have a winning choice!