It's official: you've decided to display your television set with pride! Instead of hiding it behind closed cabinet doors, you're leaving it out in the open. I understand–I'm on the hunt for a modern media console myself. Something sleek and simple that will provide a stylish resting spot for a flat-screen TV. Are there affordable options? Are there compact selections? Yes and yes!
Below you will find a group of images that showcase media consoles in modern spaces. Once you get an idea of your desired media console style, check out the second half of the post, which will guide you to specific items that just might be the answer to your design dilemma. After researching today's post, I think I've found the console of my dreams. Will you?…
Media Consoles on Display
I don't know about you, but when I'm picking out a new piece of furniture, it helps me to see examples of the item on display. And when it comes to media consoles, there are many decisions to make. How long will it be? Will it hold the television, or will the TV be mounted above the console? Will it be longer than necessary in order to display other items? Below we see the Dylan Entertainment Console from Oly Studio. [from Terrat Elms]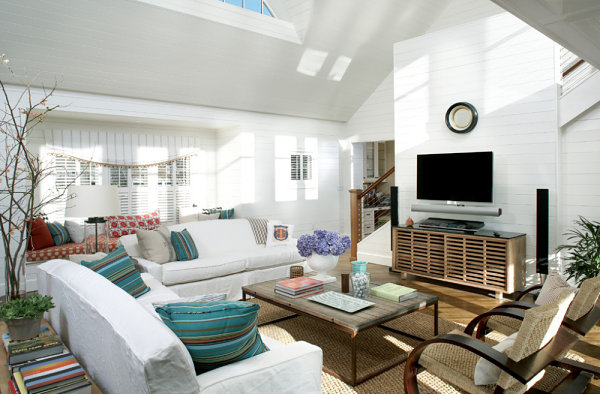 Not to mention, there are many styles to choose from, such as the slatted selection above or the rustic-meets-modern console in the Scandinavian-style room below. [photo by Holly Marder for Avenue]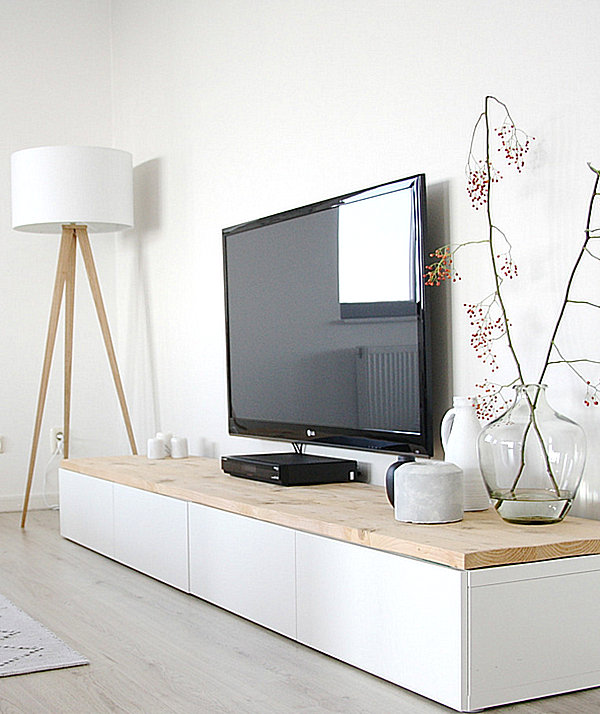 One of today's most popular console styles: low, sleek and glossy, as shown in the next featured space. [from Marvelous by Design]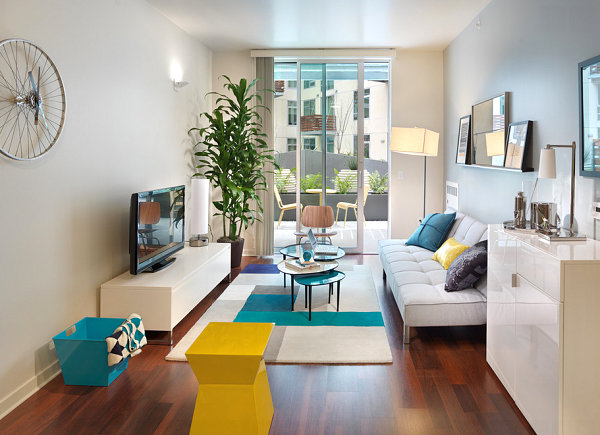 There's also the color of the piece to consider. Will it be crisp and bright? Will it boast natural wooden tones? Will it be bold and colorful? Maybe rich and dark, like the media console below? [photo by Josh Shadid for Caitlin & Caitlin Design Co.]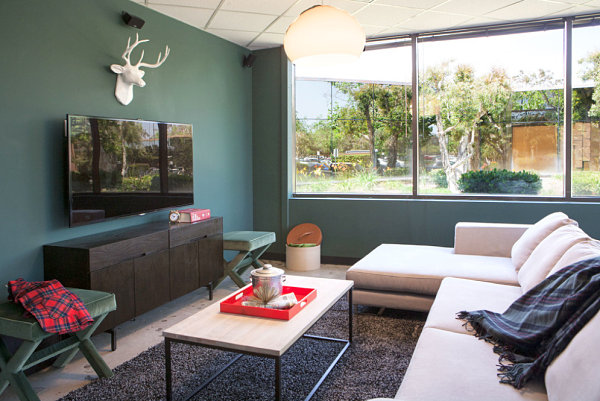 There are many great options for those who love Mid-century modern design, such as the clean-lined console below, from Room and Board. The piece is perfect for homes like this 1950's renovation. [from Regan Baker Design]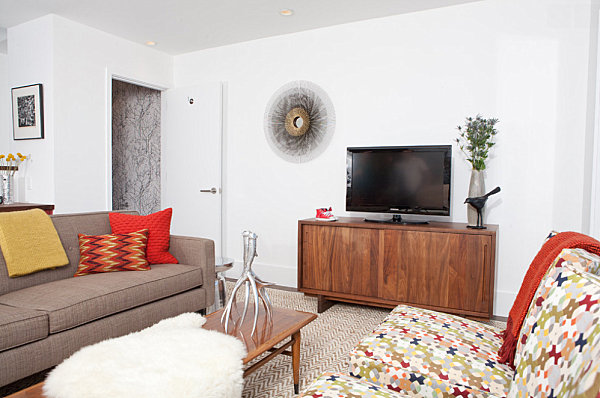 Would you consider opting for a wall-mounted media console? The effect is a floating one, as shown by this custom-designed selection from Quezada Architecture: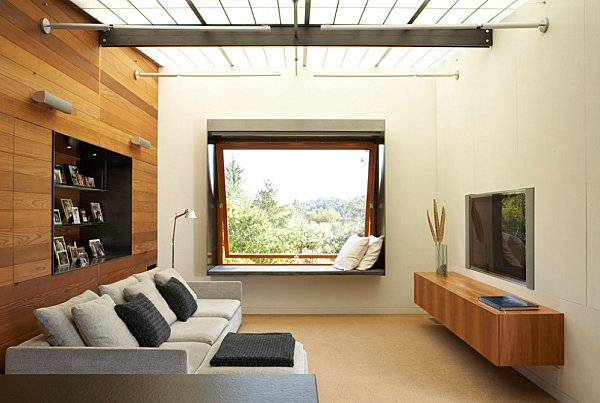 If your TV will be displayed on a long wall, consider going with a long console to fill the space. I'm loving the off-center display in the next featured room, as well as the addition of a simple sculptural artifact on the surface of the console. [from Product Bureau]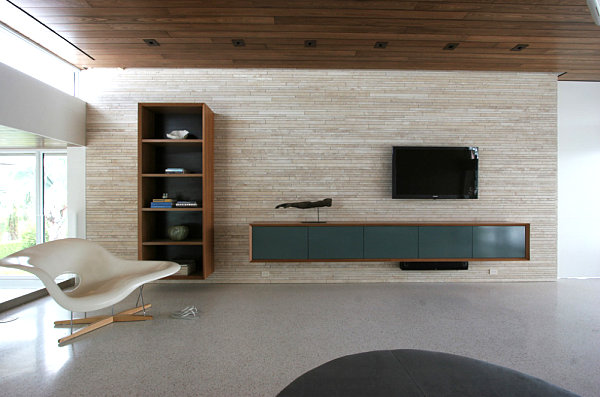 The walls in my space are white, and I was considering purchasing a white media console. Is it questionable to pick a selection that's the same color as the wall? Not necessarily, as shown by the piece below. Especially if you add some colorful accents to your space! [from Elad Gonen Photography]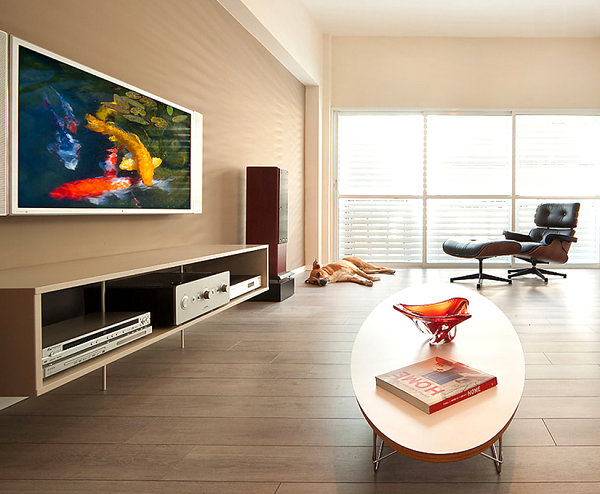 I'm also very tempted to go with a colorful selection. This bright blue piece is definitely the focal point of the room. Love the bold, modern color! [photo by Whit Preston for TAS Construction via Houzz]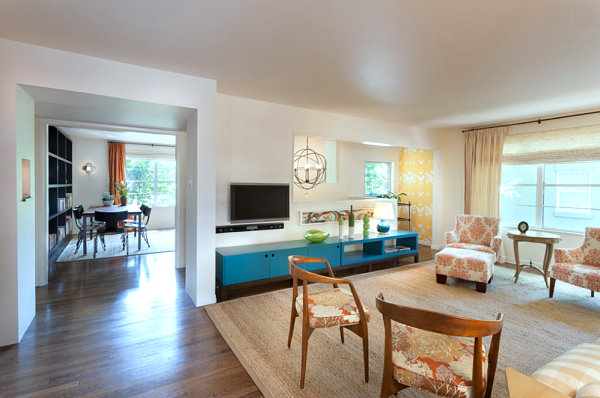 I'm also considering yellow as an option. There are many golden shades available, from bright lemon yellow to mustard hues, as shown in the piece below. Also note the striking display of a statement lamp on this console! [photo by Lauren Coleman Photography for Glickman Schlesinger Architects]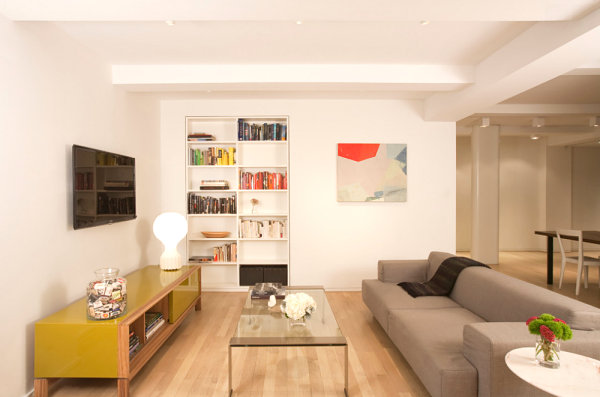 Media Consoles to Purchase
I thought I'd end today's post by rounding up a selection of today's top consoles for sale. These items are affordable, and they represent a variety of styles. If you're looking to show off a natural wood grain, check out the Prime Media Console from CB2, crafted of plantation-grown shesham wood. Designed by Mark Daniel of Slate Design, the piece also featured an industrial base, two open cubbies and two closed drawers.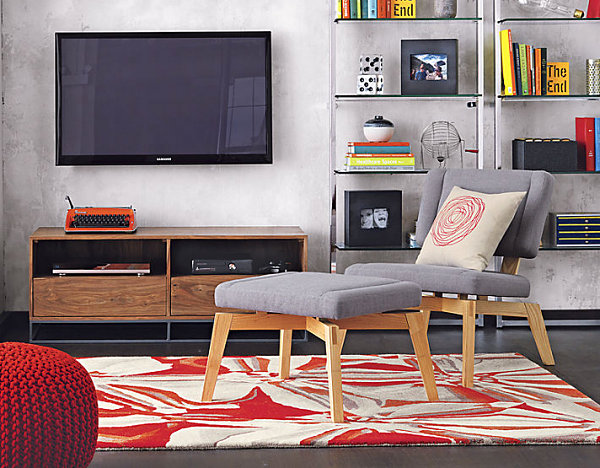 Why go with a media console rather than a buffet or a console table? Because most media consoles have special wire cutouts to accommodate cords. If you love '50s/'60s style, this Small Mid-Century Media Console from West Elm just might be the piece for you. Featuring an acorn color and hardware in a bronze finish, the compact console has ample room for media, reading material and more: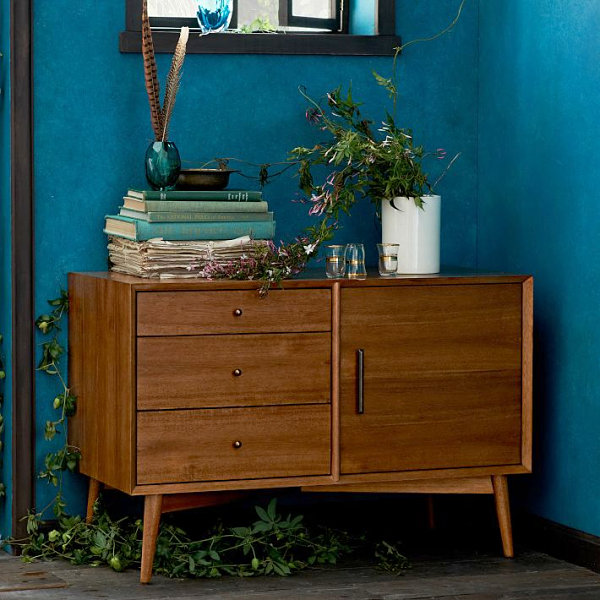 If you need an extra-long piece but can't find just the right selection, consider putting two consoles together. This Chill Media Console from CB2 is designed by Eric Pfeiffer and features open component cubbies, as well as two extra large closed drawers. Since the back is completely finished, you can display this piece in the middle of the room. A hi-gloss lacquer finish tops it all off.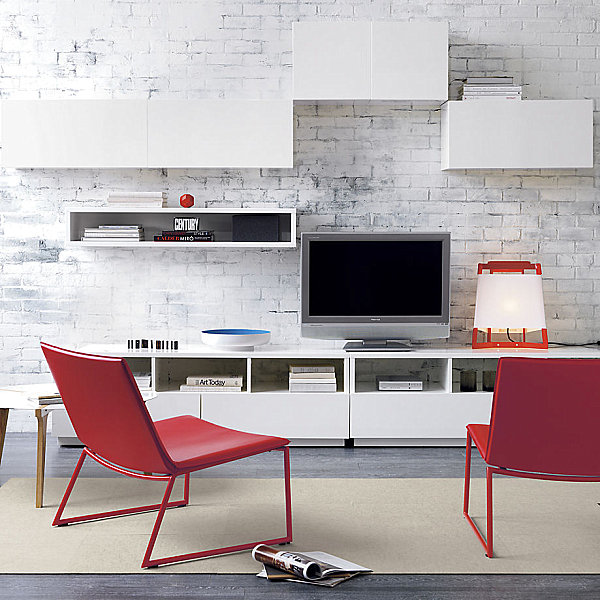 For a sleek, simple piece that's as chic as it is clean-lined, consider the Ascend 55″ Sliding Door Storage Unit, available in navy and white from CB2: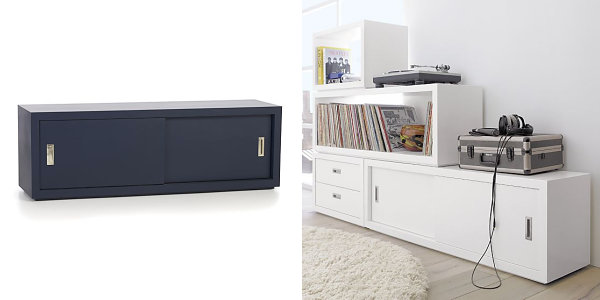 Remember when I mentioned that I just might be on the hunt for a colorful piece? This 414824 TV Stand from The Furniture Co. is very affordable. From the large shelf that can hold A/V equipment to the hidden storage and handy casters, there's much to love about this console. Including the saffron yellow finish!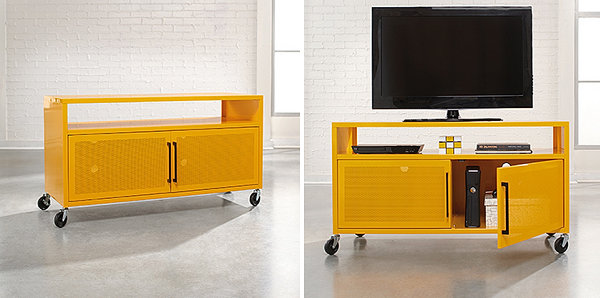 I'm also considering this turquoise piece from IKEA. It's compact, it's crafted of powder-coated steel, and at $59.99, it's an absolute bargain! Side note: this console also comes in dark gray.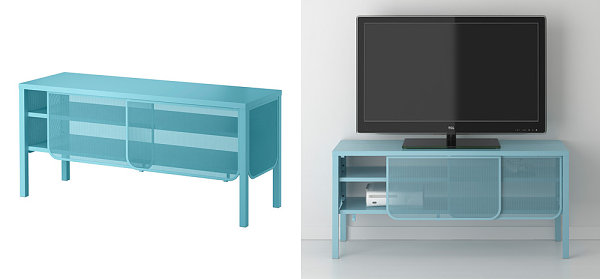 Speaking of IKEA, if you're not afraid of DIY projects involving IKEA pieces, perhaps you're up for a good hack! The modern media console below was crafted from 3 BESTA 60×40 cm pieces in white. Legs were added, and the entire piece was draped it engineered wood particle board (OSB) for a two-tone effect. Visit IKEA Hackers for all the details: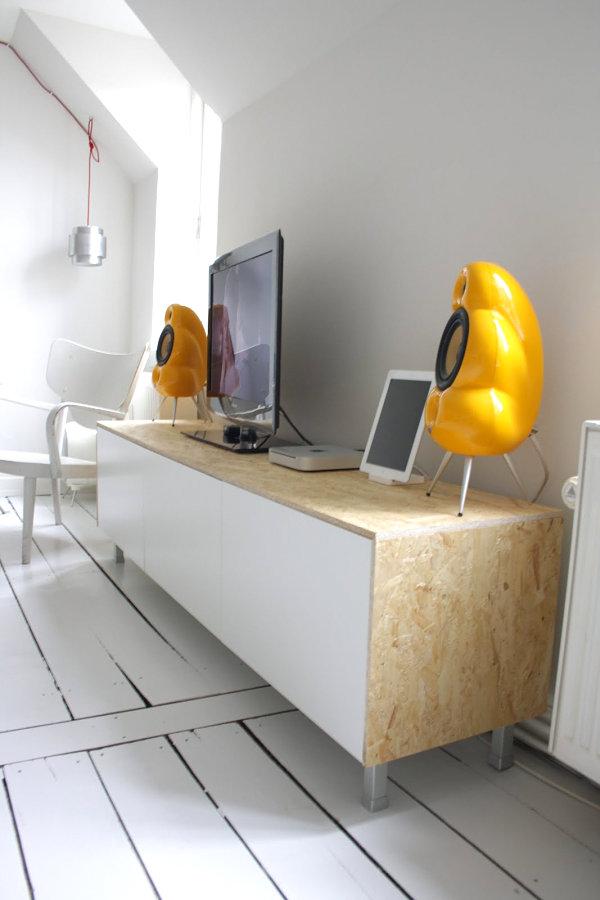 Did any of the pieces above catch your eye? Besides media items, what will you use your console to display? I hope today's piece was helpful in providing ideas for your space!