It's very fitting that I'm sitting outdoors while typing today's post. I've got big plans for the weekend–sprucing up my yard for spring! I promise to share the results on Decoist next week. Until then, I'm gathering some seasonal inspiration by highlighting a group of modern outdoor furniture finds with sleek style. Check out the latest in seating, tables and accessories below…
Modern Outdoor Seating
We begin with seating, and this first of our 12 featured finds is actually a two-for-one. No, you don't get two for the price of one! But I've featured two different seating options in one gorgeous image that is inspiring me in my gardening endeavors. Did you see those rectangular planters in the background?! Back to the seating, below we see the steely gray Laguna Modular Sectional and the bright yellow Crest Swivel Chairs from Room & Board. Love those clean lines and curves!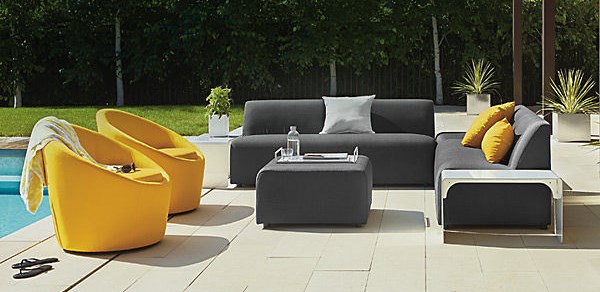 Spring is for lounging. After you finish your spring cleaning, of course! If you're going to lounge in style, why not purchase a piece with a sleek silhouette? This Alize Sunlounger in XS from Fermob will get the job done. Designed by Pascal Mourgue, the lounger is also available in neutral tones, as well as classics such as black.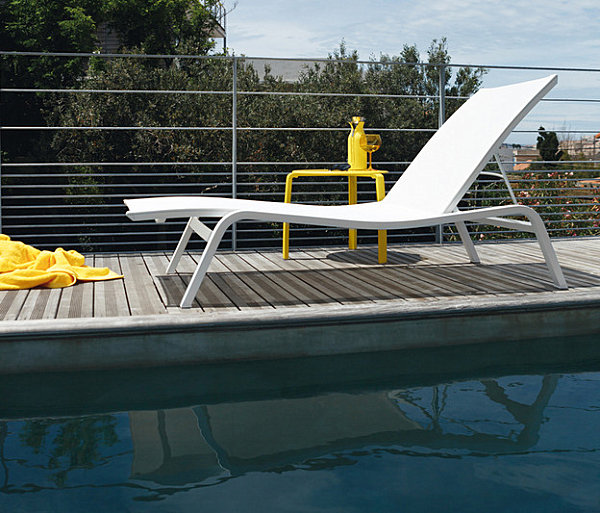 Who says you have to lay out in order to lounge?! These Finn Lounge Chairs from Room & Board prove that sitting upright can be just as relaxing. Especially if you're wanting to visit with a group. Yes, these chairs are really for the outdoors. They're covered in Sunbrella® fabric and are available in a slew of colors: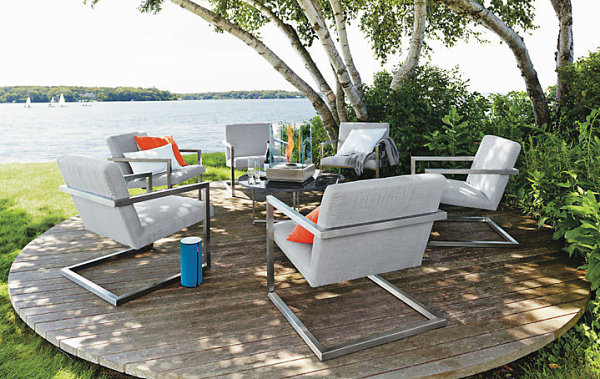 Retro style is alive and well, thanks to this vivid orange Sixties Bench from Fermob. I'm loving the bright dose of color, but if you're looking for something a bit more subdued, note that this piece also comes in hues such as Storm Grey.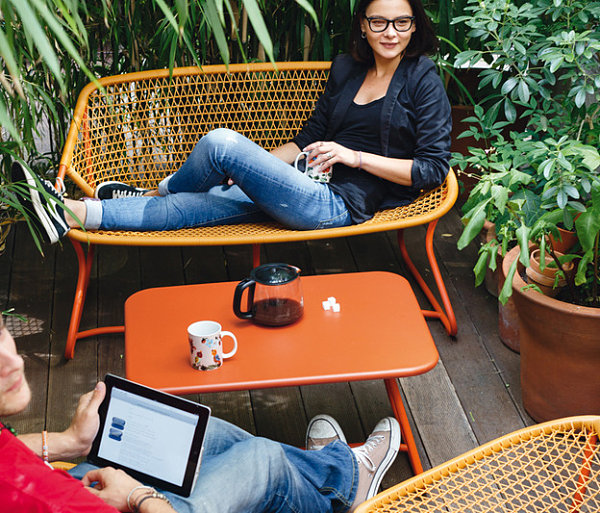 When teak meets black metal tubing, you get the Berkshire Chair from Crate & Barrel. This interpretation of the classic Windsor chair is designed by Royce Nelson, and its simple yet stunning look makes it ideal for a variety of decor styles. From the rustic yet contemporary Communal table shown below to more minimalist selections, you can pair this chair with a variety of tables. And you can't go wrong with a slatted seat and a spindled back. So versatile!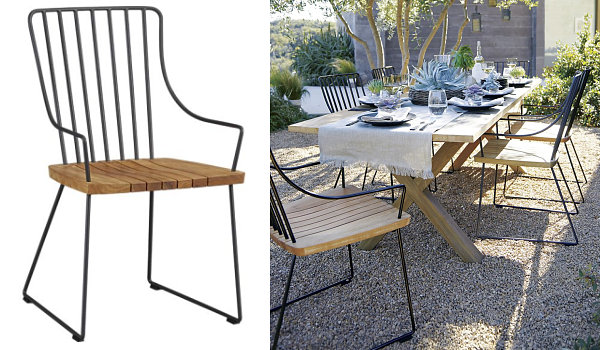 Striking Outdoor Tables
Dining alfresco? Or maybe you're simply looking for a place to rest your drink. Hey, each option is totally valid! Let's start with the outdoor dining scenario. First up is the Costa Table from Fermob. And yes, it comes in a wide variety of colors. Clean lines and an extension possibility make this lightweight aluminum table ideal. It can seat up to 10 guests!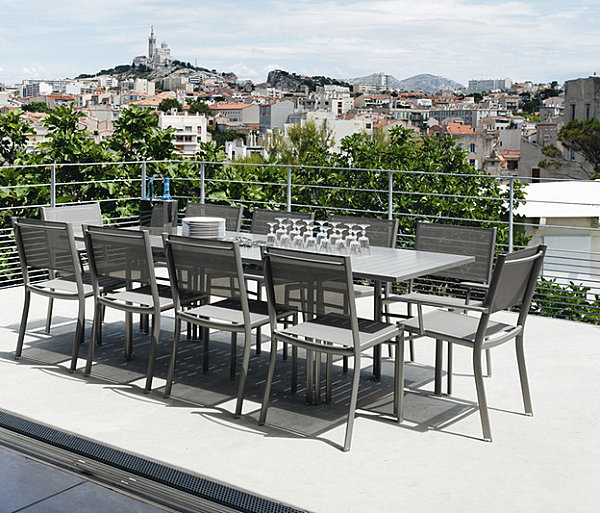 In case you hadn't noticed, wire furniture is one of today's top trends. CB2 definitely noticed! Their Wire Coffee Table is designed by Berlin-based studio Hettler.Tüllmann. So modern, yet so retro! Yes, this piece was inspired by '50s and '60s wire rod furniture. A hi-gloss moss green finish gives this table a fresh look that's perfect for spring.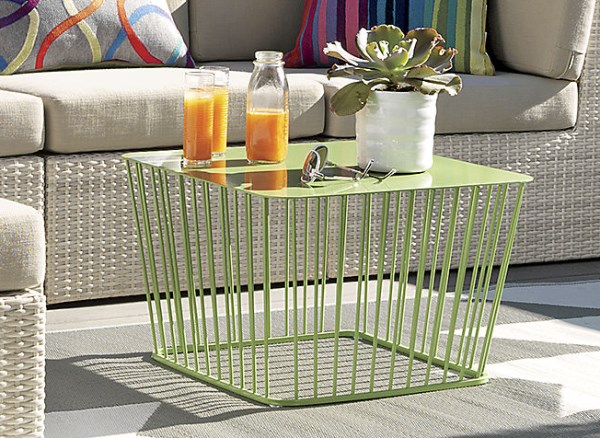 If you're looking for a table that can serve as your perfect outdoor cocktail spot, check out the Skiff Outdoor Bar Height Table from Blu Dot. It's crisp. It's clean. It's special, because you get to sit up high! White powder-coated aluminum and a solid laminate top are the materials of choice for this tall outdoor table.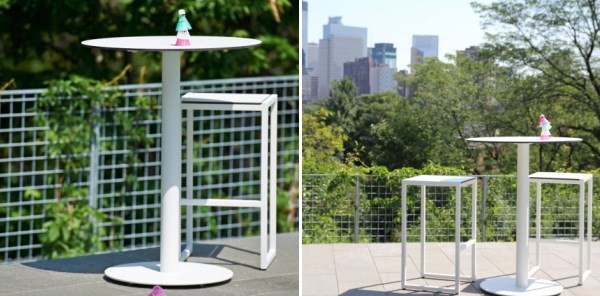 Stash your reading materials on this Set of 2 Dune Nesting Tables with Pebbled Glass from Crate & Barrel. You can also use them to hold items such as candles. Pebbled glass tops create a contemporary stone feel, and outdoor-grade stainless steel frames ensure that these tables can weather the elements.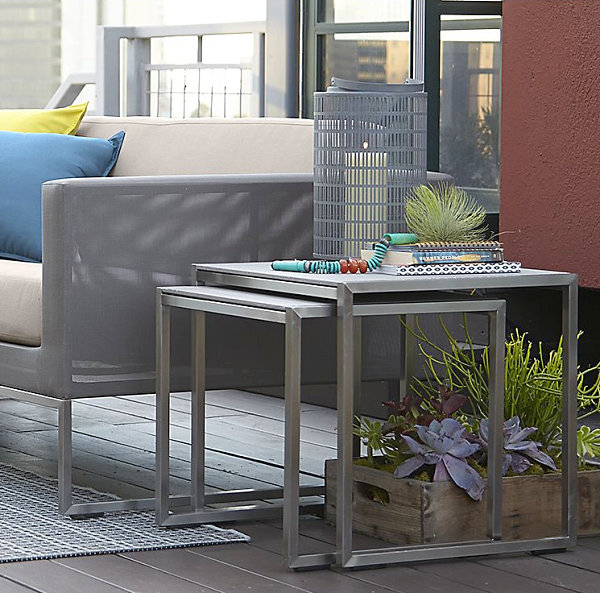 Contemporary Outdoor Accessories
There's nothing like putting the icing on the cake! Yes, we're still talking about your outdoor space. Add a dash of Mid-Century modern style with these Case Study Planters and Walnut Stands from Room & Board. Glazed ceramic pots stylishly rest in weatherproof Brazilian walnut stands for a sculptural look that only gets more interesting as you add plants to the mix.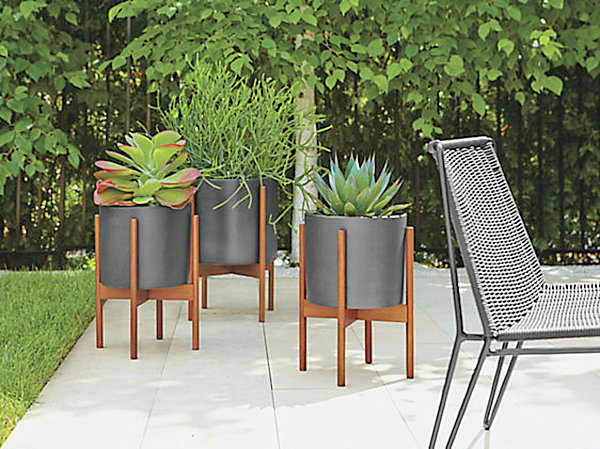 Substantial and affordable, these Galvanized High Gloss White Planters from CB2 are perfect for indoor and outdoor settings alike. They can veer industrial, yet you can fill them with manicured greenery for an enchanted garden effect. A modern enchanted garden, that is.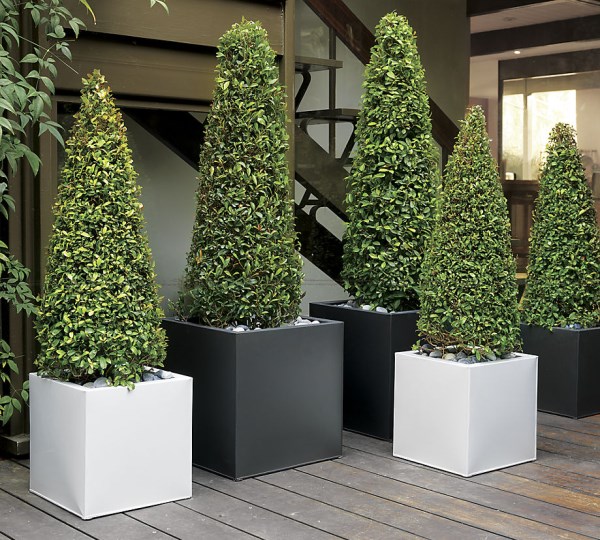 What would an outdoor vignette be without a stylish pillow? With the right durable fabric, your cushions can stand strong outside. And be visually dynamic as well! I'm loving the vibrant shades of CB2's spring pillow collection, including the geometric blue and yellow Bleu Monday Pillow: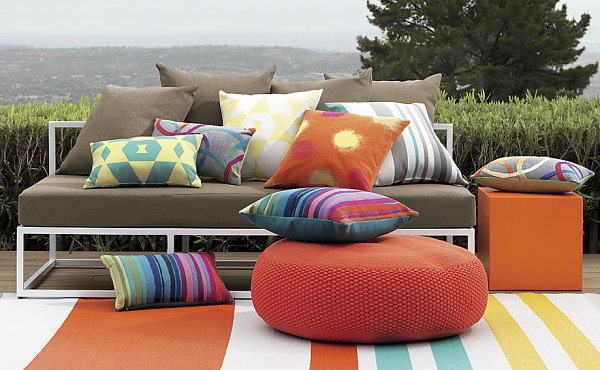 Ready to shop for outdoor furniture?! I don't know about you, but I already have a few favorites. I'm definitely needing to add some color to my yard this year. It's time to get radiant. Wish me luck this weekend as I give my yard a makeover. And I wish all of you a fabulous spring filled with fun outdoor projects of your own!