The world of music features so many genres that it is nearly impossible to recite them all, especially when there are inspirations and talent-fusions taking place left and right. With that said, how we design our homes should also reflect the way we filter through music: always changing, never ending, and forever growing.
It's fairly common for you to step into a gracious home and fall madly in love with the grand piano positioned elegantly in the center of room, but how often do you get to pluck the tightly clasped strings of a harp? Not too often, I bet. While these fabulous homes showcasing pianos bring inspiration to life, homes featuring a standup harp are true reflections of a Renaissance man or woman. Ask yourself which lifestyle better suits your personality!
Modern Harps in Unique Homes
You rarely find harps outside of the concert hall or the musical pit of an orchestra. This is exactly why I thought I would reintroduce the concept of sophistication and elegance through the whimsical features of this centuries-old instrument. Take a look at the homes below!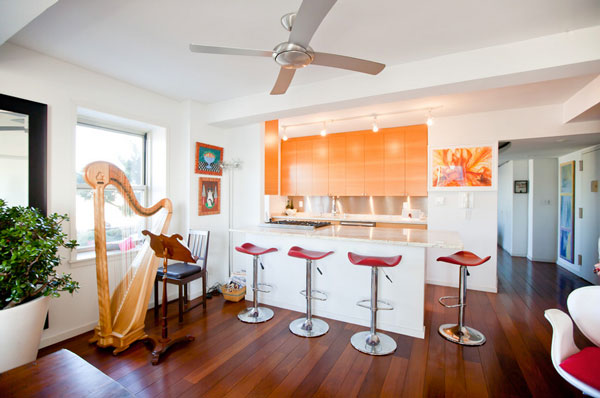 Homes with a harp positioned off to the side seem to glow with charisma and sophistication. Though I can't quite put my finger on it, I believe it is the beautiful hand-crafted carvings and the multiple faces of this dynamic instrument that add intrigue to the decor. The living room/dining area is designed by the hands of a modern visionary, but the harp juxtaposes with the colorful furnishings and creates a more welcoming vibe for the room.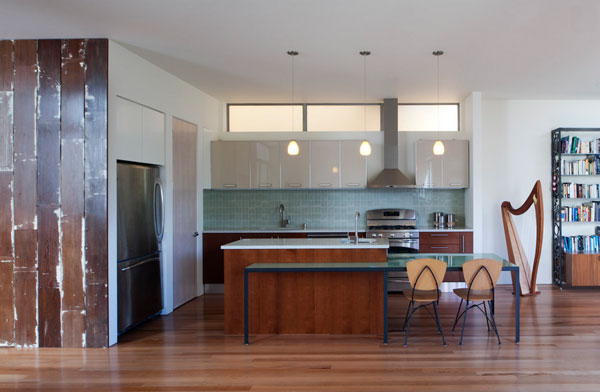 John Lum Architecture
Here we see a strikingly different kind of design than the home selection in the previous picture. Instead of presenting a vividly upbeat arrangement, this room demonstrates an industrial charm and refreshing atmosphere, and thanks to the sleek design of the harp, everything comes together to create a seamless urban beauty.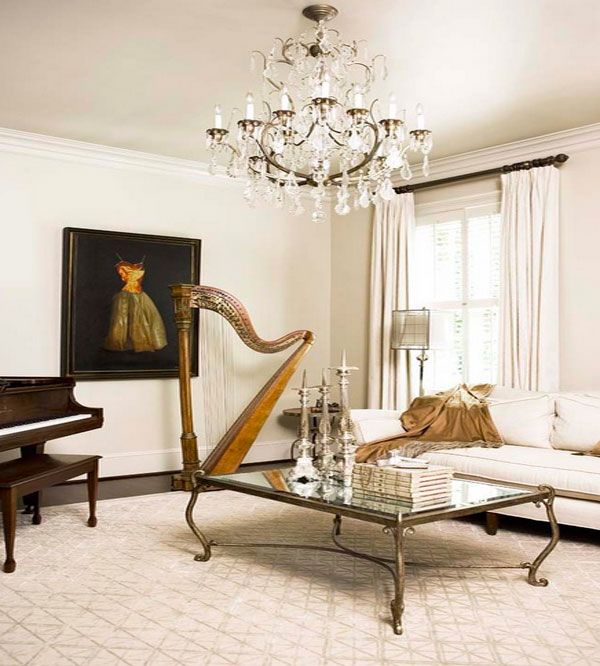 Linda McDougald Design
Of course, we can't forget about the beauty of a neoclassical harp, such as the one above. The beauty of such harps lies solely in the intricacy of their wood carvings and the glossy finish of their exteriors that gives off a luster comparable to gold.
Harp-Inspired Decor
You may be someone who shies away from fancy decorations and finds flamboyant additions in the home to be somewhat unnecessary. If you place yourself in that category, then perhaps grand pianos and gilded harps are not your cup of tea. But that doesn't mean you can't tempt your creativity with harp-inspired themes and design ideas. Check out one of Decoist's favorites below!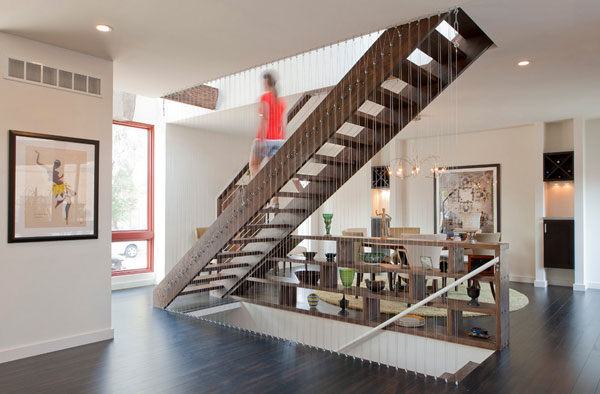 Urban Improvement Company
We've seen many styles of staircases, but the hart-string assembled selection above is definitely one for the books! Look how effortlessly it blends with its surroundings, creating a very Zen-themed decor and boasting urban charm. Because the wires holding the staircase together are so tightly knitted, the staircase does not need additional structural support, and the room is not blocked off by non-transparent walls – a win-win in the eyes of a designer.
Ideal Places To Place A Harp
Where do you place such a godly-sized ornament in the home without affecting the fluidity of your interior design? Scroll down and find out!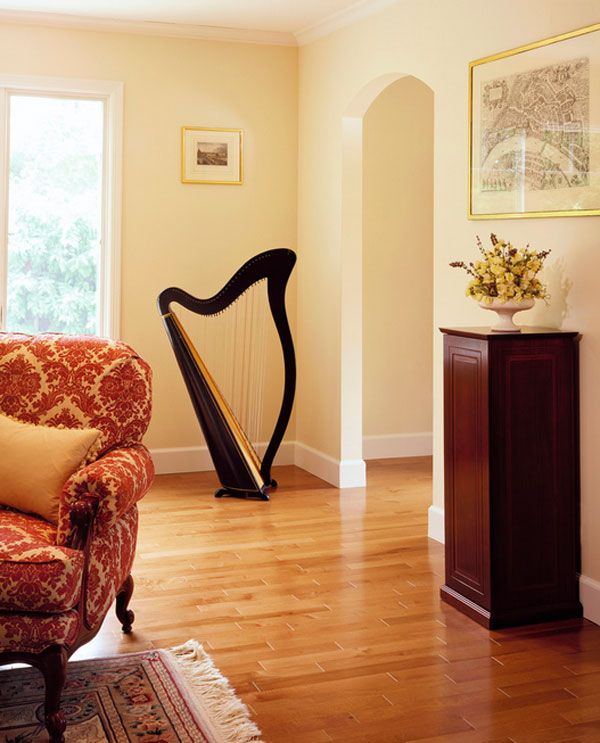 Harrell Remodeling
Off to the corner would be a good place. But keep in mind that if you practice the harp regularly, you may want to position it in a more accessible location.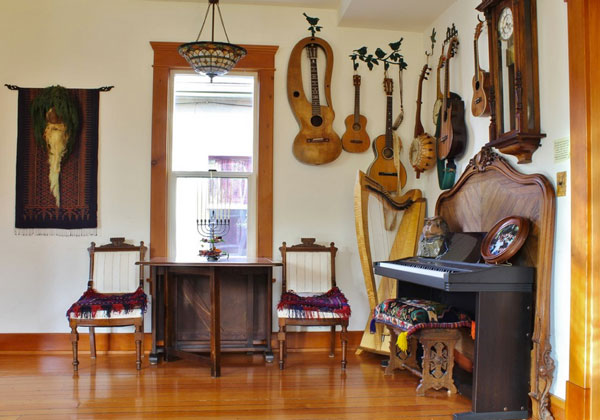 If you have a practice room, then your problems are solved even before they take form. Add the harp to your wide collection of stringed instruments and see your musical talents take off!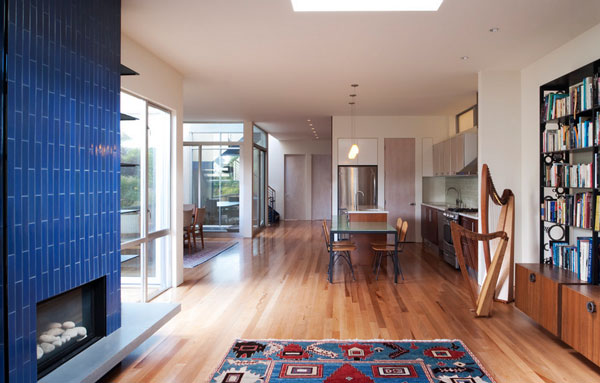 John Lum Architecture
The designer for the home above flawlessly worked the designs. By placing the harp adjacent to the bookshelves, he paired two realms of creativity all in one living room.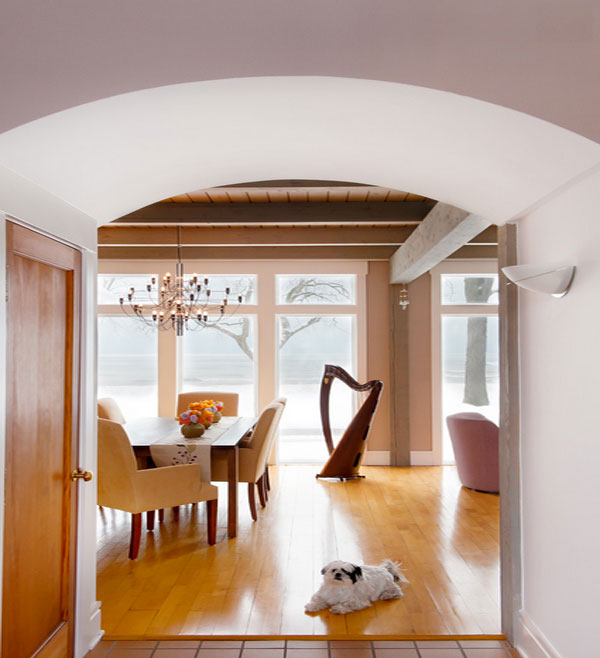 If you have a modern heart-shaped harp like the one above, you shouldn't trouble yourself with such a task, because I'm sure it will look great in just about any room.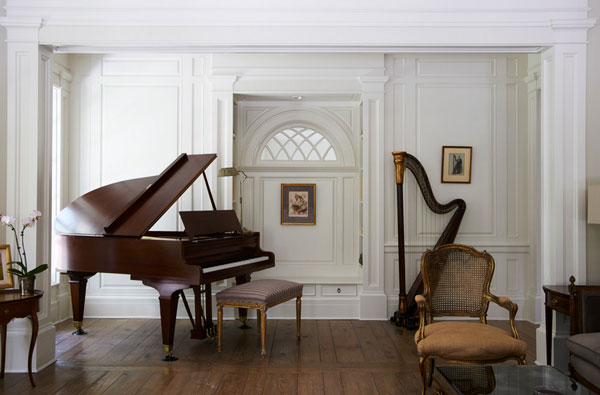 Brooks and Falotico Associates
Did you enjoy today's Renaissance-inspired post? If you did, don't forget to share your thoughts in the comments section below…