Picking the right furniture for your house is all about bringing together form and function in an effortless manner. Designed by Rino Maturi way back in 1970, the Nuvolone reflects the spunk and the style that was so typical of '60s and 70s designs. Yet, the comfy modular sofa also has a certain contemporary appeal that is undeniable, making it relevant even today. Restyled and revamped by Mimo Design Group to fit in with the current design trends, styles and decorating choices, the new and improved version of the Nuvolone is quickly making its way into many living rooms across the world!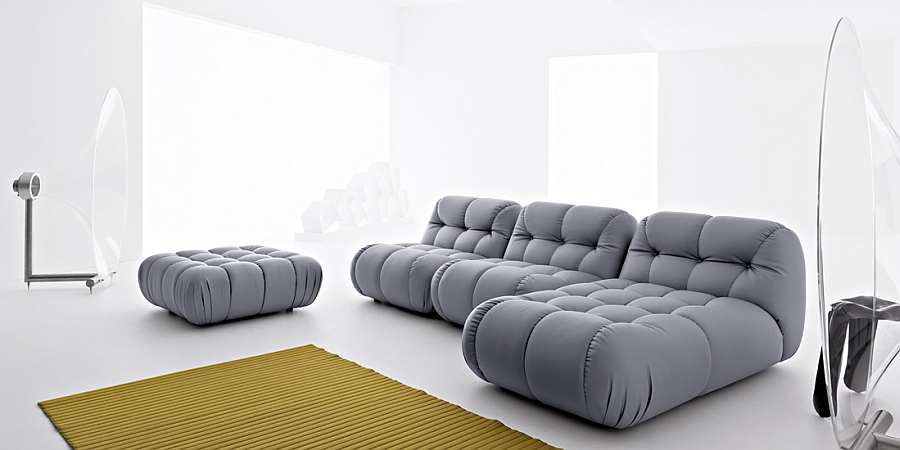 One of the instantly recognizable and iconic features of this sofa is the deep tufted design that promises opulence in every sense of the word. While it offers unparalleled comfort, the overall design of the sofa combines sleek aesthetics with clean, well-defined lines that make it a perfect choice, even when opting for a semi-minimal look. Now available in leather or ecologic leather, Nuvolone can be employed as an accent seating option that complements your existing sectional sofa. The plush ottoman only helps accentuate this already rich visual.
The variety of colors on offer allows you to pick a Nuvolone that easily blends with pretty much any theme that you have going in the living room. While the cool silver grey sofa looks great in relaxed modern homes, the pristine white version is perfect for those who fancy minimal overtones. Also coming in warm brown and dashing black, here is one sofa that both looks and feels great!