If you regularly read design blogs like Decoist, you've likely come across the modern lighting of Onefortythree. It's industrial, chic, contemporary and geometric–all at the same time. And with materials such as wood, brass and powder-coated metal involved, the design is right on trend, while managing to be completely unique. Did we mention that this lighting is affordable, especially given the detailed craftsmanship involved?! Onefortythree began when woodworker Logan Hendrickson started a blog about the home he was finishing with his wife Roxy. Their address number: 143 (of course)!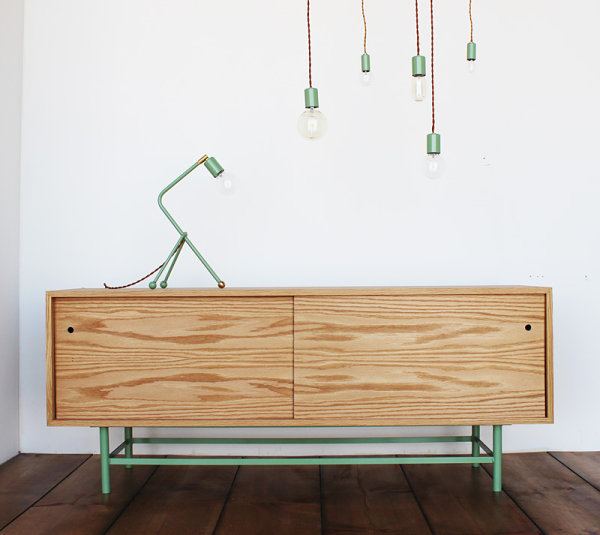 In need of furniture and lighting, Hendrickson began crafting his own creations, and the feedback he received inspired him to launch an online retail business. We're glad he did! Onefortythree offers a range of items, from furniture and lighting to a variety of accessories. Each of today's featured lighting selections is handmade by Hendrickson in his Las Vegas studio. As he states on the Onefortythree site, "I stand behind my workmanship. Although I push myself to try new things and construction techniques, I have confidence in what I build." So do we! And you'll see why when you check out the amazing pieces below. Enjoy!
Pendant Lamps
Onefortythree offers an array of pendant lamps, each style beautifully emphasizing the materials and the standout design. Wood and metal seamlessly blend with glass bulbs in a display of sleek simplicity. The Color Pendant Lamp is a popular piece–you buy one of these items at a time. But that shouldn't stop you from ordering a cluster! The lamp's powder-coated socket is available in a range of colors, such as mint green, salmon pink and schoolbus yellow.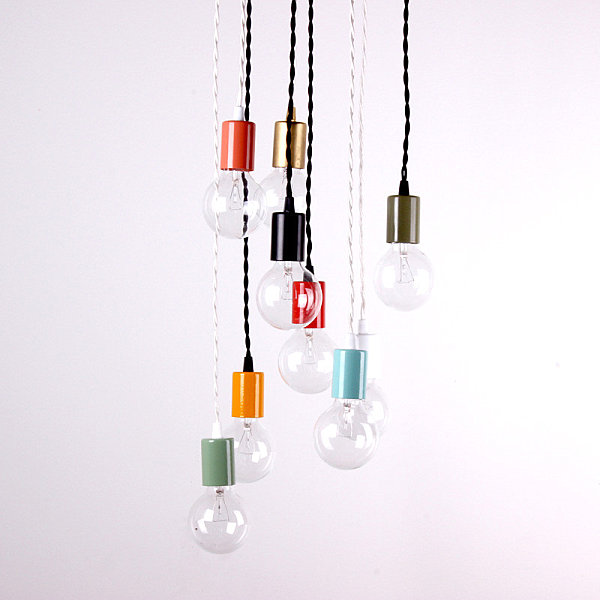 Two-tone design has been on our minds lately, so it's no wonder we're drawn to Onefortythree's Two-tone Pendant Lamp. Like the lamp above, this item is purchased as a single strand, with the option to buy more than one for a stylish grouping. Hang them over your dining room table, or over your nightstand for some eye-catching lighting in the boudoir. The powder-coated socket is available in many colorful options, and the real wood veneer comes in teak, oak, cherry, rosewood, walnut and ash: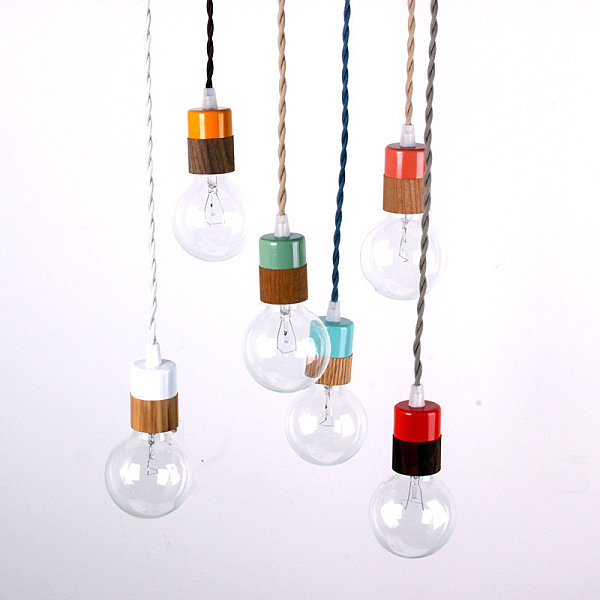 The Shaded Pendant Lamp has a vintage feel, especially given the design of the shade and the finish options of brass, gloss white, mint green and matte black. Not to mention, the cloth twisted cord comes in black, white and beige. Simply stunning!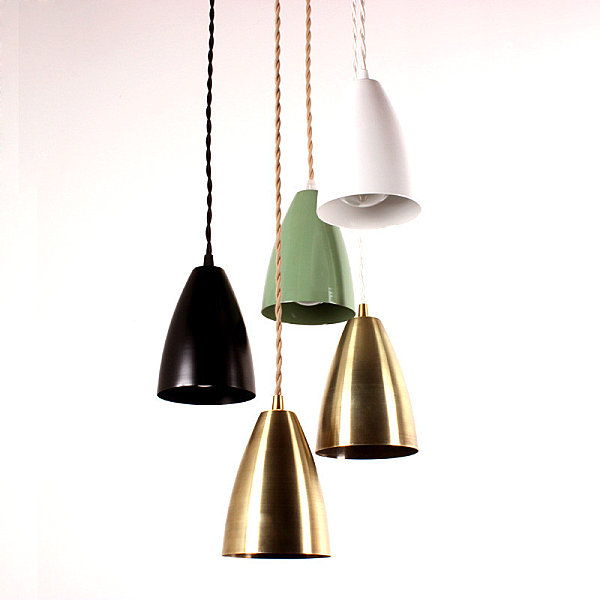 Sometimes it's all about the wood veneer, especially when walnut, teak, oak, cherry and rosewood are involved. Say hello to the Wood Veneer Pendant Lamp, featuring a cloth twisted cord and a socket covered in real wood veneer with a natural hand-rubbed finish:
Swing Lamps
Adjustable lighting definitely has its perks. But these swing lamps from Onefortythree have more perks than usual. Amazing design and the ability to swivel 180 degrees are two reasons to love the Swing Lamp, shown below in Aqua Blue. This lamp is hand bent and welded, and it features a powder-coated finish available in multiple color options. Did we mention that the socket also swivels?!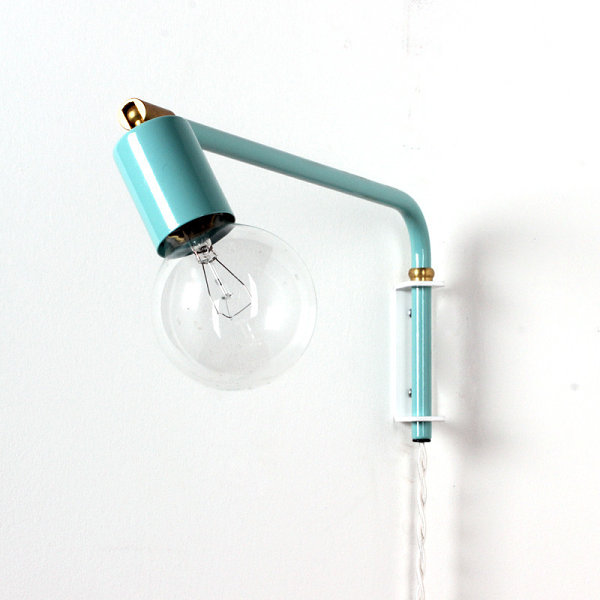 The Double-Jointed Swing Lamp can easily be arranged in a variety of configurations. This is a true showpiece that boasts a powder-coated finish in matte black, and you can order it with an exposed bulb brass socket, or with the brass shade shown below. Can't you see this piece illuminating a desk in a contemporary home office?! We're so glad brass is back!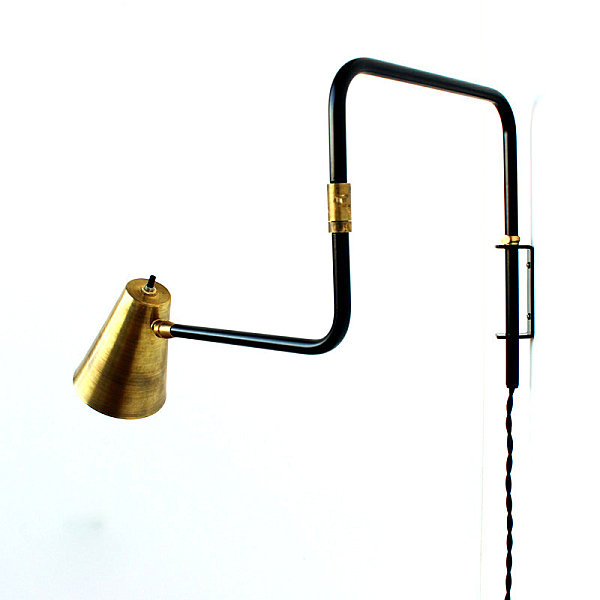 Brass meets wood in the lamp below, which swings with the best of them. It's the Brass Swing Lamp, crafted of solid brass tubing bent and lightly buffed to a dull shine. See the walnut wood bracket below? It's also available in aluminum with a powder-coated black or white finish. We're partial to the wood: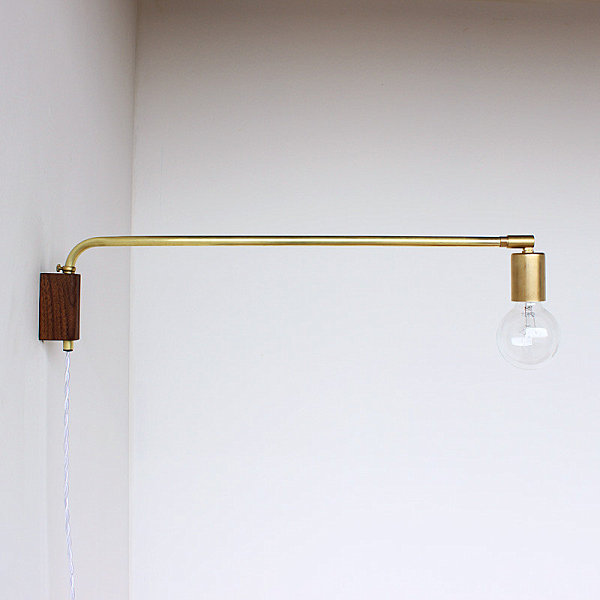 Wall Sconces
There are certain wall sconce designs that never change. And that can make them seem dated. Thank goodness Onefortythree is taking sconce design to a new level with these thoughtfully designed pieces. First we see the Double (below, left) and Single Wall Sconce (below, right), crafted of hand-bent steel tubing in a durable powder-coat finish of matte black or gloss white. The sockets are available in brass, powder-coated steel or real wood veneer. You pick the combo! We think the selections below are stellar: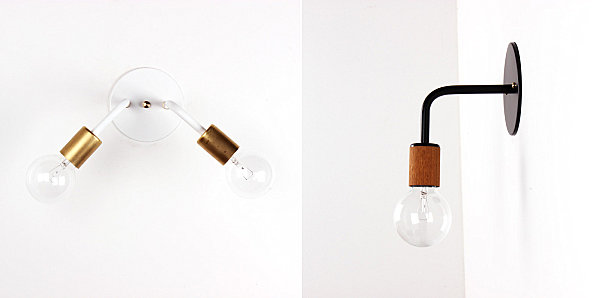 We at Decoist are crazy about color. And super crazy about Onefortythree's Colored Wall Sconce, crafted of hand-bent steel tubing in a durable powder-coat finish. Red orange, aqua blue and army green are a few of the color options you can choose from. Can't you see these on either side of a modern sofa, or lining a white-walled hallway?!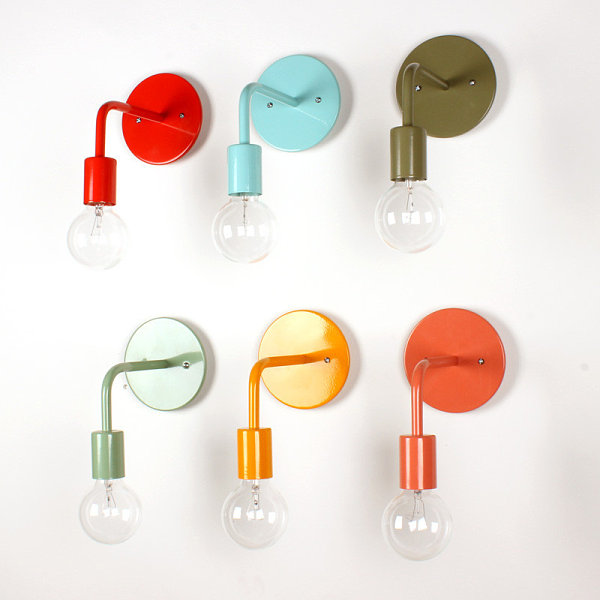 We end with a classic in brass. Lovely, simple and warm-toned, the Brass Shaded Wall Sconce is crafted of hand-bent natural brass. With a vintage-meets-modern look that's hard to ignore, this piece would be at home in a wide array of interiors.
Can you tell we're in love with the modern lighting of Onefortythree?! It's refreshing to find affordable hand-crafted pieces that make a statement. Which of today's featured lamps and sconces is your favorite?