I must have a pretty bad case of spring fever! Why else would I have spent last weekend painting geometric pots and planting succulents?! The weather has been beautiful for days, but tomorrow it's back to 40-degree temperatures, clouds and rain. That hasn't stopped me from rounding up a collection of modern planters to usher in the upcoming season. Now is the time to start thinking of ways to beautify your yard or welcome the outdoors inside, and these gorgeous selections have the power to celebrate spring in style…
Wooden Planters
We begin with wooden planters–I'm actually looking for a wooden planter as we speak! I need to add some greenery to my powder room, and the selections below are great for indoor plants. This Wooden Planter from Etsy shop Moss + Twig is made from solid stained Oregon Myrtlewood. Two holes provide the perfect resting spots for succulents or cacti…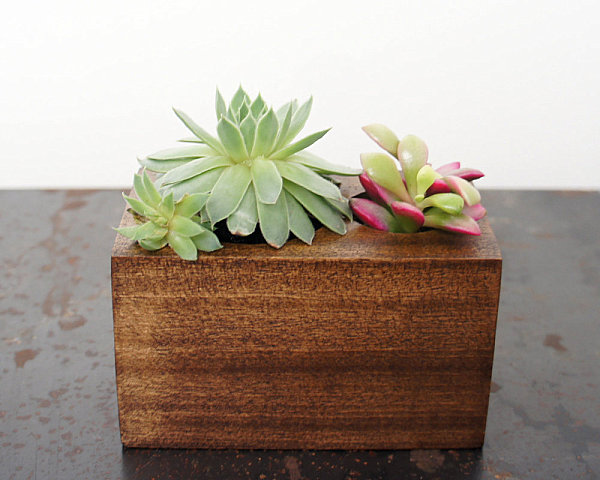 I love the chunky look of this next Wooden Succulent Planter from Etsy shop Cattails Woodwork. The piece is shaped from solid butternut reclaimed from a fallen tree. There are carved facets, but the overall vibe is raw and fabulous. Plus, the design showcases the natural grain of the wood: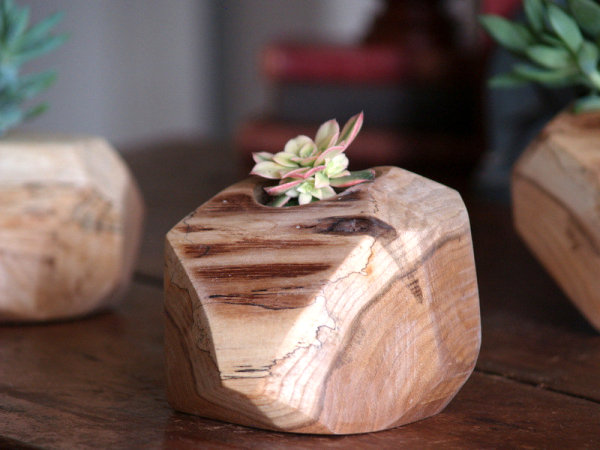 The next featured planter comes from Etsy shop Wooden Shapes. It's painted in a white and copper geometric design, and a single hole in the top makes the piece ideal for holding a candle or a succulent. Not a fan of copper? Select an accent color of your choice!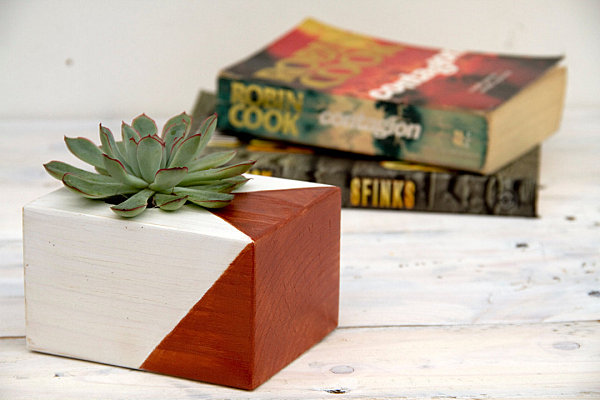 How sleek is this Boxcar Planter in Walnut and Bone White from Urbilis?! Solid walnut with a natural finish combines with bone white accents for a look that is modern…and a little bit retro! Plant your cacti or succulents in the included stainless steel inserts, then set them into the holes of the individual planters. Combine the three pieces for one unforgettable display. I want this for my powder room counter!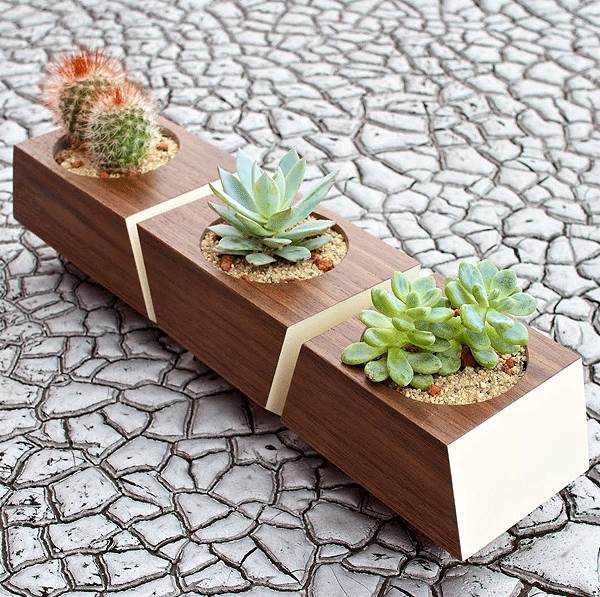 Marble Planters
In case you've missed it, we're in the middle of a mega marble revival! Marble patterns are appearing on everything from bedding to ceramics. As you may have guessed, marble motifs have hit the world of planters and pots as well. This one-of-a-Kind Marbled Planter from the Etsy shop of Leah Ball features green detailing on a white background. A natural rope cord complements the piece…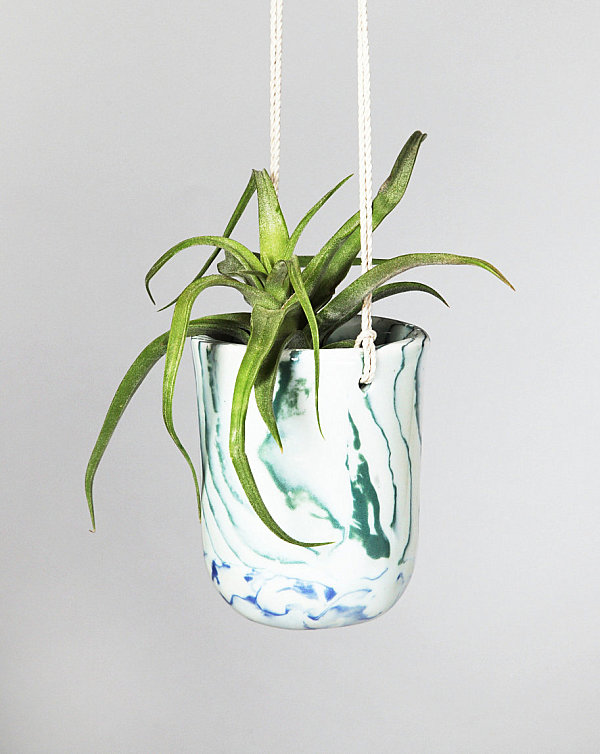 I've had my eye on this Marbleized Cylinder Planter from West Elm for quite some time. Made in Portugal, the piece is ideal for the garden. And I just might have the perfect indoor spot selected as well. Good news: this terracotta planter with a marbleized pattern is currently on sale for $9.99. You can't beat that!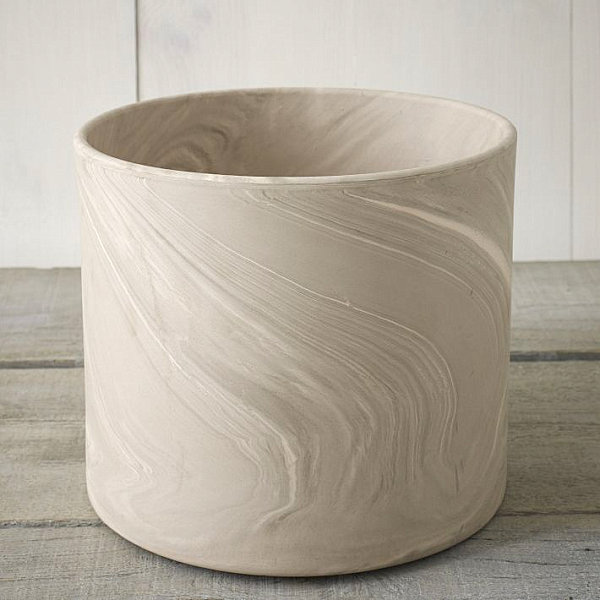 From marble effects to actual marble… These Marble Planter Pots from The Cool Hunter are compact and chic. Small but substantial, they create a refreshing, luxe receptacle for your favorite succulents and more…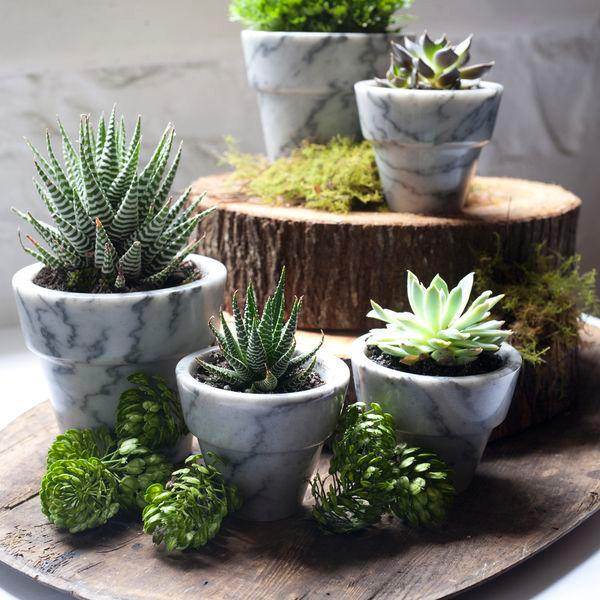 Metal Planters
We end with a trio of metal planters that are chic and modern. This Copper Grande Balle hanging metal succulent planter from Etsy shop Plantworks PDX is made from a repurposed track light. The outside of the piece is painted a textured copper tone on the outside and a charcoal grey shade on the inside. A suede leather cord is the perfect finishing touch.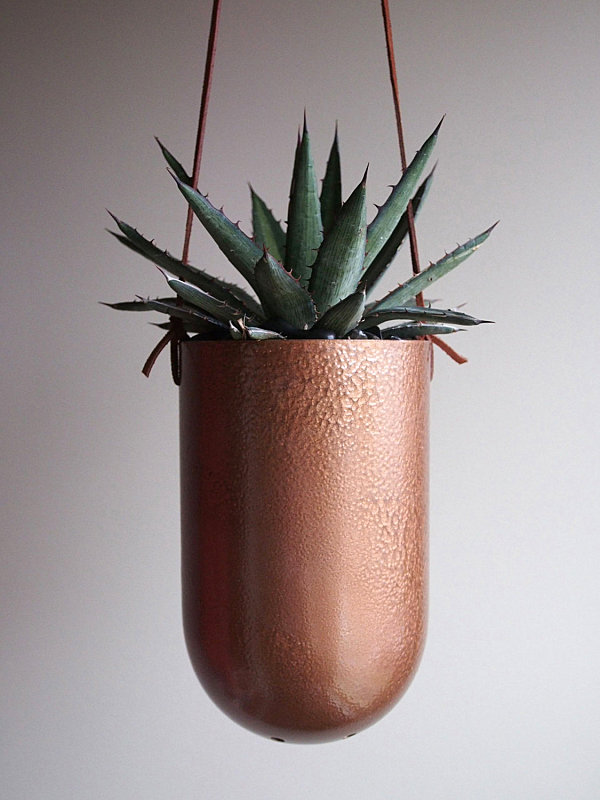 Bring on the geo style! This Polyhedron Cachepot in Silver from Mayker Studio is crafted from mild steel. The piece is welded and sanded for a clean, modern look. Love those facets!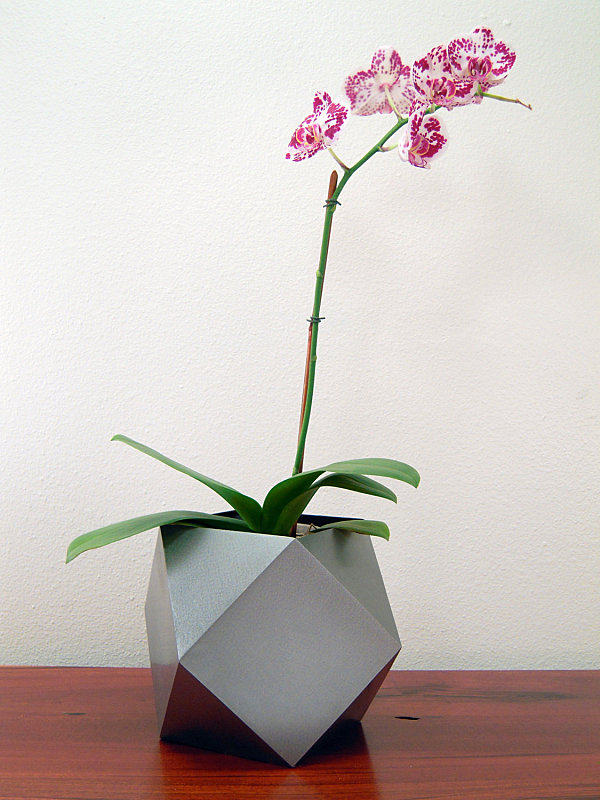 For a hanging geo planter option, check out the Small Himmeli Geometric Drop from Etsy shop Spazz Happy Line Design. Ideal for holding air plants, this metal piece also includes a drop string for easy display.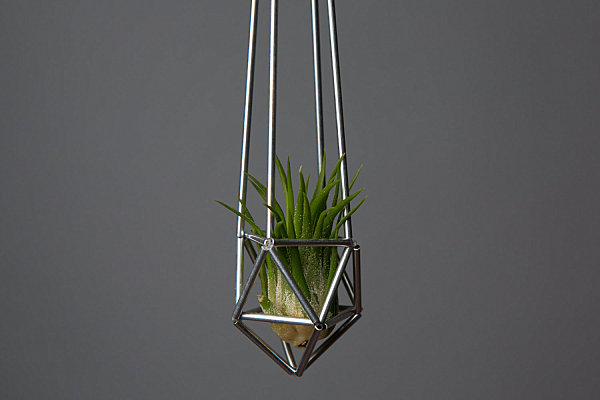 Did any of today's featured planters catch your eye?
Share your favorites by leaving a comment at the end of the post.