One of my all-time favorite design books is The International Book of Lofts, written in 1986 and packed with amazing photos showcasing the latest in urban design from the '80s. The book was given to my husband and me when we moved to our new place, and I've returned to it time and time again when brainstorming design ideas for our home. Even though the book is now decades old, there are some timeless images that speak to popular loft style: the chic modern vibe, the industrial look, and the artist's dwelling.
The details of each look have changed a bit over the years, but the basics have remained the same. It's these exact styles that we profile today in our post devoted to urban lofts. Check out each featured home below, and let us know if any of them give you ideas for your next design project. City living has never been so appealing…
A Modern Glam Metro Loft
Many loft spaces feature an industrial style that includes exposed ducts, brick walls and original windows in all of their imperfect glory. Yet our first featured loft is anything but rough around the edges. In fact, this space styled by Tom Stringer Design Partners boasts an elegance that takes loft living to an upscale level. [photos by Werner Straube]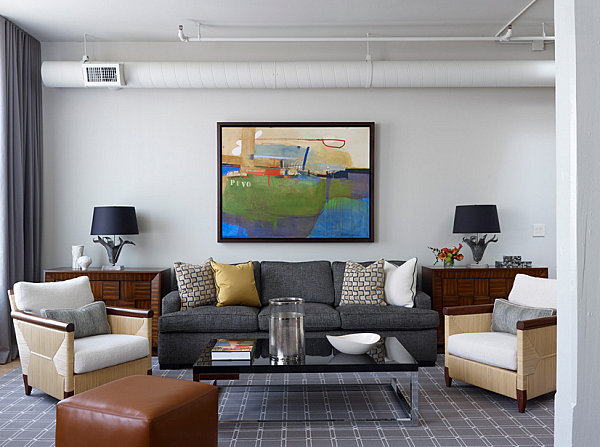 Patterned carpet, clean-lined furnishings, modern artwork and a textured fireplace are a few of the special touches you will find in this thoughtfully designed home…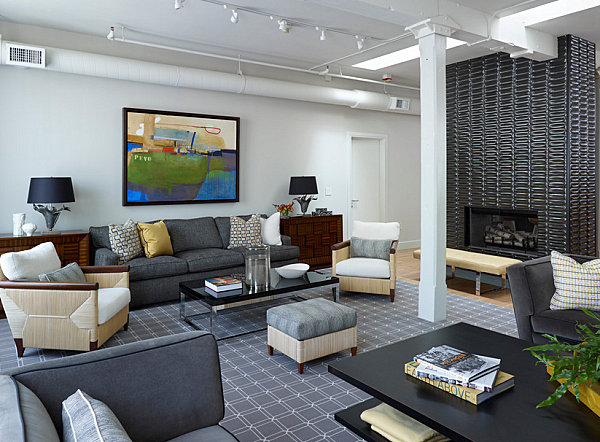 The roomy kitchen features open shelving and a long countertop that doubles as a bar: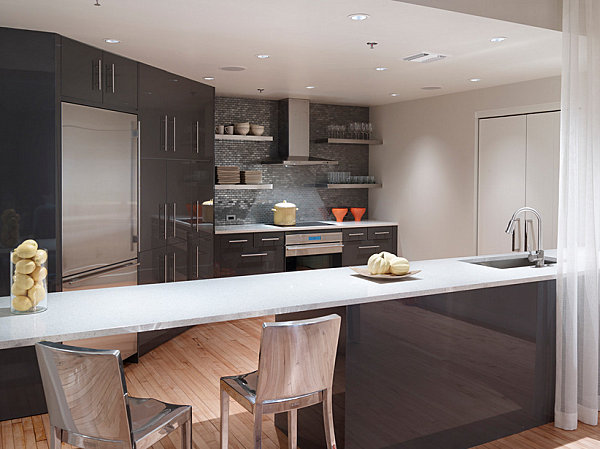 The dining room includes two pendant lights with shiny drum shades, a sheer curtain to divide the space from the kitchen, and bright touches in the form of flowers and produce…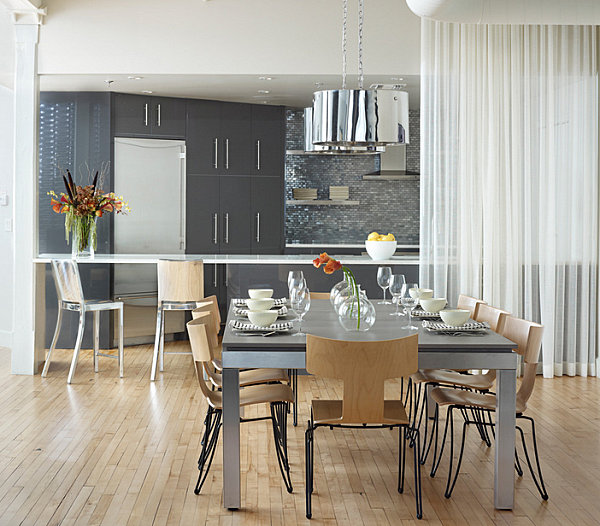 The home office is just as elegant as every other space in this loft. A vintage desk and credenza seamlessly blend with the Nelson Ball Pendant Lamp. Floor-to-ceiling drapes create a sense of height, while modern artwork and a patterned rug continue the chic theme set in the living room.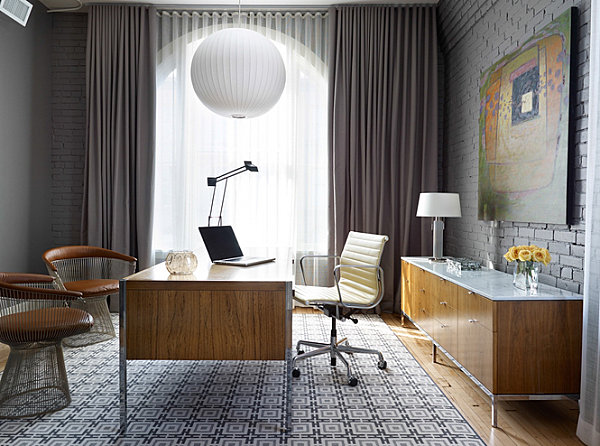 The key to creating a modern glam loft is knowing when to hold back. This look is every bit as subtle as it is stunning. While not as luxe as a penthouse featuring mirrored furniture and Hollywood Regency flair, the glamour comes from the little things: a marble surface here and there, a shiny light fixture, or a geometric patterned rug. Clean-lined furniture keeps the elegance in check.
A Unique Industrial Loft in Houston, Texas
Ready to go industrial? We're talking brick walls, exposed pipes and concrete floors here… This Houston loft showcases the industrial look in spades. Yet this urban space defies stereotype. Interesting touches such as the Poltrona Frau Chester Sofa and the Wooden Chair by Marc Newson add depth and interest, as shown in the living room below. This home by CONTENT Architecture is the picture of urban loft living… [photos by Peter Molick]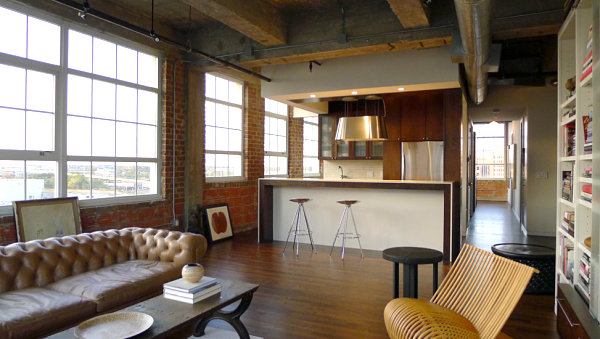 Jamaica Barstools by DWR add to the industrial look of the kitchen, which features wooden cabinetry and subway tiles: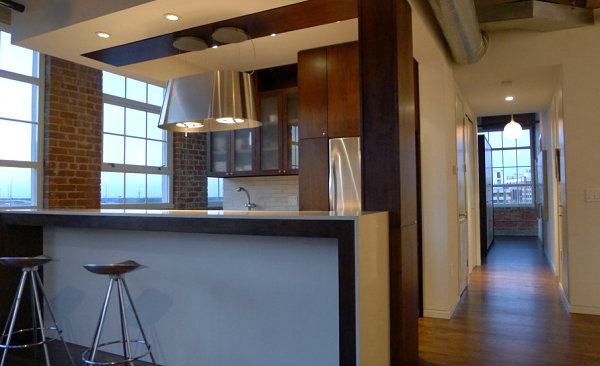 Wooden beams, exposed pipes and brick walls highlight the bedroom. See the divider behind the bed? This piece doubles as a headboard and a wardrobe!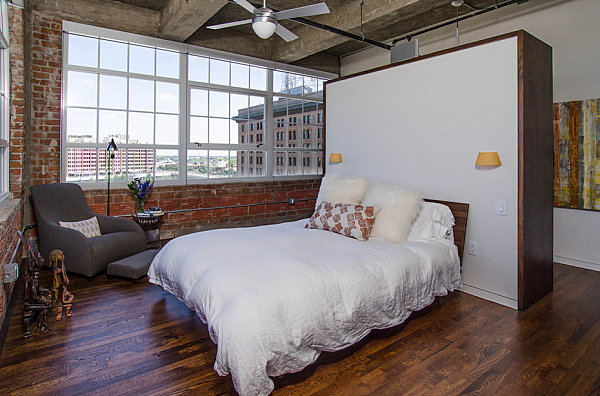 But just when you thought this space was all about industrial style, we see the chic home office below, featuring white walls, custom cabinetry and a curvy chair that packs on the cutting-edge personality, thanks to fabric designed by Stephen Sprouse!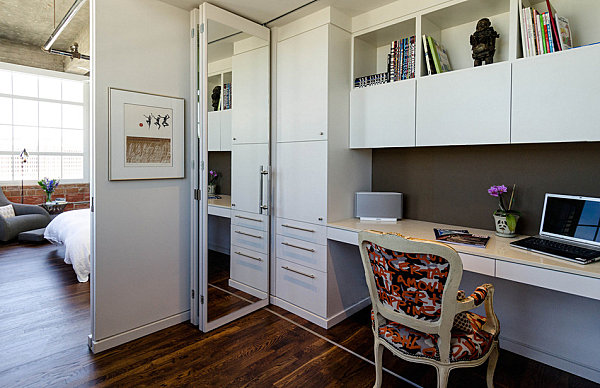 A concrete wall adds raw style to the bathroom. Check out that wooden sink with a built-in towel rack!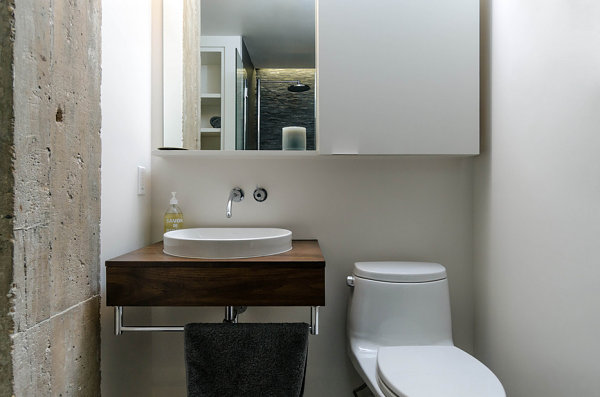 The key to getting this look at home: exposed elements (such as ducts and piping), brick walls, and an effort to deviate from pure industrial pieces by peppering your space with unexpected touches. Go modern. Go classic. The result will be interesting and weathered.
A White-Walled New York Loft
We end by shining the spotlight on the home of Alina Preciado, featured on Houzz. This white-walled urban loft in New York boasts elements of industrial style, but rather than showcasing brick walls, this space makes use of white paint to create a striking contrast between dark and light. [photos by Chris Dorsey]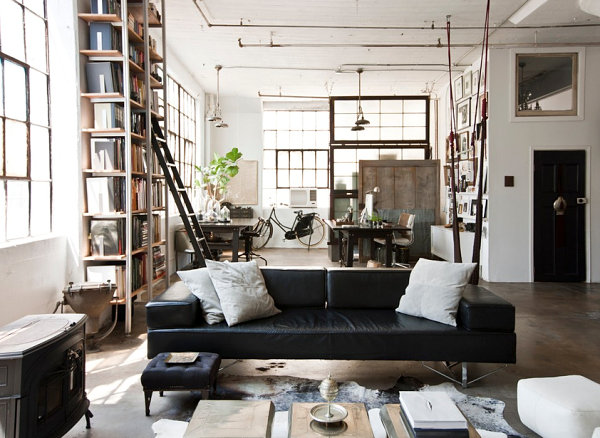 There's something truly unique about this loft–low maintenance yet artistically curated. From the collection of plants and quirky finds displayed under cloches on the table by the windows to the assortment of indoor plants that add a fresh dose of greenery, special flourishes are interspersed throughout the home: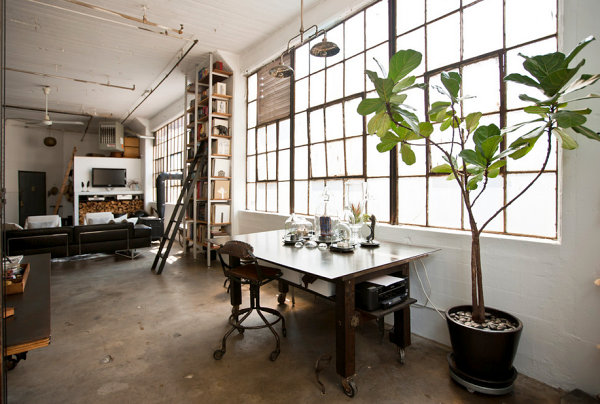 Check out the windows in the kitchen below. For many loft spaces, imperfect windows are a true plus, bringing a sense of history and character home. Also note how open shelving contributes to the distinct style of this room: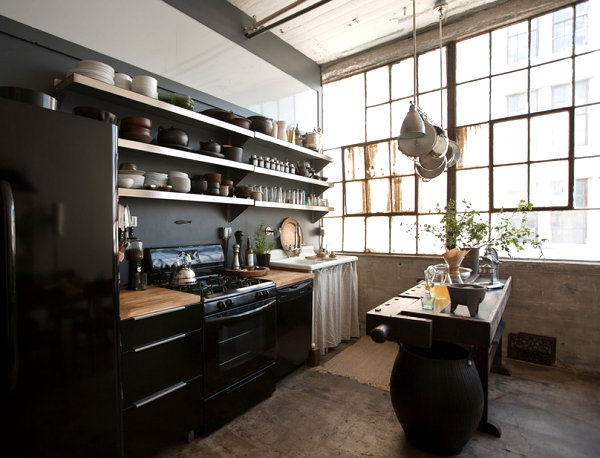 The loft's bedroom is enclosed yet open, creating a cozy feel while maintaining the light and airy vibe of the overall home. A hanging mobile featuring an assortment of circles adds an interesting visual element, helping to define the bedroom as its own unique space…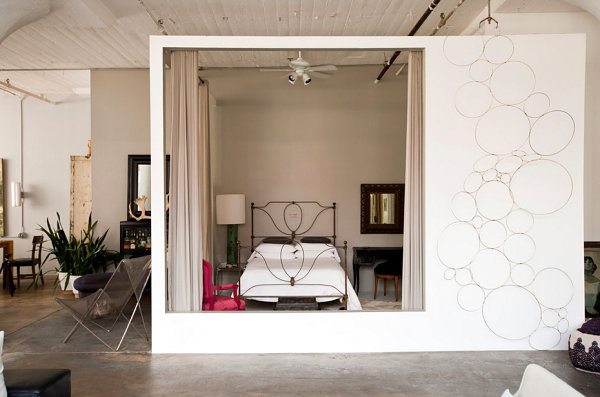 White, cream, black and dark brown are the dominant hues in this New York loft. Yet bright touches like the bedroom's pink armchair and green cylindrical table lamp are welcome doses of color.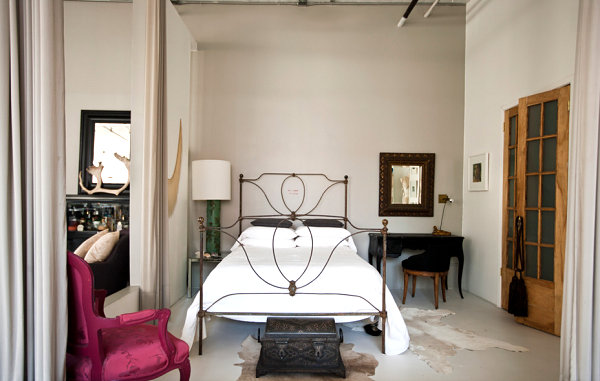 The plants, interesting bath products, wall art and wooden floors in the bathroom add unique flair, reinforcing the fact that while this loft may be industrial, it truly is an artistic space!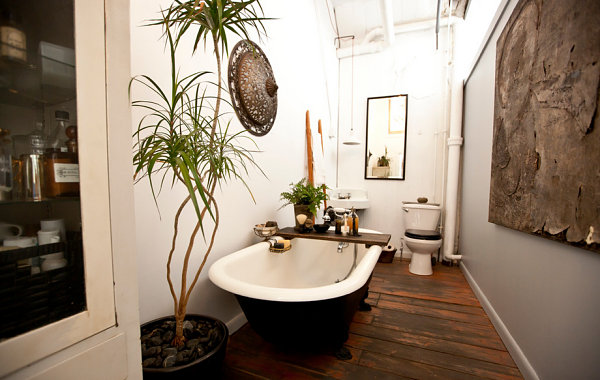 The key to getting this look: an subtle industrial vibe, a striking contrast of dark and light, and an abundance of thoughtful details. This style is anything but minimalist and stark. Warmth comes from the personal touches, such as a coffee table ornament with an interesting history or a sculptural art piece that adds modern flair.
Today we featured a modern glam loft, a sleek industrial loft and a loft with the feel of an artist's abode. Which style caught your eye? Share your thoughts by leaving a comment below.