You come home, throw your shoes away anywhere you see a free spot and then grab a bite in the kitchen and hit the couch. And then you're upset seeing with all those shoes lying around in disorder. Sounds familiar? You my friend are in need of a shoe storage cabinet, but since you're on Decoist and we know a few things about inspiring our readers, you'd be looking at fashion shoe cabinets that even the fancy would die for.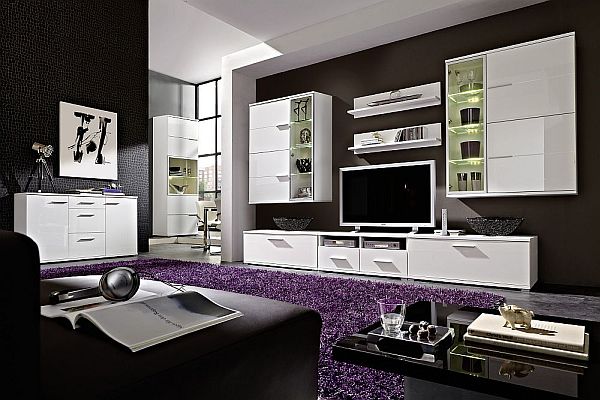 Without further ado, below is our stylish collection of shoe cabinets that would make a splash for any interior decor.
Mataro Large Shoe Cabinet in Walnut
This large shoe cabinet below is part of the Mataro range of contemporary hallway furniture. With a visually appealing design that oozes modernity, the Mataro shoe cabinet will give that perfect first impression in your home. It's perfect for everyday use, delivers excellent practicality and makes for a beautiful hallway storage solution. The cabinet mounts on the wall. It has a Walnut foil finish, chrome handles and 2 wide tilting drawers. It's all about refined styling, and Mataro does that. (from furniture123 for 200 British Pounds + transportation)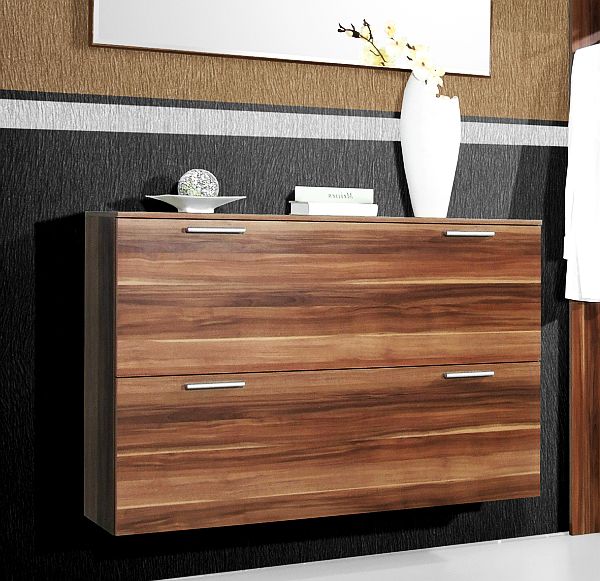 Fancy Shoe Rack Pull-Out
Shoe racks aren't as functional as we may have thought. Everything entangles in there and you can't see exactly what you should wear for your dinner date. Check out this shoe pull-out (it hides nicely inside this custom traditional cabinetry) allows you to browse your entire shoe collection in one painless peek. (from homeportfolio)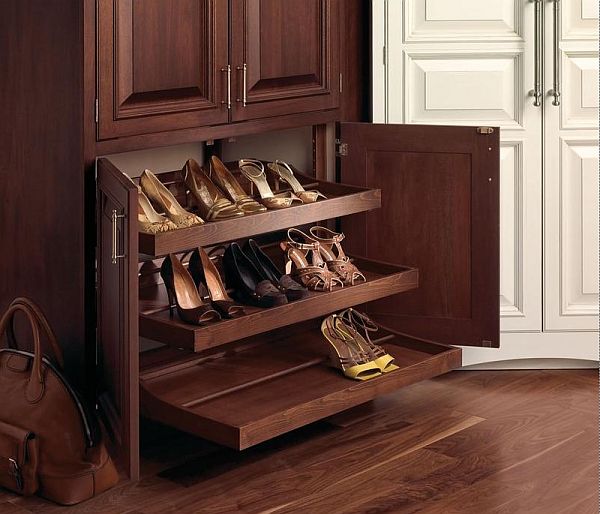 IKEA Shoe Cabinets
Furniture from IKEA is easy to assemble, inexpensive, durable and has a Scandinavian simplicity that goes right to your heart. Here are a few ideas for shoe cabinets from IKEA.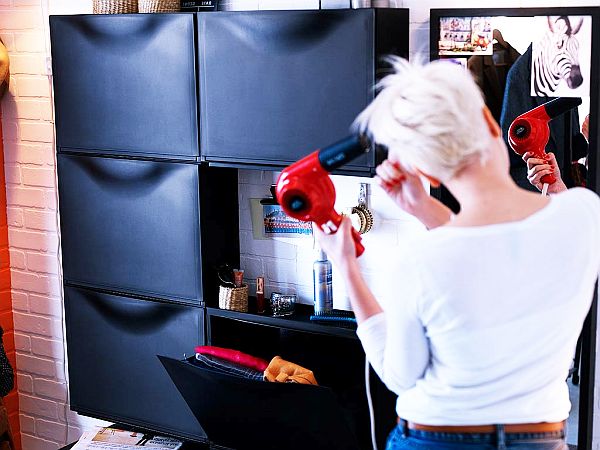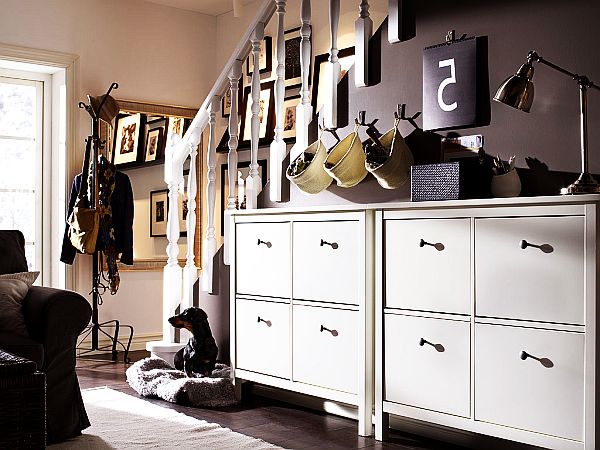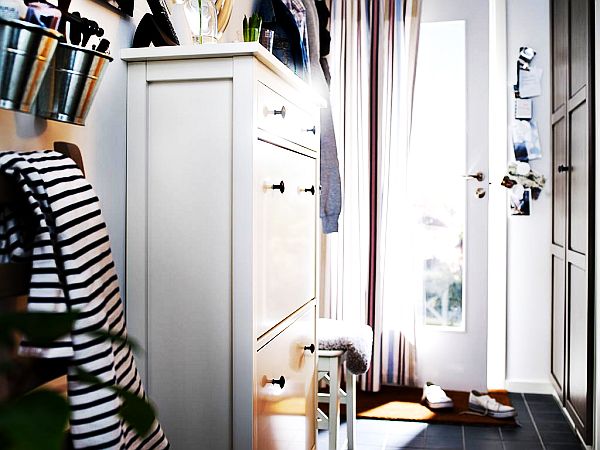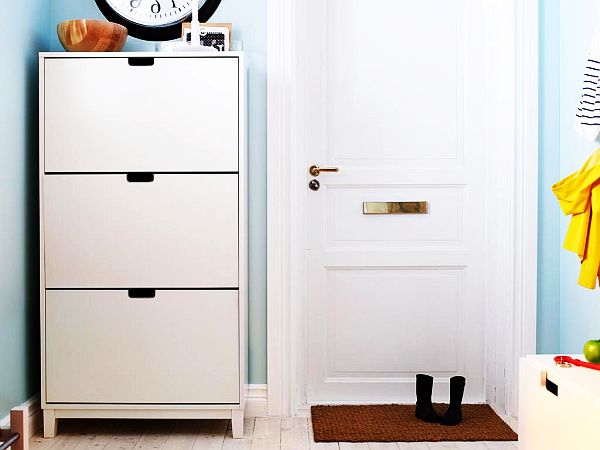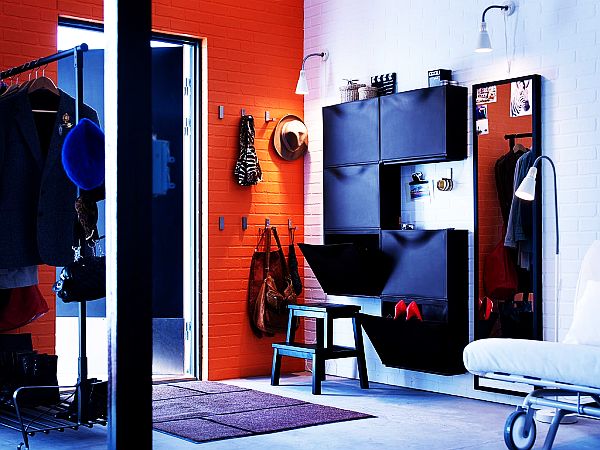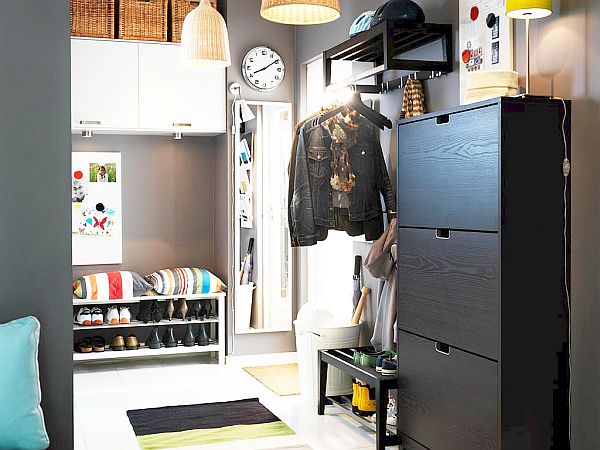 Fashion shoe cabinet
Look to the left. Ignore the beautiful luxurious furniture and the lavish sofa, and the fancy rug. Just ignore all these and to the left you'll see a great shoe cabinet. Right? (found on mygermania)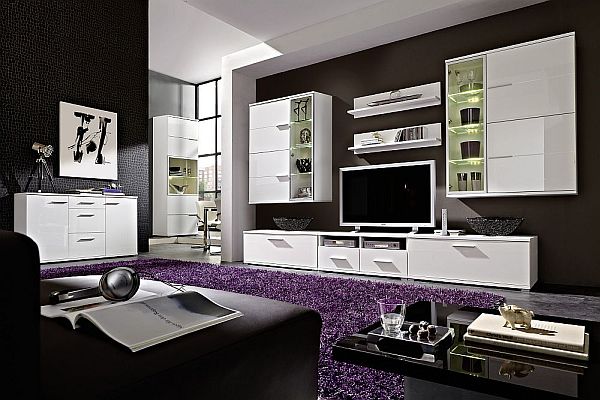 Entry-way Luxury Shoe Cabinet
How about this setup? A shoe cabinet with mirrors, a minimalist clothes and umbrella hangers, and a stylish wall clock. Definitely spells luxury for anyone visiting your home. You may want to choose this setup to awe your guests. Perfect even for small space entrances, this mirror covered cabinet is part of the Sirio Collection by Italian manufacturer Arredokit.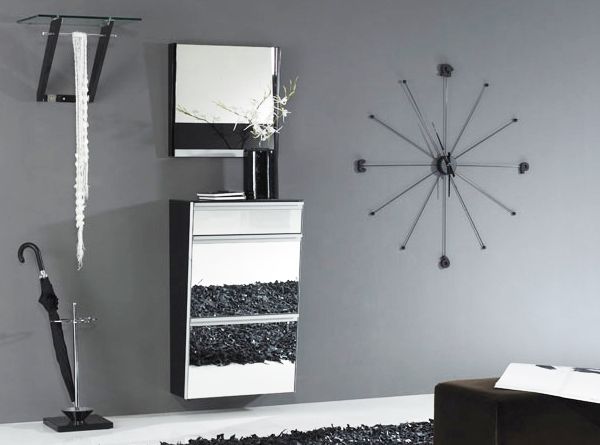 Shoe Cabinet Doubles Up as Fancy Stool
I think the title says it all. It's great to have a place to sit when you have to put your boots on, or when you need to take things off and you're not wearing just a pair of sneakers or high heels. Totally love this sleek wooden stool that can be home for my shoes whenever I come back from work.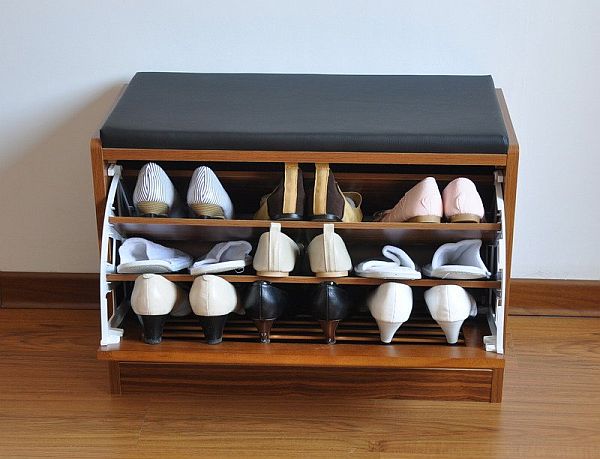 Glossy Shoe Cabinets
And while we're at it, talking about Arredokit and their great ideas, how about a collection of shoe cabinets that get the eye with their glossy appearance.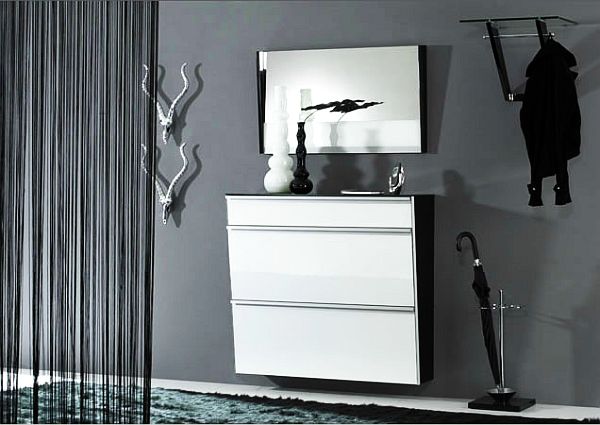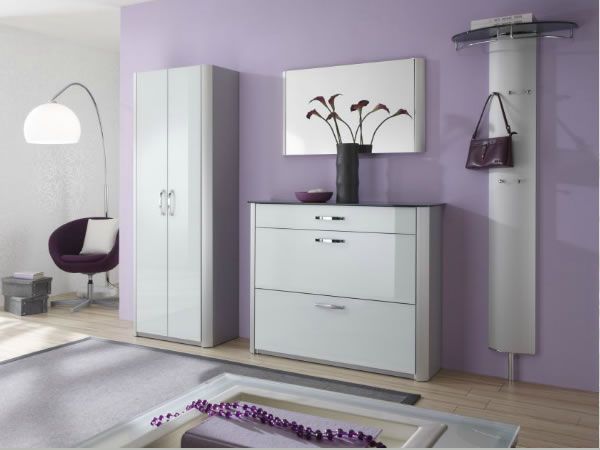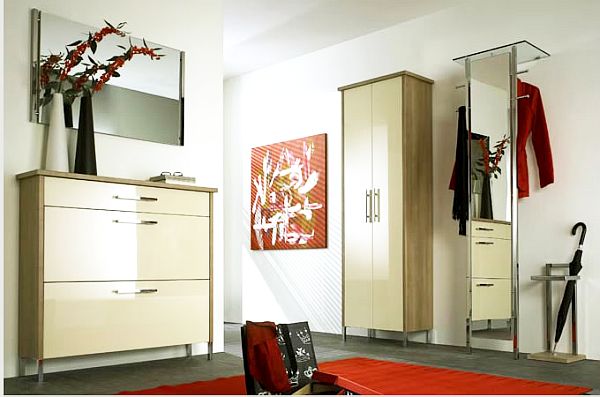 Box Base Shoe Cabinet
No rocket science in here, with all these high gloss white shelves, right? But it's not the shelves that complete a crisp, modern environment , it's the customizable bright colored boxes. While this wasn't designed for shoes in particular — more like a piece of furniture to help keep things stored effectively in your own individual style — we do feel like it's perfect to accommodate your stylish high heels or your leather boots. (from fashionforhome)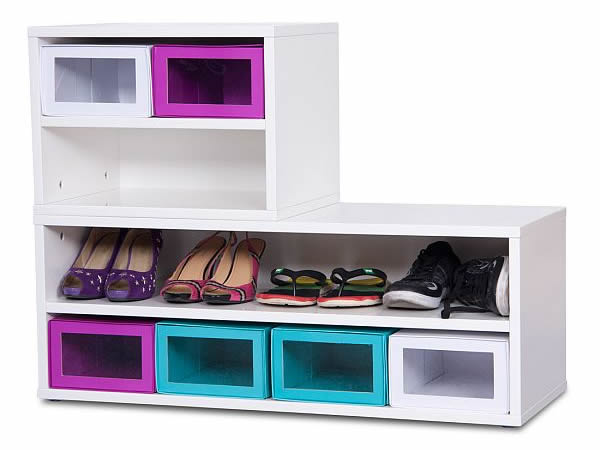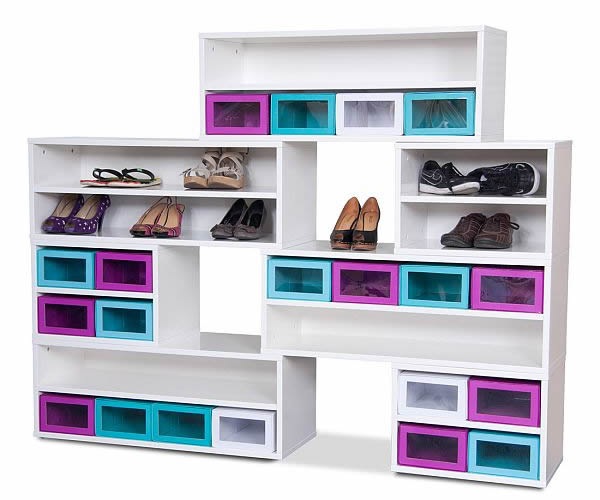 Red painted shoe cabinet
Having a shoe cabinet is all about keeping things organized. It seems like this one does this exactly, adding some color to your whole interior at the same time.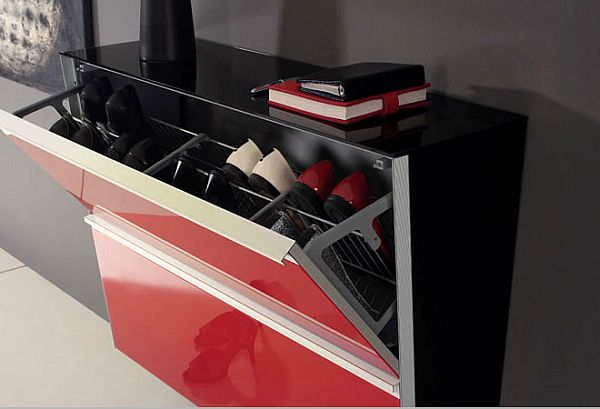 Wood finished shoe cabinets
It doesn't have to be glossy, or lavish to make a good impression. Simple lines and fine touches are just as good. Here's a great example. The AD collection from Arredokit (same company as the one above), with wooden-finished cabinets that will hide your fancy pair of shoes, in style.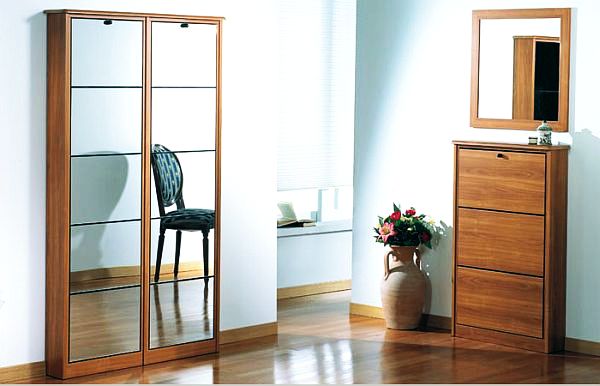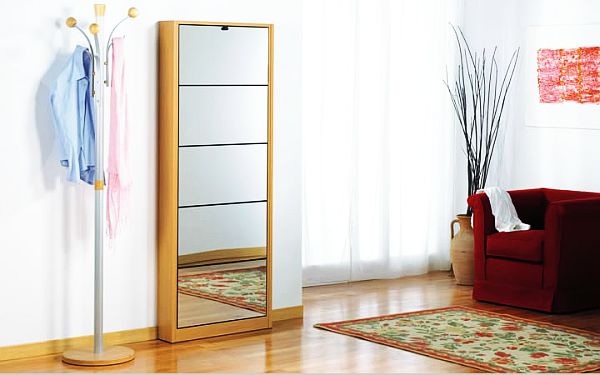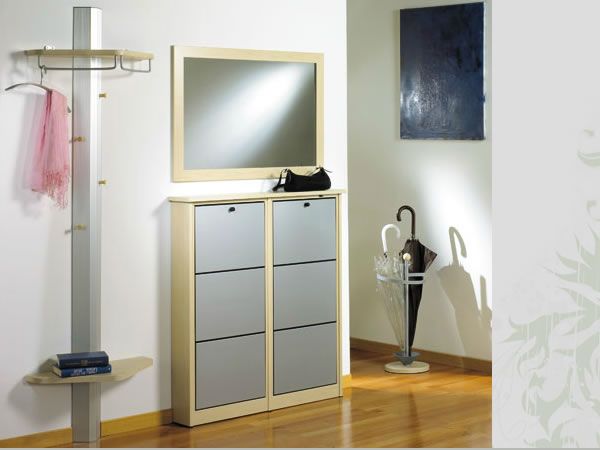 Color Splash
If you want your shoe cabinet (actually your whole home interior, your furniture) to speak your personality and you're a bubbly person with loads of energy, I guess it's time for adding all sorts of accents to your home. These are all made in China, by a furniture company called Donguan houjie Jiafeng furniture, and were found on yfff. Totally awesome!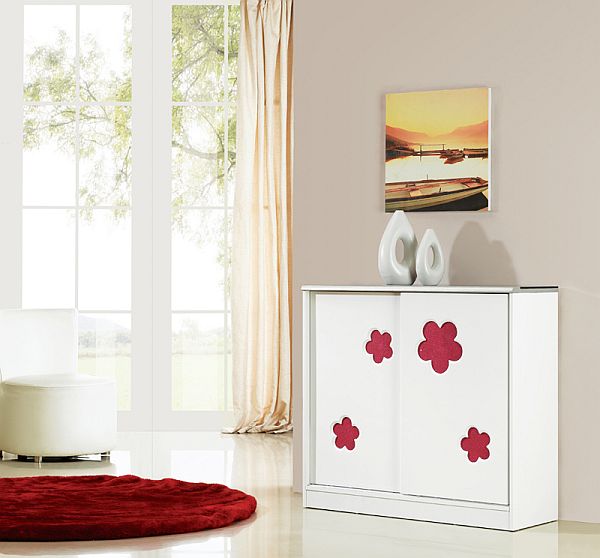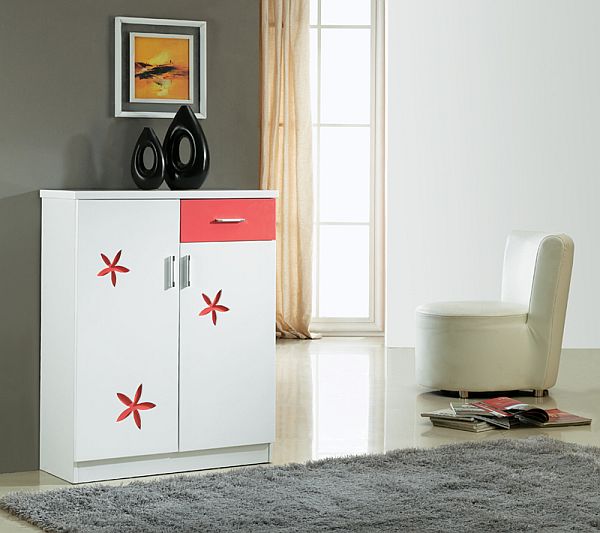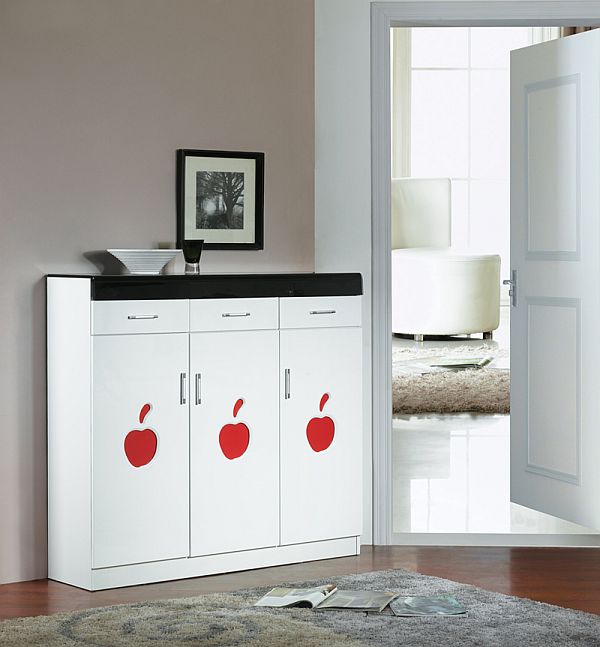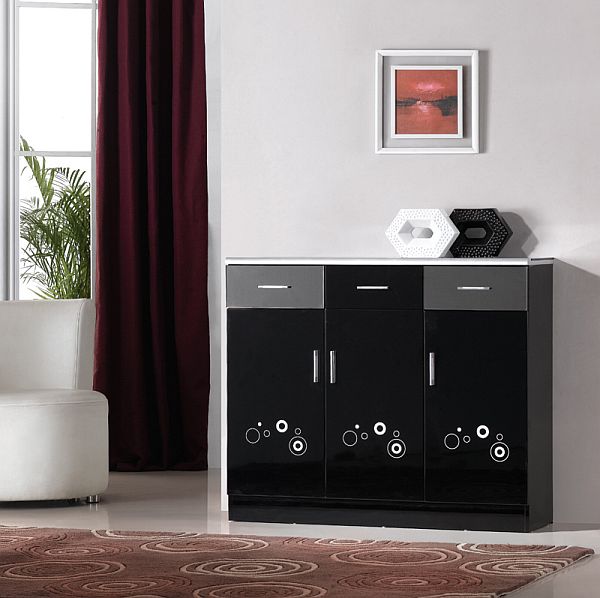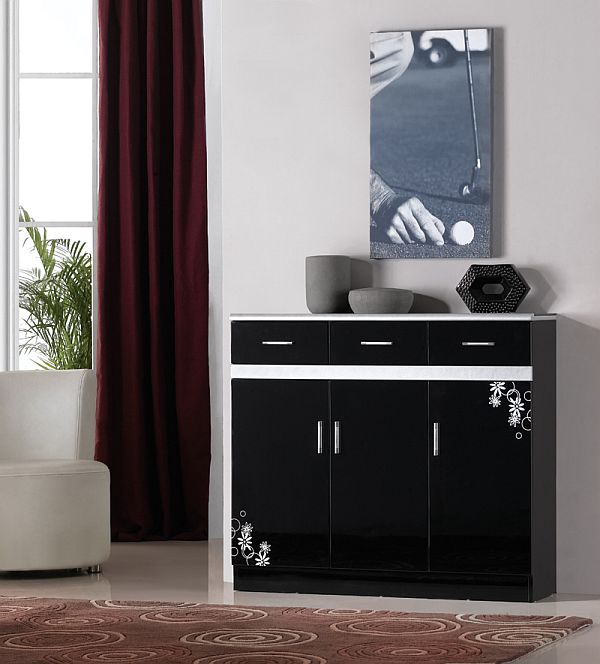 Bedroom wardrobe for shoes
Yes, your love for shoes could be that big, that you'd "sacrifice" your whole bedroom wardrobe to store them close to you while you're sleeping at night. It's not a disease guys, that's just the way women are. They love shoes :)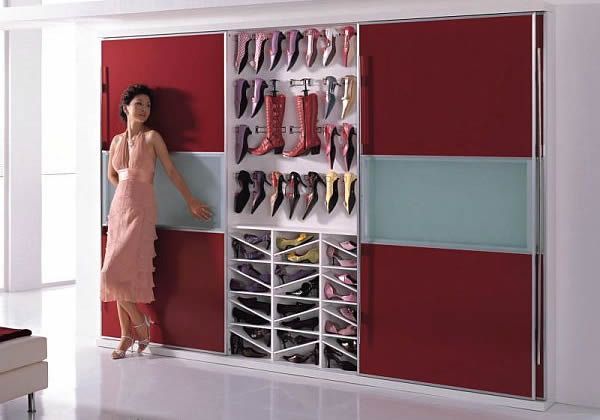 Bonus: Skyline shoe rack
I know this isn't a shoe cabinet, it's a shoe rack, but it's so cool that I had to add it to this list. It's made of wood, and given by its looks, you can definitely build this yourself at home. Florian Schmidt is guilty for coming up with that design. He says that "Skyline is a shoe rack inspired by the "Sky-line" of the Shoes. After some fancy ideas how to create a show rack, the key visuals came easily into my mind while laying on the floor and observing the shoes, which were standing in the row. Instantly i realized the opportunities of combination of the shoes and their height."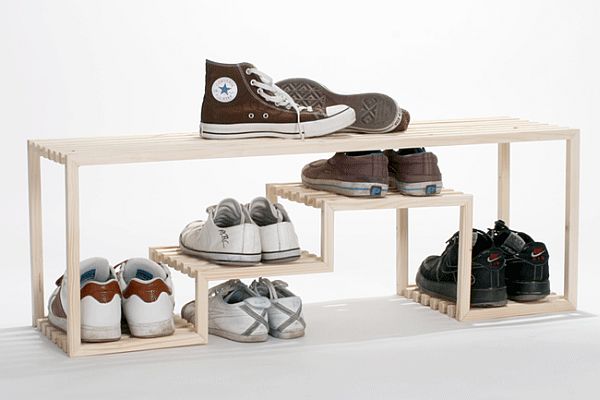 Do you have any more ideas to add?