Why are napkin rings always an afterthought? I'll admit it–the napkin rings I've acquired during my lifetime have been gifts. I love a clean, uncluttered tabletop when entertaining, so I tend to avoid ornamental details at my place settings. But today's post has helped open my eyes to the chic possibilities that napkin rings offer when it comes to tableware.
Below we highlight a collection of elegant napkin rings that add modern style to your entertaining endeavors (as well as your quiet family dinners). Let me clarify that when I say "elegant," I don't mean "ornate" or "frilly". I'm talking about chic, sophisticated selections that make a big impact with a few key details. From metallic finds to contemporary acrylic pieces, today's featured napkin rings just might catch you by surprise…
Metallic Napkin Rings
We start with the bright and the shiny! When this first featured selection caught my eye, it proved to me that napkin rings can add sculptural detail to the dining table. It's the Scoppio Napkin Ring from Z Gallerie, which features a square base for a steadying effect. Scoppio comes in silver and gold. Speaking of gold, below we see a similar Z Gallerie selection in a warm tone, featured in a Thanksgiving photo shoot for Poise.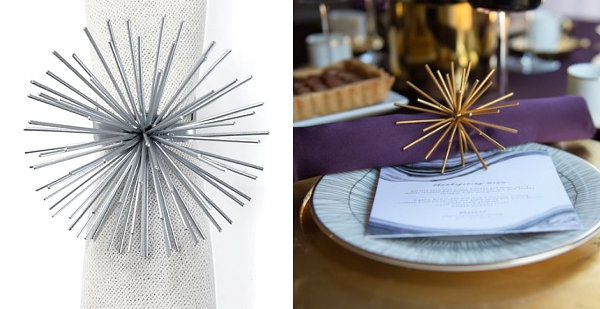 The simplicity of numerical forms gives this Set of 8 Vintage Number Napkin Rings from Restoration Hardware timeless appeal. These napkin rings are crafted of rugged solid brass. If you're not a fan of gold tones, note that they are also available in a burnished finish.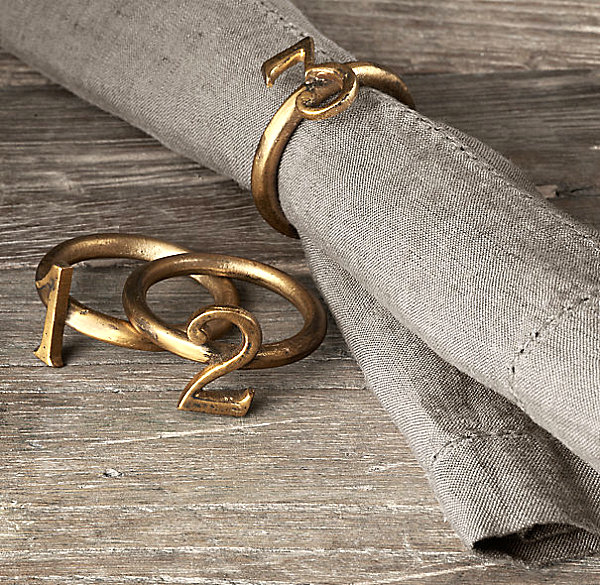 Ah, the magic of geometry! In fact, this Gold Napkin Ring Set from West Elm combines two of today's hottest trends: geo forms and brass!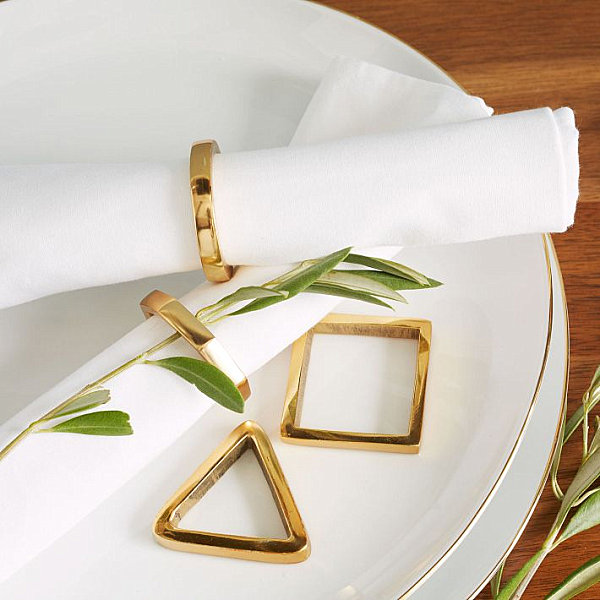 For another lesson in geometry, check out the Rectangle Metal Napkin Ring from West Elm, which boast a silver sheen. The unique elongated form of each ring (sold separately) creates a unique tabletop display…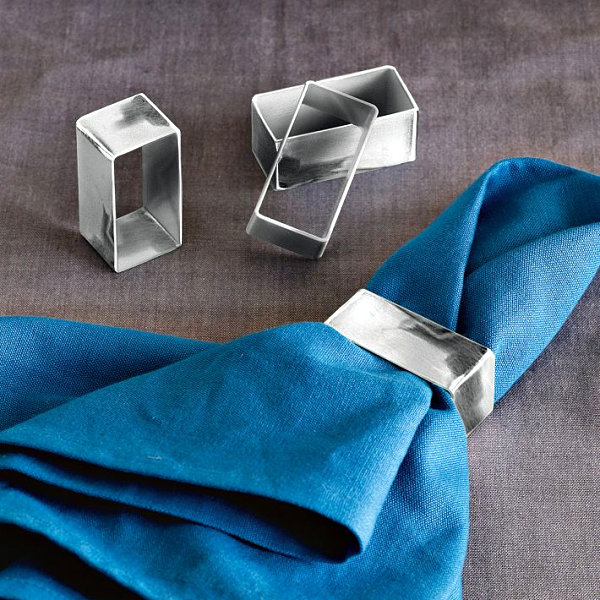 Did someone say geometry?! If you're a fan of Diane Von Furstenberg (who isn't?!), you'll love her S/4 Napkin Rings in Nickel, available through One Kings Lane. Below we see one of these faceted wonders in all of its geo glory… [via Mama's a Rolling Stone]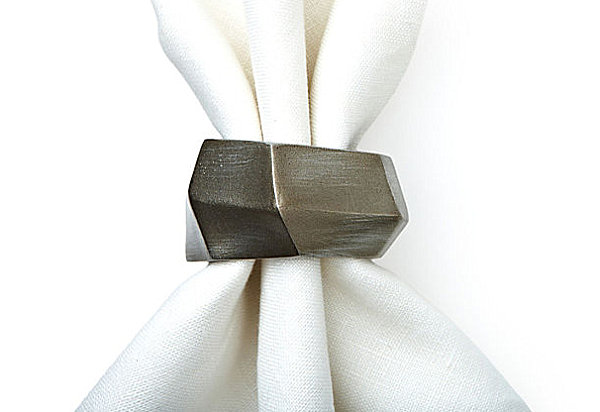 A love knot. A friendship knot. Knots have many symbolic meanings. More often than not, they evoke a sense of strength. Which is why the simple design in the next featured image makes such a strong statement. This Set of 4 Nickel Hand-Forged Knot Napkin Rings from Restoration Hardware showcases the power of the figure-eight, as well as feel of nautical knots.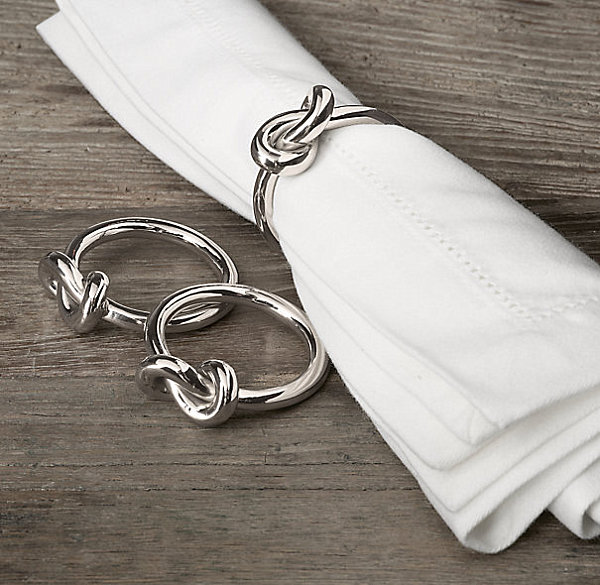 There's nothing like decor that pulls double duty! This Caterer's 12-Piece Napkin Ring/Place Card Holder Set from Pottery Barn features steel rings plated with a silver lacquered finish. Sold in a group of 12, the set also includes place cards for your convenience: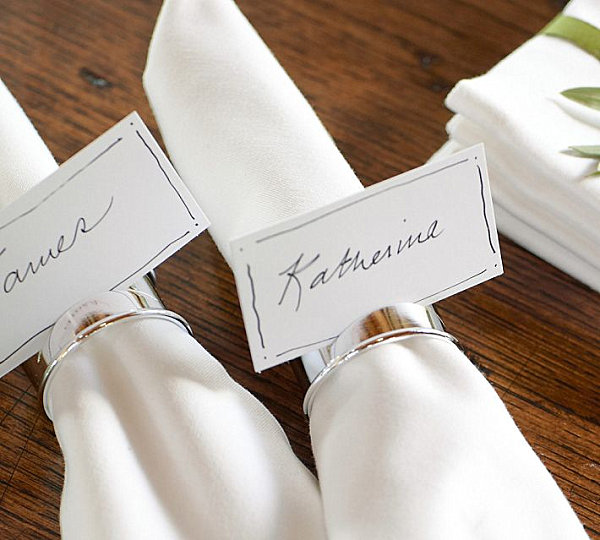 Acrylic Napkin Rings
Acrylic is lightweight and modern, creating a functional, contemporary spread on your tabletop when you opt for napkin rings in this material. We start with the clear and the crisp–say hello to the Set of 4 Acrylic Square Napkin Rings from Z Gallerie: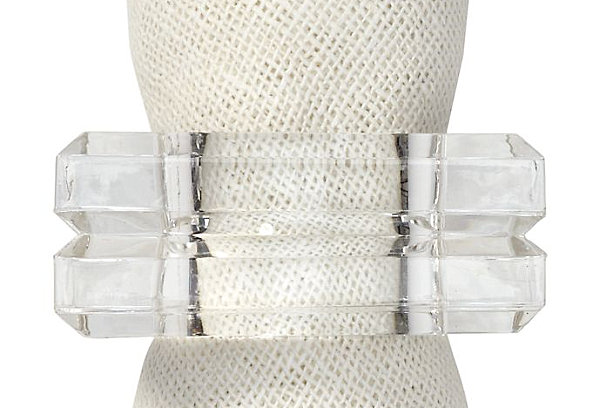 Clear acrylic is crystalline, but colorful acrylic is eye candy of the brightest nature! Sold in sets of 6, these AVF Acrylic Napkin Rings in Neon Multi look good enough to eat! Featuring vivid tones such as orange, yellow and blue, this set of tabletop rings designed by Alexandra Von Furstenberg will wake up your place settings…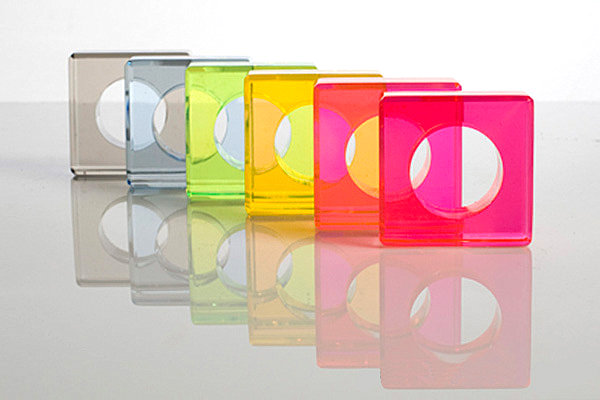 Looking for something a little less neon? Check out this set of AVF Acrylic Napkin Rings in Jewel, shown below. With hues such as Emerald, Sapphire, Amethyst and Black Onyx included, you can add a gem-like allure to your tabletop.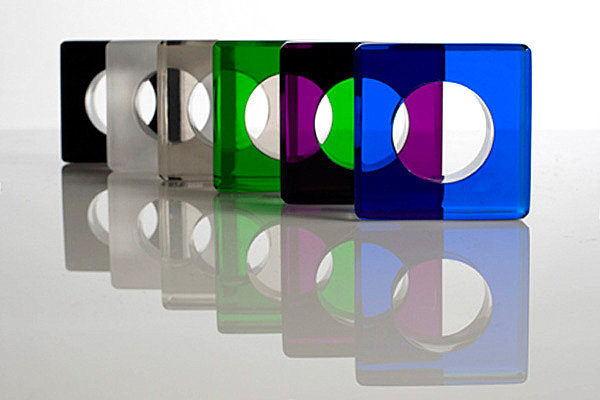 Are they bracelets or are they napkin rings? Definitely napkin rings, but they boast the fun, faceted look of Lucite jewelry! These Acrylic Napkin Rings from Abbott Collection are as lightweight as they are colorful. [via Casual Living]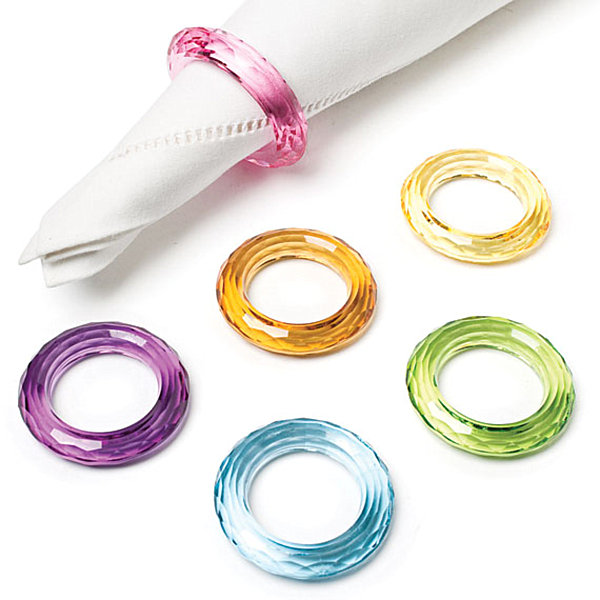 Natural Wonders
We end with an assortment of napkin rings that play up the chic simplicity of natural materials. The Tropic Palm Natural Napkin Ring from Crate & Barrel is available in an array of colors. Mix and match to add a vivid, breezy element to your dining table vignette…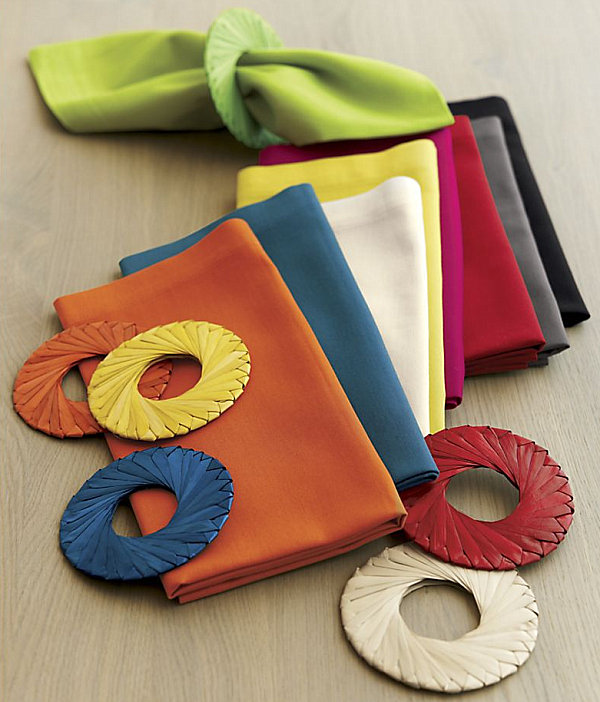 A simple woven form keeps the Banana Bark Napkin Ring from West Elm naturally gorgeous. Crafted of bark, this piece creates an understated tropical tabletop look: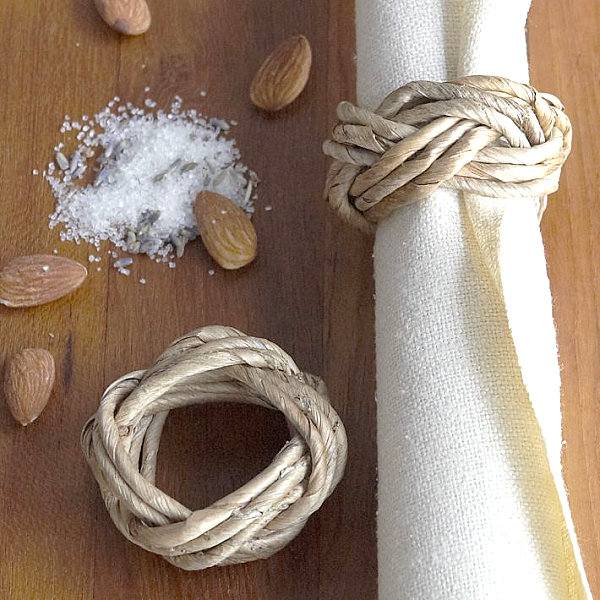 There's nothing like the beauty of stone, especially when vibrant colors are involved! Glass and agate artfully merge to create these Aleotto Napkin Rings in Eggplant. Each agate slice is dyed a rich shade of purple that heightens the piece's natural bands. Very glam! [from Bliss Home & Design]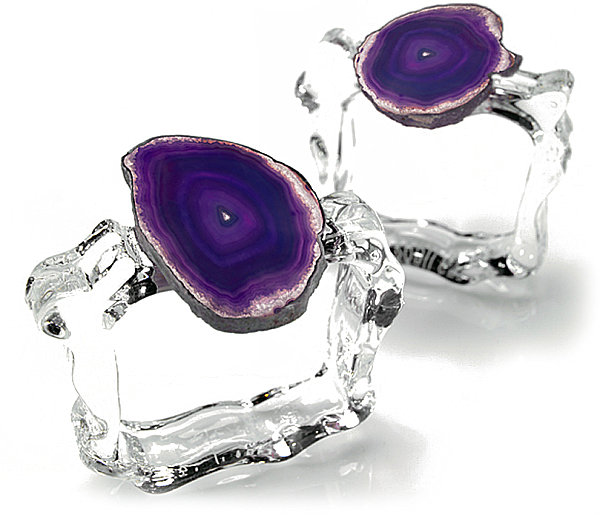 Another stone that's at the hub of a massive revival as we speak…marble! For a unique blend of vintage selections, check out this Set of 6 Marble Napkin Rings from Etsy shop ffog…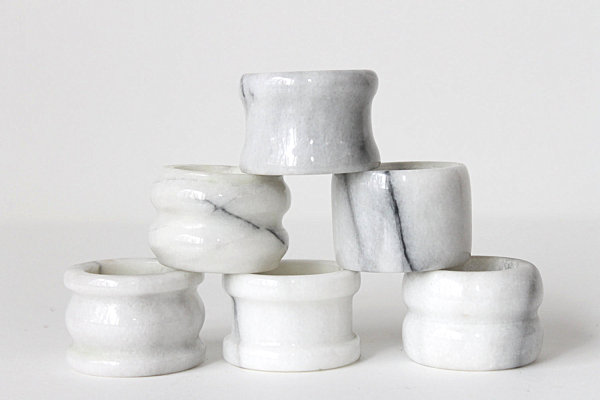 I must admit that I typically avoid faux flowers. But some blooms lend themselves to artificial representation–like succulents! Lately I've seen a slew of faux succulents that have fooled me at first glance. These Succulent Napkin Rings from Crate & Barrel feature lifelike succulents that create a garden-fresh look on your tabletop.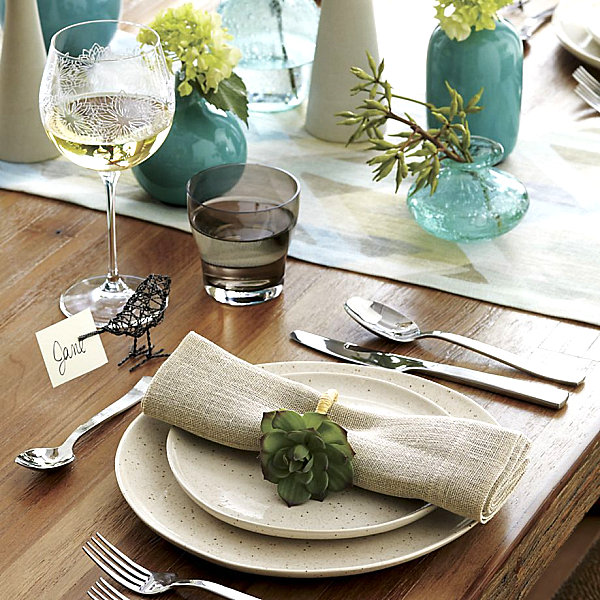 If you're looking for an animal-friendly alternative to horn, check out this Natural Horn Napkin Ring from Pier 1 Imports. Handcrafted of man-made materials, each piece adds two-tone elegance to your table setting. Love those warm tones!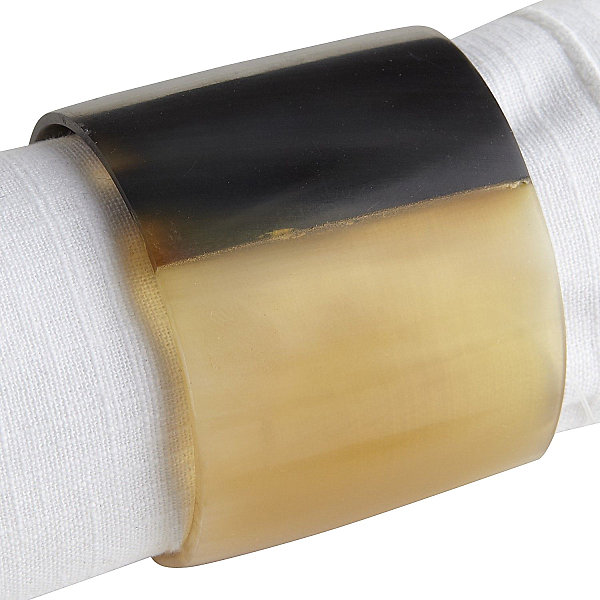 Do any of today's featured napkin rings make you want to start a collection of your own? Would you go metallic, acrylic or natural? Share your thoughts by leaving a comment below…