I've always dreamed of having a greenhouse! Not only because I love gardening, but also because greenhouses are gorgeous! What could be more beautiful than a glass house?! These light-filled spaces are warm, inviting, bright and a celebration of life. They give you the ability to garden all year round. I love the idea of being able to grow my own delicious food in a design-minded space.
These greenhouses are not just designed to grow food, they make for beautiful sitting rooms, orchid houses, and bonsai sanctuaries. Here are 10 ideas that will certainly get you excited for spring and might just inspire a home renovation!
The Kipp Greenhouse
I'm pretty sure I've dreamed of a space like this — a garden with a view. This traditional tudor-style home in Los Angeles and has 10,000 sq. ft. of gorgeous garden. What a serene escape from the hustle and bustle of the city! This beautiful glass house was custom made by Hartley Botanic Inc. It is their Victorian Glasshouse design. [from Hartman Baldwin Design/Build]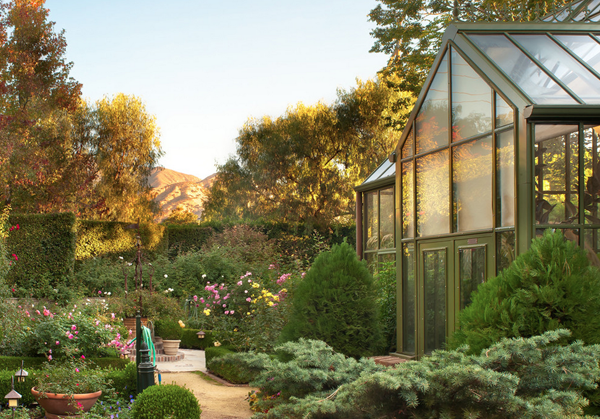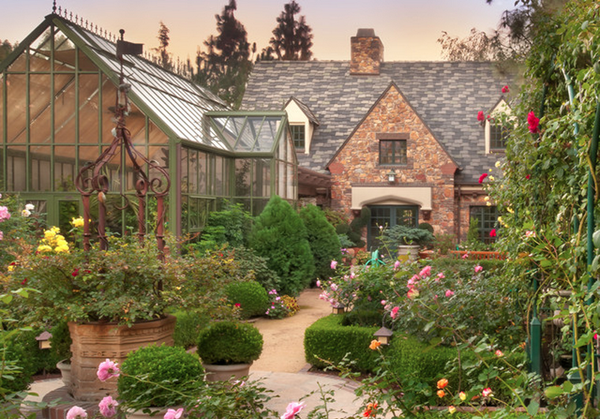 The Conservatory Craftsmen Greenhouse
This greenhouse is located in Hanover, Pennsylvania. It has a comfortable sitting area, allowing the lucky owners to enjoy the outdoors all year round. The old porch in this historic home was enclosed to make this beautiful room. [from Conservatory Craftsmen]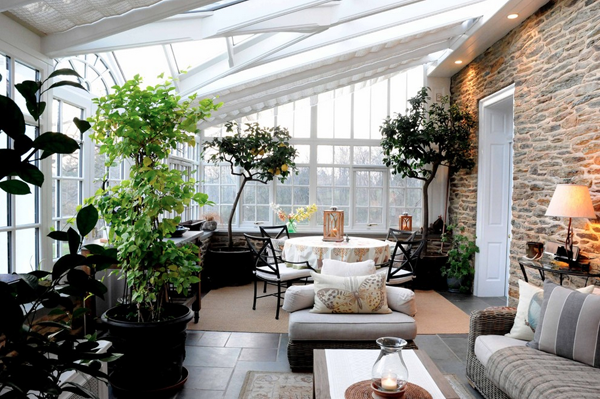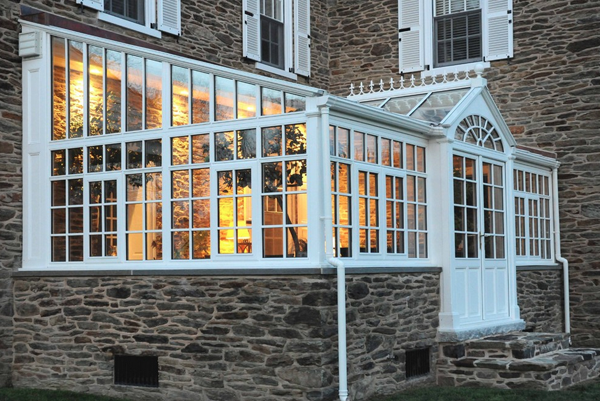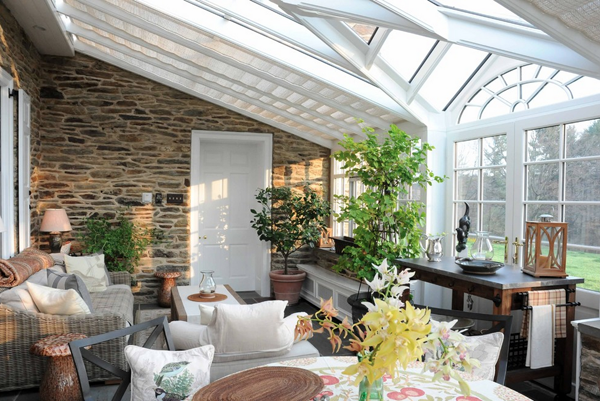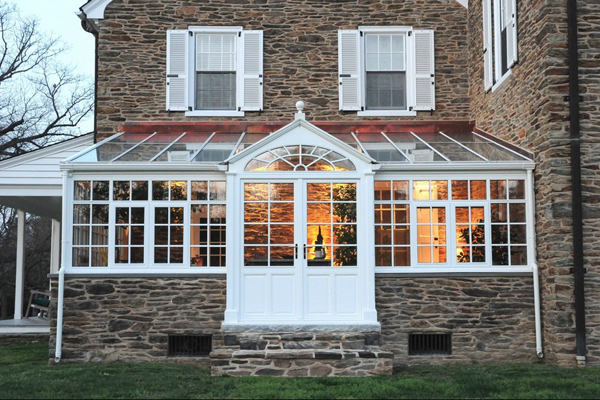 The Seattle Sunroom
Greenhouses don't have to be traditional in style. This modern green space is perfect for gardening. It even has a vent to regulate the temperature for an optimal growing environment. [from Jeffrey Coupland Photography & Berger Partnership via Houzz]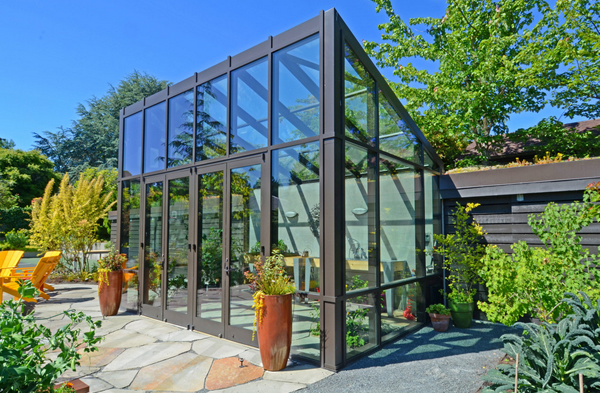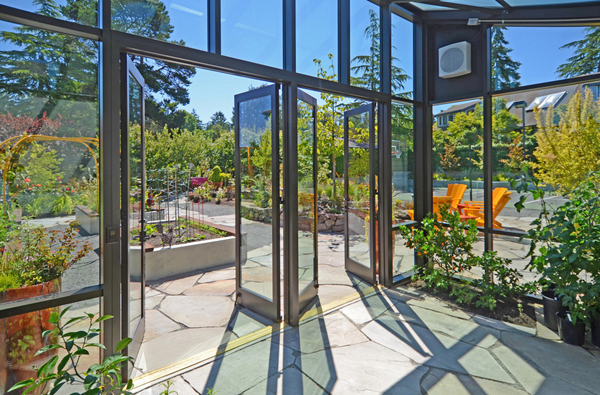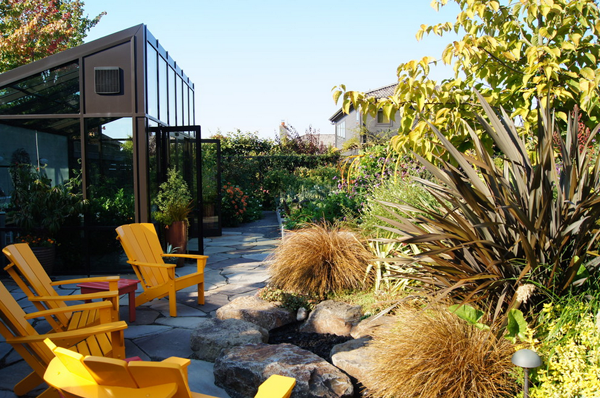 The Glass House in the Garden
This ultra-modern glass house is ideally suited for bonsai lovers. Its minimalist design allows for the natural surroundings and plant life to be the primary feature in this space. This garden is also equipped with a sitting room and a fireplace. These homeowners must use this gorgeous space as a retreat during the cold winter months in Boston. [from Flavin Architects]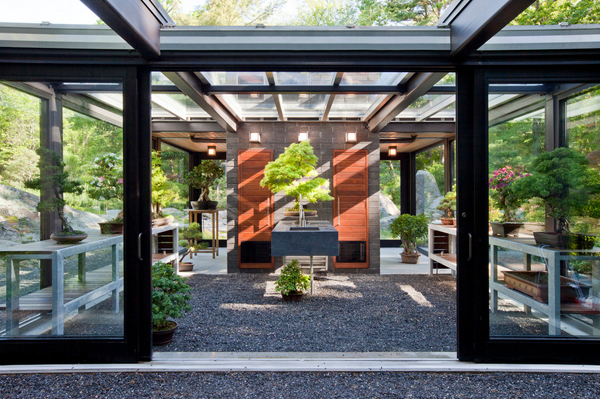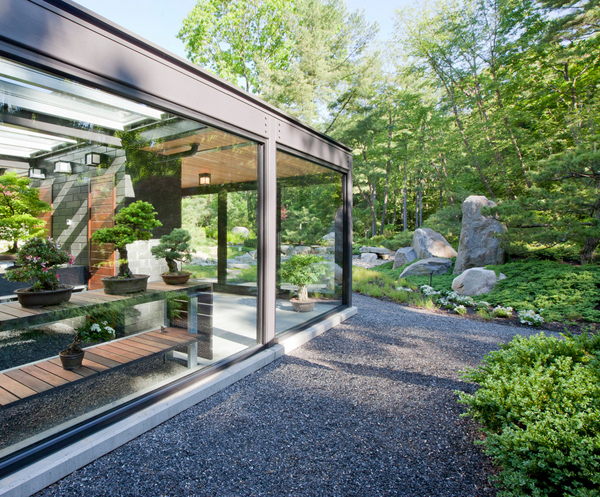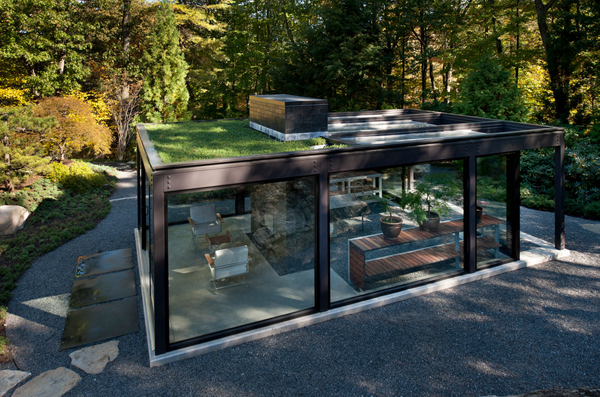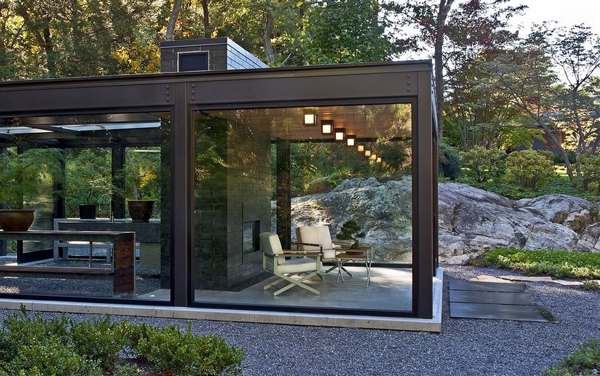 The Rustic Modern Greenhouse
The rustic modern greenhouse is located in the Washington DC metro area. Its use of stone and wood, along with other natural materials, makes it a perfect design for the modern rustic. The greenhouse was custom designed and built to match the surroundings and style of the home. [from Surrounds Landscape Architecture + Construction]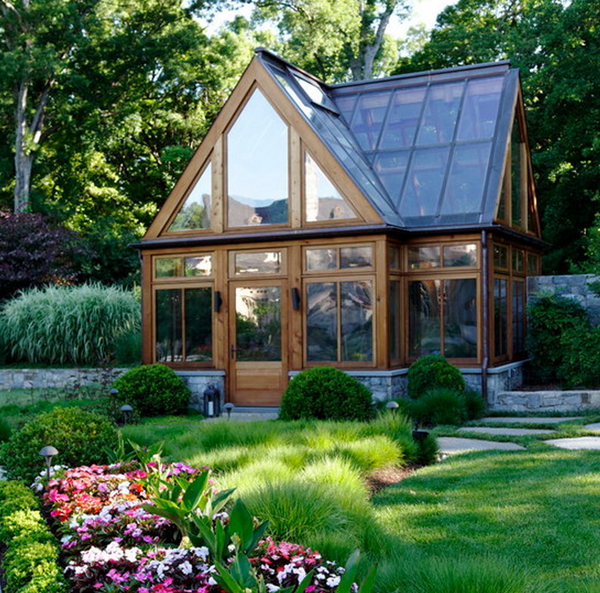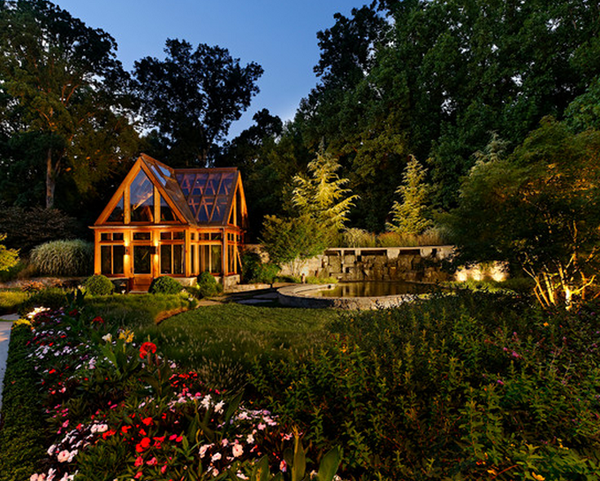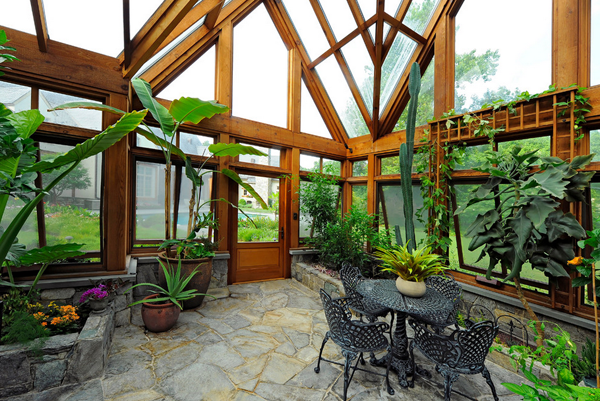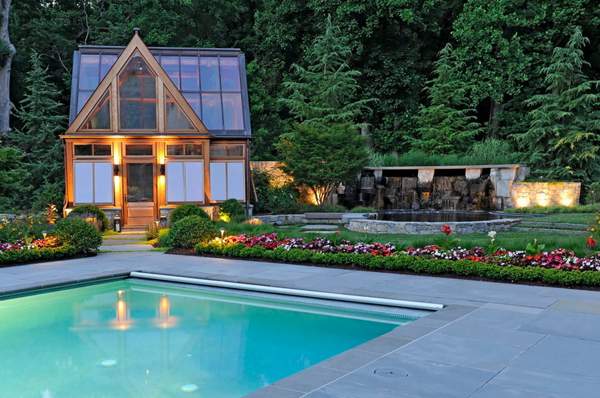 The Cape Cod Greenhouse
Do you like this greenhouse? You can have it! Some greenhouses are prefab and still have stunning style. The great thing about this one is that you can customize the dimensions, color and foundation. This is a great way to get a custom look for a lower price tag. The Cape Cod Greenhouse is equipped with a fan and windows that open for temperature control. It also has a sink for added convenience. [from BC Greenhouse Builders Ltd]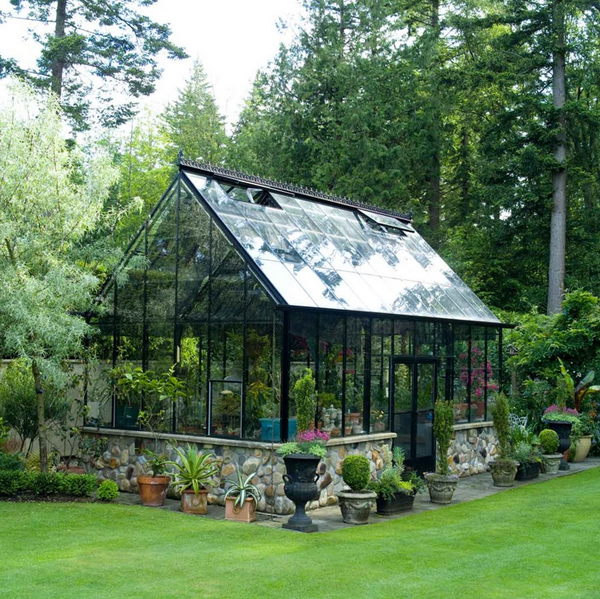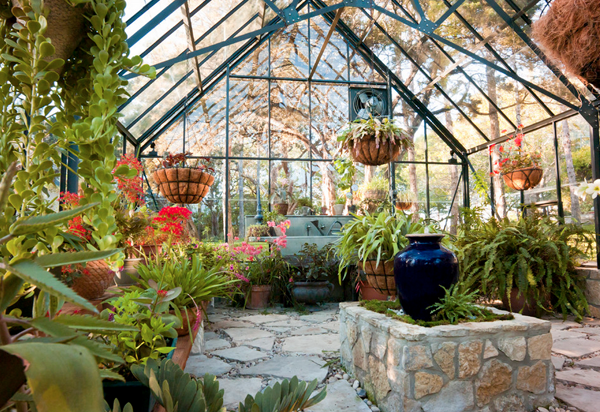 Greenhouse Living in Philly
This large greenhouse truly embraces indoor/outdoor living. Inside, there is a comfortable seating area near the fireplace with an eclectic style. The large doors open up onto the patio with additional seating and a fire pit. This space is great for entertaining. [from Ground Swell Design Group]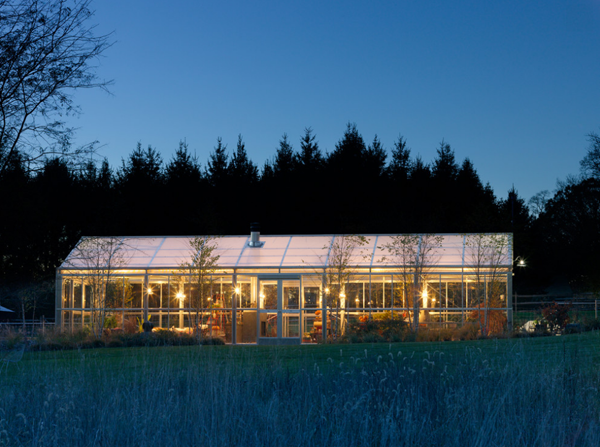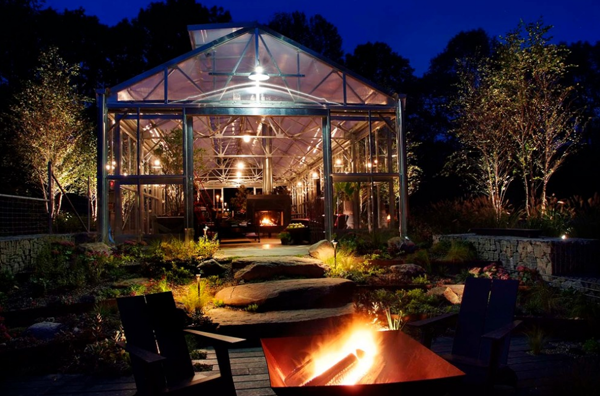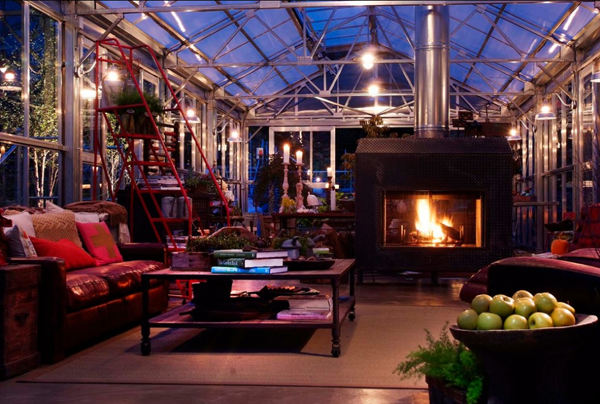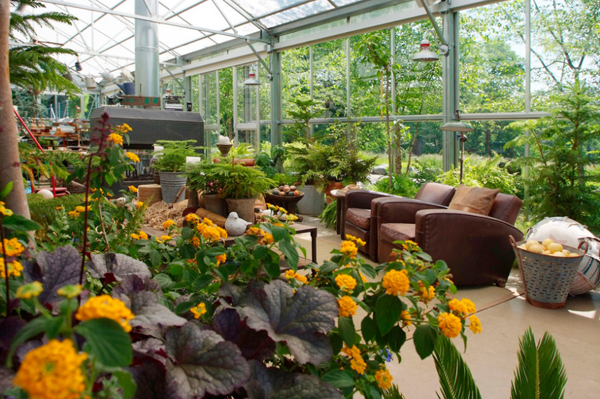 The Penthouse Greenhouse
This greenhouse is unique in that you actually live in a greenhouse of sorts. This penthouse apartment is up high in the sky with unobstructed sunlight. The exterior glass walls allow for a greenhouse environment perfect for plants. And to make it even more amazing, you can overlook your garden with a view from the hot tub. I'd say this greenhouse is just about perfect!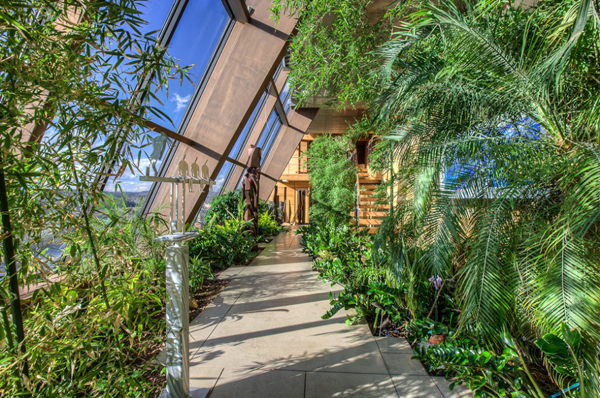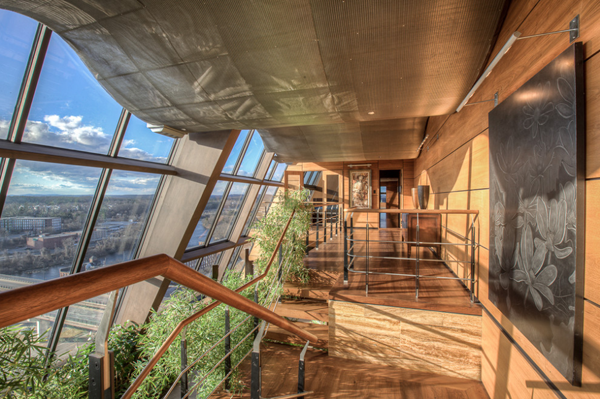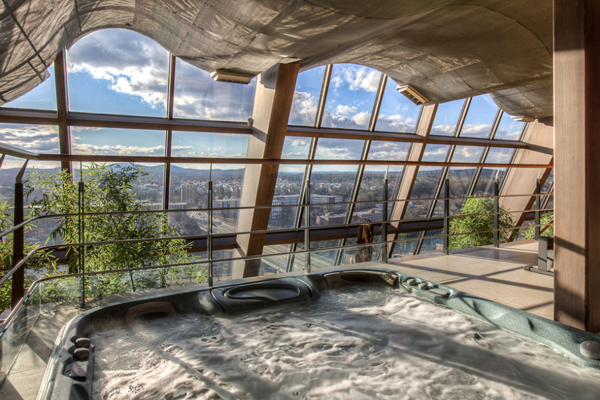 The Greenhouse with a Pool
I'm sure you'll fall in love with this greenhouse addition! This space allows you to swim like it's summer all year long. The addition connects to the interior of the home with sliding glass doors allowing the light to pass through and the humidity to stay in. [from Van Dusen Architects]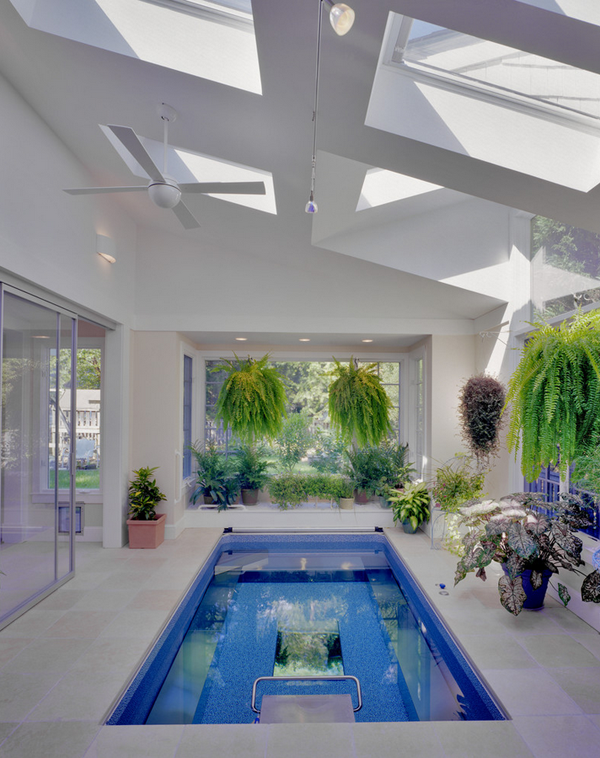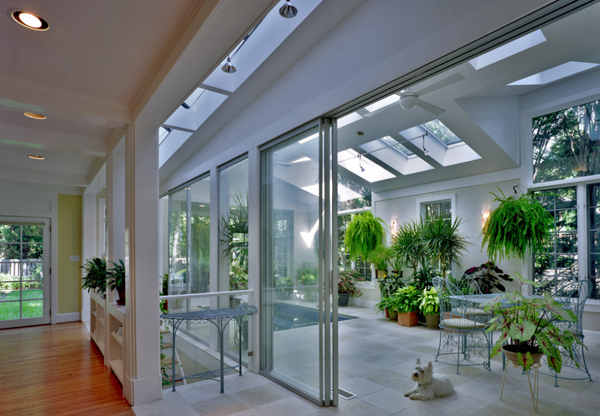 The Spiritual Greenhouse
The final greenhouse we will look at today is spectacular. This greenhouse provides a spiritual connection with the outdoors. It has the most amazing woodwork made of sapele, as well as a self-sustaining koi pond. I cannot think of a more amazing space than this. [From Chase Building Group]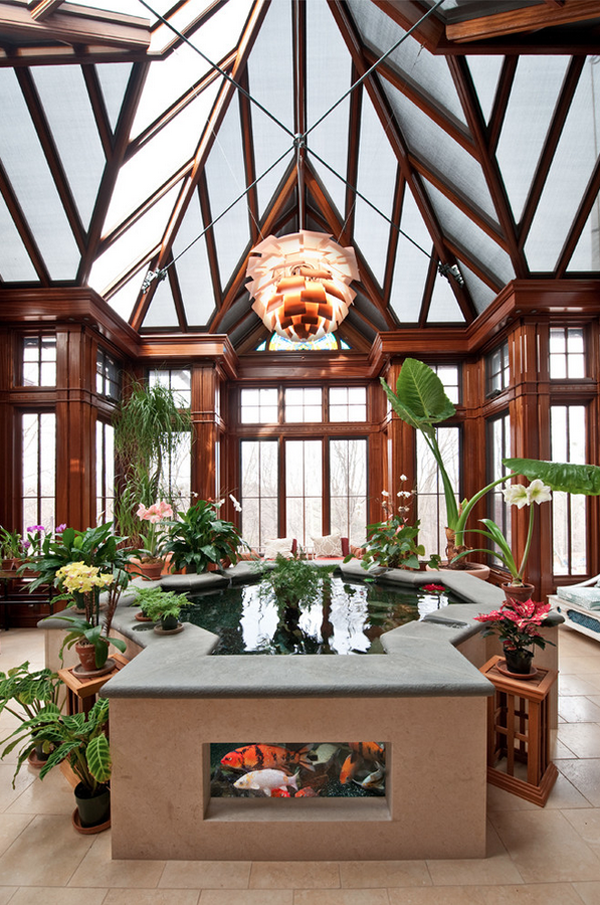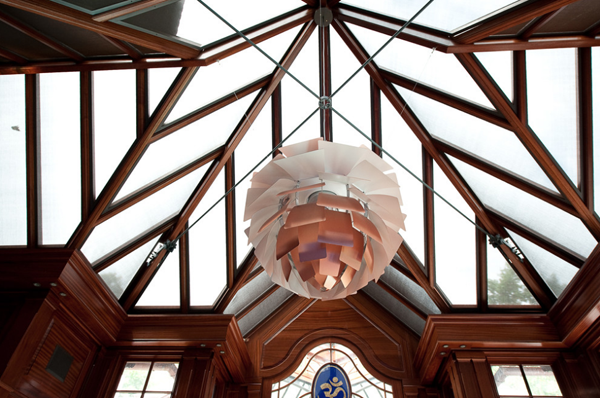 I hope these gorgeous greenhouses have you gearing up for spring!
Which one is your favorite? Share your comments below!