Bike storage is always a conundrum. Whether you have a family of five and a small garage, or a city apartment, we all have bike storage needs. Bikes can actually add to your décor, giving your space an interesting urban design feature. So if you want to show off your wheels, we have designs for you! If your bikes are hidden away, perhaps your needs are simply organizational. So give your garage or basement a functional makeover with these simple storage ideas! [from Postfossil]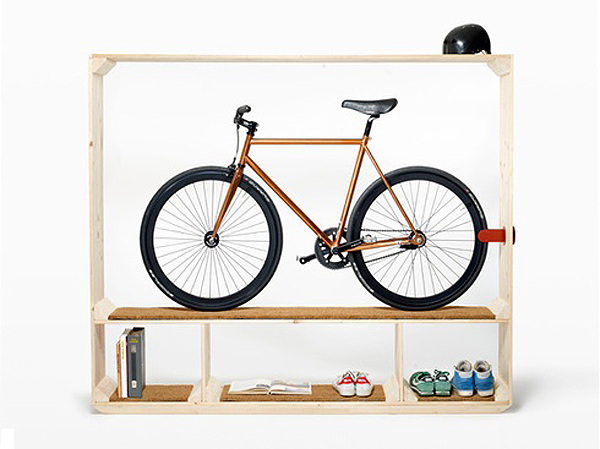 Bike Storage For Your Interior
Currently I live in the heart of the city, and both my bike and my husband's bike reside in our living room. Many city dwellers don't have a convenient spot to store their bicycles. So if you must store your bike in your interior, make it a design feature! There are several stylish hanging systems.
This apartment uses a bike rack to accentuate the space's industrial look. Architect Ira Frazin used two auto poles he got from a local display shop. If you like this look, however, you can get this style with a pole bike storage system like the Topeak B2 Bike Stand (available at REI). This is the easiest bike storage system, as you won't even have to put a hole in your wall. [from Ira Frazin Architect via Houzz]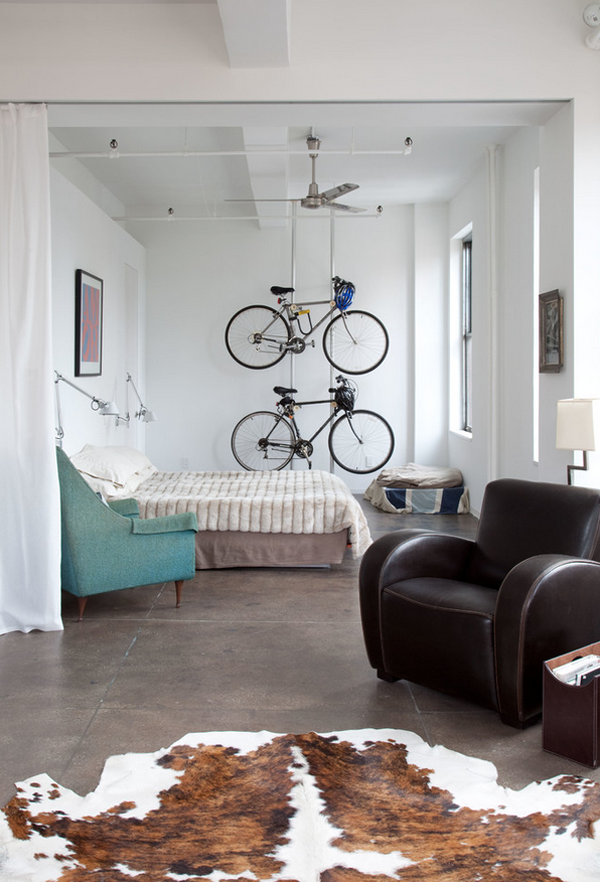 Wall-mounted bike racks are also a great way to display your bike. There are several different styles. This one is the Velo Wall Rack. [from Minguell-McQuary]
This stunning modern living room features the Leonardo Wall Mount Rack. [from Daleet Spector Design via Houzz]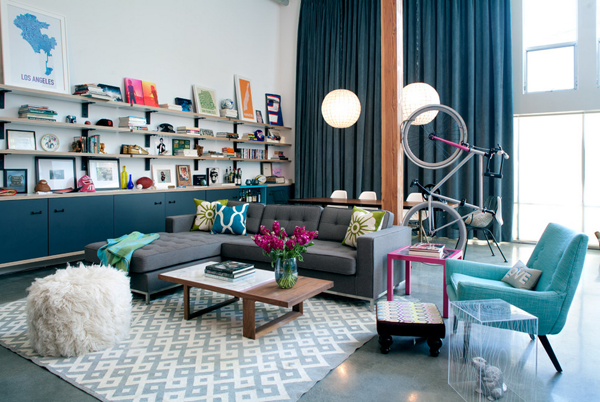 If you want the warmth of wood, there are several wooden wall hanging systems. This particular selection is handmade and available on Etsy. [from ChromeLtd]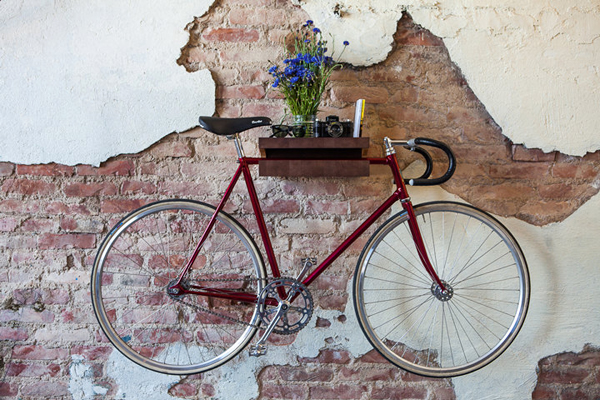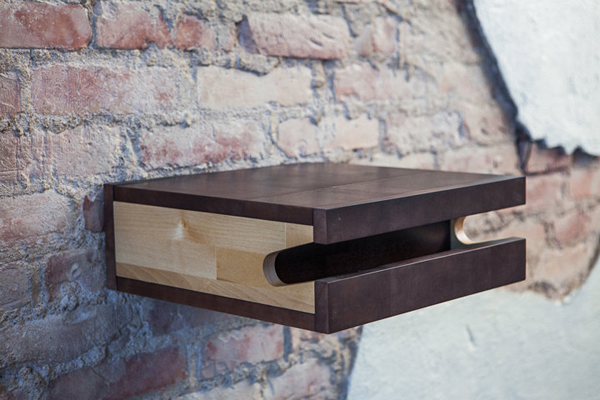 This is a great example of how a wooden bike rack will look in your home. [from Promenade Design + Build]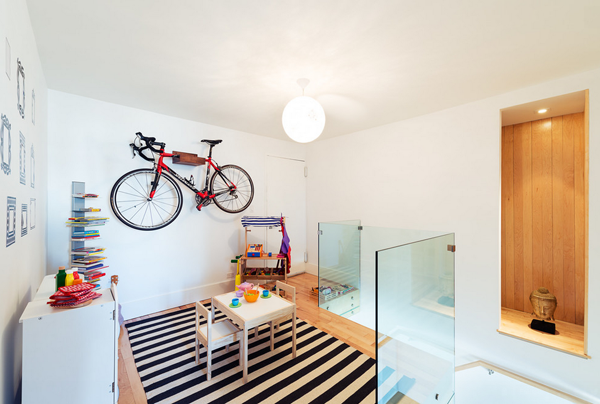 In this basement apartment, the tenant saves space by hanging the bike from the ceiling. This is a cost-effective solution. Those hooks can be picked up at any hardware store. Just make sure you screw them into a stud! [from Ryan Duebber Architect]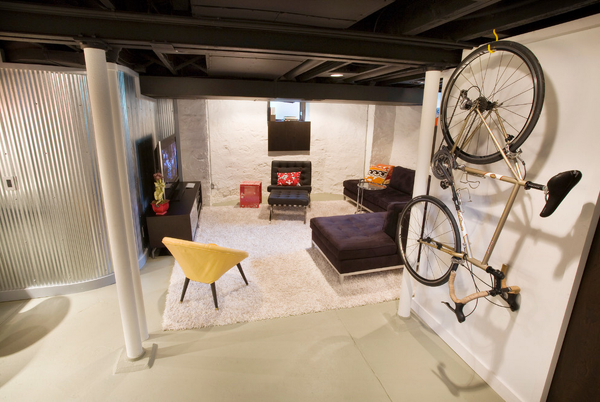 If you want to hang your bike horizontally, use two hooks, as in this living room. (If you can't spot it, the bike is under the stairs, disguised by the hanging planter.) [from Glenn Robert Lym]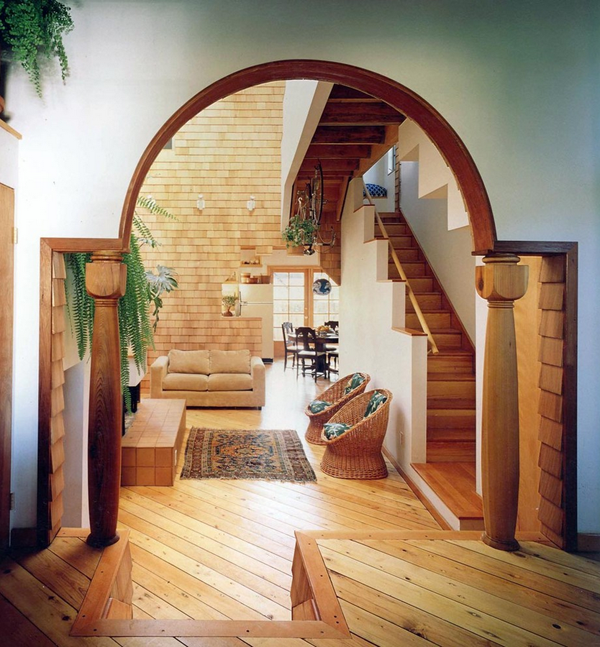 This cool peg-style bike mount is an easy DIY! Mackenzie Collier Interiors describes, "We got all the parts in the conduit/metal pipe/fittings department at home depot. The part we used to attach the conduit pipe to the wall was just a metal doughnut shaped piece with threading to attach the conduit pipe to it and screw holes to attach it to the wall. We finished the visible end of the conduit with a metal cap." That sounds easy enough! [From Mackenzie Collier Interiors via Houzz]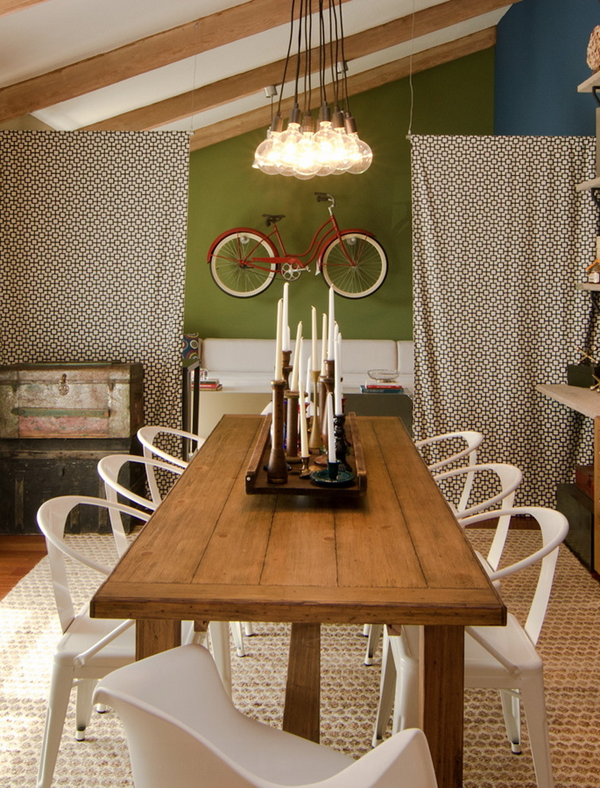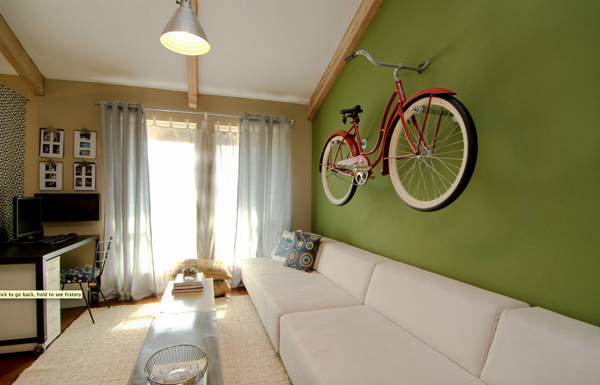 If you're not into tackling DIYs, you can buy a peg bike mount on Etsy. [available at Bike Arms]
Bike Storage For Your Basement or Garage
I grew up in a large family of five. My parents are very athletic and insisted that all of our family vacations were too. So each one of us had two bikes–a mountain bike and a road bike. Additionally, we had all of the bikes we outgrew still in the garage. That's 12+ bikes. Each time we needed to get them out, it was a tangled mess! If your bike was in the back, you had to take out ALL of the bikes in front of it too. Thank goodness you don't have to go through that! There are great bike storage options out there designed with large families in mind.
This wall-mounted bike rack saves you valuable floor space and looks so organized — even your helmets have a spot. The Flow Wall System is a great solution for your storage needs and is guaranteed to make your life easier! It would work wonderfully in your garage or basement. [from Flow Wall System]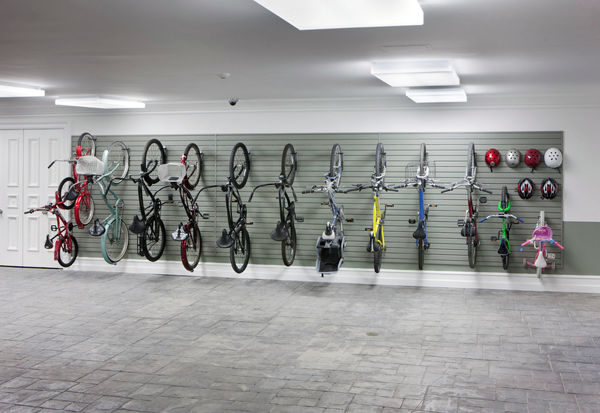 If you have a lot of bikes and are really short on space, a bike lift system might be a good option for you. The Neiko Bike Lift is a functional and inexpensive option. If you use it in your garage, you will be able to pull your car in right under the bikes. [from Hitman Solutions via Houzz]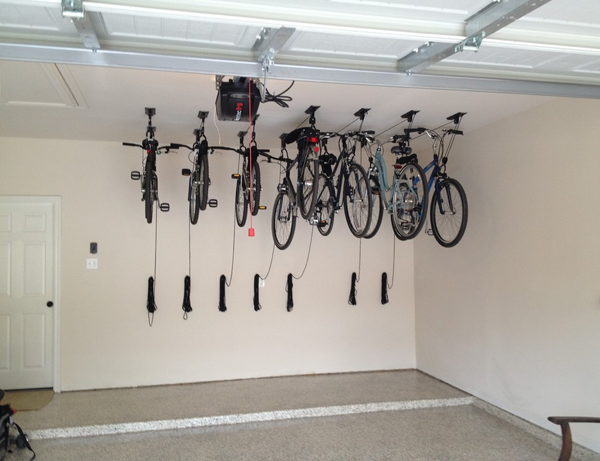 This garage organizational system is very versatile. You can easily add more or less hooks to store as many bikes as necessary. You can also use the hook system to store other items like the backpacks pictured below. Additionally, the Monkey Bar Storage system offers shelving on top. [from Susquenhanna Garage Solutions]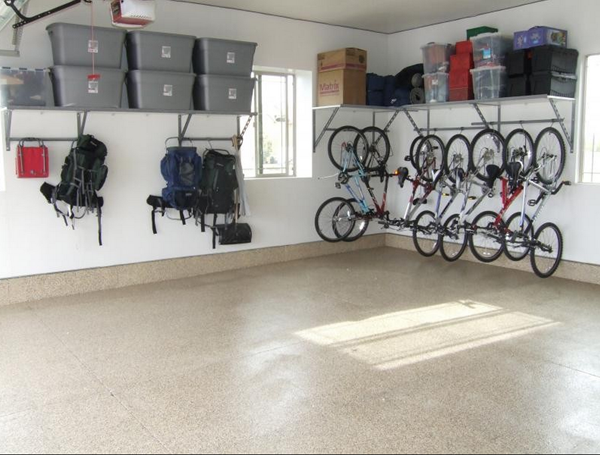 Now you have several bike storage options at your fingertips! Which one will work for you?