I'll admit it–when it comes to design, I absolutely love modern shapes, abstract geometry and clean lines. But when it came time to research this post on small cabin decorating ideas and inspiration, I became almost giddy with excitement. Why? Because there's something undeniably appealing about earthy, cozy design, especially in the dead of winter! And just because a person doesn't incorporate rustic decor all over the house doesn't mean a few cabin-inspired details can't elevate the design of an interior (even a geometric modern one)…
If you ARE decorating a small cabin of your own, I hope today's post inspires you on your journey. From space-saving furnishings to comfy pillows and throws, the images and ideas below are filled with woodsy style. Don't assume that cabin design can't be modern or edgy, folks. There's a cabin style for every decor enthusiast. Check out the pics and tips below, then share your ideal "cabin look" with us by leaving a comment at the end of the post.
Small Cabin Living Spaces
Does our first featured living space look anything like a typical small cabin? Not really. And that's exactly why we're featuring it at the beginning of this post. In fact, this Seattle cabin is a reminder that when it comes to small cabin design, it's important to keep an open mind. Make choices that honor YOUR design style. And don't overlook the importance of clever details, such as the vertical wall garden below! [from Sam Van Fleet Photography]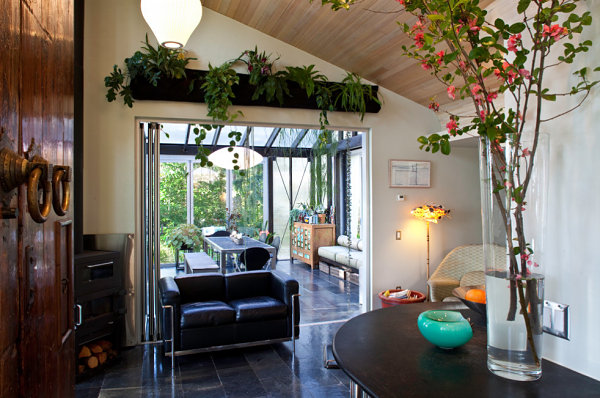 On that note, while log furniture is and will always be amazing, don't underestimate the appeal of modern furnishings in a rustic space. These chic chairs from West Elm are a collaboration with South African designer John Vogel, who is known for creating pieces with webbed seats. And it's precisely this combination of sleek and earthy that makes the chairs perfect for the creative small cabin!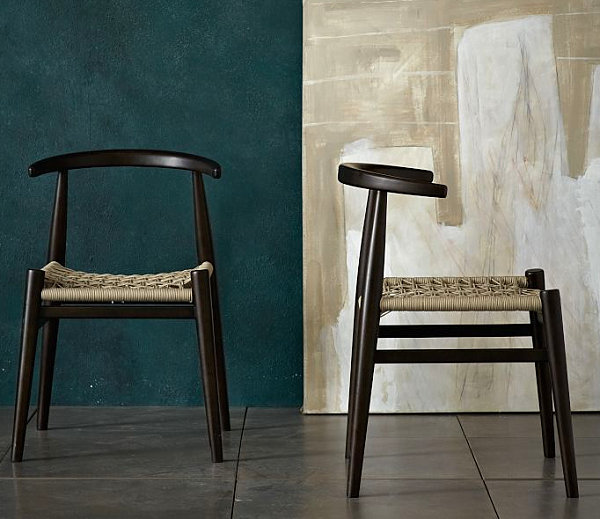 Does the space below look a little more cabin-y? Yes, but this Llano, TX home from Matt Garcia Design is hardly conventional. It's easy to admire the industrial vibe, as well as the clever use of shelving for storage and display purposes: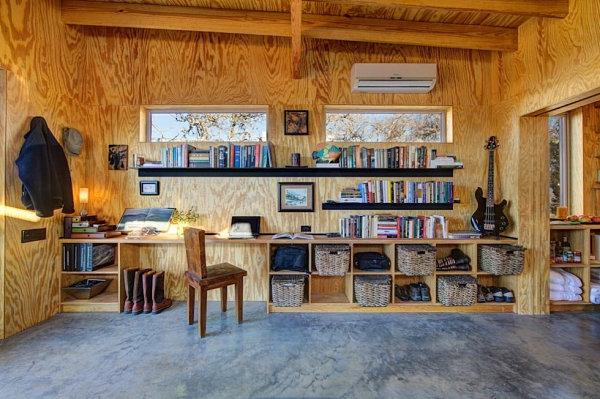 As with any compact home, the small cabin will naturally have space constraints. So don't hesitate to go with petite, efficient furnishings. While it's very possible you won't want a flat screen TV in your cabin getaway, we're loving this Rustic Storage Media Console from West Elm, featuring solid mango wood in a natural finish: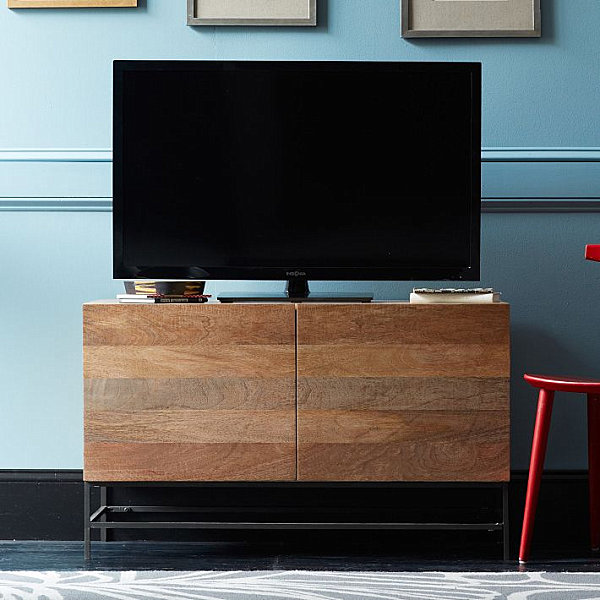 And then there are comfy rugs and textiles, which soften up your interior… Even the smallest of statements can make a big impact. The Trail 20″ Pillow from CB2 (shown on the red couch below) features a dhurrie tribal pattern that's hard to ignore!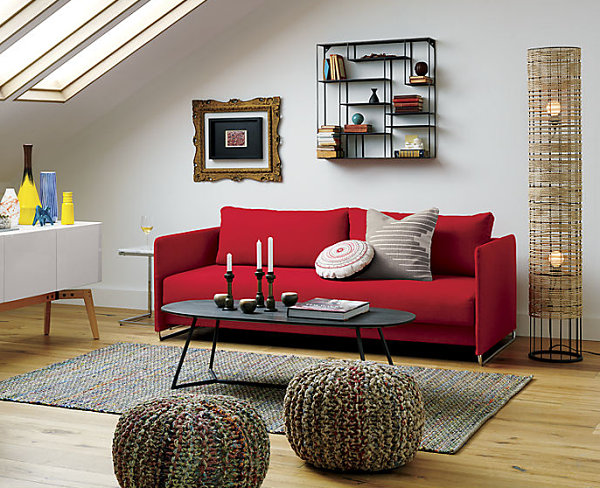 And speaking of bold pillows for small cabins, I'm a HUGE fan of this season's latest designs from CB2, such as the geometric Janey pillow near the top of the stack shown below. Tribal patterns blend well with rustic decor, and they're ideal for homes that celebrate a connection to the outdoors…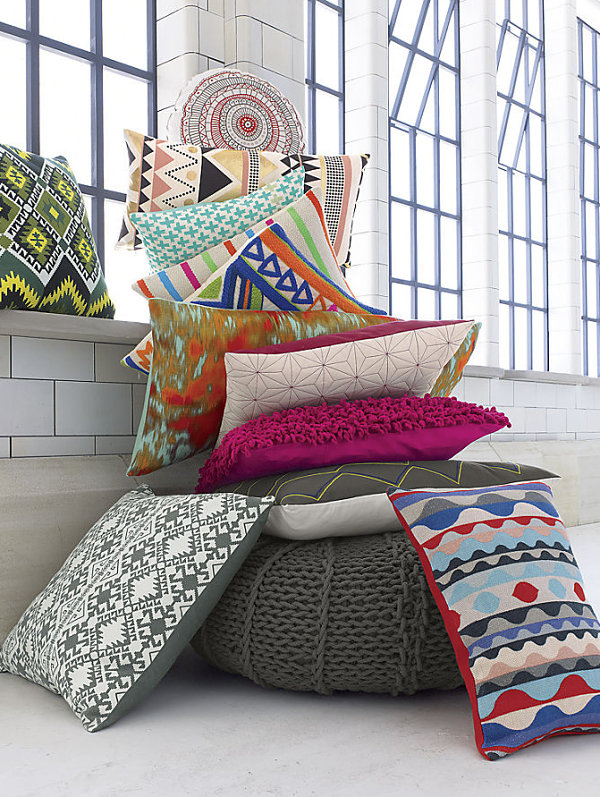 In addition to pondering how to adorn your small cabin space, don't forget about the importance of flow and privacy. In the Burlington home below, we see how an inviting living area is separated from a cozy bedroom with the help of a divider curtain–an ideal small cabin solution… [photo by Susan Tree for Joan Heaton Architects]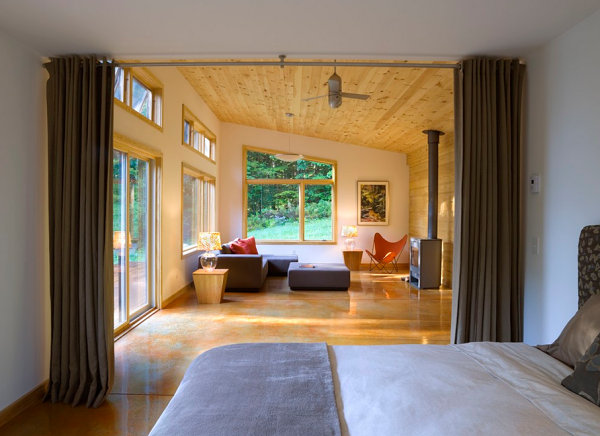 Substantial decor finds such as rugs can also help differentiate room from room (or area from area) in a small space. Doesn't this Marque Chindi Rug from CB2 seem perfect for the living room of a small cabin? Let's hear it for geometric diamonds and free-form bands!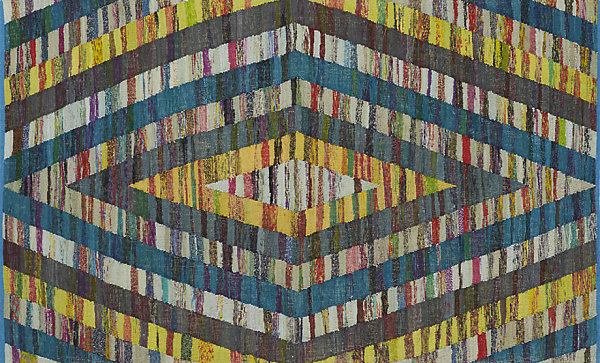 Sometimes the best way to make use of a living space is to fill it with practical pieces. The large built-in sofas below serve as extra sleeping areas for guests in this Portland farmhouse. Not to mention, the under-sofa drawers stash smaller items such as children's toys… [from Jessica Helgerson Interior Design]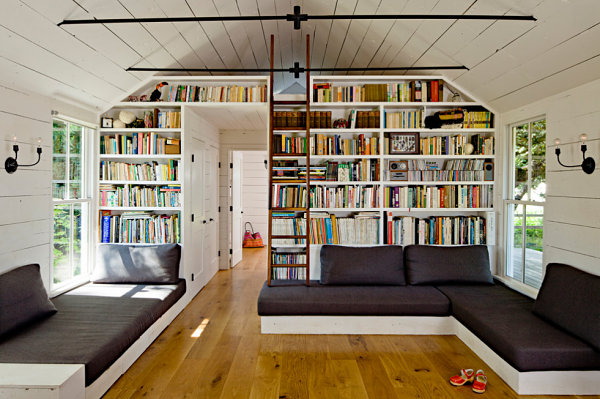 And sometimes a feature in one room of a small house can benefit each and every room! Below we see a shot of the same Portland farmhouse, this time with a focus on the kitchen and dining spaces (which are directly connected to the living room, forming one large area). In addition to a gorgeous table made from locally salvaged walnut, our eyes are drawn to the wood-burning stove…which heats this small home with ease! [photo by Lincoln Barbou for Jessica Helgerson Interior Design]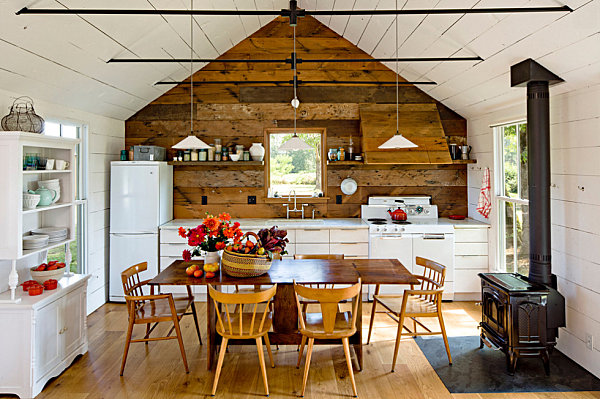 Small Cabin Bedrooms
As we shift our focus from living areas to bedrooms, we see one more shot of the gorgeous Portland farmhouse featured in the previous section. This time our eyes turn to the kids' room, which displays the same white wooden planks we see all over the home. One challenge for small home bedrooms? Storage! This small cabin has it under control, thanks to a pullout closet that's conveniently stashed to the right of the bunk beds…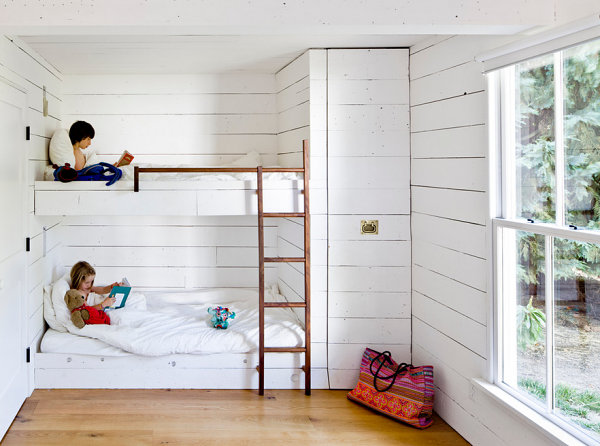 Sometimes the best way to decorate a small cabin is to keep it simple. Rather than filling the space with baskets, twigs and heavy wooden furniture, it can be refreshing to go with a light and airy approach. Especially when large windows highlight a stellar view! Don't forget a cozy throw for the bed… [photo by Susan Teare for Elizabeth Hermann Archietcture + Design]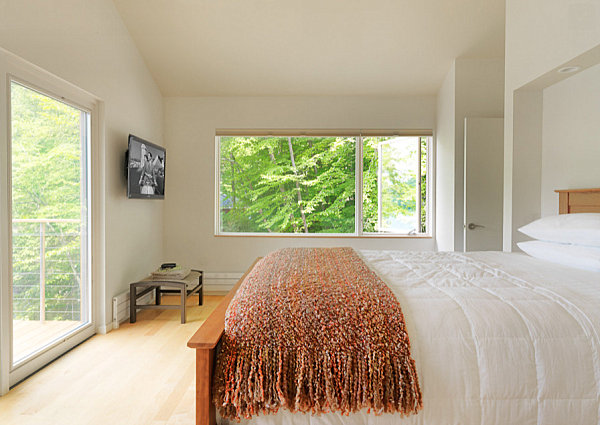 And speaking of cozy, I can't help but be drawn to West Elm's charming yet modern bedding, shown below amidst a slew of fabulous textile finds. For bedding that's as comfy as it is stylish, check out the Steven Alan Quilt & Shams, crafted of 100% cotton in India Ink.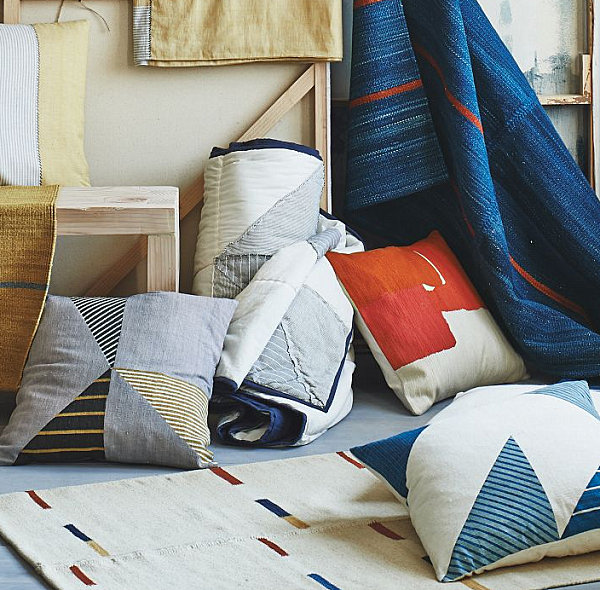 Isn't it amazing when a variety of spaces converge into one well-designed home, especially when compact living is a priority?! Check out the room below, which is part kitchen and part living/sleeping room (the space also features a full bath). This gorgeous interior features reclaimed pine, as well as modern touches such as polished stainless steel (which adds a low-maintenance element to the space)! [from Northworks Architects and Planners]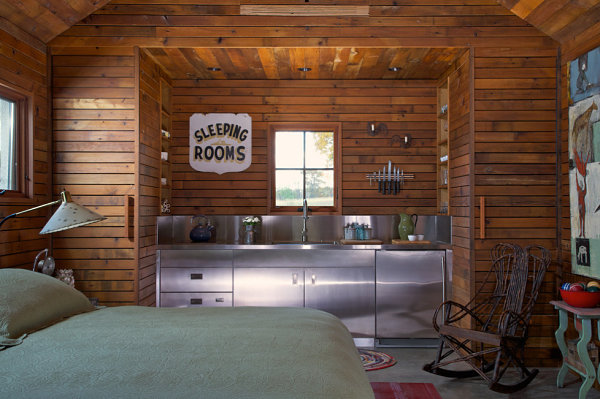 Need a little something special for your sleeping space? Isn't this 3-Piece Mango Wood Guardian Set from CB2 the perfect combination of earthy and modern?! While these multifaceted sculptures definitely look at home in contemporary spaces, they would be true showstoppers in a rustic cabin. Nothing like an unexpected dose of cyan, chartreuse and orange…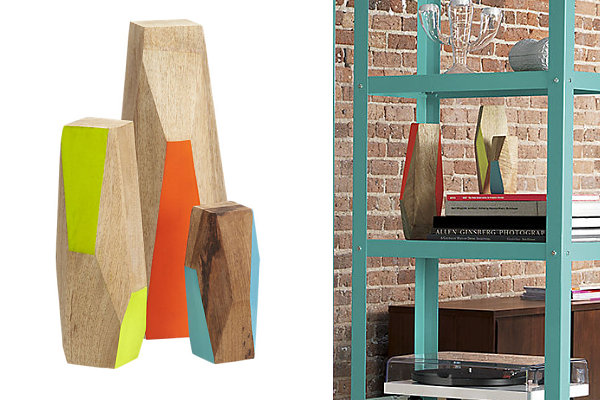 Small Cabin Powder Rooms
And just what would the bathroom of a small cabin look like? Depends on the cabin! This wood grain-filled space combines warm and cool tones in an industrial display of rustic modern style. Love the light fixtures! [from Matt Garcia Design]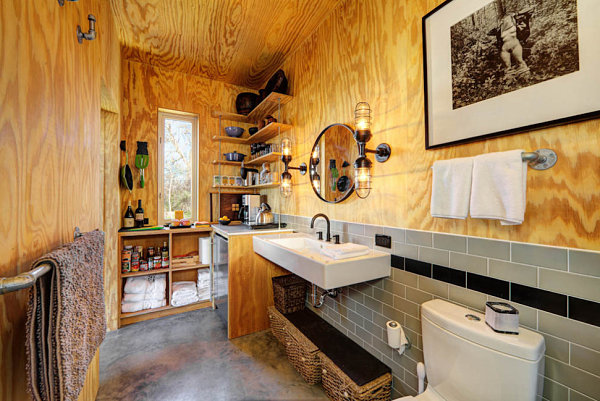 This bright, airy cabin bathroom is filled with light, tile and unique fixtures. Who says cabins are all about wood paneling and woven rugs?!… [photo by Susan Teare for Elizabeth Hermann Archietcture + Design]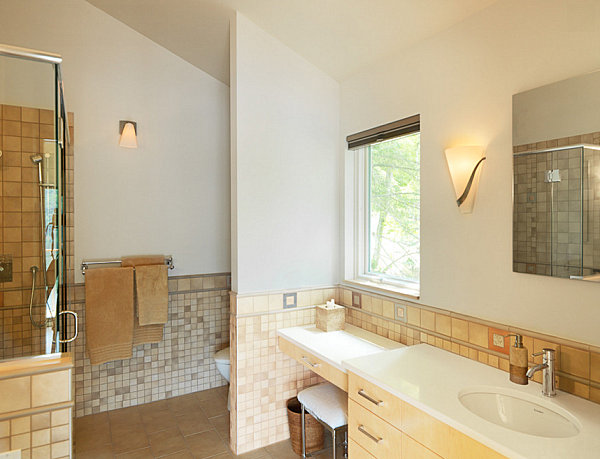 What's your cabin style? Do you enjoy an unexpected modern look, or is a true earthy vibe more your speed? Share your thoughts by leaving a comment below…