What makes a furnishing or a piece of decor bold? Is it a standout color? An unforgettable pattern? A striking form? All of the above! Now that the holidays are drawing to a close, we look forward to the new year and the design possibilities it brings. Today we shine the spotlight on bold furniture and decor finds that are sure to make an impact in 2014…
Bold Colors
Ask folks if they'd ever buy a pink couch, and you're likely to hear more than one "no." But there's something about the Rue Petal Apartment Sofa from CB2 that seems a bit understated. Even though it's pink! Maybe it's the fact that it features soft curves, sloped lines and Mid-Century modern-style legs. Designed by Jannis Ellenberger, this piece stands out in a room filled with neutral tones. Especially when the space is as elegant as the one below: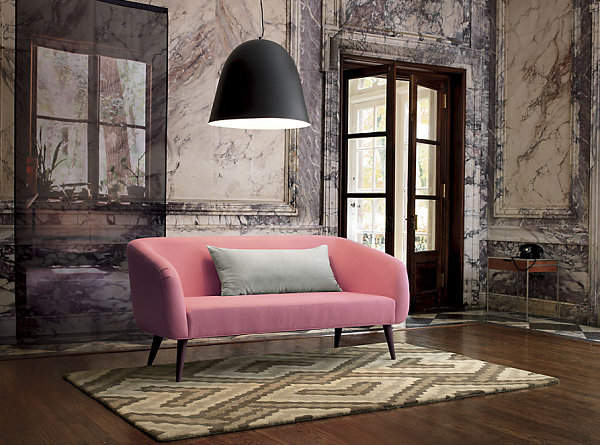 Need a spare chair? No problem! Why not go with a vibrant shade of yellow?! The Spare Yellow Folding Chair from Crate & Barrel is constructed of solid rubberwood with a lacquered finish. A curved seat and backrest ensure this piece is as comfy as it is stylish…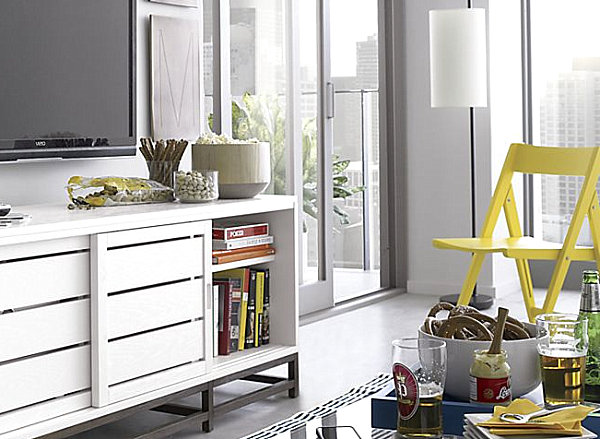 Are you look for some extra storage in the office? Select a piece with a high-gloss paprika finish! Designed by Mark Daniel, the Pilsen Paprika Filing Cabinet from West Elm is an eye-catching alternative to standard filing solutions:
We're loving the striking color of this Two-Tone Teak Play Chair from The Land of Nod. The teak seat and back is offset by mahogany legs painted the brightest of colors. If you're not a fan of teal, the chair also comes in yellow, blue, red, pink and white!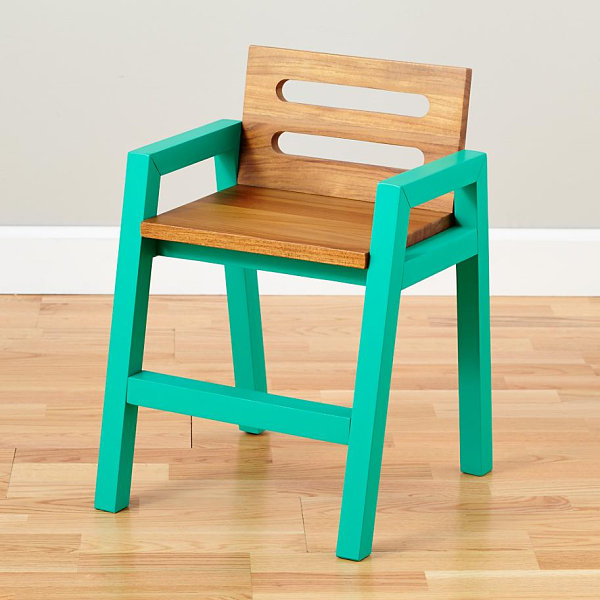 Bold Patterns
A bold pattern has the power to be a true focal point in any room it inhabits. Need proof? Check out the featured items that follow… The Quad Floral Red Stool from CB2 features an abstract floral pattern in a vivid shade of red. The print's flowers truly pop against the fabric's gray background, while sturdy ash legs with a grayish-brown stain anchor the piece: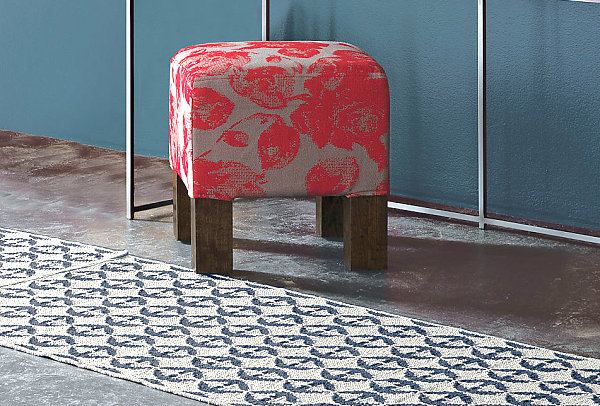 From floral to ikat… These Tangiers Coasters from Jonathan Adler feature four different color schemes with boho chic style. Not only will they add an instant dose of color and pattern to your home, they are the perfect bold gift idea!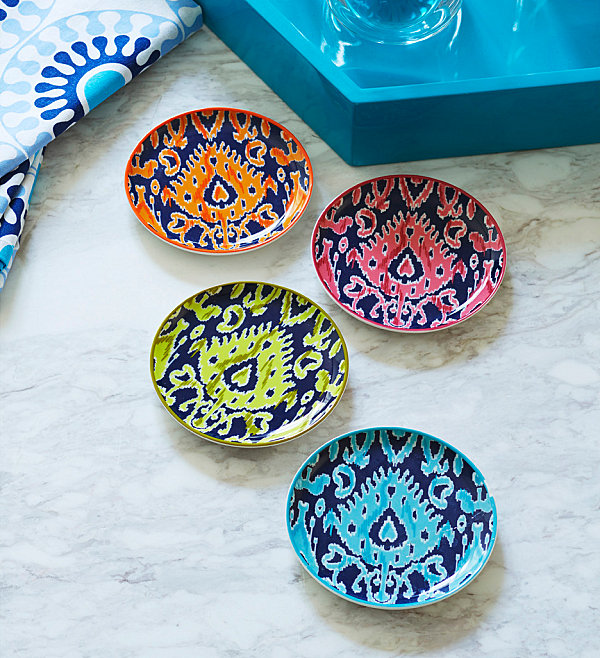 If you like triangles, you'll love this Mosaic Triangles Jewelry Box from West Elm, featuring gray, white and multicolored shapes for a geometric statement. Fill it with treasures, but don't put this decorative piece in your closet. It's meant to be displayed!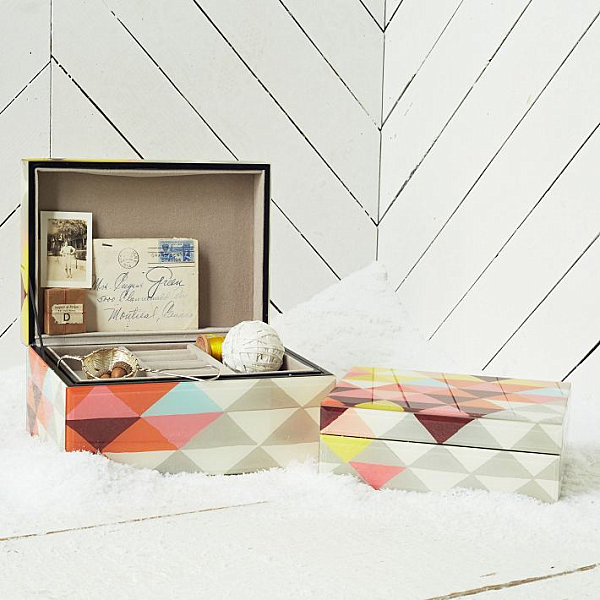 While technically wall art rather than a "pattern," this Every Beat of My Wall Art from The Land of Nod features 20 hearts on a gray background. Designed by artist Stacey Amoo-Mensah, this artwork is perfect for grown-ups' and kids' rooms alike…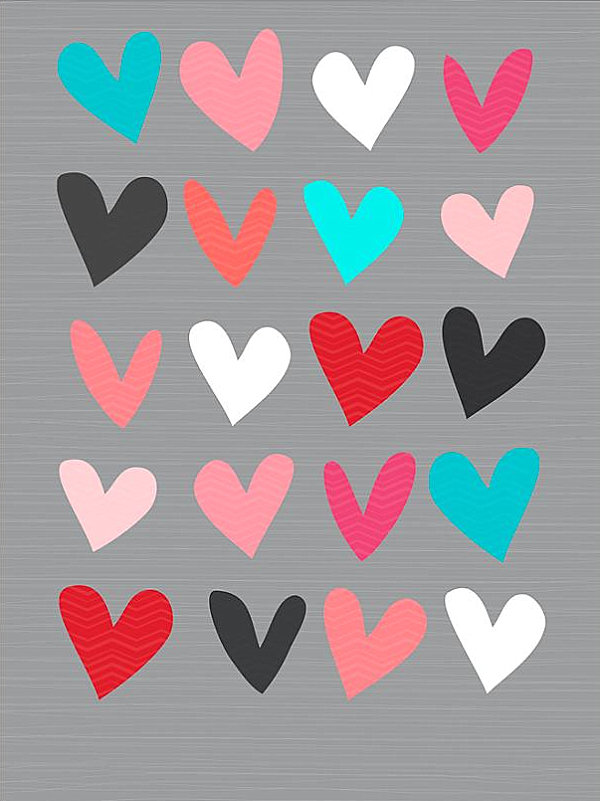 Bold Forms
If you're a fan of geometry, the selections below are for you! It's hard to resist the striking allure of bold forms, especially when they celebrate the power of modern design. Take these Polyhedron Objects from West Elm… They're faceted. They're made of marble. And they're heavy enough to hold down the items they top. Choose from shades of white and aqua, as shown in the next featured image: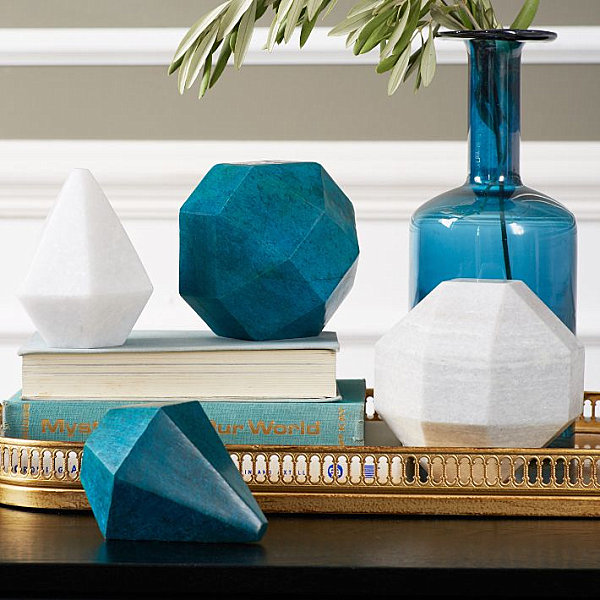 It's hip to be square! The design world is currently obsessed with facets, but don't forget about the clear appeal of straight lines and right angles. These Cube Terrariums from West Elm are perfect for holding succulents, ferns and other small plants.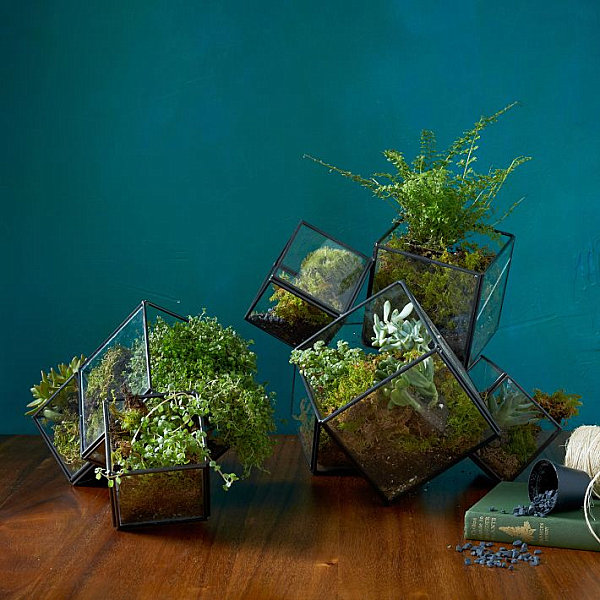 The Polly Cocktail Table from Jonathan Adler features a swiveling round form in three tones of blue lacquer. In fact, each layer of the table can swivel independently of the others, making a range of formations possible!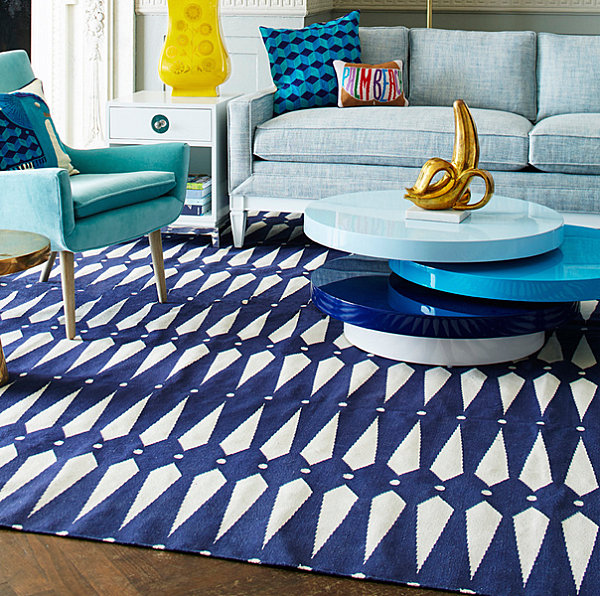 We end with a piece that showcases all three of today's featured design elements–a bold form, bold color AND bold texture. Let the octagon be your guide with the Toulouse Cube Side Table from Jonathan Adler. Well-defined corners and edges are hard to ignore, along with a textural surface that boasts a marbled oil drop effect:
How do you add bold design elements to your interior? Share your thoughts by leaving a comment below…