We've all seen them–those beautifully appointed girls' rooms filled with matching bedding, coordinated window treatments and perfectly placed decorative accents. Everything has a purpose, and that purpose is to convey a message of ruffles, frills, and a palette of pink and white. Today's post is NOT about those spaces…
Not that the rooms below don't involve carefully selected bedding, divine window treatments and thoughtfully arranged decorative accents. But they also feature unexpected touches, nontraditional motifs, and a level of originality that will make you take a second look. Enjoy our roundup of cool room ideas for girls, and don't forget to tell us about your favorite spaces at the end of today's post!
Eclectic Spaces
We begin with the eclectic. Because let's face it–children love diversity. And it's hard to maintain a room where every perfectly matched item has its place. Kids' tastes change, and when children are young, they will bring home a variety of art projects from school–in a range of styles. And they will want to display them, as will you! An eclectic bedroom can handle variation. It can change with the preferences of your child. And it can still be amazingly stylish, as shown by the beautifully appointed space below. Check out the patterned bedding, strategically arranged books and fabulous pendant light! [from Lonny]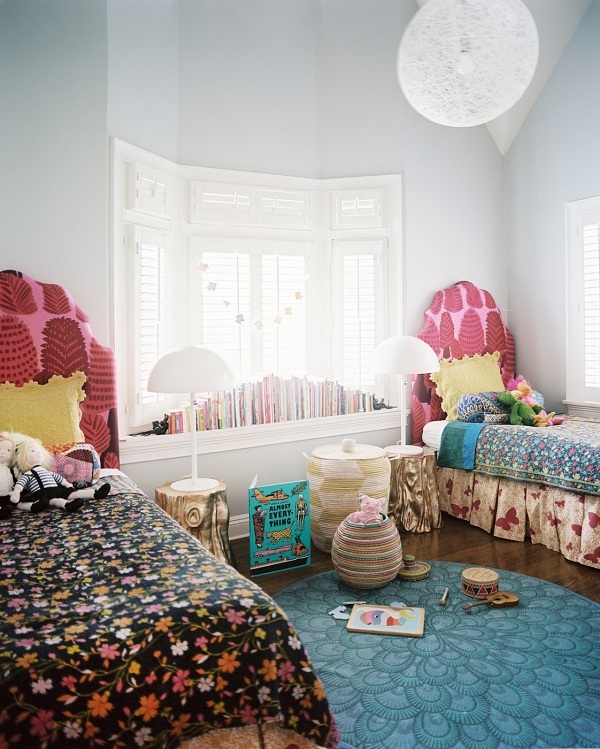 Yellow striped walls, a gallery-style display of art, vivid colors and a mix of patterns adorn this next eclectic bedroom. Yet somehow everything blends perfectly… [from Lonny]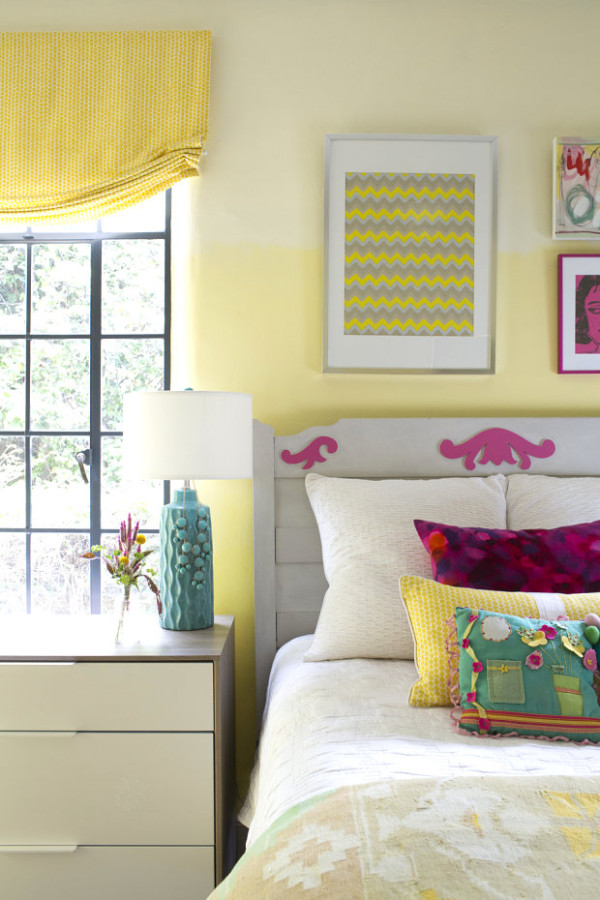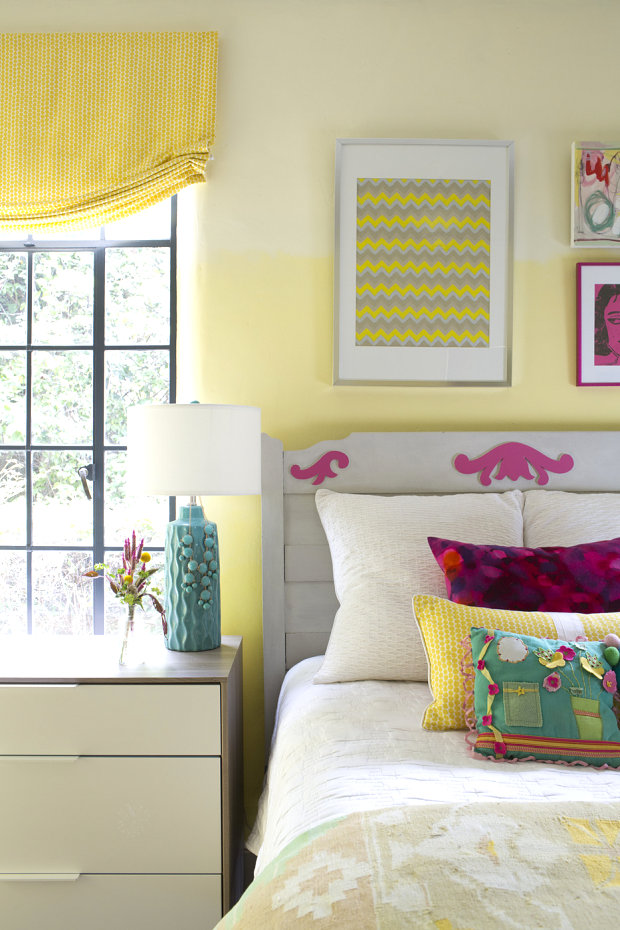 In another shot of the same room, we see a workspace with a touch of glam, thanks to a lacquered desk and an acrylic chair. Yet funky details such as a vibrant desk lamp, vivid artwork framed in gold, and mismatched chair cushion keep the look relaxed. [from Lonny]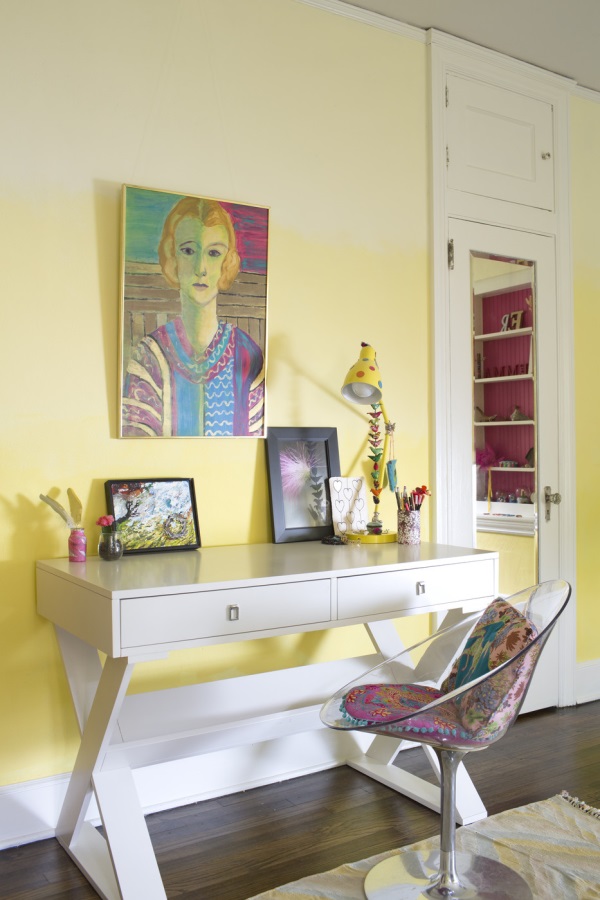 Don't be afraid to go modern. Yes, a girl's room can feature contemporary touches without being too grown-up. The bird wall art, gold-toned pendant lighting and Butterfly Robin's Egg bedding from DwellStudio are child-friendly, yet they set this room apart from the rest…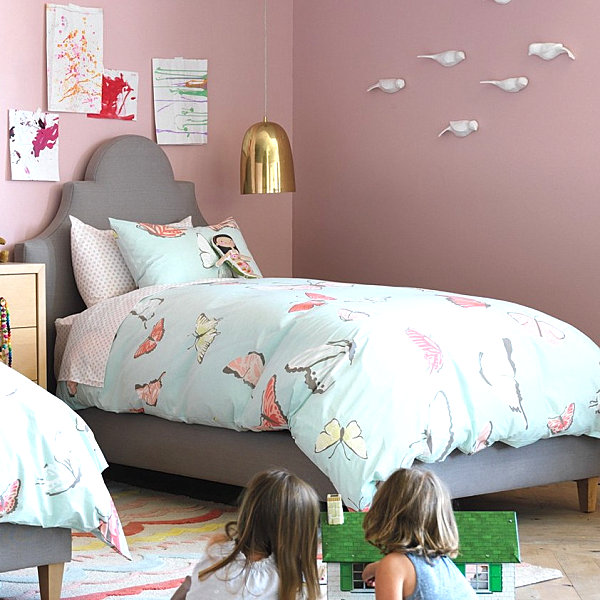 Sometimes the best way to accommodate an eclectic bedroom is to start with bedding that can work with a range of decorative styles. Your child's tastes may change, but if your bedding can adapt, it will have true staying power. Below we see the Garland Multi Duvet Set from DwellStudio…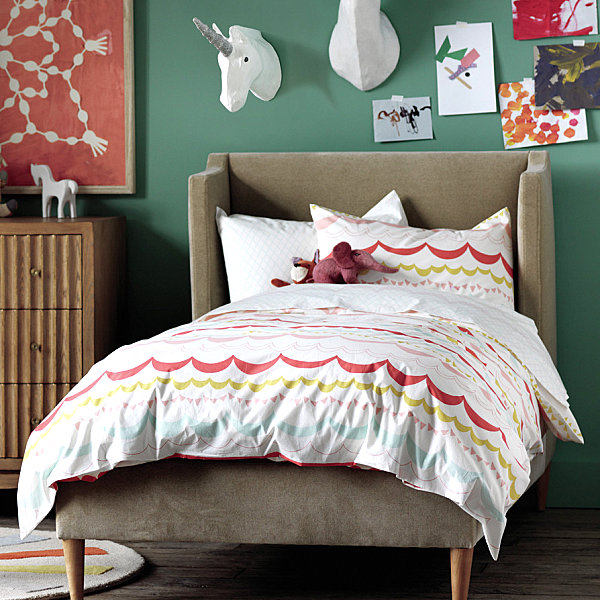 An eclectic girl's room is the perfect place to get creative. Really creative! Try a DIY wall art project, or look to the items you already have for inspiration. In the space below, a collection of dress-up hats becomes an art installation… [from Lonny]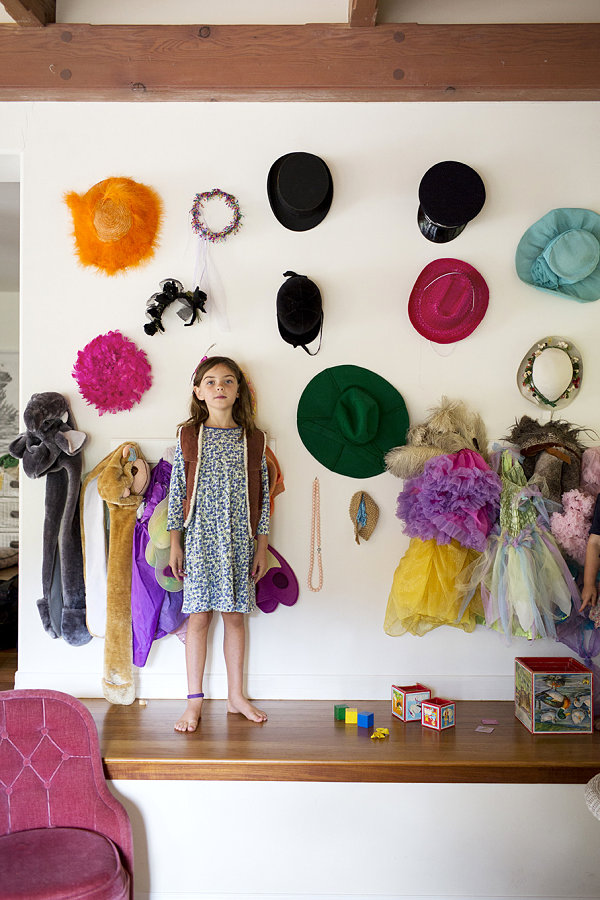 Going Glam
Remember that yellow room above featuring glam touches such as a lacquered desk? We now zone in on the glamorous side of girls' bedroom design with a series of spaces that aren't afraid to showcase true elegance. But just because the space is chic doesn't mean it has to be stuffy. Below we see a glam-meets-bohemian room featuring special touches such as a tufted sofa and an upholstered headboard with nailhead trim. Yummy! [from Lonny]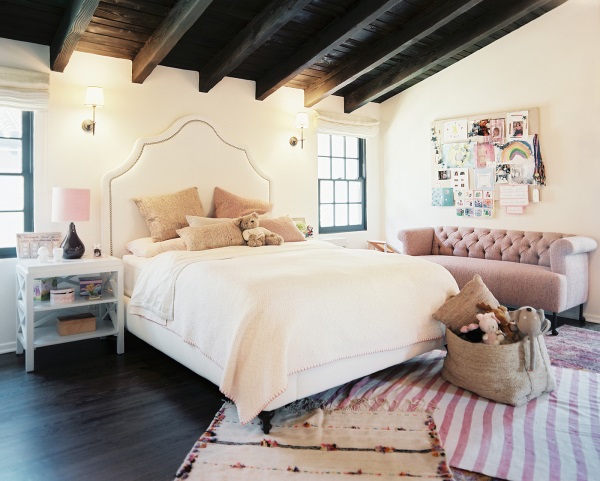 Many of today's most eye-catching glam spaces feature vibrant colors! The girl's room below is filled with bold hues in the orange and pink families. There's even a touch of neon… [from Ana Donohue Interiors]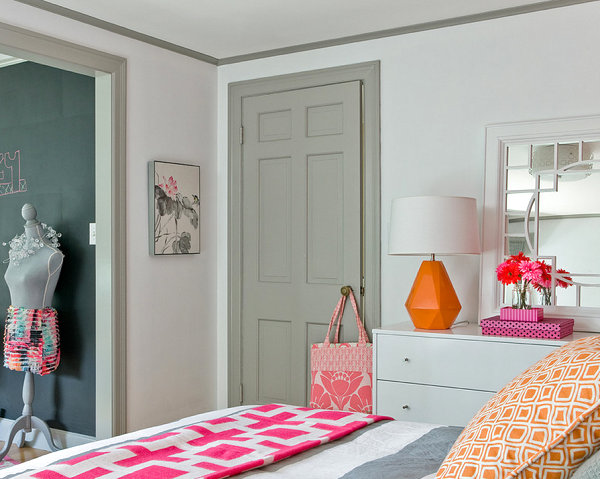 Speaking of neon, it's clearly present in the next featured space, which boasts glam details such as Hollywood Regency-style pillows and a zebra print rug. Crisp, tailored bedding completes the look, along with interesting accessories that add an eclectic vibe. [from Ana Donohue Interiors]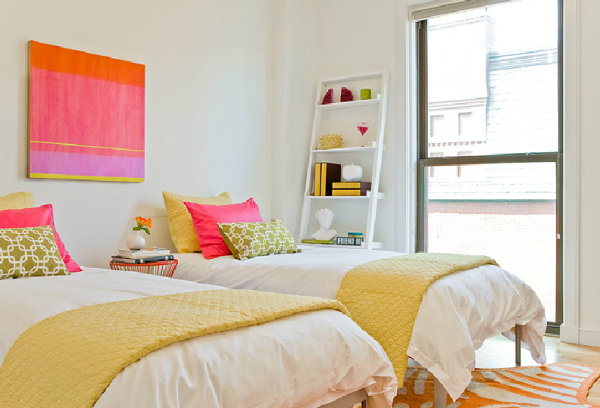 When it comes to crisp rooms with glamorous accents, adding child-friendly touches is key. The space below does just that with extra-large photos above the beds. They bring the space down to earth, reminding us of the children who inhabit it! [from Lonny]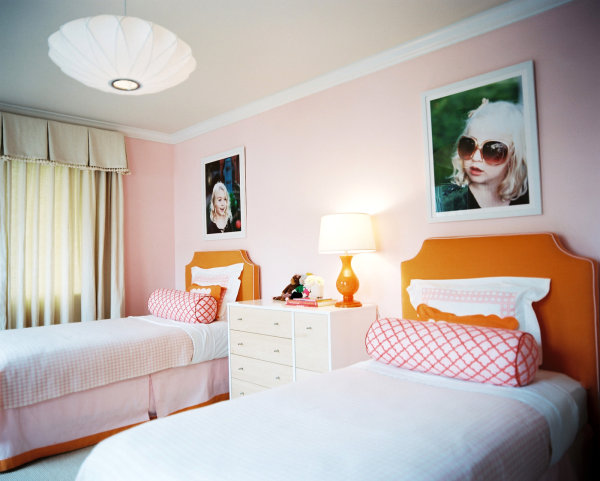 We love how this next bedroom creatively utilizes a pink and white palette! Rather than being frilly and delicate, the space is bold and bright, thanks to a range of rosy hues, a touch of orange, and glamorous accents such as a hexagonal mirror and a chandelier… [from Katie Rosenfeld Design]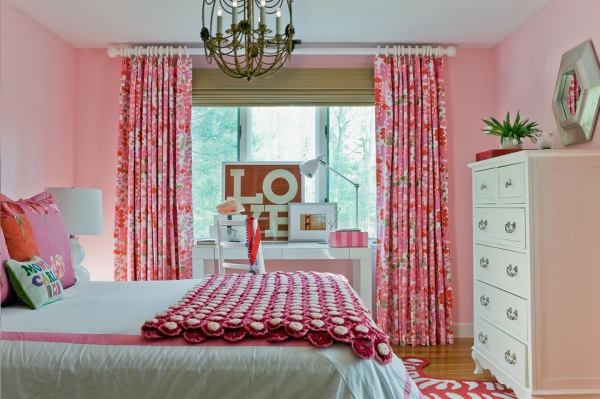 Speaking of pink and orange, the stunning bedroom below includes these hues, as well as touches of green, violet, yellow and brown. Over-the-top accessories like a bird cage add a fun, decadent vibe to the space, making it clear that this room breaks the mold. In the best possible way! [from Katie Rosenfeld Design]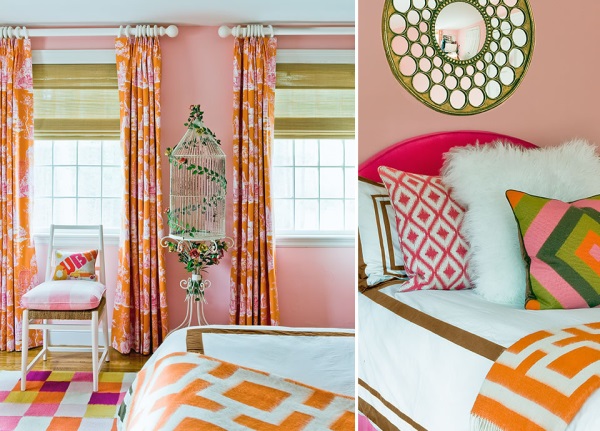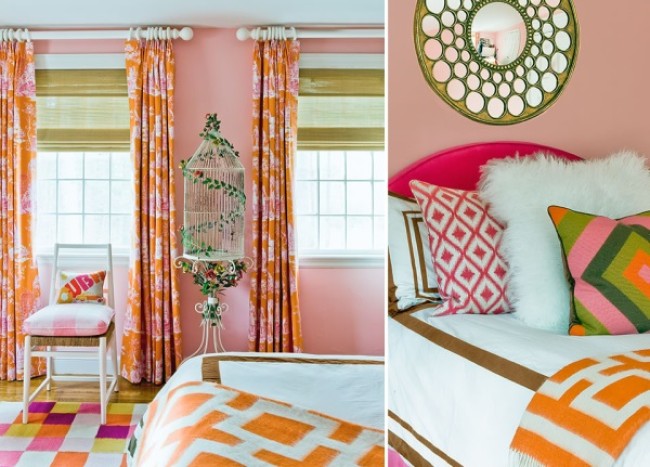 Another way to keep a glamorous room from seeming stuffy? Add interesting, thoughtful details! The ikat window treatments, silver pouf, rose artwork and lamp with a banded pattern accomplish this very goal in the yellow space below. [from S. B. Long Interiors]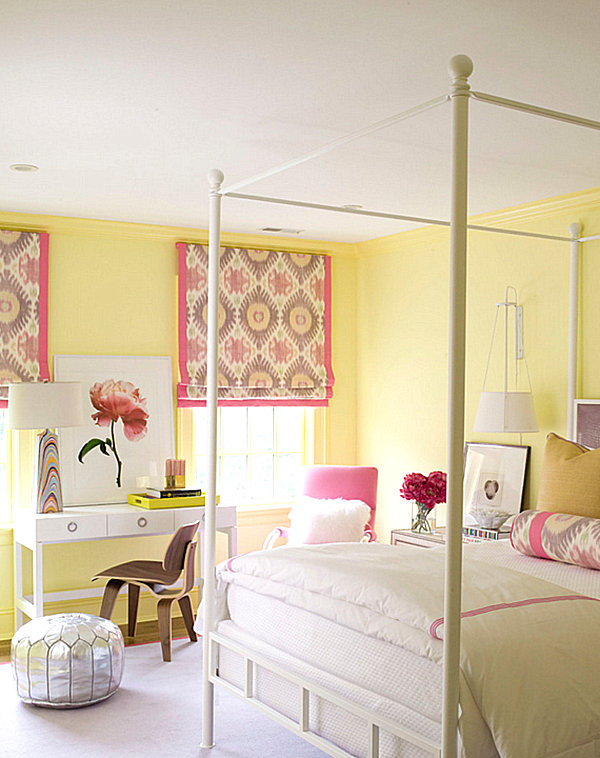 One more hint: keep the space whimsical! This is a child's room after all! Matching bedding and lacquered furniture are very grown-up. Yet fuzzy throw blankets, a floral pendant light and a playful combination of patterns remind us that creativity reigns in this sleeping space. [image by Michael J. Lee Photography for Katie Rosenfeld Interior Design]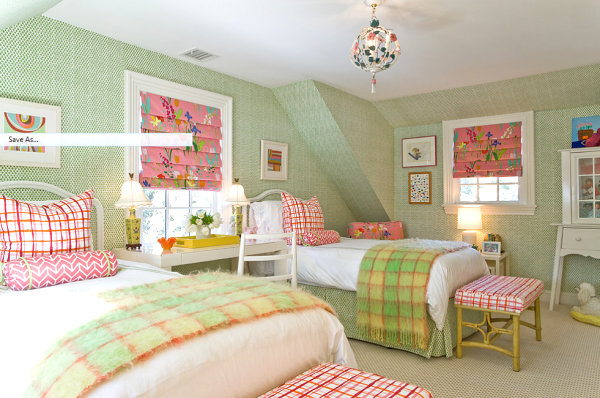 Fresh and Fruity
We end by zoning in on one of today's most popular kids' room motifs: fruit! Bold, modern representations of fruit are increasingly appearing in nurseries, playrooms, and yes, girls' rooms. Why? They are fresh, contemporary and fun! Not to mention, they complement a variety of styles, from the colorful and sleek to the girly and pink! [from Lonny]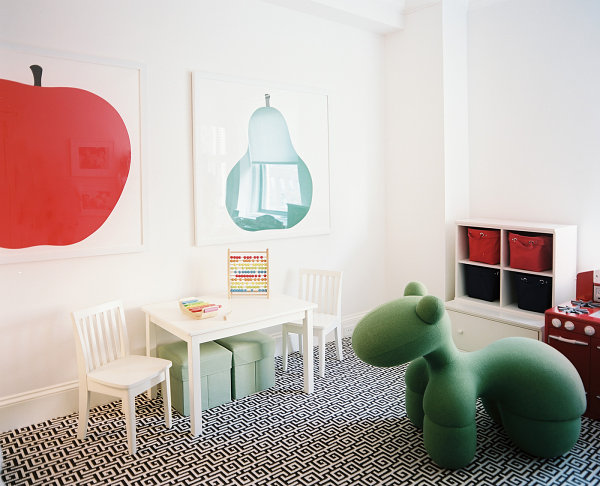 Consider adding a touch of fruit to a girl's room. Below we see how one apple in a sea of artwork can make a big impact. And let's not forget the fruity motif on the window treatment… [from Lonny]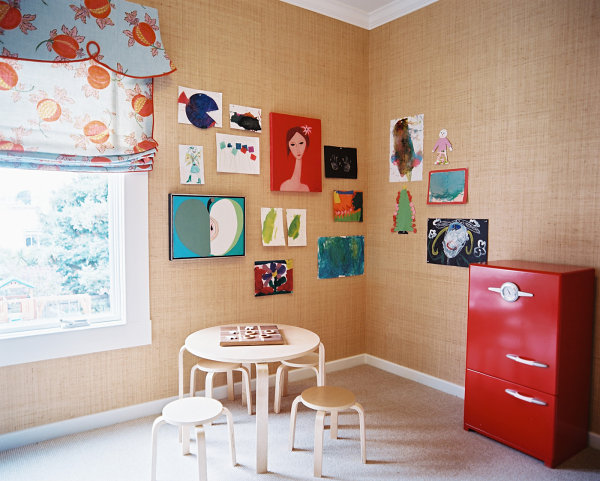 Fruit-themed accessories such as pillows also make a fun statement. Below we see the Freshly Picked Throw Pillow from The Land of Nod, complete with a rose and green palette: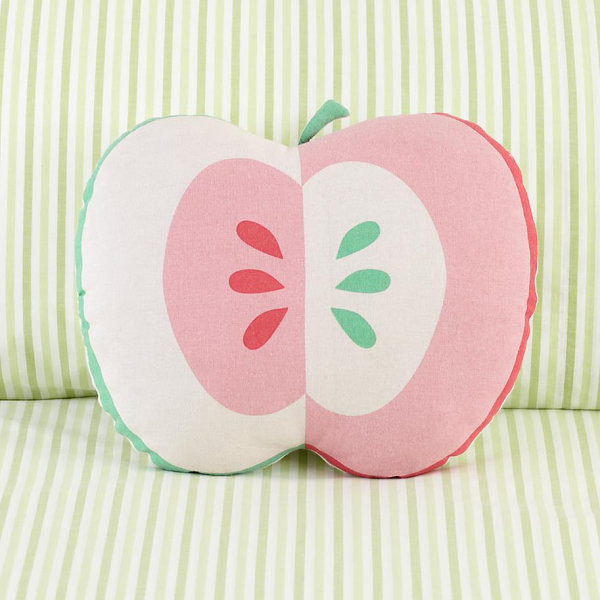 And don't forget that bold fruit designs are the perfect accessory for modern furnishings in your girl's room. In our last featured image, we see retro-style apple-themed pillows from Jane Foster via Baby Style File. Note how their clean lines perfectly complement the chair on which they're perched…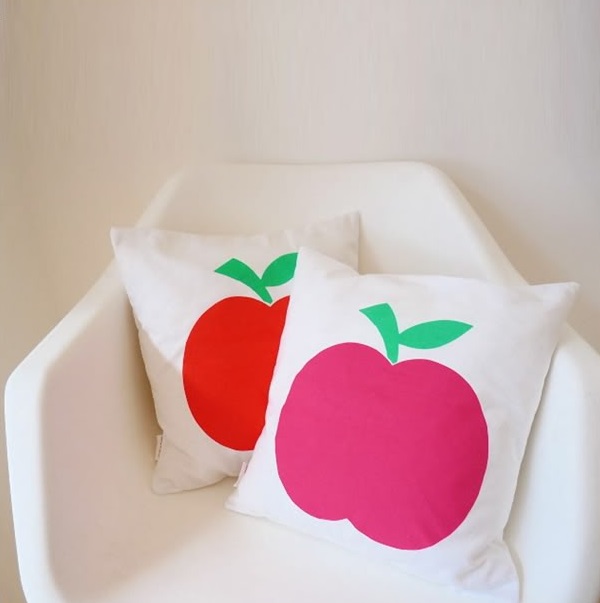 Did any of today's featured room's catch your eye? Do you prefer an eclectic space, a bedroom with a touch of glam, or a fruit-inspired motif when it comes to girls' rooms? Let us know in the comments section below…
Liked the story? Share it with friends.