Fireplaces were once the only way to make a home warm, cozy and welcoming during winter, just like they are during summer. They used to be a vital thing to come home to, the place to tell frightening and heroic stories to grandchildren and rejoice with friends and family while the cold forces of nature were fighting one another, outside.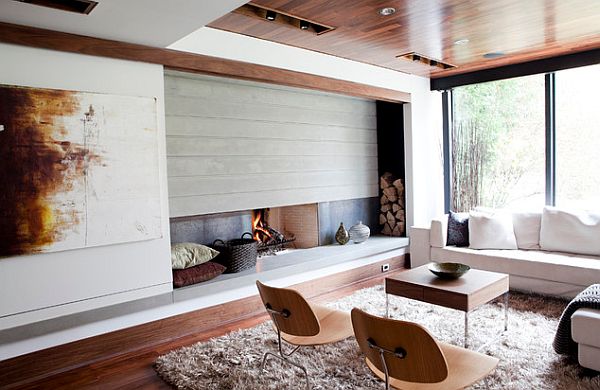 by Capoferro Design Build
It used to be the image you would pensively stare at for insight and answers, like a mysterious oracle of the same sort as the ocean waves or restless clouds. Nowadays we largely replaced this contemplation with smartphone apps, while we keep ourselves warm through centralized heating with built-in floors and walls applications. But you have to wonder, why do we still keep the fire in its obsolete primal form in our homes?
The answer could be feng shui or perhaps the fact that it is beautiful and special, the one force in the house that cannot be mastered, although it can be contained, a piece of untamed nature. It is interesting to look into, even if most of us don't know about the healing and decongesting power the infrared temperature has for our eyes grown tired due to modern artificial light sources.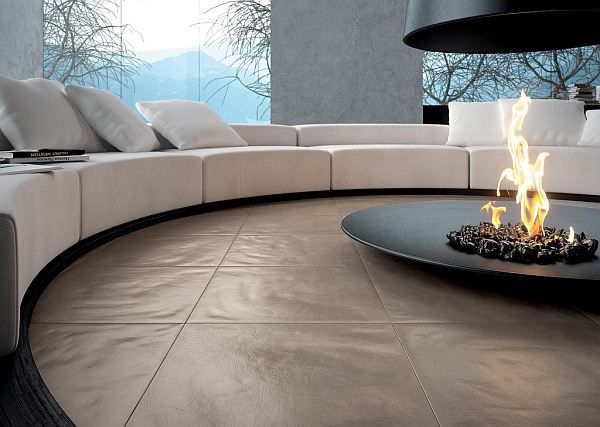 Image via Design-Moderne
Fireplaces have lost their primary protective function, but their statement and aesthetic function is going stronger than ever. Here's some examples to prove it.
A living room is a great place to enjoy the warmth and the spectacle of a fireplace, be it in a rather traditional or a highly minimalistic frame. There are many constructive approaches to the fireplace and the majority place it in a centralized location. Rather than a rectangular hole in the wall, there is a sleek long shelf for the fire god to do his magic, stealing the show away from the large flat screen TV that is sometimes even banned on a side wall of lesser hierarchy.
Some fireplaces are their own construction, in a partition wall between the adjacent living and dining area to serve them both. A pedestal for the flames, like a home altar, and a wall or the shaft suspended over it, bringing a structural eye-catcher to that of the fire.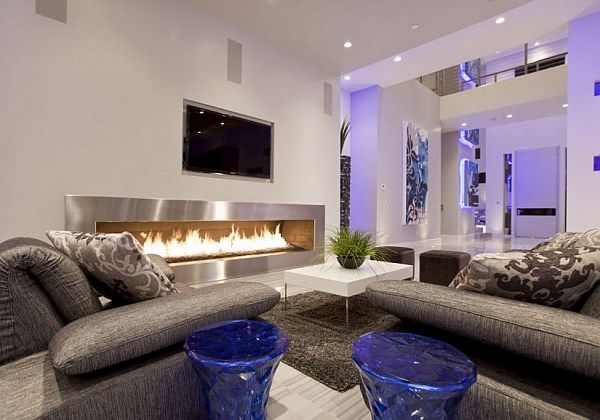 Image courtesy of theluxhome.com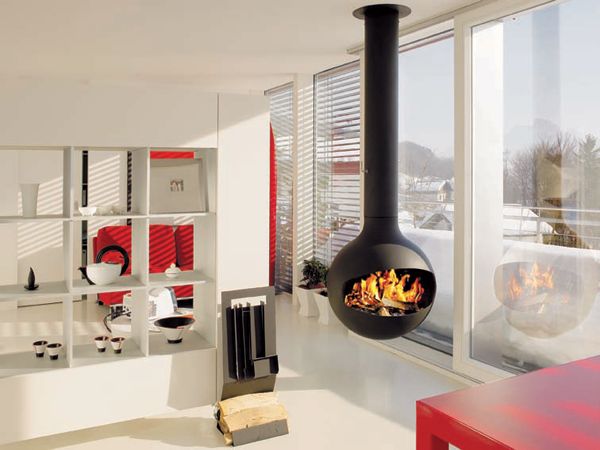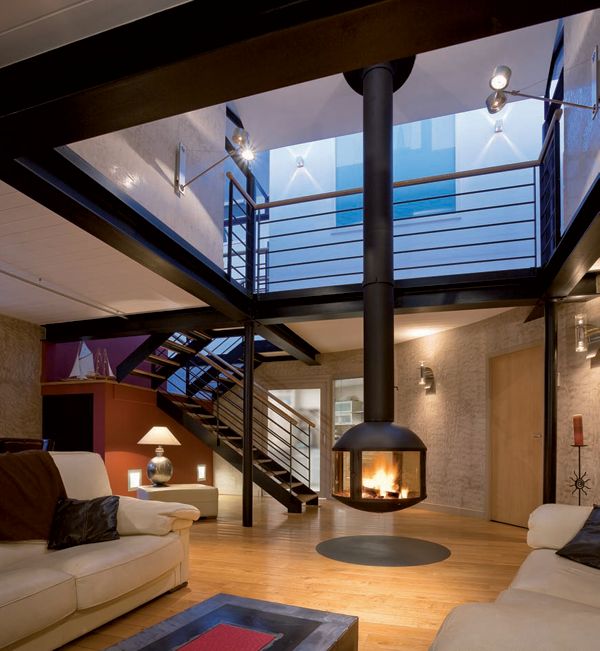 Above two images with the hanging gyro-fireplaces by CustomFireplaceDesign
As far as textures are concerned, all nature or man made materials celebrate the fire, from exposed brick over the gorgeous cultured stone to marble and plaster patterns, even minimalist ones like aluminum and glass, from structural to sculptural.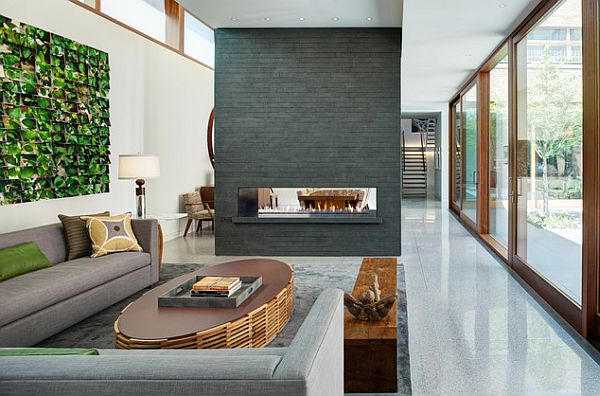 by Vinci | Hamp Architects / Photos by Eric Hausman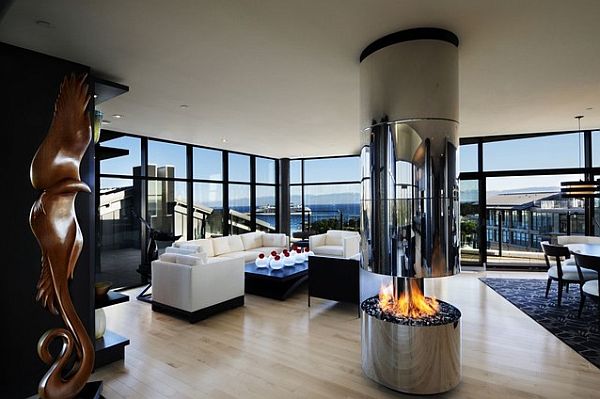 by luciaz
Interesting and rare fireplace design effects can be achieved with eccentric finishes such as the rich and timeless texture of rust cladding for an old industrial accent, or a back-lit glass structure for a very stylish and modern touch.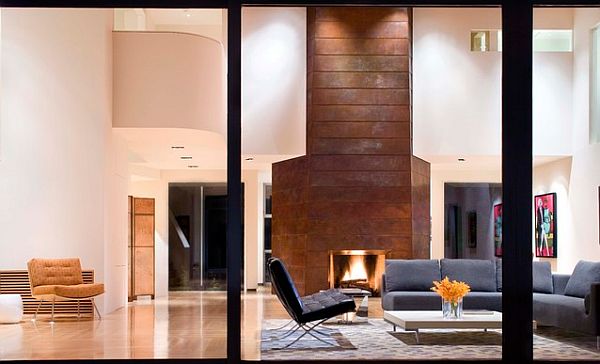 by Four Corners Construction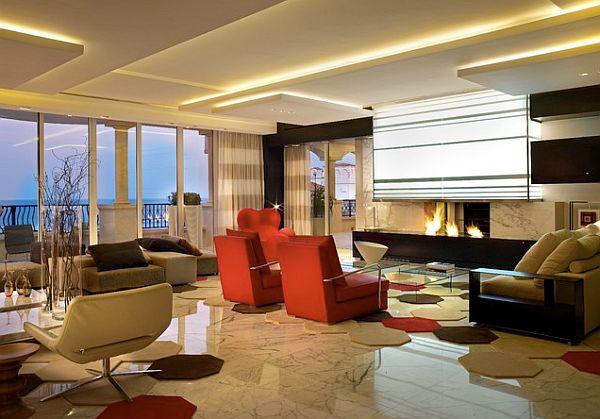 by Urban Concepts Modern Fireplace Design / Photography By Barry Grossman
The ethanol technique has made fireplaces very clean and minimalistic. Back in the days it would be a complete mess of coal and grime. Now it's just the magic performance of flames on an improbably clean and sleek surface. The housing of these new fireplaces takes the strangest and most cutting-edge shapes, like the recently award-winning HeatGlo Solaris gas Fireplace. This state of the art house application resembles nothing of the classical fireplaces: a thin surface of fire seemingly floating in void and probably the most sci-fi fireplace at the moment.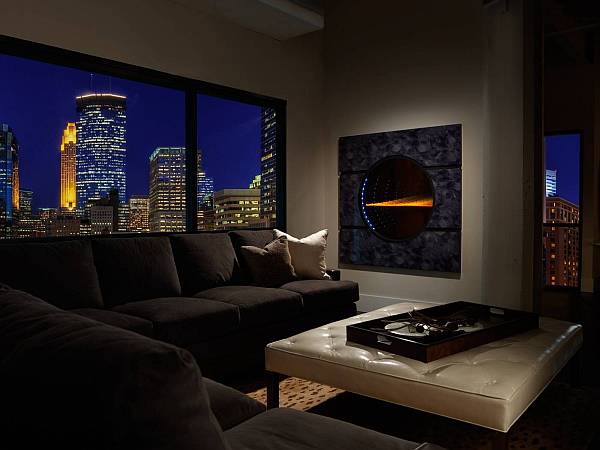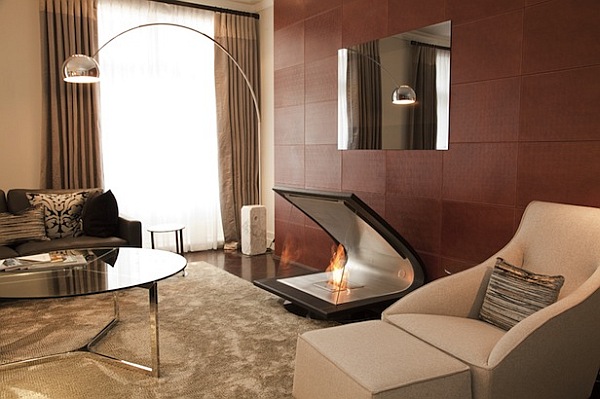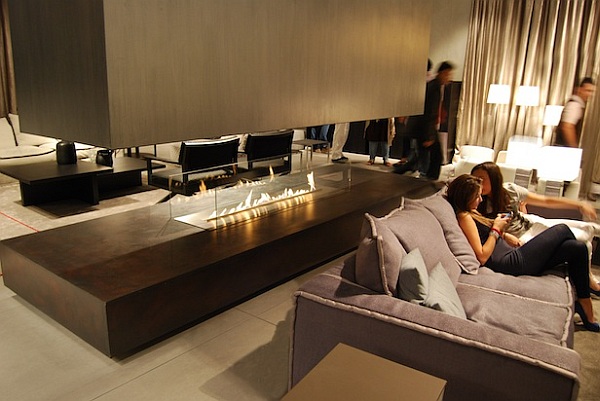 Above two images courtesy of ZowChow
Surely this suspended fireplace looks familiar. An icon in modern fireplace appliances is this very unconventional looking shape produced by Fireorb and Gyrofocus . Not only does it weightlessly float in the room, denying the traditional, heavy and solid character of fireplaces, but is is as flexible as to face any side of the room by rotation. It is space-saving, clean and sculptural and comes in a variety of colors. A white version looks almost like a spaceship appliance, achieving a cutting-edge futuristic effect without compromising elegance.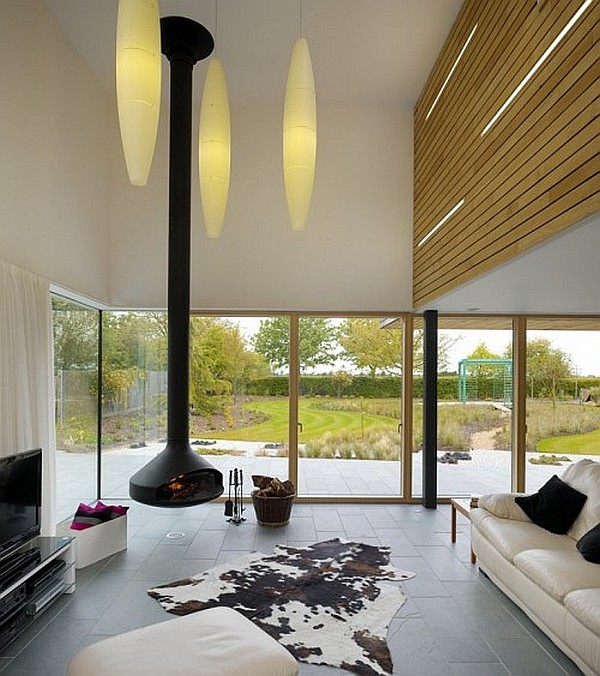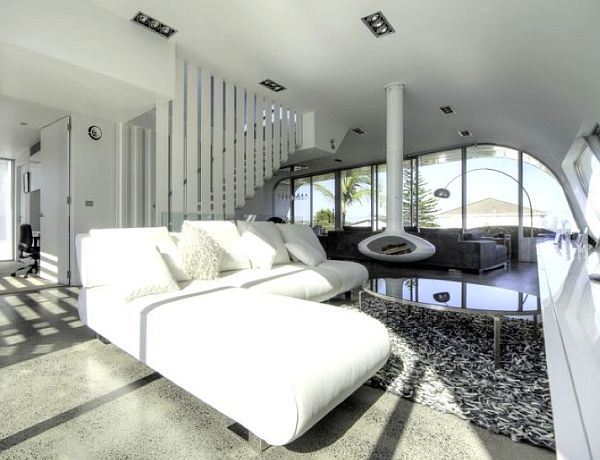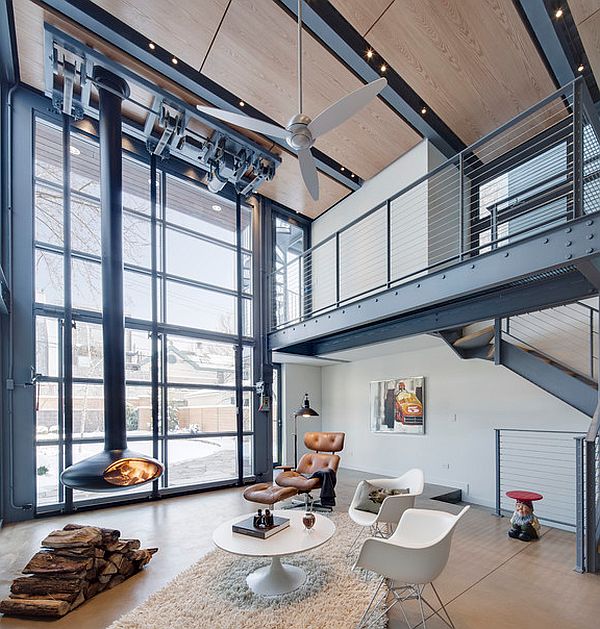 by dSPACE Studio
Undoubtedly, a fireplace is cozier in its more traditional form, that does not break the constructs of our cultural history, in which this appliance has played a major role. Furthermore, since these are integrated in large constructive elements, you have a greater degree of customization: the shape and size of the opening, wall finish, materiality and texture, to accessories such as works of art and decoration. But whether you want one for the living room or bedroom, the fireplace becomes a presence that can turn the space into a sensation. Modern and minimalistic fireplaces with unconventional shapes require an eye for interior arrangements to go with it, while a custom built wall-fireplace needs imagination and love of detail that can culminate in a really impressing and hot result.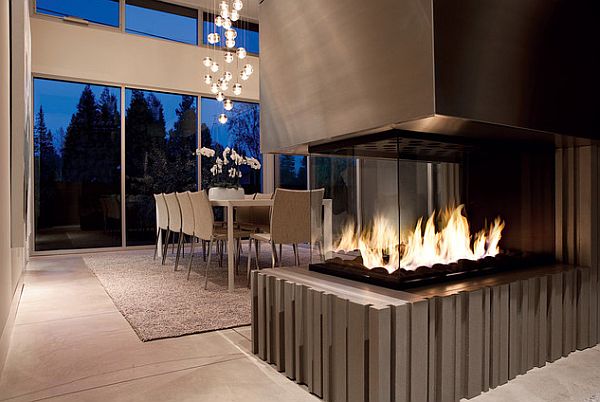 by California Home + Design / Photo By: Mariko Reed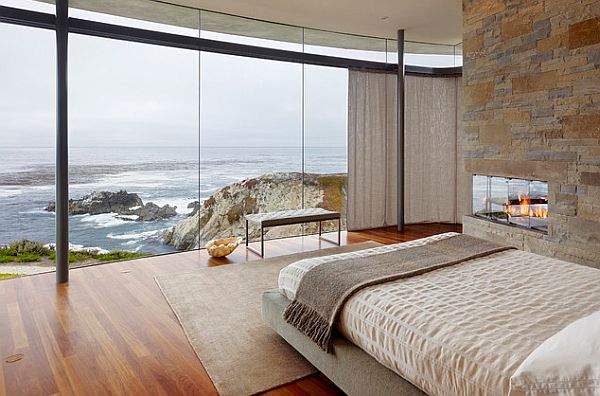 by Fulcrum Structural Engineering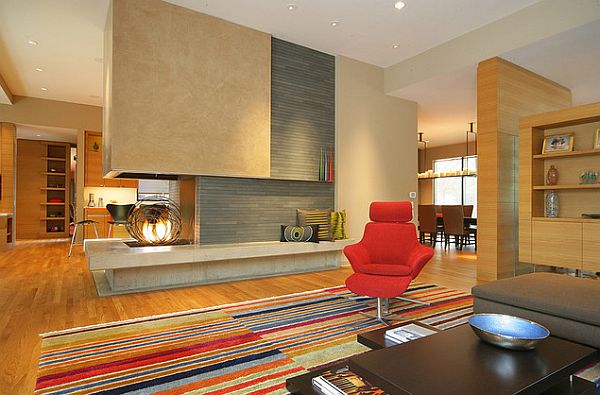 by Domiteaux + Baggett Architects / Photo Credit: Terri Glanger Photography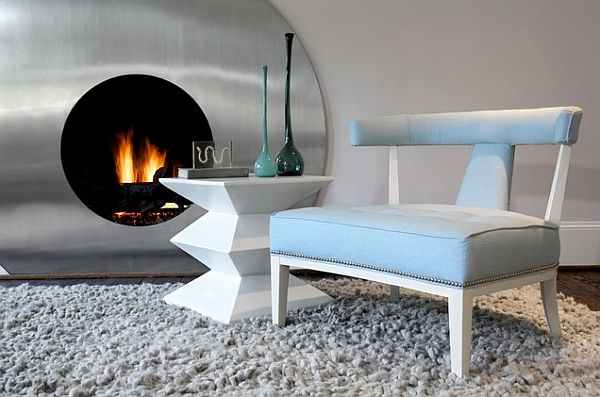 by Carolina V. Gentry / photo by Kevin Dotolo