When you hear the phrase "window seat," do you picture a frilly bench filled with lacy pillows and tufted cushions? The traditional formal window seat will always be a vision in ruffles, but today's post is dedicated to new developments in window seat design. While window seats of the past looked like something you'd find in a dollhouse, current window seat style incorporates a variety of updates, from a modern look to clean-lined cushions. Not to mention, innovative form, as shown in the image below… [from Schwartz and Architecture]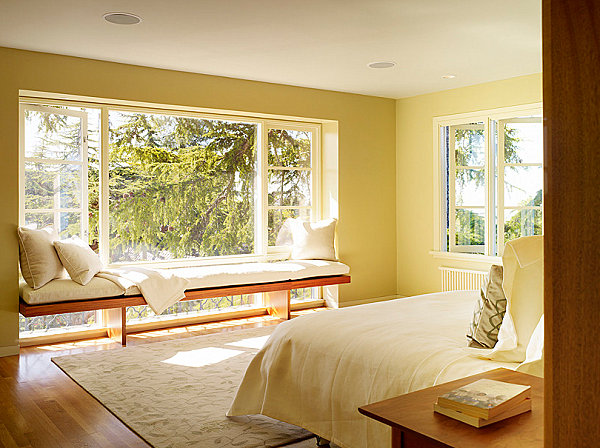 Without further ado, we now proudly feature a collection of  window seat ideas that maximize comfort, function and style. The bottom line: get creative. Choose cushions that make sense for your space. Opt for under-seat storage for added convenience. And don't forget to have some fun with accessories, from pendant lighting to window treatments. Check out the pics below for the ultimate in window seat inspiration–enjoy!
Window Seat Cushion Ideas
We begin with window seat cushion ideas, since the importance of color and pattern cannot be overlooked. Start by considering the needs of your space. Are you looking for a window seat that's a focal point in the room, or do you intend for the seat to complement the room's other textiles without making a bold statement of its own? Below we see a window seat covered in cushions that match the nearby bedding. [from Wendi Young Design]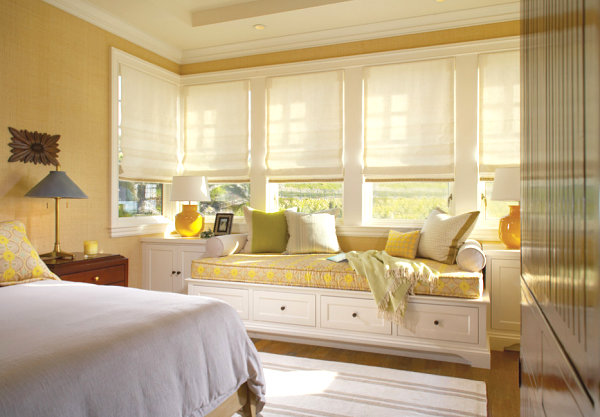 Don't feel the need to get too fancy. Your window seat cushions should be a natural fit for your space. For example, the room below is comfy and chic. Appropriately, the window seat cushions that inhabit this space are comfy and chic in an understated shade of gray! [from Taylor Lombardo Architects]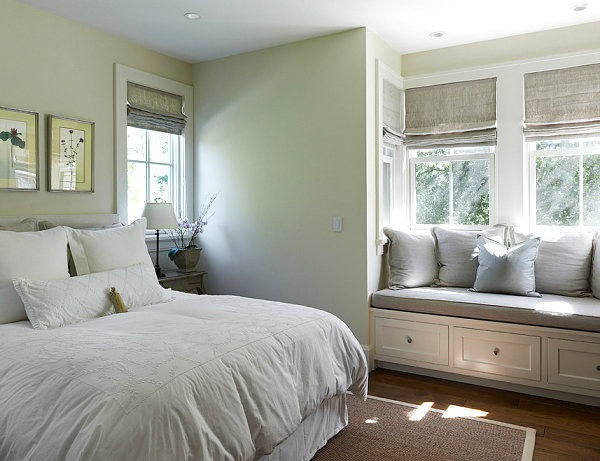 Then again, don't feel the need to be subtle! Looking for your window seat to take center stage? No problem! Go with a bold pattern for the seat cushion, as well as the accent pillows. The vivid print in the next featured space is perfectly complemented by striped pillows in shades of coral and purple. [from John Lum Architecture, Inc.]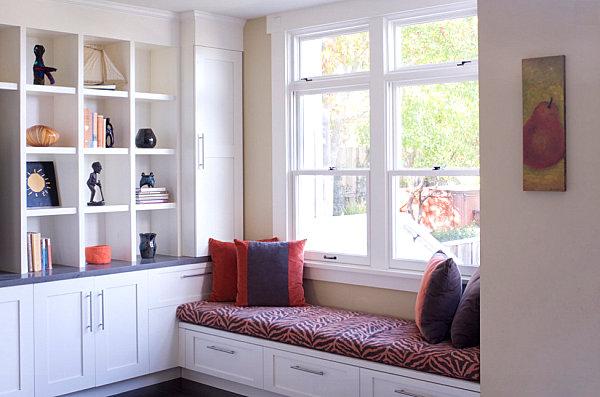 In fact, your window seat can make an artistic statement, especially if it rests in an all-white space featuring clean lines and little else. Note how the corner window seat below features cushions that create a contemporary vibe designed to enhance the stunning view without overpowering it… [photo by Anne Kohler for Mueller Nicholls Cabinets and Construction]
Does your window seat serve a specific function? Such as dining room seating? Sometimes the needs of your space will dictate the style of your cushions. For example, this next featured room incorporates a navy and white theme. Hence the navy seat cushion and white accent pillows on the window seat! [from Lonny]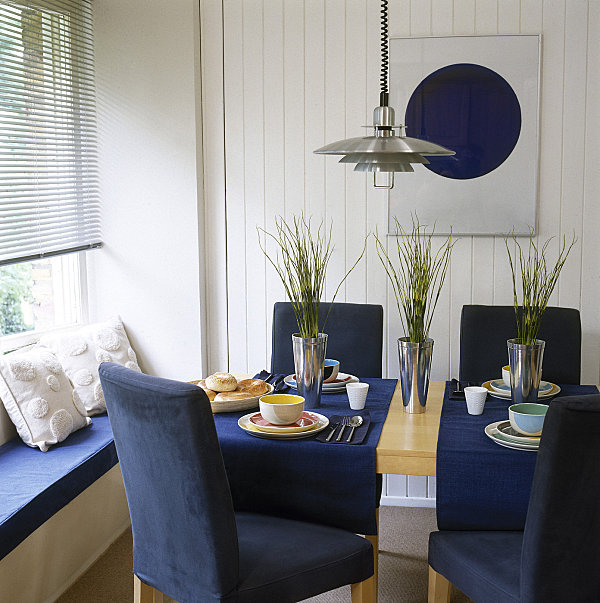 Then again, sometimes the best way to complement your room is to go with a window seat that defies all expectations. For a dramatic statement, opt for luxe cushions that create a true sofa feel. This is not your grandmother's window seat… [from Lonny]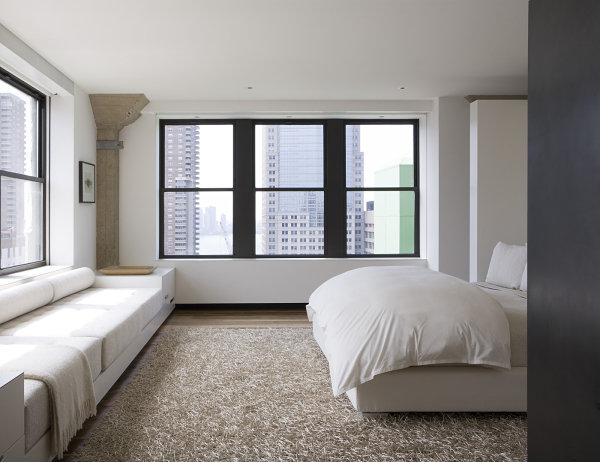 Window Seat Storage Options
Let's talk about storage! If you're lucky enough to have a window seat that doubles as a shelf, make sure you take advantage of the extra space. If the shelving is open, opt for some stylish containers or bins that conceal clutter, as shown below. Love the combination of cool blue and metallic tones! [from Lovejoy Designs]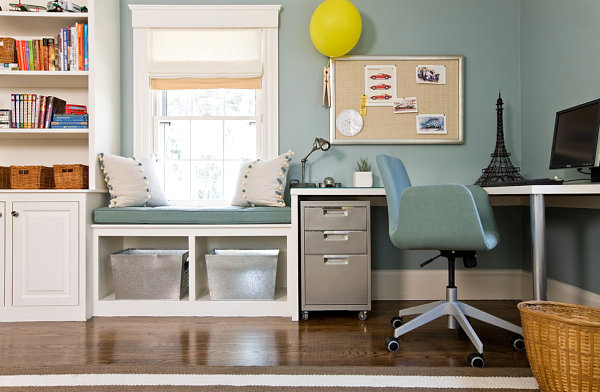 Or instead of concealing the items that rest on your open shelving, have fun arranging them with style. In the next featured space, we see an artfully displayed stack of books below a window seat cushion. [from Lonny]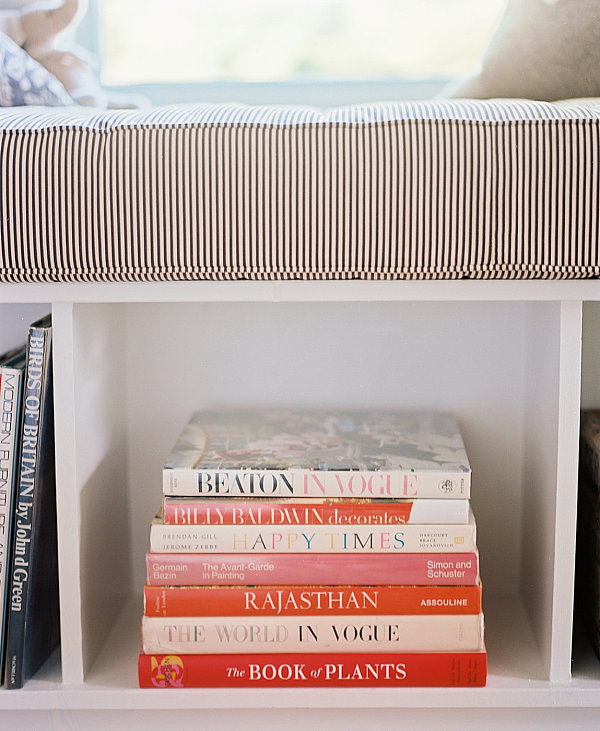 Or maybe your window seat features drawers… If you're lucky enough to have drawer storage, take full advantage! They neatly hide loose items while adding to the style of your seating! [from Feldman Architecture]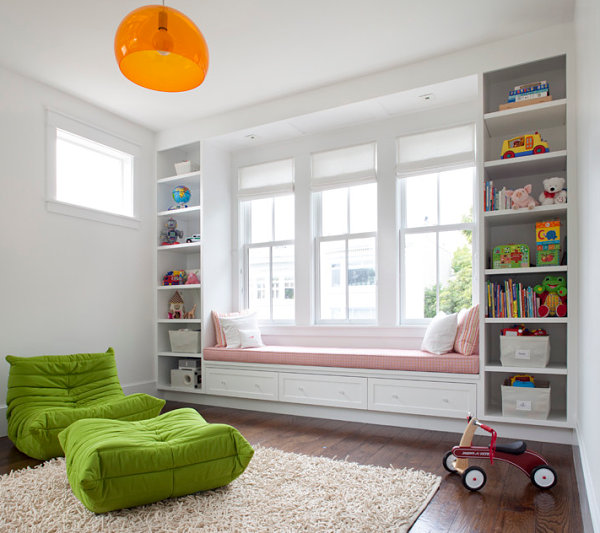 If you're adding a window seat to your space, design it with drawer storage that reinforces the style of the room. Below we see window seat drawers that reinforce the wooden accents in this space, creating dimension and depth. [from Malcolm Davis Architecture]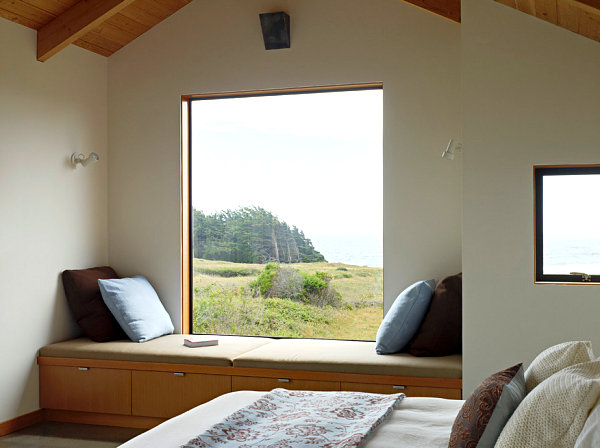 Window Seat Accessories
If you love a good accessory, this section is for you! But instead of focusing on purses, earrings and scarves, today we shine the spotlight on those very items that transform a window seat into a truly special space. For example, if you use your window seat as an area for reading or sipping tea, why not add a little table for a place to set your book?! Or teacup. Or a lovely vase of flowers… [from Faiella Design]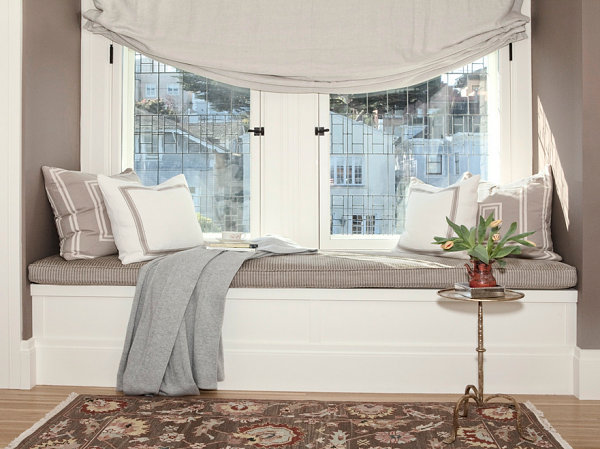 Let your window seat accessories truly reflect your style! For example, the window seat below has a Mid-Century modern vibe. So why not accent it with interesting pieces, from an artistic table to cushions in striking colors and patterns?! [from Megan Nordin Designs]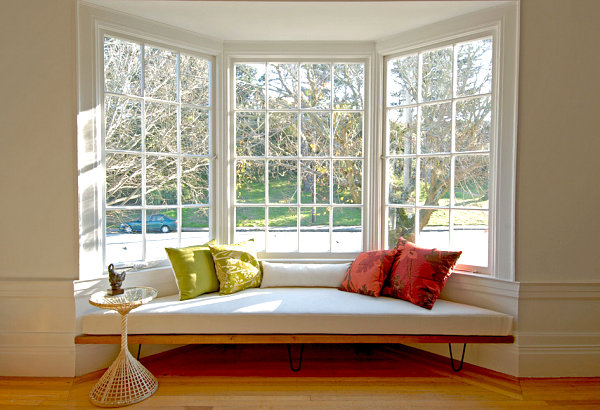 Another must-have accessory? The right window treatment! After all, you'll want to shield your eyes from the sun as you curl up with a good book in your favorite window-side space… [from Amy Lau Design]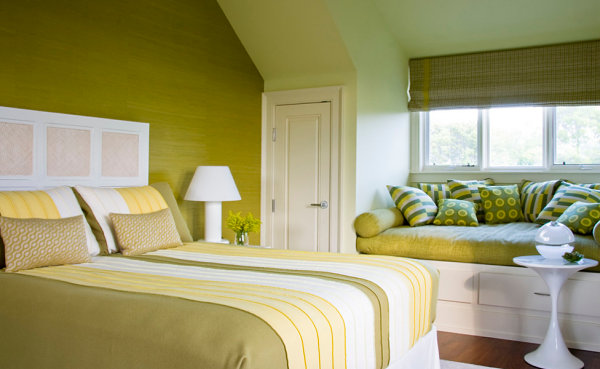 Below we see another window treatment, as well as another must-have window seat accessory: the pendant light. Window seat lighting punctuates the space with style. Also note how this window seat nook is accented with bright orange paint so it really stands out in this colorful bedroom! [from Patterson Custom Homes]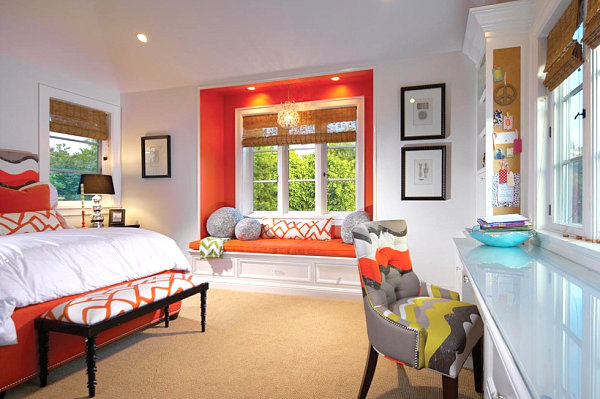 This next window seat features a pendant light, as well as shelving on the walls inside the nook. With the addition of wall shelves, your window seat space becomes an artful display area where you can showcase your personality and style. What would you display on the shelves? Plants? Books? A special collection? [from DeGraw & DeHaan Architects]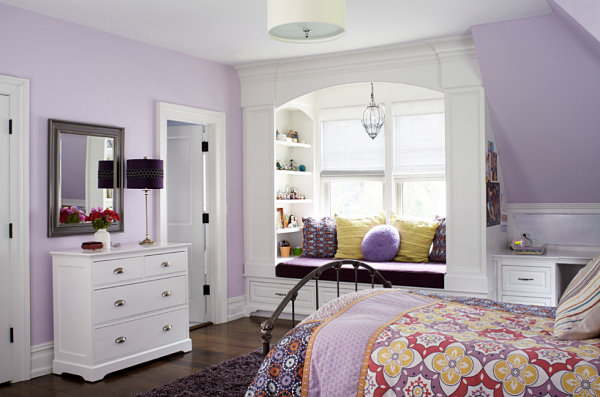 If your window has a view, why not add an accessory that enhances your ability to enjoy it? Like a telescope?! The nautical window seat below is the perfect setting for a magnifying objet d'art, don't you think?! [from RGN Construction]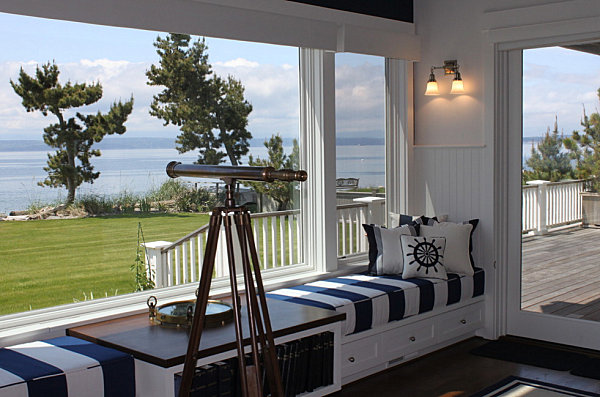 We end with the ultimate window seat accessory–the privacy curtain! Not only does a curtain allow you to create a space within a space, it provides just the right amount of seclusion. Worried about feeling boxed in? You won't! The view through the panes will remind you that another world is just beyond the glass… [from Lonny]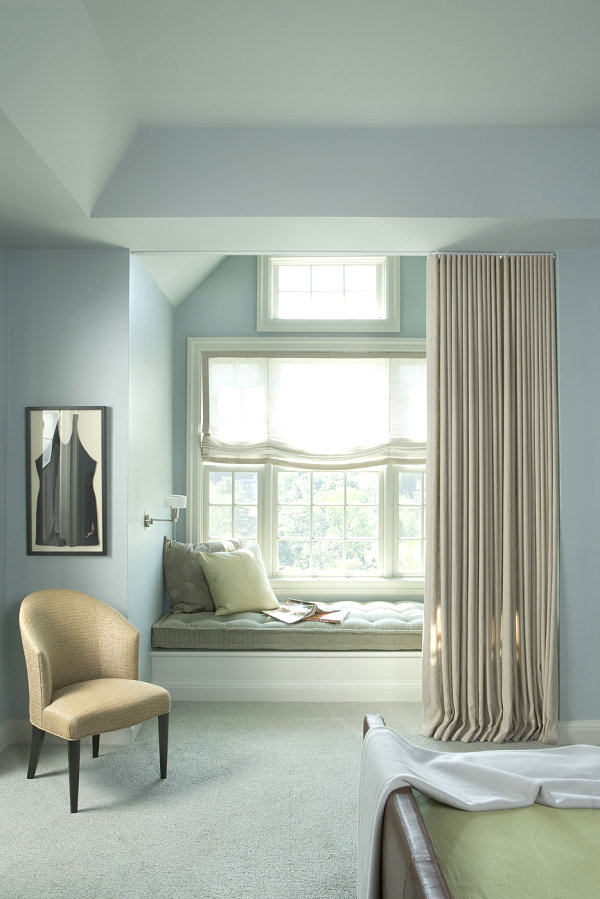 Do you have a window seat in your home? What are some ways you've added function and style to this special feature? Share your thoughts by leaving a comment below…
Liked the story? Share it with friends.