When you think of bay window seats, do you imagine ruffled pillows and pastel fabric? While traditional approaches may first come to mind, an increasing number of modern homes are celebrating the magic of the bay window by introducing contemporary seating into this sacred space. Today we explore bay window innovation in the modern home!
Bay windows project outward from the wall, forming a recessed nook inside of the home. This nook makes an ideal spot for curling up with a good book, but did you know that bay window seating can also be used to add comfort to a kitchen, dining area or home office? Not to mention, sofas and chairs make wonderful bay window seating options. Let's take a look at the modern bay window and the many design possibilities it holds…
Bay Window Seating in Living Spaces
If a home has a bay window, you are likely to find it in the living room, and we've got the pictures to prove it! Interestingly enough, even traditional homes are branching out and incorporating new elements into bay window seating, such as trendy fabrics. Below we see an tribal ikat print mixed with more formal botanical-motif pillows. A nice combination, don't you think?! [from Erotas Building Corporation]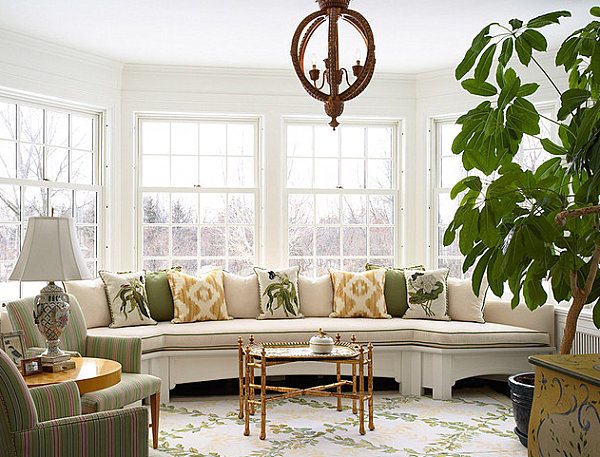 Also note the base of each window seat as you scan today's pics. '50s Modern style reigns in the next featured image, as shown by the tapered metal legs and clean-lined wooden form of the bench. Don't forget that bay window seating can reinforce the design style of your choice! [from Megan Nordin Designs]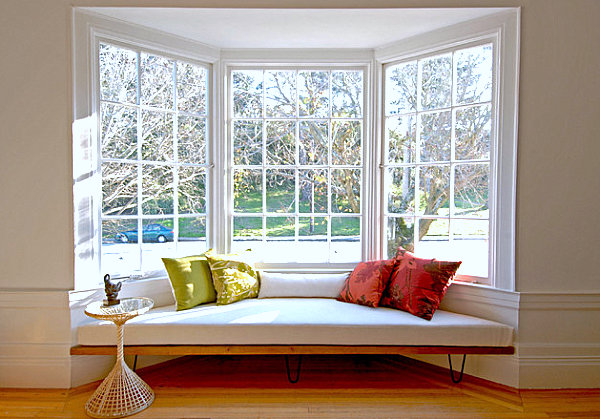 Benches aren't the only bay window seating making a splash! Whether you are able find a sofa like the curved piece below or you order a custom piece to fit neatly into your space, don't hesitate to make your bay window seating the hub of an arrangement that fosters conversation. [from Freshome]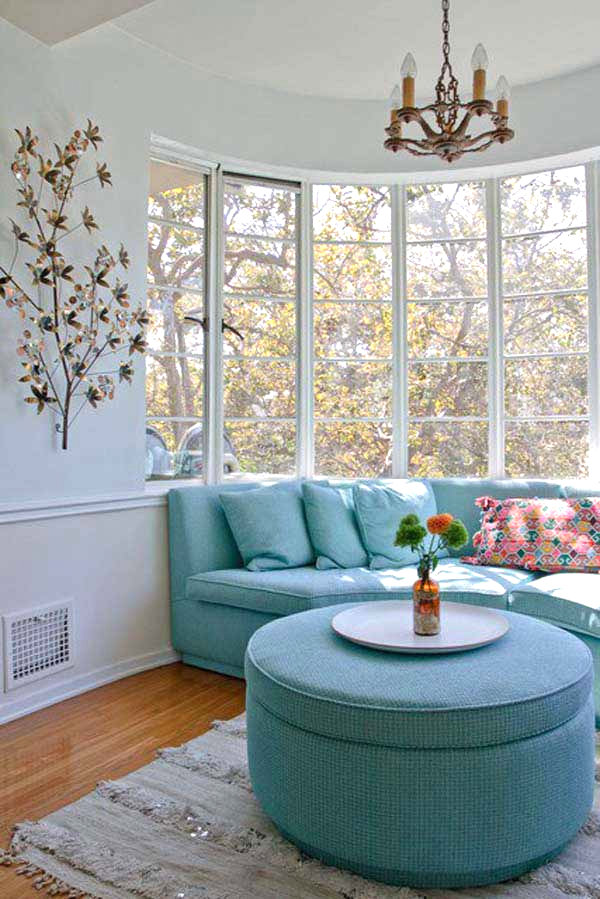 The next featured space is double the fun… Yes, we have the elusive double bench! While the window itself technically isn't a bay window, we love the way these homeowners had fun with this picturesque nook by making an unexpected seating choice. We think you'll agree that these curved benches are true conversation pieces. [from Digs Design Company]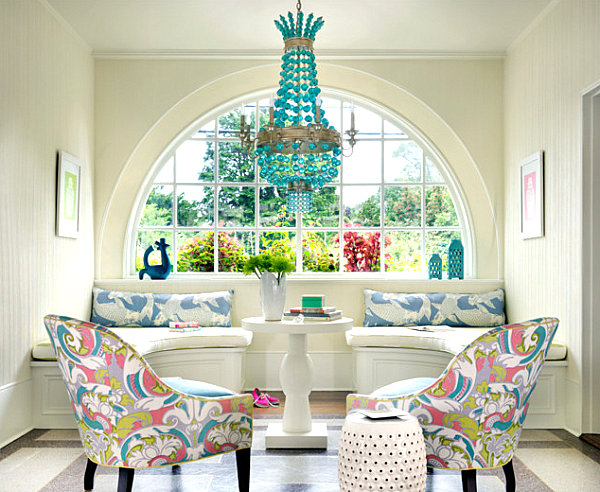 Another way to put a fresh twist on a bay window space? Fill it with a comfy, over-sized  armchair. Then watch as guests fight over this cushy nook! [from Upton Architecture]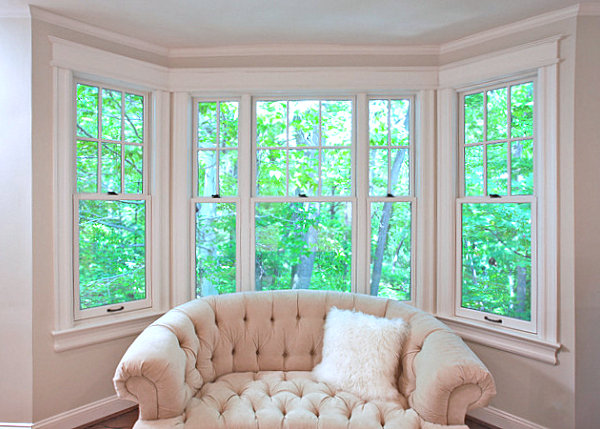 Speaking of comforts, one approach to decorating a bay window area is to fill it with pillows and other welcoming items. A throw invites residents and guests to cozy up with a book. Don't forget the reading material, as well as a side table for setting drinks and other items.  [from Faiella Design]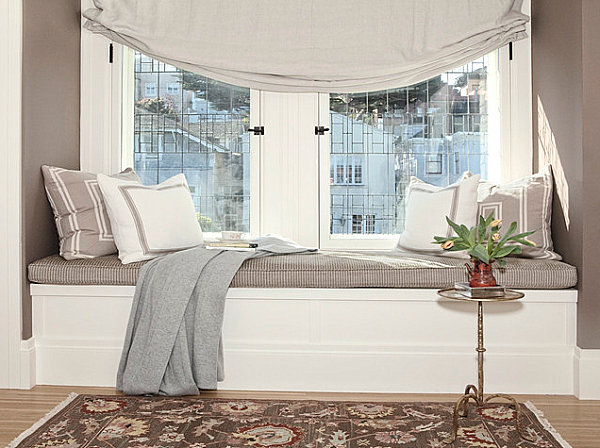 You can also section this space off from the world with curtains that make your bay window nook a peaceful haven. Remember those forts we all built as kids? This is the designer version! [from Kimball Starr Interior Design]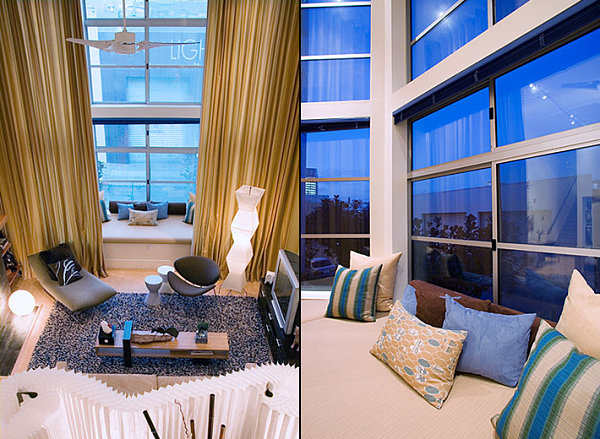 At the same time, knowing when to keep it simple is half the battle. When a clean-lined space and a breathtaking view are involved, few bells and whistles are necessary. The lack of clutter on the bay window seat below makes a big statement. And we like it! [from Freeport Woodworking]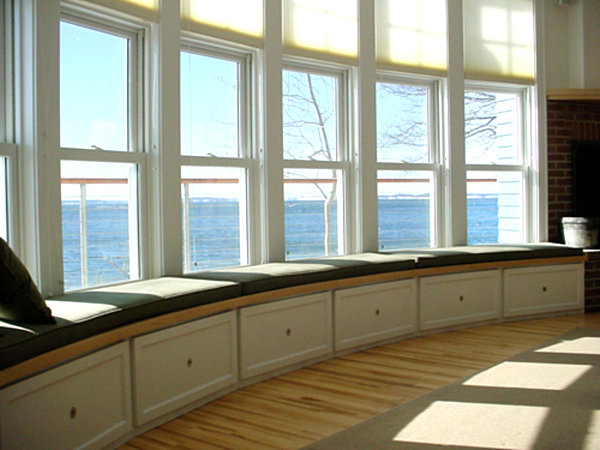 Don't forget that bay window seating can also perform a storage function. Many seats have lids that lift to reveal secret compartments. Don't hesitate to fill them with items you'd rather keep out of sight. This option is extra helpful for families with babies and young children–keep those toys neatly tucked away, yet ready to grab when you need them! [from Integra Construction Group via Houzz]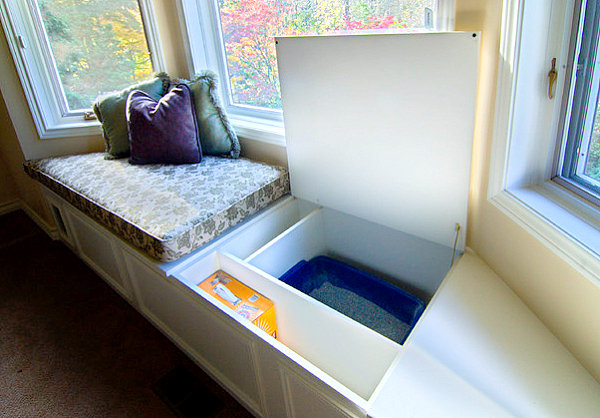 Making room under a bay window seat for storage is another option, especially when you use tidy baskets that match the decor of the room! [from Decorpad via From the Right Bank]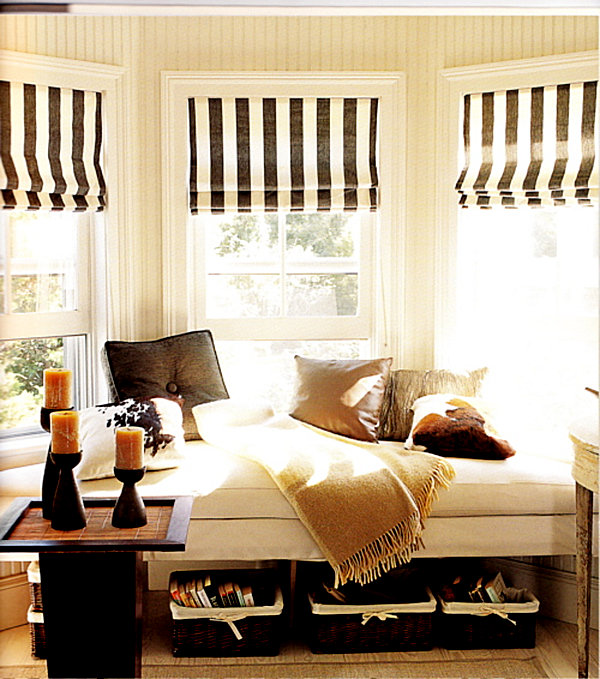 Another "living space" where many hours are spent: the home office. Too often scenic windows in this room become areas for desks. And who wouldn't want to enjoy the view while working? Yet setting aside the space for a window seat can be a strong reminder than even on the busiest of days, it's OK to step away from the paperwork. Maybe for a power nap?! [from DeForest Architects]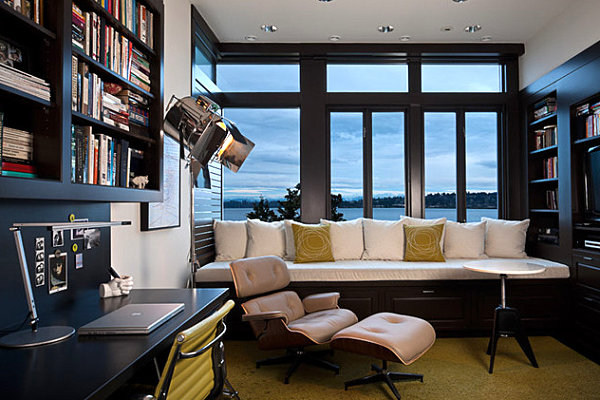 Bay Window Seating in Kitchen and Dining Spaces
Bay windows aren't always confined to the living room. Sometimes you find them in kitchen and dining areas! Once again we feature a window that technically isn't in the "bay" category, but this space reminds us that even in the smallest of kitchens, a nook for sipping coffee in the morning is, well…heavenly! [from Grade]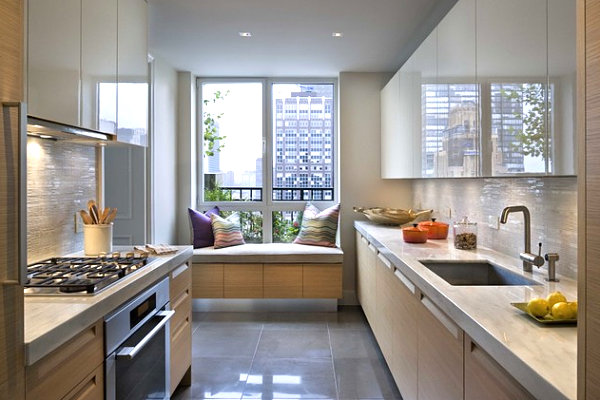 Even with a dining table nearby, a less formal seating area can be just what the doctor ordered! Who can resist eating a bowl of oatmeal while overlooking the garden? [from e3 Cabinets and Design]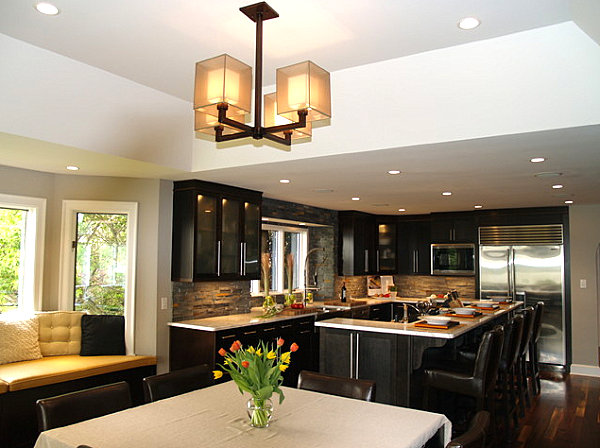 Many homeowners and renters enjoy the way a bay window can double as an excuse to add a dose of much-needed color. Sometimes we forget about the power of textiles in the kitchen, but when you have a chance to add pillows, cushions and curtains, take it! And make it bold! [from Architect Lines]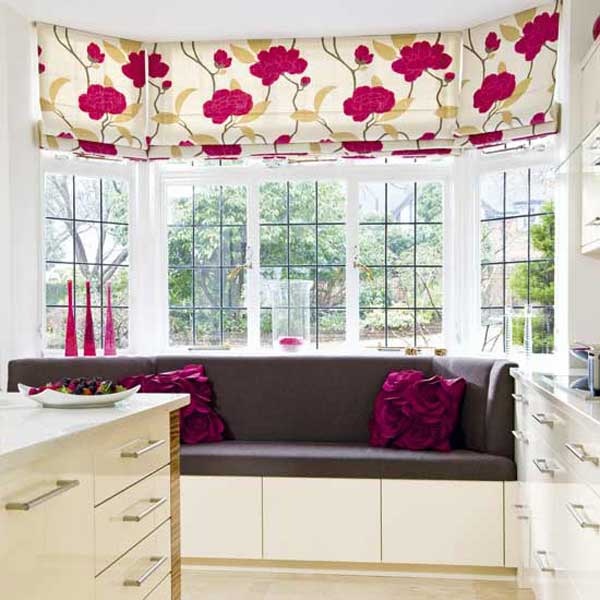 A kitchen window seat can also double as dining seating, especially in small spaces like the galley kitchen and compact dining area below. Pull the table right up to the bench, add a couple of chairs (or not), and voila–you have a dining vignette! [from Jessica Kelly Design]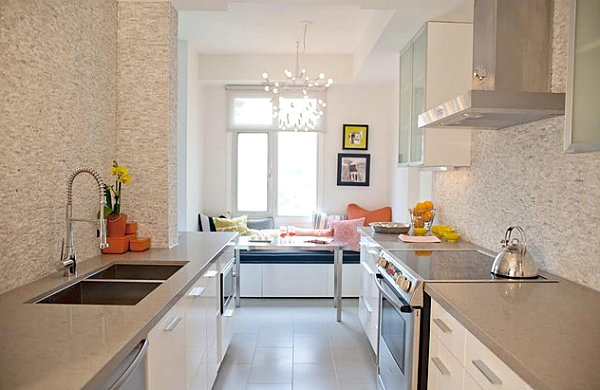 In fact, in some homes, the bay window area becomes the dining room. For a unique take on bay window seating, fill the window with a couch that doubles as a "booth" for a round table. Below, a Saarinen table makes a modern splash, while striking curtains and sculptural lighting draw the eye upward. [from Risinger Homes]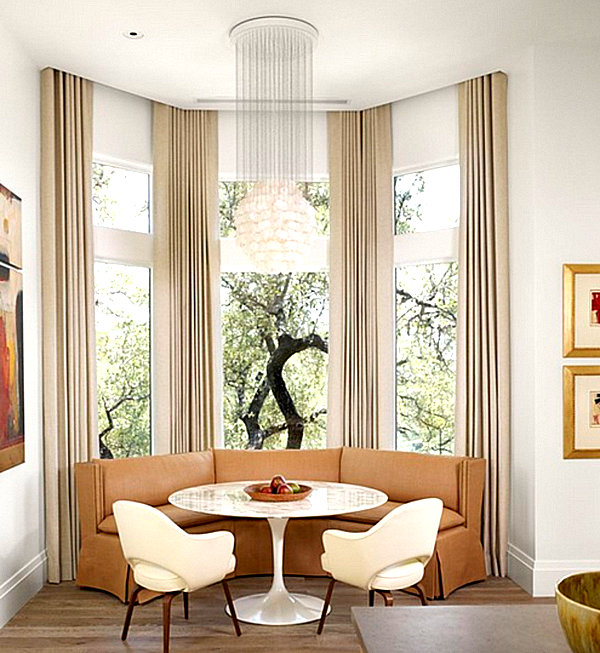 Sometimes the best bay window seating involves chairs, as shown in this next modern dining space. Once again, we have a compact Saarinen table that perfectly fits the space. Padded seating adds a sense of grandeur, while a bowl of green apples is design perfection. [from SFGate]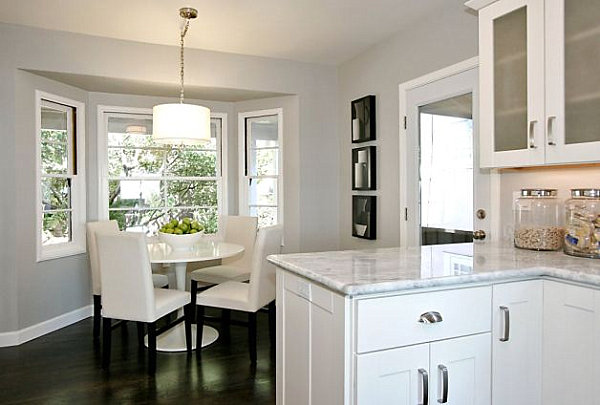 Bay Window Seating in the Bedroom
We end by celebrating the power of bay window seating in the bedroom. Why not extend the beloved style of your bedding motif to a nearby bay window? That's right–add some pillows that reinforce your color scheme and watch as style reigns in your boudoir. [from Freshome]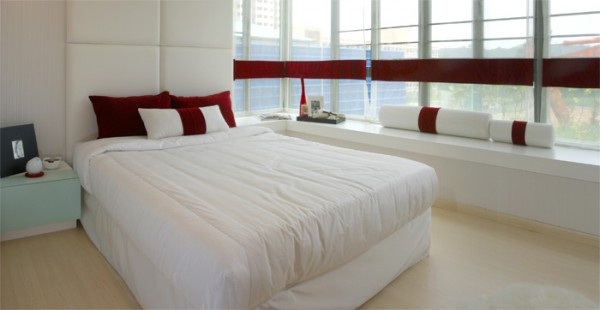 Then again, sometimes less is more! A simple bench or trunk may be all that a bay window needs, especially when you have a view this magnificent… [from Pearl District Condo]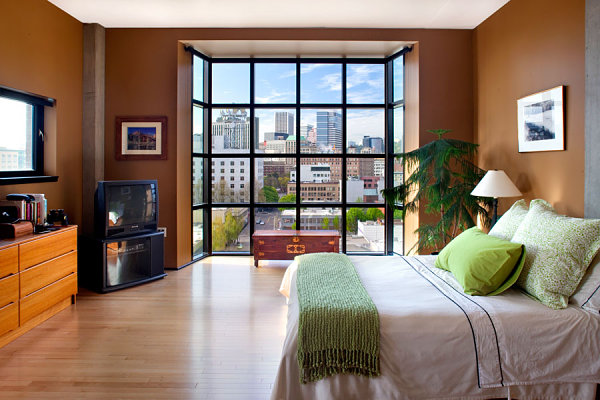 Don't forget that a bay window can bring a dash of style to children's spaces, as shown in the boys' room below, featured at Urban Orchard Interiors. Note how decorative paint, pendant lighting, curtains and eye-catching fabric combine to create a stylish haven for the room's inhabitants: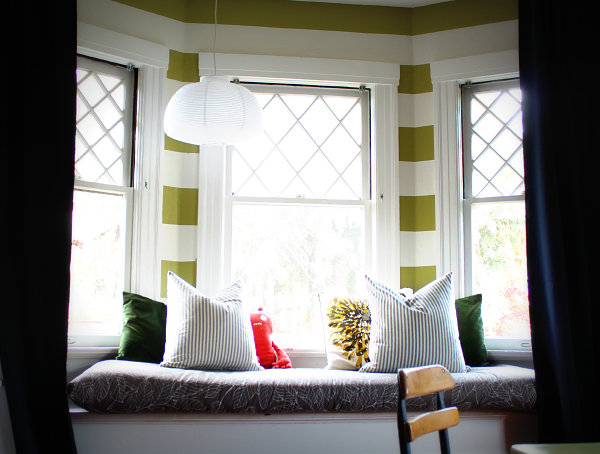 Do you have a bay window in your home? How have you used the space to the fullest?! Share your thoughts by leaving a comment below…
Liked the story? Share it with friends.