Decorating the tree in the next few days? With Thanksgiving now behind us, our thoughts inevitably turn to holiday decor. The centerpiece: your Christmas tree! That's why today we present 20 felt Christmas ornaments that are sure to give your tree a warm, fuzzy look. In fact, felt decor is valued for the handmade vibe it creates. Not feeling crafty? No worries–you can buy felt ornaments at very affordable prices. But if you're in the DIY mood, many of today's featured finds can easily be duplicated with a little bit of patience and creativity. Enjoy browsing the ornaments below…we at Decoist hope your holidays are off to a great start!
Signature Christmas Symbols
We begin with a series of felt ornaments that capture the sights and sounds of the Christmas season. Ornaments that remind us of carols, memories and more. Instead of "Silver Bells," why not go with felted white bells this year? Handmade in Nepal, these Purl Soho Felt Ivory Bell Ornaments from West Elm feature a snowy shade, as well as bright red accents…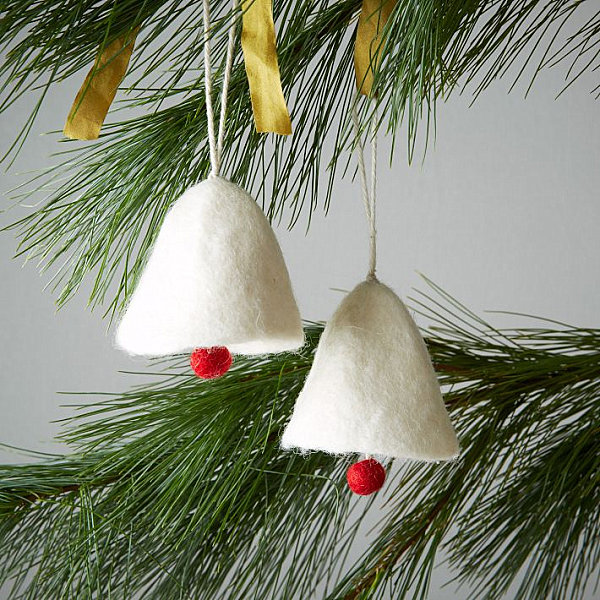 Or you can purchase a Set of 5 Stuffed Felt Tree Decorations from Etsy shop Marima Studio. Christmas star–check! Tree–check! Ornament–check! Throw in a snowman and a heart, and you have a collection of holiday shapes that would complement any tree with charm!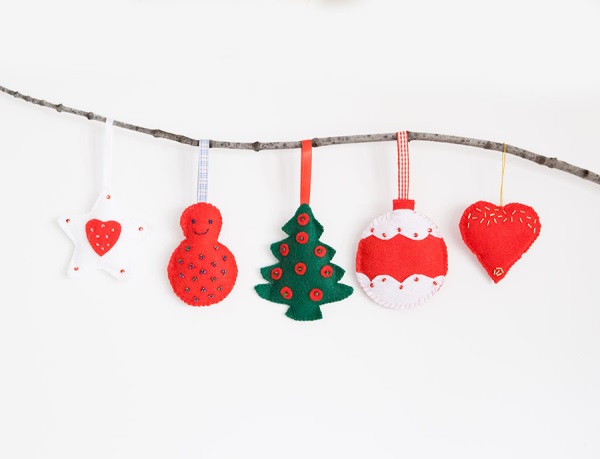 Remember this adorable ornament we featured in our recent post on stocking decoration ideas? We couldn't help but shine the spotlight on it again… It's the Dot Cuff Stocking Ornament from Crate & Barrel, featuring a white felted form that's whimsically appliqued with dots…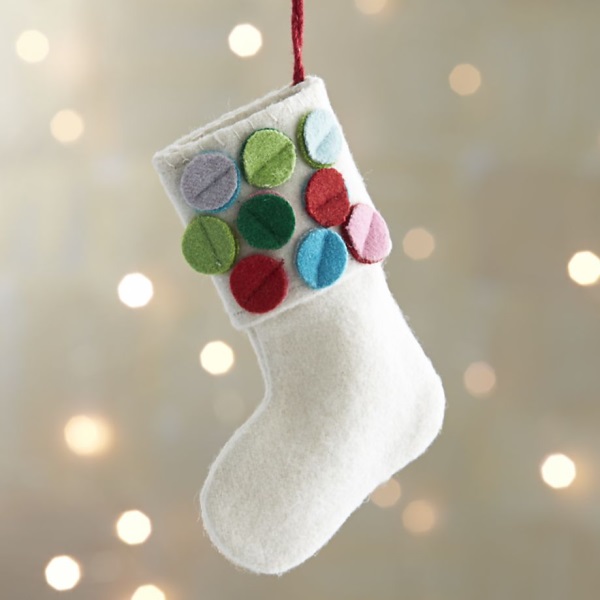 This DIY felt ornament features an aqua snowflake design mounted to a red circle. A red and white striped ribbon ties it all together, creating a finished product that looks good enought to eat. [via on Shelterness]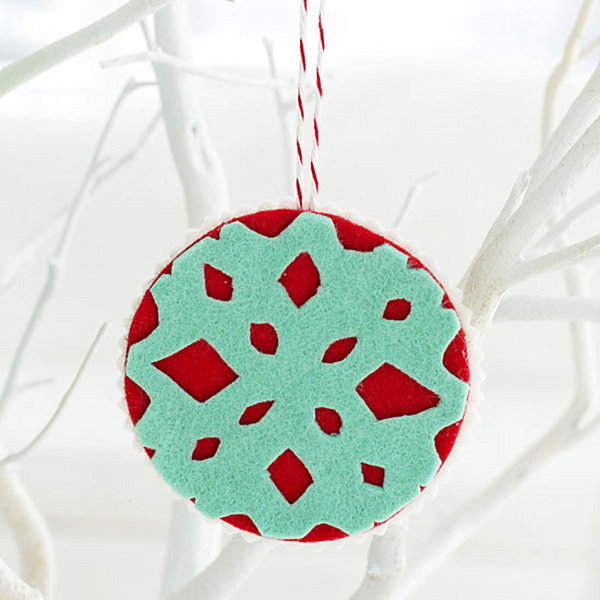 For more DIY fun, check out these DIY felt poinsettia ornaments, complete with little berries in the center of each bloom. Anyone else noticing the undeniable appeal of a white, red and winter blue palette for the holidays?! [featured at Shelterness]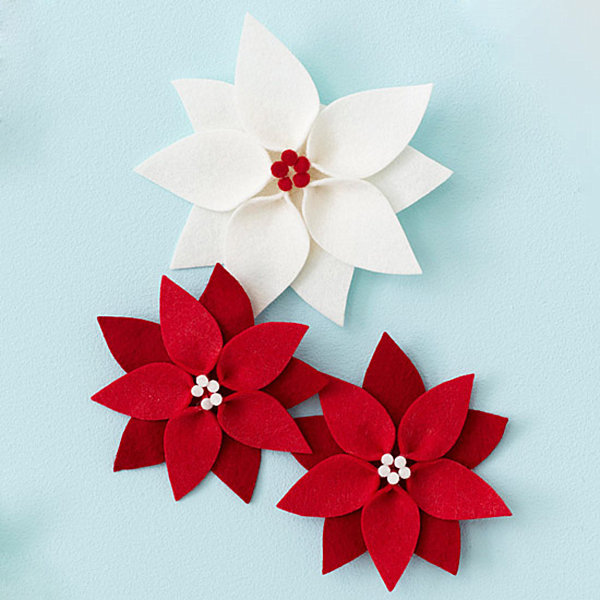 Hang it in a doorway to inspire holiday smooches, or hang it on your tree as a lovely decorative statement. This Felt Mistletoe from West Elm is handcrafted in Nepal. Wouldn't this beloved symbol of Christmas look stunning on a snow white tree?!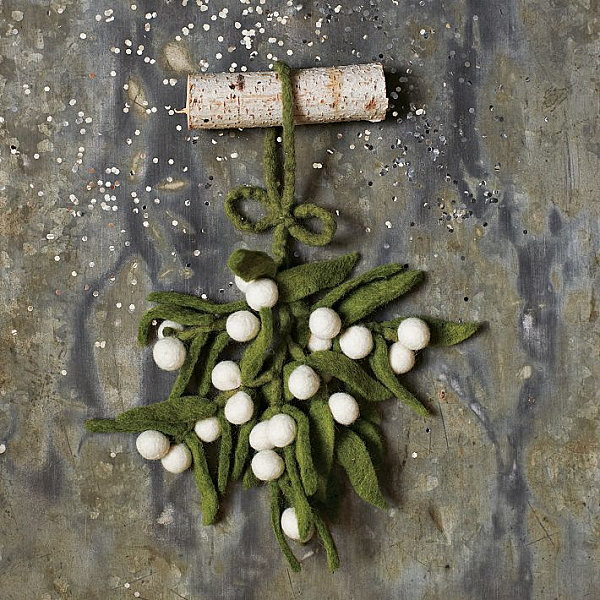 Ornaments with Edible Themes
We now turn our attention to felt ornaments depicting edible goodies, from candy to cookies! West Elm offers a deliciously stylish collection of Felt Candy Ornaments that are perfect for trees, doors and centerpieces…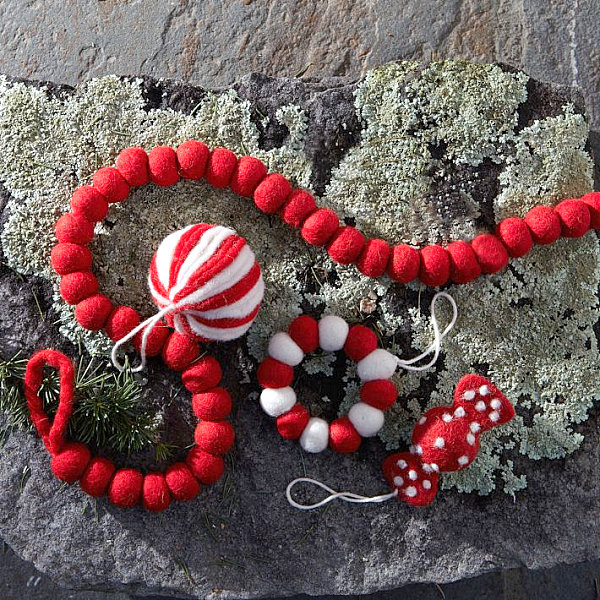 If candy canes make you think sweet thoughts, check out this Set of 8 Candy Cane Ornaments from The Land of Nod, featuring 4 red ornaments and 4 wintergreen selections. The best part: They're packaged like real candy canes!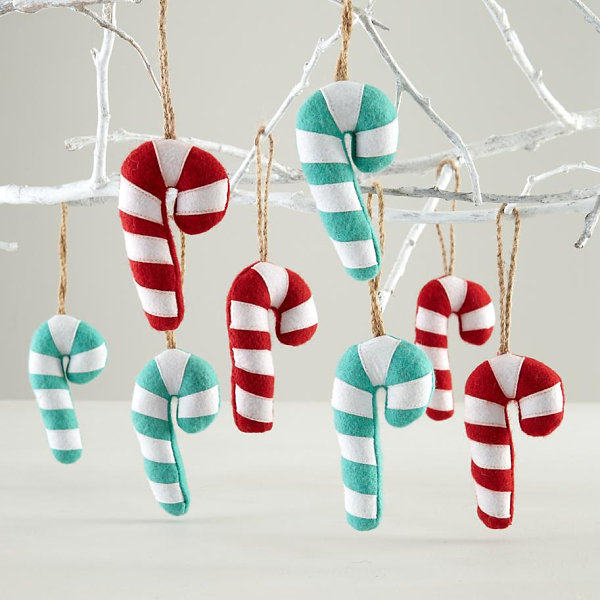 If you're more interested in decorating than baking this holiday, cover your tree with gingerbread man ornaments for a look that celebrates one of the season's best treats! This Felt Gingerman with Red Tie Ornament is available at Crate & Barrel: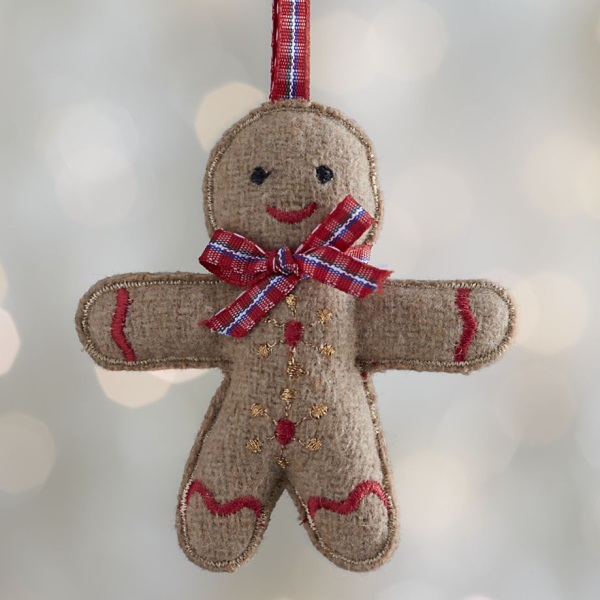 Creature Features
If you love animal-themed Christmas ornaments, this next set of creature-fabulous finds is just for you! How adorable are these Felt Polar Bear Ornaments from West Elm? Use them to decorate your tree, or tie them to a wrapped gift as an extra treat that doubles as a cute embellishment: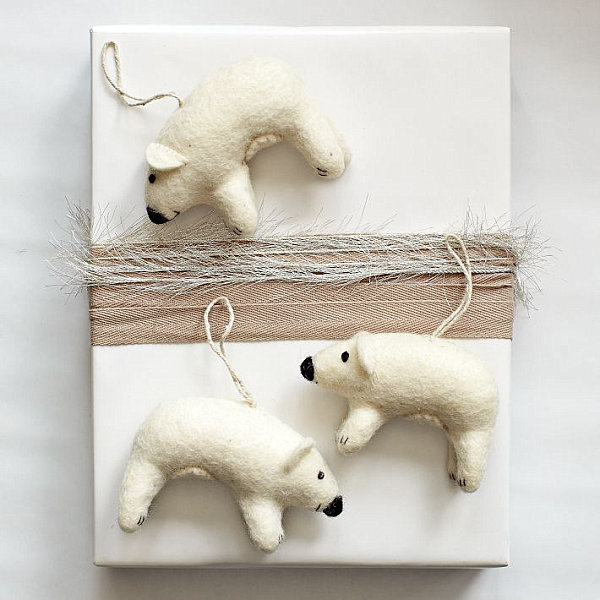 Dasher, Dancer, Prancer or Vixen? You decide! This Alpine Wanderer Ornament from Anthropologie celebrates reindeer style with a form of felted wool…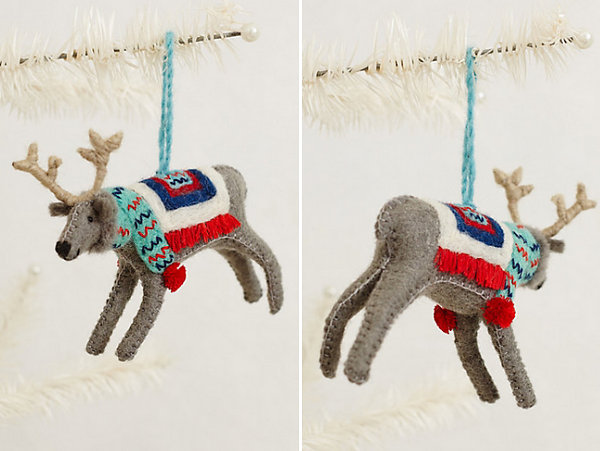 The ornaments are available in a range of hues, including white, as shown below. Accent colors of olive green, red and purple add color and seasonal style: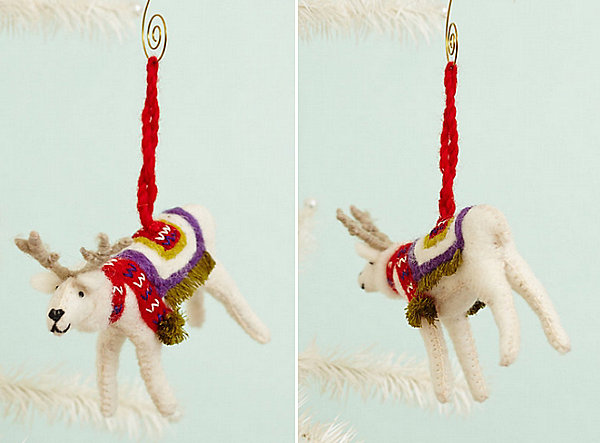 If this Christmas will be your Little One's very first, check out this Baby's 1st Christmas Dove Ornament from The Land of Nod. In addition to a lovely white dove as its anchoring form, this tree decoration boasts a beautiful embroidered message: "Baby's First Christmas".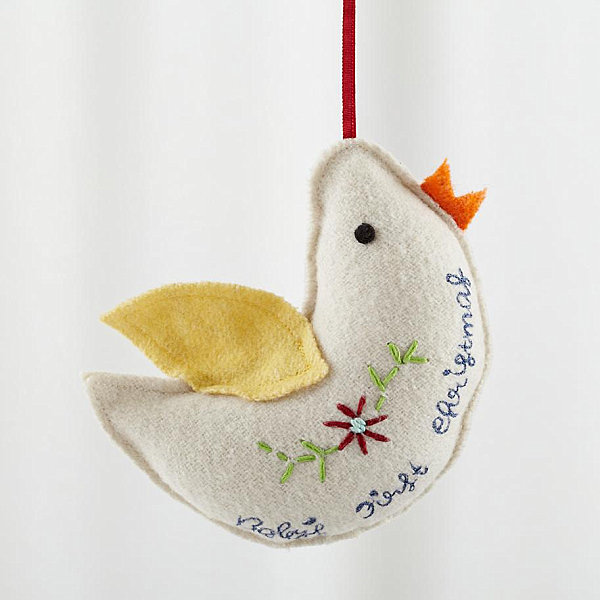 Does a snowman count as a creature? We thought there was some overlap… This Felt Snowman with Earmuffs Ornament from Crate & Barrel is crafted of fuzzy white wool. A scarf covers his mouth, but not his pointed nose and little dot eyes…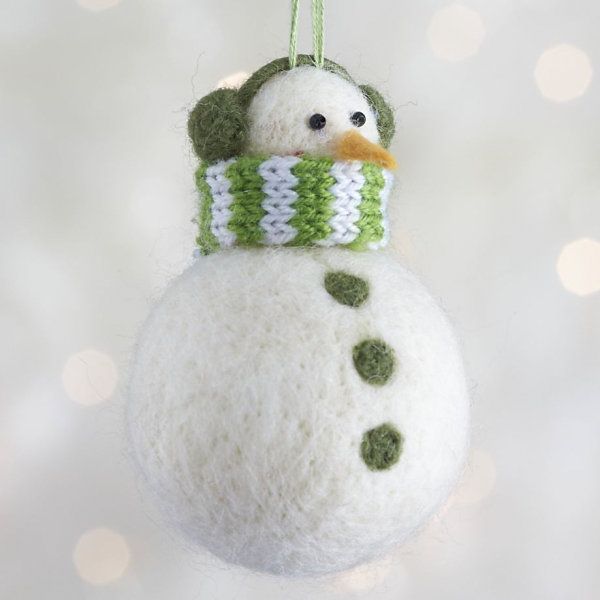 Nontraditional Felt Creations
Our last featured group of ornaments is filled with whimsical, modern and unexpected selections. Which is why we love them! Some, such as the Twirling Tree shown below, are contemporary interpretations of traditional holiday symbols. For a full tutorial, visit The Purl Bee…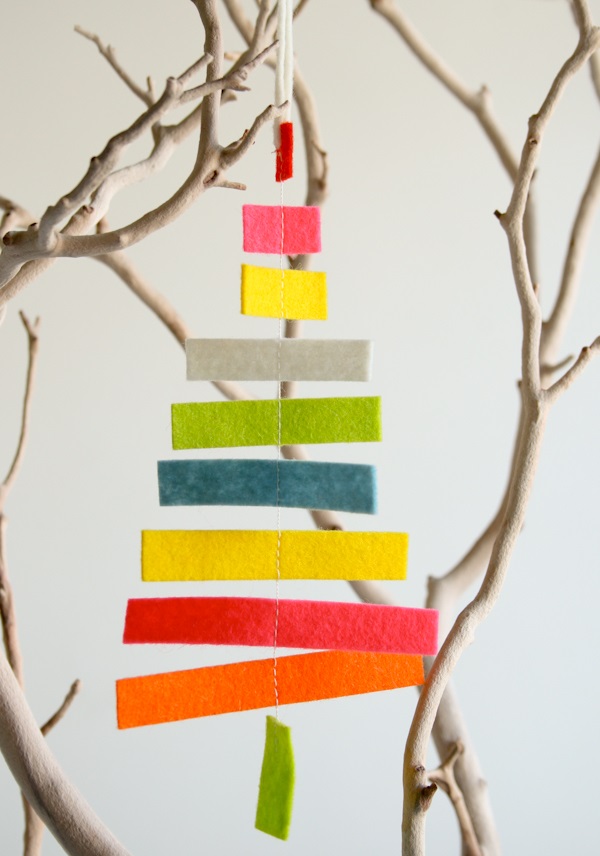 Also featured at The Purl Bee are these Confetti Bursts, which are eye-catching with their pom-pom-style shape and radiant color! This DIY project is easy, fun and perfect for making a unique holiday statement: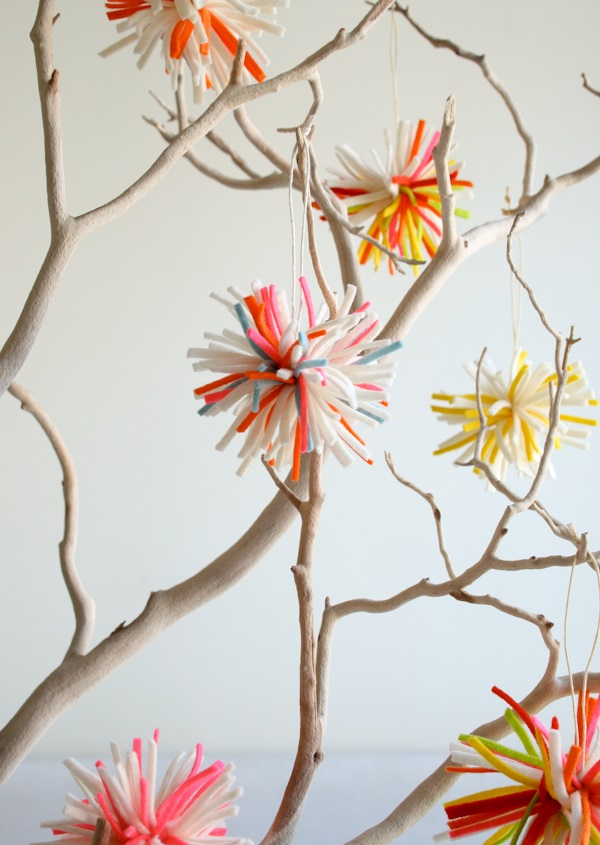 These original holiday ornaments from Etsy shop Down Home Amy feature nautical and animal motifs with a modern edge. With a red, white and blue palette, they nicely complement a variety of decorative styles. Not to mention, they'd make ideal gifts for kids and grown-ups alike!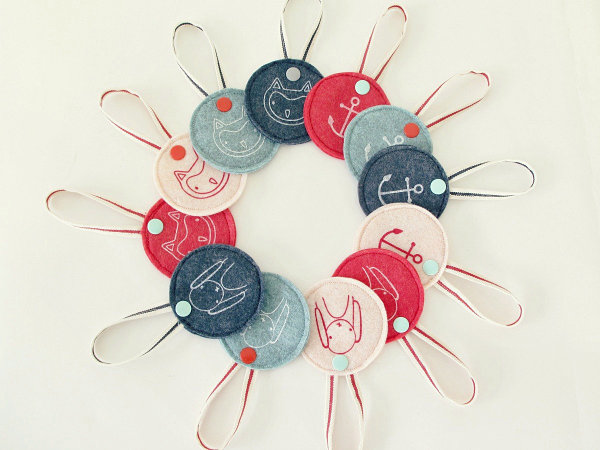 This Red Felt Gnome Ornament from Crate & Barrel is for the tree rather than the garden! With a fringed hat, a white beard and plaid ribbon accents, he's as colorful as he is enchanting…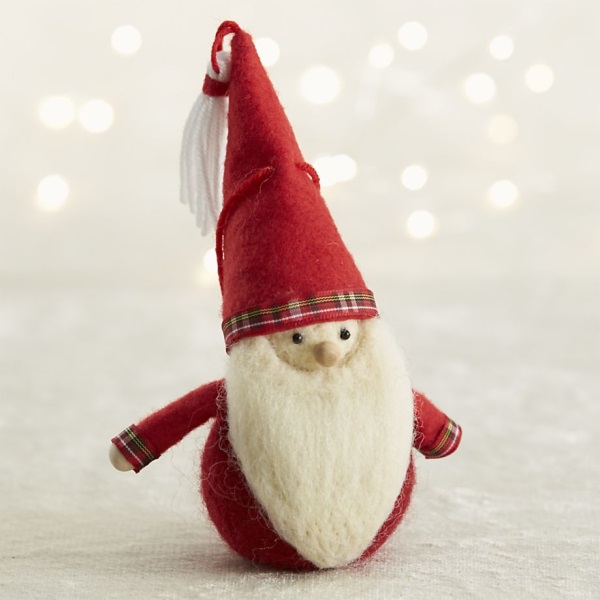 We're loving the colors showcased in this set of 12 Christmas Heart Felt Ornaments from Etsy shop Twins & Crafts! Line them up rainbow-style on a ledge or hang them on a tree. A colorful take on a timeless shape, these ornaments manage to be super sweet and stylishly modern at the same time: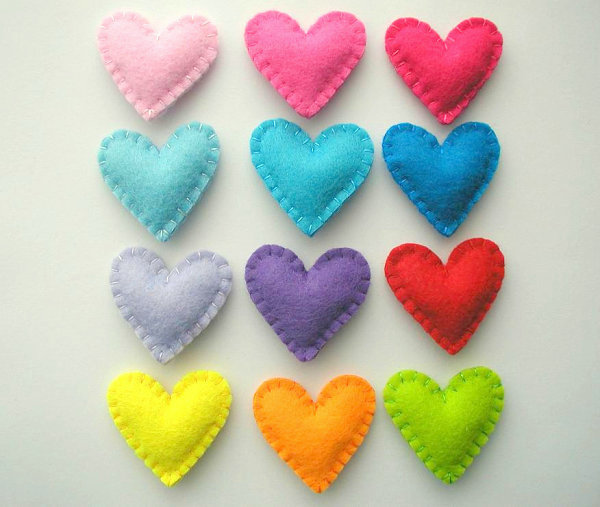 We end with a white and metallic palette, thanks to this whimsical Dot, Dot, Dot Decor from The Land of Nod. Offered in a set of 15, these dot ornaments can be suspended from the branch of your choice with the help of their lovely silver hanging string…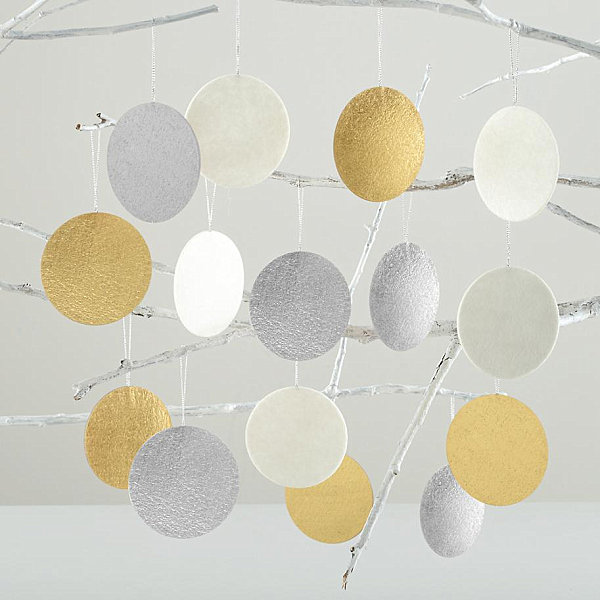 Felt ornaments represent a variety of decorative styles, from the traditional to the modern. They come in all shapes, sizes and colors, making them incredibly versatile. Not to mention, they add a dash of crafty personality to your holiday vignettes. Are you a fan of felt ornaments?