One of my favorite design dilemmas is how to make the most of a small space. Kate here, and I've thoroughly enjoyed blogging about the art of compact design, from small living rooms to tiny bathrooms. Today I take on the basement apartment, which is often a bit short on space (and light). From cozy below-ground studios to bright, colorful abodes that showcase the best of modern style, today's featured homes highlight the finest in stylish basement apartment ideas. Browse the images below, then check back in at the end of the post to share your thoughts…
Colorful Modern Basement Style
One way to make sure a basement doesn't feel like a dungeon is to go with a colorful palette against a backdrop of white walls. Which is why this first featured space takes my breath away! Designed by Creative Union Network, this basement apartment below incorporates clean-lined furnishings (such as a rosy vintage sofa) with playful accessories. Anyone else notice the giant Lego head?! [image from Andrew Snow Photography via Houzz]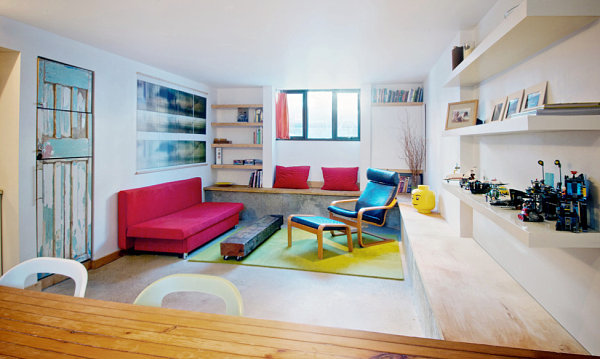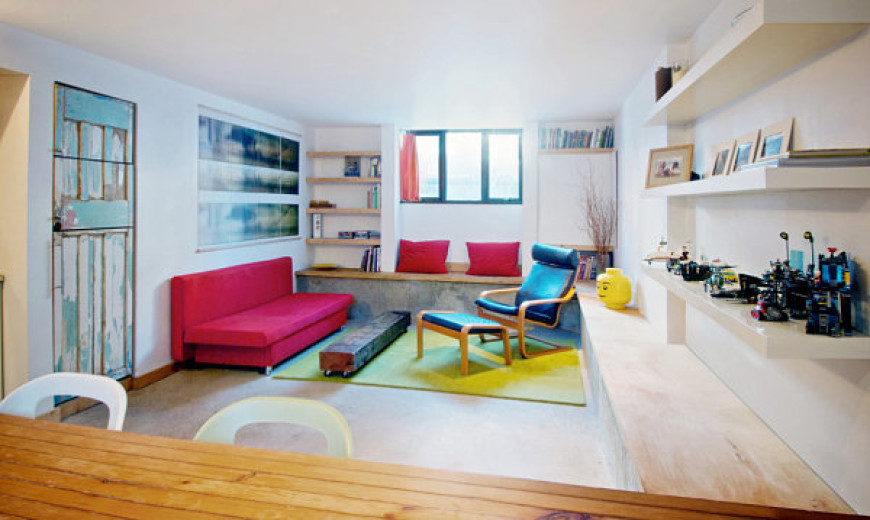 The kitchen is equally fetching, as bright orange overhead cabinets and a turquoise distressed pantry door add vibrant pops of color to this crisp white space. As this dwelling has shown, there's a certain magic created by light-colored walls, modern furnishings, vivid colors and artistic touches…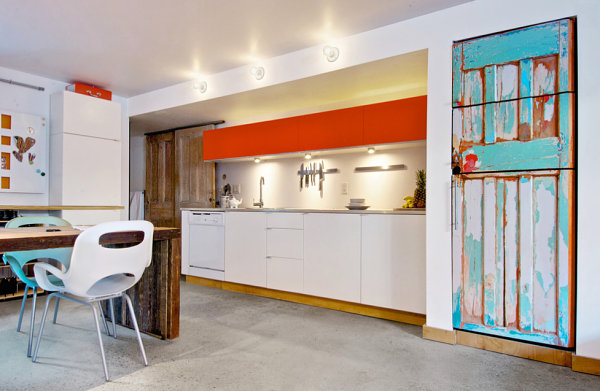 Bright, Neutral Basement Apartments
Another basement apartment design approach involves a white-walled technique, this time accenting the bright backdrop with neutral, earthy shades instead of vivid colors. Features such as wooden cabinetry and exposed beams help add an earthy-meets-industrial touch in the basement apartment below. There's also room for a bit of color, as shown by the olive green flourishes throughout the space. [from Four Brothers Carpentry]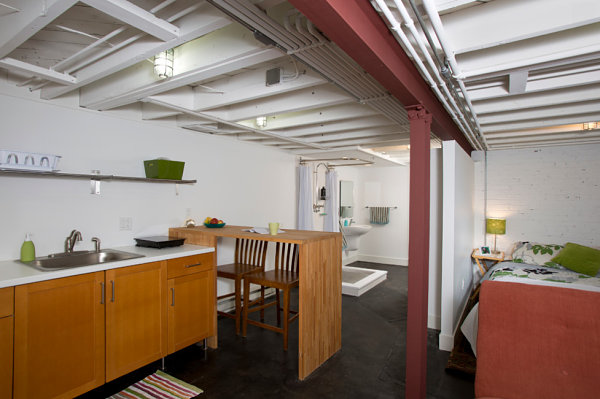 In another shot from the same apartment, we see how a rust-colored loveseat separates the bedroom from the living room. Whether it's a sofa or a bookshelf, a visual divider can make a world of difference in compact abodes…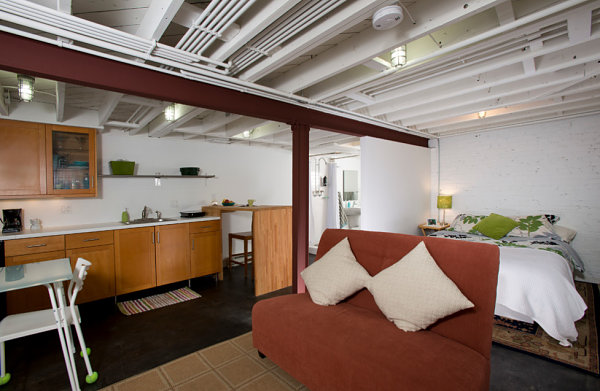 Our next featured basement apartment combines tile, wood and stone for a bright space with a natural feel. Texture is added through upholstery, as well as a shaggy rug that rests on the floor in the living area. Note how open shelving in the kitchen provides extra storage while offering a display area above the sink. [from Villa Skovly]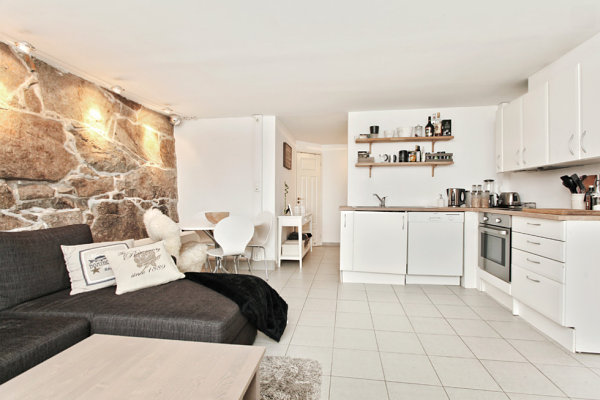 Don't hesitate to welcome plant life to your basement apartment. Potted vegetation creates a sophisticated vibe, especially when combined with elements such as mirrors and modern art. Plant life also makes an organic statement, adding a fresh element to a small space. The Vancouver basement renovation below was completed with Jedan Brothers Contracting… [from Mira Floors]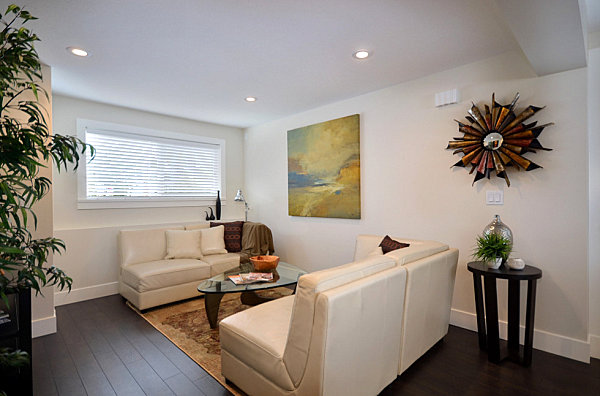 The home's kitchen is equally chic, combining modern bar stool seating with open shelving and a tile backsplash. Black and white provide just the right backdrop to vibrant shades of red. Lucky for this basement suite's inhabitants, the space has plenty of windows that welcome the natural light…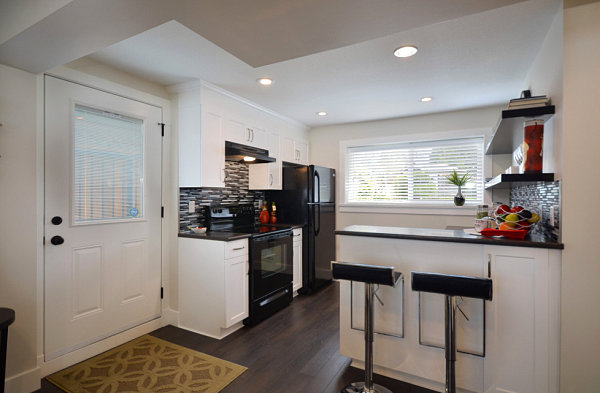 Another great wall color option for basement spaces–gray! Not only does white trim stand out against this cool shade, gray has a calm and steady effect on an interior, setting the stage for a range of looks. This basement apartment from Capital Housecraft features space-saving techniques such as stashing the fridge behind the freestanding bookshelf: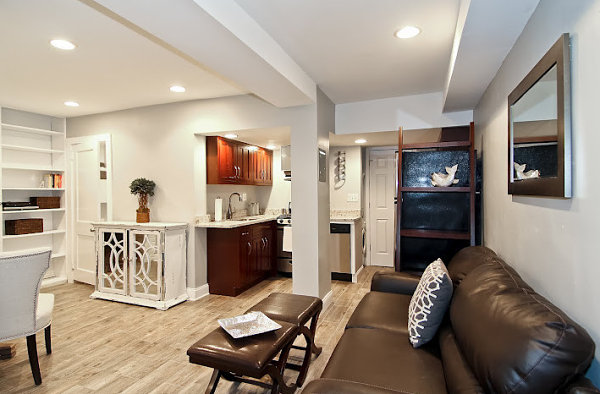 In another shot of this studio turned one-bedroom dwelling, we see the power of light colors and design decisions such as incorporating a front door with a window…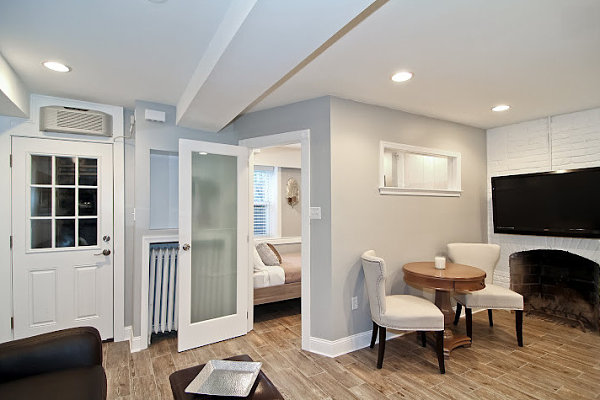 Warm and Cozy Space-Efficient Design
Our last featured dwelling is a DC Metro area apartment, yet it's not a basement space. However, some of the techniques used to create this cozy, modern abode are perfect for basement dwellings. For example, since the residents of this apartment don't cook often, a white ceramic electric cooktop was seamlessly incorporated into the kitchen's design (rather than an oven). A custom island offers additional surface space, as well as kitchen seating possibilities… [from Studio Santalla]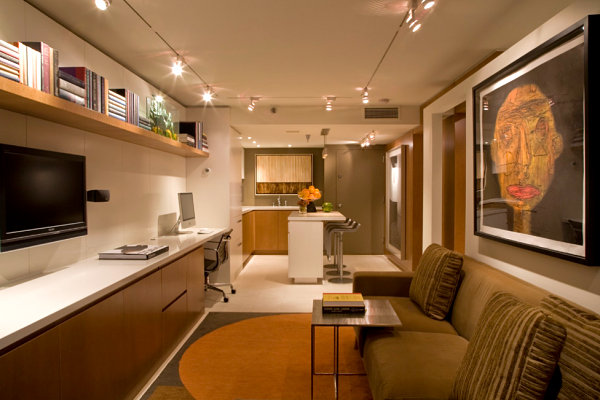 In another shot of the apartment, we see how rich, warm colors such as browns and oranges create a cozy feel and a distinct modern look. Never underestimate the power of built-in desk space, as well as overhead shelving!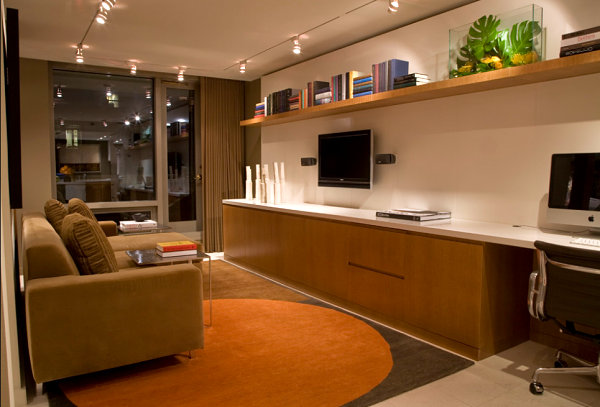 Did you pick up any basement apartment design tips from the images above? Or perhaps you have a tip of your own that you'd like to share! Don't forget to leave a comment below…