Most of us can still remember times when grandma knitted peacefully for someone in the family, patiently weaving row after row with the certainty of fabulous results. This collective childhood memory has inspired many to reinterpret this form of pattern repetition within our modern environment. From knitted cushions to knitted street art, we've seen this love for warm, versatile materials spark creativity.
Cultures and Technologies Colliding
Inspiration taken from different cultures. Techniques and materials that speak about the importance of historic values within our modern society. Colors, textures and twists. Yarns and needles. All of these elements and more contribute to creating a warm residential environment connecting cultures and technologies.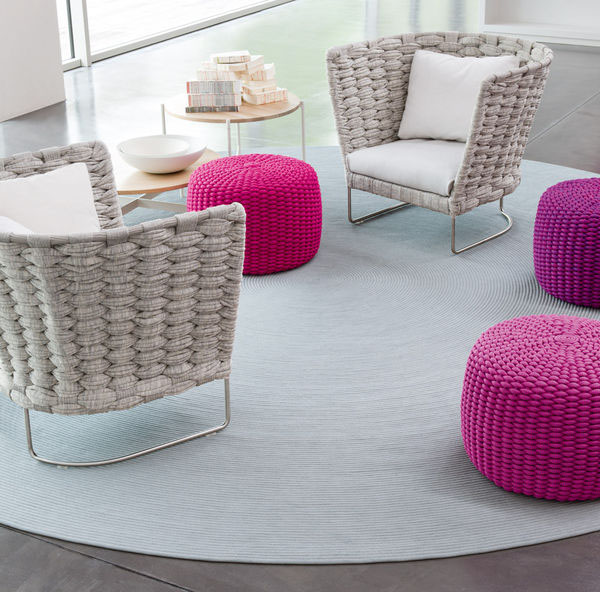 Present in many homes throughout the world, poufs provide comfort and utilitarian function. As a highly versatile home accessory, the pouf is a seat, a foot stool and a coffee table. Whether they're made out of precious or modern materials, or knitted by your own hands, poufs are adaptable, versatile and eye-catching. In fact, knitted poufs are spectacular precisely because of their versatility, and many designers are reinterpreting this furnishing to find new patterns and shapes.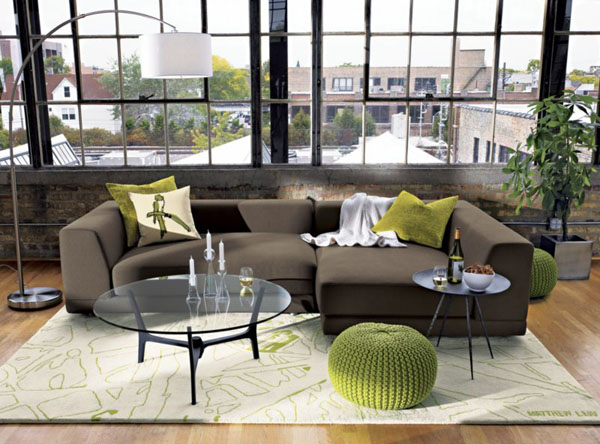 The bedroom is probably the most obvious residential space that can carry knitted furnishings, creating a warm and welcoming environment. Here is where knitted home accents have the potential to lure you to sleep on cold winter nights when snow is blowing outside.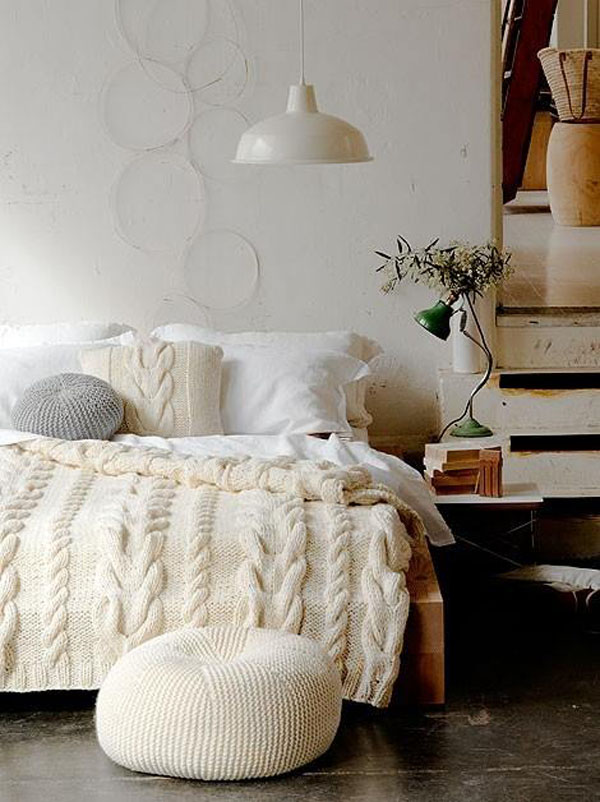 Knitted Bean Bags for Uncompromising Comfort
Something in between an armchair and a bed is the fluffy knitted bean bag. The NEST cushions by Zilalila are absolutely perfect for wintertime, especially since they're hand knitted by the skilled women in Nepal using pure New Zealand wool and filled with handwoven cotton.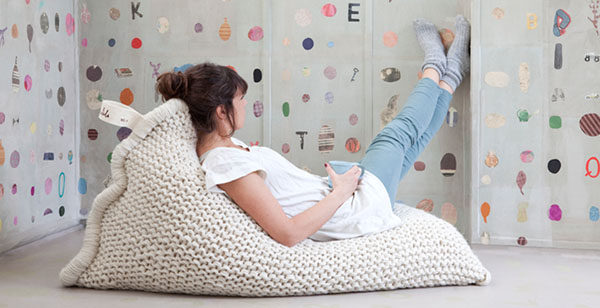 Curled up with a book and a warm drink, you can enjoy the best of winter privacy in the comfort of your own nest.
Contemporary Bean Bag Design Following Trends
We've all seen bean bags made out of different fabrics, but there is just something special about a knitted bean bag. Besides its natural feature of molding to your body to offer a comfortable lounging experience, bean bags need texture and color to truly become part of the space they adorn.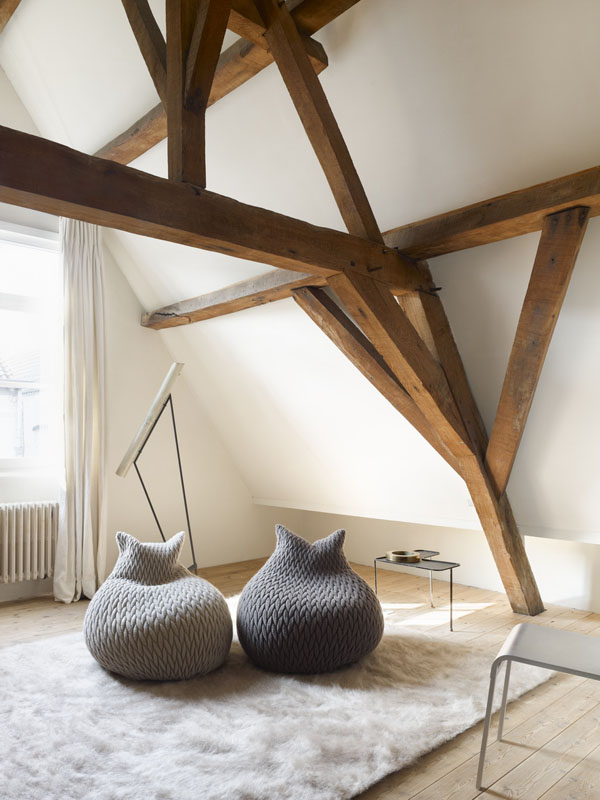 Textured and patterned, these contemporary bean bag chairs look amazing in airy interiors, serving as a stylish focal point. The Slumber Poufs by Aleksandra Gaca for Belgian company Casalis are absolutely lovely, and their display of woven material reminiscent of knitting showcases the artist's knowledge of three-dimensional stretch fabrics.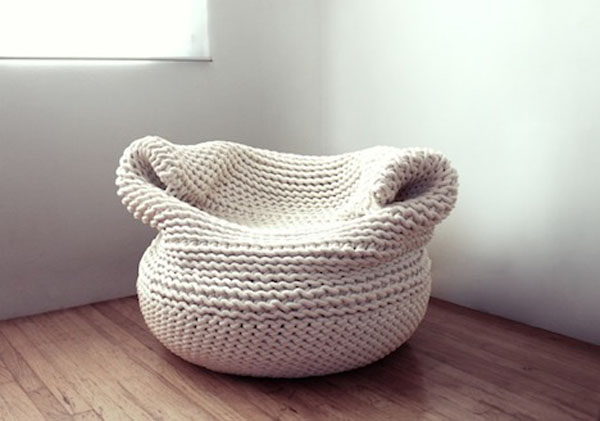 Bdoja Chair (meaning "knot") by Amaya Guiterrez is one of those furnishings that conveys comfort and promises to reflect the designer's belief that high quality and durability will reduce unnecessary consumption. A chunky cotton cord wrapped around a steel base shapes the inviting chair, providing a modern interpretation of textile and techniques used in Amaya's hometown of Oaxaca, Mexico.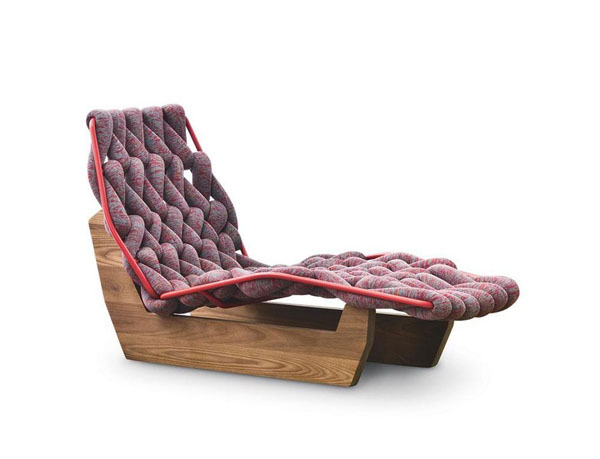 Swiftly guiding your thoughts towards wintertime, Patricia Urquiola's Biknit chaise lounge marries durable ash wood with oversized cords woven on a powder coated steel frame.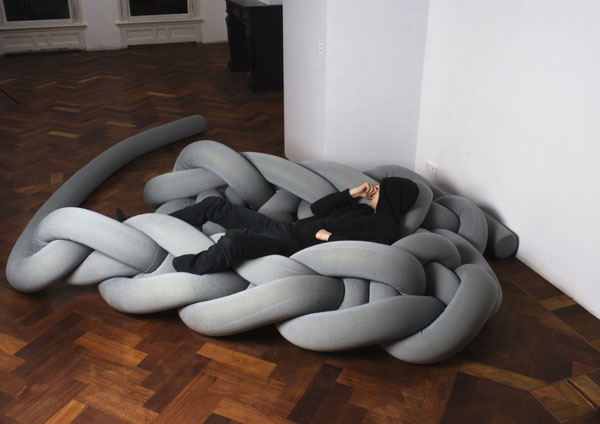 Let your imagination tie and untie ideas while indulging in relaxing moments on the Phat Knits by Bauke Knottnerus. These oversized knitted threads are honor the shape of spectacular knitted pieces: "it's more like creating media that can be used to construct a coat or a carpet or a curtain".
From Hybrid Knitting to Reinterpreted Traditional Warmth
Stools with knitted wool tops, coverings or wool-dressed legs are a fun, rural-inspired way to decorate your home this winter. Yarn and other soft materials can be knitted into a range of furnishings, even contemporary ones.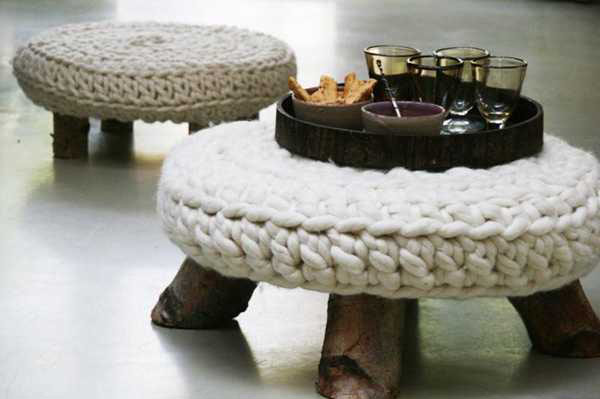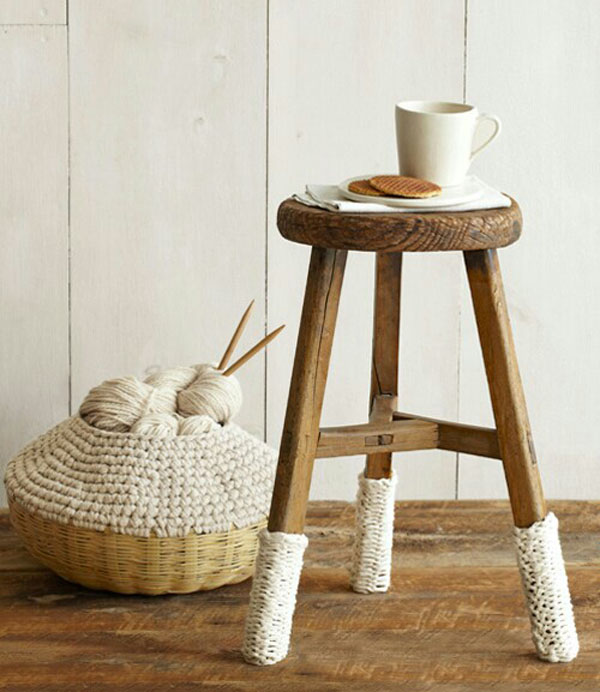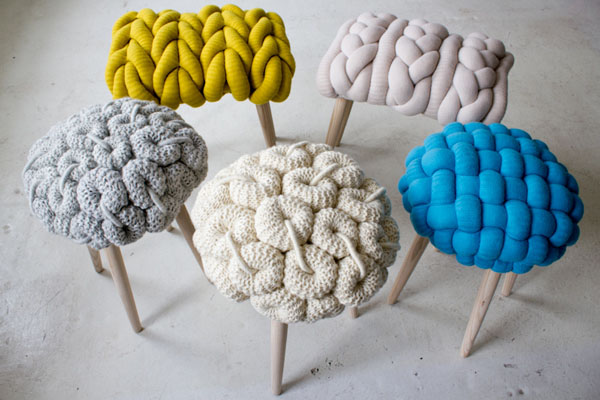 These Knitted Chairs by London-based designer Claire-Anne O'Brien are not only visually appealing, but also comfy to the touch. Their patterned surfaces resting on simple, slim legs remind me of sheep. Colorful, artistic sheep that you can sit on.
Artistic Poufs Wearing Knitted Clothes
Craft skills were artistically employed in the creation of Poland-based Monomoka Studio's versatile poufs that can easily define a space with their sculptural aesthetics. Warmth is seen in the choice of materials, while geometric and organic inspiration shape these two furniture pieces: Cubes and Stormy Rose.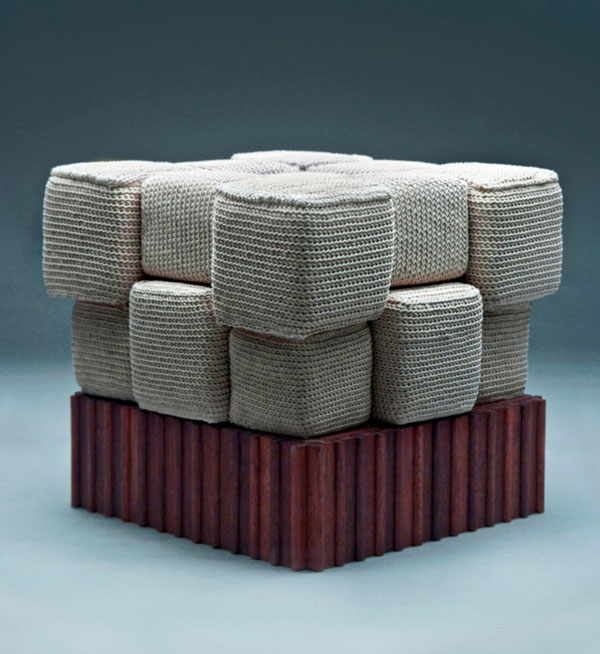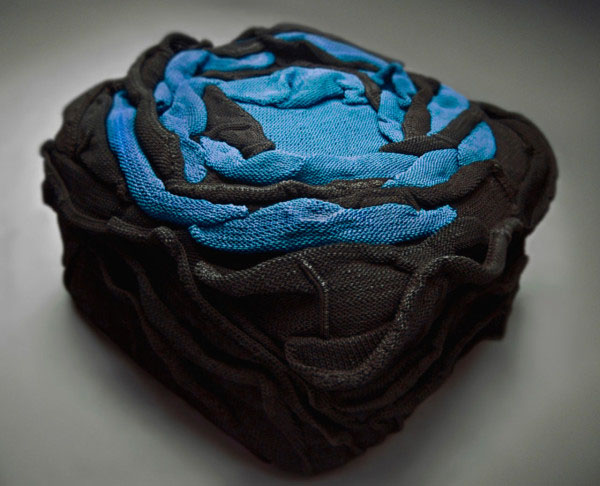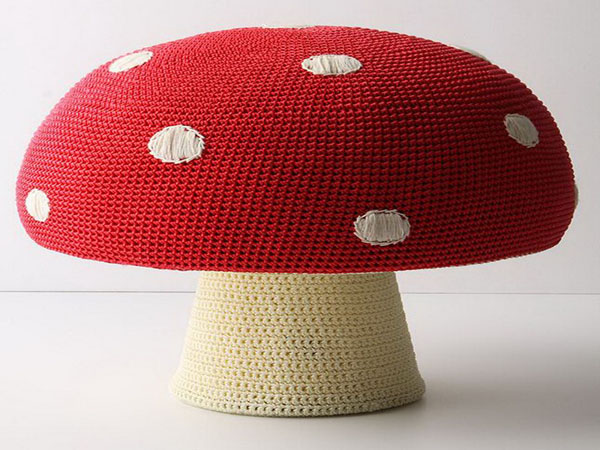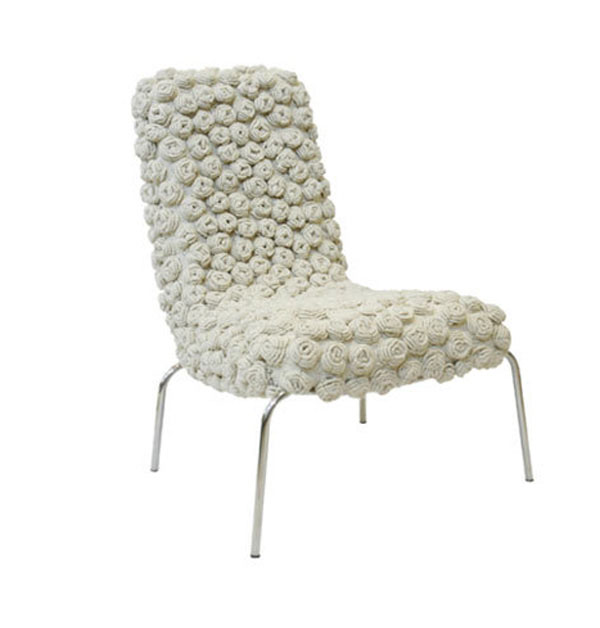 Chairs have also received attention from designers who chose knitting as part of their artistic expression. The Knitted Chairs by Eulália de Souza Anselmo have a romantic side, showcasing knitted flowers all over the seat and back rest, all the while contrasting the metal legs.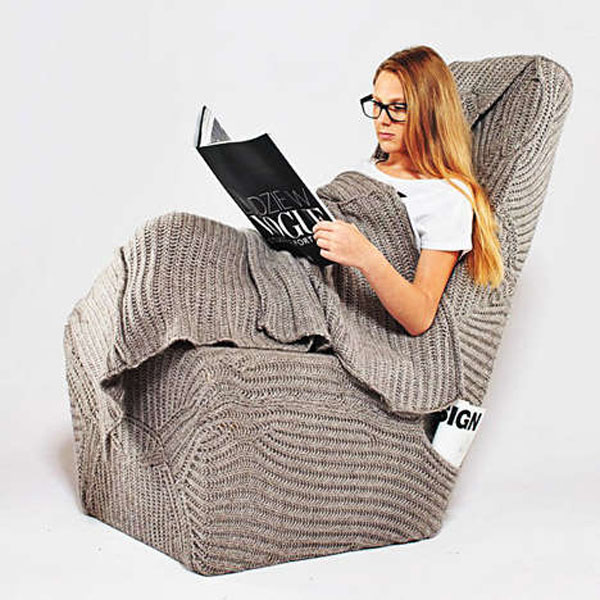 Sometimes you just want to cuddle up in a blanket and read a good book. This is where the Autumn/Winter Blanket Chair by Poland-based fashion and interior designer Ana Brzostek comes in – it nests you in the knitted sweater-like material that is both removable and adjustable.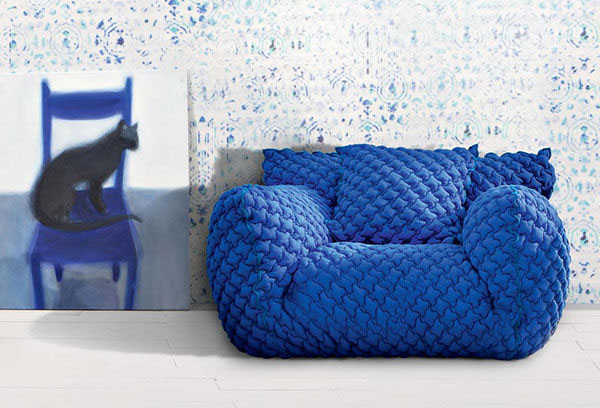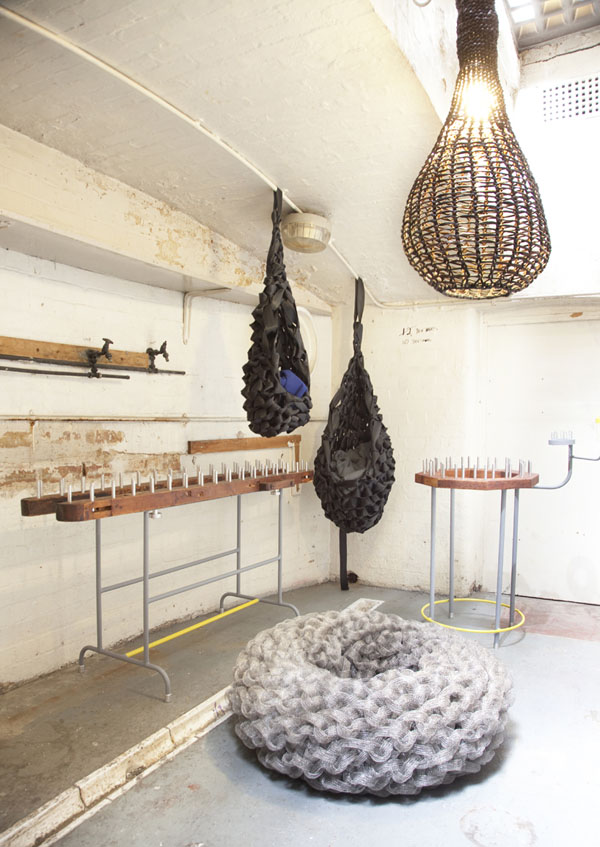 Illuminating Through Knitted Patterns
Knitted lights have also become part of our interior design landscape. After all, there are no limits to what we can create. There are only challenges. And because designers take challenges seriously, we get to display their creativity in the comfort of our own home.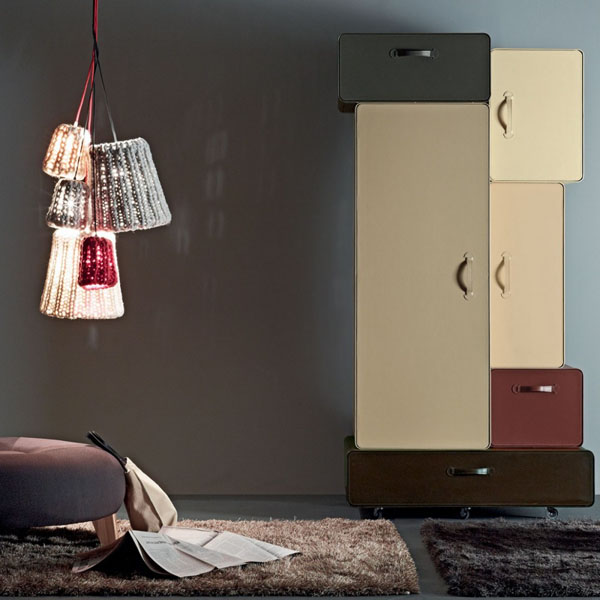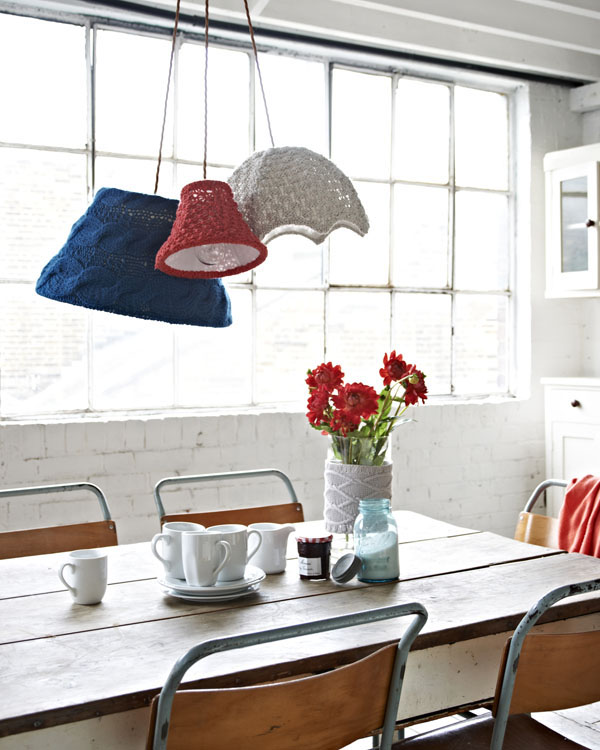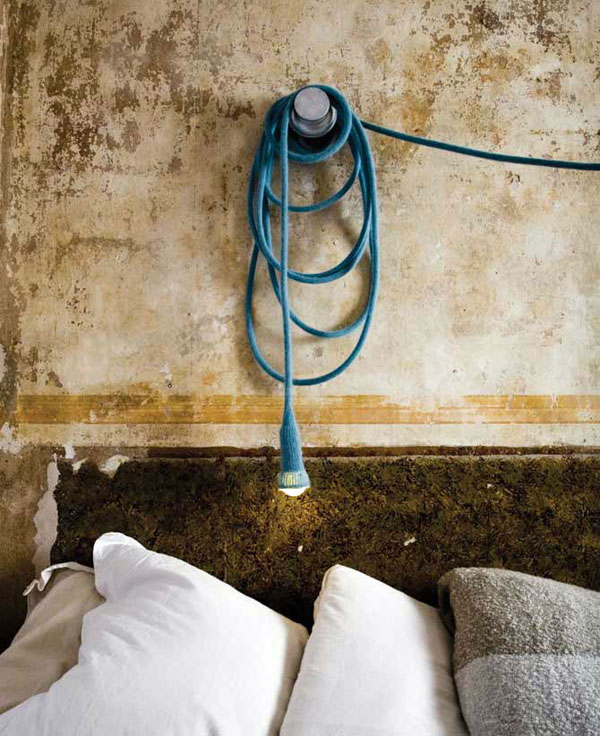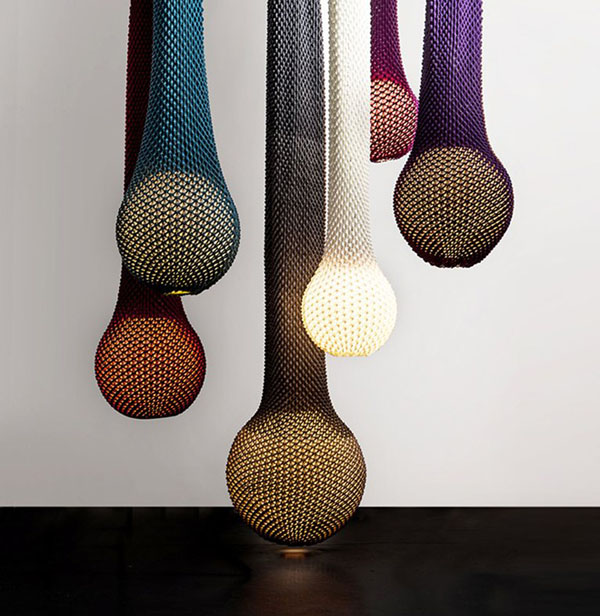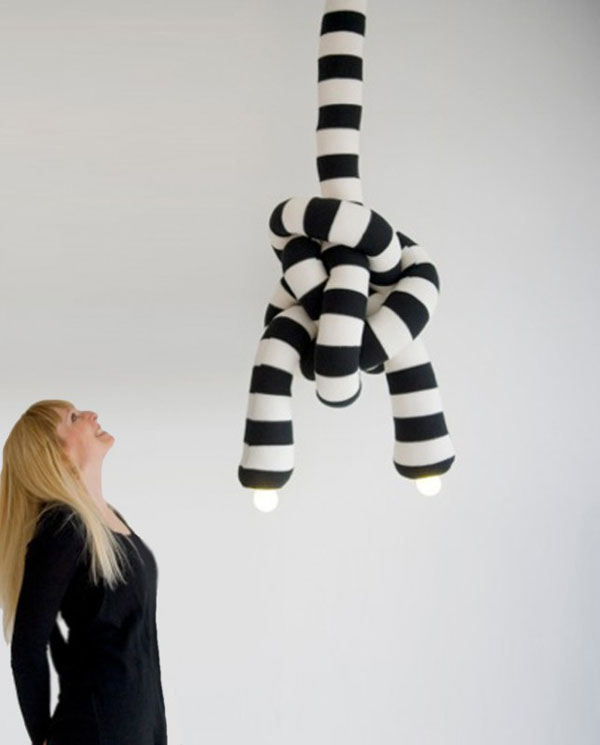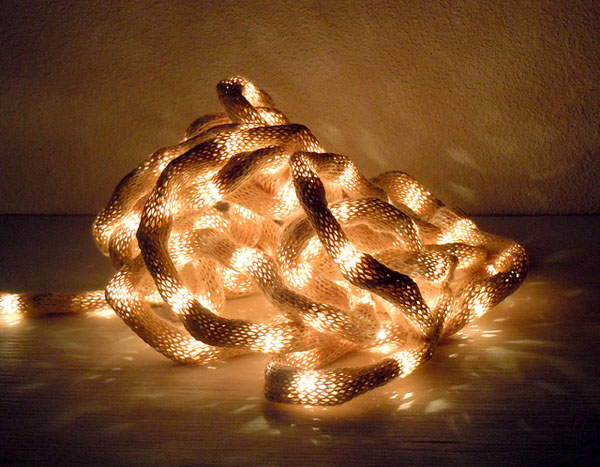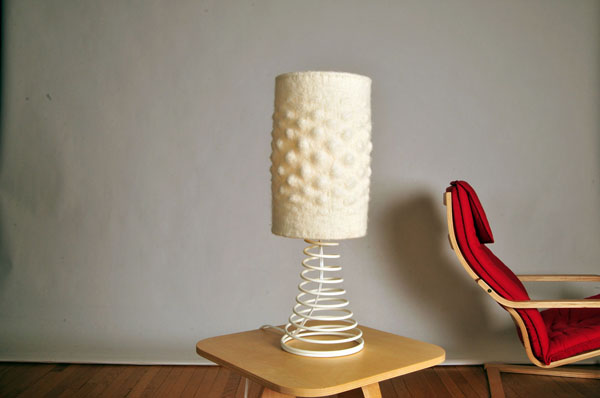 Knitted Rugs for Warm Environments
Imagine a colorful knitted rug laying in a minimalist space – the warmth of woven strings immediately warm up the atmosphere. Intricate patterns in natural colors are also easy to display and create a sense of coziness.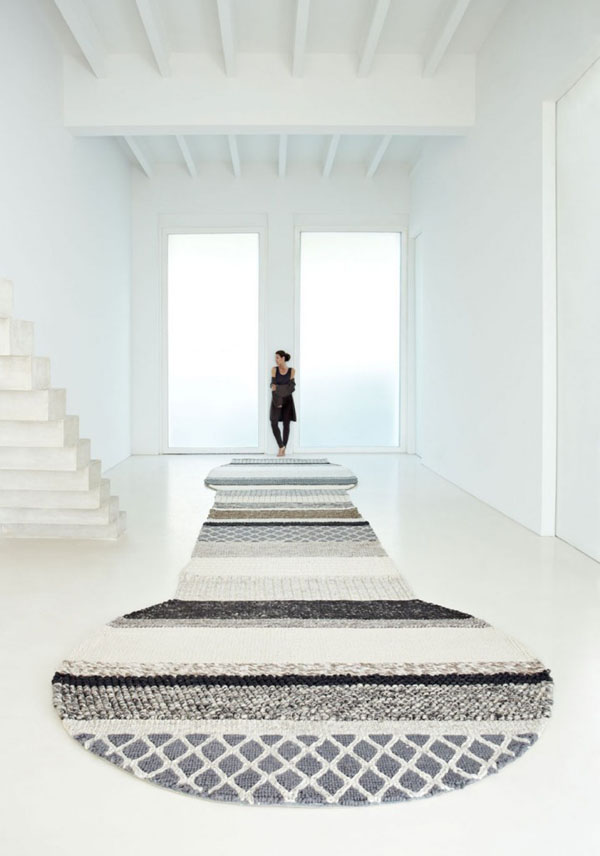 Patricia Urquiola's Mangas Collection for GAN-RUGS includes both knitted woolen poufs and rugs that are deliciously reminiscent of childhood. Coziness is ensured by the use of 100% virgin wool. With a cotton back that holds it firmly in place, the rug collection fabricates a new perspective on contemporary furnishings.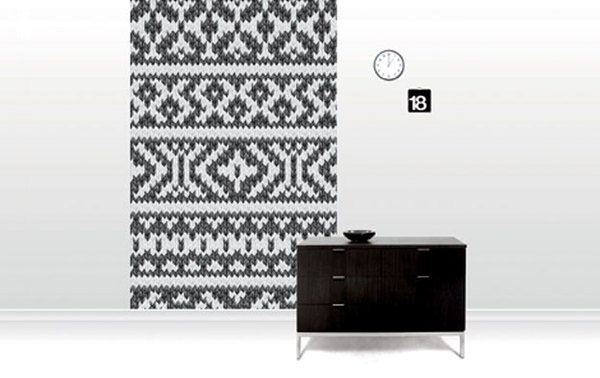 Even wallpaper can be of rustic inspiration. Check out the astounding Knitted Room wallpaper by Chae Young Kim – a trendy solution for walls displaying your love for knitting.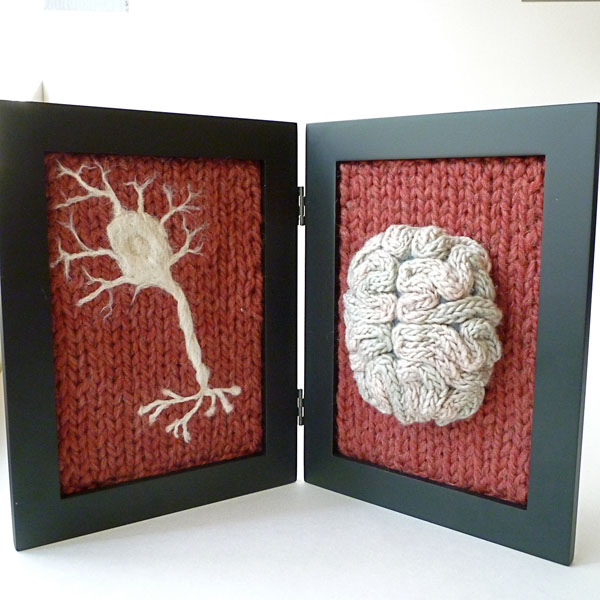 When a long, continuous string is woven into different patterns, stunning installations may result. For example, Emily's Etsy shop aKNITomy can help you decorate your home for winter with knitted anatomy. Check out these hand-knitted brains and felted neurons – now that's an unusual way to decorate!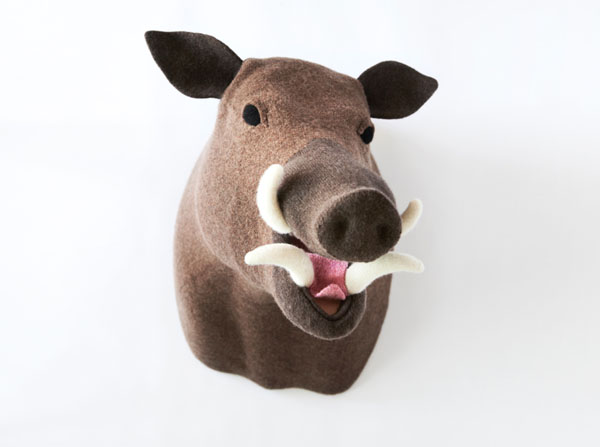 Faux taxidermy provokes creativity in shape, materials, colors, textures or animal representations, but its roots can still send shivers down your spine. Done using a domestic knitting machine, animal heads like the one in the photo above describe how a passion can be reinterpreted with no impact on the well-being of animals. Collected under the name "The Knit-Heads", these felt and 100% lambs wool mounted creatures were designed by London-based art director Jessica Dance.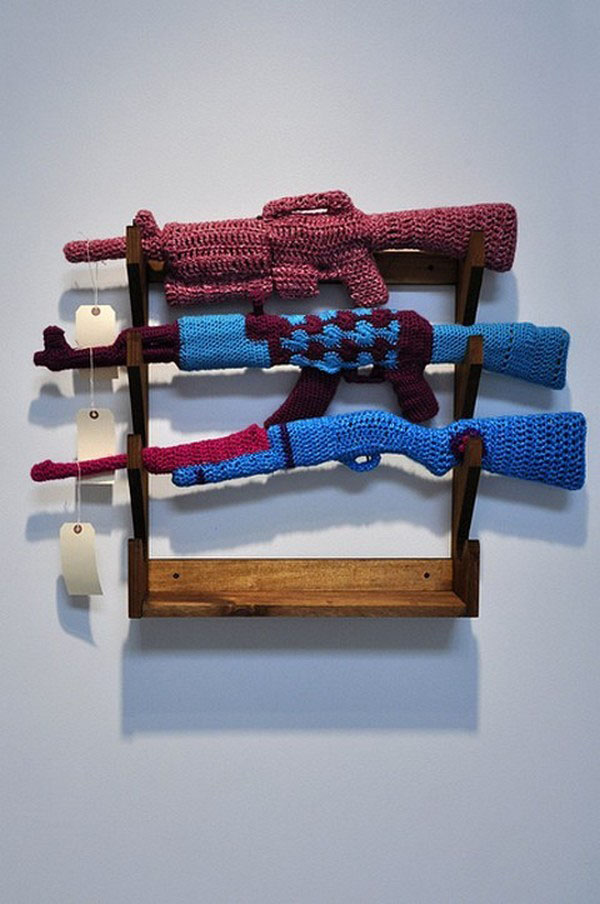 And where would we be without controversy? Artist Monte A. Smith's Gun Store art installation features knitted "clothes" for a series of guns. This knitfitti trend expresses the artist's concern for our freedom and creativity.
So, how creative can you be with knitting?