There's just something alluring about knit rugs, especially the ones with large, open patterns! In fact, it seems that more and more of these eye-catching items are showing up on the floors of our favorite rooms, especially in homes with contemporary style. Why do knit rugs lend themselves to modern design? Maybe it's because they add a sense of warmth and charm to a space filled with clean lines and order. At the same time, the consistent, repetitive patterns of many knit rugs have an almost  geometric look that fits well with modern spaces.
Many of today's most popular knit rugs come in neutral shades, such as cream, taupe and gray. However, some are branching out into more adventurous color territory, paying homage to current design trends such as the ombre craze. We've rounded up 10 knit rugs that will grab you with their large, open patterns and personality-packed textures. Who knows? Maybe one of the images below will even inspire you to get crafty and knit a masterpiece of your own! Happy browsing!
Knit Rugs in Neutral Tones
We begin with a series of neutral knit rugs that would serve as the perfect backdrop to any modern space! For example, the Anchorage Cream Rectangle Area Rug by Surya for Pure Home is woven from New Zealand wool. This cozy piece pops on dark floors, as shown in the image below. A striking texture is a true highlight of this piece, which also blends well with other cream-toned decor.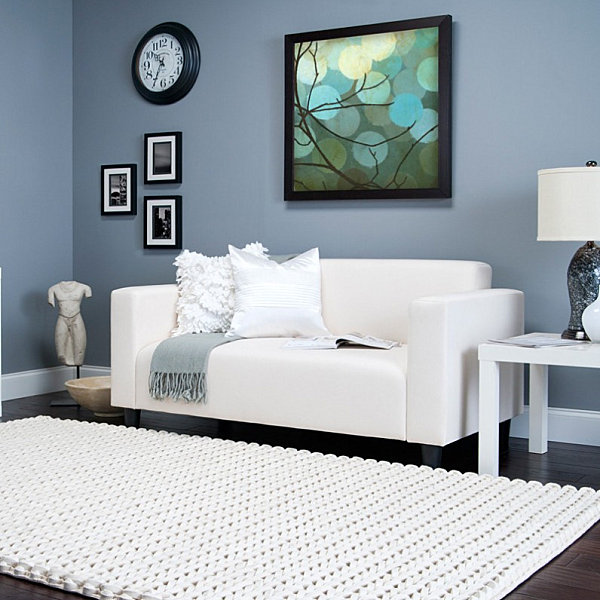 Below we see the same rug in a taupe-y shade called Mushroom. In addition to an irresistible texture, this knit rug has the ability to add a dose of warmth to even the most minimalist of spaces. [from Pure Home]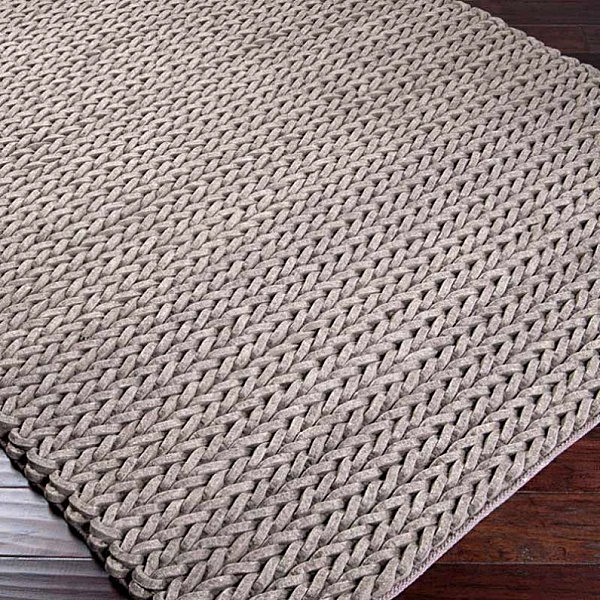 Speaking of warmth, there's nothing cozier than a handmade treasure, especially when it's crafted with care. This Hand-Knit Rug from Etsy shop Vero Gobet is made from recycled T-shirt yarn. In fact, this yarn comes from Brazil and serves as an example of how waste from the textile industry can be put to good use. The piece's firm texture would be a welcome addition to any room, especially a space with other interesting textures, as shown below: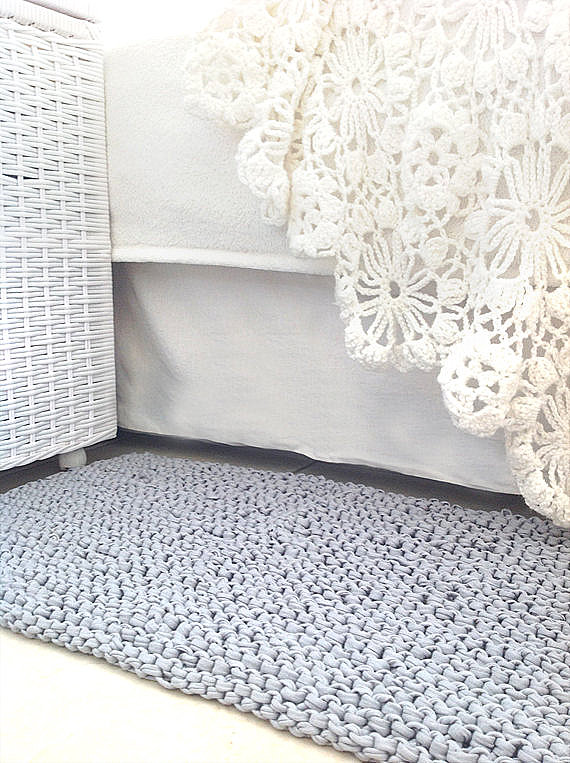 Below we see the same rug in a delicate shade of Pearl. The thick nature of the recycled T-shirt yarn shows off each stitch, creating a visually intricate display of craftsmanship: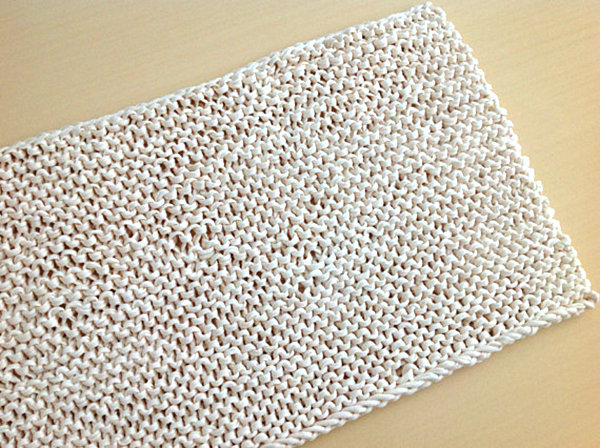 In the next featured image, we see a modern room anchored by a big-eye knit rug in a rich chocolate shade. Not only does this piece ground the space, it adds interest and dimension through its chunky, open knit. Are you beginning to notice how rooms with textured rugs feature other textured items, such as pillows and bedding?… [from Chroma Design Lab + Interiors]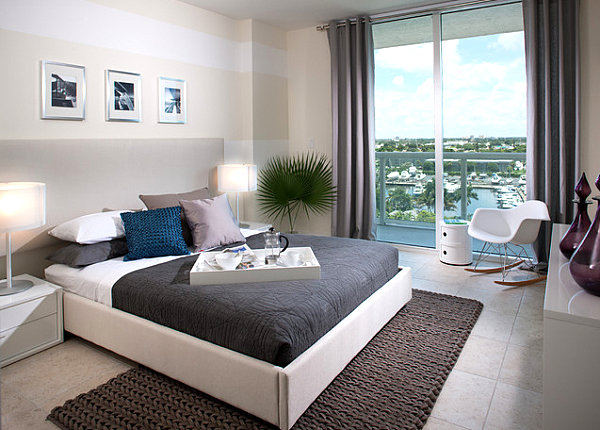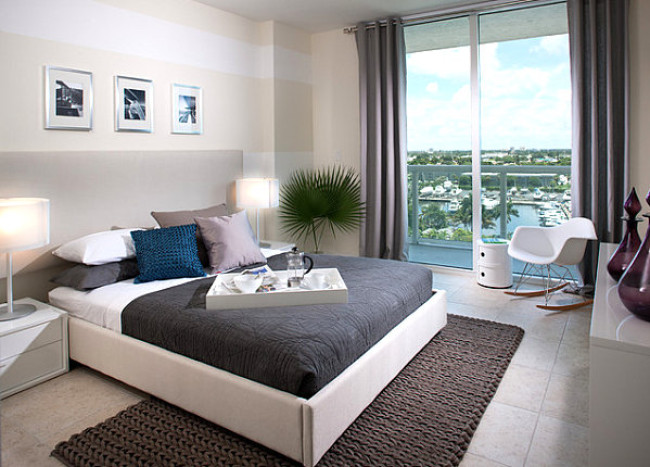 There's a delicate softness about our next featured piece, the Handmade Wool Cable White Rug from Rugs USA. Anyone else getting the urge to take your shoes off and walk across this plush item?! Hand woven from 100% wool, this rug adds a natural touch to any space, and as you can see from the image below, it really stands out against a dark wooden floor: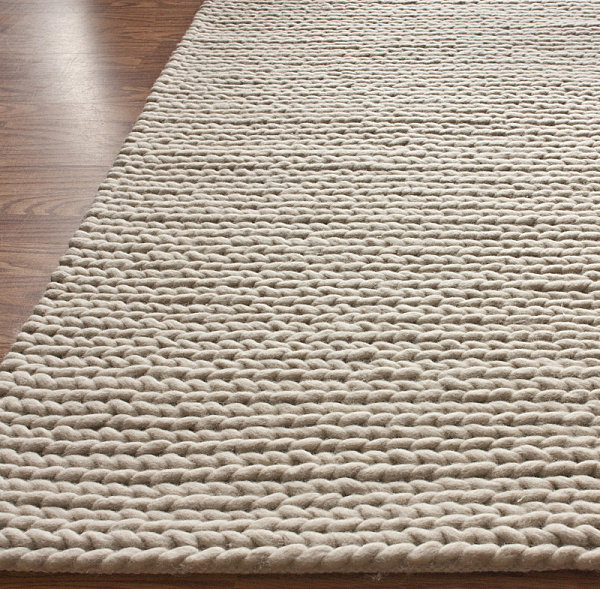 It's no wonder that our next photo features a pet resting on a comfy knitted rug! Why wouldn't you use this piece as a pet bed?!! But it can also be used as a welcome addition to any room. Yes, the Giant Knit Rope Rug from Etsy shop Mary Marie Knits is hand knit with 1/2-inch cotton rope on huge knitting needles. The result: giant loops that feel great under your toes! Although shown in a  natural/cream tone, this 48 x 36-inch piece can be hand-dyed any color.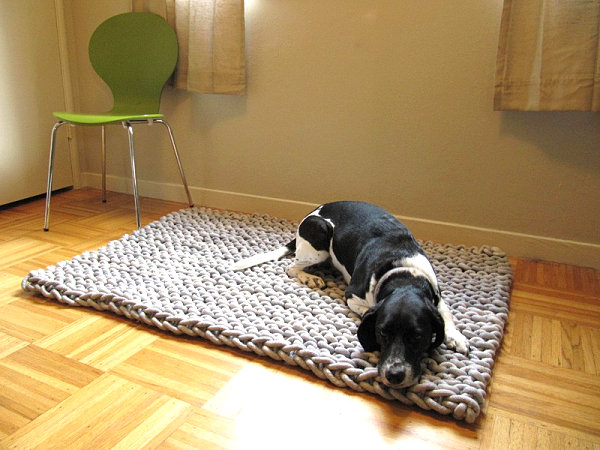 Colorful Knit Rugs
Speaking of color, we end with several knit rugs that depart from neutral territory to add a dose of color to the room of your choice. If you're feeling crafty, be sure to check out this DIY knit rug project, created from five-fold weft rags using moss-stitching. In fact, we love this rug so much, we previously featured it in our post on DIY rug projects. For more details on this piece, check out the instructions at Scandinavian Deko.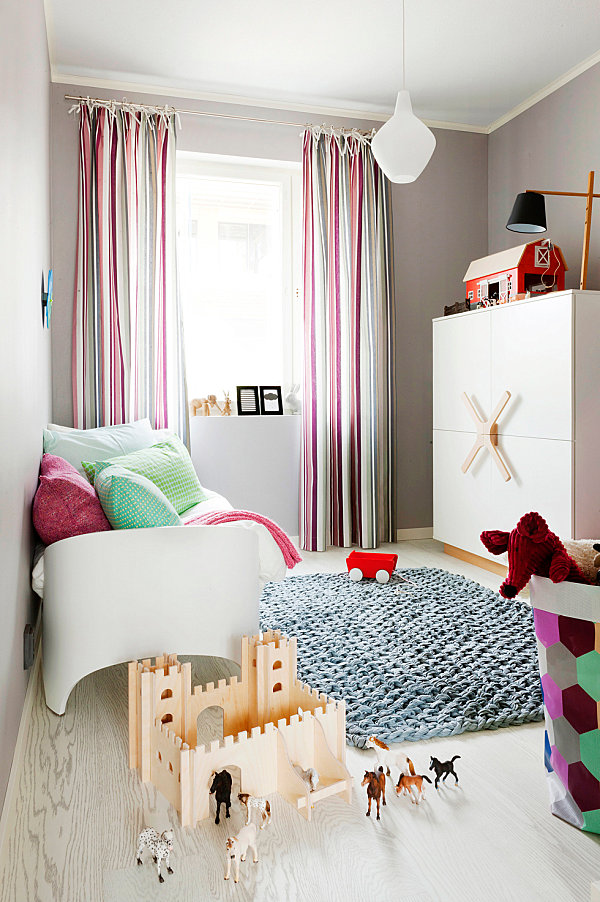 Ready for a little ombre fun? This Cable Knit Sage Rug from Rugs USA features a gradient of verdant tones, from forest green to olive. The result: a rug-scape that takes you on a subtle colorful journey!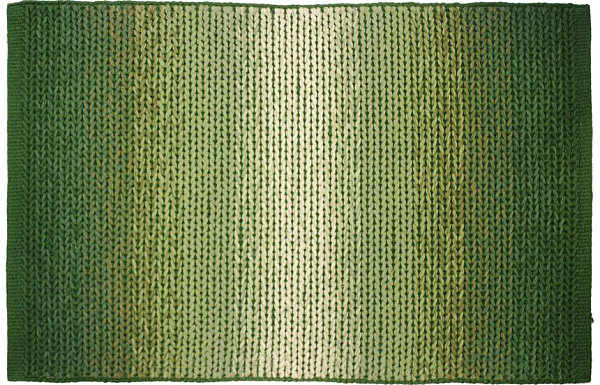 OK–so our last featured collection of rugs is knotted rather than knitted, but we couldn't help but showcase their textured glory! Introducing the Mangas Hand Tufted Hand Knotted Wool Rugs, designed by Patricia Urquoila for Gan Rugs. As impressive as these rugs' resemblance to winter socks, sweaters and mittens is the wide range of textures, styles and colors represented on each piece!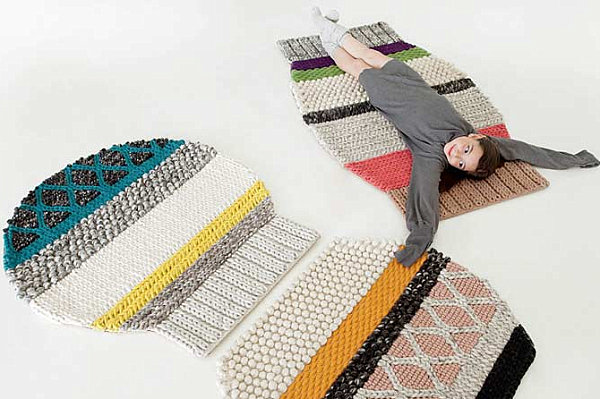 Would you decorate your home with a knit rug? If so would you stick with neutral shades or go with something a little more colorful? Share your thoughts by leaving a comment below…