Looking for last-minute Halloween decorations? No problem! Yes, Halloween week is upon us, folks. Some of you may have hosted a Halloween party this past weekend, and your house is therefore fully decked out in spooky style. For others, this is the week when it happens. Worried it's too late to decorate? It's not!
Today we bring you 20 more fabulous Halloween ideas for the interior and exterior of your home. Some of them involve a DIY approach. Others can easily be purchased, thanks to online retailers like HalloweenCostumes.com, which conveniently offers last-minute shipping deals on spooky home decor. Check out our roundup of images below, then tell us about your favorite ideas at the end of the post…
Easy Halloween Decorating Ideas
If you're wanting to take decorating matters into your own hands, we'll make the job easy for you! A slew of amazing ideas awaits you, from the chic to the creepy. Let's start with a dash of elegance. Keeping it simple with white and black dishware creates a striking look, especially when you add a dash of orange via eye-catching blossoms… [photo by Sarah Macklem via The Yellow Cape Cod]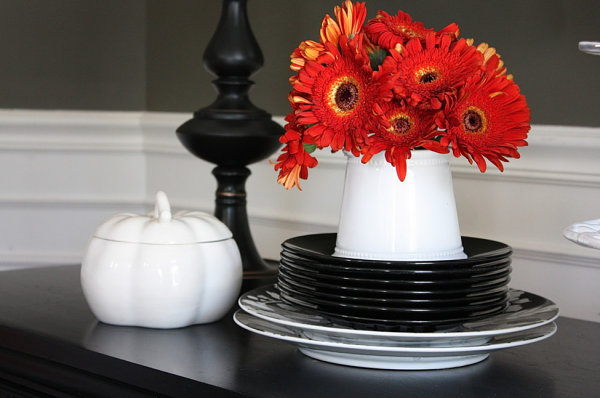 Cheesecloth is an ideal option for draping runners and trim. The holes in the cloth help to create a cobweb effect. Set a spooky foundation with this material, then layer your favorite decorations on top. Below we see creamy accents, from pumpkins and roses to outward-facing books. [from Corynne Pless]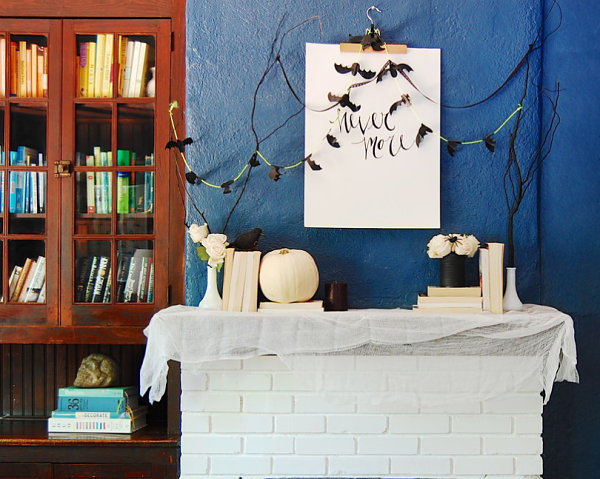 A candelabra is the perfect anchor for a stylish Halloween centerpiece, especially when each item on display is a skull. Once again, we see the power of wispy, frayed fabric in runner form on the table below. [from Focal Point Styling]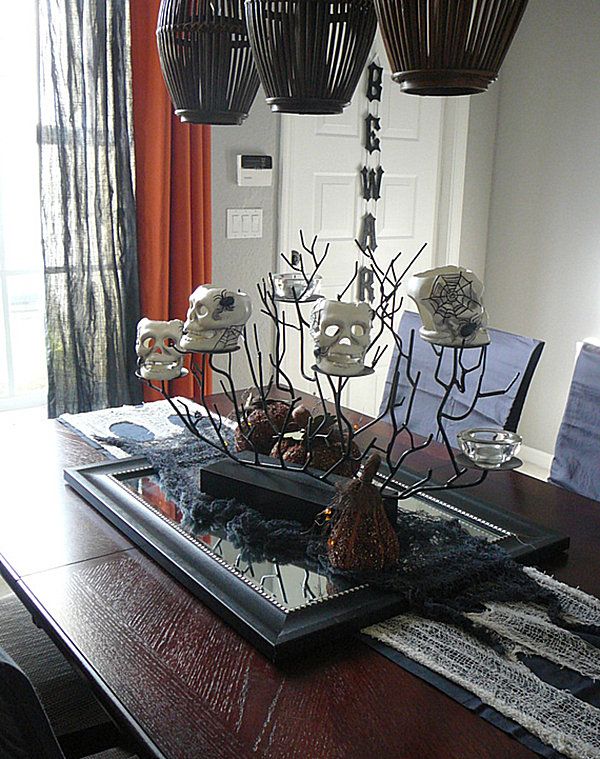 In a shot from the same room, we are treated to a close-up of creepy details on a nearby buffet. In keeping with the theme of the decor, candles and skulls are prominent, as is a mummified skeleton… [from Focal Point Styling]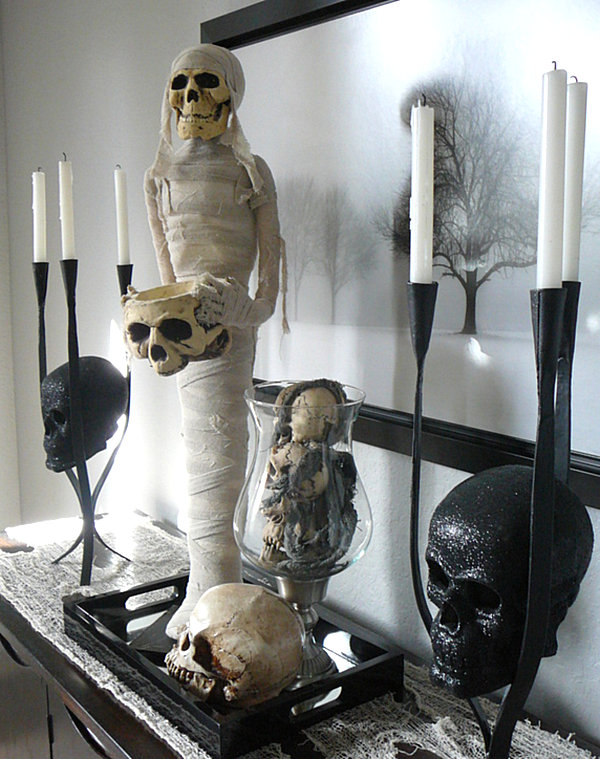 For an easy party trick, cover your serving table with black cheesecloth, then top it with food and drinks. One of our favorite tricks here at Decoist–letting the food become the decor! With candy corn-style cupcakes on display, you don't need much else to set a Halloween tone. [from Lisa's Creative Designs]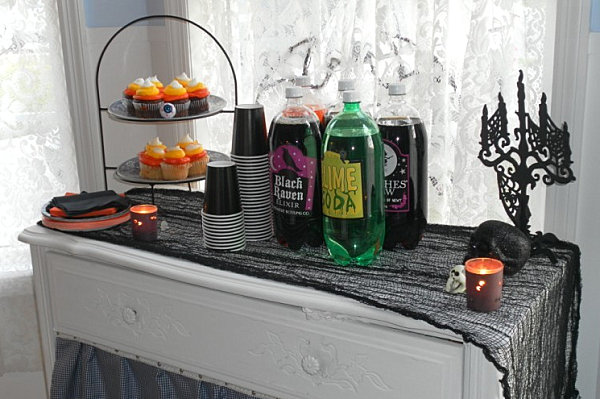 Add a little shimmer with some Halloween-themed lights! There are plenty for the choosing each fall, from simple orange twinkle lights to more elaborate selections, like the spider and web-themed strand from Wrapables via At Home with Kim Vallee: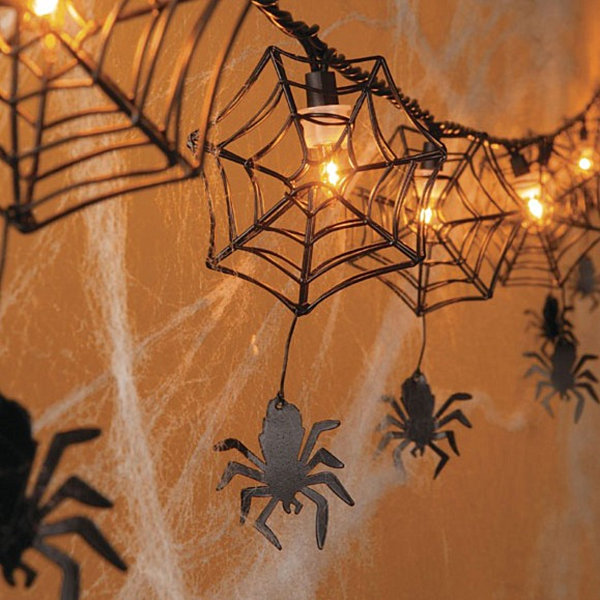 Why do we love felt so much? Perhaps it's because this material cuts without fraying–and no hem is required! If you're feeling crafty, check out the HGTV tutorial for this Halloween applique felt pillow by Marian Parsons…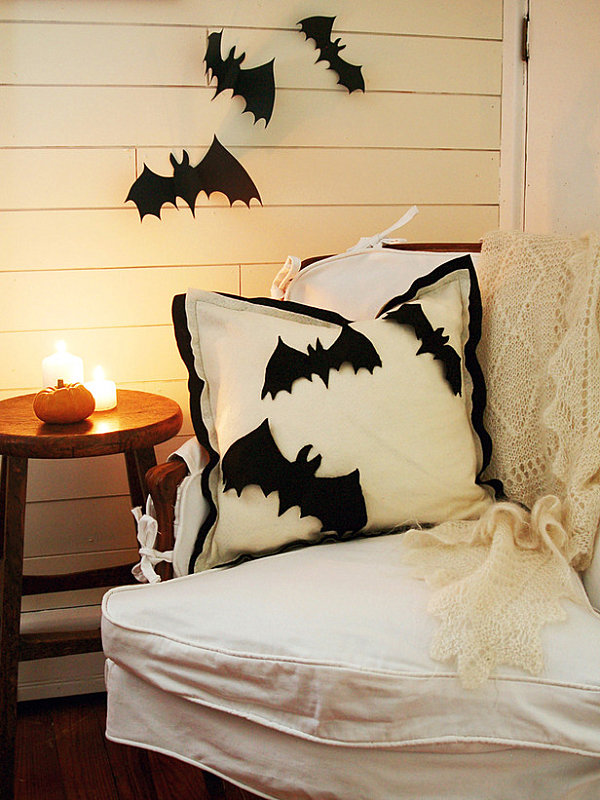 Ah, the magic of wall decals! Easy to apply and even easier to remove, these sticky decorating tools have experienced a surge in popularity. Since you're not stuck with them for good (even after you stick them to the wall), they are also ideal for holiday decorating. And these mice decals from Martha Stewart are perfect for staircases during Halloween season…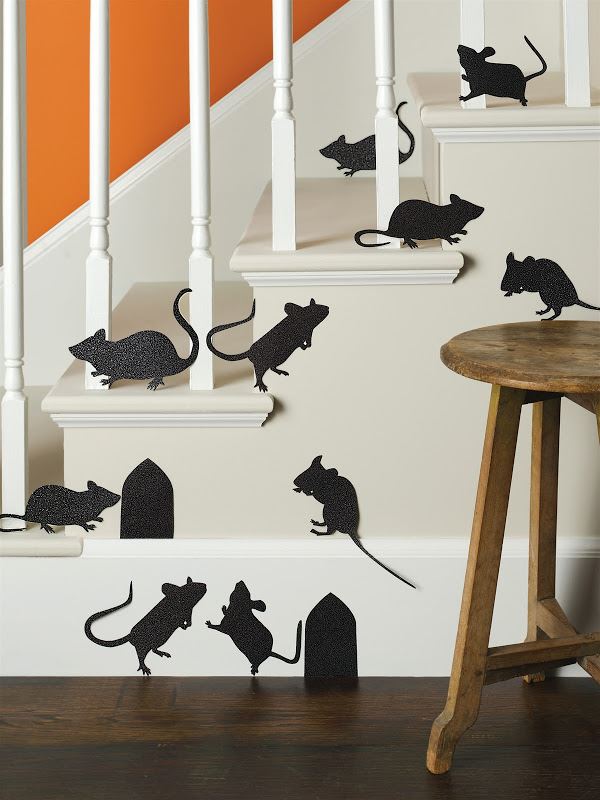 Don't forget about your outdoor space! Getting creative with the exterior of your home can result in a big payoff, especially when it comes to welcoming trick-or-treaters on Halloween night! We're loving the DIY approach taken with the ghost-themed outdoor decorations below… [via Houzz]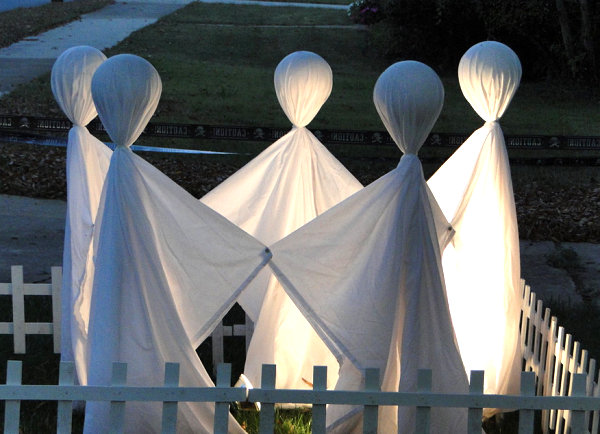 A similar look is created in the yard below, which also showcases a ring of ghosts. Except these ghosts have faces! Spooky style meets a classic Halloween motif… [from DigsDigs]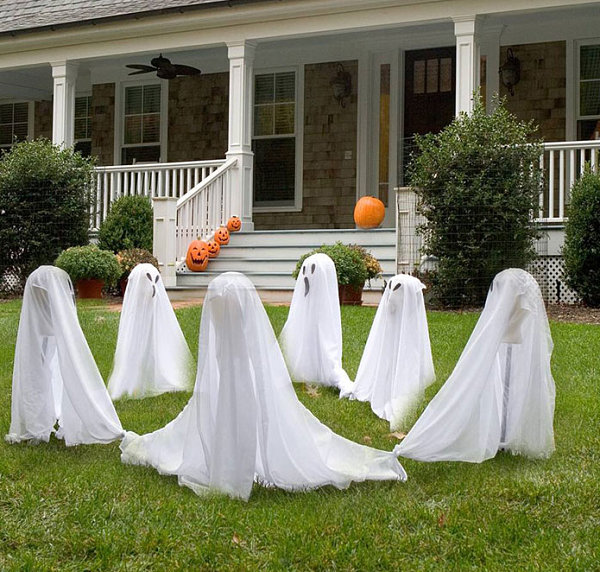 Last-Minute Halloween Decor for Sale
If you don't feel like getting crafty this Halloween or you're short on time, you can still order some goodies online and have them arrive before the trick-or-treaters ring your doorbell on the big night! Thanks to HalloweenCostumes.com, the items in this section of the post can all be shipped with speed. We begin with the Trick or Trim Spider Web Table Trim, which features a delightfully irregular border that enhances the web-like design of the piece. The perfect complement to your Halloween party table…

Speaking of tables, consider covering yours with a Black Cheesecloth Tablecloth, which serves as a spooky embellishment to an underlying tablecloth of your choice. With a background of black, orange accents truly pop, as shown below. And don't forget to adorn your mantel with some trim of its own… This Midnight Lace Mantel Scarf with Lights (below, right) is an affordable way to set a festive tone on your hearth. Top with candles if you like, although the glow from the lights that are included with your purchase will cast a shine of its own: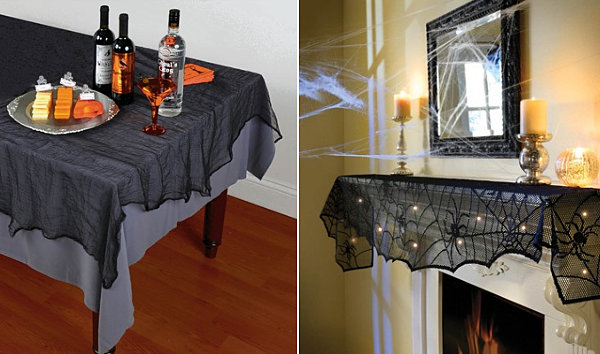 If you like the web-like design of the decorations above but you're searching for a dash of brightness, check out this Ghostly Grey Spider Web Mantel Runner. The effect is lacy, creating an ideal backdrop to bold decor, such as orange pumpkins and black candle holders topped with white pillars.

Don't forget about your windows and doors! This Black Widow Spider Window Cling (below, left) creates a creepy silhouette at night. We're loving the contrast between the orange light and the dark spider. If you're looking for another clever way to embellish a window or mirror in your home, the 20-piece Bloody Handprint cling set (below, right) will do the trick! Not only does the set include a signature handprint design, there are blood drops and splatters for a gory touch…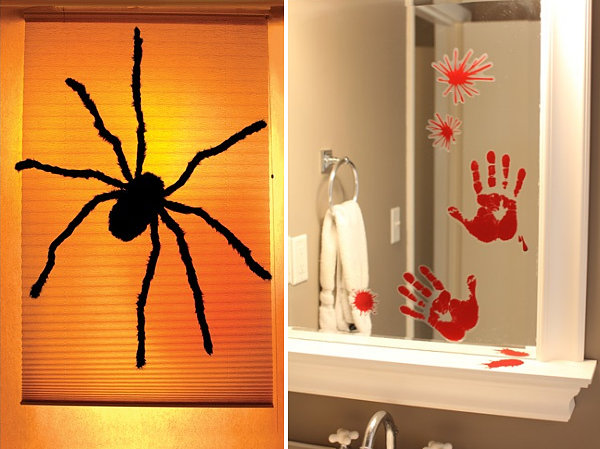 Sometimes the most simple of designs can make the biggest impact! This next duo of Halloween decorations is perfect for grown-up parties, especially for those who like to keep it clean-lined and modern. Glittering letters shine against a black backdrop on this Eat, Drink & Be Scary Sign… The piece is ideal for the kitchen, dining room or Halloween party bar! Next we feature the Jeepers Creepers Pillow, which makes a statement with bold black letters against a canvas of orange.

We end with a couple of decorations that add a spooky touch to the exterior of your home… The 48-Inch Ghost on a Post below is an update of a classic Halloween decoration. Plus, with arms you can pose and a face that lights up, this ghost will stand out from any other ghouls that might be haunting your street. Speaking of classic decor, you can't go wrong with a strand of Orange String Lights. The selection you see below is 21 inches long, as well as adjustable for steady burning or two-way flashing. Keep the warm glow alive by leaving them up for Thanksgiving…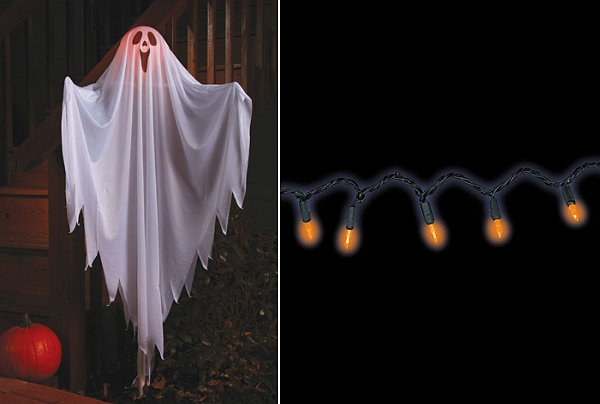 How do you decorate your home for Halloween? Do you enjoy homemade decorations, or do you prefer purchasing your spooky embellishments? Perhaps you make some and you buy some! Share your thoughts by leaving a comment below…