Maybe it's because Halloween is less than a week away. Maybe it's because this fall has ushered in a range of bright hues in the design world, rather than the typical earth tones of the season. Or maybe it's the delicious images I keep encountering all over the blogosphere. I've been completely inspired by candy colors! The walls of my new place are mostly white, and there's nothing like a bright pop of color against a crisp neutral tone. I'm looking for some tasty inspiration …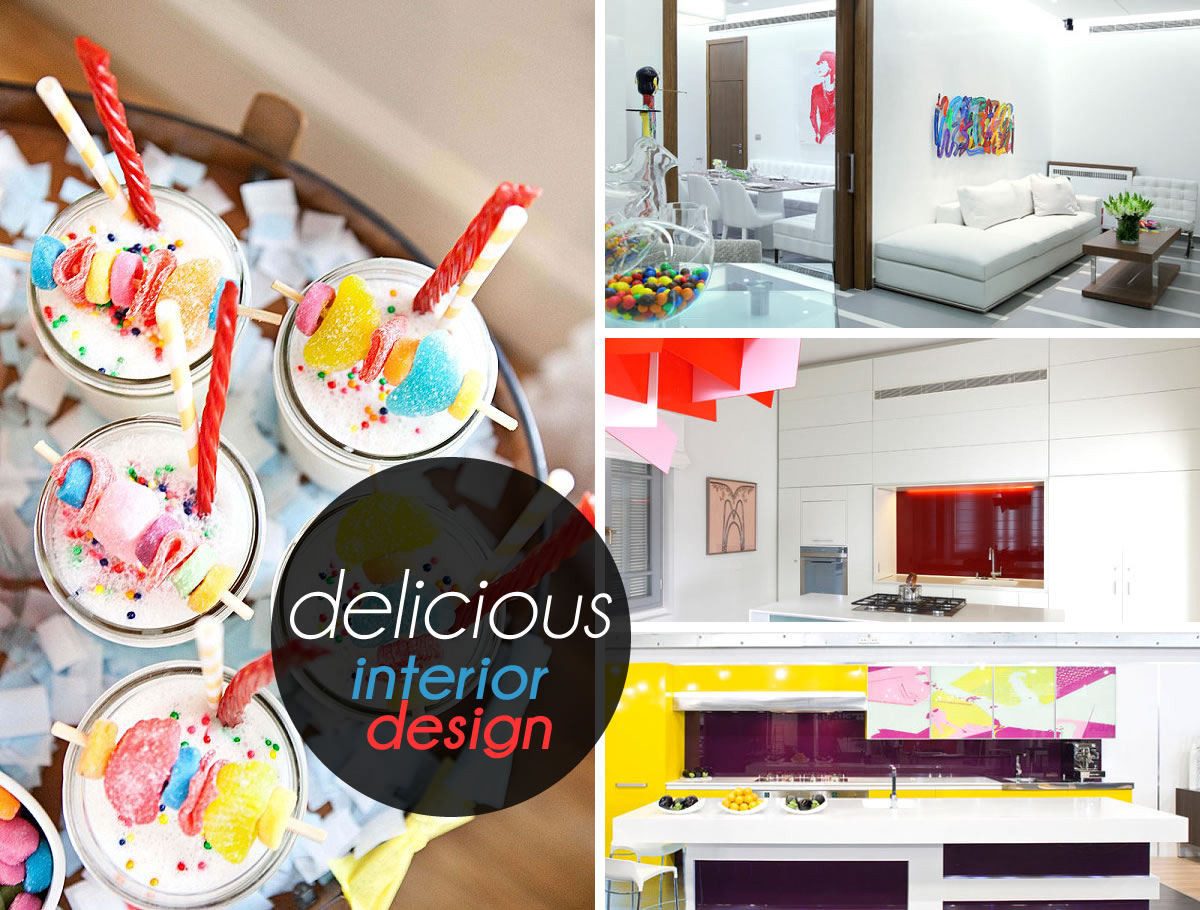 Which brings me to today's post! We begin with some inspirational images to set a festive tone. Then we'll take you on a design journey in which we'll spotlight a collection of interiors that look good enough to eat. Hey, it's almost Halloween–a day devoted to the consumption of candy! And then there are the holidays and all of the delicious treats and decorations they bring.
It's time to start getting excited, and nothing's sweeter than the pics that follow…
The Candy-Hued Inspiration
What started this candy-colored design kick (that quickly turned into my latest obsession)? For one thing, London independent store Darkroom released an entire collection inspired by the work of the renowned 1980s design collective The Memphis Group, particularly designer Ettore Sottsass. Here's a glimpse at their delectable spread, previously featured in our post on amazing store displays… [from Trendland]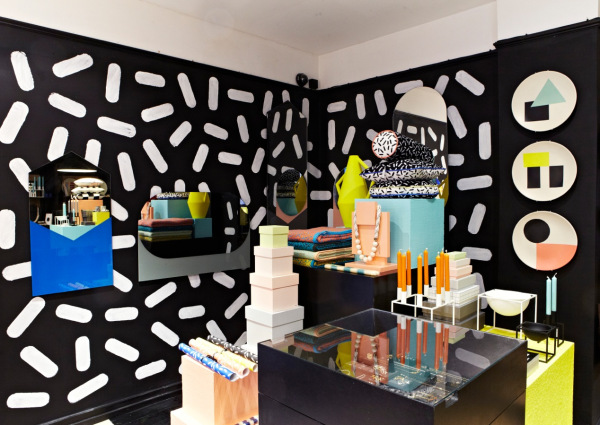 The Darkroom display got me dreaming of candy, sprinkles and all things confetti! In fact, I love using candy-coated licorice as a colorful accent for party centerpieces… [from Mirror80]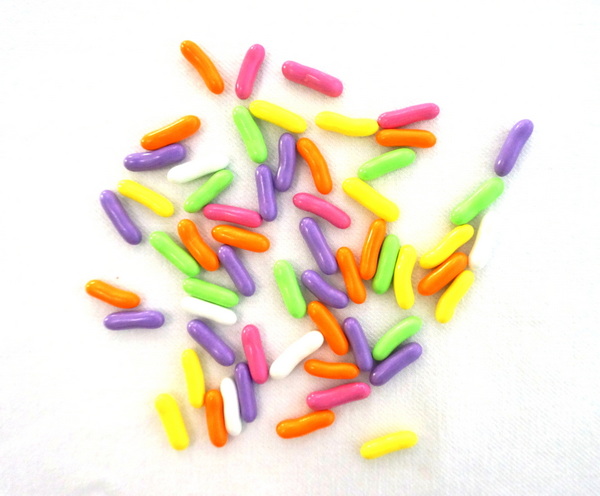 And apparently I'm not alone in my love for sweets, bold shapes and bright colors! I was tickled when Emma Chapman of A Beautiful Mess posted a tasty recipe for candy vanilla milkshakes! The colors, bold forms and sprinkles are such a playful feast for the eyes. What if interior design could be that eye-catching?…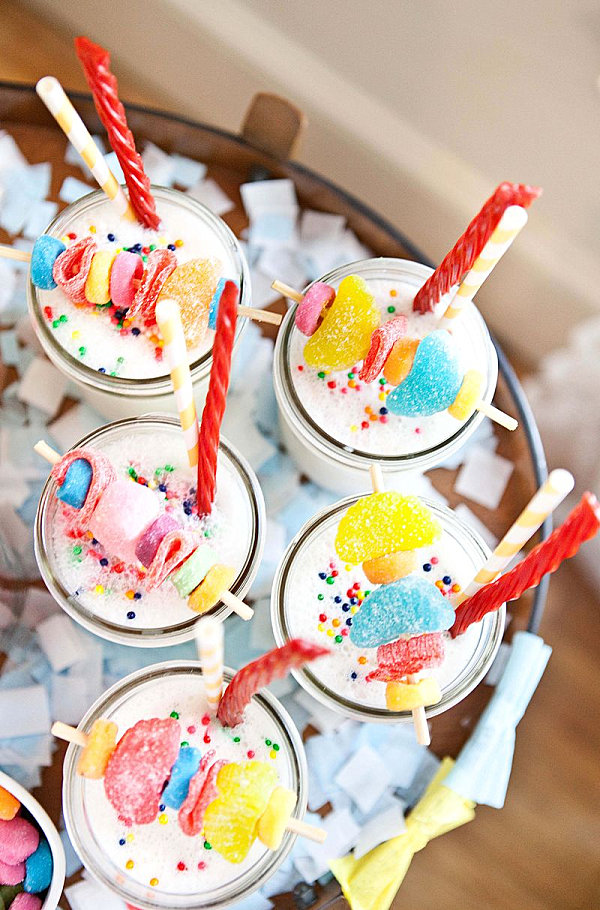 Finally, you can imagine how delighted I was when I came across this radiant collage by Beci Orpin via Design Love Fest…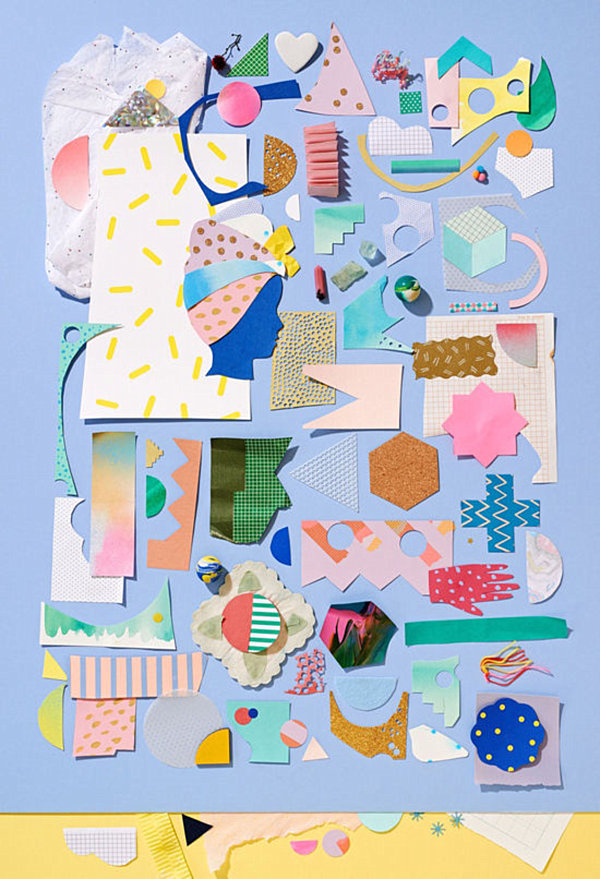 This series of gorgeous images and candy-colored discoveries got me thinking… Is there some sort of candy revolution going on?! More importantly, there's got to be a way to celebrate candy-hued design in a home setting. Which brings us to the images that follow! Keep reading for more delicious details…
Bring Candy Colors into Your Home
When it comes to introducing candy colors into your interior, sometimes less is more. Bright white walls are a perfect backdrop for one or two pieces of modern artwork, as shown in the living space below. A container of candy rests on a nearby table, solidifying the theme. [from Hatem & Associates via Houzz]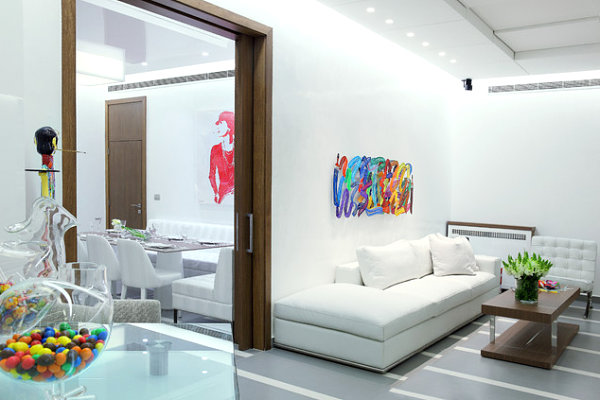 Sometimes the magic can be found in the little details. This image of colorful jellybeans on a blue and yellow table was previously featured in our post on home office organization ideas. This delicious vignette lives at the office of Jessica Alba's The Honest Company. But the idea can be adapted to your own home for a candy-colored corner! [from Lonny]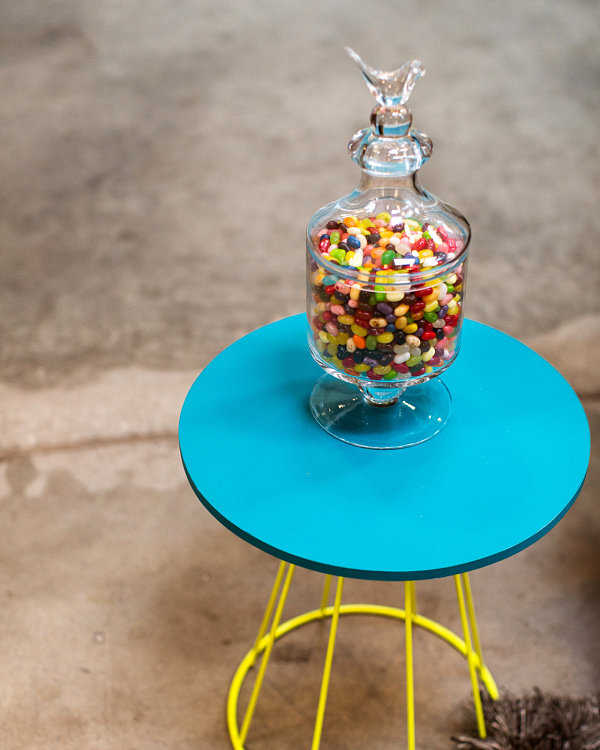 The colorful wall below is from the YMS Hair Salon in Slovenia, brilliantly designed by Kitsch Nitsch. We're crazy about the wall vinyl frescoes in candy hues and zany motifs! While this is a commercial space, you can get a similar look at home with a vibrant mural and geometric shelving. The mannequin is optional…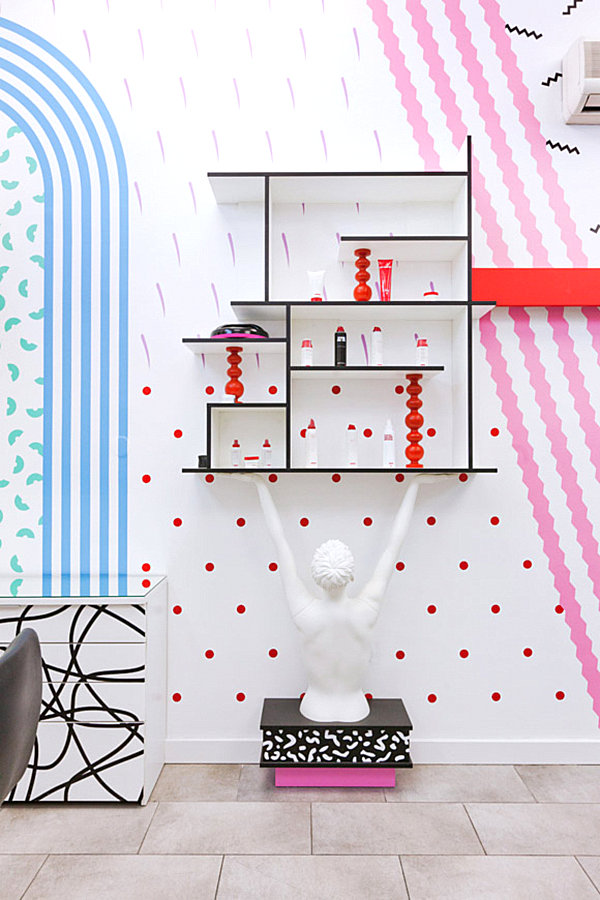 Many of today's most delicious rooms are kitchens, as modern design in culinary spaces is getting bolder and more colorful. Anyone else feel like reaching for a bundle of cotton candy after viewing the kitchen below? Gleaming pink and blue accents make this masterpiece from Mal Corboy Design and Cabinets a true standout…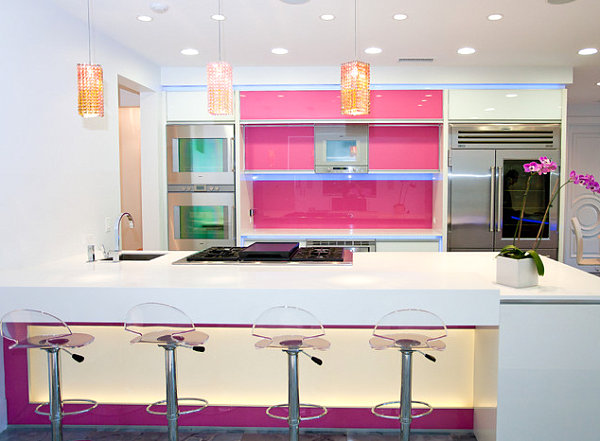 This Tel Aviv kitchen by Amitzi Architects packs a powerful punch. Once again, we see a refreshing white background that casts a modern glow on the space. Not to mention, bold shades of red truly stand out against the walls and ceiling. We can't take our eyes off the room's centerpiece: the Big Bang Ceiling Lamp from Foscarini!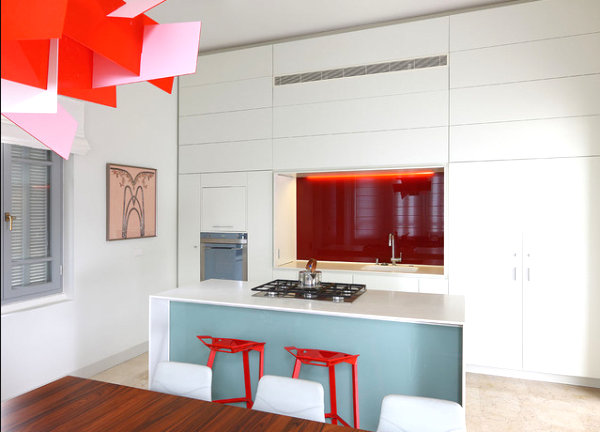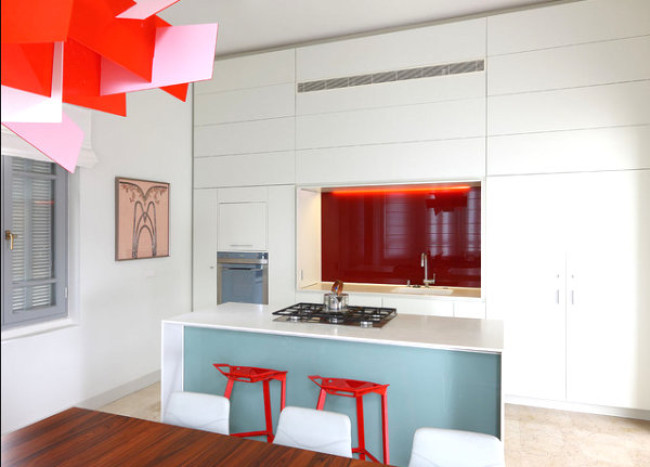 Here's another kitchen with candy-colored details… In fact, this home show kitchen from Mal Corboy Design and Cabinets features a vivid, citrusy shade of yellow that's mirrored by the bowl of lemons on the counter. The cabinets introduce a bit of fuchsia with an abstract design reminiscent of 1980s motifs: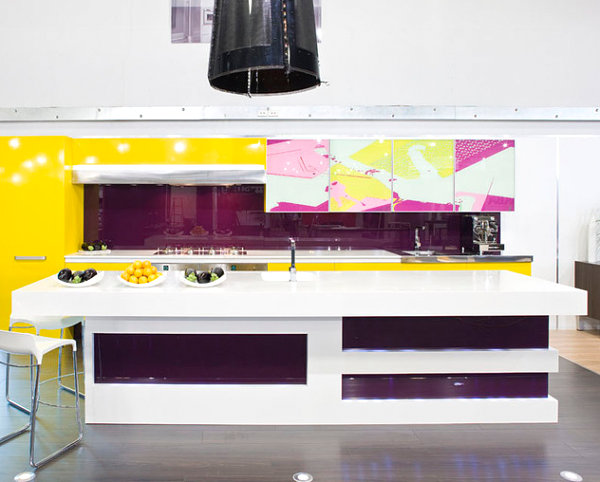 We end today's post with a few products that epitomize today's candy-themed trends in the home. These So Sottsass cushions from Darkroom feature a hand screen printed design that evokes the sugary goodness of sprinkles. Not to mention, the bright edging makes a strong statement. Yummy!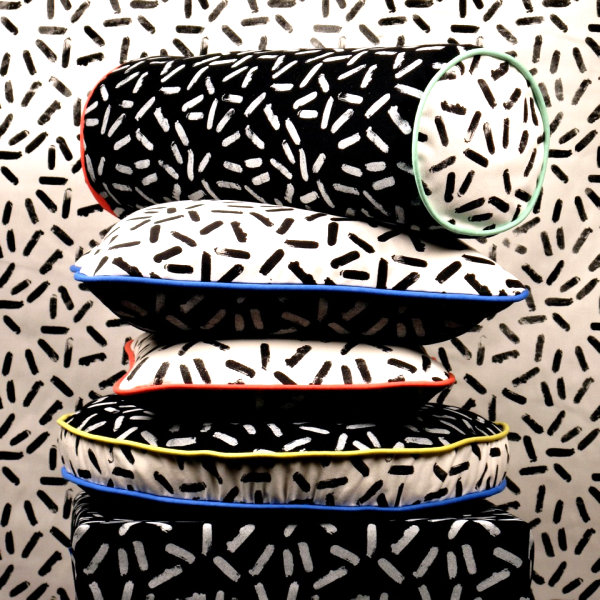 And with the holidays coming, it's hard not to think ahead. The gifts you wrap may sit under your tree for weeks. Why not create a delicious modern look with a selection Darkroom's So Sottsass wrapping paper?! Highly affordable, this designer item is available in shades of blue, coral, yellow and black. We also think it would be perfect for framing!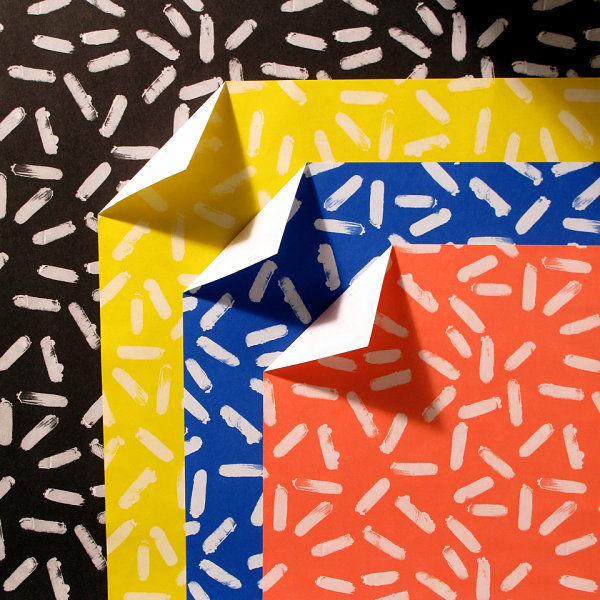 Would you decorate your home with bold motifs and candy colors? Have you ever let dessert inspire the design of a room?! Share your thoughts by leaving a comment below…