The weekend before Halloween is quickly approaching. Since Halloween falls on a weeknight this year, the importance of stay-up-late weekend celebrating can't be denied! This is the weekend when Halloween parties are abundant, decorations are embellished and festivity can't be denied. Are you in search of Halloween centerpieces, pumpkin crafts or party decoration ideas? This post is for you!
From easy DIY creations to beautiful store-bought finds, the featured items below will hopefully inspire you to create your own spooky vignettes and celebratory spreads. Check out the images that follow, then tell us about your favorites at the end of the post. This won't be the last time we say it, but we at Decoist wish you the happiest of Halloweens!
Halloween Centerpiece Ideas
Let's start with some eye-catching centerpieces… When it doubt, go with a candelabra! Instant elegance. Instant spookiness! This isn't the first time we've featured the Manzanita Candelabra from West Elm. We can't help but be drawn to its dark wood, as well as its ability to hold nine candles…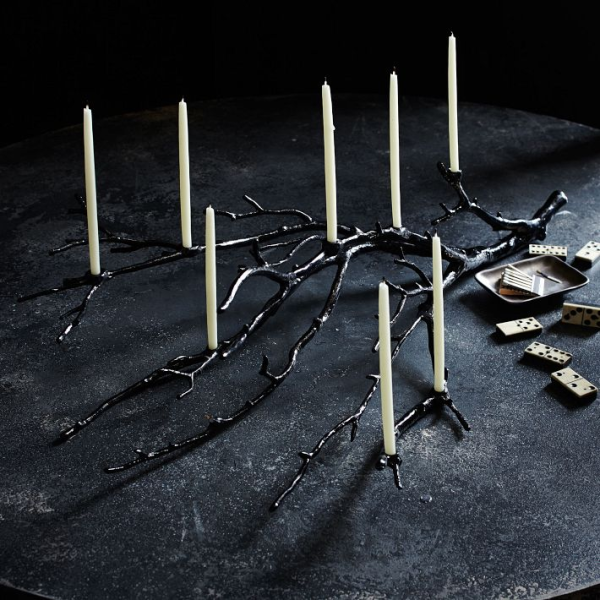 From dark to light… For an unexpected Halloween spread with more cheer than gloom, check out this white pumpkin centerpiece idea from Apples & Onions. Burlap strips, bud vases filled with white blooms, and a spread of white and silver pumpkins add light and festive sparkle. The best part: you can leave this centerpiece up through Thanksgiving!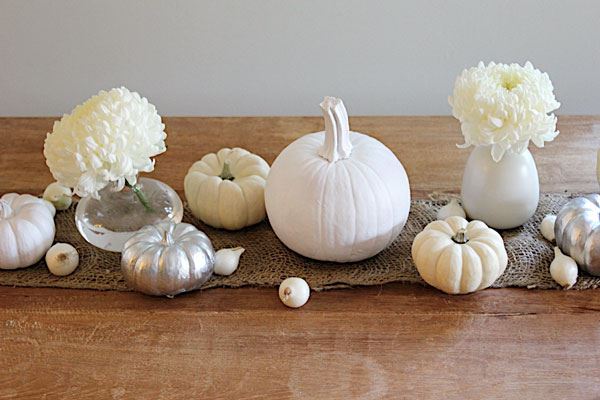 There's something unique about a collection of quirky elements that aren't necessarily Halloween-specific. A silver gravy boat filled with pears. An old key. A stack of antique books. That's what makes this Spooky Pirates of the Caribbean-Inspired Adult Halloween vignette so fetching! Say hello to the macabre, then check out all the details at Hostess with the Mostess. [photo by Missy Marie Photography]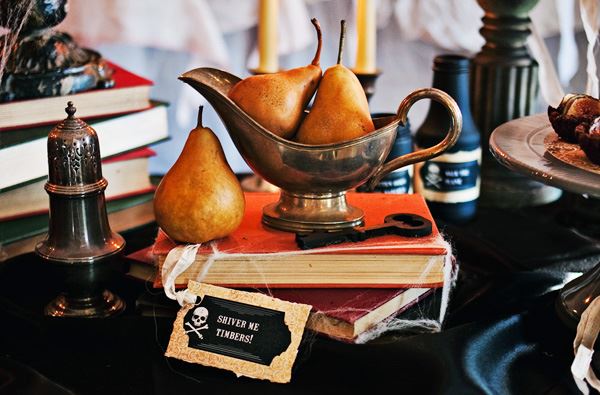 Another centerpiece idea we can't help but return to time and time again… This trio of skull candles (2 pictured ) from Crate & Barrel. Fill a cake stand with flowers and this set of three candles, because you can't go wrong with a little black paraffin!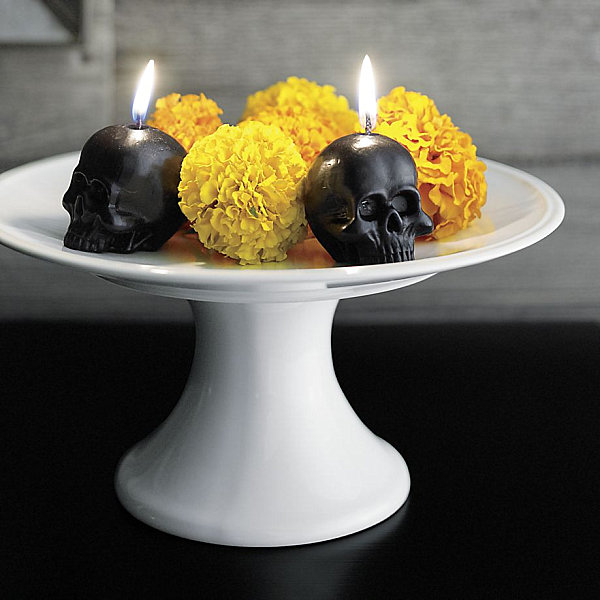 Creaky doors and jangly footsteps are evoked by this next spread featuring Chain Link Pillar Candle Holders from Pottery Barn. Cobwebs and ravens and chain links, oh my!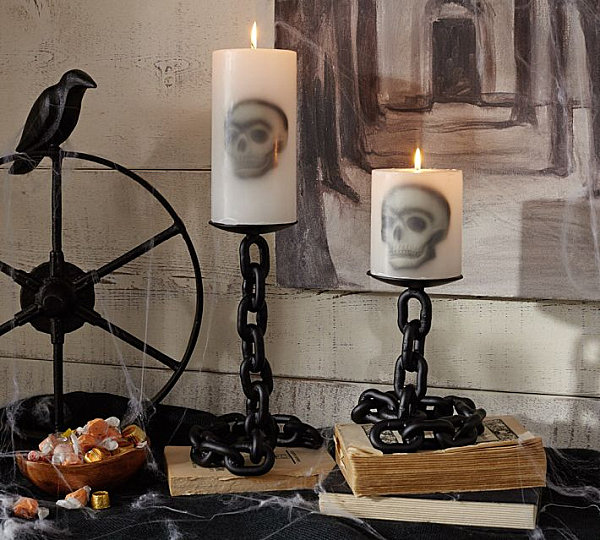 For a retro look, go with vintage ceramics! Create an impromptu runner using metallic shred and colorful licorice candies, then top it off with a centerpiece of baby pumpkins and ceramic collectibles, such as the inexpensive swans featured below. Check out all the Halloween party details at Mirror80…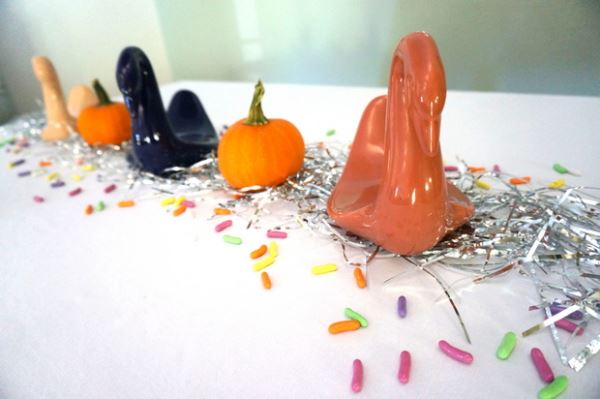 No-Carve Pumpkin Craft Ideas
If you haven't yet carved your pumpkins this year and you're secretly dreading the mess, here are a few last-minute no-carve pumpkin ideas for you! We begin with this Simple Pattern Pumpkins DIY Project, which involves spray painting pumpkins white, then decorating them with permanent markers in patterns of dots and lines. A full tutorial can be found at Confetti Sunshine: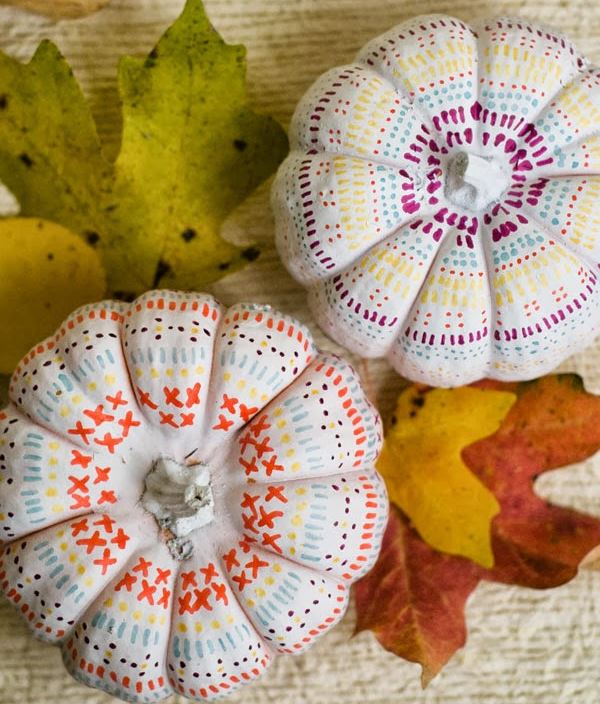 A white pumpkin can easily be embellished with a series of metallic dots in another easy project involving paint pen pumpkins in shades of silver and gold. Super easy + a big payoff = a hassle-free Halloween! [from Paper & Stitch]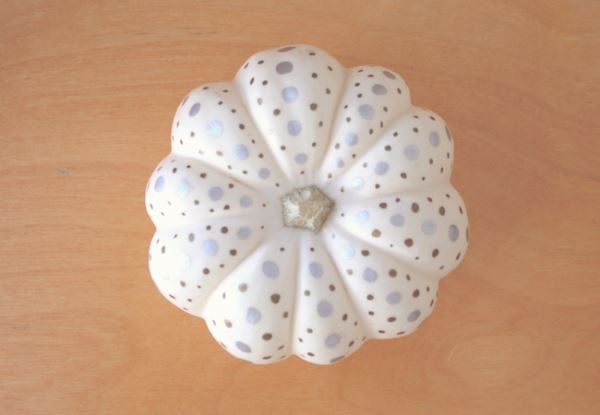 Oh how we're loving the bold, radiant look of these Color Block Pumpkins from Illi Style! A palette of turquoise, yellow, lime green, hot pink and royal blue couldn't be more fetching. Isn't it fun to vary the traditional Halloween colors for a dash of unexpected style?!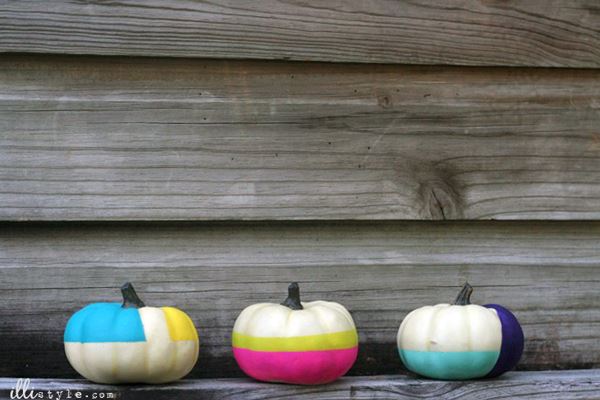 Speaking of unexpected, there's something fabulously "fairy tale" about the pumpkins below. Maybe it's the candy colors, or perhaps the glittering stems. Not to mention, a pink pumpkin is a wonderful way to honor Breast Cancer Awareness Month. Plus, if you're not a fan of the fumes created by spray paint, permanent markers or paint pens, you'll be delighted by the fact that these selections involve the use of acrylic paint! Check out all the details at Nest of Posies…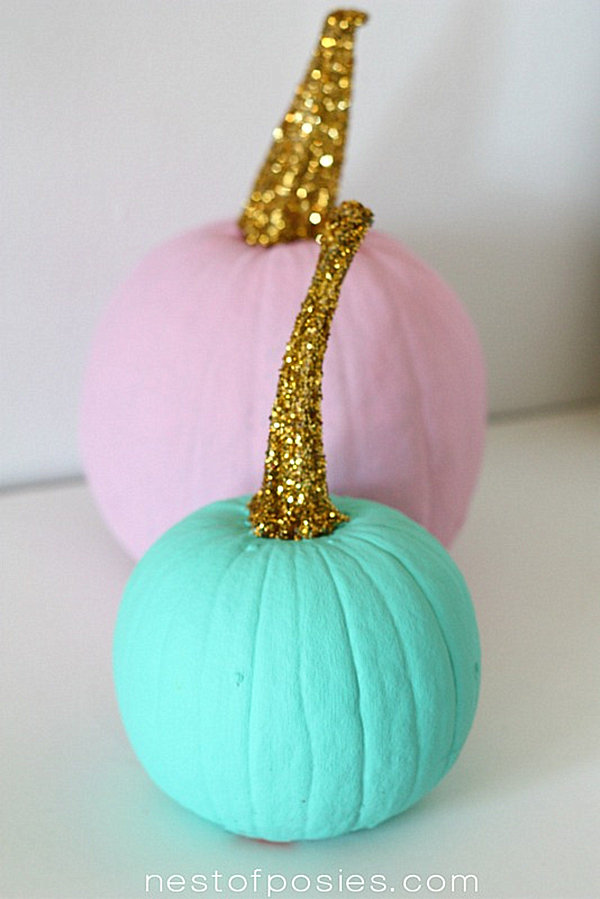 If you're searching for a pumpkin alternative, don't discount the use of balloons! This super easy DIY Balloon Pumpkin Patch by Sara Schmutz of Confetti Sunshine couldn't be more kid-friendly! Stuff balloons with candy, inflate them, then decorate them with green party fringe and sharpie designs. These clever creations would make an amazing party decoration, wouldn't they?! [from Hostess with the Mostess]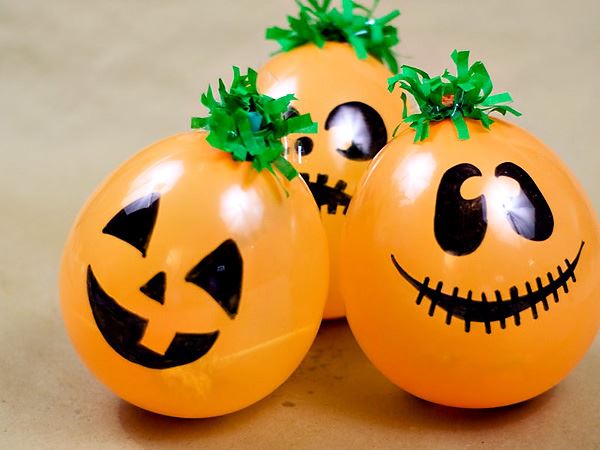 Halloween Party Decoration Ideas
Speaking of parties, we end today's post with a batch of party decorations to inspire you as you prepare for your spooky fete! This Halloween Crow Wreath from Williams-Sonoma is a great reminder of the power of black faux birds, decorative moss and a branch-filled wreath…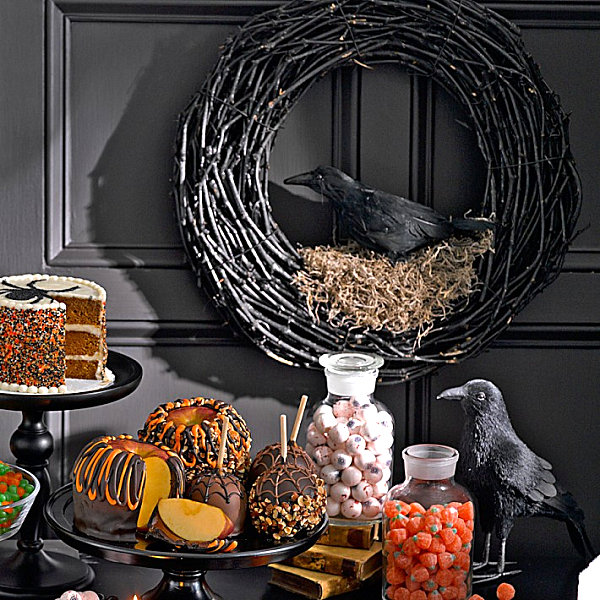 For a touch of garland style, don't hesitate to make a bold yet understated statement with this Black Halloween Bunting Banner from Etsy shop Ant and Frog. There's something about the chic simplicity of black flags that's perfect for child-friendly parties and grown-up parties alike!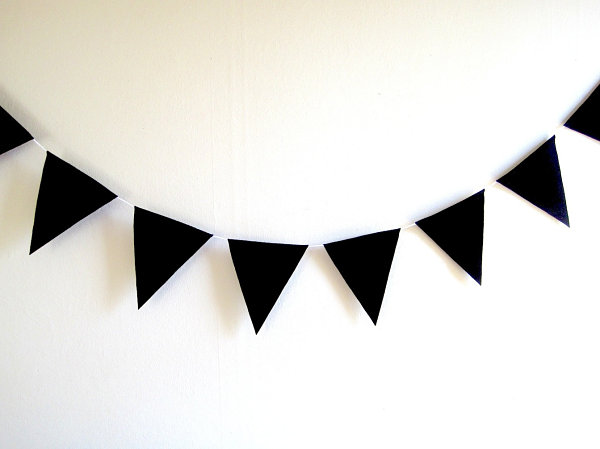 This Candy Corn Tassel Sparkle Garland from Etsy shop StudioMucci is also perfect for party-goers of all ages! Plus, a warm palette of oranges, golds and brown is also Thanksgiving-appropriate. Yes, you can enjoy this decoration well past Halloween!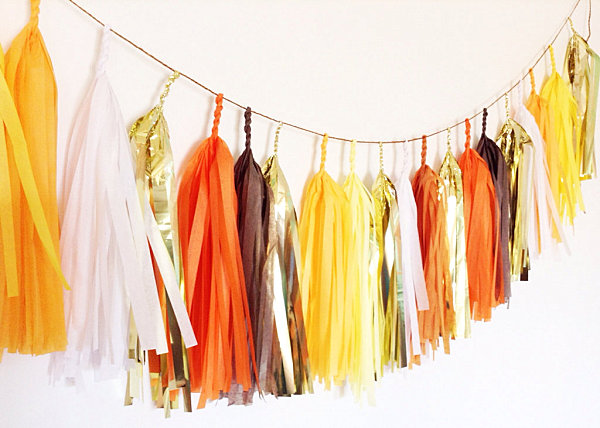 You can't go wrong with cobwebs… This polyester Cobweb Vase Filler is perfect for glass containers. Simply make sure you're careful about displaying this filler near an open flame. Then again, no candles are required when the decoration is this festive! [from Pottery Barn]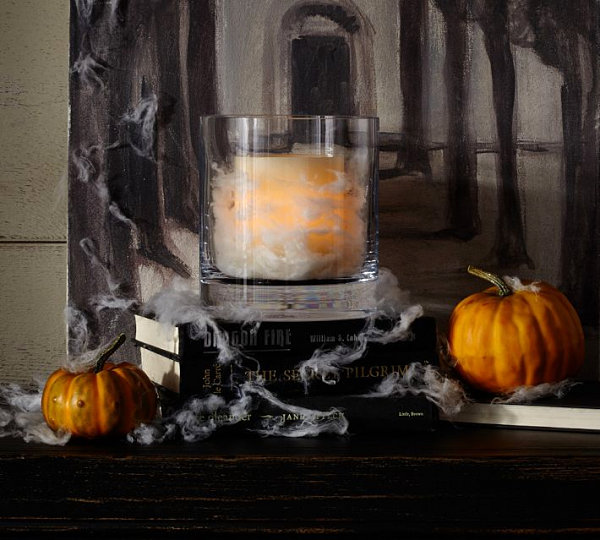 Bright and modern when filled with colorful candy, this Boo Ceramic Letter Dish Set from The Tomkat Studio is the perfect touch for your Halloween party. There's something about the simple lines and bold use of vivid color, especially when these trays are set against a backdrop of a crisp white tablecloth!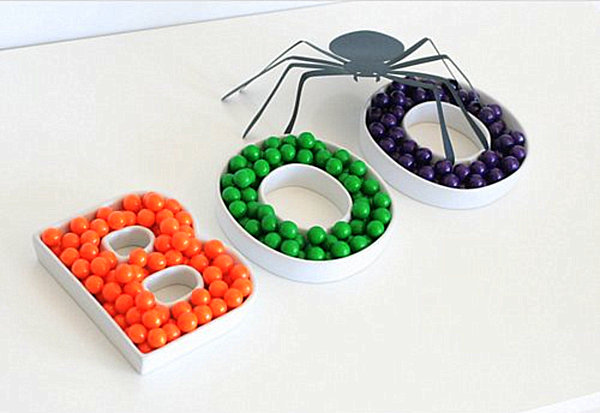 We end with a fabulous candy-colored palette, thanks to these Skull Candles from Etsy shop Melting Colors. A refreshing take on Halloween decor, the candles would also make an ideal centerpiece for your dining room table. And they aren't Halloween-specific!…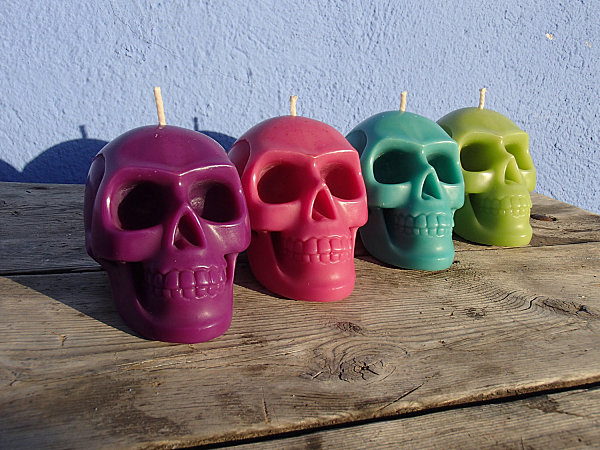 Did any of the festive Halloween selections above catch your eye? Do you have some last-minute Halloween ideas of your own to share? Don't hesitate to leave a comment below…