How do you celebrate Halloween? Do you hand out candy to the trick-or-treaters? Perhaps you host a Halloween party of your very own! Or maybe you enjoy the thrill of decorating your home for the holiday. We at Decoist love spooky decorations. We also love over-the-top scary decor for Halloween. But today's featured DIY projects take a more subtle approach. You can feature them at a party for kids or a party for adults. Some of them could even transition into Thanksgiving… Check out the images in today's round-up, and don't forget to tell us what you think at the end of the post!
Hanging Halloween Decorations
We begin with Halloween decorations that hang from the walls and ceiling. These homemade garlands, banners and more are festive and stylish without being overbearing. Check out this Happy Halloween Burlap Bunting from Brit + Co. With a rustic look, this item can work in a variety of homes, from the traditional to the modern. Craft the banner from scratch, or purchase the Burlap Bunting Kit to simplify the project…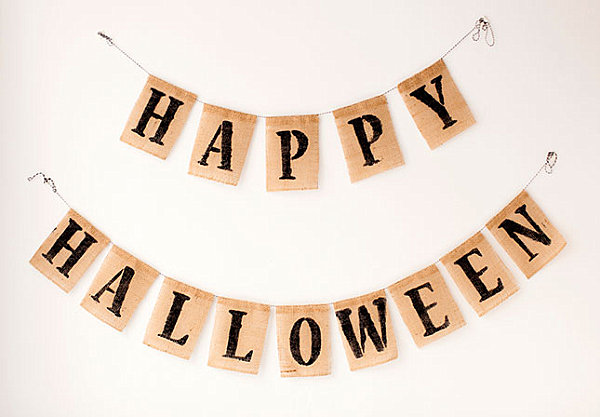 This next garland requires a few stitches, but don't let that scare you off. If you can sew a straight (or even semi-straight) line, you'll be delighted how easy this next project can be. And how professional it looks! It's a Halloween Paper Garland from This Heart of Mine!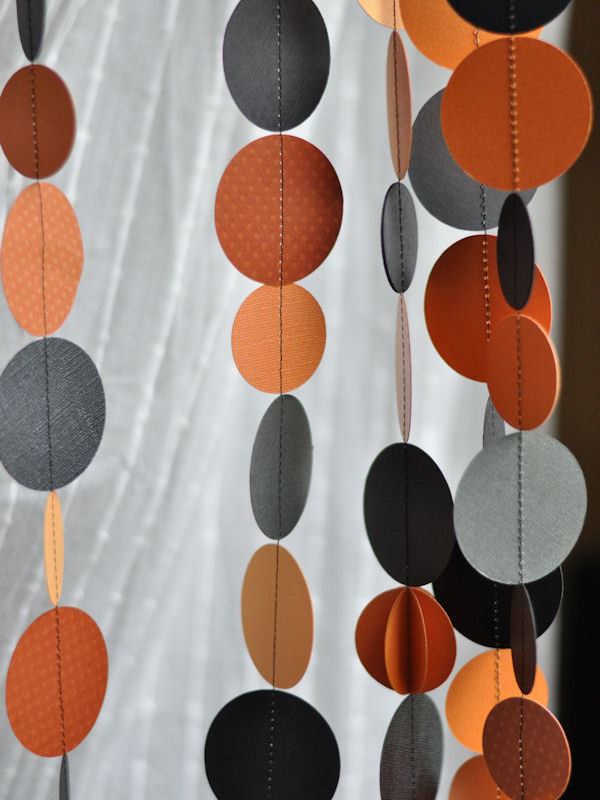 Don't put the sewing machine away just yet! With some simple party streamers, a few quick stitches and the trim of the scissors, you too can craft a Fringe Layered Garland. All you have to do is layer four pieces of party streamers, sew a line straight down the middle, fold it over along the stitching, and create some snippy fringe. Don't forget to fluff! Check out all the details at A Subtle Revelry…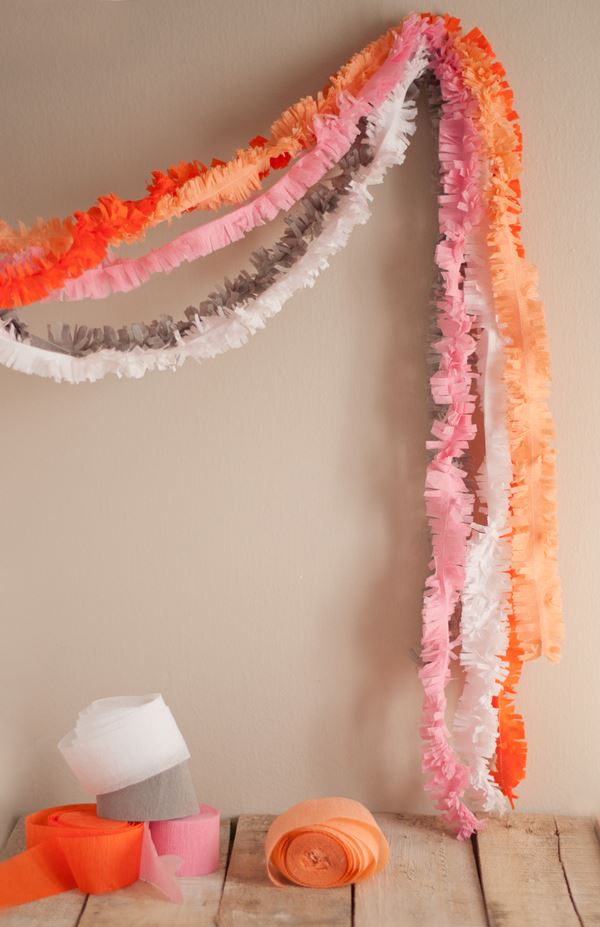 Wrapped candy and a stapler. That's all this one takes, folks! Yes, we're serious! These Candy Gardlands from iVillage are classic and stylish. Don't they look fetching draped around white containers of candy on the mantel? [photo by Laura Fenton]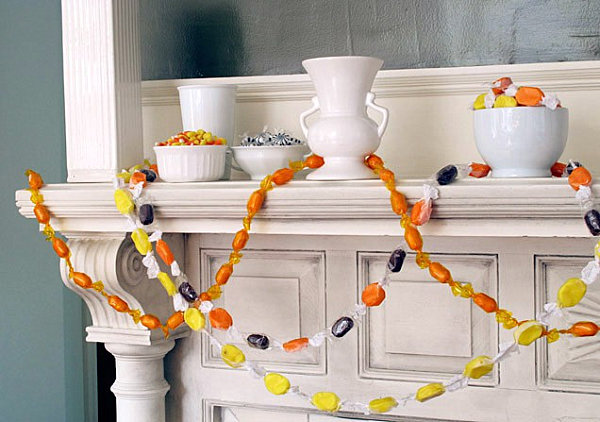 We love this unique approach to Halloween decor… These DIY Skeleton Wall Hangings are the clever work of Say Yes to Hoboken. Consisting of simple hand-drawn posters, this project can also be created with the help of a little tracing if you prefer. A curiosity-style approach to Halloween festivity. Love it!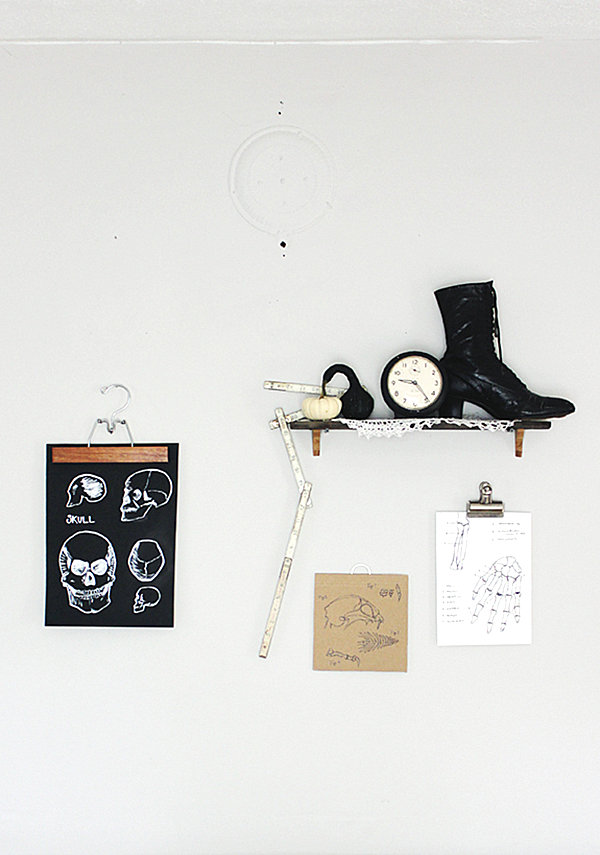 Check out these Mini Ghost Pinatas… These adorable party decorations are totally worth the time and effort! With a fringe-filled design and a simple silhouette, they are sure to be the focal point of your fete. Or your living room! Learn more at Oh Happy Day…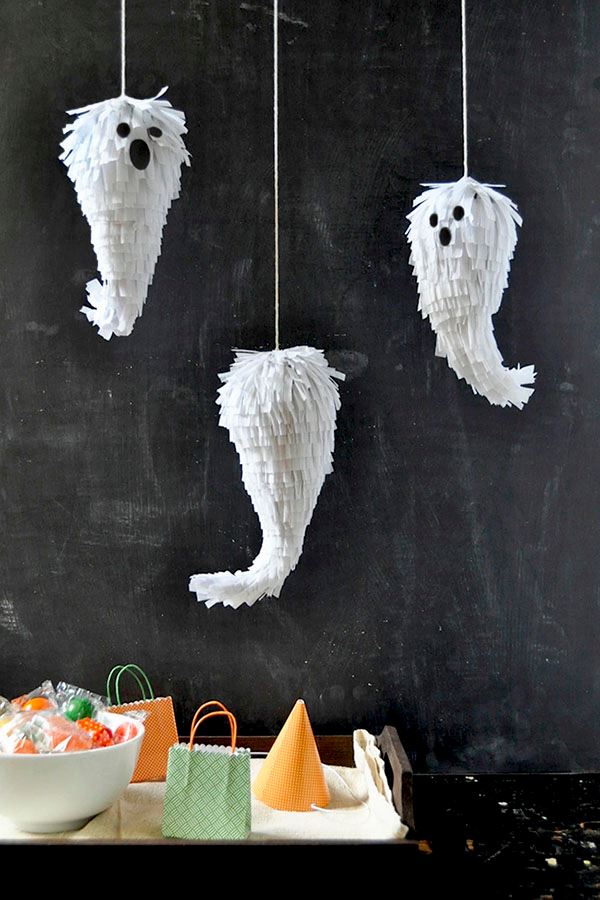 No-Carve Pumpkin Ideas
We at Decoist love a good pumpkin carving session. But we don't love that the pumpkins inevitably end up in the trash a few days later. If you want your Halloween pumpkins to last through Thanksgiving, these no-carve ideas are perfection. Anyone else loving the gold-toned trend that sweeping the worlds of decor, kitchen equipment and more this season? Why not ride the wave and bring a little golden style to your Halloween decorations? These DIY Gold Geo No-Carve Pumpkins have a sleek, polished look. It's hard to believe that all you need to create them is a gold paint pen! For all the details, head on over to Lovely Indeed…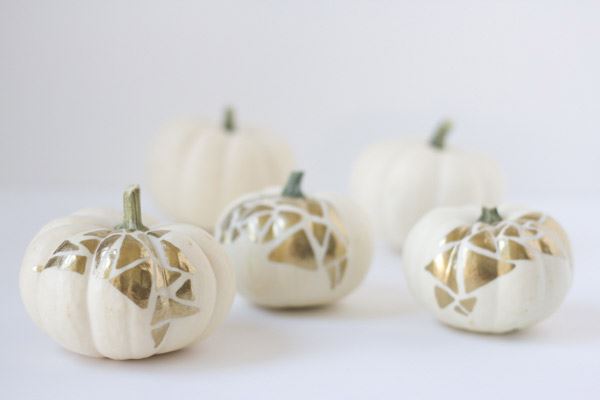 Need more metallic? We know. These elegant creations can be yours with the help of spray paint, masking tape and paint pens. And of course, a little patience and creativity! They are faux, which means you can enjoy them year after year… Head on over to Just the Bees Knees for all the crafty details: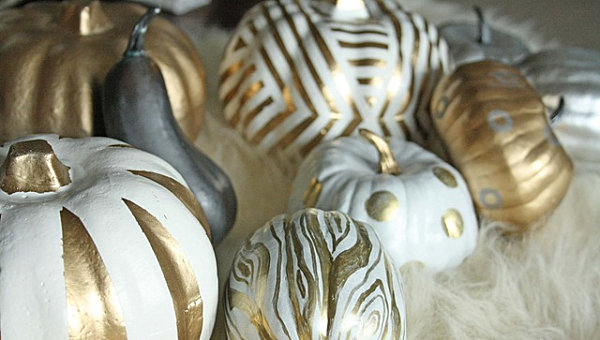 It's hard to argue with the classic look of black and white stripes! This chic no-carve striped pumpkin from Brit + Co. proves that with a little acrylic paint you can follow the lines of the pumpkin and create a two-toned masterpiece…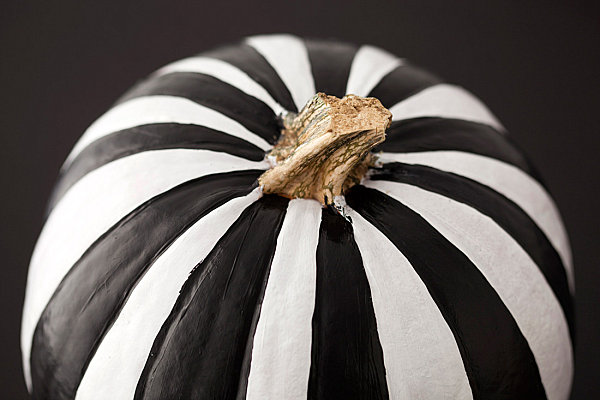 Decoration-Worthy Halloween Food and Drink Ideas
Our next batch of featured decorations veers into food and drink territory. Because any good party host knows that you can take your party up a notch (and save money) by letting your food be a part of the decor! Got kids? They'll LOVE this festive Halloween lunch featuring mummy hot dogs, banana ghosts and broccoli monster eyes. Serve for a special meal, or make duplicates to jazz up your party tray. You can find the recipes at A Pumpkin & A Princess…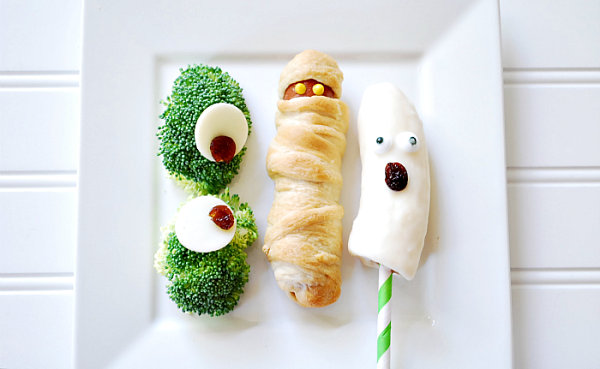 These Candy Corn Cookie Bites are delicious, and they make a gorgeous display for a Halloween buffet. By coloring the dough in shades of yellow and orange, you can create the layered look of a Halloween candy classic. Check out the recipe at Camille Styles: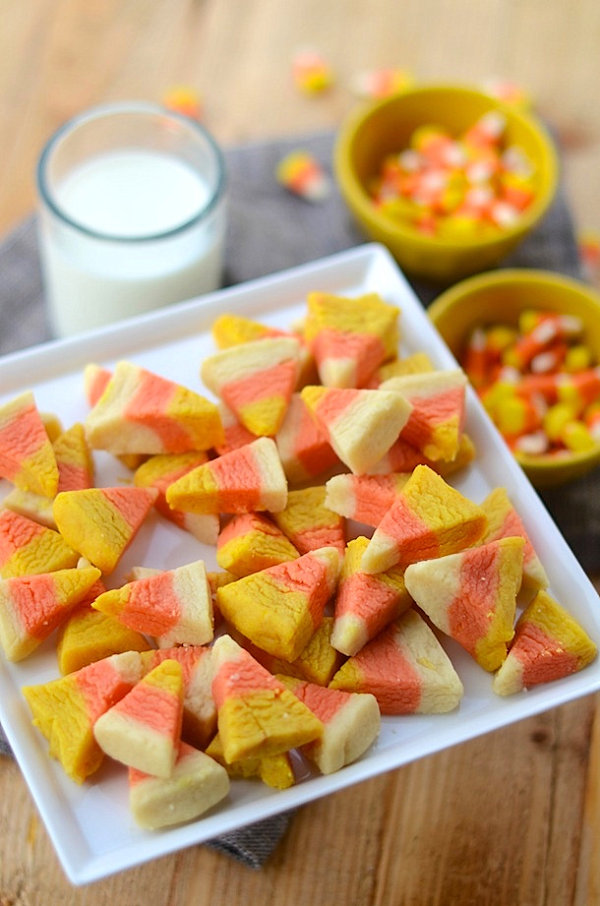 Don't feel like cooking? No sweat! These next festive project ideas involve decorating the food, not preparing it from scratch! We're loving the hand-drawn look of these bat-themed cupcake toppers. Create the look with ease using free printables from A Beautiful Mess:
For more printable fun from A Beautiful Mess, check out these "poison" bottle labels. They easily tape over the labels of your party bottles, and they add the perfect dash of spooky style. With a cheeky edge, of course!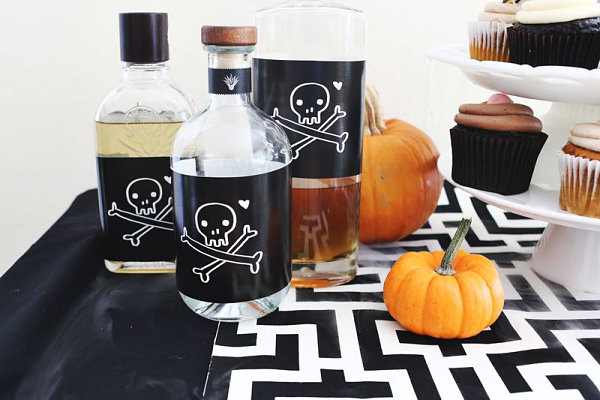 How will you jazz up your Halloween drinks this year? What if all you needed were stirrers, washi tape and a couple snips of the scissors? Yes, it's that easy! These Spooky Washi Tape Drink Stirrers can be created by wrapping tape around stirrers (making sure the edges stick together) and trimming the edges to create a pennant look. Check out the full DIY at Brit + Co.…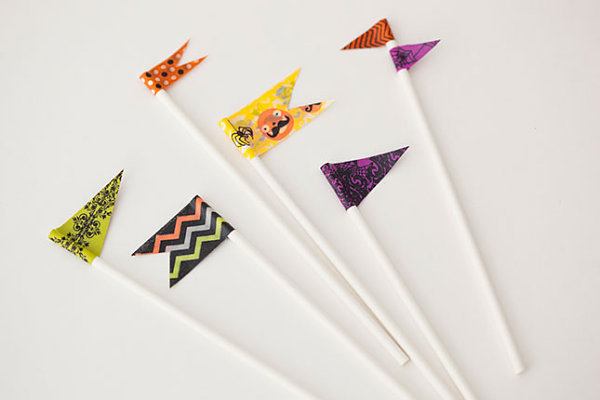 Hang onto a few wine bottles in the weeks leading up to Halloween, and get ready to create a fun and easy centerpiece. These Wine Bottle Jack-o-Lanterns from Instructables can be yours with the help of masking tape, spray paint and a few other simple supplies…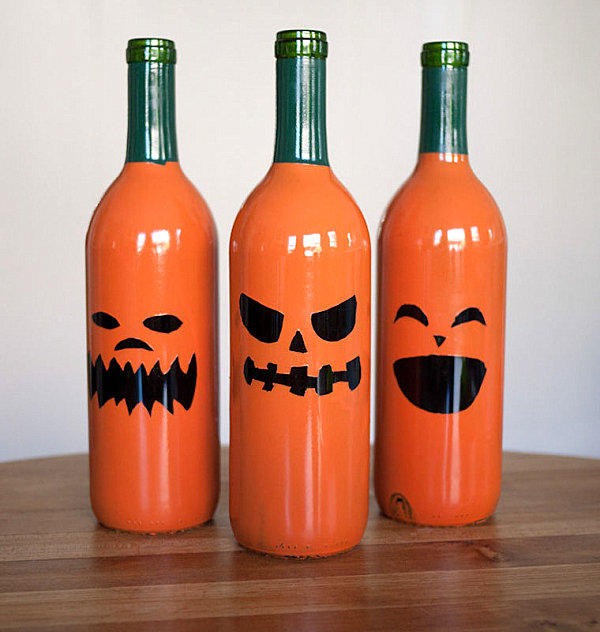 DIY Halloween Treat Bags
We end today's roundup with a series of treat bags that are eye-catching precisely because of their bold simplicity. They fall into the "decoration" category because you can arrange them on a tray for a party centerpiece! And of course, there's nothing like decorating a treat bag (or 20) to add an extra dose of festivity to your holiday. Sometimes less is more. That's why we adore these DIY Halloween Treat Bag Mini Clips from Lovely Indeed! The mini clothespins are jazzed up with the quick stroke of a paint pen. And they look dashing when fastened to glassine baggies like the ones below. Fill with candy corn and you're set!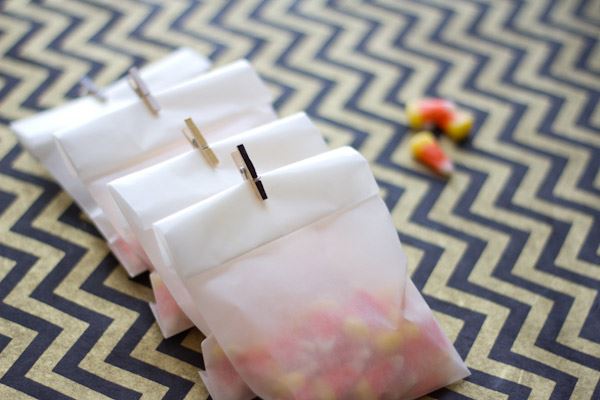 Cotton bags, acrylic paint and the help of a stencil is all you need to create your own DIY Candy Corn and Skull Painted Bags. Isn't the combination of orange, yellow and black fabulous?! Check out all the details at Craft-O-Maniac…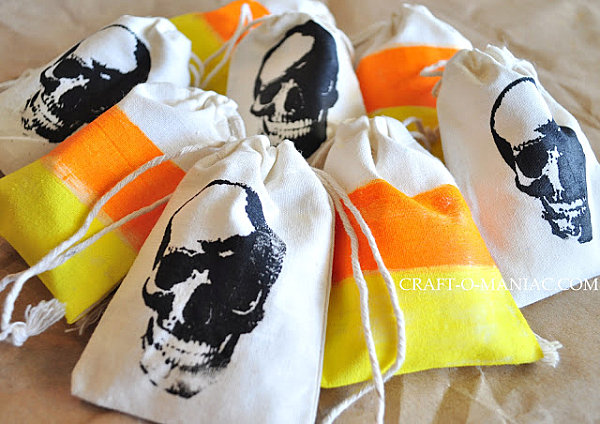 Who doesn't love felt?! It cuts without fraying, and it comes in an array of amazing colors. These No-Sew Felt Favor Bags are easy to create using supplies such as felt, hemming tape and string. Use them for Halloween, or any party for that matter! Details can be found at A Subtle Revelry…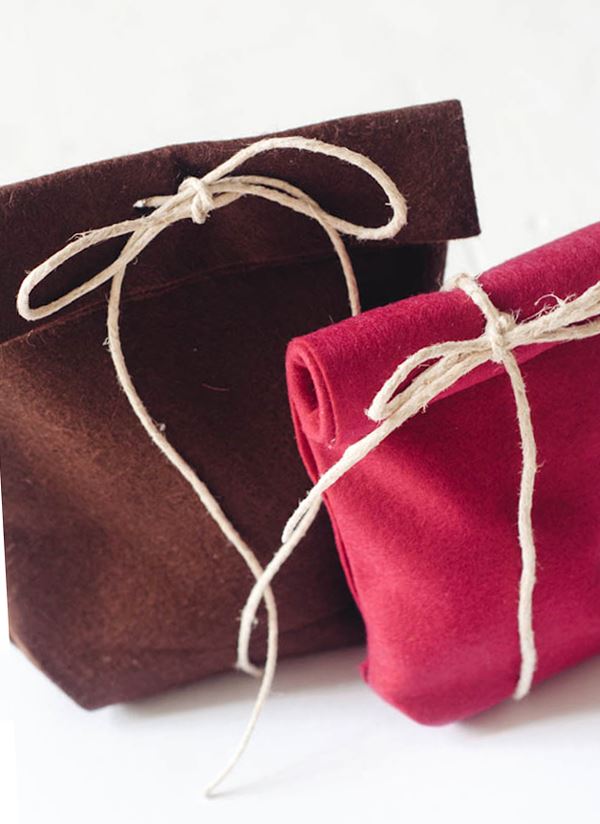 For our final featured DIY project, we shine the spotlight on these Easy DIY Halloween Treat Bags for Kids from Celebrations. Stencils, acrylic paint and baker's twine are all you need. Yes, it's that easy, folks!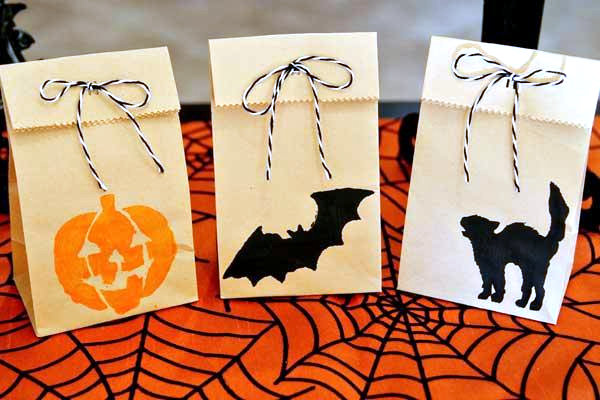 Tell us about your favorite DIY ideas from today's post! Are you planning to try any of them for your Halloween decorating fun? I'm planning a no-carve pumpkin project using a gold paint pen. What about you? Share your thoughts by leaving a comment below…
Liked the story? Share it with friends.