It's fall, folks! Does the weather make you want to curl up by the fire with your favorite design magazine? We feel the same way! Which is why today's post is dedicated to modern spaces filled with cozy touches. Even the most contemporary of rooms can benefit from a warm accent in the form of a new throw pillow or a wool blanket in the season's best colors…
Check out the amazing spaces below, and don't forget to share your cozy ideas at the end of the post. Even if you don't have a fireplace, you can add a hint of warmth to your space with a candle. And if you're a fan of minimalist design, you can choose your cozy accents carefully. After all, there's a difference between coziness and clutter. Some of today's finds and pics may surprise you. Maybe your home needs a dash of the unexpected this fall! At any rate, you'll want to add a splash of cozy to your space so coming home on the coldest of evenings is nothing but welcoming.
Modern Rooms Featuring Cozy Rugs and Textiles
We start with the obvious–cozy pillows, throws and rugs. Being surrounded by soft, comfy items definitely sets a warm, inviting tone! We were instantly drawn to the orange pillows in the cozy space below. These Round Velvet Pintuck Pillows in Orange from Urban Outfitters truly make a soft yet bold statement in this room by Jessica Helgerson Interior Design. [photo by Lincoln Barbour]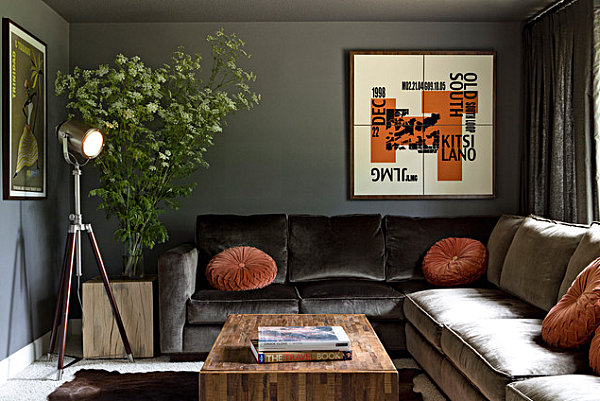 Triple the cozy effect by going with comfy pillows, a soft throw, and an eye-catching rug in the bedroom, as shown in the space below by David Scott Interiors…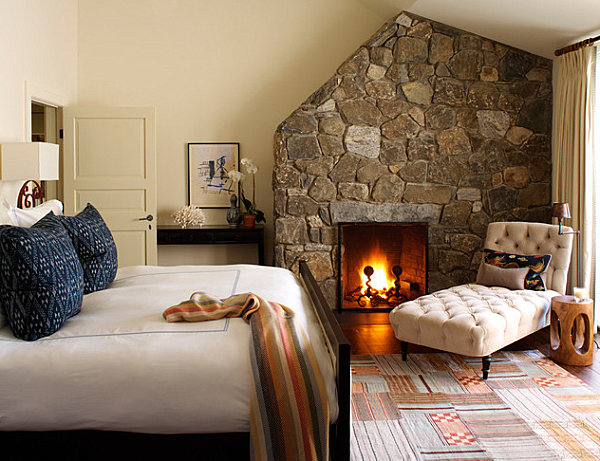 The softer and more plush the item, the more you'll want to wrap it around you on those cold evenings. Like the inviting throw below… On a side note, doesn't that rug make you want to take your shoes off and feel the soft texture under your toes? [from Urrutia Design]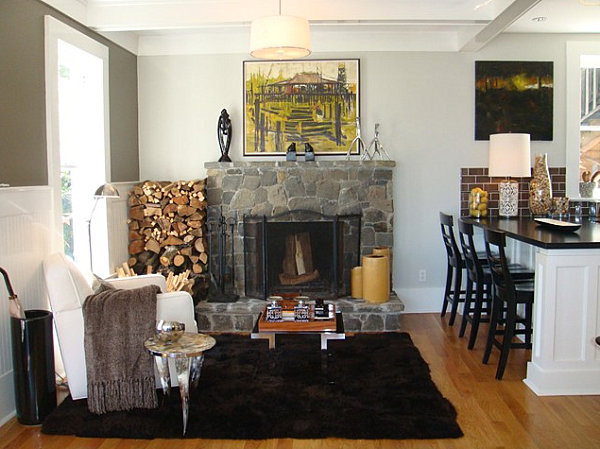 If you're not into chenille or velvet, you can still create a cozy vibe with eye-catching textiles. The striped wool blanket in the next featured space is bold, bright, and stylish. Not to mention, the tribal pattern on the room's rug creates a warm, vibrant look. [from Lonny]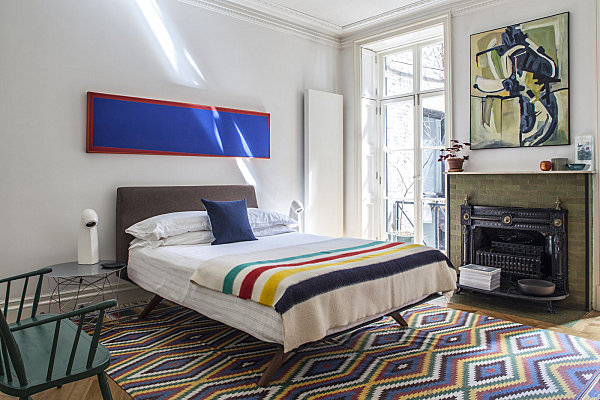 While the living room below is more rustic than modern, we love the way throws are draped over the chair and sofa. What a great way to change the look of your furniture for the new season while adding warmth! [from Bosworth Hoedemaker]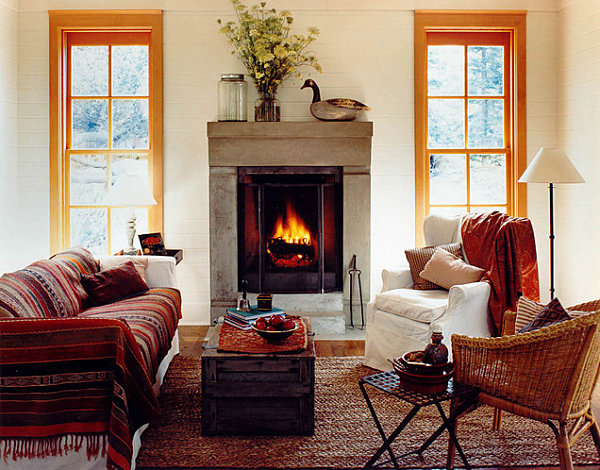 Shopping for a new fall blanket? This Zig Zag Throw from CB2 is made from sweater-weight knit in 100% cotton. Plus, the item reverses to green design on a white background for a totally different look. A modern yet earthy design is a true highlight of this piece.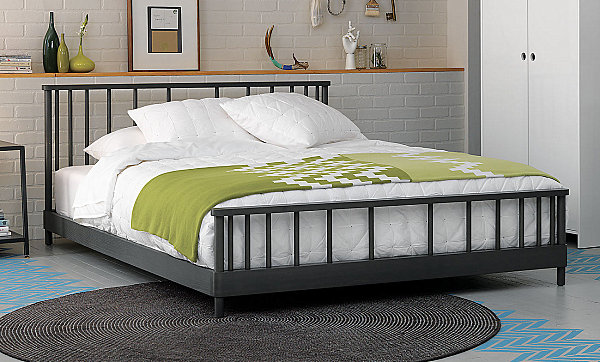 Sometimes it's all about incorporating textured textiles. We want to reach out and touch the items below, including the pictured Que White 20″ Pillow with Feather-Down Insert from CB2. These items may be a crisp shade of white, but their surfaces exude warmth!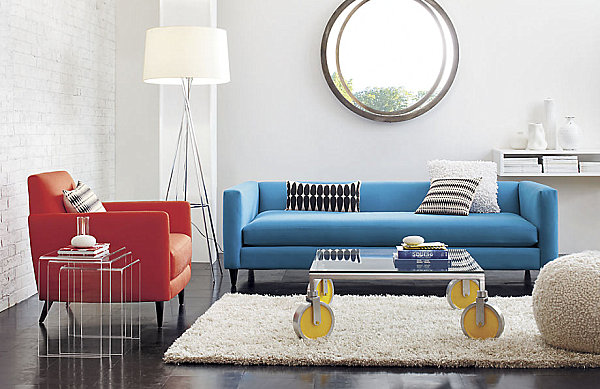 We want to curl up on the couch of the next featured space, especially if we can rest a head on those furry pillows! We'd also love to rest our feet on the Cozy Textured Wool Rug, available at West Elm. Not only is it cozy, it's chic…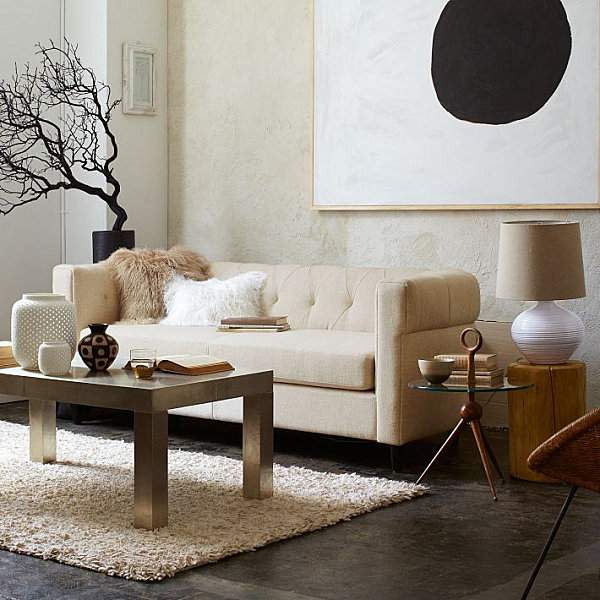 If you're lucky enough to have a built-in daybed in your space, make sure it holds plenty of pillows. Note how cushions in shades of purple and green truly warm up this contemporary room… [from Webber + Studio, Architects]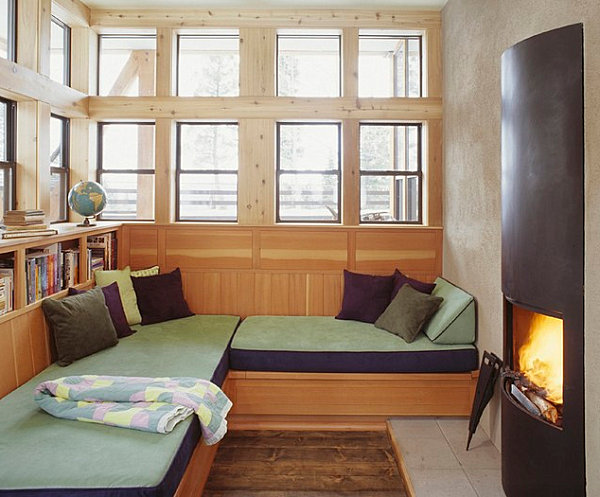 Modern Rooms Featuring Cozy Furnishings
We now turn our attention to cozy furnishings that make any space inviting. There's just something about tufting that adds a soft touch. This white tufted headboard reaches for the ceiling, which means a hefty chunk of wall space is given an upholstered look. Definitely cozy! [from Lonny]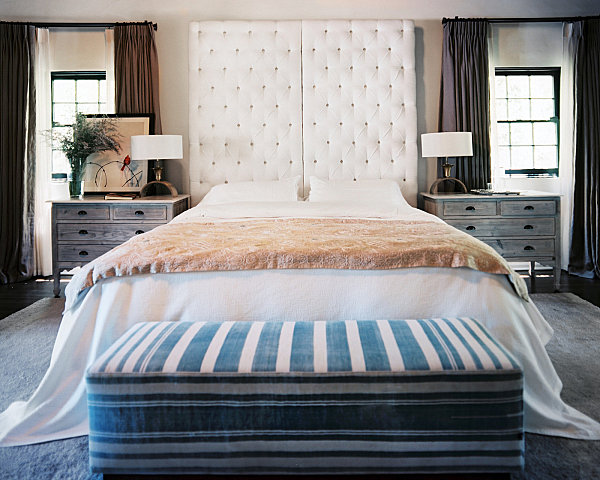 Cozy up the center of your space with an ottoman that doubles as a coffee table. And a foot rest. And extra seating when company arrives. The striped ottoman below looks big enough for napping, especially if you curl up with a blanket on a chilly day. [from Houzz]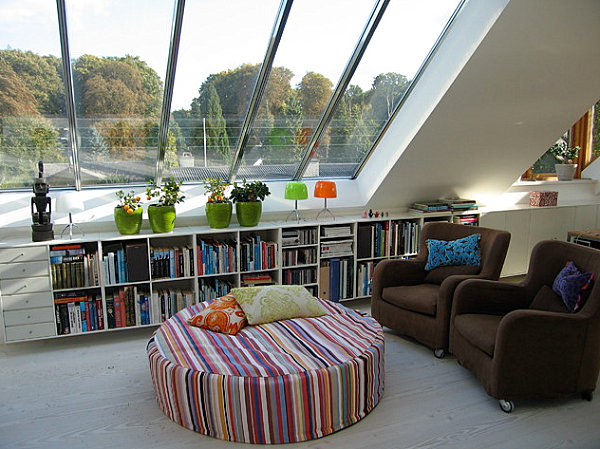 Remember all that talk about the cozy look of tufting? Bring the tufting to your ottoman with this Essex Upholstered Ottoman from West Elm. The piece is available in a variety of finishes, but we're drawn to the performance velvet in Ink Blue…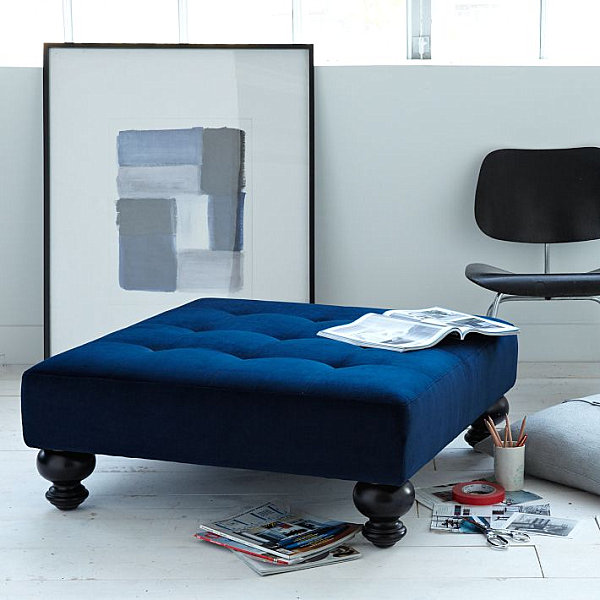 Even if the ottoman is small, it can still make a soft statement. Check out the cozy room below, complete with sectional seating, warm gray walls, and floor-to-ceiling draperies… [from Kenneth Brown Design]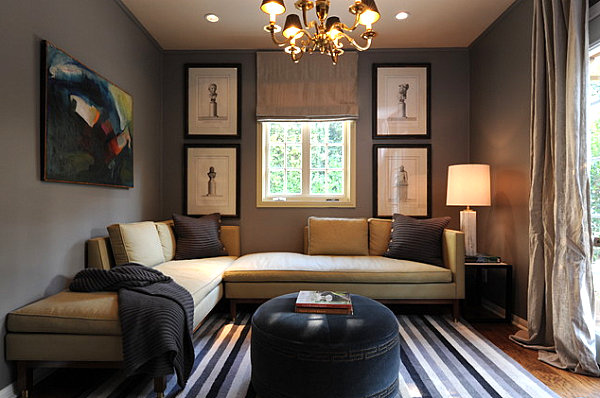 Modern Rooms Filled with Cozy Accents
Sometimes a cozy looks results from a few simple touches, both traditional and unexpected. Let's start with the universal appeal of soft lighting. Who can resist the warm glow of a bulb on the chilliest of evenings? Even if the fireplace below were not in use, this space would be filled with golden light, thanks to table lamps and track lighting… [from Hugh Jefferson Randolph Architects]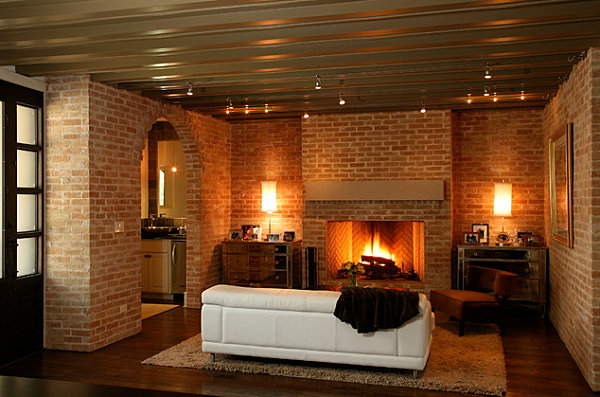 Copper, rust and shades of brown create a cozy effect in the attic retreat below. Note the calla lilies, couch throw and draperies. And who can resist that fireplace?… [from Alexandra Mia Design, LLC]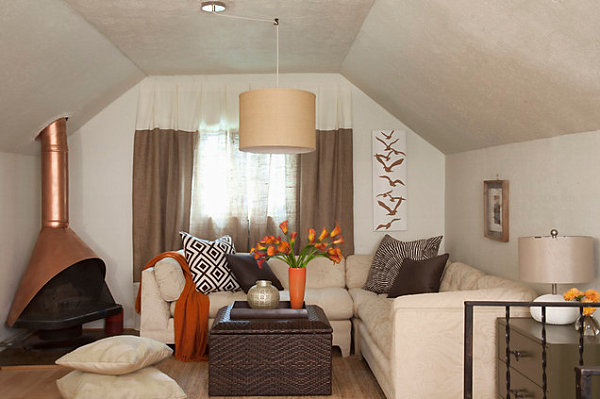 A textured sculpture. Gold-toned coffee tables. Artwork in shades of mustard and rust. A persimmon armchair. The space below may have an icy, sleek look, but the warm accents that fill the room create a cozy effect! [from David Scott Interiors]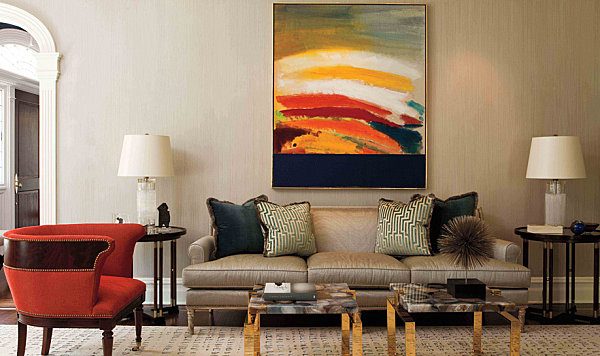 We can't forget about spaces that are cozy by design. Such as studio apartments that blend living and sleeping areas! There's something inherently cozy about them, but covering the walls with artwork creates an additional warm element. In fact, a gallery effect is achieved, and something interesting fills every square inch. An eclectic, retreat-like feel is the result. [from Lonny]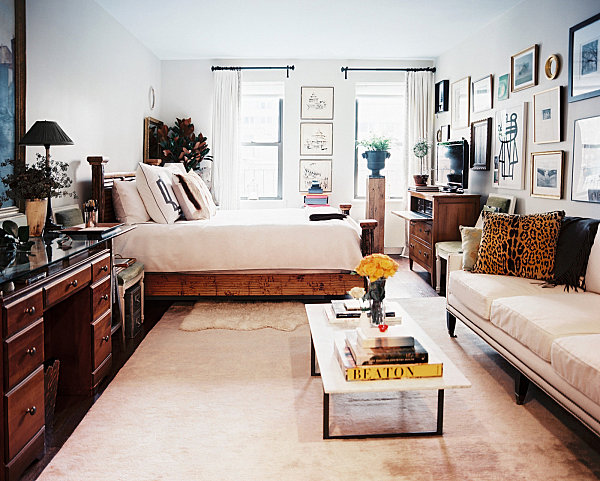 We end with a Moroccan-style bedroom that is cozy with the help of an unexpected touch… wallpaper on the ceiling! There's something bold and festive about the patterning overhead. It actually anchors the space from above. [from Lonny]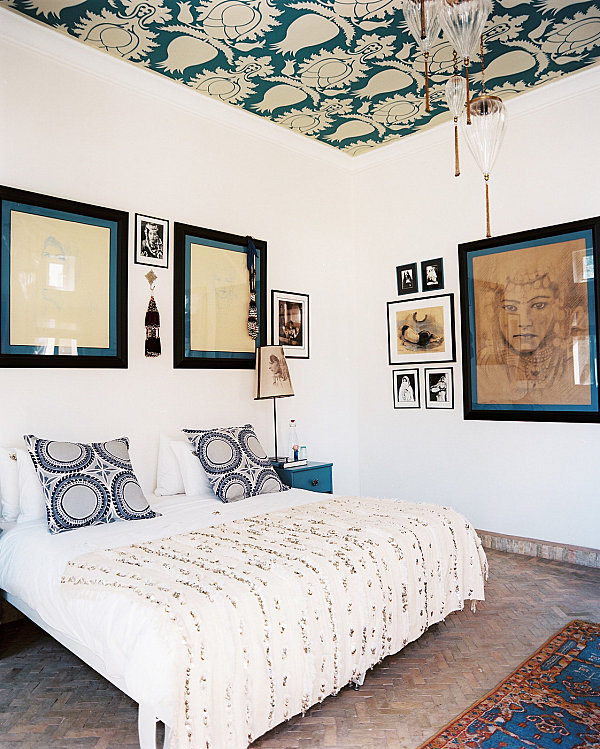 Now tell us about your favorite cozy accents. Do you enjoy candles? The warm glow of a bedside table lamp? The soft feel of a textured rug? How do you get your home ready for fall and winter? Share your thoughts by leaving a comment below…
Liked the story? Share it with friends.