If you caught our our previous post on DIY desks, you know that we love a little self-empowerment in the home office! And there's no better way to take charge of your work space than by crafting your own desk. But where do you start? Good thing there there a oodles of DIY desk projects to offer a little guidance… Today we highlight 10 more of our favorites!
In fact, there's a project idea for every energy level. Do you want to build the desk from scratch? Check out the first section of today's post! Are you willing to update your work surface but would prefer not to have to use a hammer and nails? No problem! Grab a roll of washi tape or a can of paint and put your stamp on a desk that already stands sturdy and strong. Keep reading for more DIY inspiration…
Build Your DIY Desk
Our first batch of DIY desks are not for the faint of heart. In fact, while these projects are a bit involved, they are very well worth the time and effort! We begin with a DIY Framing Wood Corner Desk, crafted from framing wood (its namesake), mending plates, screws, hairpin legs, and a few other tools and necessities. Check out the full tutorial at A Beautiful Mess. In fact, fans of A Beautiful Mess should know that the desk was built by Trey, the hubby of blogger Emma.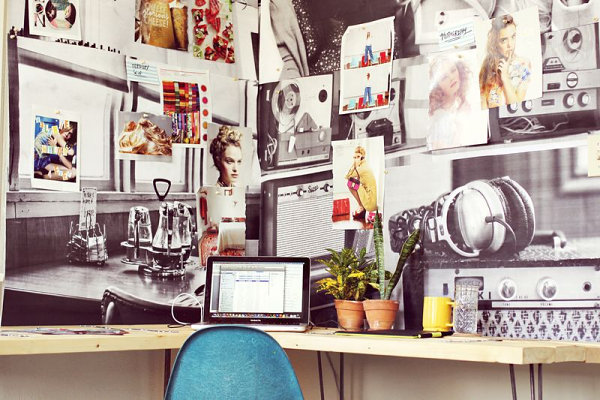 This DIY Mint Chocolate Chip Desk from Infinity Ampersand uses bookshelves as legs! Talk about a great storage option! Even more helpful than the tutorial is the blogger's honesty about little roadblocks she hit along the way. And anyone who has ever done a DIY project can certainly relate to that!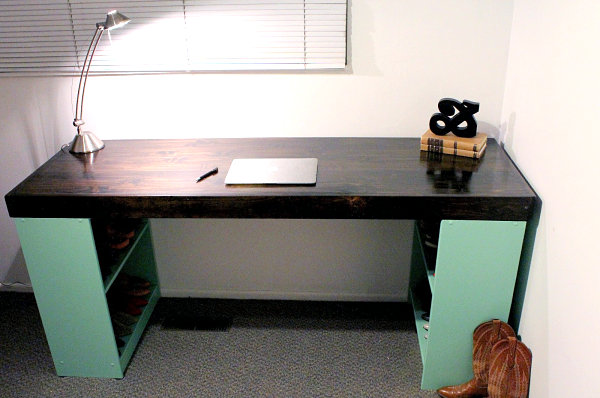 Sometimes we can all use a little help… Which is why IKEA desks are a great place to start! Search online for "IKEA hacks," and you'll find a slew of DIY projects that use IKEA furnishings (or at least IKEA parts) as the basis for the project. In this DIY tutorial from Little Green Notebook, we see how two IKEA table tops and three metal legs create the perfect two-seater desk. Especially when the legs are finished in gold-toned paint for a chic brassy effect: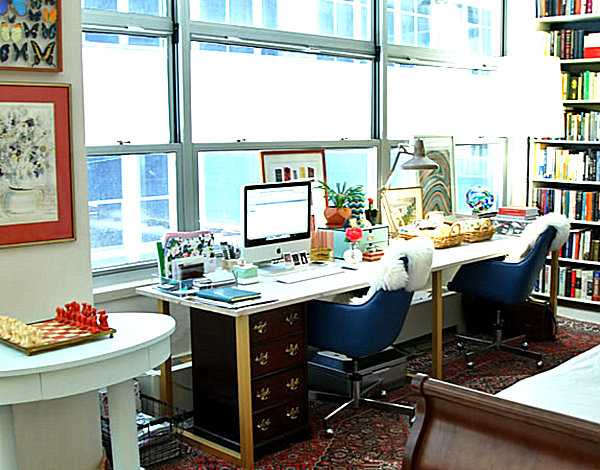 DIY Desk Easy Updates
Do you have an afternoon to spare rather than a whole weekend? Our next batch of DIY desks involve easy updates to pre-built pieces. In fact, many DIY enthusiasts who love crafting things from scratch prefer to add finishing touches via paint when it comes to furnishings. That's why this New Trestle Desk with Dipped Pink Legs is so appealing. If fact, the project uses an IKEA desk as the starting point, then adds a little magic with white spray paint (for the legs), as well as hot pink spray paint for a dip-dyed look. Turquoise washi tape along the edge of the desk completes the look. Check out the full tutorial at Florence Finds…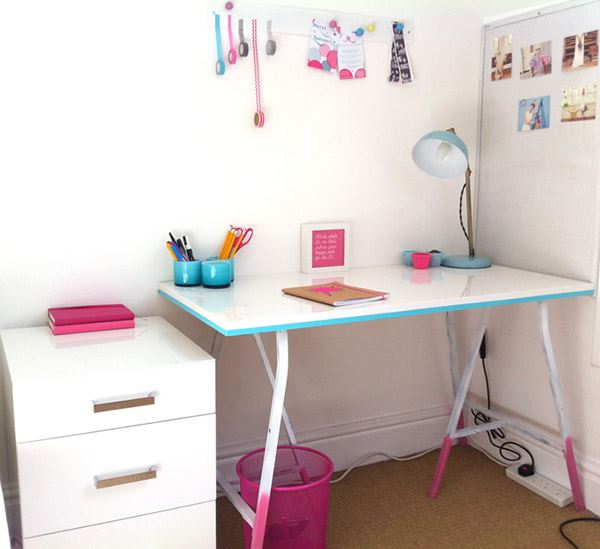 Speaking of tape, this DIY Computer Desk Renovation from Shelterness takes a little patience, but the colorful striped results are well worth it, don't you think?…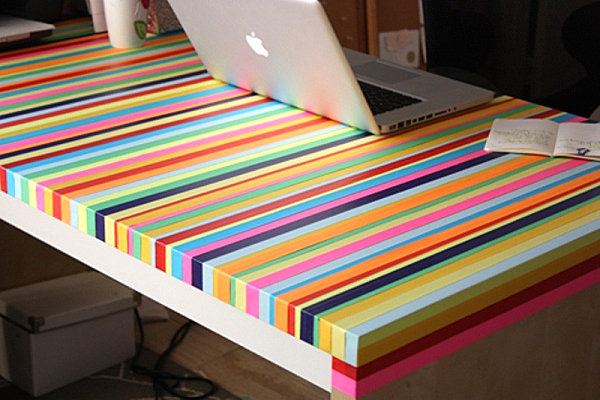 This next desk project isn't as intense as you might imagine… That's because you can use a vintage piece as a starting point. The surface of this desk is where the DIY magic comes in. With the Faux Butcher Block Desk, an intricately striped top is created with the help of painter's tape and a variety of stains. Check out the full tutorial at Vintage Revivals…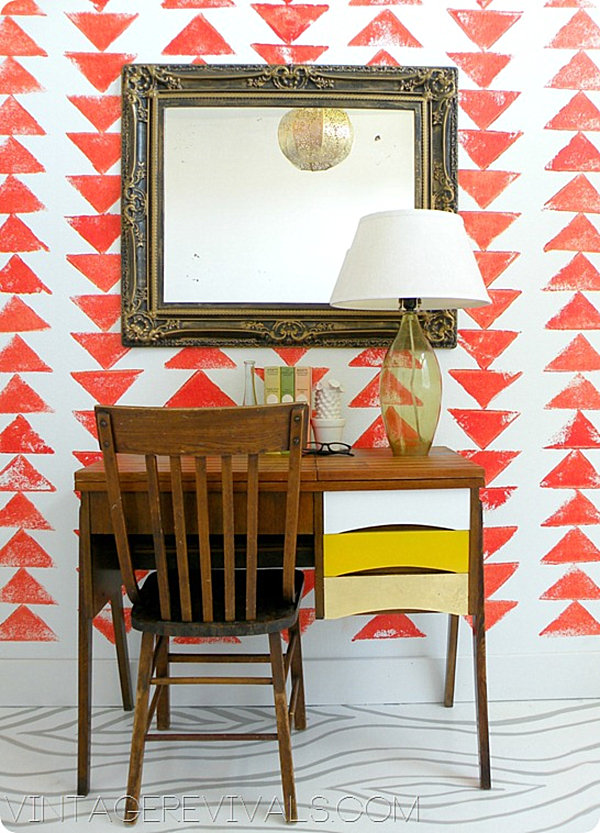 DIY Specialty Desks
We end with a collection of desks that are a bit out of the ordinary. We'll call it the "not your typical desk DIY" category! For example, if your desk is a multipurpose space used for tasks such as arts and crafts, this one's for you… It's the DIY Adjustable Drafting Table from Curbly, featuring the IKEA VIKA BLECKET top. To see the full DIY, head on over to Curbly…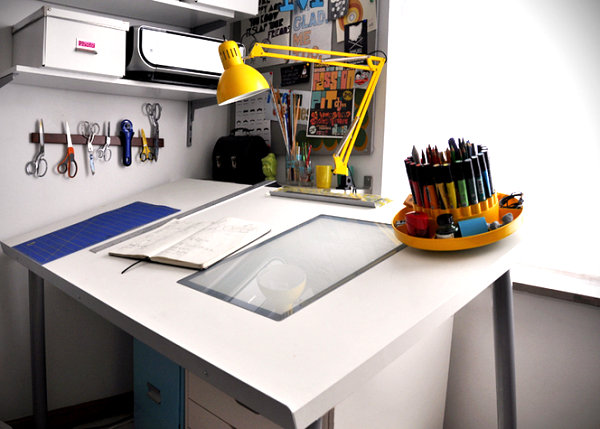 On a similar note, this DIY Craft Table features two cube shelves as legs, plus a plain table top as a work surface. In fact, the parts used in this project come from IKEA (including the radiant storage baskets that cleverly conceal supplies). For a full list of project parts and other details, head on over to Make It & Love It. [via Brit + Co.]
Craft table DIY
Standing desks are growing in popularity, so it makes sense that more and more people would be looking for ways to create their own! Bobvila has compiled a list of DIY standing desk projects so you choose from the best of them. We're partial to the one below, especially since it seamlessly combines function and style…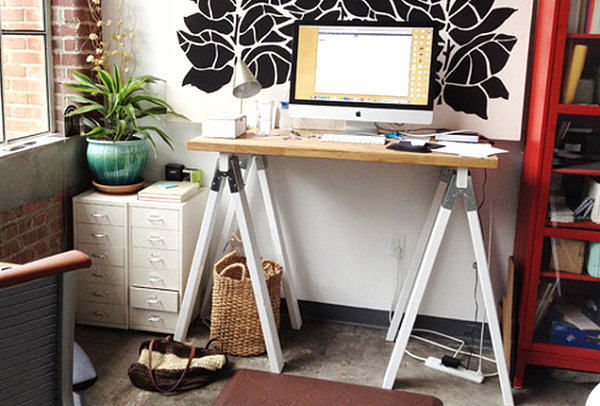 Our final featured standing desk does not come with its own tutorial, but we think this image says a thousand words. The message: find ways to get creative! In this case, a metal letter serves as an eye-catching support. Talk about a desk that's a true conversation piece! [from Frenchy Fancy via Brit & Co.]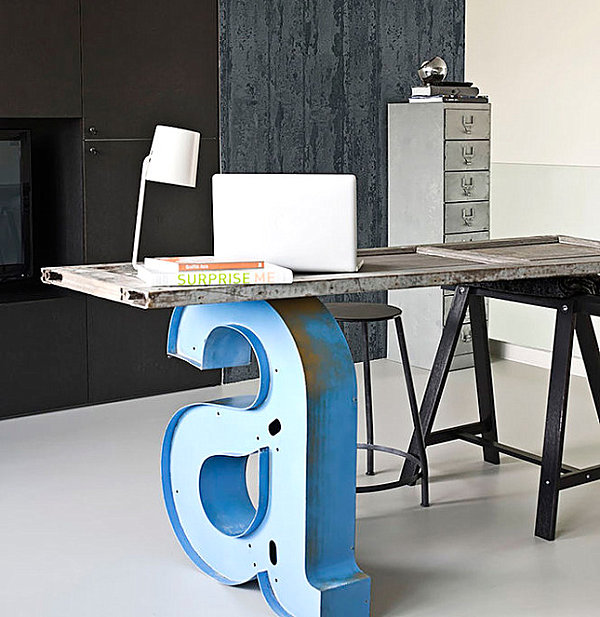 Why do we love the desks above? Because they cleverly combine practicality with good design. The result: functional pieces with true modern style! Do you have a favorite from today's post? Share your thoughts by leaving a comment below…