Lately I've been a bit obsessed with kitchen storage. Let's face it…most of us don't have a ton of space in the kitchen. This is not a place where we can unpack a slew of decorative items to create an intricate look. In many cases, the storage we select becomes the decor! That's right–the containers and shelving are the products that ultimately make the biggest design statement in our culinary spaces. So we'd better make them stylish! [image by Ira Lippke via Houzz]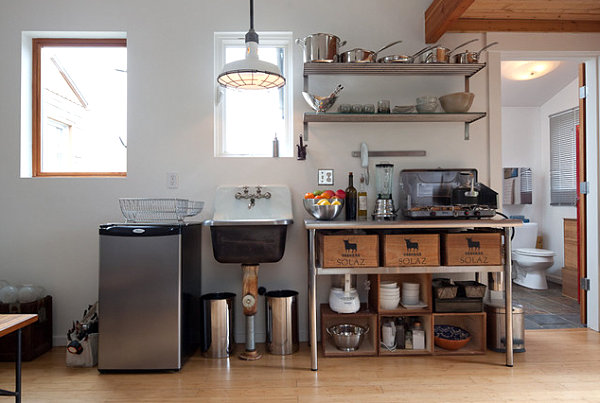 There's just something special about the clean-lined look of a well-organized kitchen. Metal grids, colorful canisters and industrial pieces combine to form a utilitarian space that is undeniably modern and sleek. This is the look we celebrate in today's post. From fruit baskets to large-scale shelving, we've got a plethora of ideas for you, complete with helpful links to purchasing information. In fact, I think I've found my next kitchen purchase below. Stay tuned for my faves, then tell us about your top picks by leaving a comment at the end of the post…
Food and Drink Storage Options
We begin with storage options for the beloved items we eat and drink. And we start by featuring the very product I'm just seconds away from ordering… It's the Two-Tier Fruit Basket from Crate & Barrel! When I moved into my new place, I was desperate to find a hanging basket that could hold produce. But alas, I moved in and discovered that there was no place to actually hang anything of the sort. That's why I love this item. It has the look of a vintage wire basket, but it conveniently rests on the counter! Plus, there's a place for fruit and another spot for those special items such as onions and garlic. Yummy!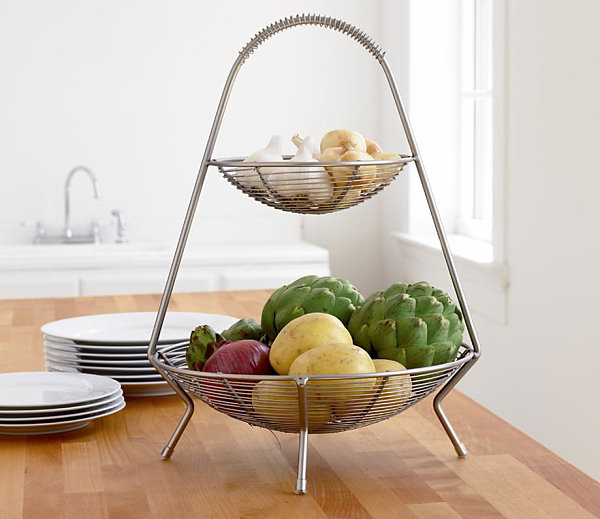 My next kitchen purchase will likely be a series of food canisters. I have this theory that if the food is neatly contained, I'll be more likely to cook on a regular basis. Do you buy it?! These Heritage Hill Glass Jars with Lids from Crate & Barrel feature a classic design that has been in production since the 1940s. Plus, it's handy that you can see exactly what they hold. Who needs to play guessing games during meal preparation?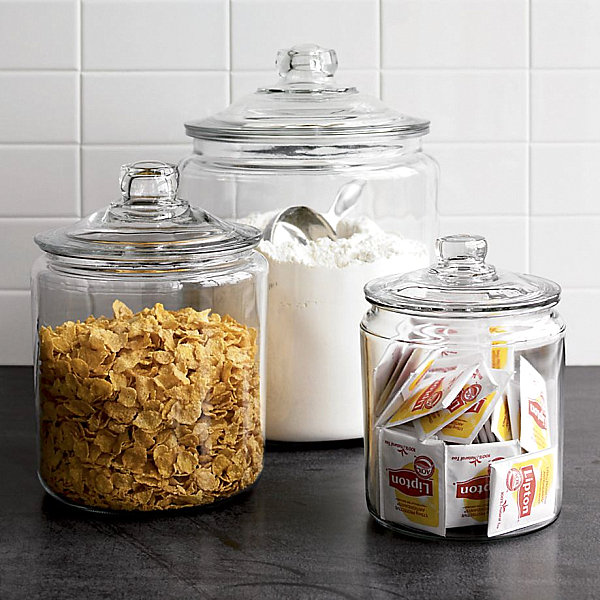 But I'm also drawn to these Glass Canisters from Williams-Sonoma, complete with airtight stainless steel lids. With a shopkeeper jar look, they are perfect for a bistro-style space. Plus, wide mouths make easy scooping a reality…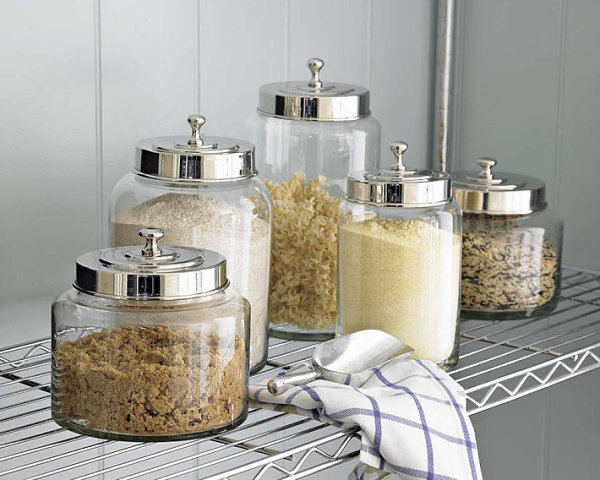 Oh, what I wouldn't give for a big dose of color in my beige kitchen! I'm still deciding on the hue of choice, but I think a fiery red-orange is a big contender. These radiant Rectangular Biscuit Tins from West Elm are perfect for cookies, sliced bread and more. Airtight lids ensure fresh storage, while a lacquer finish makes these pieces true standouts.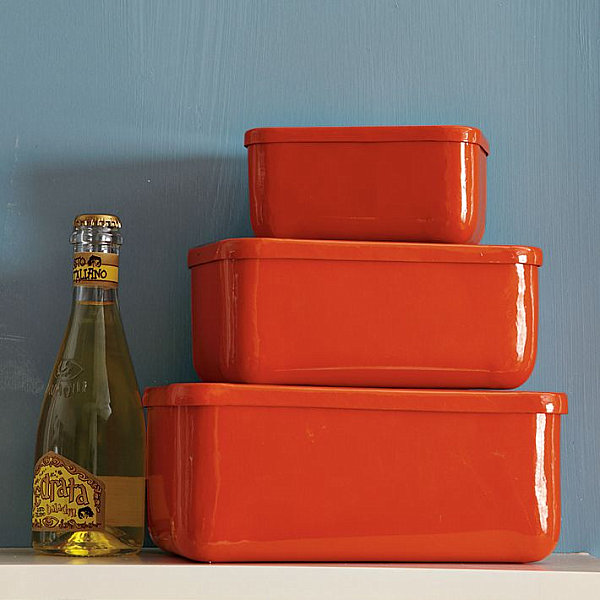 Don't forget that the organization can extend to the fridge. Especially if your refrigerator is an older model that lacks some of the intricate storage options of today's newer products, you'll enjoy the Fridge Bins and Organizer and Tray from Crate & Barrel. These ribbed and footed pieces bring modular style to the refrigerator: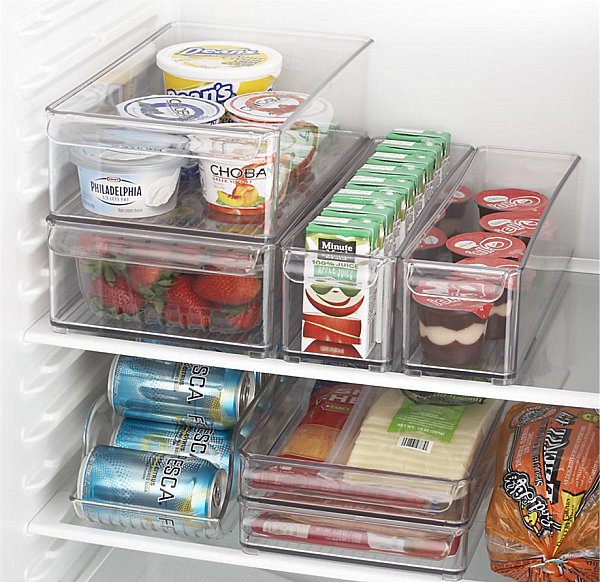 Liquids also need their own space in the kitchen. Try purchasing some stylish bottles for much-used items such as olive oil and vinegar. These Glass Bottles with Wood Stoppers from West Elm feature wonderfully designed containers and chic wooden spheres. A great option if your favorite cooking items are in less-than-stylish containers. Plus, these works of art can proudly be displayed on your counter: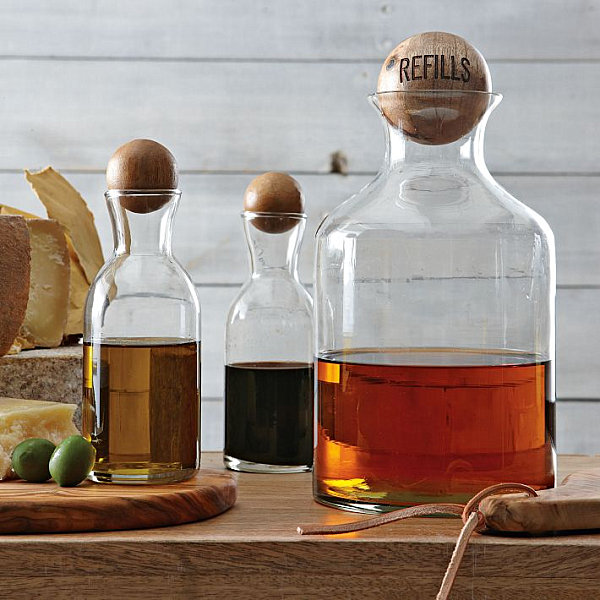 And then there's the wine… A good wine rack is hard to find, isn't it? In fact, often we have difficulty locating a piece that will fit in the required space. That's why this Stacked Wine Storage from CB2 is a great option. A Cubist structure with an industrial look makes a stylish statement in iron with an antiqued zinc finish. Plus, there's a practical element at work here too. Each piece can interlock with other racks…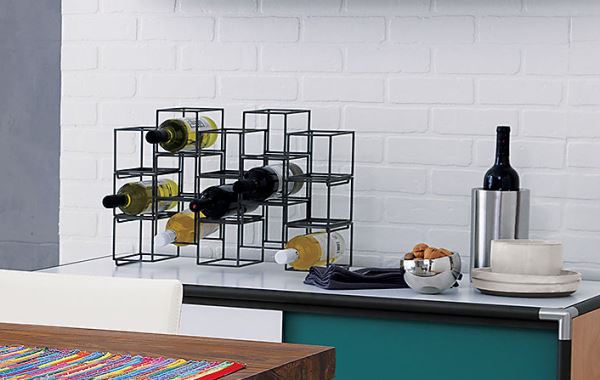 Shelving and Kitchen Equipment Storage
We now move on to larger storage items that hold kitchen equipment. For example, this Enclume Traditional Oval Pot Rack from Williams-Sonoma, is available in hammered steel, stainless steel and copper finishes, making it possible for you to find just the right look for your culinary space. A heavy-duty metal grid and frame give this item a solid, sturdy construction: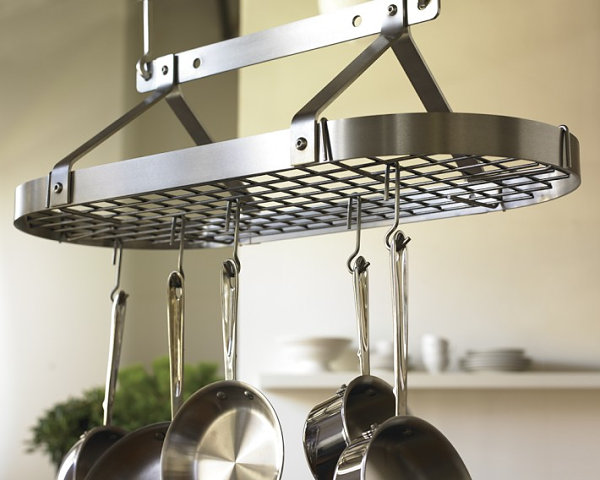 Why not add a little lighting to the mix?! This Sawyer Pot Rack with Pendant Lighting from Pottery Barn features a polished nickel finish. And we can't forget about those ribbed glass pendants that make this piece doubly practical and effective! Another great look for a bistro-style space…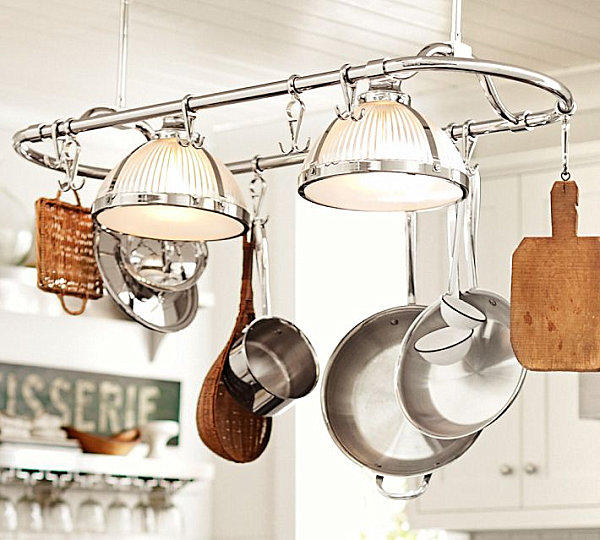 From the ceiling to the floor… Sometimes we need just a bit more storage in a pantry or corner. That's why smaller pieces like this Max Chrome 4-Drawer Cart with White Top from Crate & Barrel do the trick! If you want a non-gridded surface for the bottom of your drawers, you can purchase optional polypropylene drawer liners (sold separately). Also note that the casters on this piece lock for stability: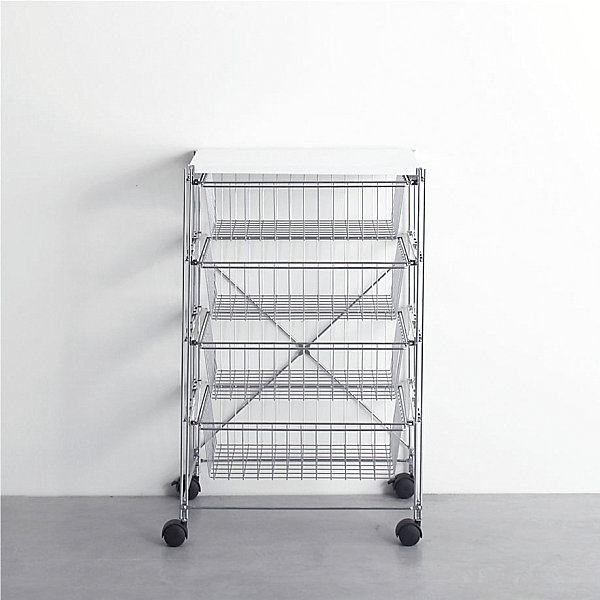 One great technique for broadening your storage options in the kitchen is the use of an island/portable counter with storage underneath. This Design Workshop Metal Top Bar + Counter from West Elm features wheels and a blackened-steel top. Prepare your food on the upper level, then store additional items below in containers such as wire baskets…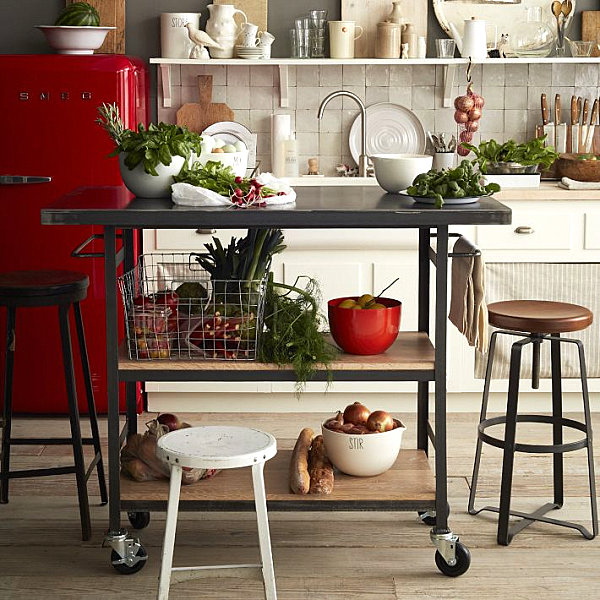 We're loving the industrial-style shelving options from Restoration Hardware. In fact, this Salvaged Wood and Steel Shelving is crafted from unfinished pine timbers, as well as industrial-quality steel. Earthy meets modern….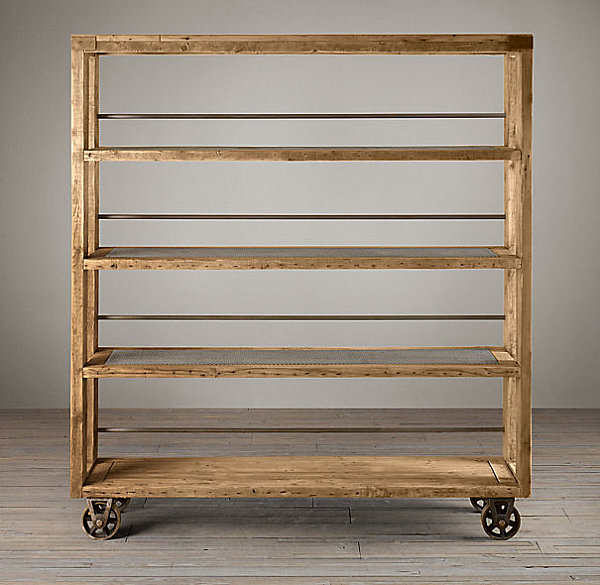 A bit of nautical style graces the Maritime Shelf System in Polished Nickel from Restoration Hardware. The product description claims this item was "inspired by the contoured pipes that hug ships' bulkheads across the seas." Attach this shelving to your kitchen wall with the help of the porthole-style wall mounts, then fill the oak shelves with the products of your choice. We think these shelves will make whatever they hold look fabulously modern…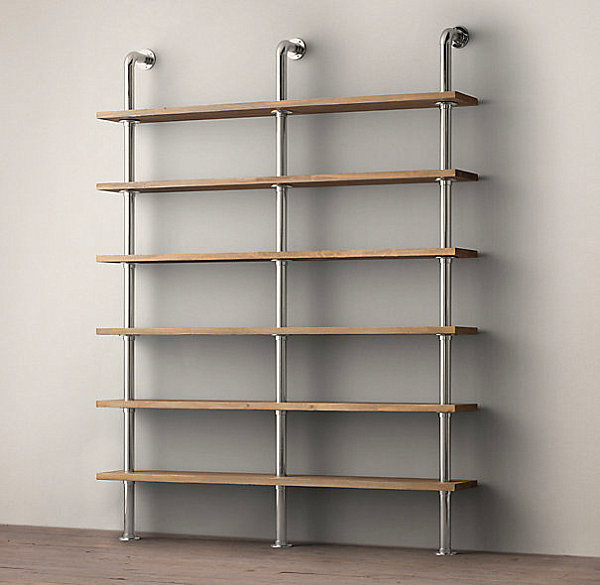 If you're going for a warmer look, you may be interested in the Studio Narrow Wall Shelf from Pottery Barn. With a design that resembles the leaning stair step of a ladder, this shelving is crafted of solid poplar covered with birch veneers. A bold statement against a white wall, don't you think?!…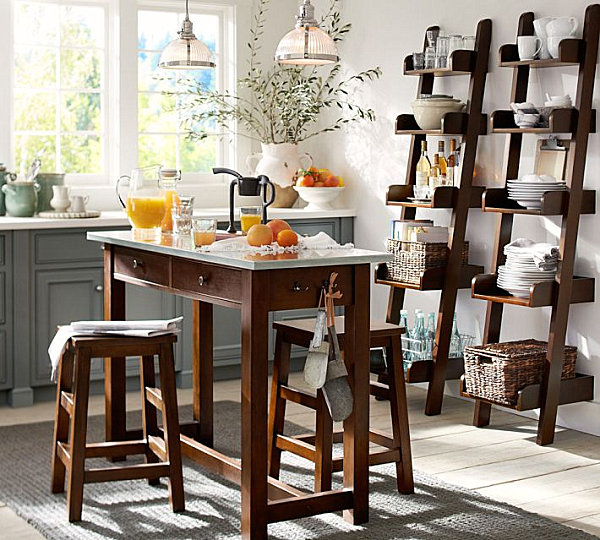 For a piece that's equally substantial but also mobile, check out the Ramsey Rolling Rack from Williams-Sonoma. It's hard not to love the vintage look of this industrial piece. Use it to store dishes or pantry goods. Its iron frame and aged wood shelving are a welcome addition to the modern kitchen:
Do you have metro shelving in your kitchen? These Lock-On Baskets & Dividers from Williams-Sonoma fit this retailer's Metro Shelving perfectly. Crafted of chrome-plated steel, each basket includes two attached tracks that can be secured to the shelves with the help of the mounting kit.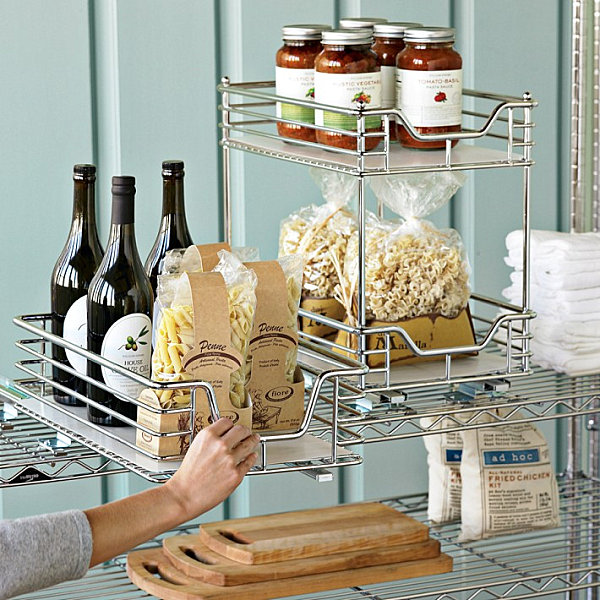 You know which items I'm on the hunt for to complete my kitchen… Now it's your turn! Tell us about your favorites by leaving a comment below! And don't forget to check out our companion piece on cool bathroom storage ideas!