If you think garden weddings are only for spring, think again! A garden wedding is perfect for any time of the year that the weather is pleasant. And given that many folks are still enjoying gorgeous summer weather (and/or soon will be enjoying gorgeous fall weather), you can bet that quite a few garden weddings are in the planning stages. If you're searching for garden wedding decor that makes an impact, today's post is for you. [from Faye & Greer via Polka Dot Bride]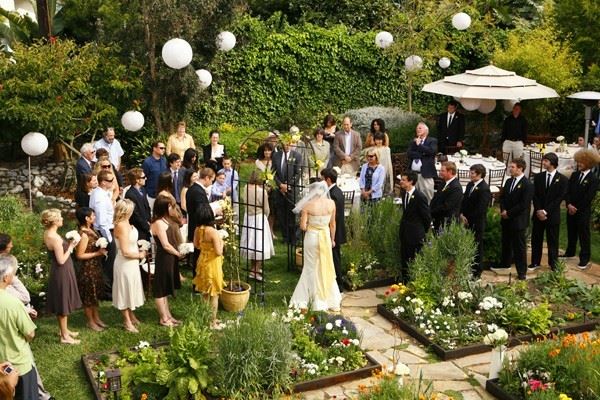 In fact, we've rounded up a collection of gorgeous images from our favorite wedding blogs, and you'd better brace yourself for some stunning photography. From elegant table settings to unforgettable decorative details, these garden wedding ideas are sure to inspire. In fact, many of these photos may spark your creativity in the entertaining arena, giving you a fresh perspective on outdoor dining for the upcoming fall season. Have a look, then tell us about your favorites at the end of the post…
Garden Wedding Table Settings
We begin with a group of stunning wedding tables that exemplify "garden wedding chic." There's nothing like a long table filled with gorgeous blooms that sparkle under the string lights overhead. This Dallas Garden Wedding feature from Ruffled illustrates the magic that can happen when a variety of decadent design elements combine! [photo by n. Barrett Photography]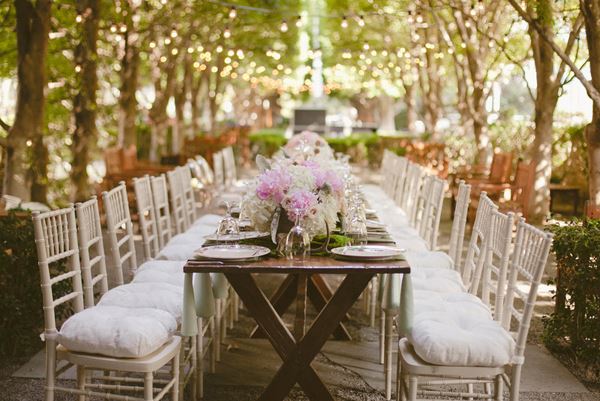 …And there's nothing like the power of crisp white tables and chairs on a lush green garden lawn! This Maravilla Gardens Wedding from Ruffled celebrates the wedding day of Matthew and Mara (the blogger behind M Loves M). A vase of blooms in the center of each table adds a lovely floral element that pops against the table's surface. It's hard to go wrong with white when you wed in the garden… [photo by Bret Cole]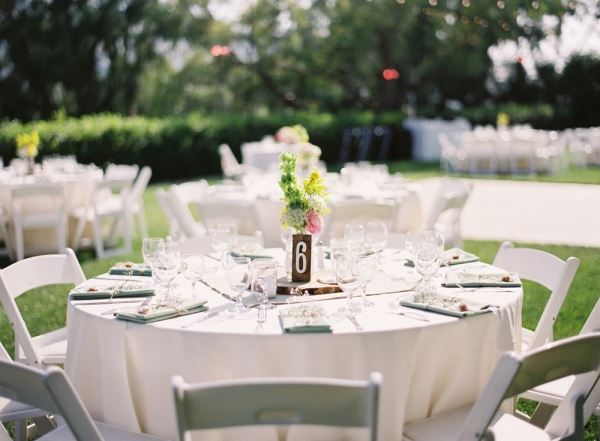 This September wedding in South Carolina features a black and ivory table scheme and a picturesque tent. When you are surrounded by the natural beauty of green vegetation, using a striking yet neutral color palette can allow the greenery to take center stage. [from Murphy Weddings]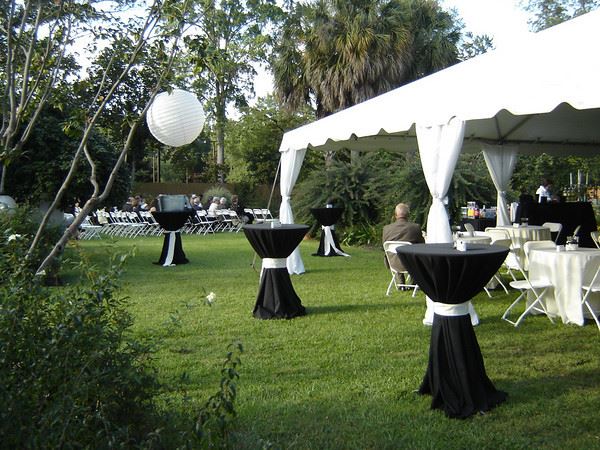 Then again, sometimes a lot of color is just what the doctor ordered! There's something quite charming about a garden setting. Which is why this Whimsical Garden Party Wedding Inspiration feature from Green Wedding Shoes cleverly zones in on the beauty of bright blooms and vivid details. In fact, these centerpieces look good enough to eat! [image by EE Photography]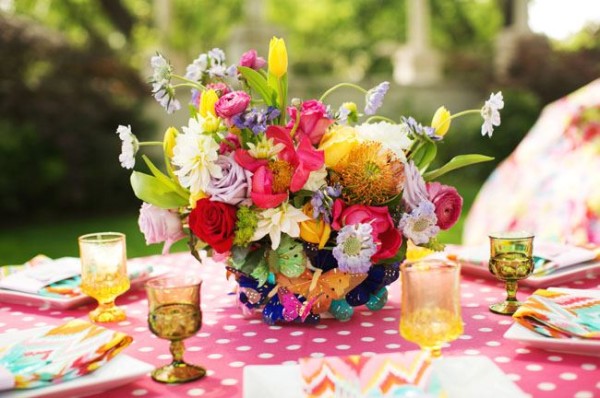 Garden Wedding Decor Details
We now shift from wedding tables to wedding decor, starting with this glorious setup featured on Glitter Guide. Paper lanterns add a magical element to this wedding decor, along with rows of white chairs and a plethora of rosy ribbons.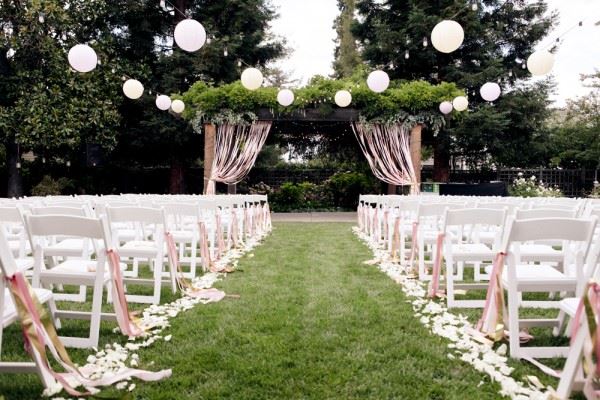 Speaking of ribbons, these silky strands are a natural fit for the serenity and natural beauty of a garden setting. They add just the right amount of festivity, don't you think? We're also loving the use of parasols to shade guests from the sun at this Napa Garden Wedding featured on Style Me Pretty… [from Gertrude & Mabel Photography] 
Remember that just because the wedding occurs in the garden doesn't mean it has to be formal! There's nothing like a wedding that reflects the traditions and personal styles of the bride and groom. This Cultural San Antonio Garden Wedding featured on Green Wedding Shoes cleverly incorporated white papel picado decorations overhead, as well as quirky floral arrangements that celebrate interesting color combinations and woodland-style vases. [photo by Our Labor of Love]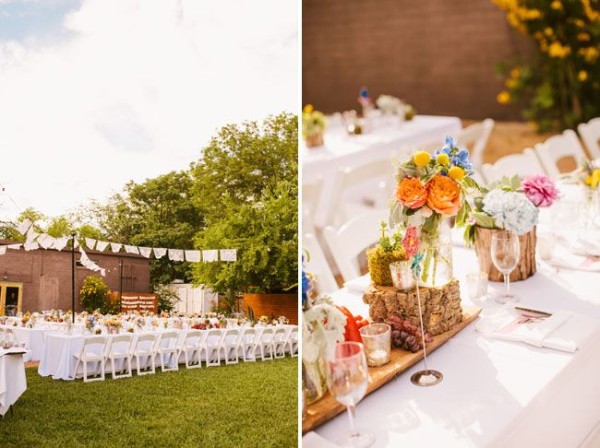 Speaking of creativity and personality, don't hesitate to add special touches that inject a dose of originality while honoring the garden setting. This Glitzy Garden Wedding from 100 Layer Cake features wedding table cards attached to vintage medicine jars that hold blooms. Not only do these unique arrangements serve as wedding favors, they are practical and decorative, bringing another layer of floral design to the wedding tables. [photo by Jessica Lorren Organic Photography]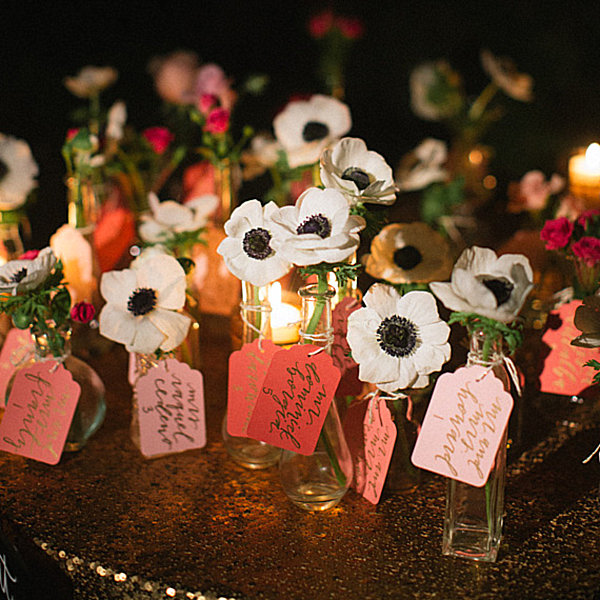 Compotes filled with overflowing blooms are the perfect charming garden wedding centerpiece, as shown below in an image from an Austin, Texas Garden Wedding featured at Grey Likes Weddings. The thoughtful detail extends to the wedding invitations themselves, which feature golden peacocks. Note: the wedding venue is known for its peacocks… [photo by Q Weddings]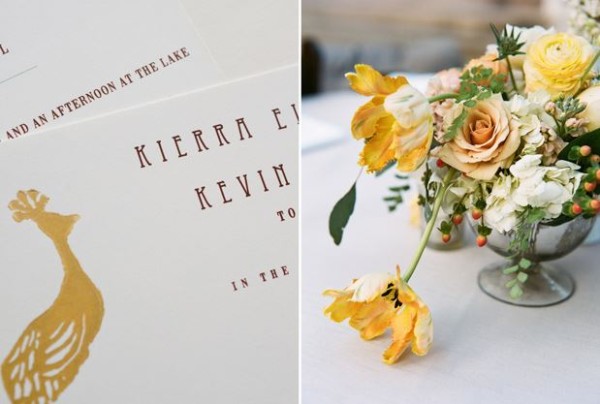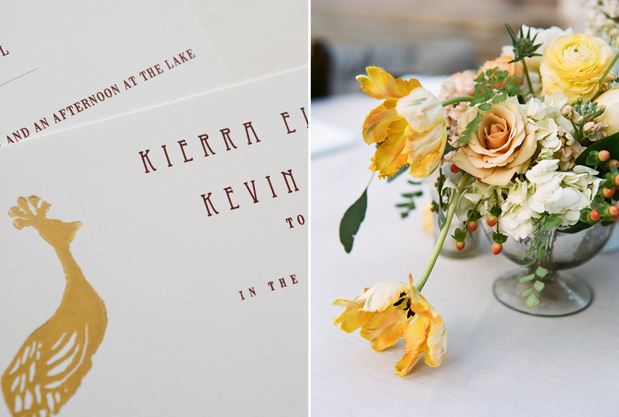 Now that you've seen the beautiful images above, tell us about your garden wedding style! Don't worry, even if a garden wedding isn't in your immediate future, maybe a garden party is… Do you prefer an English garden look? A colorful, decadent vibe? Maybe you like a modern aesthetic that celebrates unique details! Share your thoughts by leaving a comment below…
Liked the story? Share it with friends.