Time to raise our glasses–even better if they come in a set! Today we spotlight drinking glass sets with modern flair. These items make great gifts, especially if you choose pieces with interesting touches, such as unusual shapes and patterns. Not to mention, you can never have too many–even the most avid of entertainers with full cabinets of glassware enjoy embellishing their collections with new finds. From clean and classic to eye-catching and ornate, today's selections celebrate the power of well-designed drinkware. Here are our top 1o picks…
Drinking Glasses in Solid Shades
We begin with solid-hued glassware sans pattern, starting with a classic find for those who want a clean-lined look. This 8-Piece Marta Barware Set from CB2 is micro-thin, consisting of four 18 oz. coolers and four 13 oz. double old-fashioneds (the wider of the two glasses below):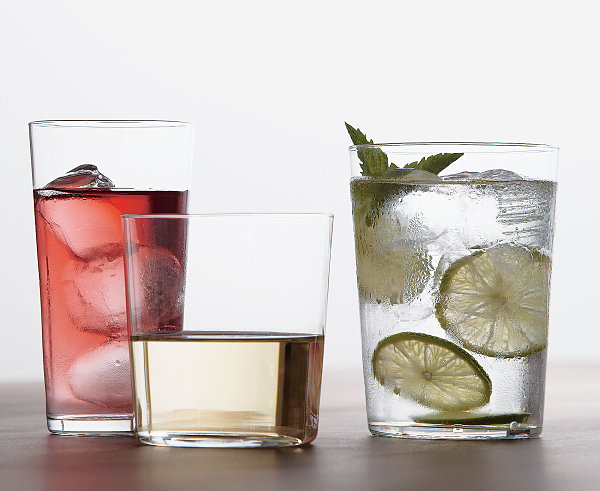 For those who already have the basics in their collections, it's time to branch out with some interesting shapes. This 5-Piece Archival Glass Set from Crate & Barrel is brilliantly based on five Mid-Century modern designs. We're loving the variety of form…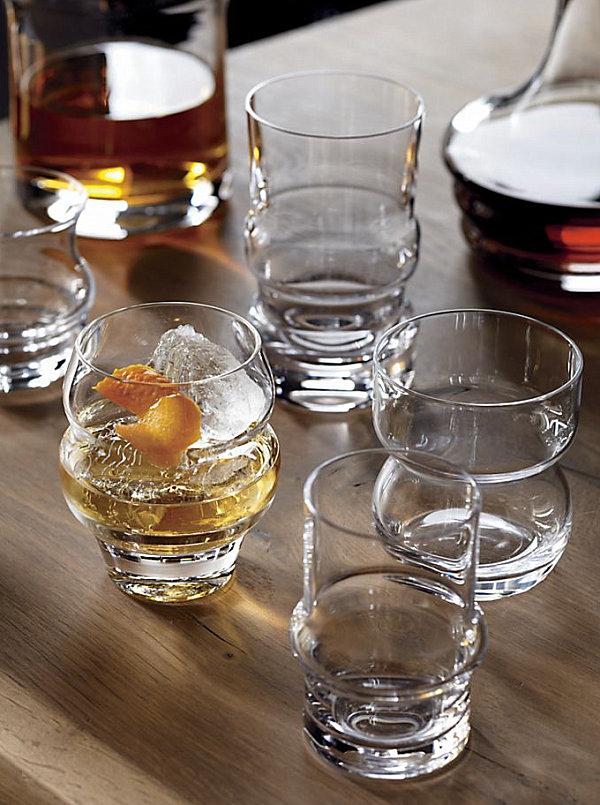 Etsy is a great source for unique glassware finds. From vintage pieces to handmade selections, you'll discover amazing pieces from the past, as well as new items that showcase true craftsmanship. Below we see a set of Glasses Made from Recycled Aranciata Mini-Juice Bottles, courtesy of Etsy shop Glass|Wares. Sold in a set of four, these glasses  have the light green tint and bumpy texture of original sparkling juice bottles. Perfect for sipping juice or white wine!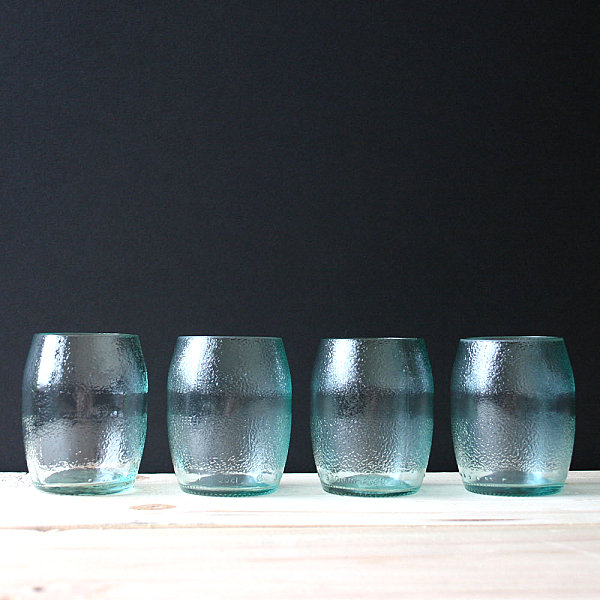 Teal is a standout color this fall, and apparently it was a standout shade in the 1970s as well! These Vintage Teal Anchor Hocking Drinking Glasses from Etsy shop Vintage Biffan bring a hint of the past to your glassware collection. And yes, these short tumblers are indeed from the '70s!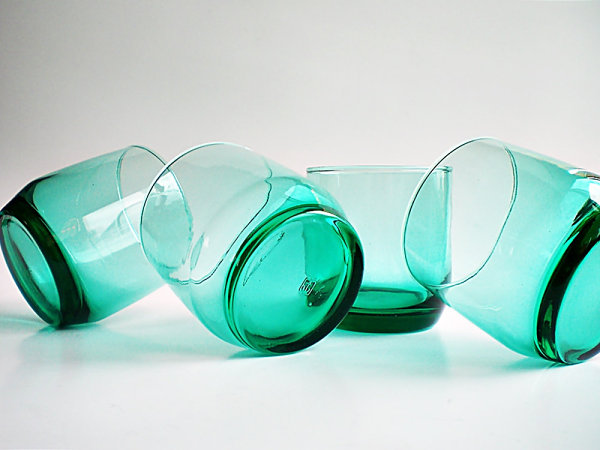 While the glasses below are brand new, they definitely have a vintage vibe! This Set of 6 Lula Cordial Glasses from Crate & Barrel showcases pieces in six different colors, packed in a wooden box for stylish gifting. They're great for cordials, shots or liqueurs, and we think displaying them is an absolute must!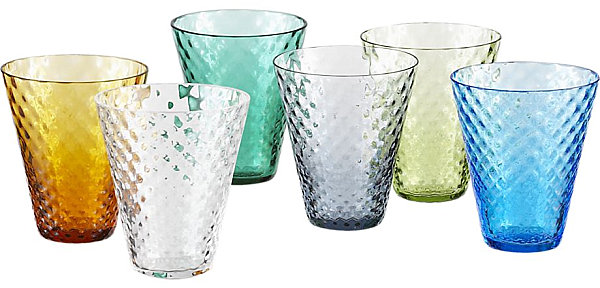 Patterned Drinking Glasses
We now turn our attention to drinking glasses featuring patterns, starting with one unforgettable set. It was the kitschy motif of the summer…flamingos! All of a sudden, the '80s were back with a vengeance, thanks to a slew of flamingo finds. Shower curtains, napkins, glasses–luckily these pink birds put their stamp on a variety of products. While the flock seems to have left stores for the time being, we couldn't help but reminisce about the best of summer decor by showcasing these pink flamingo glasses from IKEA: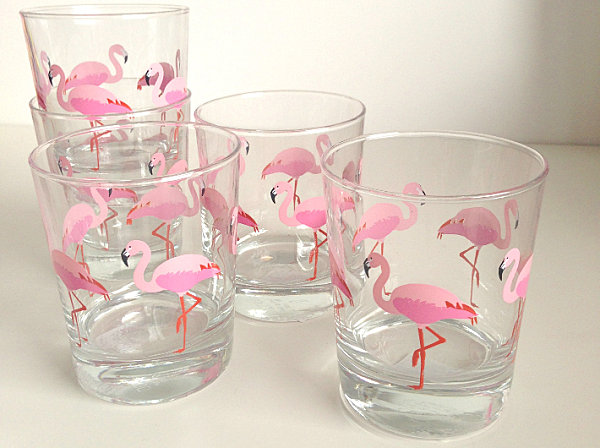 From summer to the sparkle of fall entertaining… These Mingle Bar Glasses from Crate & Barrel are sold separately, but you can make your own set by ordering multiples. With gold and platinum strands, the glasses are perfect for holiday entertaining as well!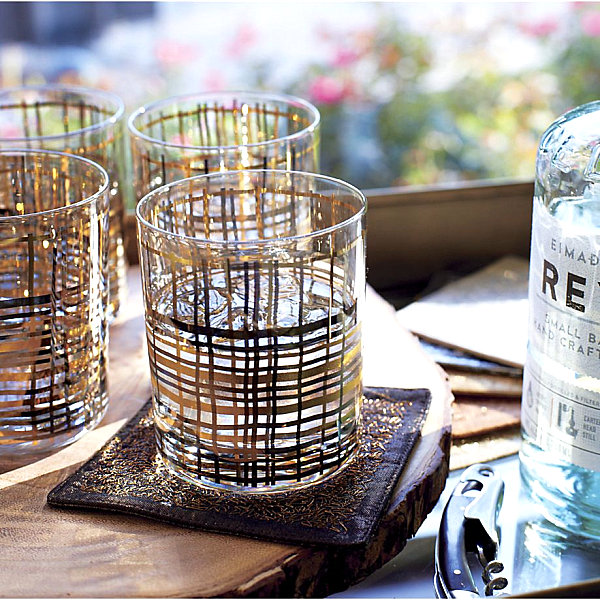 For a bit of tribal style with an artisan twist, check out these Arrow Tumblers from Etsy shop Glass|Wares. Made from cutting off the tops of four wine bottles, these tumblers will wow guests in a subtle, creative way, especially when you share exactly how they were crafted!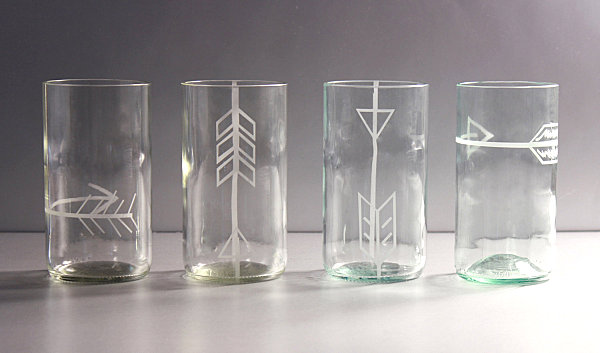 Need the perfect complement to your Moroccan-themed meal? Order a few of these… It's a Set of 3 Marrakech Tumblers from World Market, showcasing the jewel tones of teal, red and purple. An ornate pattern gives them a festive look: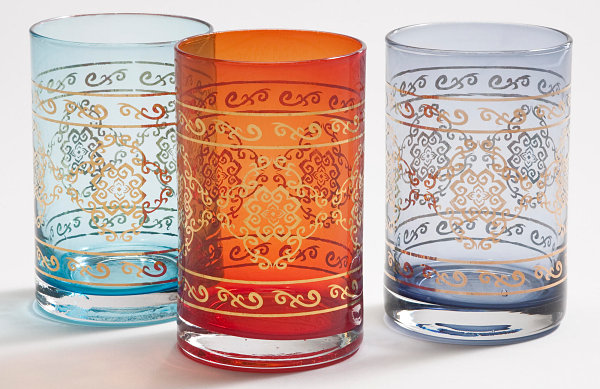 We end with a fun DIY project idea for crafting your own colorful drinking glass set. This DIY Washi Tape Drinking Glass is easy to make, and its colorful geometric look is a real showstopper! Get all the details at By Wilma…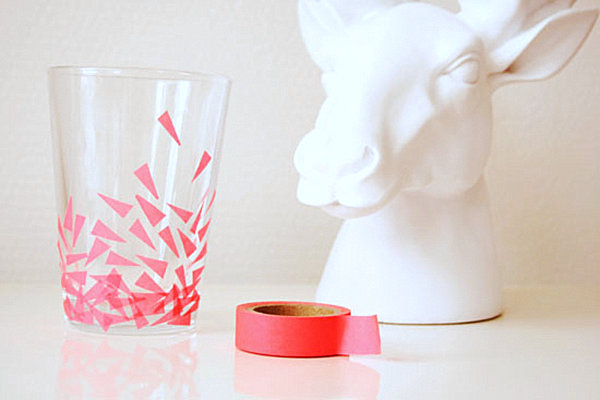 Tell us about your favorite drinking glass finds from above. Are you a fan of solid hues and unusual forms, or do enjoy a patterned look? Share your thoughts by leaving a comment below…