Autumn is here, with its inspiring colors and chilling breezes. Leaves falling all around, covering the ground with a rustling rug easily became source of inspiration for numerous furniture designers, challenging them to come up with innovative solutions for recreating the colorful outdoor environment inside. Presenting you with 10 amazing leaf-inspired chair designs, Decoist salutes functional creativity and looks forward to even more inspiration from furniture designers.
1. Leaf Chair by Kenneth Cobonpue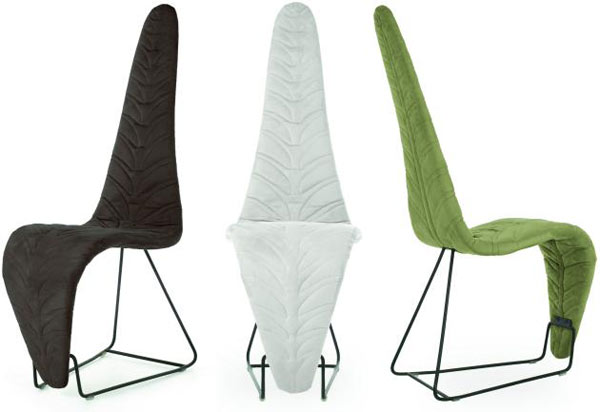 Extending autumn's influence inside the home, this sinuously-shaped Leaf Chair was designed by Kenneth Cobonpue. Displaying monochromatic upholstery and a design inspired by natural leaves, the chair offers a stylized interpretation of nature's beauty.
2. Arper's Leaf – Sled lounge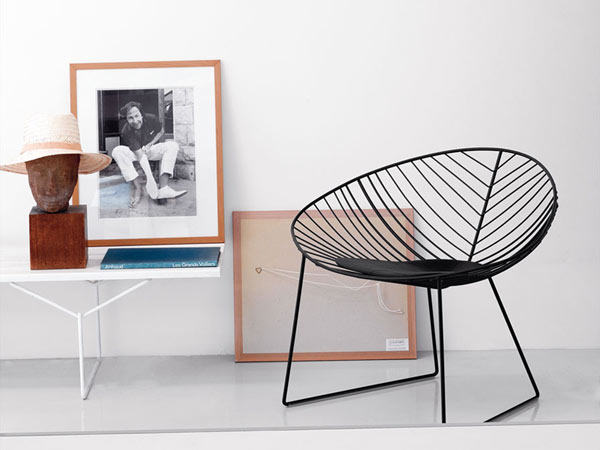 Looking like a sleeker cousin of the above-mentioned chair, the Arper's Leaf – Sled Lounge rests on two wiry supporting elements. Its steel silhouette creates an ergonomic and organic shape, while the cushion sweetens its harsh hollow design. This reinterpretation of a leaf's veins is somehow cold, perfectly integrating itself in a warm and fuzzy atmosphere to lend it a part of its sumptuousness. Designed by Lievore Altherr Molina, the sled – supported chair comes in white, green and mocha – a feast for the eyes!
3. Ottawa Chair by Karim Rashid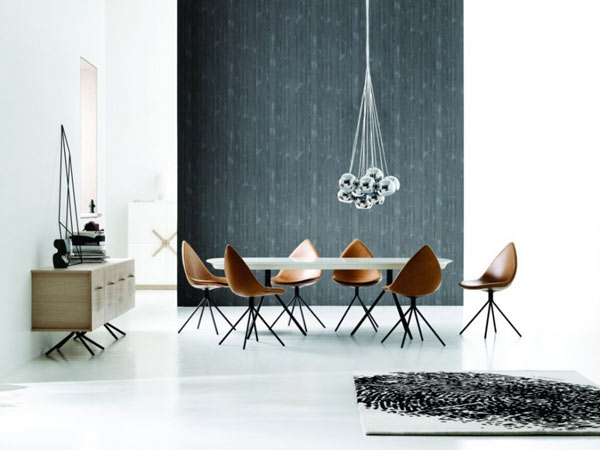 Part of a collection designed by well-known designer Karim Rashid for BoConcept, the Ottawa Chair displays a leaf-like shape resting on a rod with four slim legs. Put a few of these chairs together around a dining table to shape a forest of legs hinting towards natural inspiration. This collection also includes tables, chairs, a sideboard and cabinet, making a space easy to decorate and challenging designers to match each piece up with a better choice.
4. Superstructure Easy Chair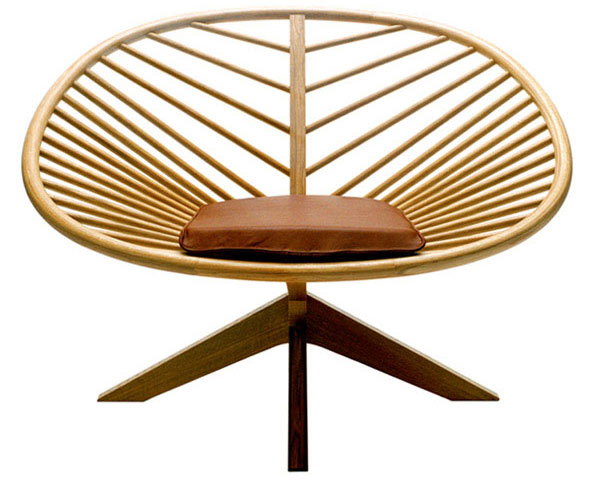 Sinking to showcase a leaf-resembling sculptural shape, the elegant solid oak chair subtly hints towards the changing of seasons. A natural oak color is perfect for earthy homes, while the black colored version contrasting the white colored one can act as decorative reinterpretations of a natural, organic shape. Each of these Superstructure Easy Chairs has an upholstered cushion which carefully adorns the wiry silhouette. Designed by Björn Dahlström, the skillfully crafted sculptural piece of furniture can be either a living room chair or a private bedroom chair – I can see a silk scarf purposely forgotten across its wooden body.
5. Leaf Bar Chair by Hyunsoo Choi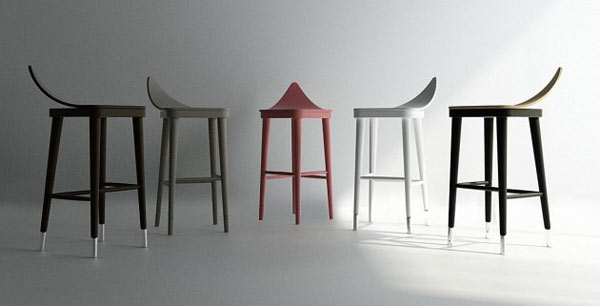 Perfect for the kitchen counter or any modern bar, these chairs imagined by Hyunsoo Choi are deliciously simple in shape, yet powerfully elegant in design. The Leaf Bar Chair curves up to offer a comfortable seating experience, while its availability in different colors allows you to choose the perfect match for your home.
6. Chair Leaf by Milos Jovanovic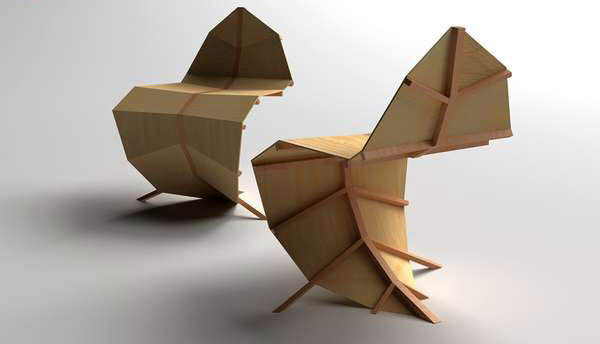 This sculptural seating unit comes from designer Milos Jovanovic. A structural design lends the surroundings its strikingly modern visual appeal, while the bent leaf it displays composes a futuristic reinterpretation of organic inspiration. Wooden vines on its back support the multifaceted chair and extend to shape its legs. Showcasing a flexible and dynamic design, this modern leaf chair sets the tone for a contemporary interior arrangement.
7. Leaf Rocking Chair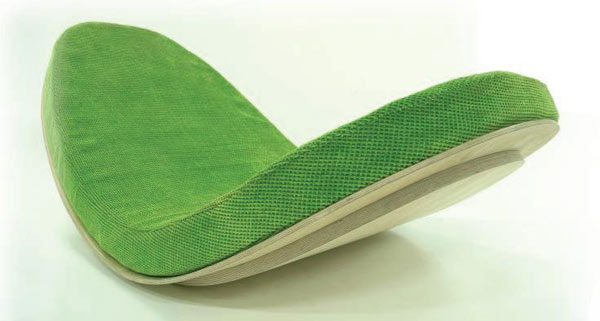 Adding versatile furniture pieces to a home reduces the amount of unnecessary ones. A comfortable chair that acts as both a rocking chair and a lounge can easily become your favorite furniture piece. Designed by England-based Lime Studio, the Leaf Rocking Chair keeps you grounded with its low profile while offering an innovative solution for modern spaces. Made out of birch plywood and lined with a high density cushion, the rocking chair benefits from removable and washable fabric for easy maintenance.
8. Monstera lounge chair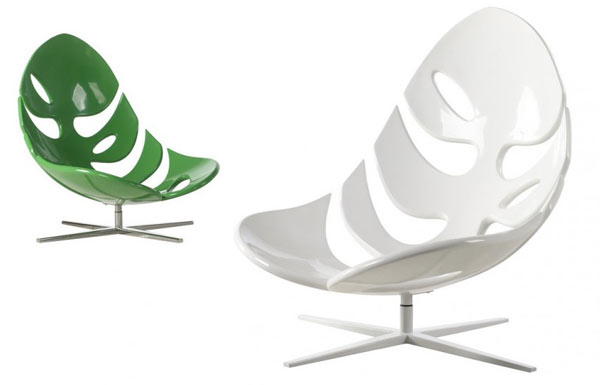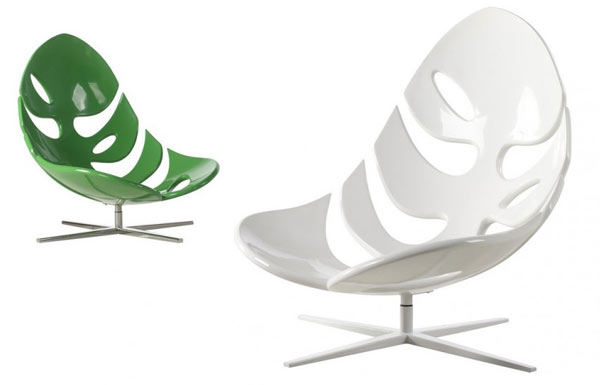 Created by Philip Ahlström by drawing inspiration from the tropical areas of Southern and Central America, where the plant lending the chair its name grows – Monstera deliciosa – this leaf-inspired lounge chair is made of fiberglass reinforced with a steel structure. Its glossy finish gives it a glamorous look, while the two available colors – green and white – are a perfect match for cheerful and elegant interiors.
9. Leaf bar stool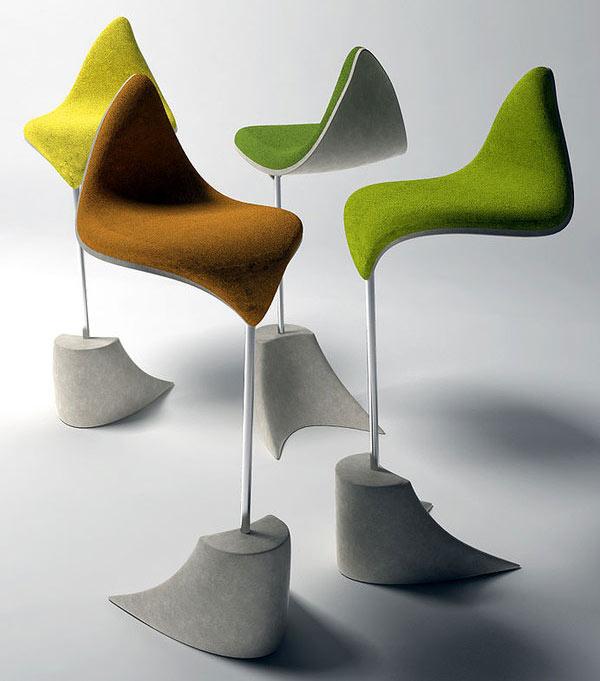 This bar stool concept comes from London-based designer Velichko Velikov. Its metal frame is embellished with colorful upholstery, bringing a breath of fresh color and design to any home that likes to sparkle this autumn. With this idea in mind the designer also plans to have a clean wire metal version available, one that would be covered with felt for a comfortable seating experience. Supported by a concrete and organic fiber base, the elegant bar stool can easily become the focal point of a kitchen counter – just imagine these four colorful versions below adorning your bright cooking space.
10. Limbo Chair by Induflex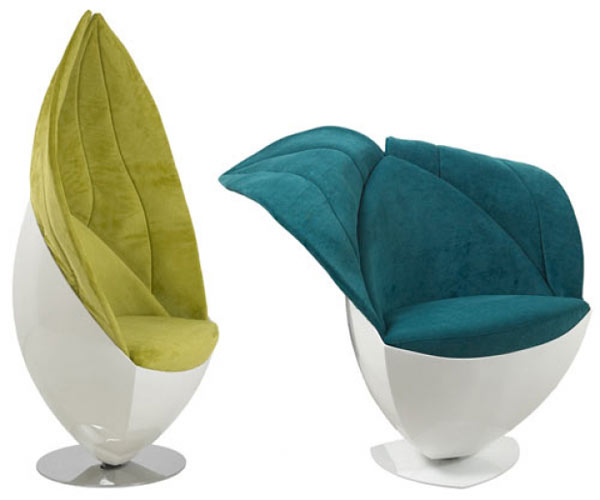 The last in our list is the Limbo Chair, an artistic representation of leaves closing upon the seated person to offer a feeling of protection or flowering to expose an assumed open nature. Part of Portuguese furniture design company Induflex's portfolio, the cleverly designed chair mirrors its natural inspiration while staying true to an extremely important feature – soft comfort.
These 10 examples might not be enough to make you decide right away on your favorite, that's why Decoist would love to know your own favorite leaf-inspired chairs – care to share them with us?