This week, a visit to my favorite childhood hotel really got me thinking about lobbies…and just how difficult it is to get the design right. These spaces are often BIG. We're talking big on a grand scale! Filling the space is a real challenge. With the size comes the desire for dramatic details. When done well, these details can be amazing. When done poorly, they can tarnish a lobby.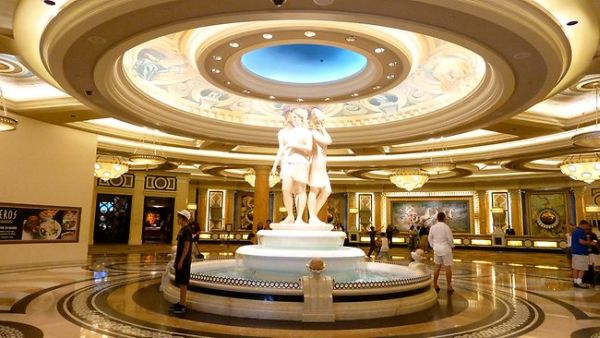 What's heartbreaking is when a space with potential is overshadowed by details that don't quite get the job done, such as trendy pieces that fight the architecture of the building, or garish colors that seem dated rather than edgy. But when a lobby is decorated well, the results are nothing short of stunning! Today we feature 11 of these unforgettable spaces. Don't think that there's just one "lobby look"–a variety of styles are represented. Maybe the pics below will even inspire you to bring lobby style home…
Hotel Lobbies
Hotel lobbies evoke the decadence of a relaxing getaway. And who wouldn't want to celebrate the feeling of being on vacation? In recent years, it's been fun to see the emergence of boutique hotels that infuse creative, eclectic design elements into their lobbies. Below we see a tribal rug and other earthy-meets-modern details at the Ace Hotel in Palm Springs. Let's hear it for non-traditional dramatic draperies! [photo by Becky Harris via Houzz]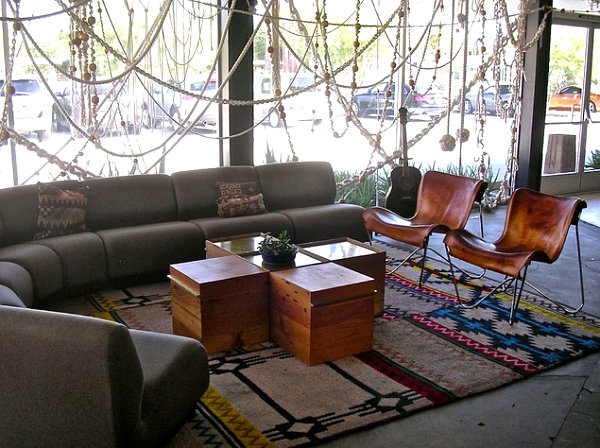 We love a space that honors the style of the location. And what better way to deck out the lobby of a Santa Barbara hotel than with Spanish-colonial flair? Below we see the lobby of the Bacara Resort & Spa. Love the table filled with candles and interesting greenery! This is one lobby feature that's easy to duplicate at home… [from Urban Colony]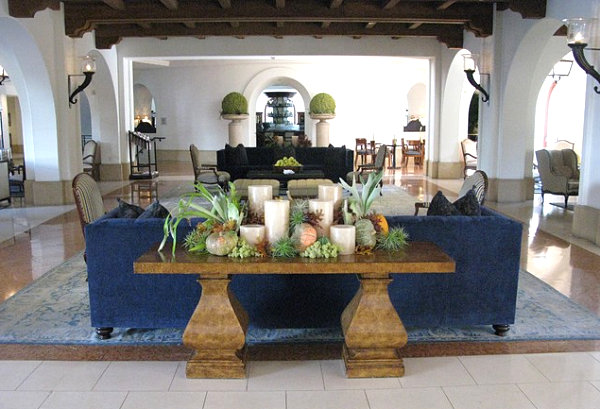 The lobby of Hotel Palazzo Zichy in Budapest is an homage to dramatic lighting. Pendant lighting, backlighting, recessed lighting. Put it all together and you have a truly epic space…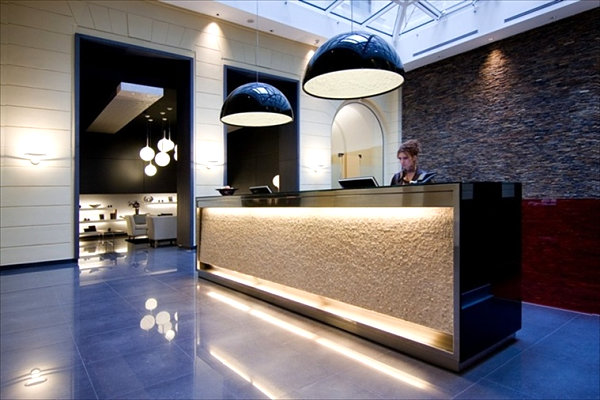 Speaking of dramatic lighting, the lobby of the Hilton Hangzhou Qiandao Lake Resort has it in spades! In fact, this hotel is filled with design elements that evoke the feel of water. Can you see the ripples represented by this stunning lighting installation? Intricate flooring provides another level of ornate design, while features such as modern art and angled windows keep the look contemporary. [from Ivan C. Design Limited]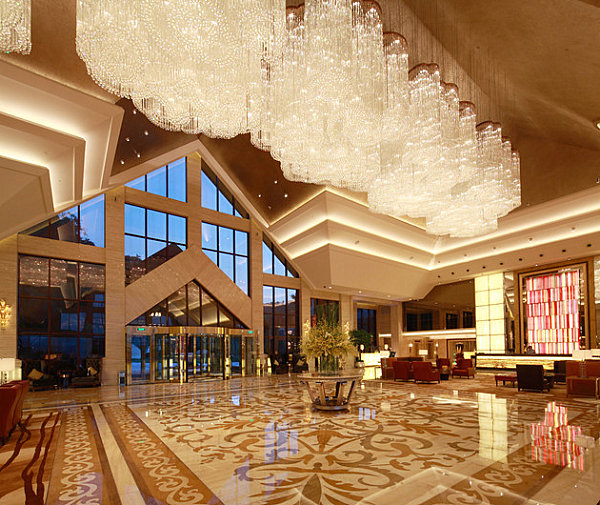 Ah, the simplicity of gorgeous furnishings and bold colors! The black and gold color scheme of the Fitzwilliam Hotel in Belfast makes a powerful statement. Clean-lined seating and striking pillows also add elegant flair to the space: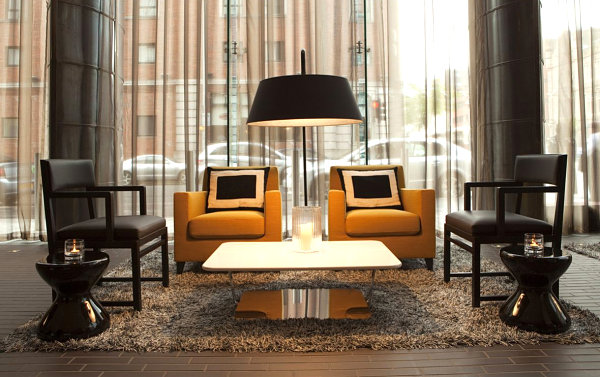 Don't forget the appeal of a grand water feature! This Miami hotel lobby divides the seating area and the hotel restaurant with the help of three clear glass panels covered in flowing water. Soothing and functional! [from Water Studio]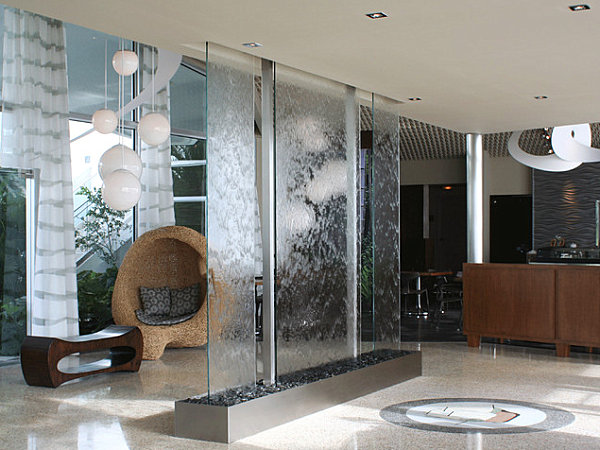 Residential and Commercial Lobbies
We now move from hotels to the spaces we walk through everyday–our residences and offices. Let's start with the lobby of The Shore highrise condo building in Austin, Texas. Stadout features include seating by Ludwig Mies van der Rohe and a bubble-themed wall art installation. A trio of indoor planters adds a touch of greenery, while a large pendant light draws the eye upward…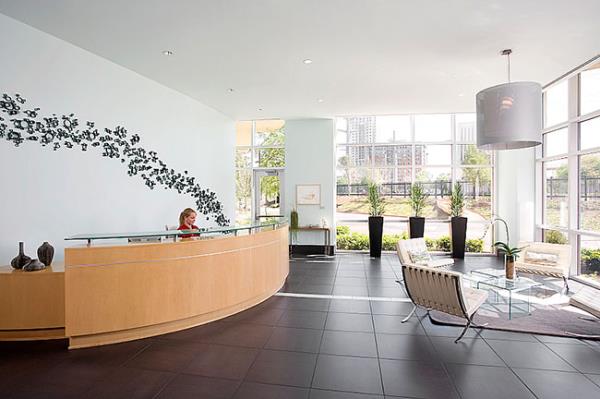 Many lobbies get creative with the practical features of the space. For example, this New York condo lobby features a wall covering that creatively embellishes a cabinet. Curious about the seating? It's Hahn sofa from Room & Board! [from Tamara H. Design]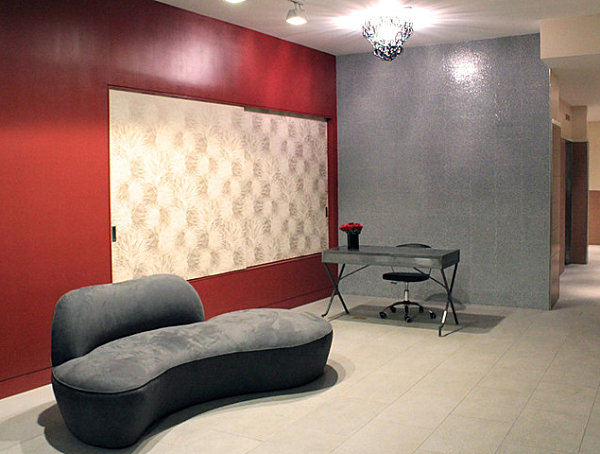 Then there are those lobbies that combine elegant features (like a dramatic chandelier) with more modern pieces (like clean-lined seating). Wall molding and draperies create a sense of formality in the space below, while the white color scheme and spacious, uncluttered look keep this lobby from being stuffy. [from Sold by Style Home Staging]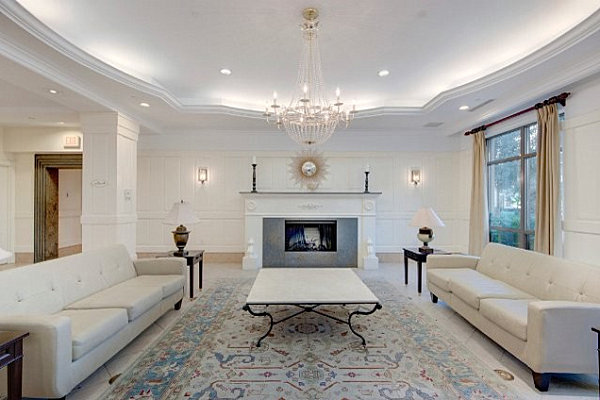 Don't underestimate the appeal of unusual colors. This light, modern space is crisp and refreshing. Yet it's anything but sterile, thanks to the addition of an orange and purple color combination. Citrus fruit, pillows and blooms help infuse this Washington, D.C.-area lobby with striking hues. [from Studio Santalla]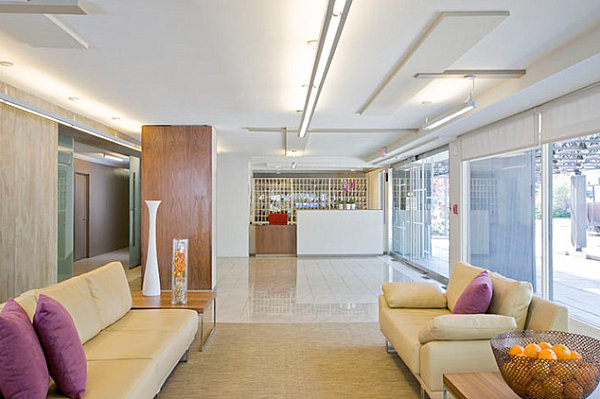 We end with a condo lobby that takes Deco details to a whole new level. In fact, Art Deco patterns on the stair railing and floor below are the perfect ingredients for breathtaking modern design. Throw in clean-lined furnishings and a trio of branch-scapes, and you have a gorgeous contemporary Chicago space! [photo by John Faier for Scrafano Architects]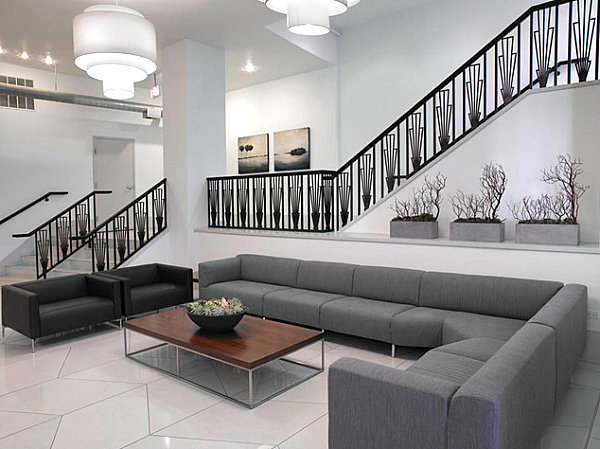 Interesting plants. Unforgettable lighting. Ample seating. Mural-style artwork. These are a few of the many ways to bring lobby style home. Would you channel the look of a lobby in your abode? Share your thoughts by leaving a comment below…
Liked the story? Share it with friends.