If you're new to the world of drapery, don't be intimidated. You don't have to hire a decorator to find the right curtains for your space. Thanks to online shopping options, modern drapery is just a mouse click away. Not to mention, a variety of designs are available, from gromet-top curtains that accommodate a range of drapery rods, to draperies with rod pockets, rings or clips for attachment purposes.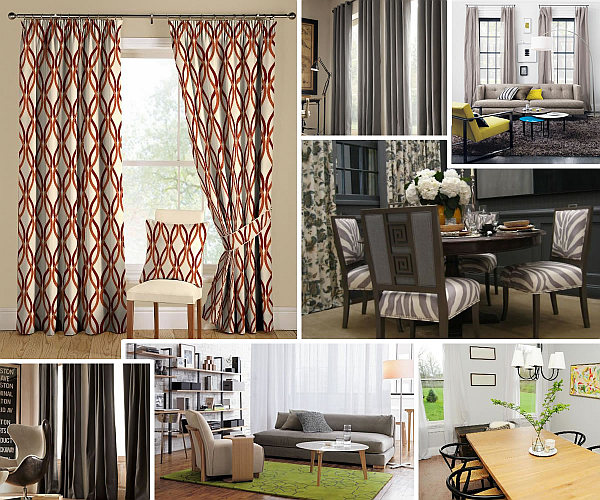 What's interesting about drapery for the modern home is the fact that the fabric itself doesn't have to be particularly modern at all. Sure, a clean-lined geometric curtain can help define a contemporary vibe, but what's more surprising is the large number of neutral-toned floor-to-ceiling draperies that show up in the most modern of rooms. It turns out that a simple backdrop of fabric can set the stage for other contemporary touches, such as brightly-colored pillows, Mid-Century modern furniture and bold rugs.
Solid Drapery
We'll start with the basics, and nothing is more pure than a fresh white panel to let the light in. Below we see the French/Belgian White Linen Panel, which hangs from the rod with clips. The best part: these panels are sheer enough to maximize brightness, yet thick enough to provide a dash of privacy. [from CB2]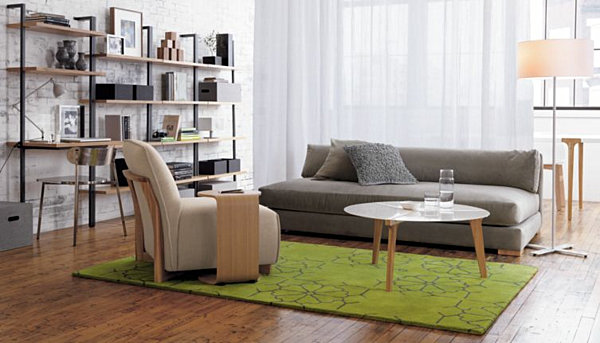 White draperies also have the power to add definition to a modern space. For example, airy white curtains that pool to the floor are sensational when combined with white paint. The result–every color in the room stands out all the more, as shown in the dining room makeover of House of Earnest blogger Erin: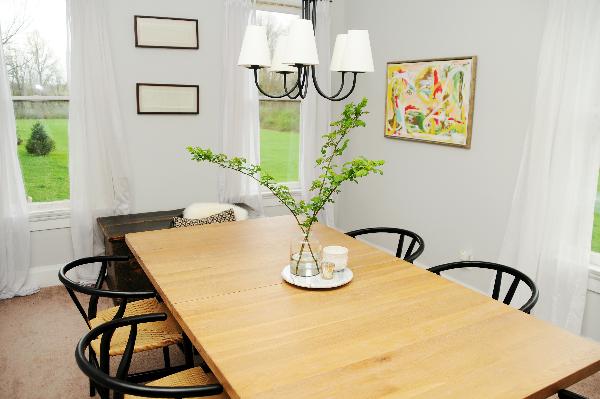 Cream drapes can add a contemporary formal air to a space, especially when pleated. The Saturn Modern Pleated Curtain Panel features fabric with a barely-there circle pattern [from Curtainworks]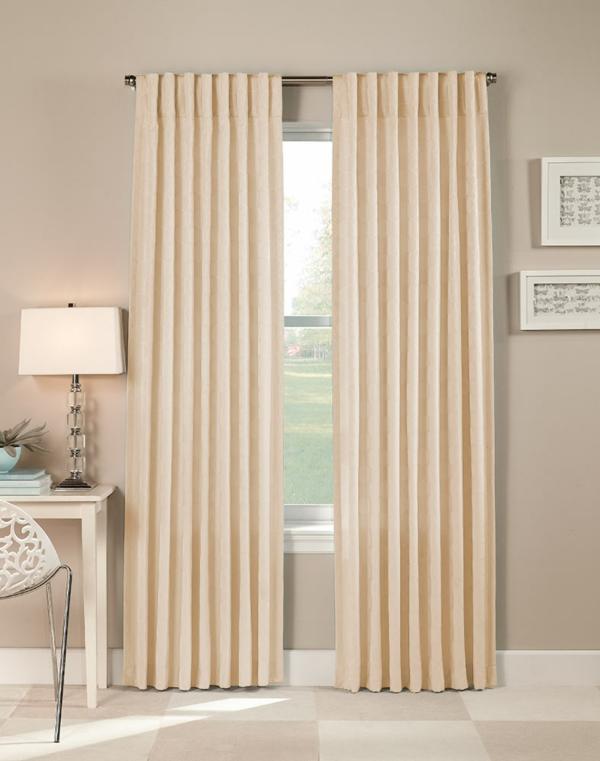 For a bit of drama, choose drapery in a darker shade, such as the French/Belgian Light Grey Linen Panel. When closed, these panels are sheer and translucent, yet when pushed to the side, they gather in an elegant solid beige/grey hue. [from CB2]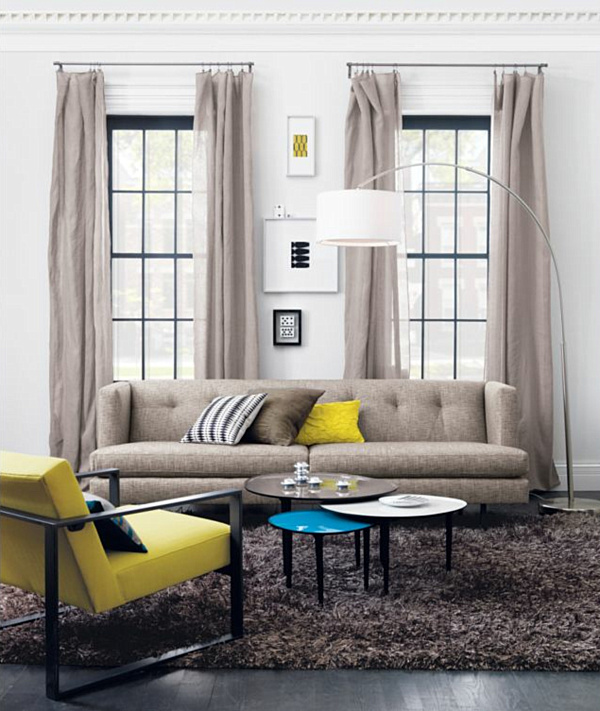 Below we see the same drapery, this time in a darker grey. Even though the color is deeper, the panels' location in front of a wide window shows just how gauzy these draperies can truly be. Also note how the hue continues the room's grey theme, making the table's lime green planter pop with color. [from CB2]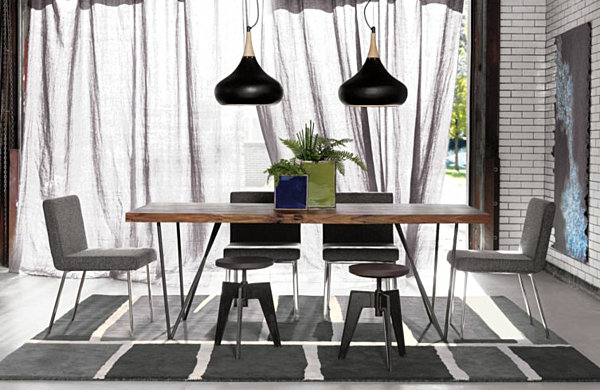 Now it's time to get heavy! Sometimes thicker window treatments are just what the room calls for! Restoration Hardware has an amazing line of neutral drapery, noted for its ability to enhance rustic and modern industrial spaces. Their Brushed Cotton Twill Drapery is velvety soft, classic yet casual, and substantially fabulous. [from Restoration Hardware]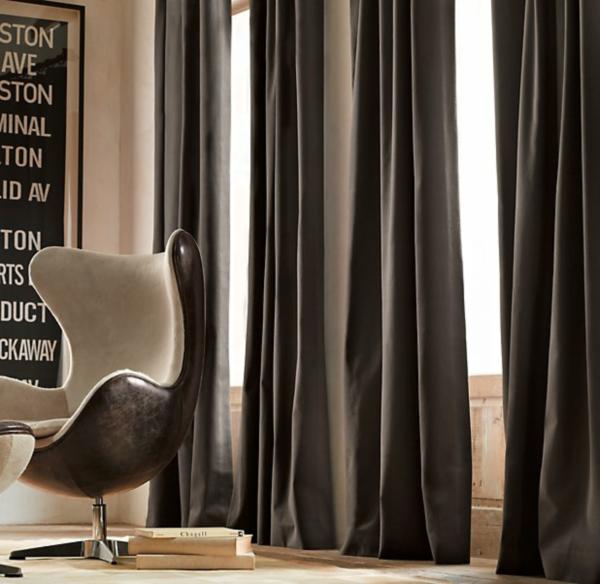 Army Duck No. 10 Drapery is available with a rod pocket or a grommet top. Crafted of yam-dyed cotton, these panels provide a clean- lined yet elegant look for your room of choice. [from Restoration Hardware]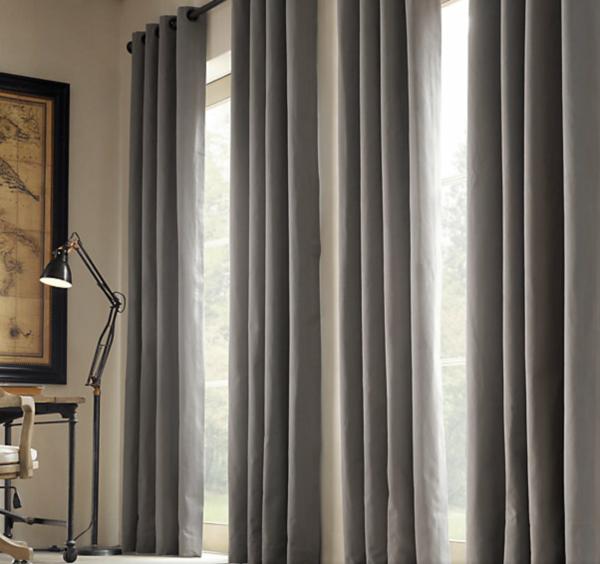 With all this talk of neutrality, don't be afraid to add some color! After all, if furniture is in shades of beige and grey, a dash of vibrancy may be your design answer. The Empress Luxe Silk Solid Wide Width Lined Drapery is 100% pure silk with cotton lining. [from Curtainworks]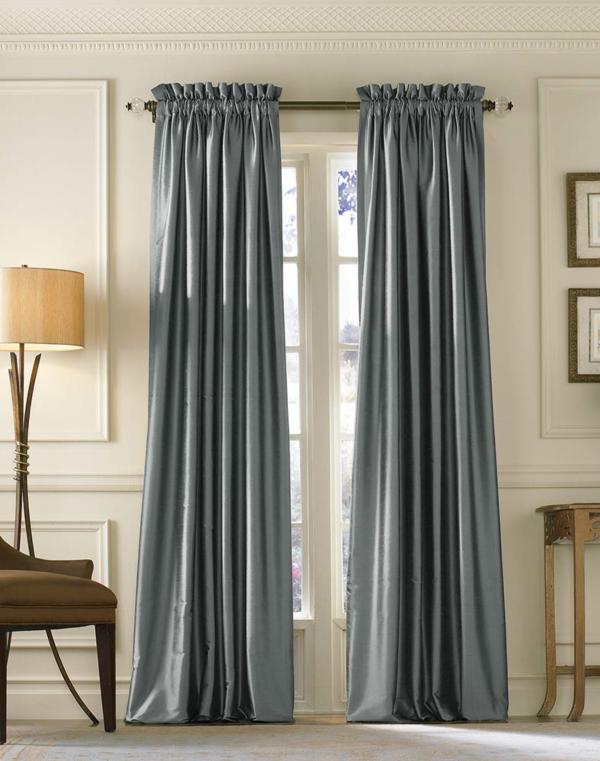 Nothing says modern like mustard. Golden yellow has been used in many a contemporary home, and these Linen Cotton Window Panels do not disappoint. They hang from the drapery rod with the help of stainless steel grommets. [from West Elm]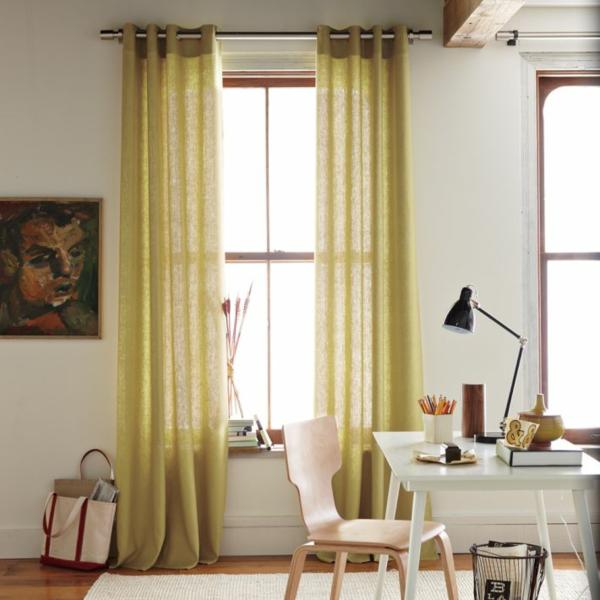 Below we see the same drapery, this time in a rosy shade of mauve. Note how it casts a blushing glow over the entire room. [from West Elm]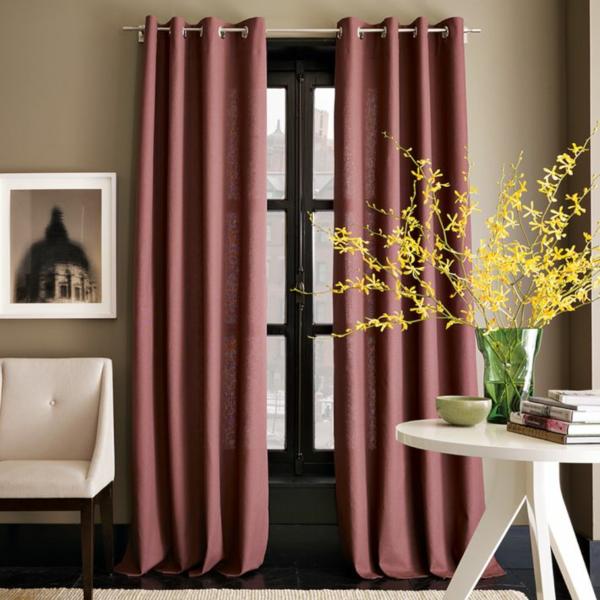 Patterned Drapery
For the bold and the brave, there is patterned drapery. You might think that patterned curtains limit the print possibilities for furnishings and textiles. Think again. When done well, the mixing of patterns can be effectively stylish. In the image below, the ikat weave of the Tali Printed Window Panel is paired with a chevron rug. Why does it work? There's something to be said for the power of similar colors and angles! [from West Elm]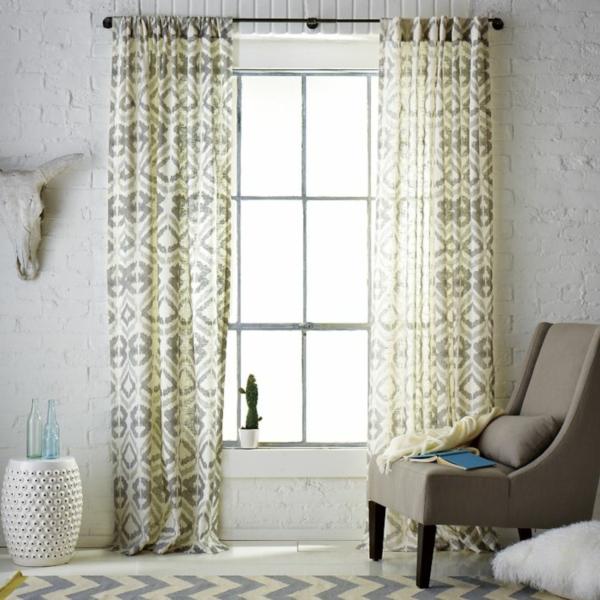 Stripes can be subtle or bold. The understated Thompson Woven Window Panel is made of linen that lets the light in. Two-toned stripes add just the right amount of interest, leaving room for other colors to shine. [from West Elm]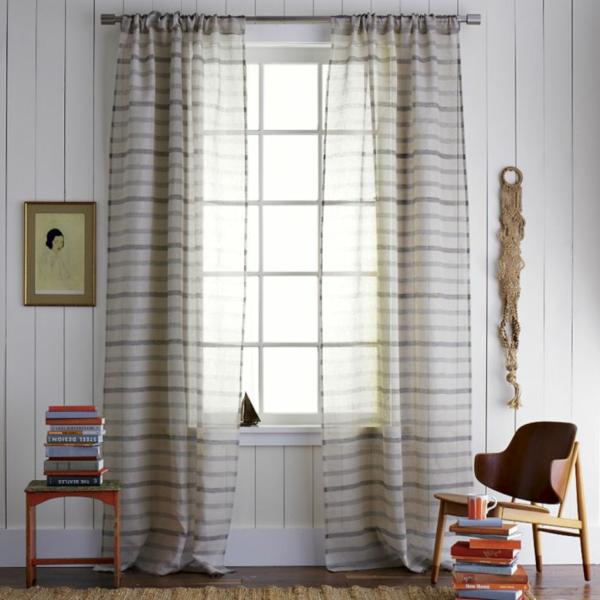 Dwell Studio offers a variety of drapery patterns for the home, including Rod Pocket Drapery, shown here in the ornate yet sparse Brindle print. [from The Shade Store]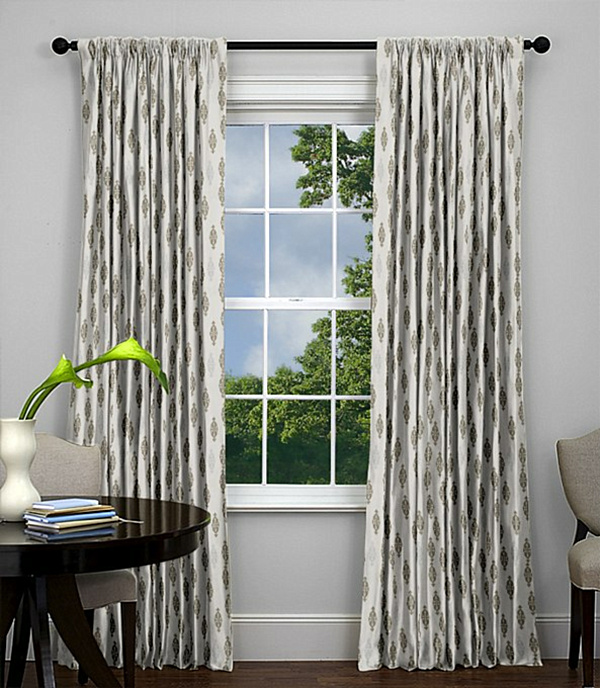 Florals are not just for traditional interiors. Many modern updates of classic patterns are available for today's shoppers, including the Chinoiserie-style Ripple Fold Drapery, shown in jade. These panels glide along a curvy track for a wavy effect. [from The Shade Store]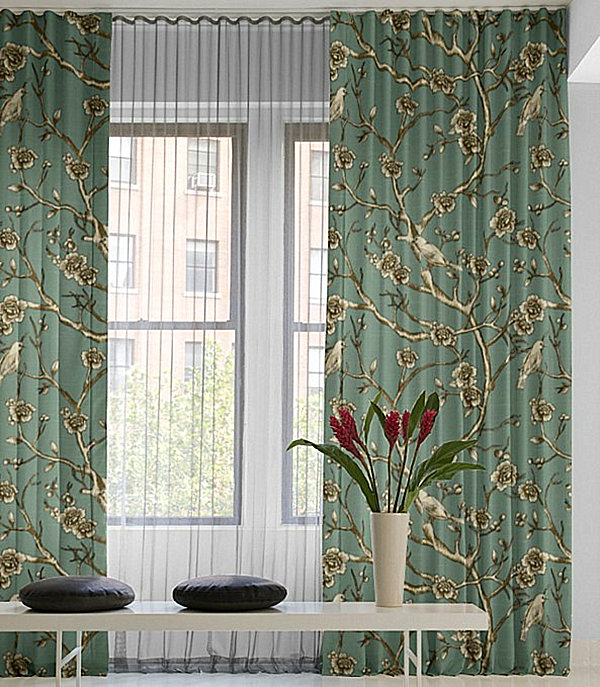 The room below features drapery printed with Eric Cohler's updated version of the Treyes Handblock pattern, which was first introduced in the 1960s. Note how well this pattern mixes with modern zebra print chairs. [from A Design Snack]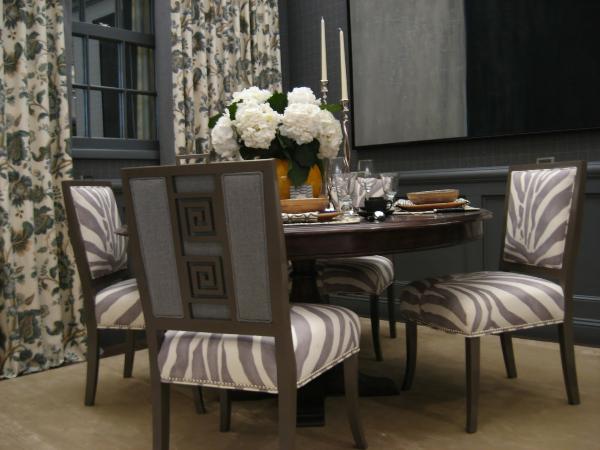 Geometric Drapery
Some of today's most popular patterned drapery features geometric motifs. If you don't want a colorful print to overwhelm the entire room, try a monochromatic pattern, as shown by the cream-on-cream Wood-Block Circles Window Panel below. [from West Elm]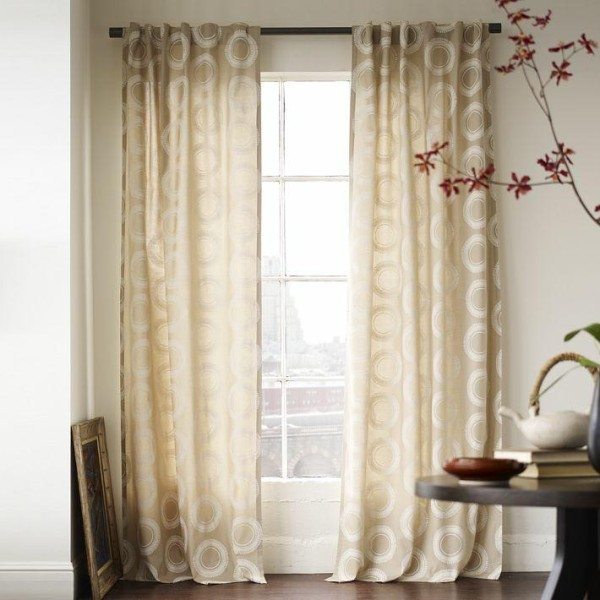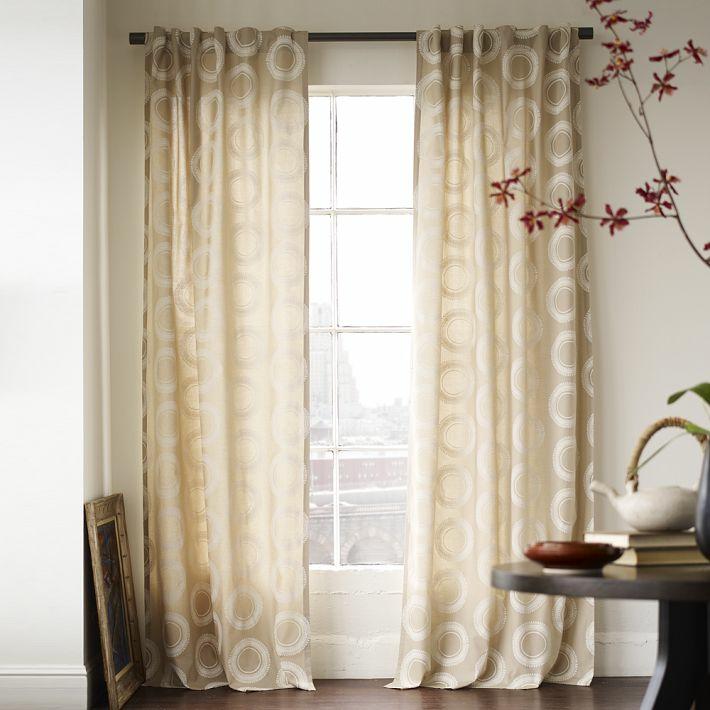 We now move from circle to square to feature the Othello Modern Geometric Curtain Panel, featuring semi-sheer fabric in a Mid-Century modern design. Note how grommets at the top of the panels accommodate the drapery rod, creating rippled folds. [from Curtainworks]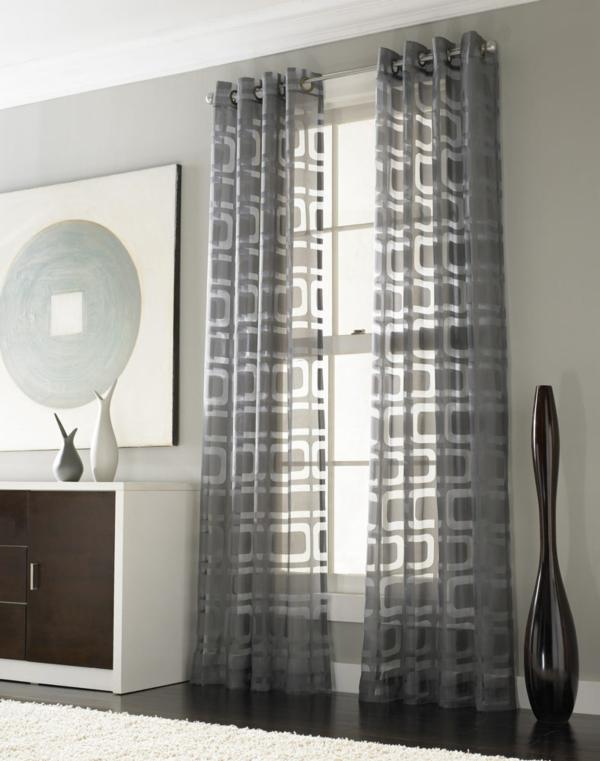 Below we see the same drapery, this time in the space of a blogger who carried out a living room makeover. Note how well the draperies work with red-cushioned tulip chairs, yellow chevron print pillows, and a modern marble coffee table from CB2. [from Seams of Thought]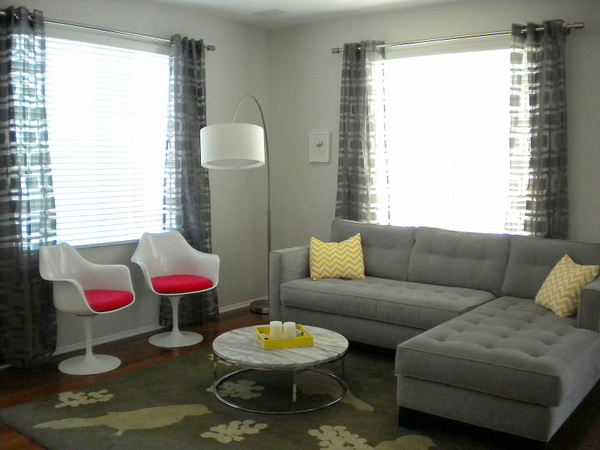 If subtle is not your game, go ahead and let the drapery define the space. The Montgomery Delta Terracotta Lined Curtains feature a lattice-like pattern in red and orange. Go wild and use the same pattern on pillows and upholstery, or let the drapery speak for itself. [from CompareStorePrices]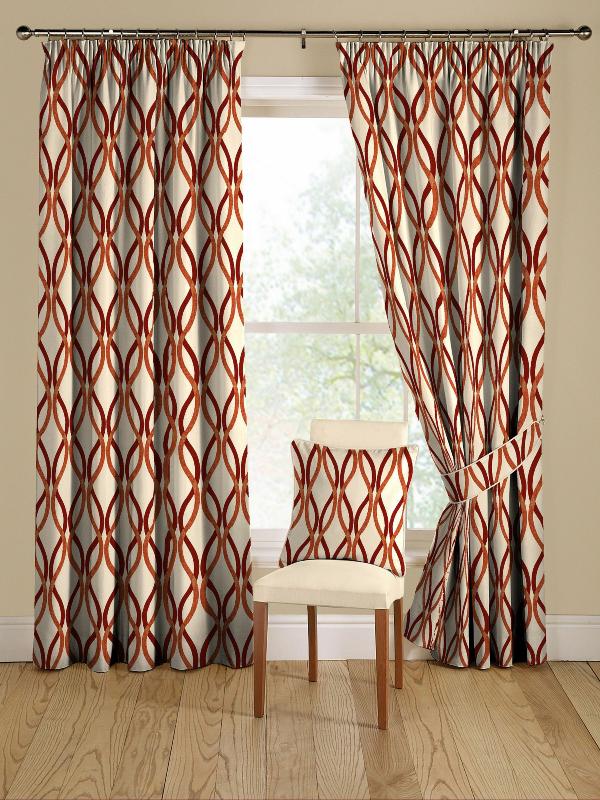 A nice alternative to solid geometry is drapery with one patterned band across the panels. Below we see the two Diamond Links Embroidered Window Panels, inspired by Moroccan lattice. [from West Elm]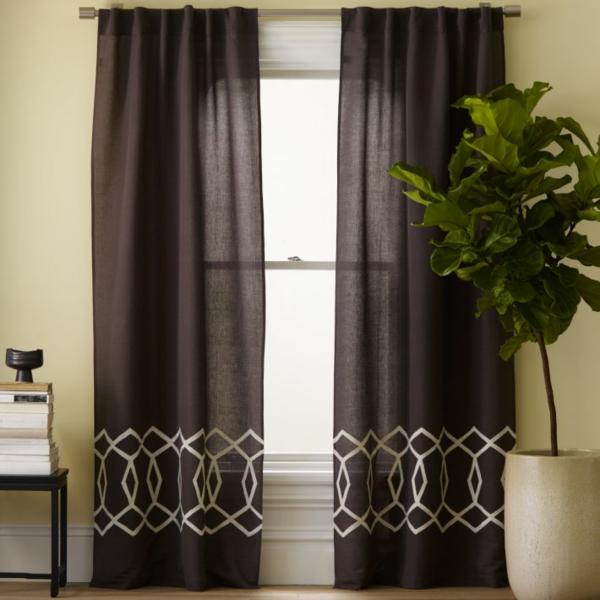 When it comes time to select the right drapes for your space, consider the amount of light you'd like to filter into the room. If the purpose of the drapery is to keep things cool and dim, go with a heavier curtain. If the goal is to let the light in while maintaining privacy, choose a sheer fabric, and note that lighter colors can really enhance the brightness of the space. Most importantly, don't forget to measure your windows to make sure you order drapery that fits. If the ideal curtains are too long for the window, don't be afraid to take up the hem. It may be worth the extra time to get the drapery of your dreams!