Space is no doubt an absolute premium in big cities. Cities like Tokyo and Sao Paulo are renowned for their small urban spaces that demand creativity and a bold design plan. This lovely little apartment from Sao Paulo was designed by Alan Chu. Sporting just 380 square feet of space, the apartment uses ingenious design and vertical room to fashion a smart and space-conscious bachelor pad. Of course, the fact that the home's owner is far less lazy than us when it comes to organizing and cleaning helps in its clutter-free look!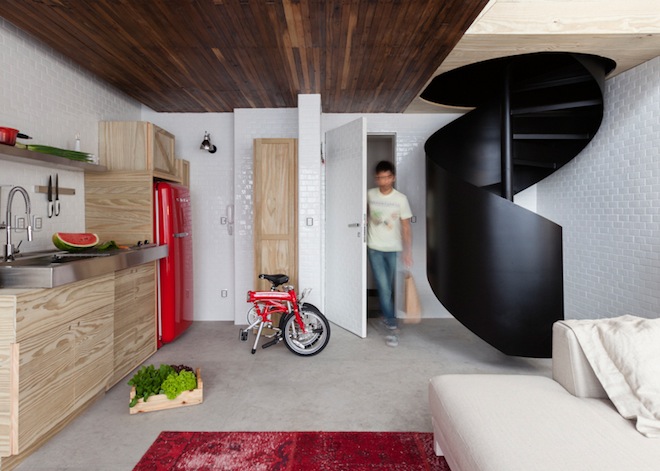 Chu used the simple principle of visual continuity as pinewood has been employed pretty much throughout the compact space. It forms the unifying aspect of the interiors and helps bring in a certain warm and rustic wooden charm. Surfaces are not too glossy and most of them are toned down to match the style of the apartment. A retro looking glossy red fridge in the kitchen is the exception and draws your attention almost instantly.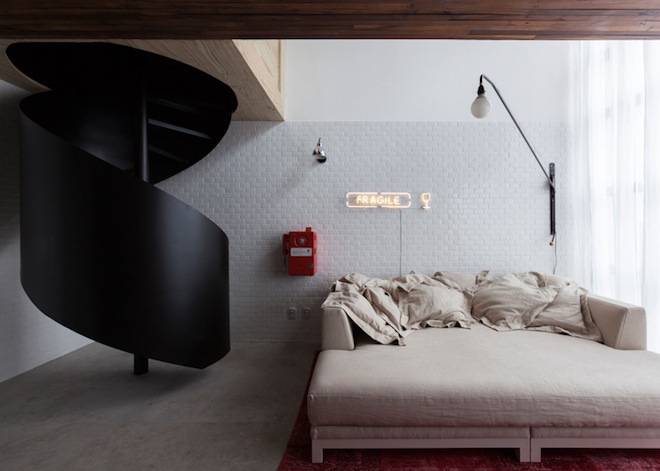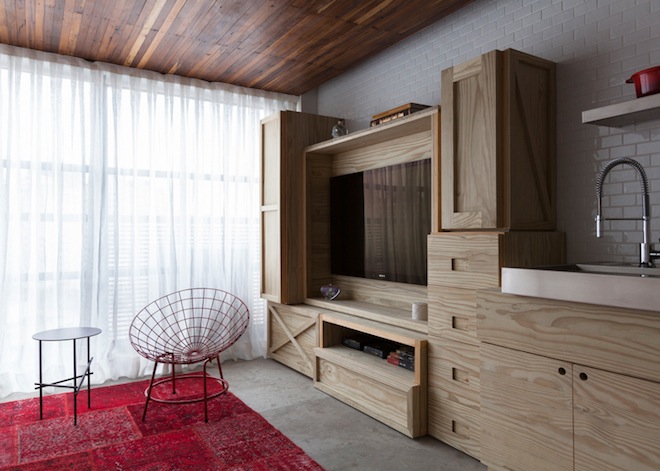 An entertainment unit crafted from wood sports various sized boxes that help tuck away the unnecessary. Beautiful spiral staircase leads to the upper level that has been created to double up as the bedroom. While a floor plan reveals a compact bathroom in one of the corners, it does not seem to be one for the claustrophobic!
A simple kitchen with a stainless steel counter top, a plush couch that doubles up as an additional bed and the backdrop is kept simple in white. With décor kept to a bare minimum, this is all about functionality clubbed with a touch of form. If you are looking for more such space-saving inspirations, then check out the 45 small bedrooms design ideas. [spotted on: wired]