Glass block, oh how we love thee! Wavy glass has never been more in style, but did you know that glass block (also known as glass brick) has been around since the early 1900s? In fact, it was particularly popular during the Art Deco era, and while it never went out of style, it made a big comeback in the 1980s along with the Art Deco revival. In addition to a stylish appearance, glass block offers the benefit of privacy! After all, it lets the light in while providing just the right amount of blurring.
Today we spotlight 20 modern spaces that make a statement with glass block. One thing to note: This building material can be used to complement a variety of design styles. From the modern to the eclectic, there's nothing like a hearty dose of glass to catch you off guard in the best possible way. On the flip side, sometimes you see glass block in places where it shouldn't be. Let's take a look at interiors that stylishly use glass block to their advantage…
Bathrooms Featuring Glass Block
What is it about powder rooms that demand the use of glass block? We're guessing the need for privacy… Which is why it's picture-perfect in this double shower. Note how plenty of light gets in while the wavy glass effectively obscures the details. Also note the use of textured glass block for added flair. [from James Hill Architect]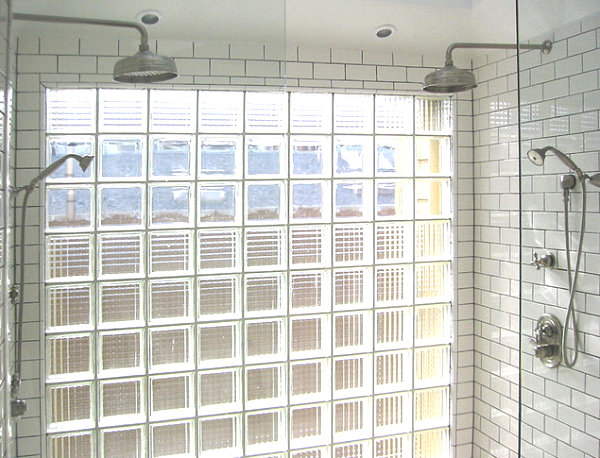 Let's talk style. Remember when we said that glass block seems to work in a variety of interiors? It always surprises us a little when we see it used in traditional-meets-eclectic spaces like the powder room below. Traditional moldings make a statement of their own, yet they seamlessly combine with features such as contemporary slate tile and cool gray walls. [from Barenz Builders]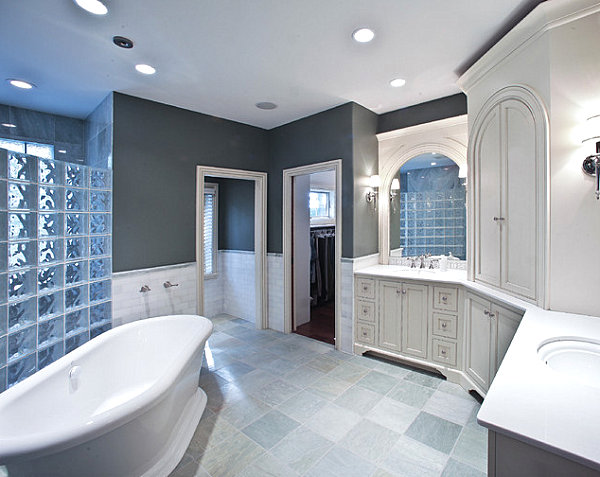 Old meets new in this next featured bathroom. Tile appears to be both vintage and modern, while glass block adds a hefty dose of both styles. Perfectly fabulous, don't you think?! [from Ehlen Creative Communications]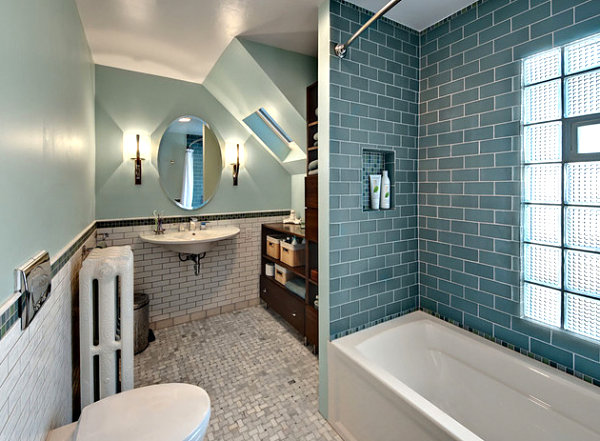 One sure-fire way to use glass block to the fullest: Put this material in a light and airy space. There's something about the translucency of the glass and the brightness of white walls that really gels… [from Christy Branson via Houzz]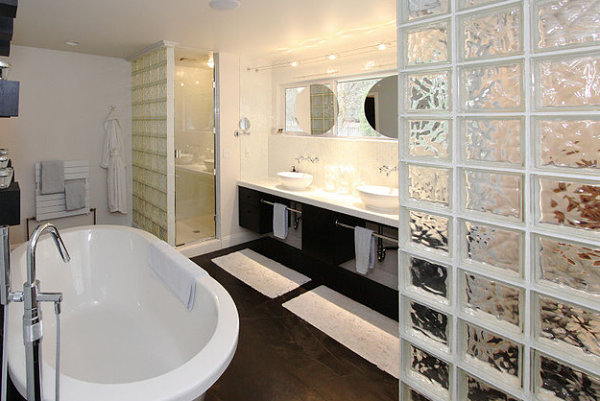 Speaking of the magic created by glass block and bright interiors, nothing could be more perfect than the crisp look of marble and the vintage-meets-modern style of the glass block in the space below. [from Peregrine Design Build]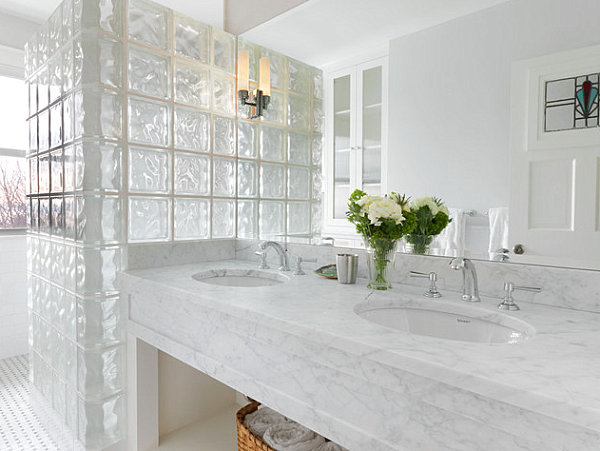 Maybe it's the peach marble and the diamond-shaped tile accents, but there's something a little bit '80s about this next bathroom. And we're OK with that! It's glass block in its true element… [from Podesta Construction]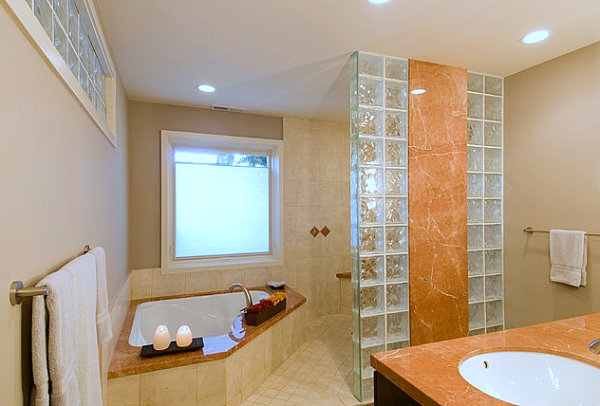 Glass block and curved surfaces go hand-in-hand. Which is why the shower below makes such a bold statement. Glass block above the tub and wooden accents also help to give this room a powerful punch. [from Baugher, Inc.]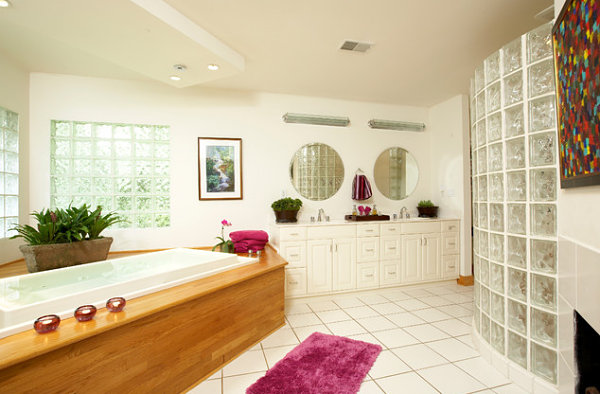 We now step away from retro references and explore how glass block can embellish a truly contemporary space. Sleek surfaces abound, and curvature on the windows helps create a true contrast to the straight lines and right angles of the room below. [from AMI Designs]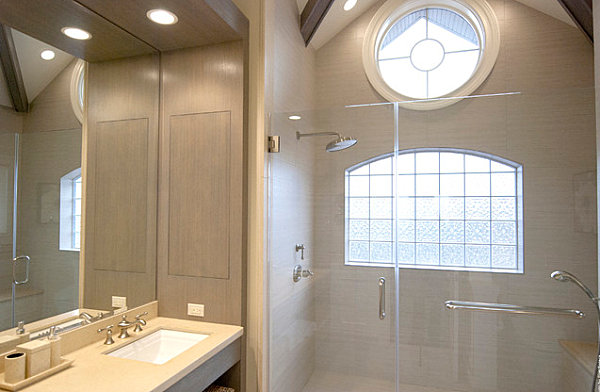 Curved shower: check! White walls: check! Interesting shower tile? Definitely check! Combining glass block with cutting-edge design elements is a surefire way to add style at home. [from House + House Architects & Designers]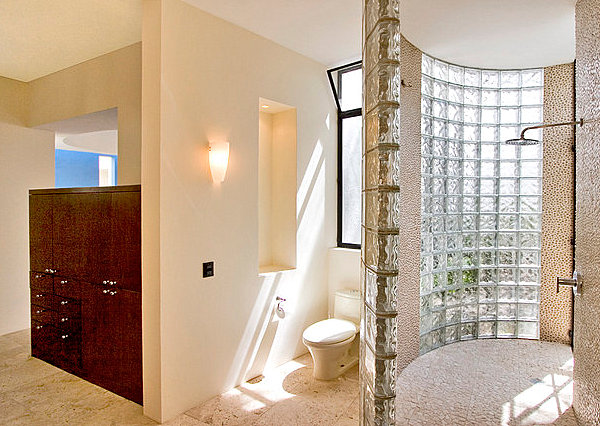 And did we mention that glass block can be ideal for a tropical look? How else would you explain its stylish use in Miami, Florida? But you don't have to live in Miami to get a tropical look in your very own powder room. Incorporate glass block, add some exotic greenery and you're set! [from Rick Ryniak Architects]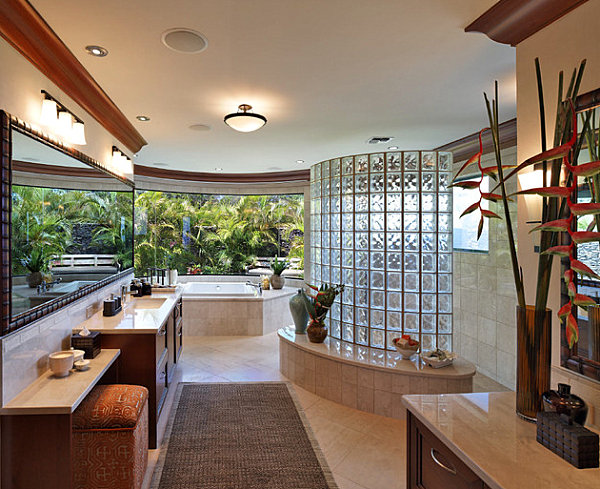 Glass Block Throughout the House
Ready to step out of the powder room and explore the other rooms of the home where glass block can create true design magic?! How about the living room?! In the 1980s, glass block, white walls, wooden floors and colorful artwork combined to create many amazing interiors. Guess what? This look is truly timeless. Below we see a modern space featuring the magic 4: glass block, white walls, wooden floors and colorful artwork! [from Edward Kozanlian Architect LLC]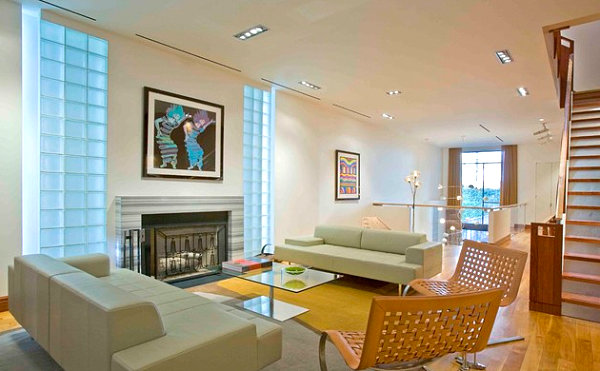 Don't think that just because your home features glass block, you have to go in a retro direction. We love the way the living room below showcases some elegant, modern design finds, from geometric chairs to poufs for extra seating. [from Vanessa De Vargas/Turquoise]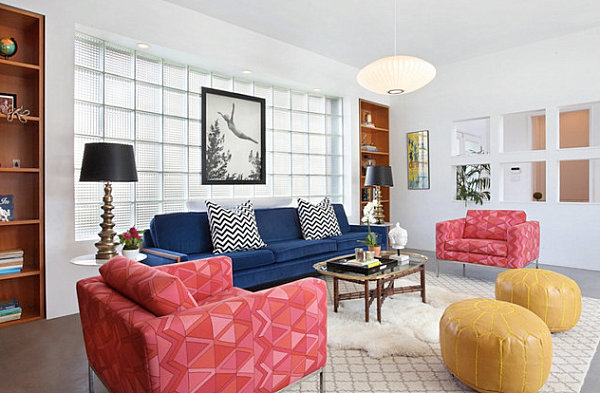 Maybe it's the plethora of health clubs that featured glass block in the 1980s, but it's hard to deny the perfect marriage of glass brick and gym equipment. Which is why a glass block window is the perfect choice for the home gym below. [from Southam Design Inc.]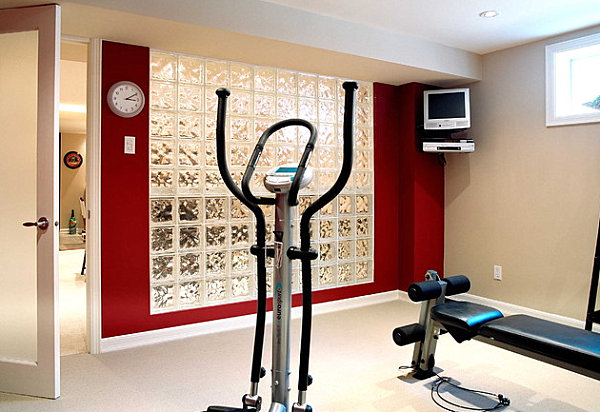 Sleek. Stately. That's the look created by the glass block in the next featured room. Contemporary lighting and furnishings make it clear that while the glass block has origins in the past, it's clearly rooted in the present. [from Forma Design]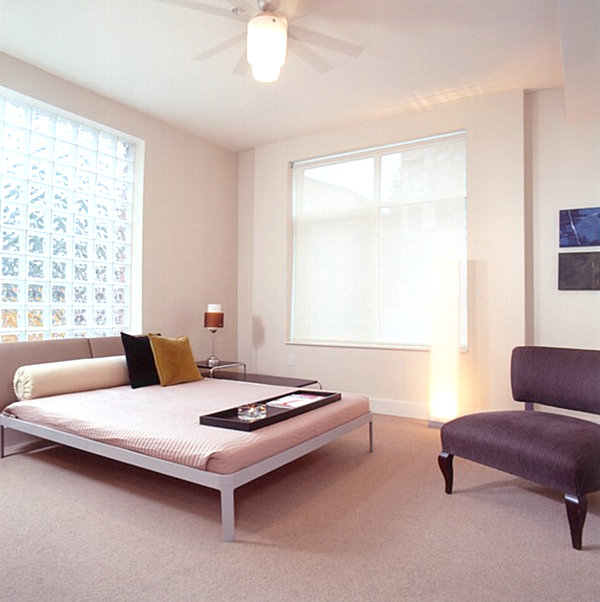 Glass Block Outdoors
We end by heading outdoors for a look at how glass block can make a big impression in the exterior areas of your home. We love the way it defines the patio area of this lush outdoor space from Studio H Landscape Architecture. Note the way each block is framed, creating bold outlines that make an artistic statement.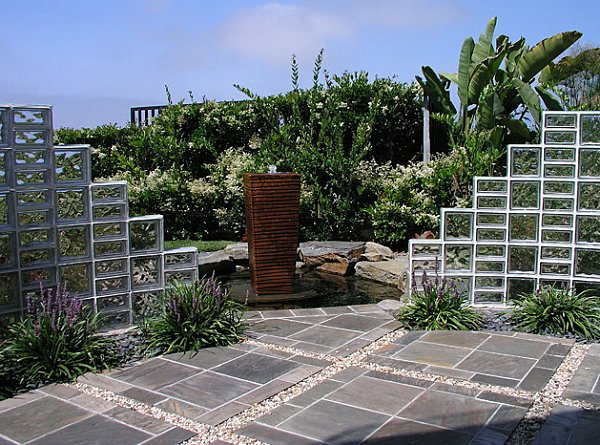 Start paying attention to the use of glass block on the exterior of the home. You'll notice that many new houses are incorporating this timeless building material. Its grid-like pattern is the perfect embellishment to sleek lines, as shown below. [from Hartman Baldwin Design/Build]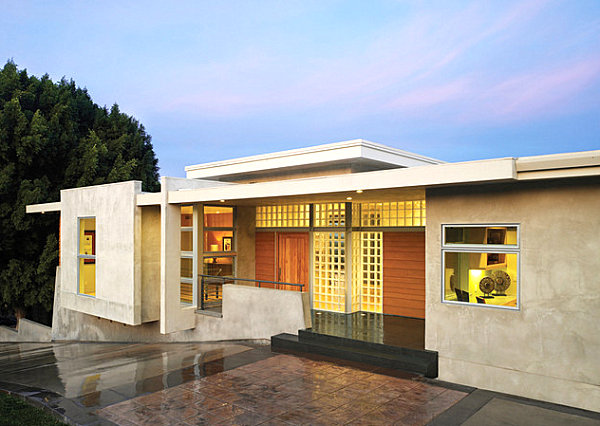 Check out the use of recycled glass blocks on the Austin, Texas home below. What's particularly striking is the large amount of glass block incorporated into the design of the home. [from Bercy Chen Studio LP]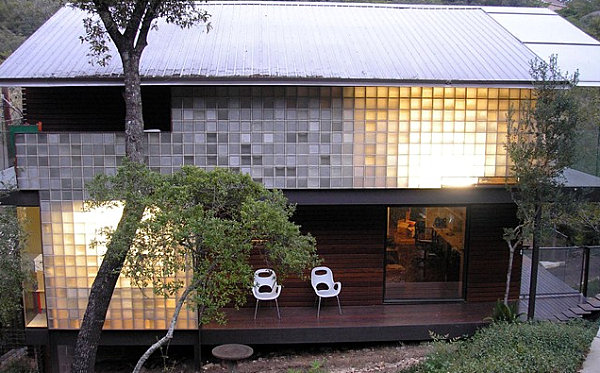 Speaking of striking, it's hard to get more original than a glass block floor! But that's exactly what you'll find in this lofty space from Michael Haverland Architect. Windows overhead let in the light, and glass block below adds an element of glossy brightness: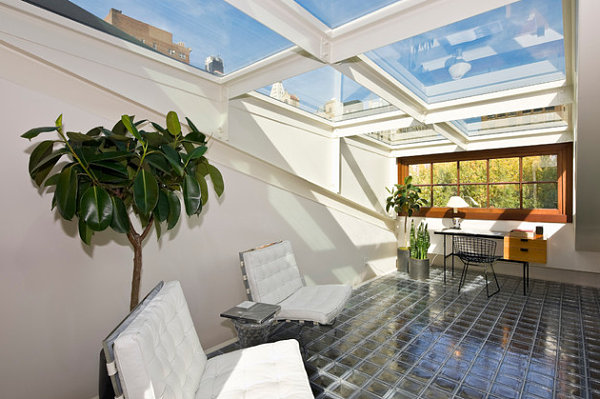 Our final image features a glass block circle in the ground! The addition of built-in lighting helps create a modern statement that truly shines in the nighttime hours… [from Sutton Suzuki Architects]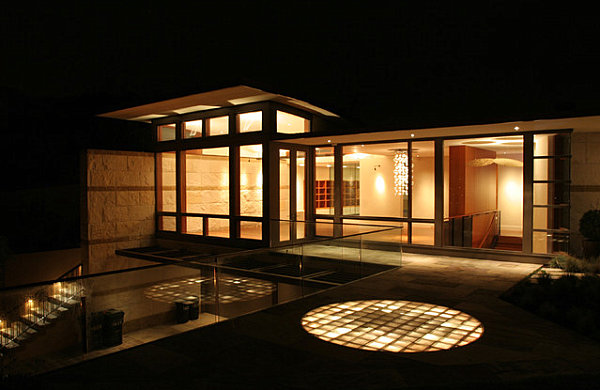 Tell us about the use of glass block in your favorite spaces. Are they retro? Modern? A combination of the two? Share your thoughts by leaving a comment below..