Breakfast bars–they're not just for breakfast! In fact, these handy spaces are often seen as a bonus when it comes to extra seating. The perfect place for guests to sit and keep the chef company during gatherings and an ideal spot for a casual meal, breakfast bars are a true decorating perk. But how do you punctuate them with style? Perhaps it's with the perfect set of kitchen stools. Or maybe it involves emulating the look of your favorite restaurant bar!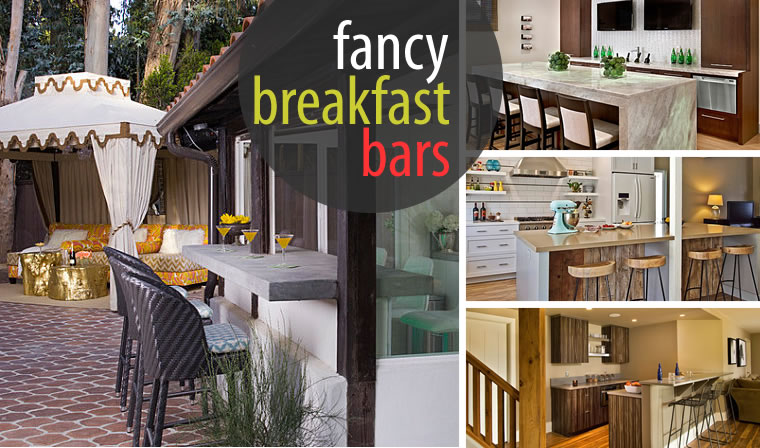 Today we feature 10 stunning breakfast bars that ooze style. Check them out, then share your favorites in the "Comments" section at the end of the post!
Breakfast Bar Seating Possibilities
Our first set kitchen bars are unforgettable, thanks to the seating that accompanies them. It's hard not to admire the log-style look of the barstools below, which were custom-made by the homeowner. Let's hear it for unexpected touches that stylishly catch us by surprise! [from Heather Merenda via Houzz]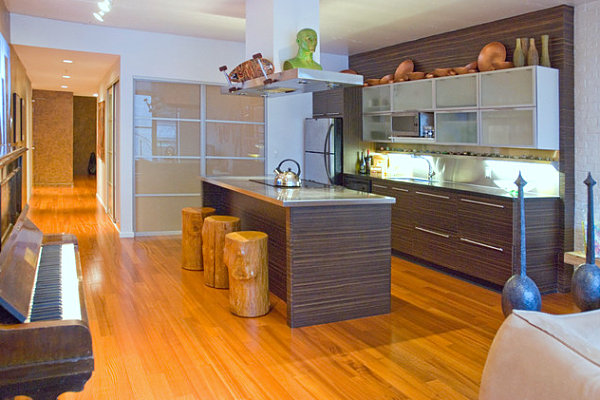 Not only does the kitchen bar in the next image feature rustic wooden planks, it showcases equally rustic seating, thanks to wood and metal stools that boast a contemporary look. [from Jackson Design & Remodeling]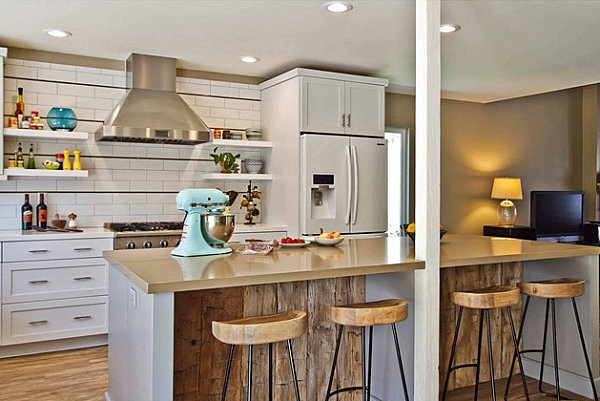 Sometimes a kitchen bar has seating so memorable, it's hard to imagine it with any other chair or stool set. The cool metallic tones and contemporary forms of the barstools below are the perfect complement to the neutral shades of the breakfast bar. [from Witt Construction]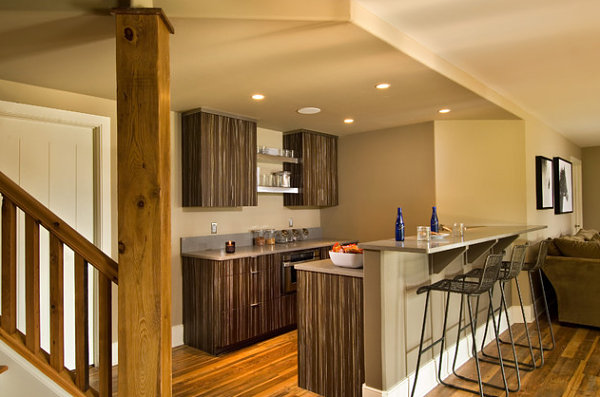 We're loving the icy look of the bar seating below! Curious about these pieces? Say hello to the Ice Stool from Calligaris. More good news: These swivel stools are height-adjustable for your convenience. [from Ana Williamson Architect]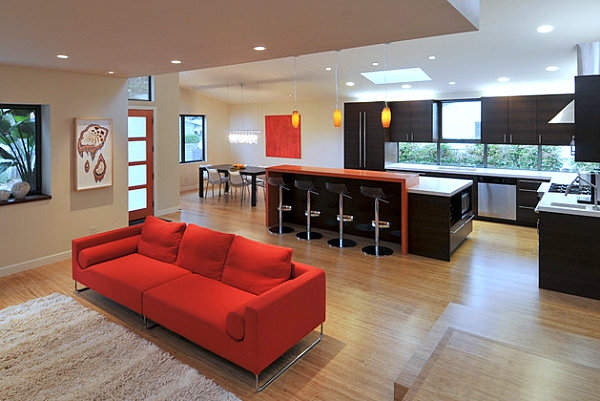 This breakfast bar features attached stools from Seating Innovations. Not only do they reinforce the look of this modern kitchen, they free up space and allow for a little foot support below, as shown in the next image.  [from Upland Developments]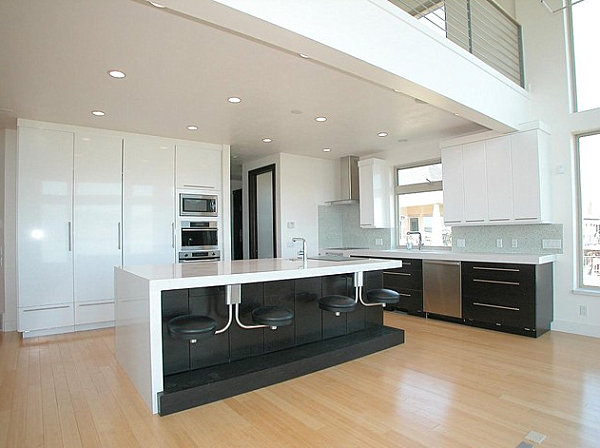 Unique Kitchen Bars
Our next set of featured images highlights kitchen bars that are anything but straightforward. In fact, they each have that "extra special something" that makes a memorable impression. There's nothing like a bar with a view! Which is why the kitchen bar below stretches across a large window… [from Kaplan Thompson Architects]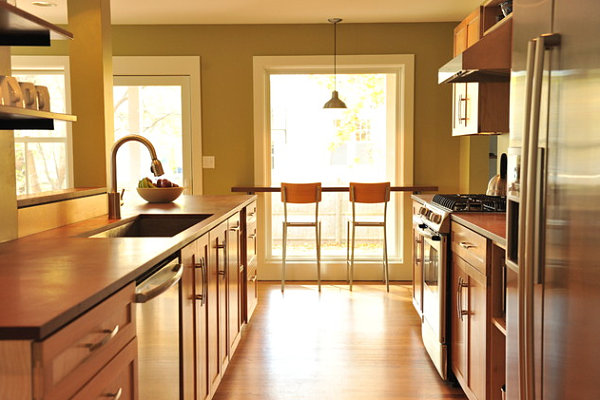 The next featured bar is also a kitchen island. Wondering about that gorgeous stone? It's white onyx, which is admired for its transparency. Look a little closer, and you'll notice the glow of lighting from underneath. [from Wood Inc.]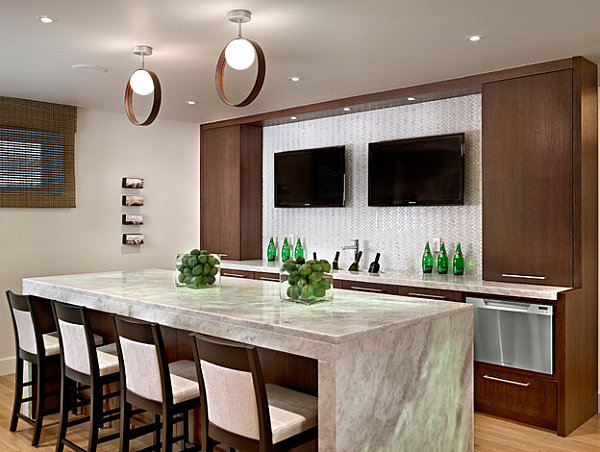 The breakfast bar below is also an island/table! Wooden accents create a striking contrast in this modern kitchen. Not to mention, the added bar proves that where there's a will there's a way when it comes to extra seating! [from Cliff Spencer Furniture Maker]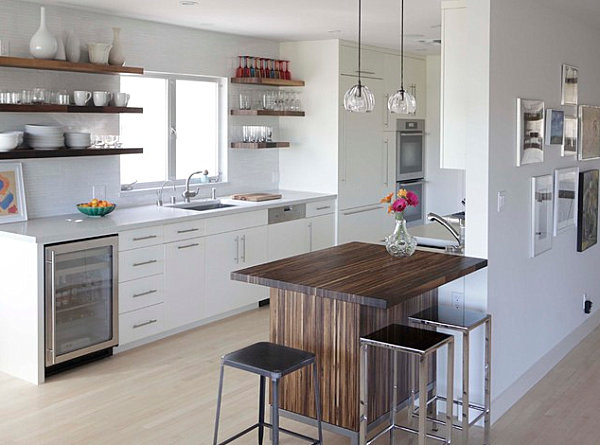 We're loving the rocky breakfast in the next image, which is complemented by wooden stools that provide the perfect contrast to the white-on-white bar construction. There's nothing like a little texture to create a standout feature! [from Hollub Homes]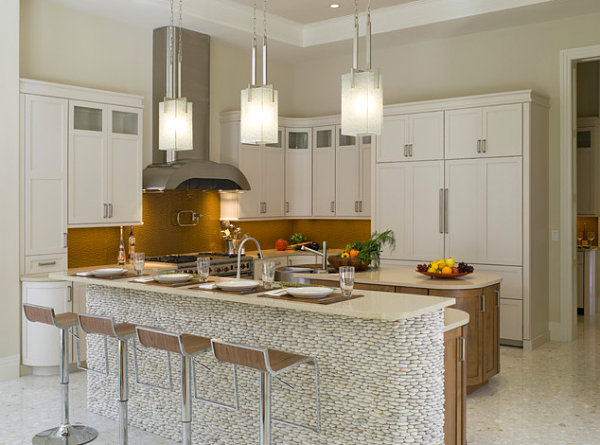 We end today's post with a real showstopper! A pool clubhouse indoor/outdoor bar. Yes, you can enjoy this bar from each side, and a roll-up window makes it possible for inhabitants of both areas to visit with one another. [from SoCal Contractor]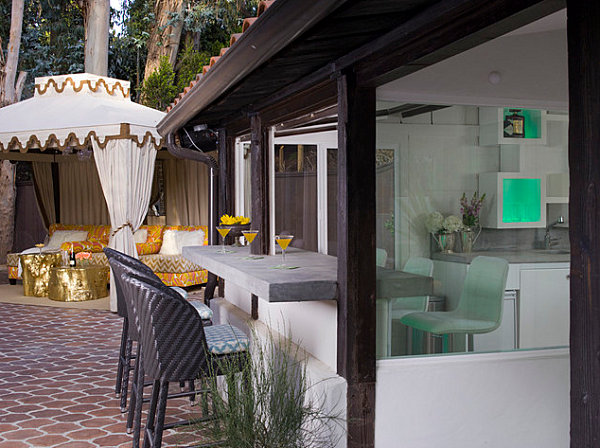 Which kitchen bar above is your favorite? what makes it memorable? Is it the seating? The premium materials? The overall style? Share your thoughts by leaving a comment below…
Liked the story? Share it with friends.