We can learn a lot from restaurant bars! The ultimate space for relaxing and unwinding, the bar is also a place designed to attract customers. Hopefully big-spending ones. How do you get the crowd to your counter? With great design, of course! Today we spotlight 10 restaurant bars that command attention. As you'll see, one of the most popular ways to entice paying customers involves strategic lighting. But we can't forget about details such as seating options and building materials…
As you browse the images below, check out the decor, as well as the layouts. Are there any ideas you can adapt for your kitchen and dining areas at home? We think you'll agree that commercial spaces have a way of inspiring us with their grand scale and eye-catching details!
Restaurant Bar Seating
Our adventure begins at Normans in Coral Gables, Florida. This bar features seating on three sides, a great way to maximize customer capacity! [from Grossman Photography]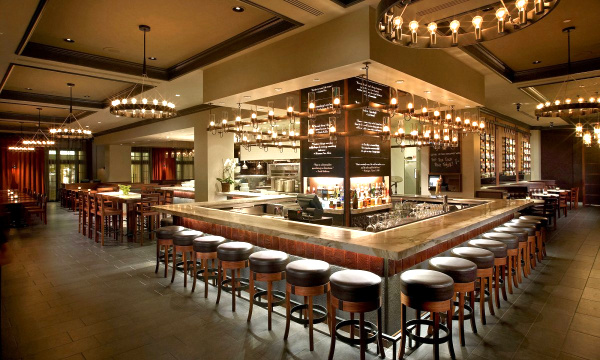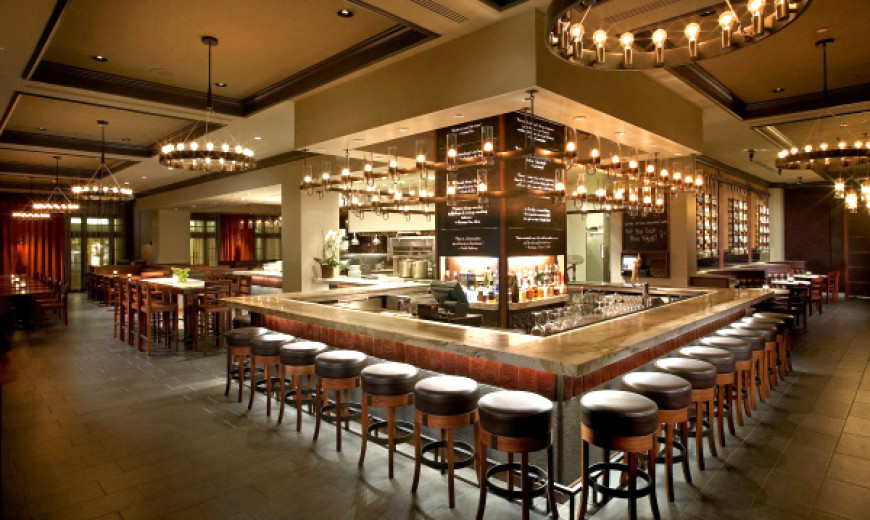 When it comes to seating, don't hesitate to use it to your design advantage. For example, the stools at Dry Tour in Venice make an industrial statement. The look is completed with bulb-like pendant lighting, which gives the space a distinctly modern look. [from Penmar Venice]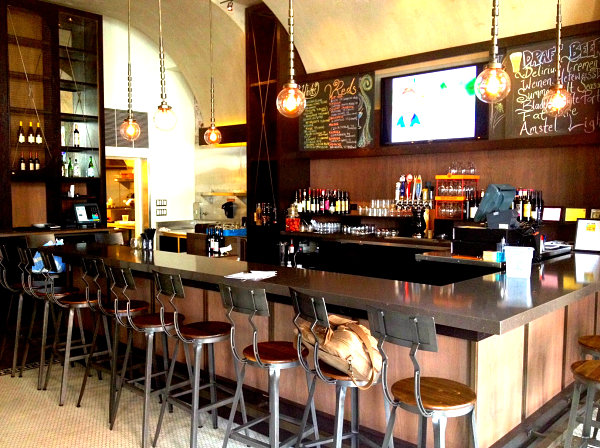 Seating is also an excellent way to add color. Bar stools with bright red cushions are a design highlight of the Madrid restaurant and bar featured in the next image. The vivid red hue is echoed in the lighting, as well as the window accent paint. [from sharkbytes]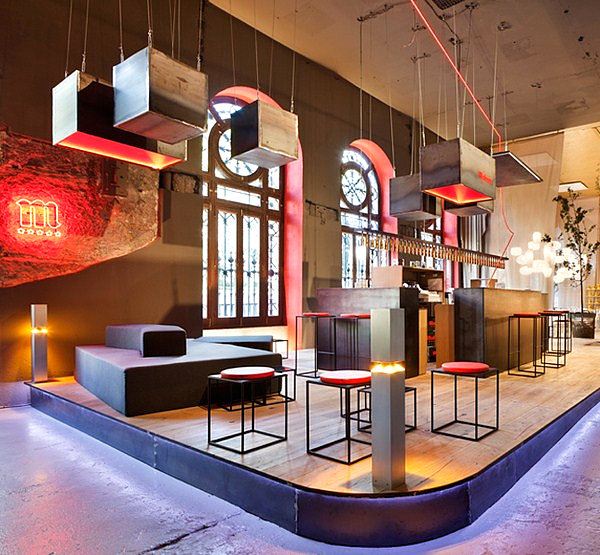 Restaurant Bar Lighting
There's nothing like a little strategic lighting to make a bar unforgettable! We start with the chandelier-style lights below, which are given a modern treatment when juxtaposed with round pendant lighting in the center of the room. NIOS, a restaurant and wine bar adjacent to The Muse Hotel in New York City, is a wonderful blend of classic and contemporary styles. [from Oyster.com]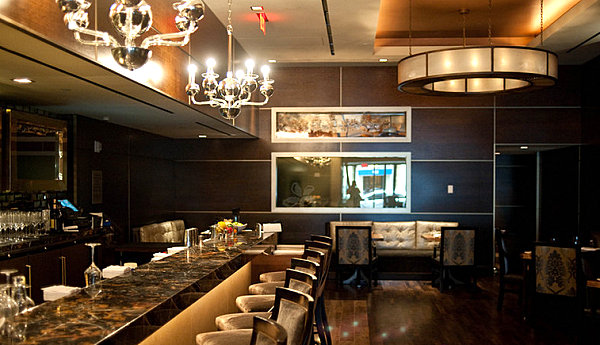 Lighting plays a major role at Denispopov Bar in St. Petersburg, Russia, designed by Oleg Igolinsky. We don't know what we like best: the techie grid-like lighting on the ceiling, the lighting under the bar and counters, or the overall violet glow that's cast over this ultra-modern trendy space. [from Contemporist]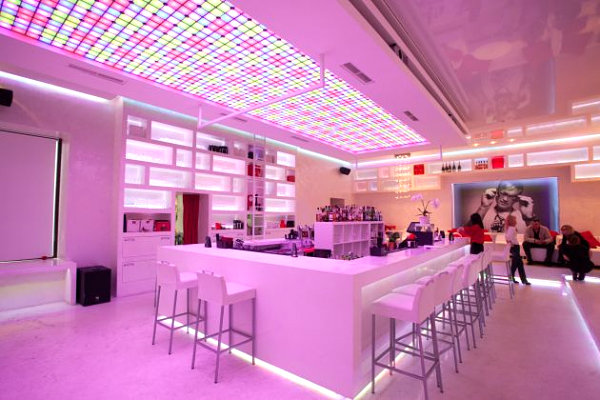 Pendant lighting plays a big role at MK Valencia Restaurant and Lounge in New York City. So does cove lighting near the ceiling. Love that neon blue!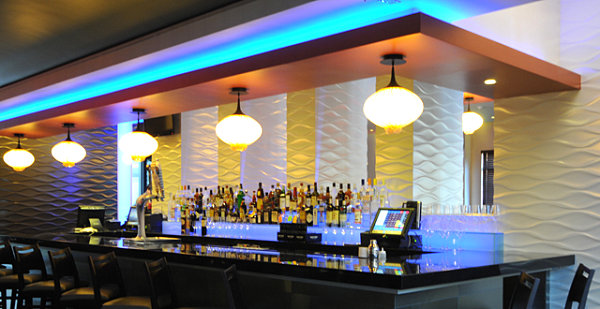 From time to time, bars showcase their bottles with a little bit of strategic backlighting. Vesu (now closed) was brilliantly pulled together by Bellusci Design, in collaboration with Arcsine Architecture. Note how clear pendant lighting adds brilliance without obscuring the view of the liquor. Also check out the gorgeous FSC-certified eucalyptus walls! [image via GIZMOdir]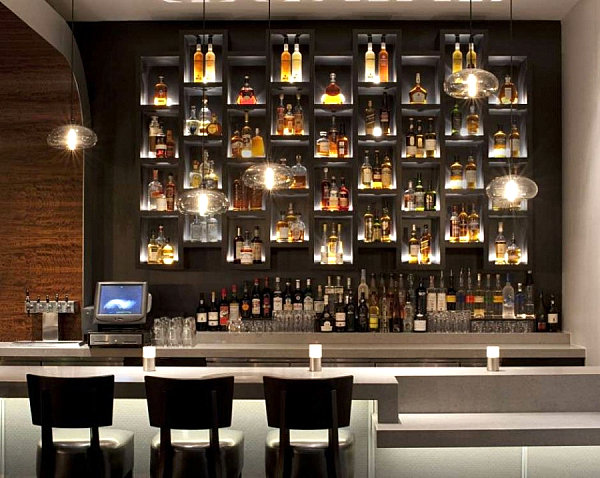 Take note of the creative use of lighting at the New York Marriott Marquis' Crossroads American Kitchen and Bar. Neon blue and bright white can be seen throughout the space, thanks to a radiant modern ring above the bar, as well as a variety of cleverly placed illuminating sources, shown below.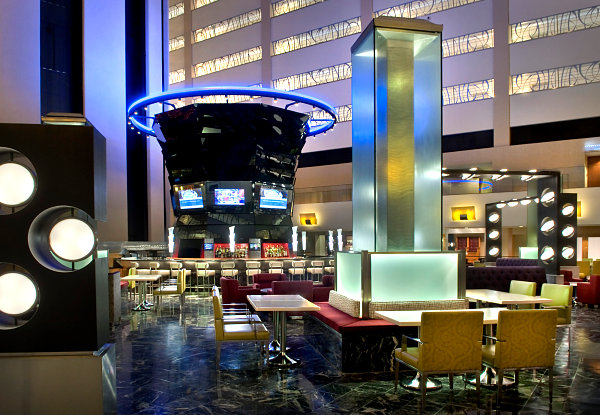 Restaurant Bar Materials
We can't forget about the building materials! The design choices we make reflect our priorities, as well as our values. How do you outfit a space that must be durable and easy to clean? With stain-resistant, heat-resistant, nonporous counter tops, of course! The bar at Town Restaurant in Charlotte, North Carolina features  DuPont™ Zodiaq® quartz surfaces. In this space, sophistication and style are priorities, but so is function!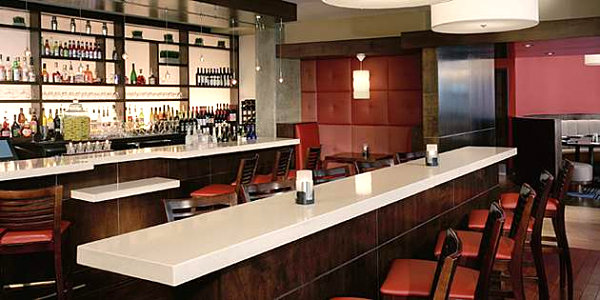 Design choices can also reveal a commitment to eco-friendly living. This coffee bar in Alberta has a lodge look, thanks in part to sustainable materials such as a reclaimed wooden bar top. [from Three Dimensional Services Inc.]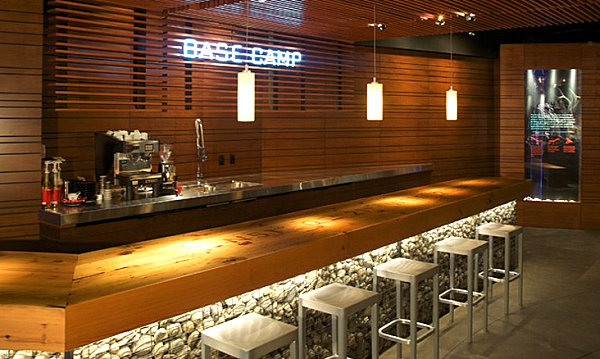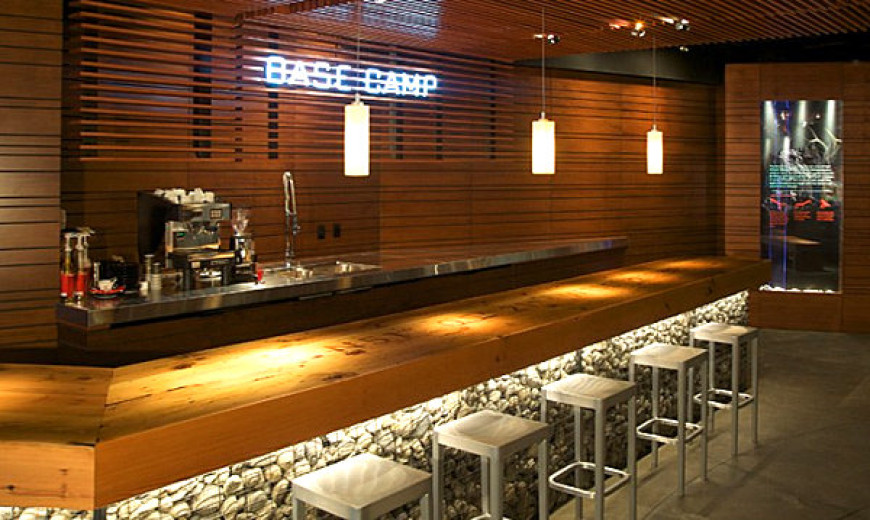 Have you ever decorated a commercial space, such as a restaurant bar? What key design decisions did you make?  Do you have a kitchen bar in your home? Share the decor details by leaving a comment below…