Summer is officially here… We thought we'd kick off the season by sharing some of our favorite summer party tips with you! We at Decoist love to entertain, and summer entertaining is something we know well. From the decorations to the food, we've got you covered, thanks to the roundup below…
Our hard and fast rule for throwing a good summer party: Take it easy. Yes, you heard us! The whole point of summer is to unwind, enjoy the outdoors and enjoy a slightly slower pace if you can. Why would you stress yourself out by throwing a party that puts all the pressure on you? Instead, learn from the pros and add a few simple, special touches. Make something from scratch if you like, but don't hesitate to purchase some pre-made items. The whole point of getting together with friends is to enjoy visiting with them, right? A party should be fun for your guests, but it should also be fun for you. These tips are a step in the right direction…
Summer Party Decoration Tips
Our first tip maximizes the effect of your culinary preparation: Let the food be part of the decor.That's right–don't spend oodles of cash on fancy decorations. The food and drinks can serve as decorative statements, especially if they're as pretty as the lemonade and popsicles features at this First Day of Summer Party from Oh Happy Day: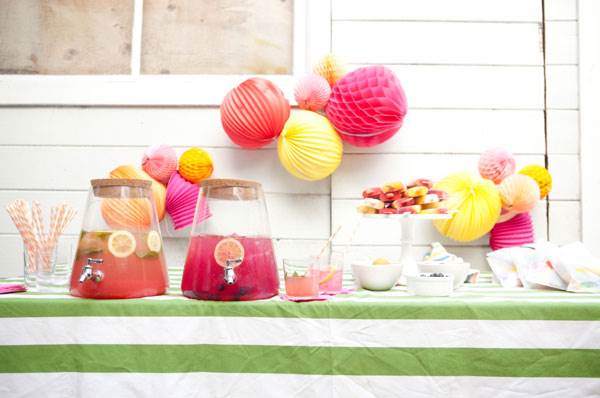 And don't forget that practical items like cups and napkins can help define your party's decorative style. With an array of creative and interesting party supplies available for today's hosts and hostesses, there's no reason why even the most functional of items can't contribute to the look of your fete. We're partial to these Shades of Blue Paper Cups in a set of 12 from Cakegirls. Bring on the stripes!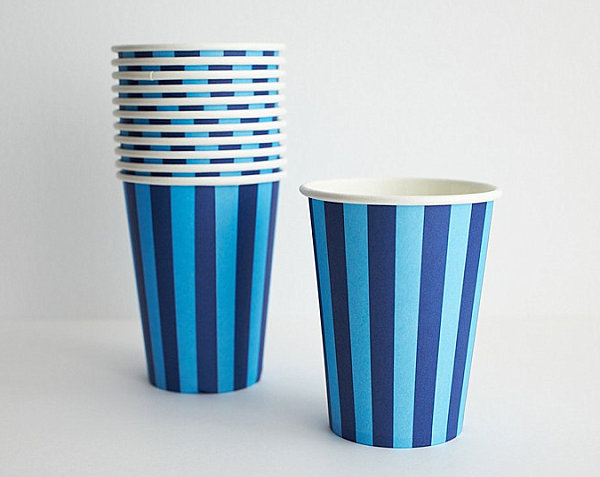 Speaking of stripes, a navy and white striped runner serves as the backdrop to this lovely table from Style Me Pretty. What else makes a big impact here? The flowers by Natalie Bowen! In fact, these beautiful blooms remind us that sometimes all you need is a big floral arrangement to anchor your event.  [event designed by Amanda O'Shannessy; photo by Melanie Duerkopp]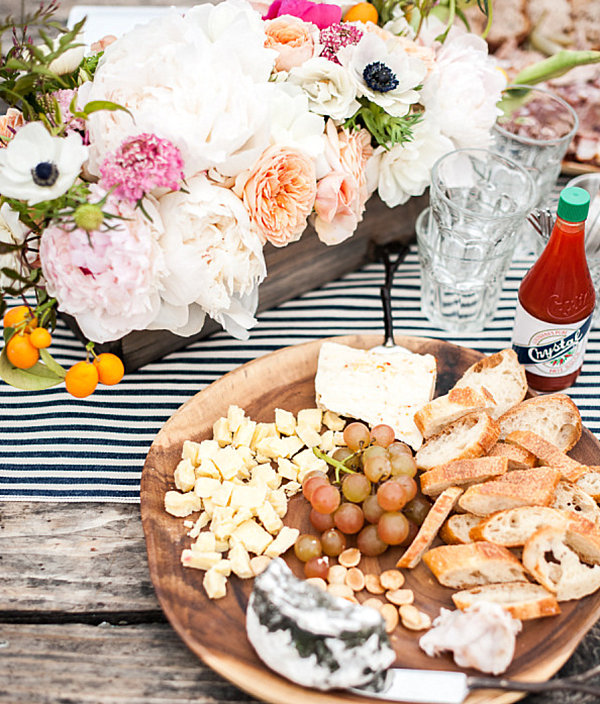 Tips for Summer Drinks
Why do drinks play such an important role at summer parties? When the weather is hot, there's nothing more refreshing than something cold! As it turns out, you can enliven the most basic of drinks with a little festivity. It's easy to do and it makes a big impact. One of our favorite summer drink ideas comes from Camille Styles: Infuse water with fruit and mint, and display it in a beautiful glass container. To see more details on this summer BBQ, head on over to Hayneedle… [photo by Chelsea Fullerton]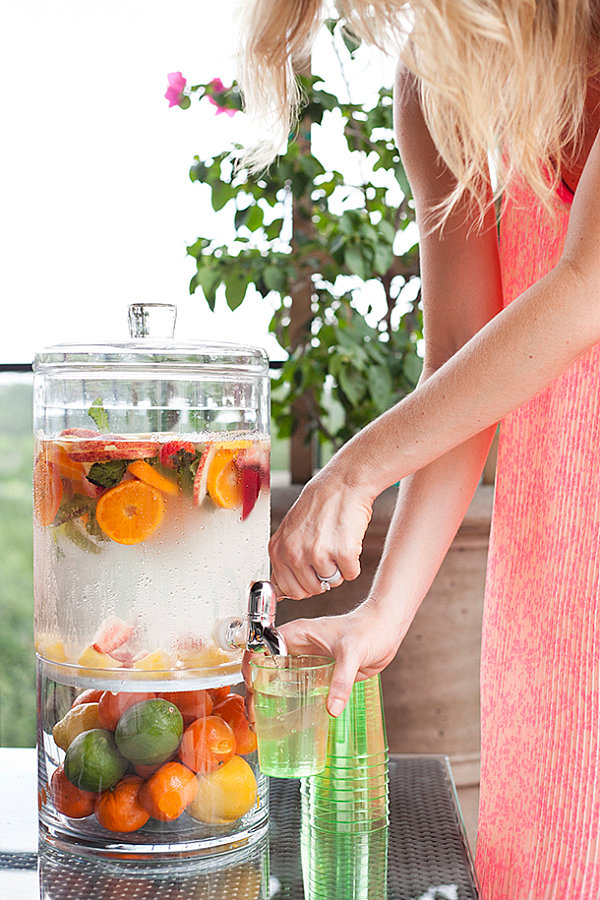 Another easy way to jazz up your summer party drinks? Purchase some festive party straws! It doesn't get any easier than this. We've seen plenty of striped straws out there, so we were very excited to come across these Blue Dot Paper Straws in a set of 25 from Cakegirls. Nothing like a little vintage-inspired pizzazz!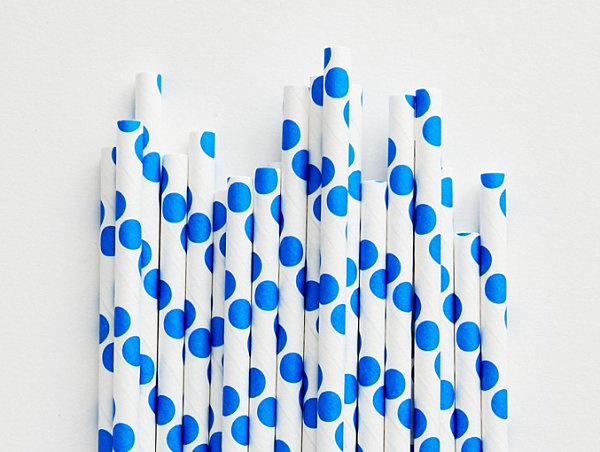 The perfect way to top off your summer party drink? Add a garnish of lemon or lime. If you're feeling particularly ambitious, include a sprig of mint, as seen below with this tasty blackberry mojito. For the full drink recipe, head on over to A Taste of Morning. [image by Laurie Pieper]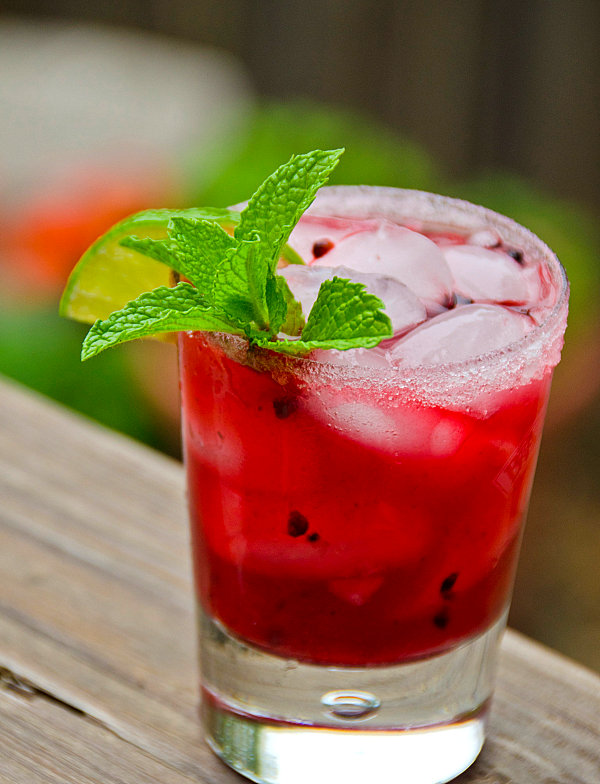 Summer Food Tips
We now move from the drinks to the food… Our first foodie tip is pretty straightforward, but it has many applications: Do something unexpected with basic ingredients for a special twist! Below we see goat cheese on cucumber rounds, topped with lemon and pepper. What gives this recipe its flair? A bit of beet, which adds color to the goat cheese! For the full recipe, head on over to Mirror80.com: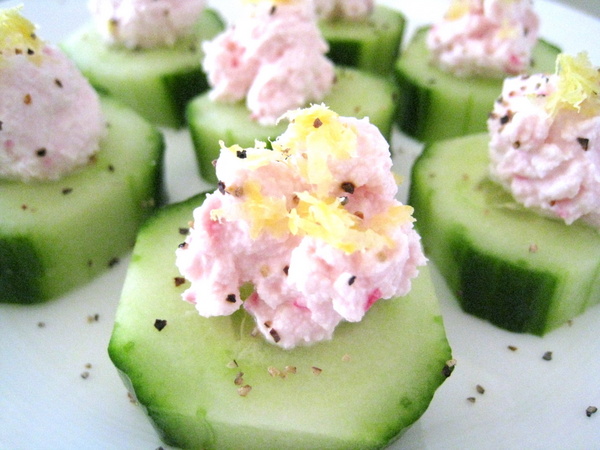 On a similar note, we can't help but love this next foodie idea, which reminds us to embellish simple recipes with an extra special ingredient or two. Who doesn't love popsicles? What if you carved out a little heart once the popsicle was frozen, then added a dollop of cherry preserves, marshmallow fluff or apricot marmalade? Could you get any more gourmet?!… Check out all the details at A Subtle Revelry. [project design and photography by Athena Plitcha for A Subtle Revelry]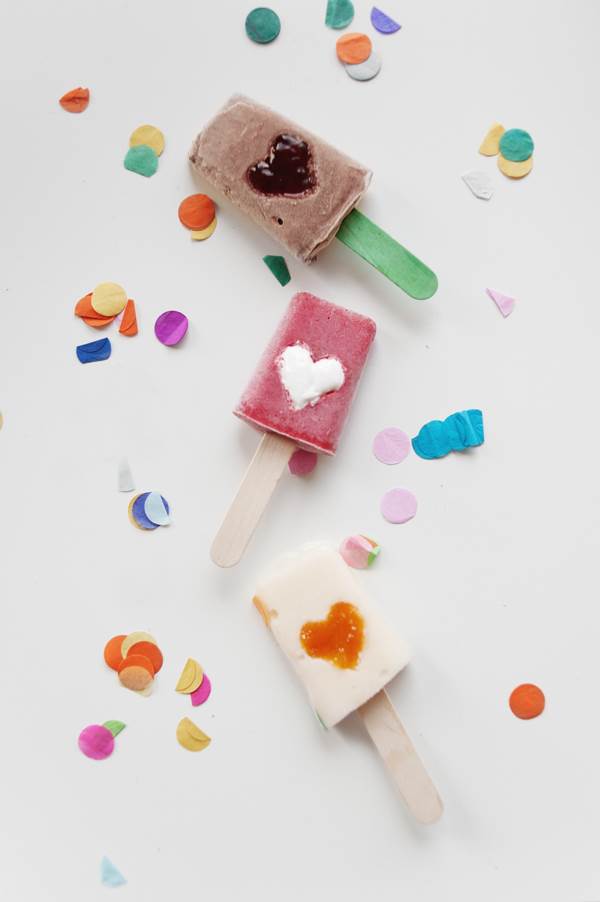 Our next tip reassures us all that cutting corners is OK… Purchase a pre-made item, then embellish it with fresh ingredients. For example, order some cupcakes from your favorite bakery, then top them with fresh fruit. OK, we confess that the dessert pictured below is entirely homemade! If you're feeling like baking, check out the recipe for these delicious Angel Food Cupcakes at Bake: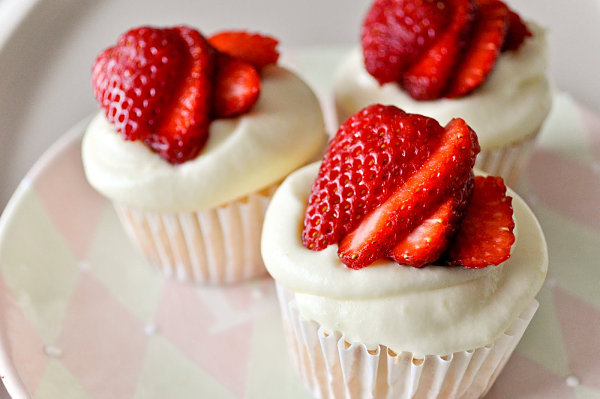 Summer Party Favor Ideas
We end with a trio of summery party favor ideas that maximize creativity while conserving energy. We get it–sometimes you just have the DIY bug and you feel like you want to make something special for your guests. Here's an easy way to say thanks: Infuse sugar with delicious ingredients such as citrus and lavender. Remember to let ingredients dry out completely before layering them in the sugar. [from HGTV.com]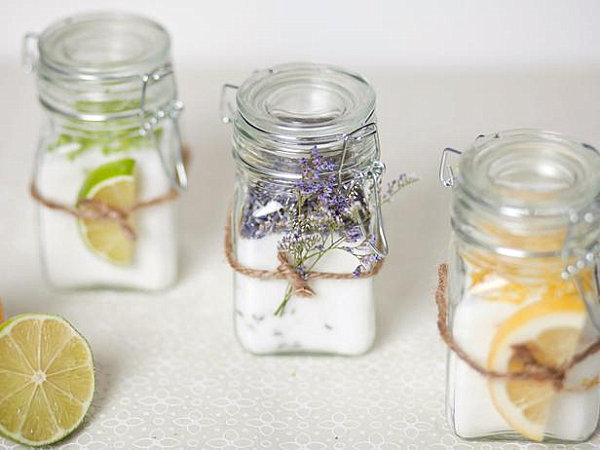 Our next tip takes the favor idea to a new level of ease (and a new level of gorgeous display)! Set up a dessert buffet and invite guests to scoop treats into baggies before they leave the party. Not only does it save you the trouble of assembling each favor, it makes the favors a true centerpiece of your gathering. Below we see a popcorn bar (which can include either store-bought or homemade popcorn). Include both sweet and salty options. The containers also remind us that if you're eating outside, you'll want to cover your food to keep the bugs away. This festive idea comes from Camille Styles for HGTV. [photo by She-n-He Photography]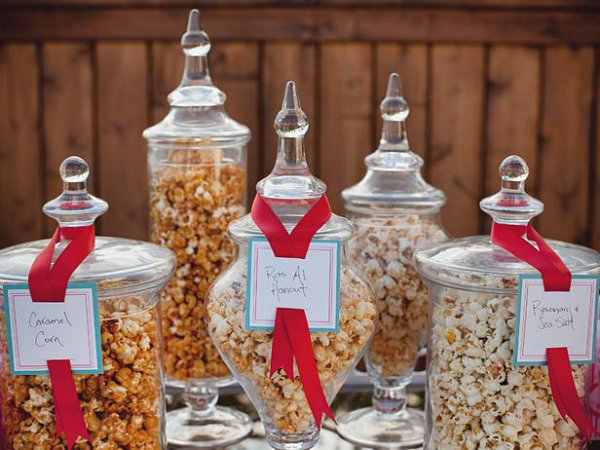 Our final favor idea illustrates how a little creative flair can go a long way. If you really want to craft something special, use canning jars to contain a bulk food item, such as granola or trail mix. Add eye-catching scraps of fabric for decorative detail. To learn more about the Trail Mix Party Favors below, head over to A Beautiful Mess…
Tell us about your favorite summer party tips! Similarly, if you try out any of the ideas above, share your results with Decoist readers! Leave a comment below…
Liked the story? Share it with friends.