Do you have days that seem to reinforce the mundane aspects of following a routine? This may be especially true if you have a 9-to-5 job that involves working from an office. And if you work from a cubicle, surrounding yourself with visually pleasing elements (that break from routine) can be a challenge. Today we explore the dimensions of workplace decor by featuring 12 amazing cubicle designs that will ignite your creative spark!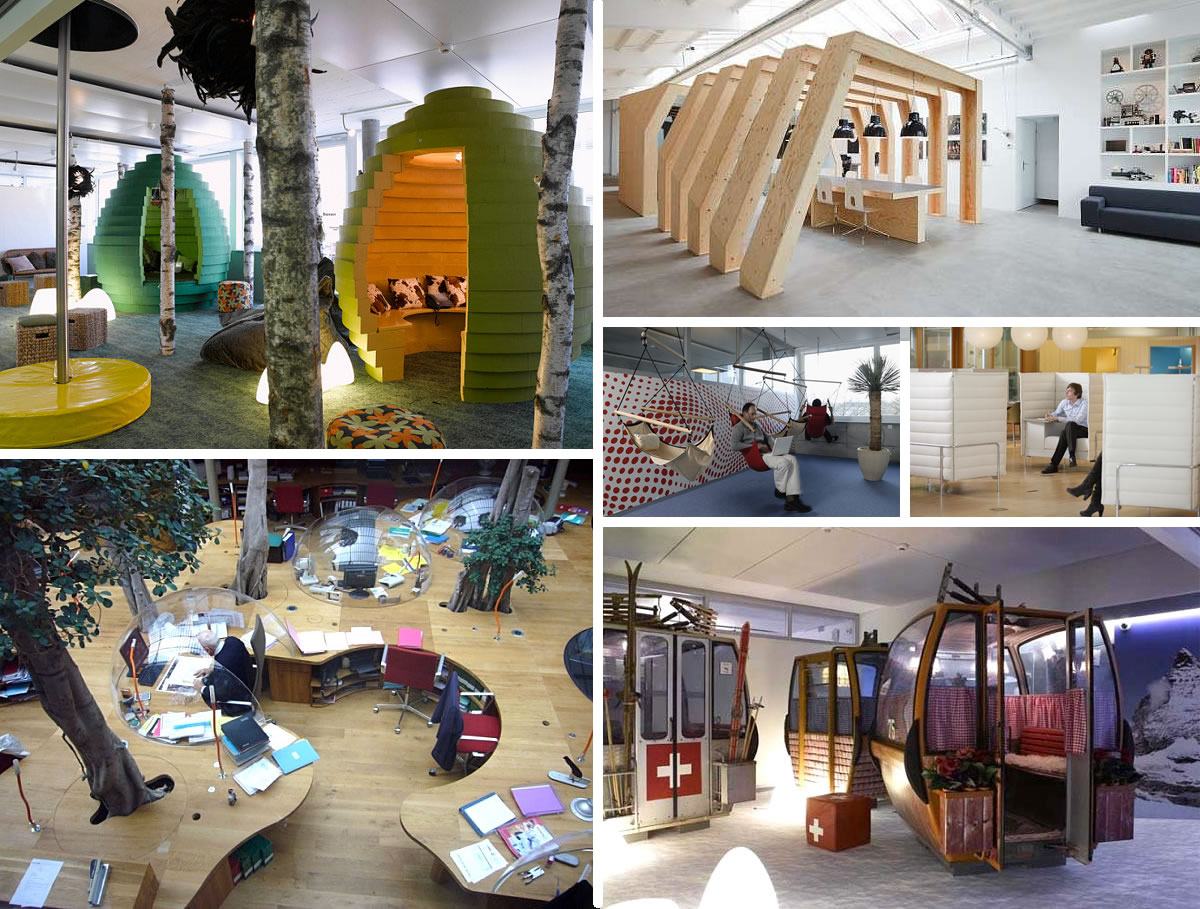 Sure, we've got some stunners that involve an element of architectural style (hello Google cubicles), but we also have a few design suggestions that could enliven any cubicle, especially if you're willing to go all out. Speaking of going all out, pay close attention to the amazing cubicles below. These workspaces take the concept of unique office design to an entirely different level. Which is why we couldn't resist spotlighting them…
Google Cubicles
We begin with the attention-grabbing cubicles from none other than Google itself. In fact, the designs you see below reinforce the importance of open workspaces, creativity and innovative design. Which makes sense for a company that prioritizes collaboration, creativity and innovation (as well as fun)! Below we see hive-like spaces that make a big statement while welcoming employees to their interiors. Note that they are surrounded by additional seating. In other words, these stunning cubicles are hardly the place to go when you want to be alone. And that's the point… [from Nodal Bits]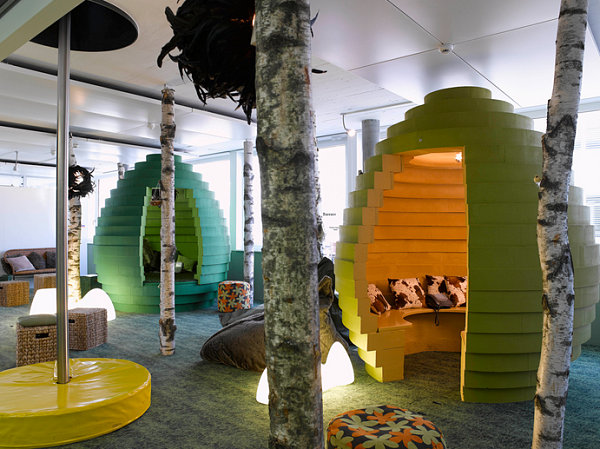 Below we see another Google cubicle design. Make sure you note the checkered curtains, flower boxes and sporty details like skis and poles. We're guessing you'll never look at a ski lift the same way again… [from DesignFeeder]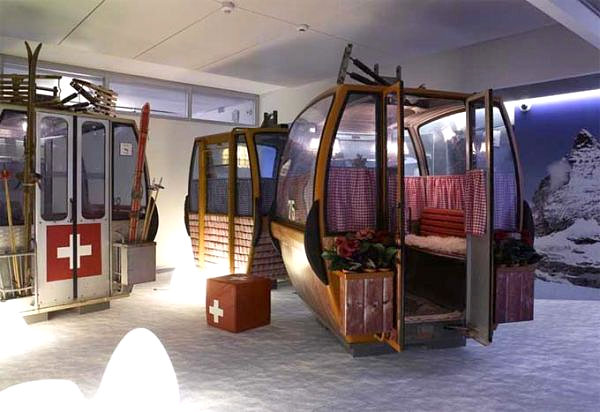 Can you think of a better way to get into the swing of things than by working from a "cubicle" that's suspended from the ceiling? We didn't think so. Sometimes the ideal way to focus is to sit back, go with the flow and enjoy the productivity that follows… [from ERE]
Geometric Cubicles
From Google to the wonders of geometry, we now spotlight out-of-the-ordinary cubicles that celebrate the power of striking forms. Like the dome shape of the Bubble Desk below, created by French architect and designer Christian Pottgiesser. These Plexiglas domes provide a sense of privacy, and they also have the potential to cut down on the spread of germs. How would you feel about being enclosed by a clear bubble–inspired or confined? [from DVICE via The Interrobang]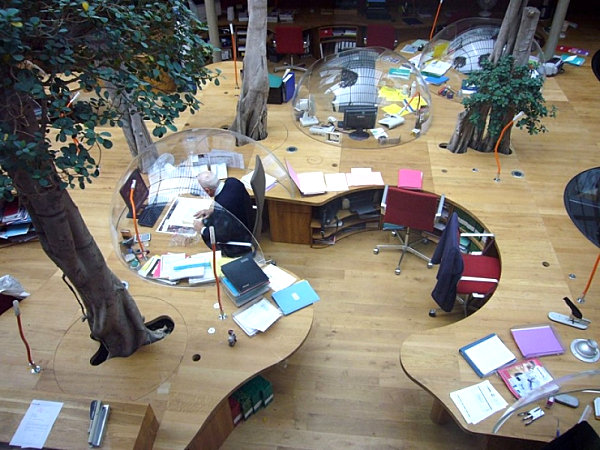 We continue to focus on the "round" trend by highlighting the cubicle spaces below, designed by Jump Studios. They are definitely collaborative with their booth-style seating, and and overhead lighting ensures that these workspaces stay bright. And stylish! [from DesignFeeder]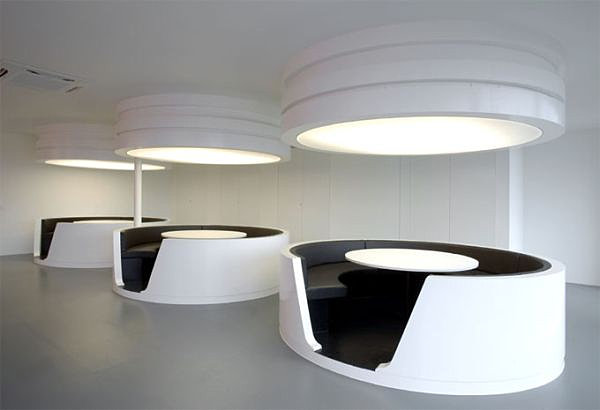 Theres's something wonderful about the modular nature of cubicles. In fact, you can configure them any way you want. Which is why these selections from Knoll give new meaning to the phrase "configurable cubicle system." [via Office Furniture]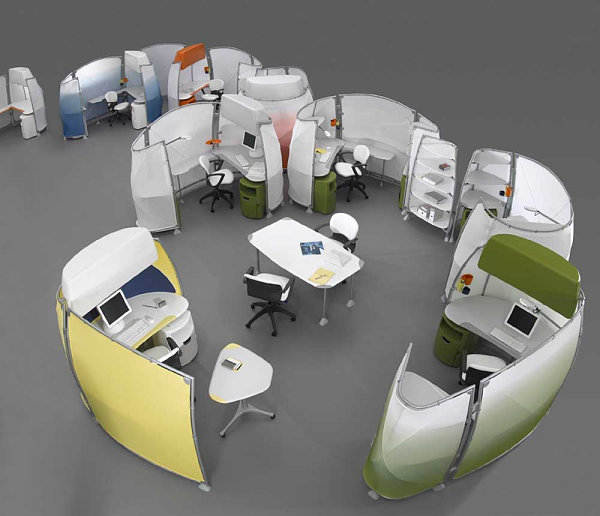 Cushy construction, horizontal lines and sleek spaces are all the rage when it comes to the Citizen Office by Vitra, which fosters a sense of privacy, as well as a sense of collaboration. Which very well may be the pure genius behind this cubicle design… [via Estudi HBS]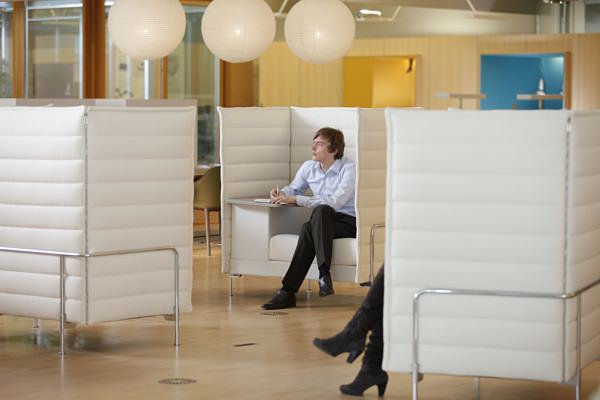 Below we see Onesize Studio by Origins Architecture, which features a series of overhead wooden structures. It's as if each rib of this intriguing form represents a different member of the team that works beneath it. The overall effect is impressive, hopefully mirroring the impressive level of productivity that results from the collaborative seating arrangement. [from Trend Hunter]
Creative Cubicle Decor
We now head into creative cubicle territory. Not that the cubicles above weren't creative! But these selections represent ways that you can spruce up the interior of your cubicle without building a completely new free-standing modern form. Of course, you may want to check with your boss before you incorporate graffiti art into the design of your cubicle space. But imagine the possibilities if you can add color and style to your immediate surroundings, as shown in the image below… [from DenverPost.com]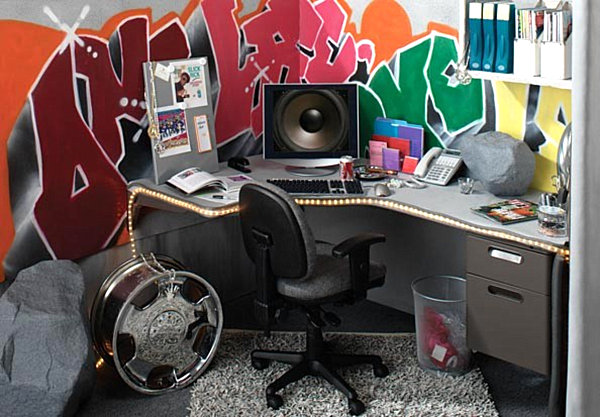 Are you a fan of sci-fi? There's nothing like the power of a vintage movie poster, a few interesting props and some chalkboard paint to spruce up your workspace… [from Wired]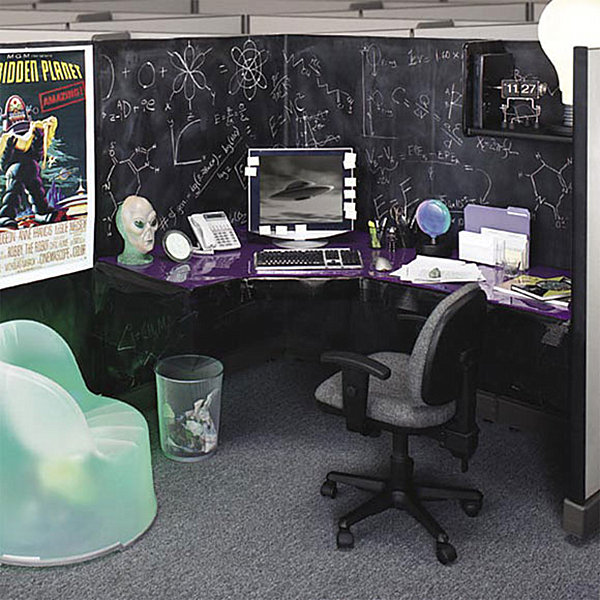 If you're a plant lover, it may be time to bust out the bamboo. This space designed by Kelley L. Moore is called "Zen Cube." And we can see why! From the faux-bamboo walls to the tiny Zen sandbox and small water fountain, elements of relaxation abound in this cubicle. And let's just say we're fans of the lighting! [from Wired]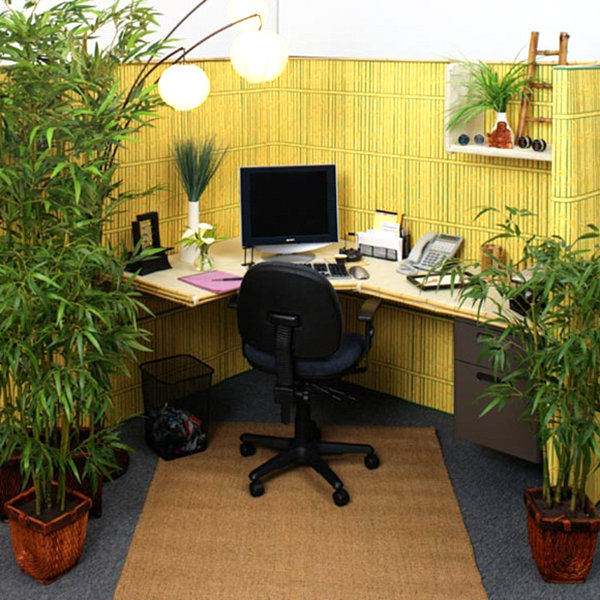 We end with a truly unique "cubicle" from Restoration Hardware. With an intentionally aged appearance, this Richards' Canvas Secretary Trunk has the look of an early 20th-century luggage piece, then unfolds to office space greatness, complete with drawers and compartments for organization…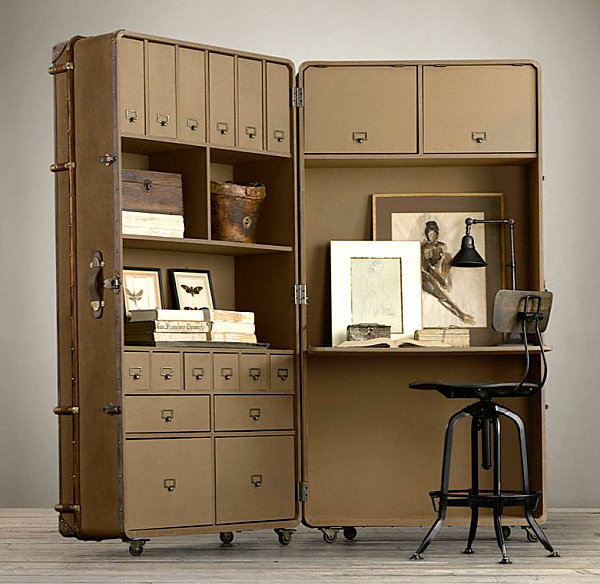 Has today's post inspired you to enliven your workspace? Tell us about your design plans. We'd love to hear your tips on jazzing up the office cubicle! Share your thoughts by leaving a comment below…
Liked the story? Share it with friends.