A tufted sofa. A vase of fresh flowers. A chandelier. Are these quintessential feminine touches? Perhaps! What about traditional masculine accents such as leather upholstery, rich colors and chrome detailing? Today we ponder the possibility that it's not the accents themselves that make living rooms masculine or feminine–it's how they are combined with other details to create an overall effect.

How else you explain the masculine living room featuring a vase of fresh flowers or the feminine space with a leather sofa? Resist the urge to stereotype, take a look at the big picture, and remember that girls can enjoy masculine rooms as much as boys can enjoy feminine ones. Have fun browsing the spaces below…
Feminine Living Rooms
We begin with a room that mixes an abundance of details, from a tufted sofa and striped draperies to an ornate mirror and a display of purses. The overall effect: girly, with French flair. Also note the clever incorporation of details such as a Saarinen table, which is often featured in spaces that are a bit more modern. [from Nichole Loiacono Design]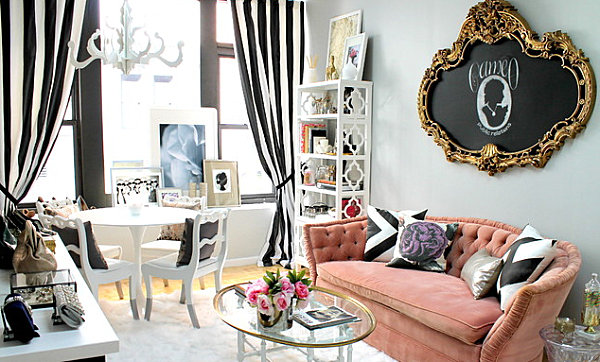 No, pink isn't just for girls! But it can sure create a fun, feminine room, as shown below with a space that features this rosy shade on everything from sofa to pillow to window treatment! We're loving this radiant tone of pink and the way it approaches neon. Once again, there's an eclectic combination of pieces such as a tufted leather sofa and a series of patterned throw pillows. [by Courtney Apple Photography via Caitlin Wilson]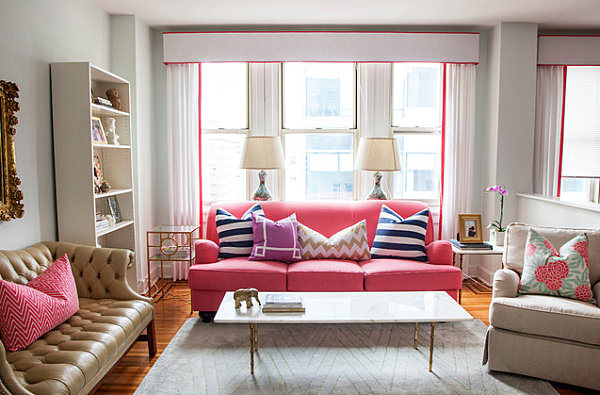 We're also loving the peach tones of the feminine space in the next featured image. In fact, the layering of peachy hues gives this room a bit of a girly look, despite clean-lined modern accents such as pendant lighting, wall art and a geometric rug. [from Coddington Design]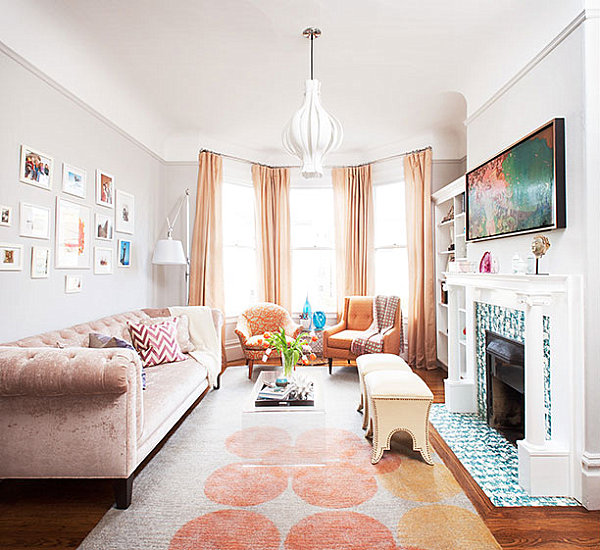 Another winning feminine touch? Floral patterns! The room below features them abundantly. From a red and white floral sofa to floral artwork and a vase of fresh blooms, there's no shortage of vegetation in this space. Yet the combination of bold red with crisp white keeps the room from being too girly. [from Furnitureland South]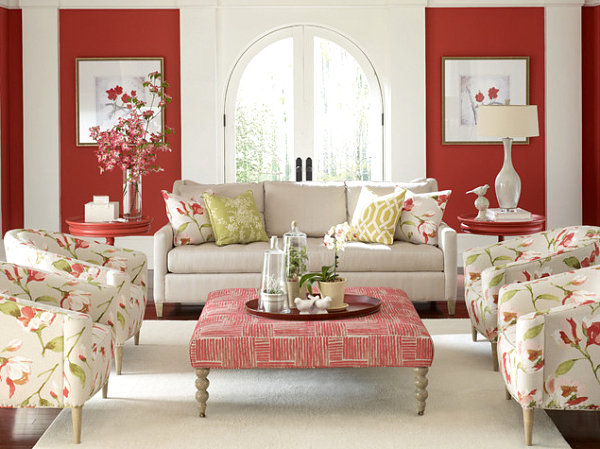 A retro yet modern look is created in the next feminine floral space, thanks to a vintage settee and flowery wallpaper. An unusual combination of shades such as mustard, gray, berry red and sea green result in a space that is interesting and unexpected. Who says floral rooms must follow traditional rules?!… [photo by Caren Alpert for Coddington Design]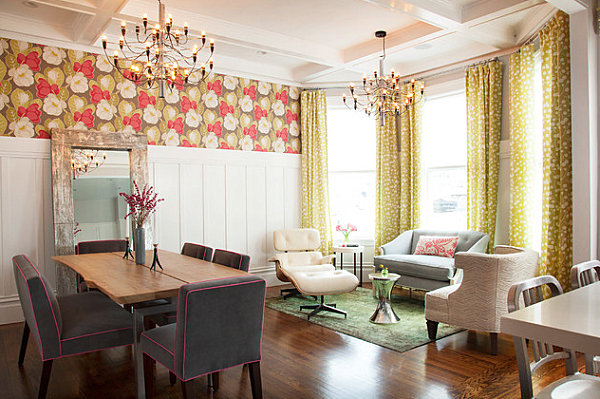 At the same time, nothing is more lovely and feminine than details such as a vase of fresh flowers and other objet d'art stacked on books in shades of hot pink and aqua. [by Laura Collins from Gracefully Searching]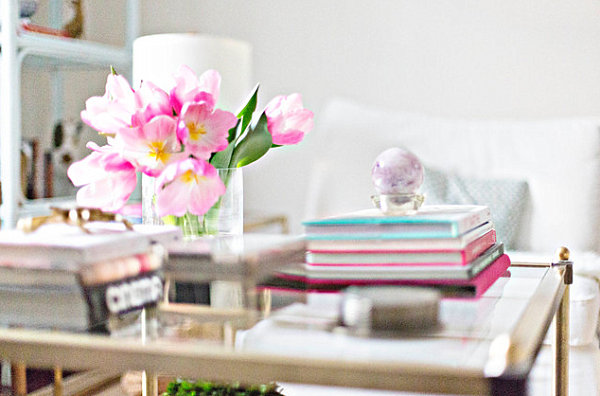 We now feature another feminine element of interior design: glamorous details! In the girly meets modern space below, we see shiny patterned wallpaper, a glass coffee table, and vivid upholstery. Note how the room veers into femme territory despite the stereotypical masculine shade of powder blue. [from Coddington Design]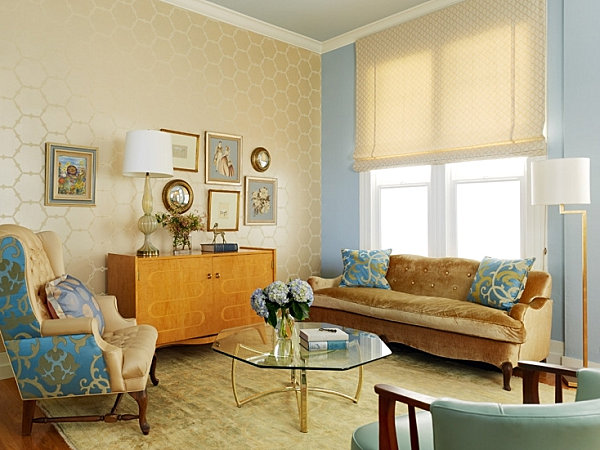 Speaking of blue, what could be more refreshingly glam than a cobalt couch in a white room? Especially when shiny details such as globular lamps and wall sculptures are involved. Anyone else picturing the bubbles in a glass of champagne? [from SuzAnn Kletzien]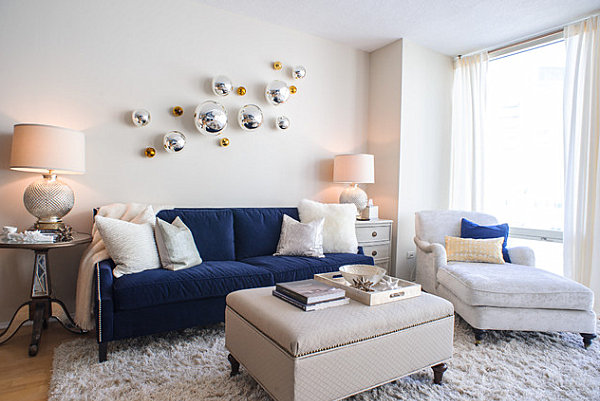 We end with a room that is rich in jewel tones, ornate details and mirrored accents. In fact, these three touches combine to create a feminine space boasting showpieces like a scroll-frame mirror and brocade-patterned seating. [from LiLu Interiors]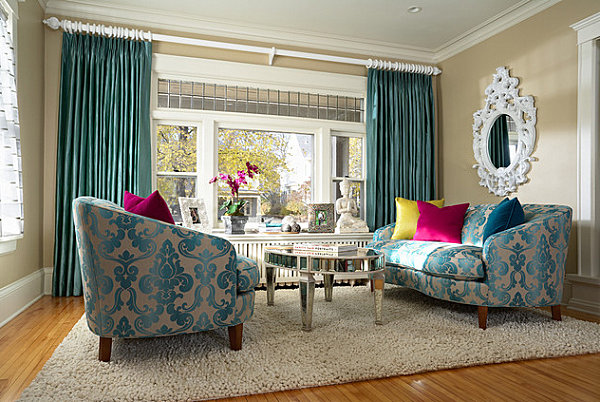 Masculine Living Rooms
What makes a space masculine? Is it an abundance of clean-lined details? Not always. In fact, we often assume that manly spaces should be minimalist, but there are many masculine eclectic spaces that blend a range of elements. Take the room below, complete with tall draperies, rich plant life, curved lighting and geometric patterning on both rug and throw pillow. Rich hues and weathered elements like a leather sofa add a rugged look.  [from Melissa Lennox Design]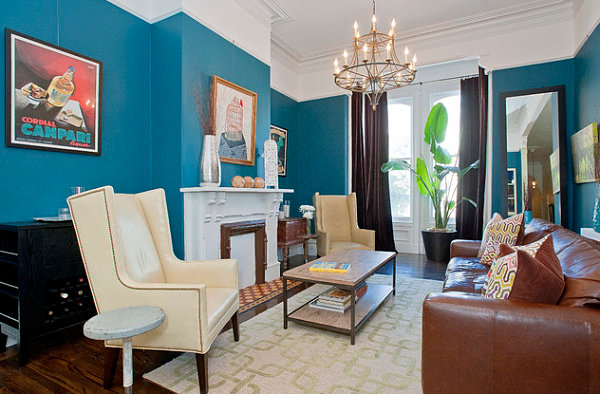 Sometimes a color palette can take a room in a masculine direction. We're loving the monochromatic look of the gray-on-gray space below, which also welcomes metallic accents in chrome. The stage is perfectly set for wild pops of red, as shown on the artwork and "coffee table" books. Industrial meets glam, don't you think?! [from Z Gallerie via Houzz]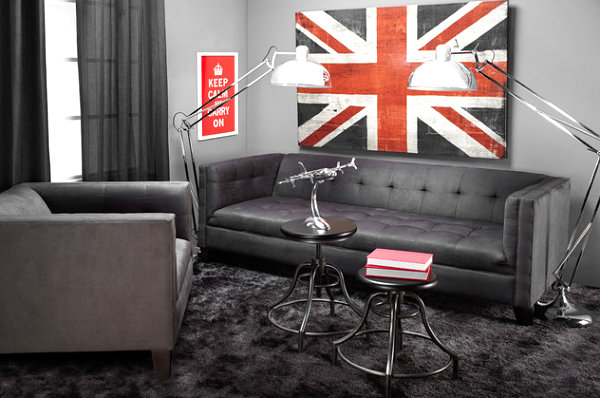 There's nothing like a warm textured living room to create a masculine vibe. Wooden, earthy tones abound in the next featured room, as well as textured surfaces like the fireplace wall, the sofa and the rug. Who says a masculine room can't feature fresh flowers? The green mums below couldn't be more at home! [from Pavilack Design]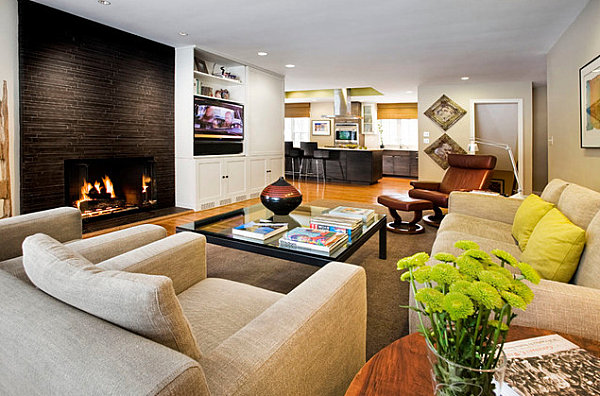 The black and white color palette of this room creates a masculine backdrop for details like a fish tank, sculptural shelf decor and throw pillows in organic patterns. While the color scheme is strategically repetitive, interesting features such as shiny wall panels make this space anything but dull. [from Natalia Skobkina]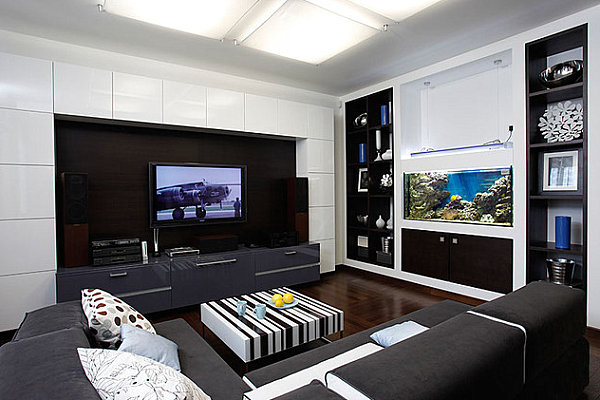 We can't forget the appeal of earthy, modern touches and weathered details, such as the branch-motif lamp, stone accent wall and warm lighting fixture in the next space… [from DKOR Interiors]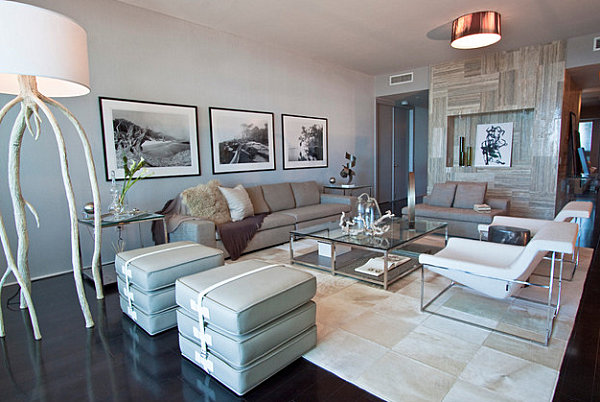 Speaking of earthy, the weathered chevron-pattern floor below is a true showpiece! Throw in clean-lined furniture, and the stage is set for a rugged yet undeniably modern room. Black and white photography on the walls and a hairy rug on the floor tie it all together. [from Auramas]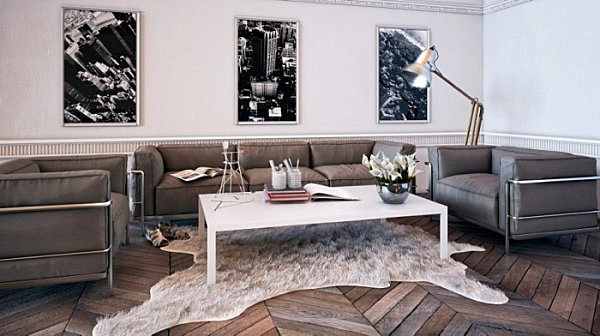 We end with a trio of rooms that celebrate the masculine power of clean lines. Like the interior below, which is surprisingly intricate despite its minimalist look. Note the use of special touches such as artistic lighting fixtures, strategic lighting embedded in the stone accent wall, and greenery that adds verdant detail. [from DK Interiors]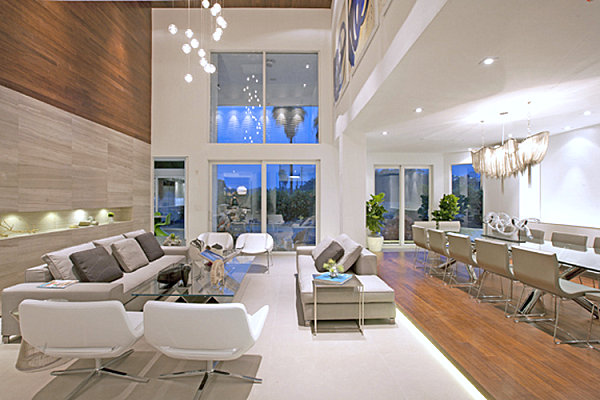 The light and airy room below includes wooden features that beautifully contrast the bright white walls. Thrown in comfy modern seating and artful decor, and you have a manly space that a woman couldn't help but love. [from Tim Cuppett Architects]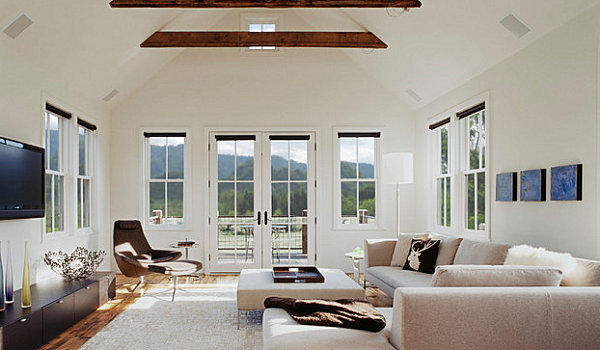 Our last featured space is modern and minimalist. After all, why would you clutter a room whose real star is the rugged view right outside the floor-to-ceiling windows? In fact, the repetition of gray and cream tones beautifully mirrors the landscape, creating a modern yet earthy feel. [from Design First Interiors]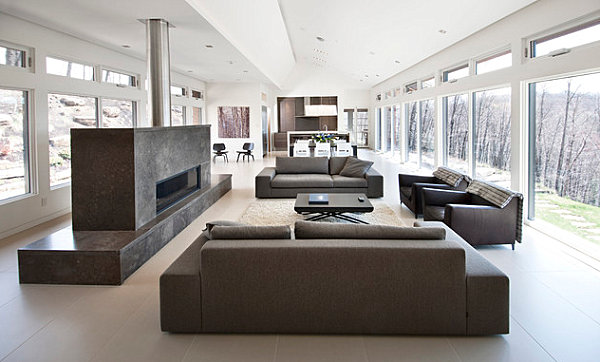 Tell us about your favorite featured space from the selections above! And remember… you don't have to pick a feminine room if you're a woman, any more than you have to pick a masculine room if you're a man. Sometimes it's fun to defy stereotype and focus on design details that you truly love, without letting gender expectations play into your decision! Share your thoughts by leaving a comment below…
Liked the story? Share it with friends.