Today we begin a series of posts on masculine and feminine rooms, showcasing modern design at its finest. Our first stop: the boudoir! From floral details and stylish frills to rustic motifs and no-nonsense colors, we've got a room for every sensibility. In fact, we think some of the most interesting spaces are the most eclectic ones, as it's fun to uncover details one layer at a time.
What truly makes a space masculine? What makes a space feminine? It depends on who you ask! While today's featured bedrooms are grouped into "His" and "Hers" categories, keep in mind that there are no hard and fast rules on how to decorate in masculine and feminine styles. Can a masculine bedroom feature a vase of flowers? Absolutely! Can a feminine bedroom be clean-lined and modern? You betcha! We've got the pictures to prove it…
Masculine Bedrooms
We begin with bedrooms "for him," and we offer a range of styles that can work for those wanting to capture a masculine look. First up–polished yet eclectic! In the space below, we see manicured details such as crisp bedding, pressed drapery panels and a monogrammed pillow. Yet wilder elements like a terrarium on the dresser keep things interesting… [photo by Michael J. Lee Photography for Platemark Design]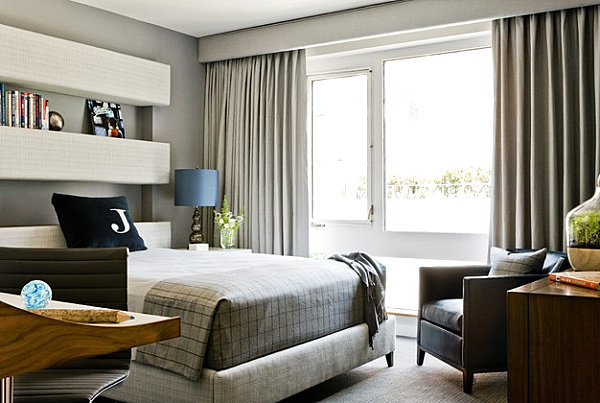 Speaking of keeping it interesting, the next masculine space celebrates eclectic style with eye-catching artwork, geometric lighting, and a slew of traditional details like a headboard with nailhead trim. [from Lonny]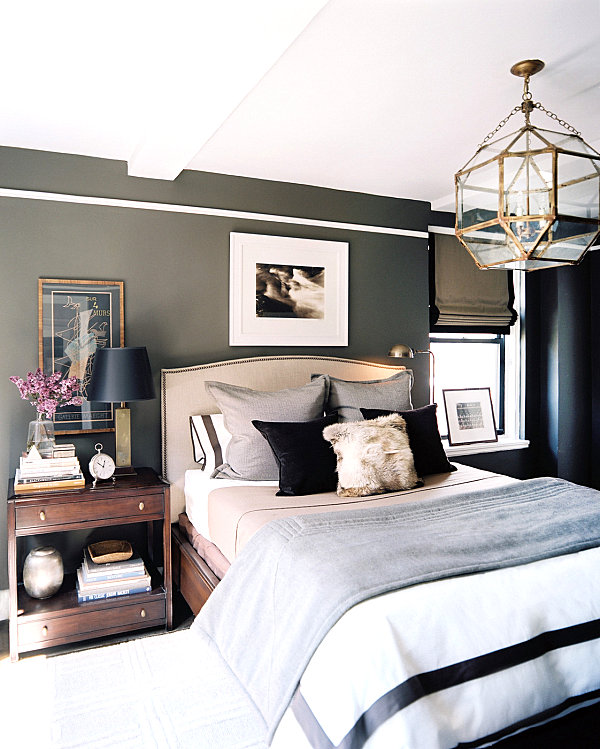 Who says the masculine bedroom can't be playful?! This next featured space includes plenty of fun details such as mismatched lettering and futuristic seating. Note how bold shades such as red add pops of color against darker and more neutral hues. [photo by Kate Benjamin Photography for Room Service Interior Design]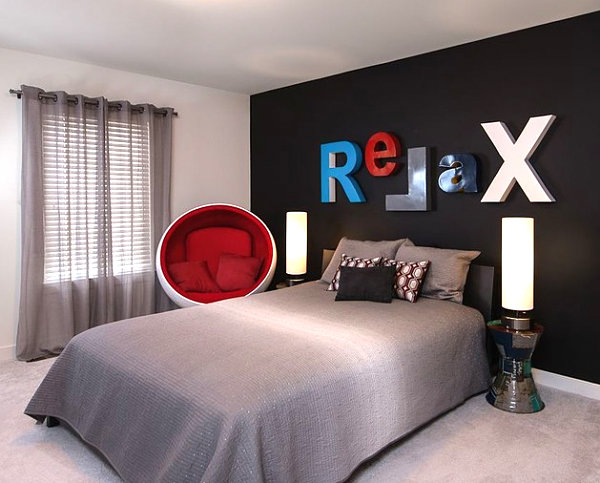 Another fun touch for the masculine bedroom: chalkboard paint! In fact, this next space features a chalky quote from the comedy Zoolander. This playful touch is contrasted by details like a branch-motif table, which proves that this space is serious about design. [from Lonny]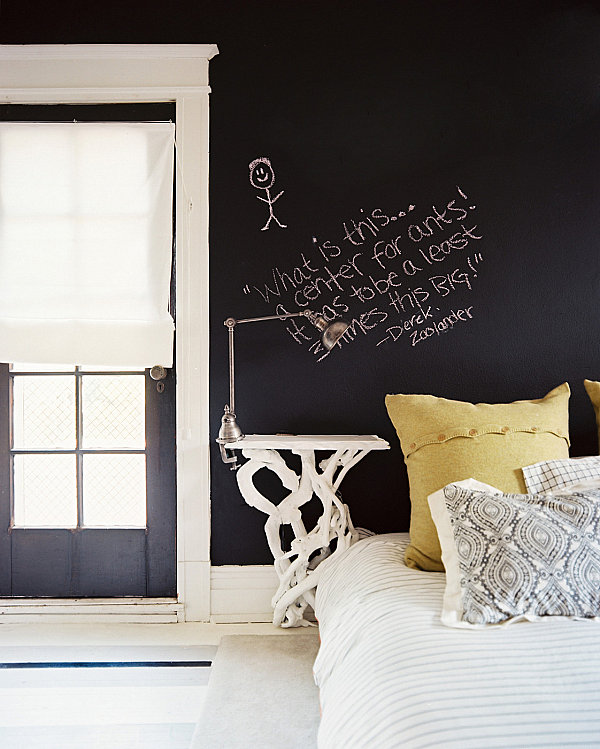 Below we see a masculine bedroom in an ocean-front home. We're loving sleek touches such as artistic photography, a wooden headboard, and a geometric rug. [from Stelle Architects]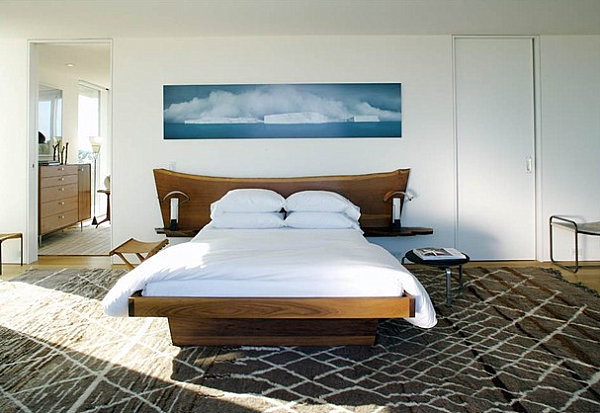 Prep school meets a weekend in the country in our next featured space, which is full of thoughtful touches. From vintage signage hanging over the beds to an assortment of objet d'art, this room is perfect for both the collector and the minimalist. Note how a clean, crisp look sets a peaceful tone. [from Lonny]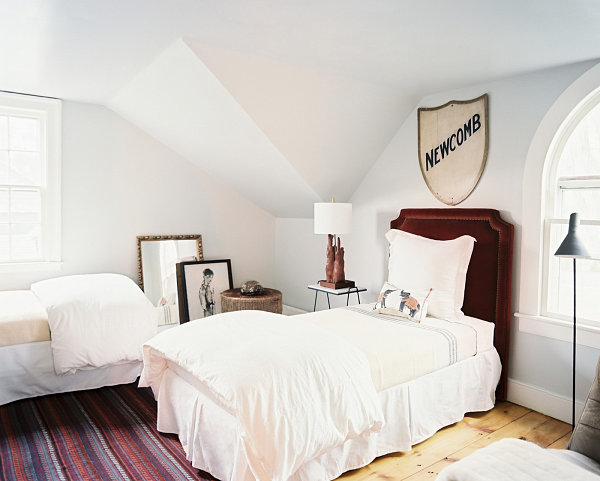 If you're a guy who enjoys weekends at a cabin in the woods, perhaps this rustic room will pique your interest. From the tree trunk wallpaper to the flannel bedding, there's just something earthy here that can't be denied… [from Christina Marie Interiors]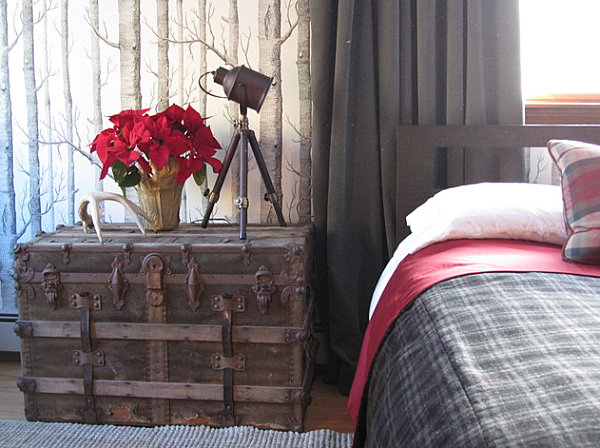 Time to get sleek. And chic! Our next featured space is a room with a view. And plenty of impressive decor. Grand-scale style is evoked by features such as floor-to-ceiling draperies and modern chandelier-style lighting. Throw in an assortment of silky grey tones, and the glamour is officially in the building! [from Michael Abrams Limited Interior Design]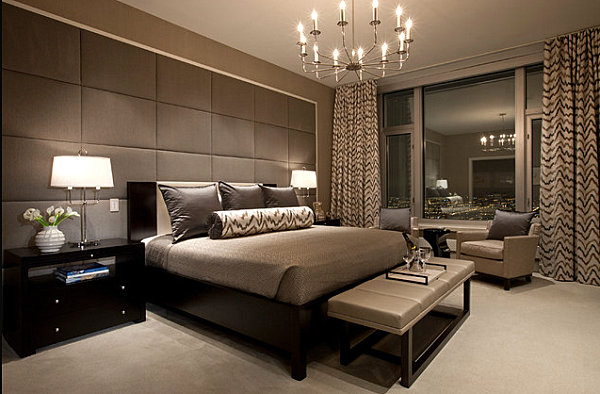 In other sophisticated news, we see the power of pattern and texture in the masculine space below from Atmosphere Interior Design. Geometric wallpaper and gridded bedding provide visual detail, while slick features such as a leather headboard and elegant draperies help set a decadent tone.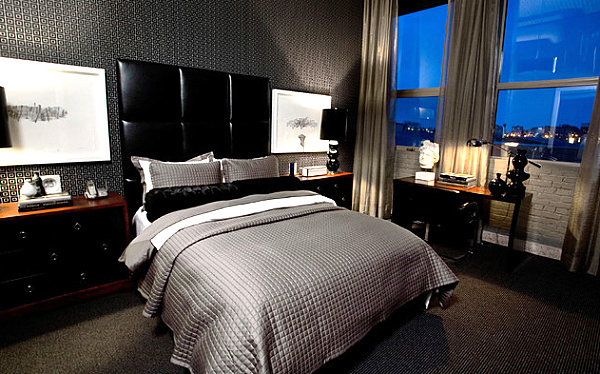 Feminine Bedrooms
We now move on to bedrooms "for her," complete with romantic details and contemporary features. The vintage space below is for the lady who wants to revel in her femininity! An antique mirror, pink accents and fresh blooms add sweet, vintage touches, while hotel-style shams and a monogrammed bedding accent keep the look tailored and tasteful. [from Lonny]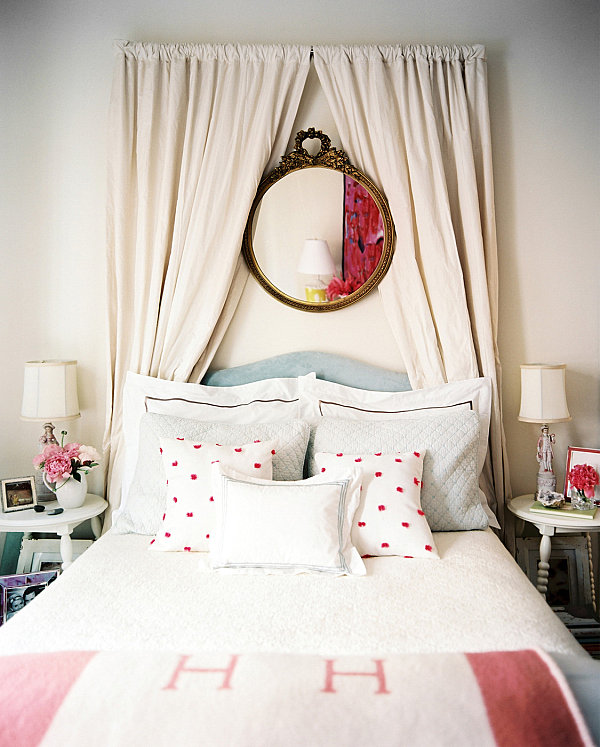 Bring on the floral! And who says the florals have to match?! Below we see a beautiful feminine vanity in another vintage-style space. Ruffled curtains and an upholstered chair contribute to the soft look. [from Lonny]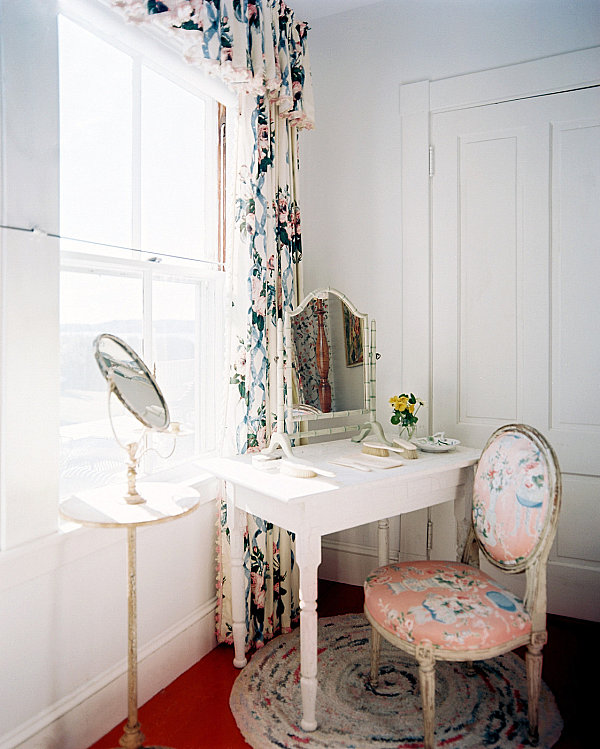 While the next featured space is actually a teen bedroom, it has enough sophistication to work for adults as well! A four-poster bed with bamboo-style detailing is a clear focal point, while a range of patterns on bedding and draperies add visual interest. Also note the lovely green, lavender and orange color palette! [from Katie Rosenfeld Design]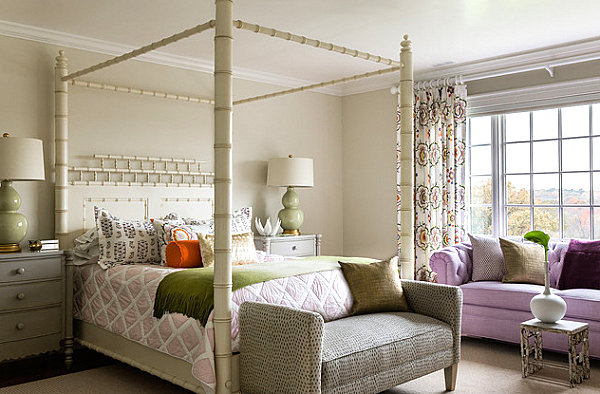 A tent-like canopy is the perfect cozy enclosure to the twin bed below. Elegant touches abound in this feminine space, from striped painted walls to a sunburst mirror that brings vintage style home. Hollywood Regency details such as an upholstered headboard and geometric pillow create a level of sophistication, while fresh flowers add a feminine vibe. [from Jessica Bennett Interiors]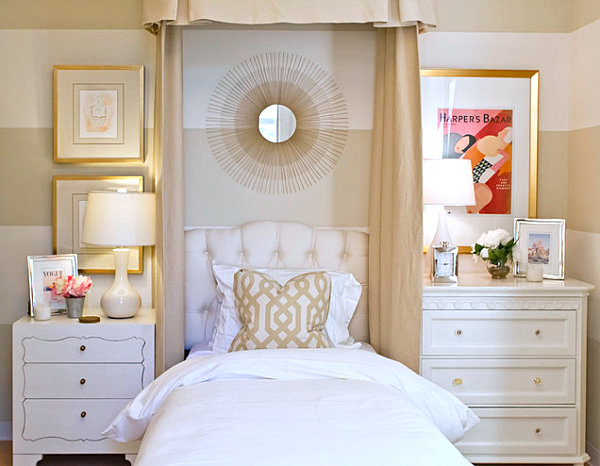 Speaking of Hollywood Regency, the style lives on in the bedroom below, which features a soft palette of beige, cream and pastels (such as powder blue). Eye-catching lamps include contemporary and traditional flourishes, and mirrored nightstands add glamorous shine. [from Space Harmony]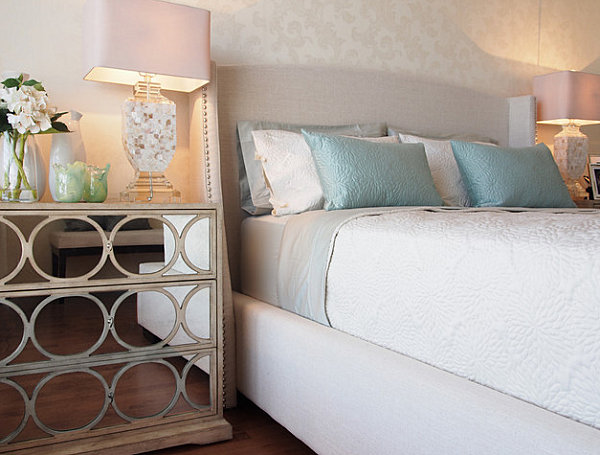 Speaking of mirrored pieces, a pair of reflective nightstands flanks the plush bed in the feminine space below. The highlight of this room with French style: a giant tufted upholstered headboard, complete with a silver frame! Talk about luxe! [from Lonny]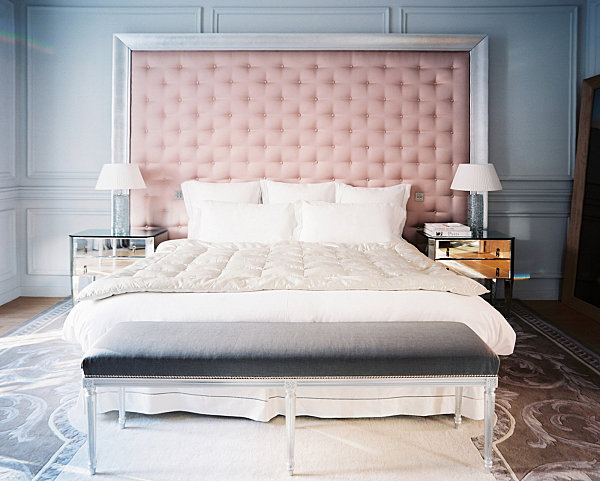 The room below is bathed in shades of pink and peach. Note how walls, draperies, rug and bedding work together to create a rosy glow that's complemented by metallic features such as an ornate yet modern chandelier and a modern chrome bed. [from Lonny]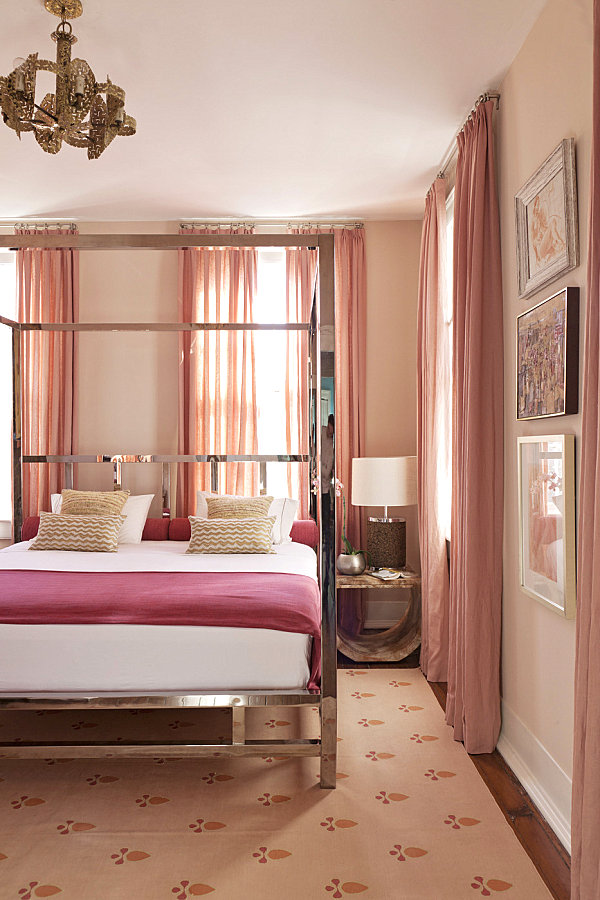 In the contemporary space below, we see pink accents set against the backdrop of a crisp white space. Mirrored nightstands add a modern touch, while a tufted headboard creates a luxurious feel. Yet nothing is over the top in this space, and there's plenty of room for accents such as pink pillows and flowers. [from Jodie Rosen Design]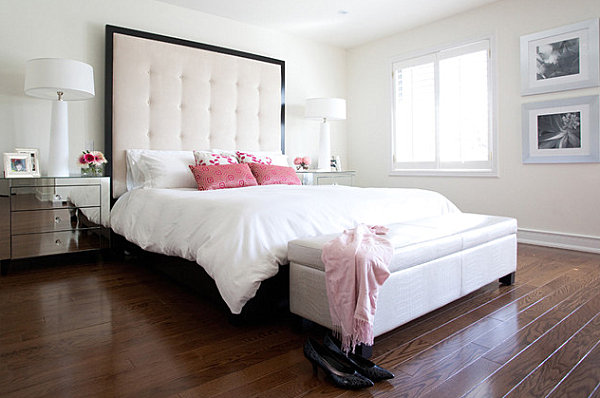 We end with a space that's feminine without being too girly! We're loving the neutral tones and bold artwork. The softest shade of rosy lavender ties it all together, while a glass chandelier overhead adds a modern sense of elegance. [from Jenkins Bauer Associates]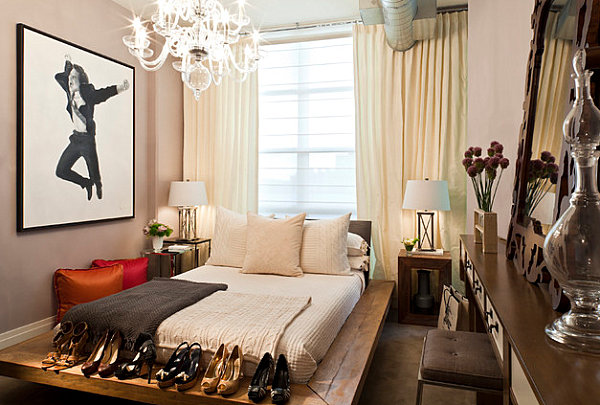 When it comes to bedroom design, what's your style? Are you a girly girl who revels in traditional feminine touches, or do you enjoy a more eclectic space that is absent of frills? Are you a man who enjoys a clean-lined modern room, or do you like your space to hold a range of flourishes. share your thoughts by leaving a comment below…
Liked the story? Share it with friends.