Calm. Peaceful. Trustworthy. Reliable. Soothing. All of these words describe today's featured color–blue! First I'll let you in on a little secret: growing up I much preferred green to blue. In fact, time after time I would pass up blue clothing and accessories for verdant shades such as lime, jade and emerald. But as time went on, I realized the undeniable power of blue, and the way it's a truly versatile hue. 

For starters, there are so many amazing shades to choose from–Monaco blue, peacock, turquoise, and ice blue, to name a few. In fact, today we profile these very shades and show you just how they can make an impact on your interior. Another great thing about blue: there's a shade for everyone. In fact, I quickly grew to realize the shades of blue that rubbed me the wrong way as a kid were just that–a couple of shades in a very big sea of azure options. Sure, blue is tranquil and serene. But as it turns out, it's also quite dynamic! See for yourself…
Monaco Blue
We begin with an homage to one of the season's trendiest colors: Monaco Blue! In fact, this shade just happens to be one of Pantone's top colors for spring 2013. Think sapphire blue–a combination of navy and cobalt! Below we see dazzling wallpaper from Graham & Brown, complete with dark and light shades that (together with the table lamp) evoke true Monaco majesty. [via Pamela Sandall Design]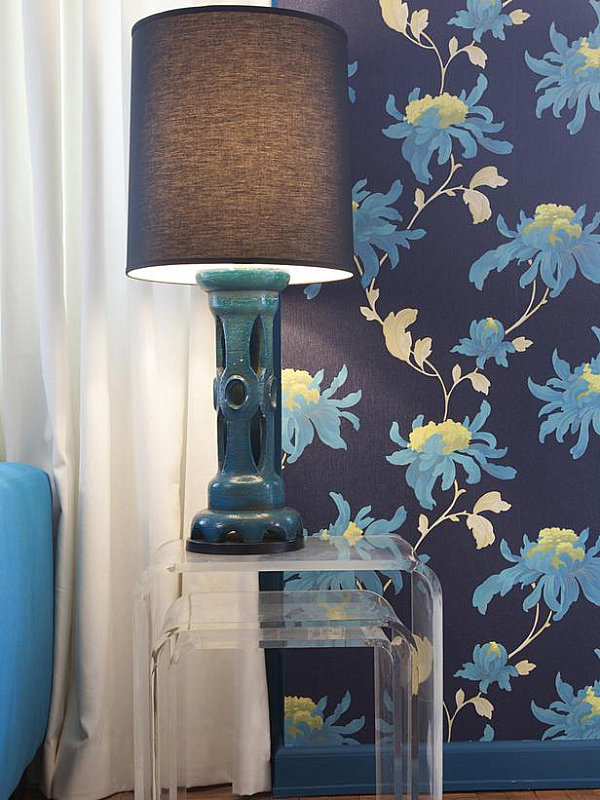 Next we have a living room with textured Monaco Blue walls. Note how this shade works well in combination with lime green accents, as illustrated by the seating, pillows and spider mums in the image below. [from Update the Metroplex]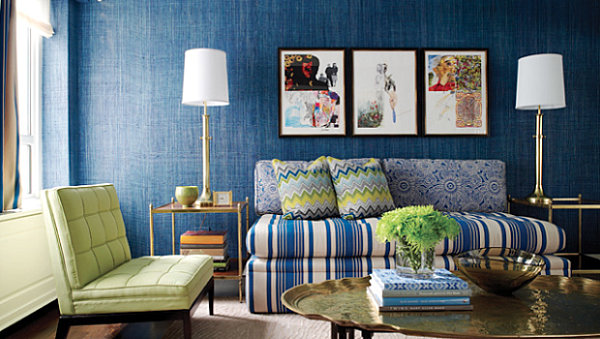 We couldn't resist once again featuring this amazing cobalt blue bedroom, which we previously showcased in our post on Interior Design Trends for 2013. There's something about floral wallpaper juxtaposed with this rich shade of Monaco Blue that creates a regal, crisp and decadent feel. Plus, the flowers are perfect for spring, don't you think?! [from Material Girls]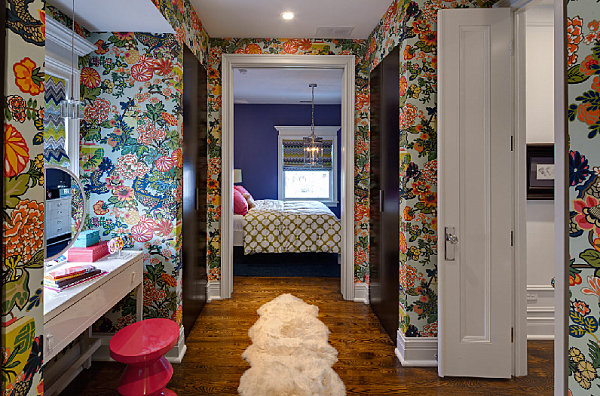 Peacock Blue
We now move on to peacock blue, with its teal tones and glimpse of green influence. There's no better way to go peacock than to go glossy! In fact, this hi-gloss entryway designed by Lilly Bunn Weekes features lacquered peacock blue walls, the perfect way to set an elegant tone. Note the use of gold as a complementary shade. [from Vogue via La Dolce Vita]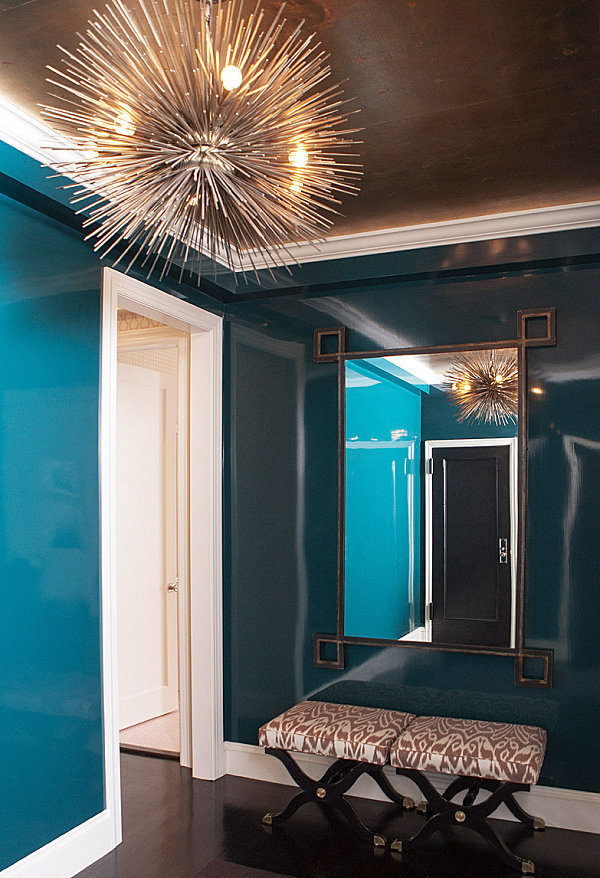 Peacock blue subway tiles…I think I'm in love! This kitchen by interior designer Katie Ridder also features crisp white trim and accents. In fact, there's a definite fresh look that results from a combination of peacock blue and bright white. Throw in some green, and you have a clean yet rich look that's perfect for a powder room… [from COCOCOZY]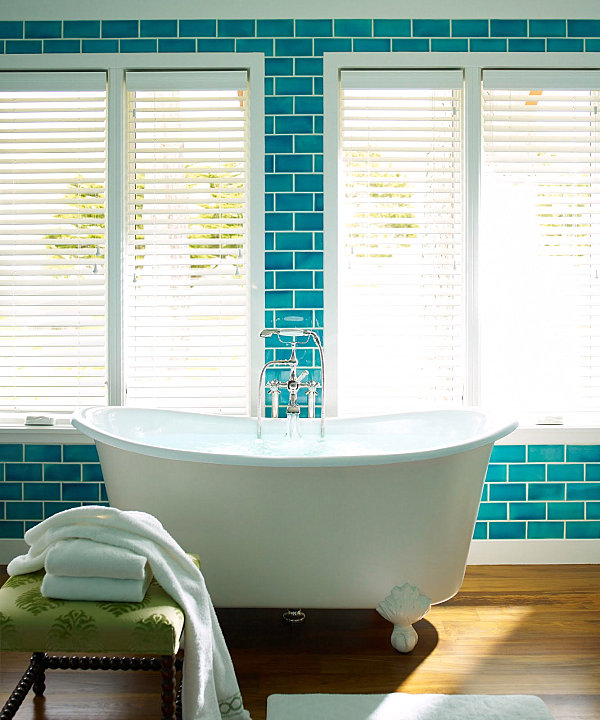 We've made no secret of our admiration for the Avec Peacock Apartment Sofa from CB2, complete with a '50s-style form, tufted back and gunmetal stiletto legs. Another wonderful peacock color counterpart: yellow, as shown by the rug below: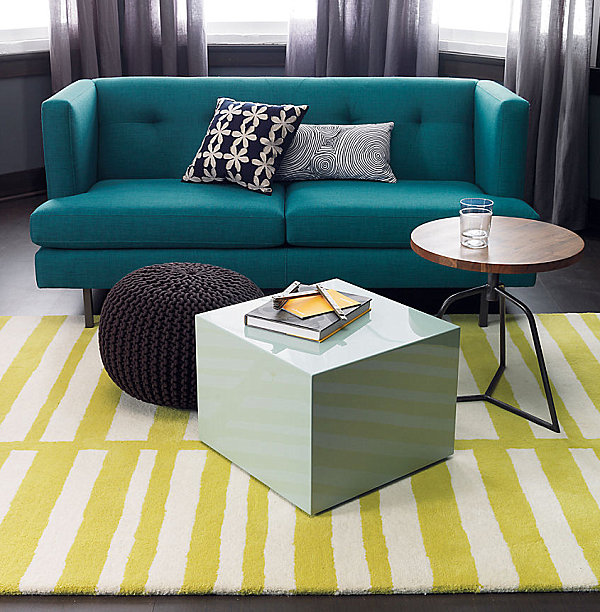 Turquoise Blue
Let's hear it for turquoise! This shade is a fun one, because it ranges in tone from bluish to greenish. And it instantly enlivens any space, like the elegant dining room below. In fact, in this stately room, gold and turquoise combine in the ornate brocade wallpaper, setting the stage for an array of details in both shades. How about that gold ceiling?! [from decorpad]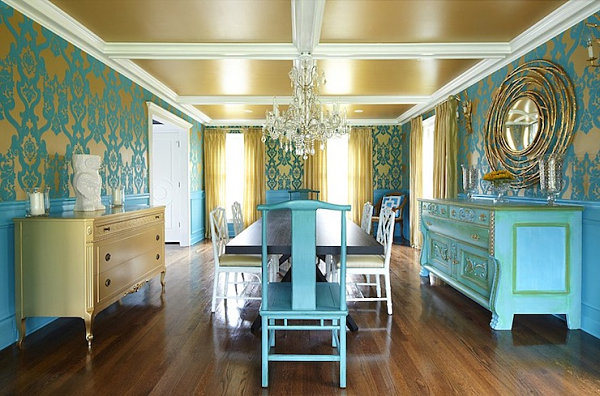 Another great combo: turquoise and white. The striped sheets and chair in the next featured room say it all. Floor-to-ceiling drapes and a vivid throw draped over the bed serve as bold turquoise statements in this modern eclectic space. [from Slim69]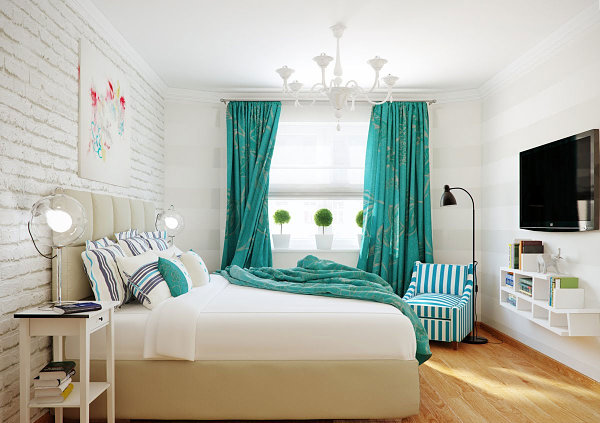 Turquoise can also take on a playful vibe, as revealed in this next bedroom designed for a teenage girl. This shade of turquoise blue is a custom hue, mixed with Benjamin Moore paint. We're loving the hot pink and red wall art, as well as paisley wallpaper that ties it all together. [from JAC Interiors]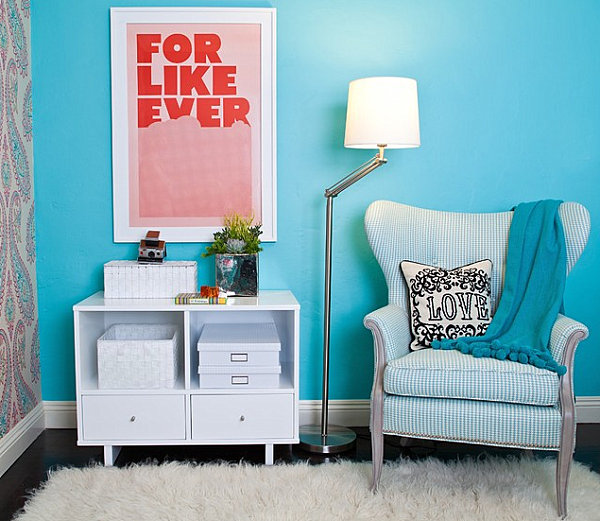 Ice Blue
We end this post with a soothing shade of blue. Yes, we're heading into icy territory! Did you know that ice blue is often a neutral shade for modern spaces, such as the contemporary-meets-traditional bedroom below? Other soft shades in the space (such as beige) help to create a calming effect. [from Virtual Imaging 360]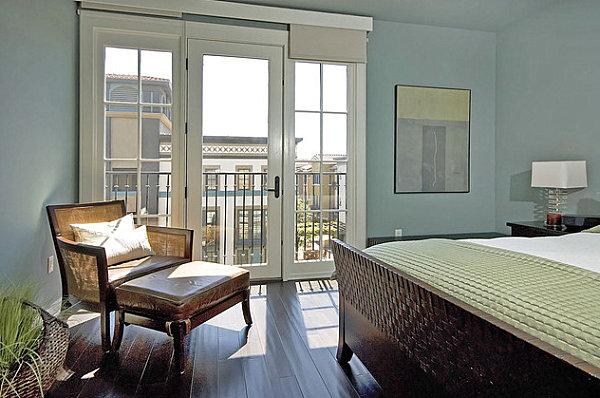 In yet another teen bedroom, we see how ice blue can serve as a delightful backdrop to a range of darker blue shades, uniting the space in an elegant display of azure tones. Don't hesitate to layer shades of blue for a powerful effect! [from Plum Interiors]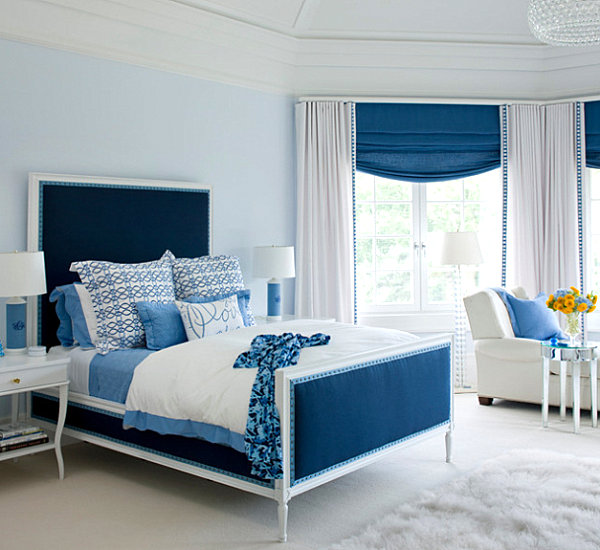 Our final featured room plays up the refreshing aspects of blue, particularly when ice blue is used in the powder room. Why is this color so perfect for a clean, crisp space that yearn to inspire rejuvenation? Because it matches the gentle shade of the water, as shown in the bathtub below! [from Leonard Grant Architecture via Houzz]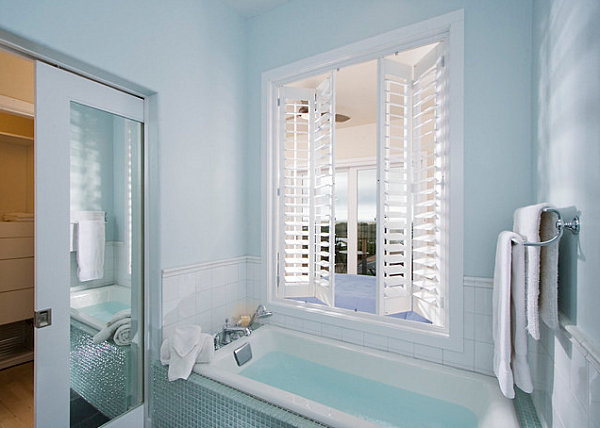 Which shade of blue is your favorite? Are you drawn to the regal tone of Monaco Blue? Do you enjoy the teal allure of peacock? Perhaps you like the jolt of color achieved through turquoise blue, or maybe you're a fan of icy blue's subtle impact! Tell us about our color of choice by leaving a comment below…
Liked the story? Share it with friends.