The new year is in full force, and we can't help but look for trends. In fact, today we spotlight four top interior design trends for 2013. Rich colors, warm metals, crafty design and natural materials are making their mark on living spaces worldwide. Exactly how are these trends playing out? How can you incorporate them into your home? Today we answer these questions.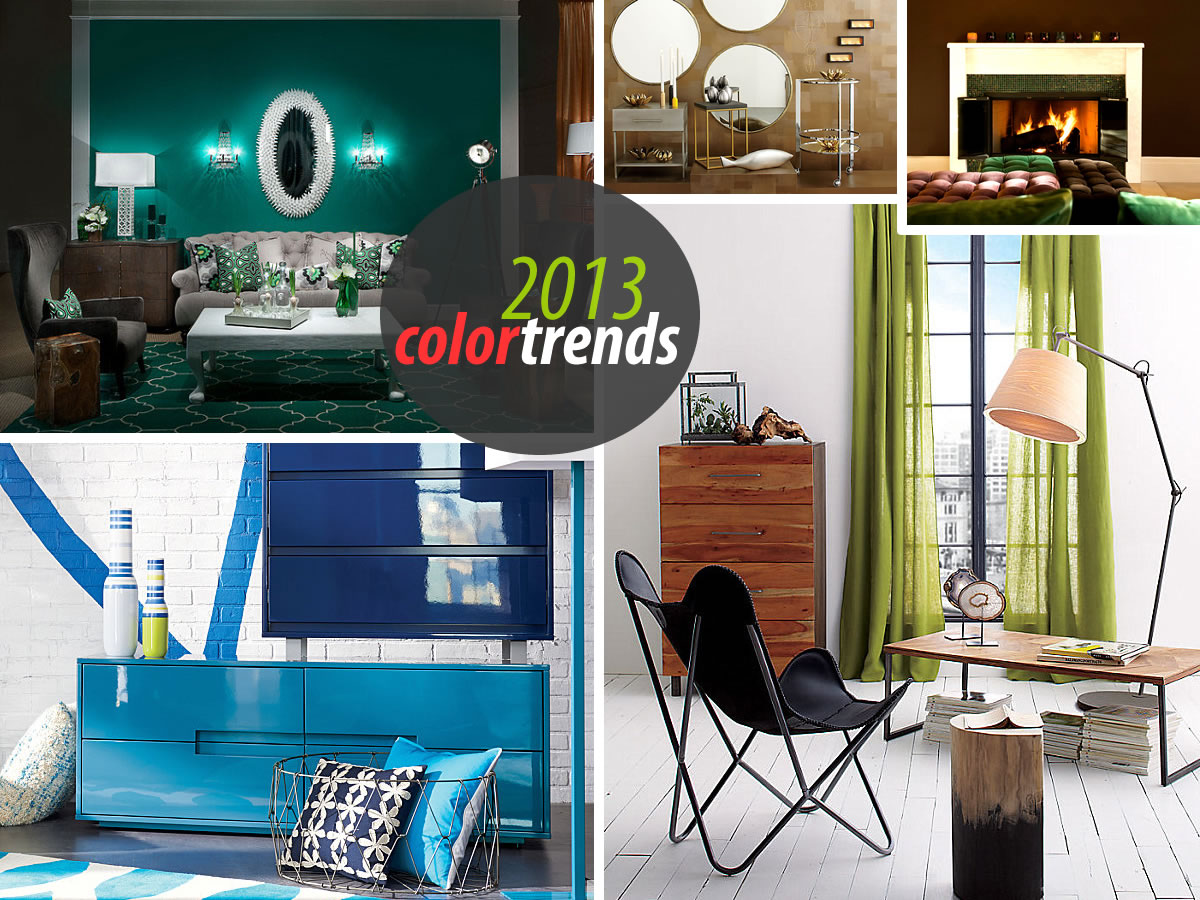 As you browse the images below, ask yourself if these materials, colors and textures could shine in your space. If you tend to steer clear of trends, keep in mind that even the edgiest of designs are often based on classic motifs. For example, natural wooden materials have a timeless effect that will enhance any interior well past 2013! Let the rooms and pieces that follow surprise you in the best possible way…
Rich Colors
We start by exploring one of the most well-known interior design trends for 2013: rich colors. Not only have primary colors made their mark on many a designer collection, there's a shade from nature that has received topped billing for the months ahead. As forecast by Pantone, Emerald Green is the Color of the Year for 2013. Below we see a room fully decked out in this verdant shade. [from Larry Hanna Photography]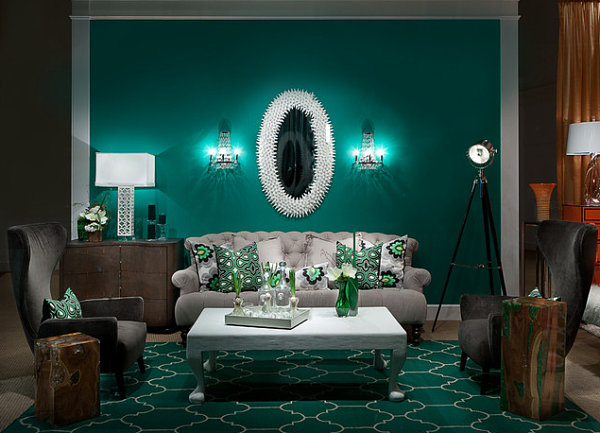 Rich colors abound in the next featured interior, designed by id 810 design group. One color combination that is a sure standout: emerald green and eggplant. In fact, this duo is a favorite of noted interior designer Martyn Lawrence Bullard, and we can see why. [from Alexander Johnson Photography]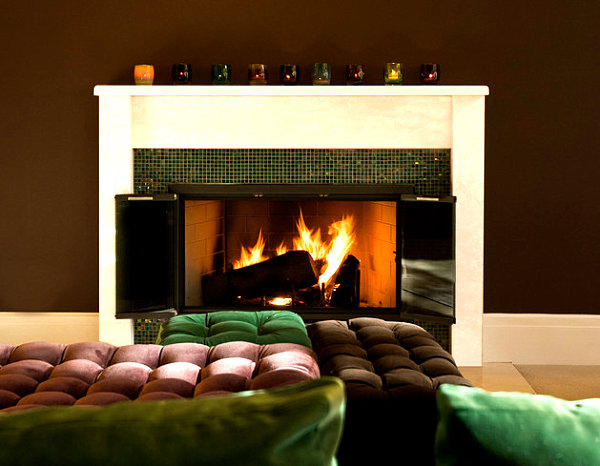 Another favorite combo from Martyn Lawrence Bullard? Emerald green and burnt orange. While the orange shade of the chairs below is a bit more vivid than rusty, we can't deny that green and orange are the perfect match. [from Massucco Warner Miller]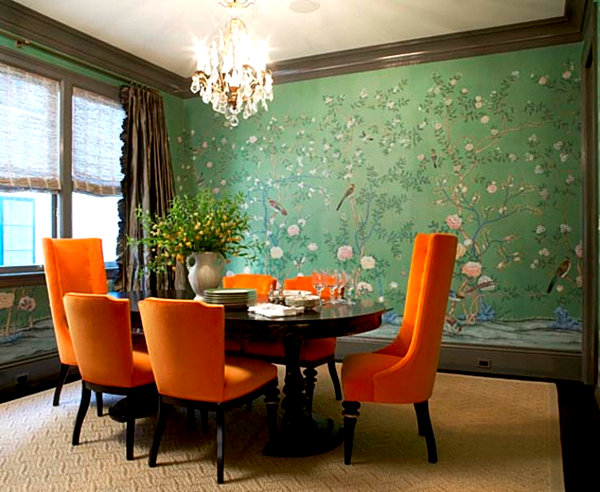 Another unforgettable rich shade? Monaco Blue. Pantone has named this hue the top color for spring. And companies such as CB2 have filled their spring collections with shades of azure: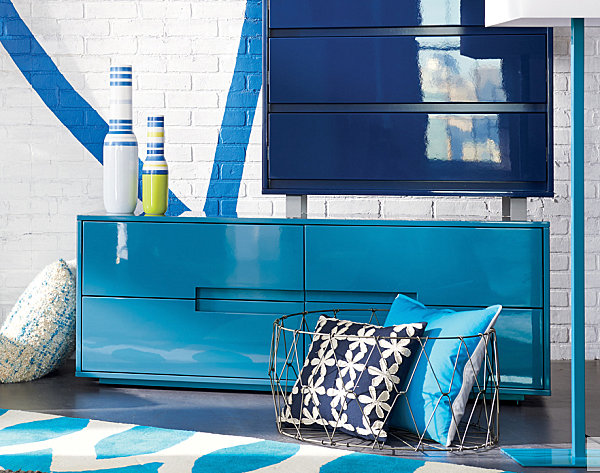 Below we see the power of Monaco Blue in a home displaying patterned wallpaper. Note the vibrant pink pillows on the bed, and the way they pop against the deep shade of the wall. [from Material Girls]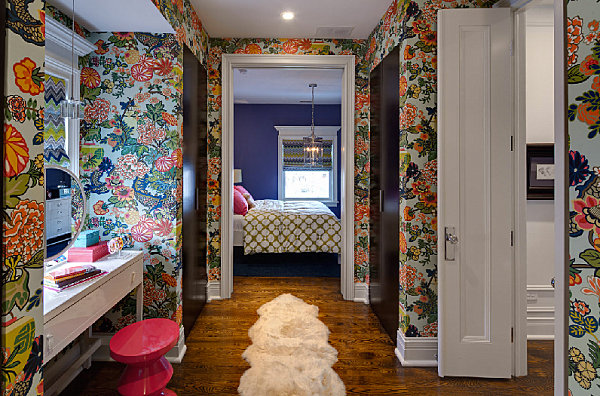 Warm Metals
There was a time when gold was out, and shades of silver and platinum were all the rage. Now it's time for warm metallics to shine. And yes, even brass is back! Below we see metallic accessories from CB2. Pay attention to the brass accents, such as the Zemi Stool and the Tork Brass Dripping Mirror.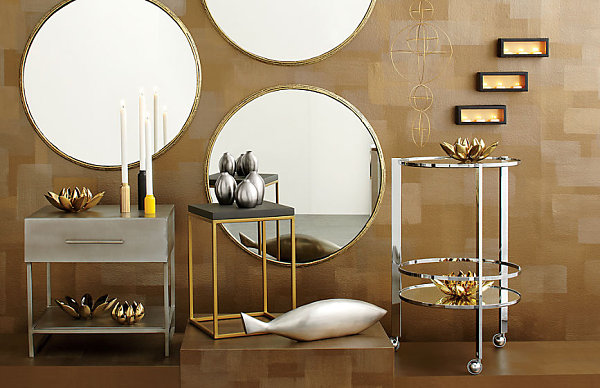 Can you imagine a serving piece more elegant than the Libations Bar Cart from Crate & Barrel? This item is crafted of iron with a brass-plated finish. Leather-wrapped handles add intrigue, while rubber wheels ensure ultimate mobility.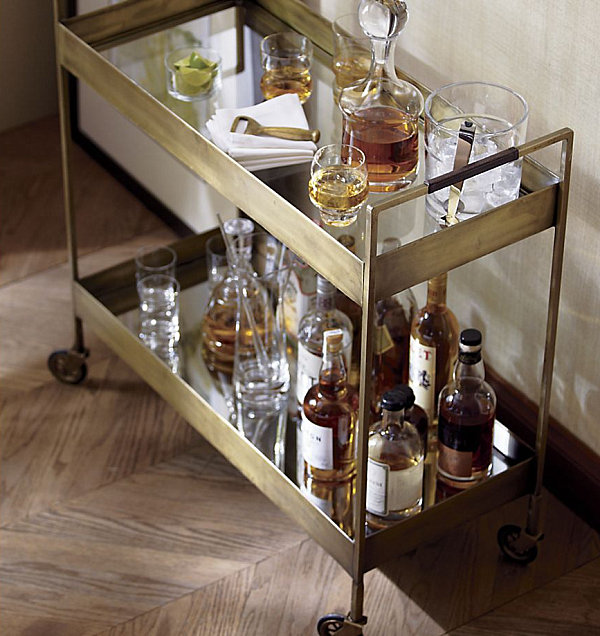 Don't think that warm and cool tones can't mix! In the next image, we see Folded Brass Wall Decor from Global Views. It's hard to deny that this piece stands out beautifully against a gray wall. In fact, the display is two-toned perfection!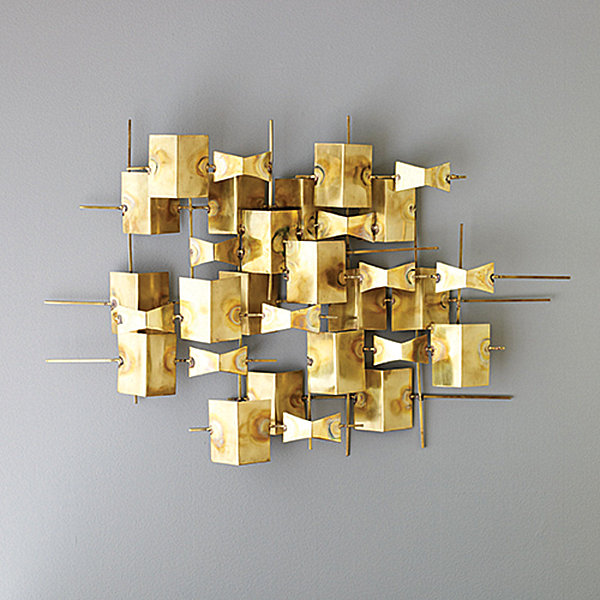 While brass sometimes evokes kitschy vintage collectibles, it can also take on the most contemporary of auras. The Brass Dome Pendant by Dwell Studio is unique in its form, as well as in its copper plated interior: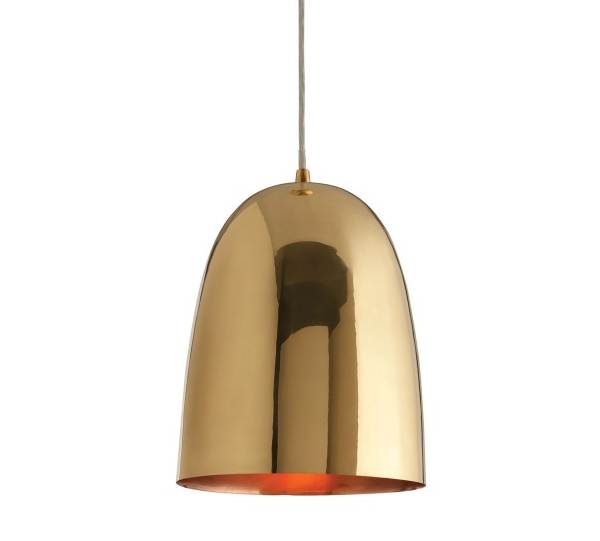 Brass meets antlers! The Cleo Table Lamp from Crate & Barrel is crafted of solid brass and sports a linen-cotton shade. This item channels the magic that occurs when sleek meets earthy.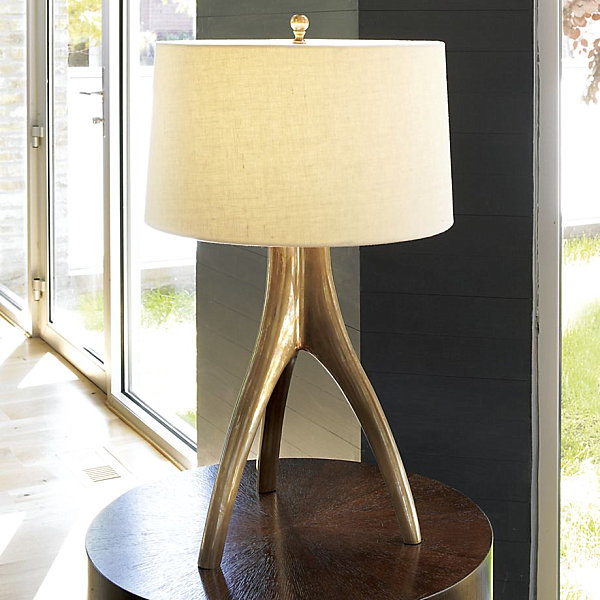 Crafty Design
Our next design trend is certainly not new. In fact, over the past several years, a crafting revival has taken place. Etsy artisans and indie crafters have shared their handmade goods with consumers seeking something authentic. This crafty style has now permeated the mainstream, including retailers who regularly collaborate with artisans to offer unique creations. For example, the Paper Tulips below are made from tissue, crepe and Kraft papers. These hand-folded blooms come in shades of yellow, white, peach and orange. [from West Elm]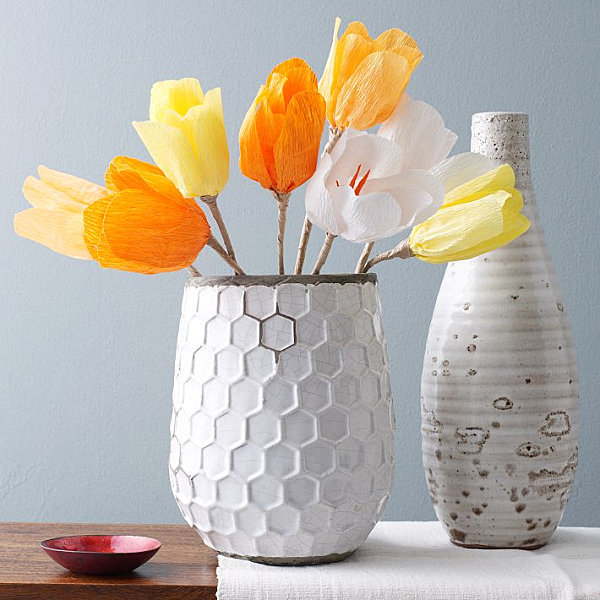 Next we showcase DBO Home Cacti Vases from West Elm, created by artist Dana Brandwein. In fact, to create these pieces, cacti are actually pressed into the clay. The quirky appearance of the vases is appealing for design enthusiasts looking for truly interesting items.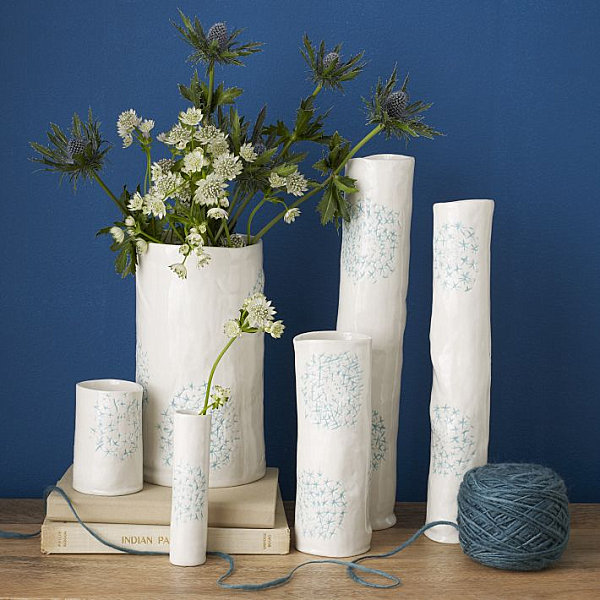 Crafty fabrics are all the rage, from felted pieces to embroidered creations. With a fabric-like look, this Tufted Chimbor Rug from Anthropologie is made of wool with cotton backing. As we can see, it's sure to add a colorful, charming element to any room it inhabits: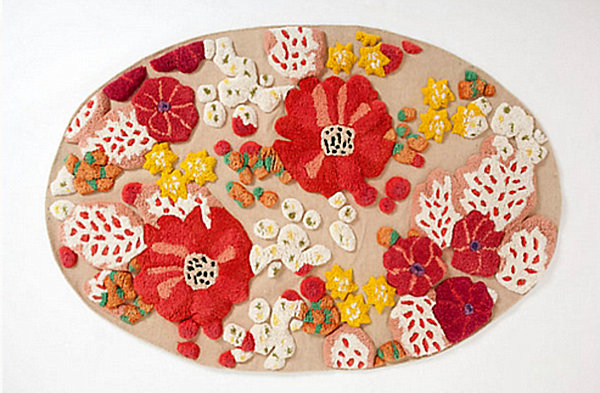 Embroidery technique is alive and well in this Rectangle Bursts Crewel Pillow Cover, complete with an eye-catching geometric design. A gray and white color scheme keeps it neutral, but the pattern is clearly a standout. [from West Elm]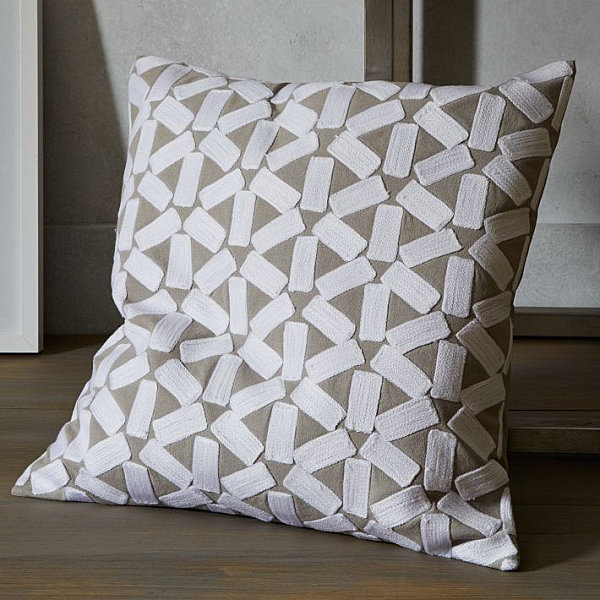 Ready for some one-of-a-kind decor finds? These Small Neon Wonky Pots by artist Vanja Bazdulj are crafted of wool felt and resin, and each piece is truly unique. Add some vivid bursts of color to your interior with one of these avant-garde conversation pieces! [from Anthropologie]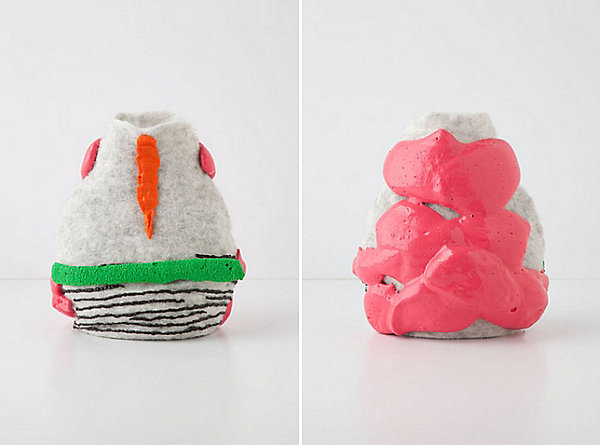 Natural Materials
Natural materials are another trend forecast for 2013. And they've already arrived. Retailers such as CB2, , West Elm and Z Gallerie are incorporating sleek natural pieces into their collections. Below we see wooden furniture finds from CB2, including the Herringbone Coffee Table, crafted of plantation-grown sustainable shesham wood in a chevron pattern: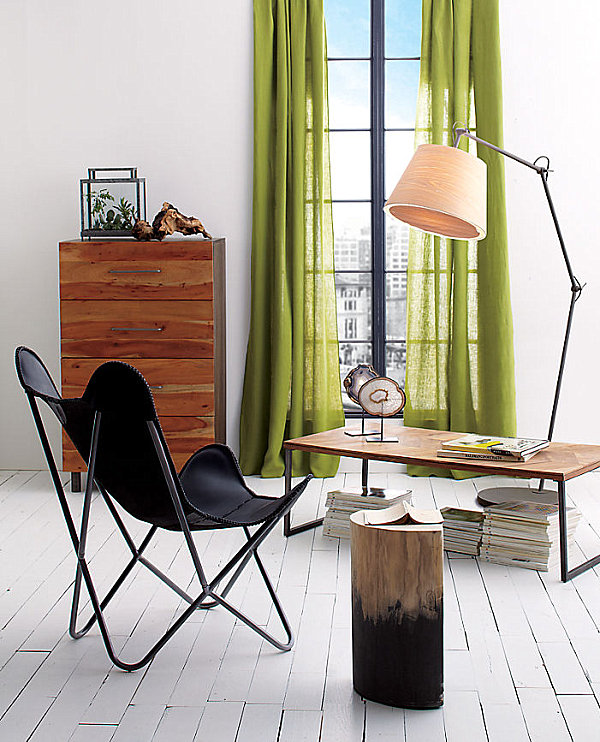 Next we showcase the John Vogel Table from West Elm, designed by South African furniture maker John Vogel. A wooden base with an acorn finish grounds the piece, and a glass tabletop adds to its sleek appeal: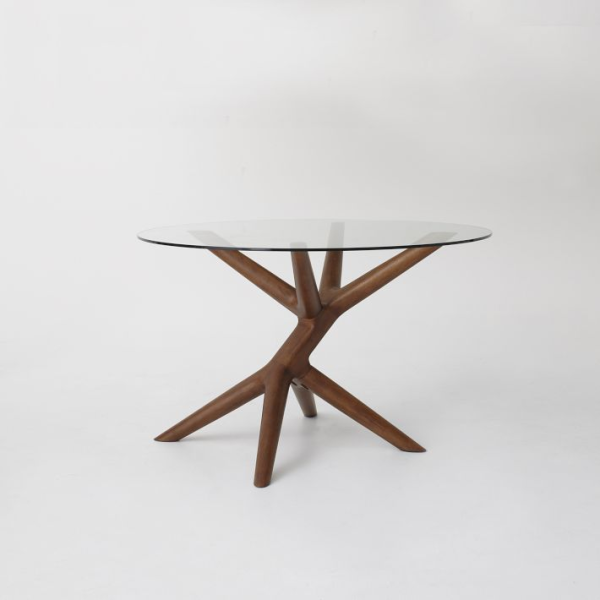 The Spindle Coffee Table is inspired by Mid-Century Danish design. An eye-catching geometric form is hard to resist, especially the way angles and folds join to create pure wooden perfection. [from West Elm]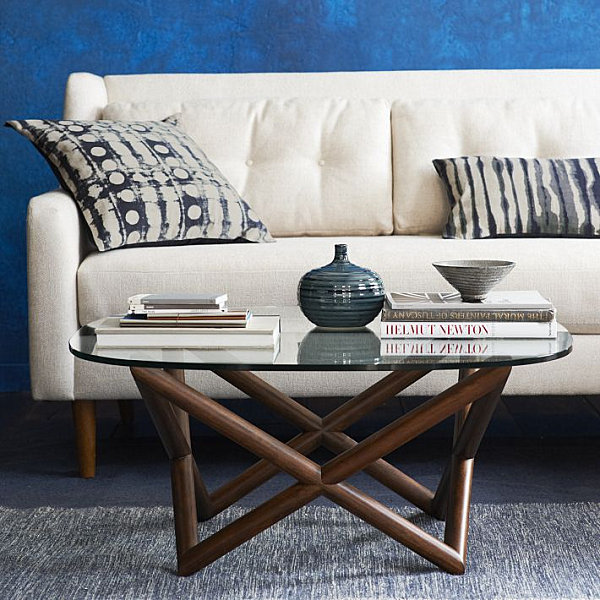 As we've seen, many of today's most popular wooden finds are undeniably sleek rather than raw and rustic. The Patchwork Secretary from West Elm features wooden legs and drawers with veneer fronts. And speaking of trends, the drawer pulls are embellished with a brushed brass finish. Brass + wood = double the style!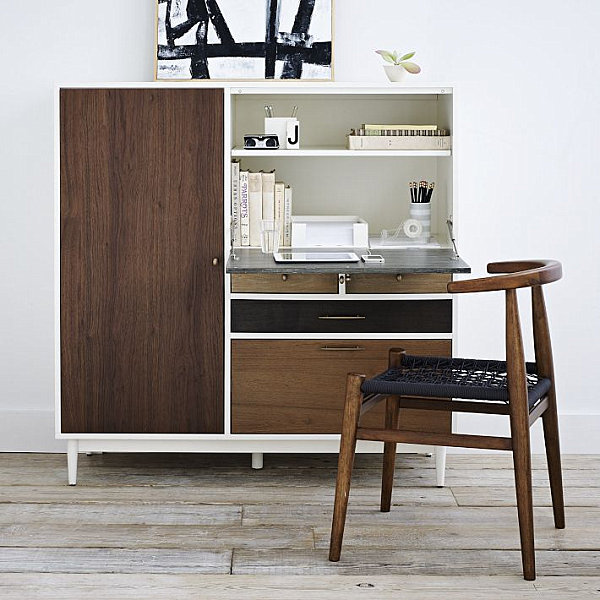 We end with the Cayman Buffet from Z Gallerie, crafted of elm solids on a stainless steel base. Clean lines and beautiful wood grain create an unforgettable piece, as do modern drawer pulls that reinforce the buffet's horizontal design: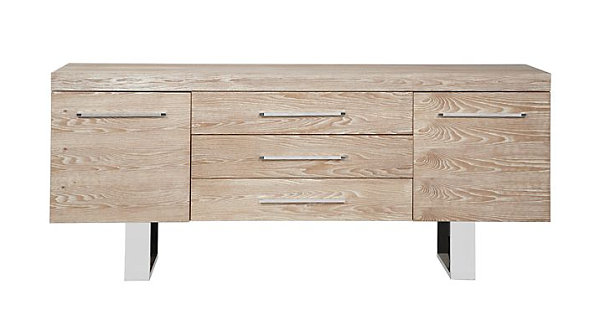 Now that you've reveled in vivid colors, gold-toned metals, crafty pieces and natural materials, tell us about your favorite design trends. Have you incorporated any of the above trends into your decor already? Do you plan on inviting them into your home in the months that follow? Share your thoughts by leaving a comment below…