In honor of Earth Day on April 22nd, we at Decoist are spotlighting an array of eco-friendly renovations that are great for the environment and great for your space. From reclaimed wood paneling and recycled glass countertops to formaldehyde-free cabinets and solar paneling, the Earth-friendly possibilities are endless. But don't think that any of these updates are short on style! In fact, we think you'll be surprised by the amazing possibilities below.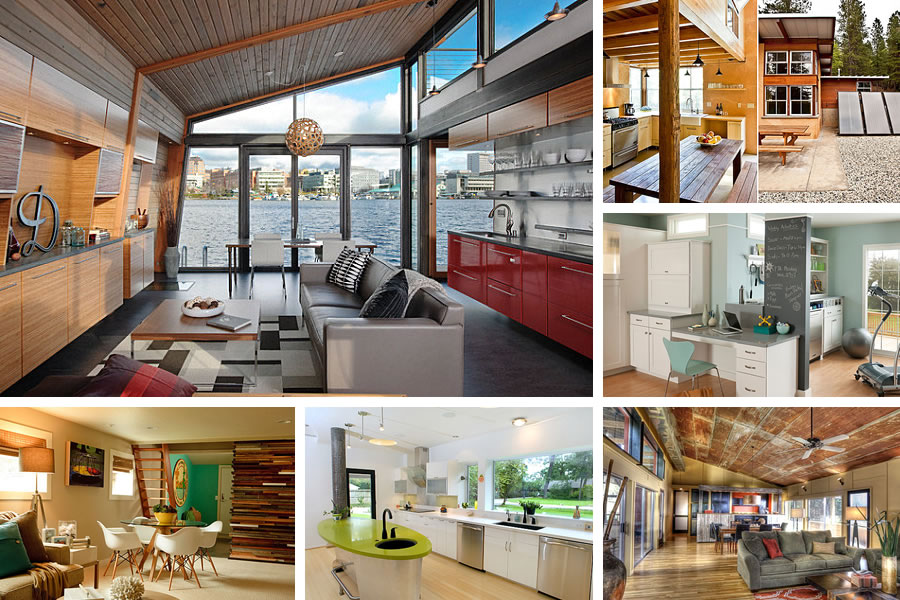 As you scan the images and think about ways to add environmentally safe materials to your home, start with the updates and features that you actually need. You can do a survey of your space. For example, does the tile backsplash in your kitchen need updating? Have you been looking to add an accent wall of wooden planks to a room that could benefit from texture and dimension? Is there a space in your home in need of repainting? You'll be surprised by how easy these updates can be, and even more delighted by the eco-friendly options that await you…
Reuse and Recycle
We begin with our first design tip…
1. Update an area of your home using recycled glass.
Many of today's most interesting renovations utilize materials such as reclaimed wood and recycled glass. For example the recycled glass countertops in the modern home gym below come from Elements by Durcon: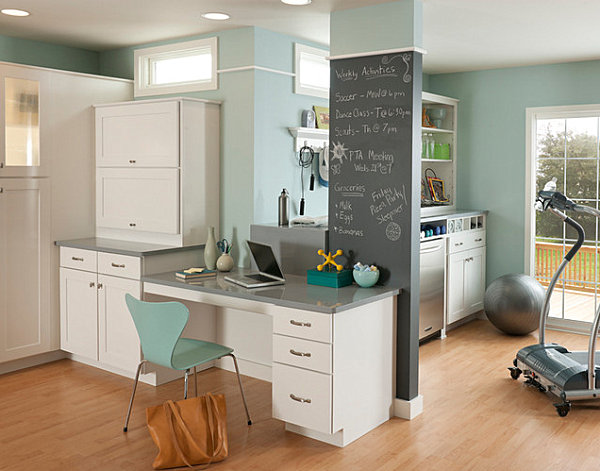 In the NAHB Green Building Standard – GOLD certified home below, recycled glass called bio-glass is used in the kitchen. In fact, not only is bio-glass made of 100% recycled glass–it is 100% recyclable! Note the modern look of the icy hues. Construction and cabinetry in this space are by Woodmeister Master Builders.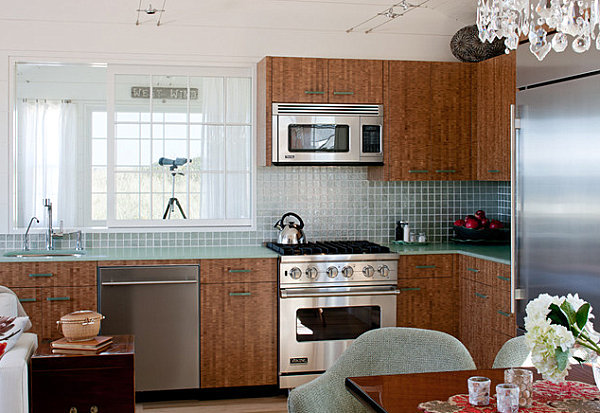 In the next featured image, we see a countertop from NovuStone and a tile backsplash from Bedrock Industries in Seattle (both made of 100% recycled glass). This bathroom is one of the stunning spaces in the Seattle Green Custom home by H2D Architecture + Design. In fact, the home was built around the principles of sustainability.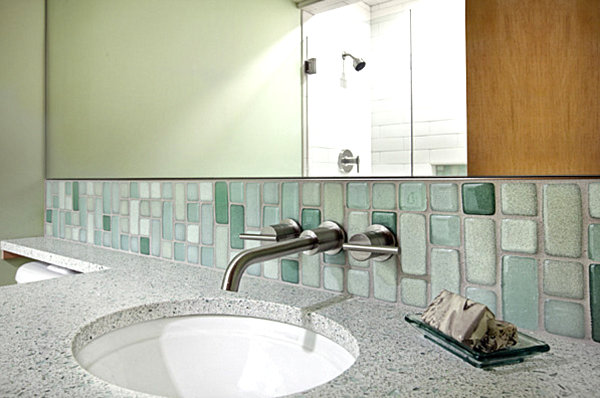 2. Incorporate salvaged wood and metal into your space.
From recycled to salvaged… Salvaged pieces add character to a space! In fact, when it comes to the use of salvaged pieces, it's a true win-win. Something old is given new life, and your interior is given true personality! Below we see a floating home with a foundation made of an original 19th century log float. In addition, some of the historic logs were used to create the interior wood paneling, which we see in the unique living room that follows. [from Dyna Contracting]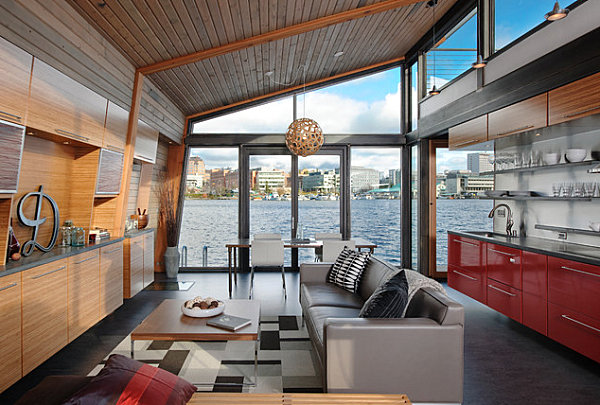 There are many projects that can be completed with salvaged wood! In fact, for more information about the salvaged wood wall below, check out this article on the DIY process behind the design. Note that many pieces of wood have been stained to create variety in color. We're loving the effect–aren't you?! [from Garrison Hullinger Interior Design]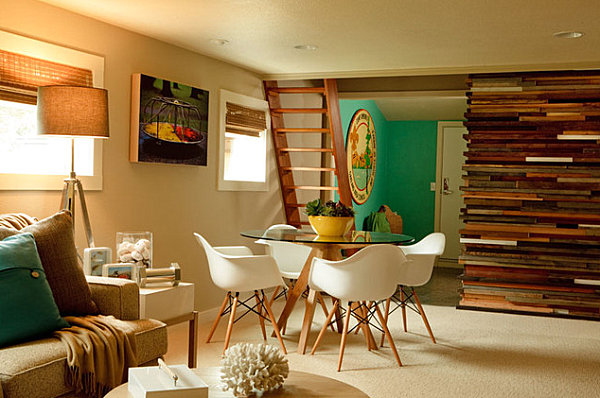 It's not all about salvaged wood… Try salvaged metal! And don't be afraid of the rust! The ceiling below consists of a naturally oxidized (rusted) 5-V crimped metal panel. The piece is salvaged, and it adds an element of industrial design to this modern space. [from Beard & Riser Architects]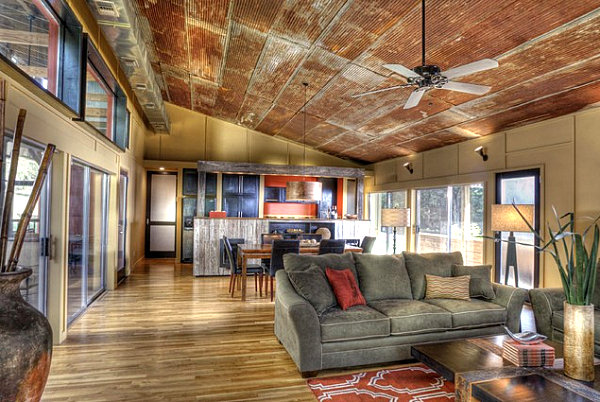 3. Make use of antique or salvaged accent pieces.
Other popular salvaged items of choice: windows, doors, and of course, sinks! The salvaged sink below adds charm to this kitchen. At the same time, it's given an updated look, thanks to crisp features such as Danby marble and overhead lighting. [from Smith & Vansant Architects]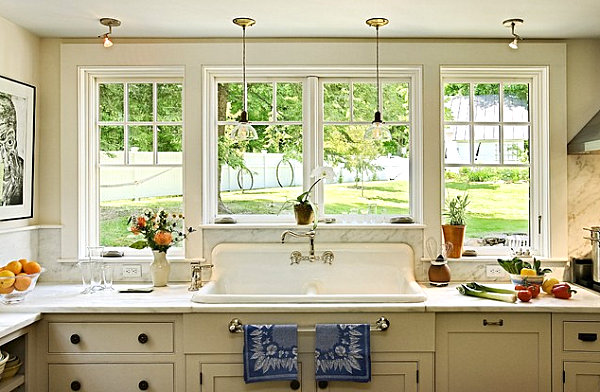 Don't forget a dose of the unexpected! Metal street signs are a fun way to spice up an interior, but consider displaying them in an unconventional way. Rather than mounting them neatly on the wall, try incorporating them as part of the wall. Don't be afraid to group and overlap, as the result is interesting, and subtle, yet powerful. [from Jensen Architects]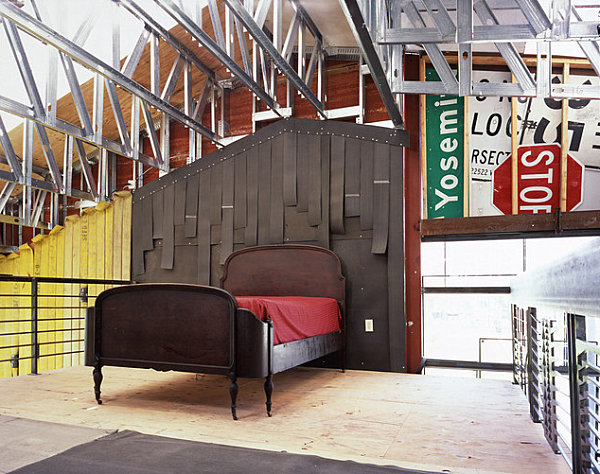 Choose Environmentally Friendly Materials
We now move on to another category of eco-friendly renovations: Updates that utilize environmentally friendly materials. In fact, we have a few specific ideas that can pack a powerful punch!
4. Replace your carpet with cork flooring.
The sustainable nature of cork harvesting makes cork flooring a naturally green choice. Collected from the bark of cork oak trees, this material can be harvested without harming the tree. And it grows back in a matter of years! Below we see cork flooring from Expanko in a modern San Francisco kitchen. [from Burton Architecture]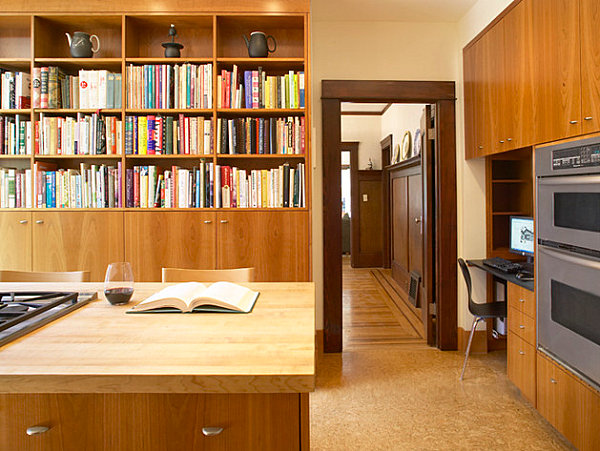 5. Choose bamboo over hardwood flooring.
Why go with bamboo? Because it's similar in look to hardwood, as well as durable and moisture-resistant. Not to mention, bamboo grows back much faster than wood, and it can be harvested without disturbing the root system of the plant. In the next image, we see sleek bamboo flooring in a home by Mark English Architects. Note the lined planks and the gorgeous color of the flooring…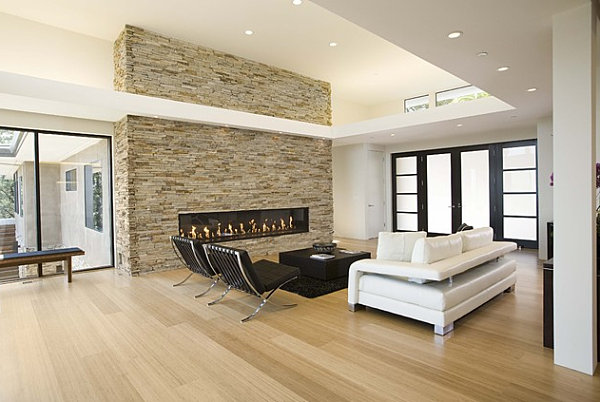 6. Update your kitchen with formaldehyde-free cabinets.
Let's face it–nobody wants formaldehyde in their home! Commonly used in the manufacturing of building materials and household products, this material happens to be toxic. So avoiding it is a smart choice, as well as an environmentally friendly one! Not to mention, you don't have to skimp on style to be Earth-friendly. Below we see VOC-free and formaldehyde-free cabinets from Red Pepper Kitchen & Bath: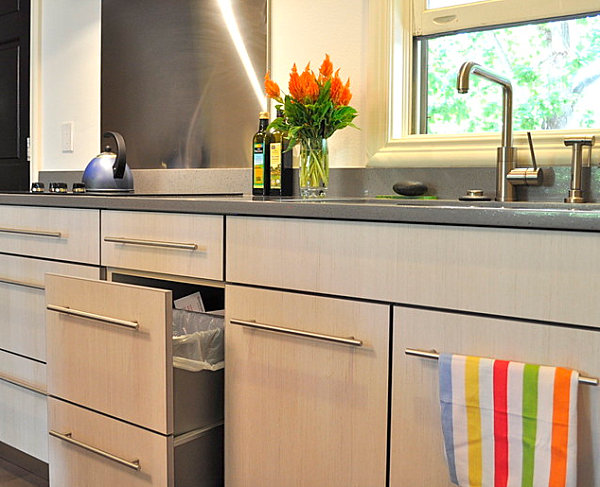 In the next image, we see more formaldehyde-free modern cabinetry, this time in vibrant white. Note the interplay of bright hues and stainless steel in this contemporary space. [from RD Architecture, LLC]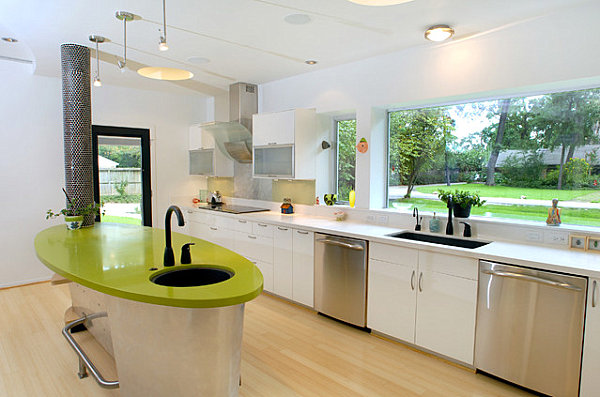 7. Paint a room in your house using low-VOC or VOC-free paint.
Why reduce VOC? Because VOCs are "volatile organic compounds" that release harmful molecules into the air, posing potential long-term health effects. In this image from M House Designs, we see VOC-free paint in grey. Isn't a little extra work worth the peace of mind and freshness of air?!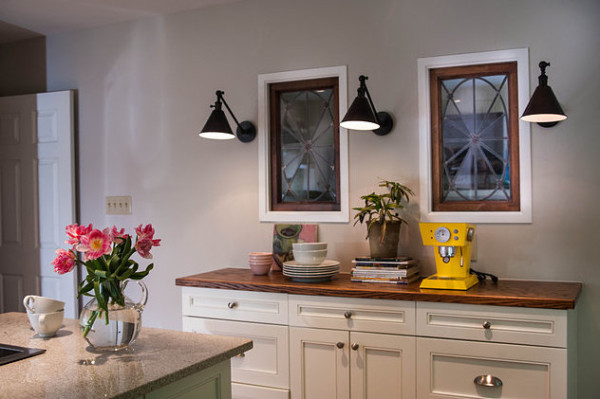 Achieve a Balance with Nature
Our last set of renovation ideas involves incorporating nature into your space. In fact, using the sun to your advantage, making an effort to hold in the heat, and making sure you watch your water consumption are three great ways to respect the Earth and celebrate its bounty…
8. Ensure that your space is well-insulated.
A well-insulated space uses less energy. And the Earth benefits from this eco-friendly choice! In this Chalk Hill Off-Grid Cabin, we see the use of energy-efficient structural insulated panels (SIPs) used for roof insulation. And we couldn't resist throwing in the image below, left, which gives us a glimpse of the cabin's warm, earthy interior. [from Arkin Tilt Architects]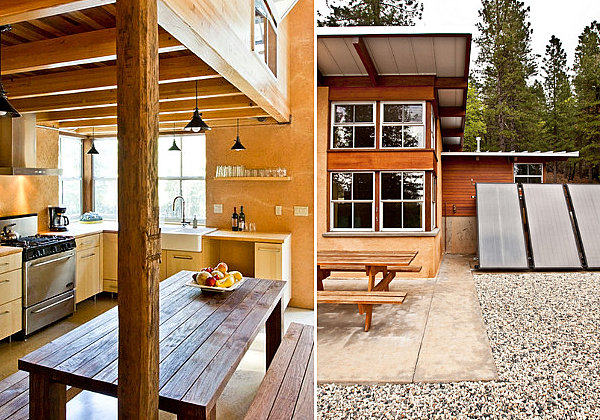 9. Use the sun to your advantage.
Harness the power of the sun. In the image above (right), we see a series of solar hot water collectors by Heliodyne. We see another view of the collectors below. Don't forget the benefits of solar paneling, which can be used to supply electricity to your home. Tapping into the heat of the sun is an environmentally friendly way to update your space.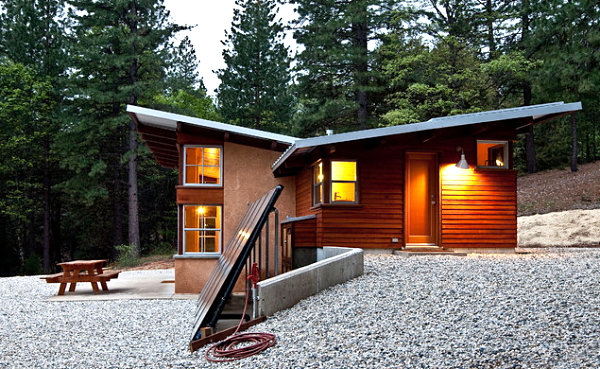 You can also design your space to make the most of natural lighting. When the sun shines in, your home is warmer in the winter, and brighter year-round. The best part: this energy source is free. So why wouldn't you install large windows that bring light and heat to your home? Below we see natural lighting in the Concord Green Home, which is the 2011 EcoHome Design Award Winner. [from ZeroEnergy Design]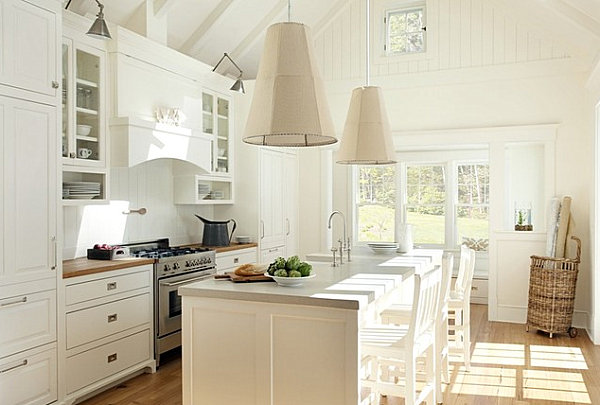 10. Conserve water with a low-flow toilet.
Low-flow toilets use much less water than full-flush toilets. While early low-flow toilets sometimes require people to flush twice (which kind of defeats the purpose), new developments have made these items more user-friendly. Still, if you install one of these, make sure you do your research to ensure you're getting the best. [from Rucker Design Build]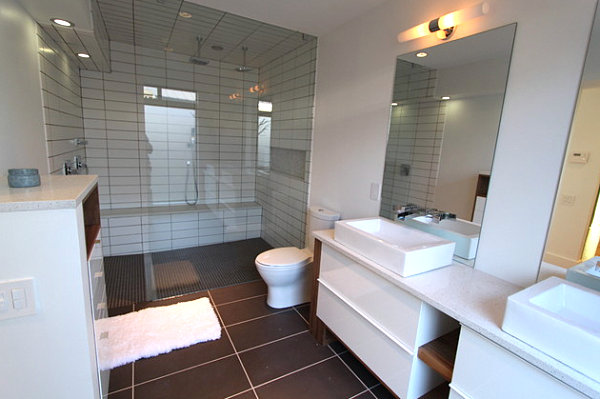 Looking to make an eco-friendly change to your home? Note that many of the images above are accompanied by links that can put you in touch with the manufacturers of environmentally friendly materials. Use this article as a resource to make a positive update your home! Happy Earth Day!