What does sustainable living look like in 2013? Clean-lined furniture made of reclaimed wood, organic cotton bedding, solar-powered string lights and sculptural decor made from recycled metal are just a few of the ways that eco-friendly design is manifesting itself in today's design world. As it turns out, what's good for the environment just might be good for the look of your home as well!
In honor of Earth Day on April 22nd [this coming Monday – ed.], we are showcasing today's best environmentally friendly offerings. From recycled birch furnishings to organic linen pillows, the featured finds below prove that you don't have to sacrifice great design to purchase something that's great for the planet. Especially when retailers such as Bambeco and 2Modern are in the mix! Enjoy browsing the Earth-friendly items that follow, and don't forget to share your favorites with us by leaving a comment at the end of the post…
Eco-Friendly Furnishings
We begin with a set of environmentally friendly furnishings that showcase the best in modern design. This Bamboo Juniper Tall Console/Bar Table by Greeningtons made of sustainable bamboo. We can't decide what we like better: its clean lines or the caramelized finish! [from Inmod]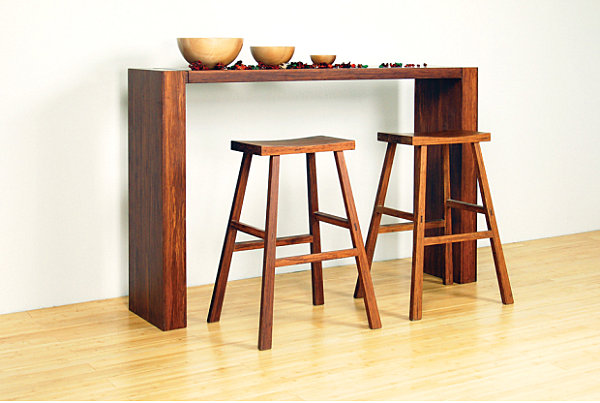 Is it a convertible furnishing or is it wall art?! The SquareME Palm FoldOUT Desk is a little of both. Not to mention, it can easily be stashed to save space… But why would you want to hide this "green" item? A palm motif makes this desk a true showpiece, while an eco-friendly modern design utilizing Rainforest-Alliance certified wood reflects a level of environmental responsibility that rivals the piece's artistry. [from Inmod]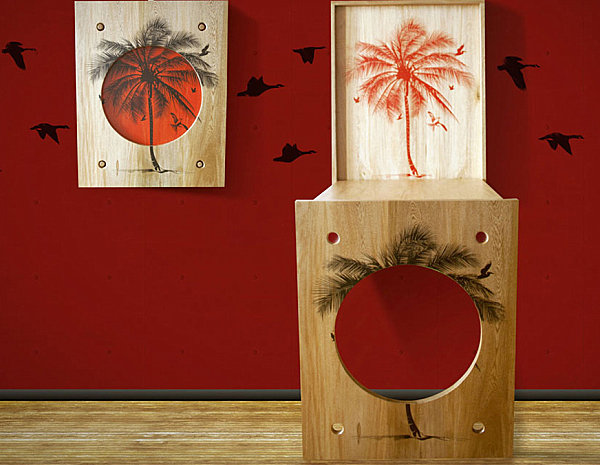 Clean and simple–that's the look of the Stacked Plywood End Table! Crafted of recycled birch plywood and sealed with lacquer this item has a textured look that is a wonderful contrast to its pure simplicity of form. [from Inmod]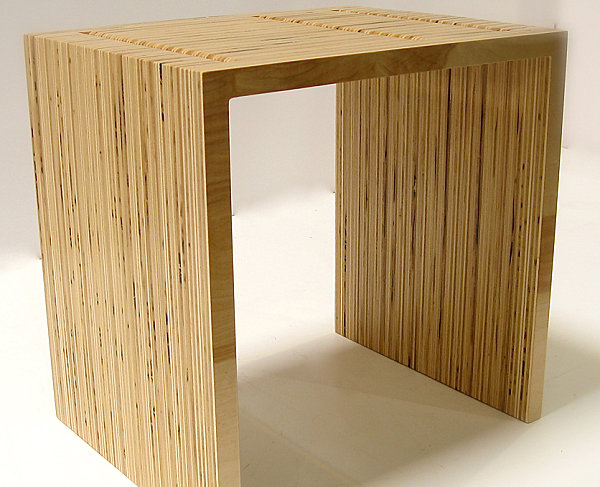 We're loving the practicality and innovative structure of the Maltese Coffee Table, designed by Shiner. Did you know that you can hang newspapers or magazines by the slats in the surface of the table? Not to mention, this contemporary conversation piece is made from recycled birch plywood and steel! [from Inmod]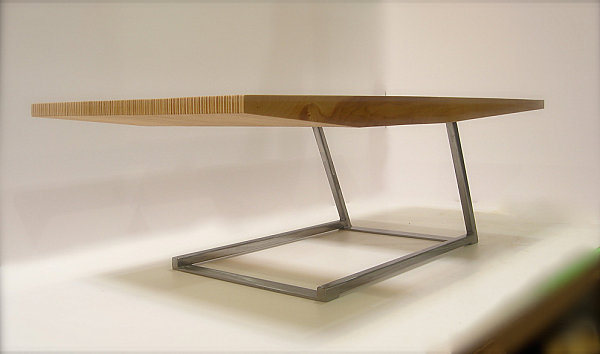 We wrap up our furniture section with the Valencia Teak Chair, an updated version of Mies van der Rohe's Barcelona chair. The difference: this piece is crafted of wood that can hold up in a variety of weather-related conditions. Made from durable, fine-grained Laotian teak that is sustainably grown and harvested on monitored plantations,this eco-friendly item folds flat for easy storage. [from Vivaterra]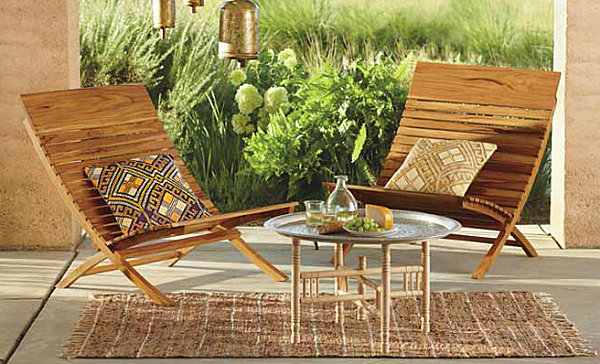 Earth-Friendly Lighting
From reclaimed wood to coral-like design, the Earth-friendly lighting solutions that follow make the most of nature's bounty. We're crazy about the modern design of these Jackson Lamps With Black Shades. An asymmetrical tripod base crafted of reclaimed elm is a wonderful contrast to a sleek shade that adds a contemporary element to this earthy piece. A blend of Scandinavian and Japanese design, these lamps are polished with an eco-friendly water-based stain. Did we mention that the wood was taken from the remnants of old homes?… [from Bambeco]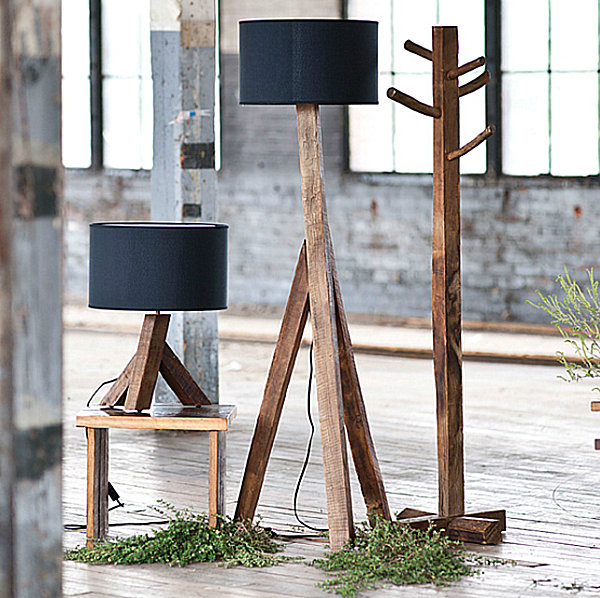 Bring on the organic design! How fabulous is the Coral 400 Pendant Lamp by designer David Trubridge?! A variety of sizes and color options ensure you'll find the perfect selection for your interior. Crafted of sustainable bamboo, this piece reflects the intricacy of coral. Gorgeous! [from 2Modern]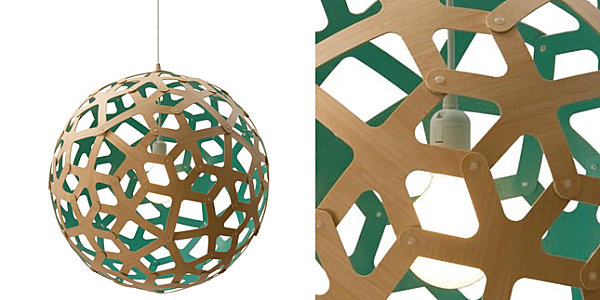 We couldn't stop with just one David Trubridge item! The Hinaki 500 Pendant Lamp comes in one size, and it features an elongated form that tapers in at the top and bottom. A lattice-like design adds intrigue. [from 2Modern]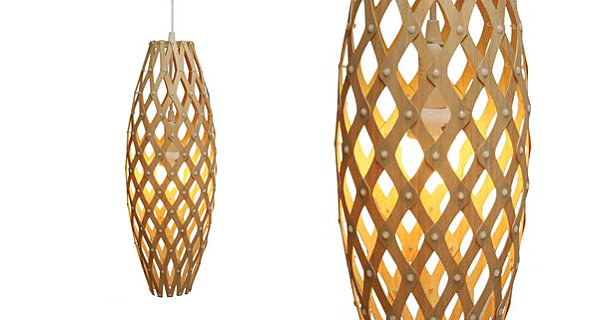 Sustainable Bedding and Pillows
There's nothing more comforting than being surrounded by eco-friendly textiles! The Organic Cotton Pintuck Duvet Cover + Shams are crafted of cotton that is hand-stitched in southern India. In fact, the 100% organic cotton used in the creation of this bedding is certified by Global Organic Textiles Standard, which requires that textiles meet strict harvest-to-market criteria. [from West Elm]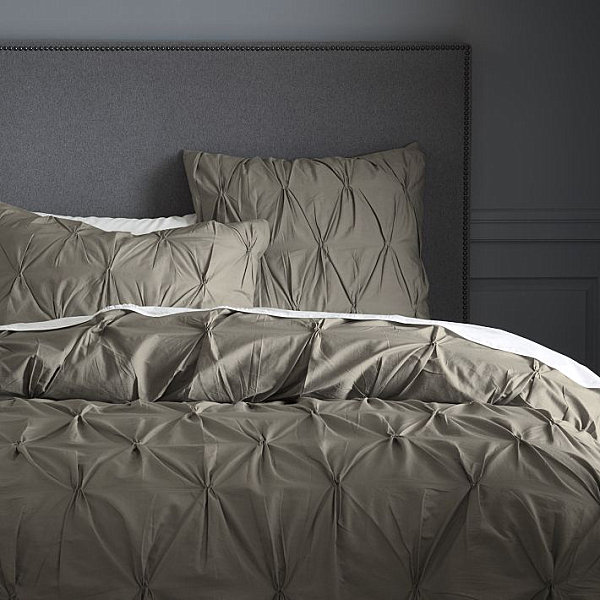 Check out the Beneath the Trees Collection from Bambeco, featuring linen and organic cotton. The product description notes that this bedding "celebrates the moment when then the sun hits the mountain ridge, refracting through the peaks and cascading warm, prismatic light throughout the trees." If this much care was put into the words describing the bedding, imagine how much care was put into the creation of the products themselves! The collection includes the linen duvet cover and sham, as well as the sheets…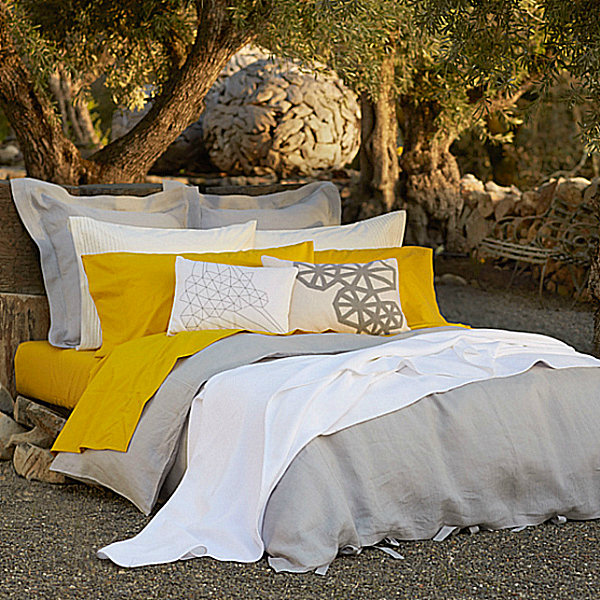 Also from Bambeco, the Twilight Time Collection celebrates the blue shades of dusk, thanks to woven textures of matelassé and honeycomb cotton. The bedding's varied shades are great for layering. Coverlets, shams and sheets are all included in this collection…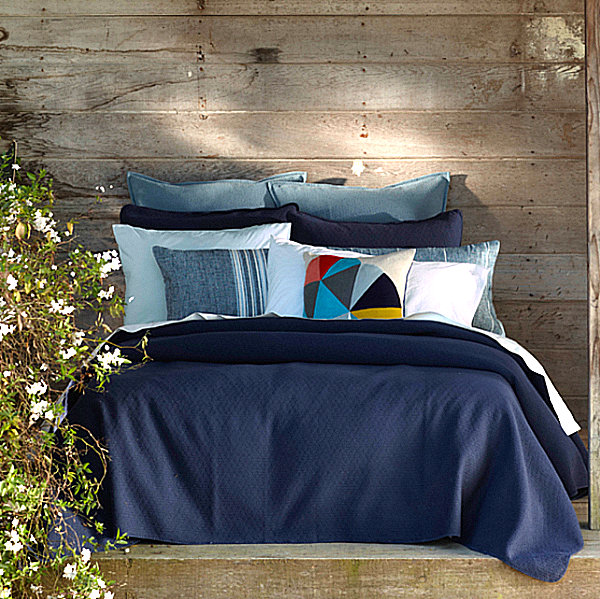 Did you spot that kaleidoscope-like pillow on the bed above? Let's have a closer look… The Color Wheel Pillow features bold hues in natural organic linen. Crewel-stitched wool helps create the perfect accent pillow. Because sometimes one bold statement is all you need! [from Bambeco]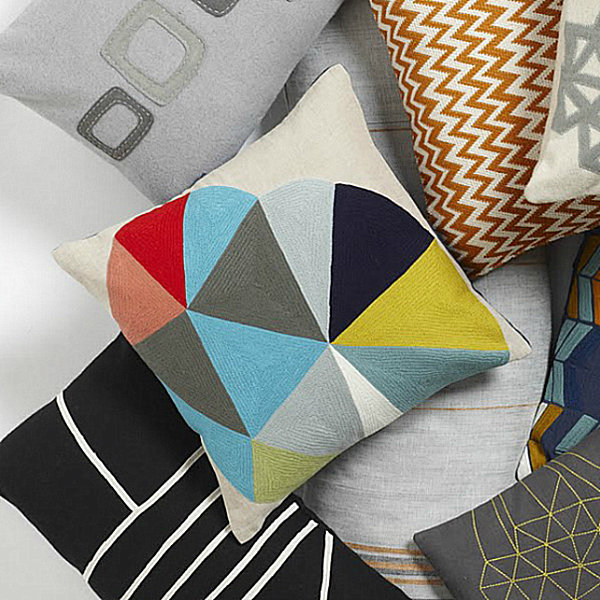 For another pillow option with eco-friendly sensibilities, check out these Embroidered Dot Pillows from West Elm. Handwoven brightly colored threads create a polka-dot pattern in textured silk. But note that this silk is from the sustainably-minded silk cooperative Eco Tasar!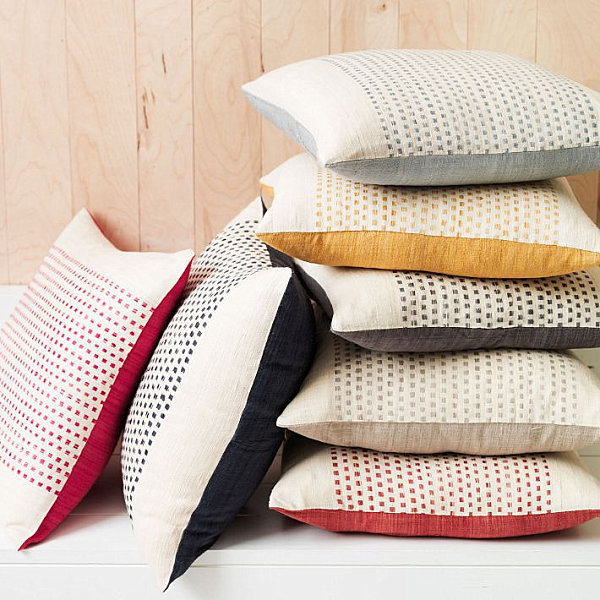 Eco-Friendly Finds for the Outdoors
We end with a series of finds that helps you celebrate the power of outdoor style. And why would you want anything other than Earth-friendly options when it comes to items that will live in the open air? These Jetson Solar String Lights consists of a 10-piece light set that activates itself when daytime turns to night. With shades made from nylon rather than paper, these lights are perfect for year-round use. Just make sure the solar collector is in direct sunlight–it's that easy!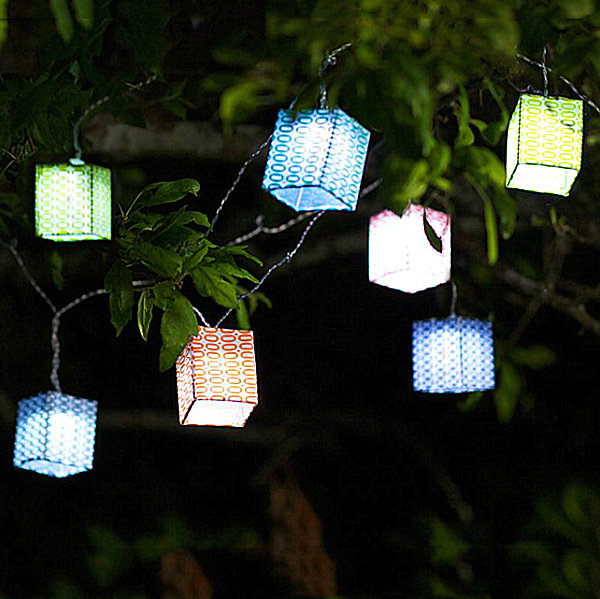 Add the tune of bells to your abode with the help of this Hanging Bells Collection, made from recycled stainless steel. The strands are 7 feet long, and there are three available styles, so you can mix and match them to create a truly gorgeous sound! [from Bambeco]
What about furniture that can live outside? This Wood-Slat Storage Bench from West Elm helps you stash clutter and gives you a comfy, modern place to sit. With FSC (Forest Stewardship Council)-certified solid wood, you can rest assured that this piece is good for the environment, as well as the style of your yard. And no worries–the bench is weather-resistant!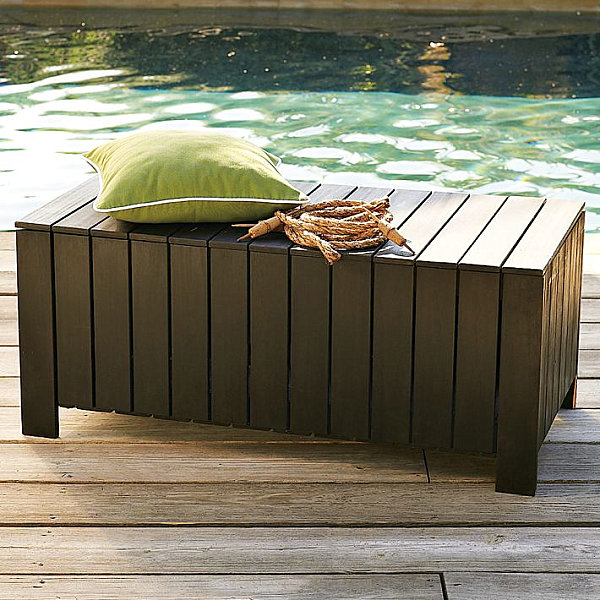 Why would you place your plants in anything other than an Earth-friendly container?! The Ecoforms Nova 8 Planter Pot is made from renewable and sustainable plant by-products. We think it's a much better alternative to plastic. Wouldn't you agree?… [from West Elm]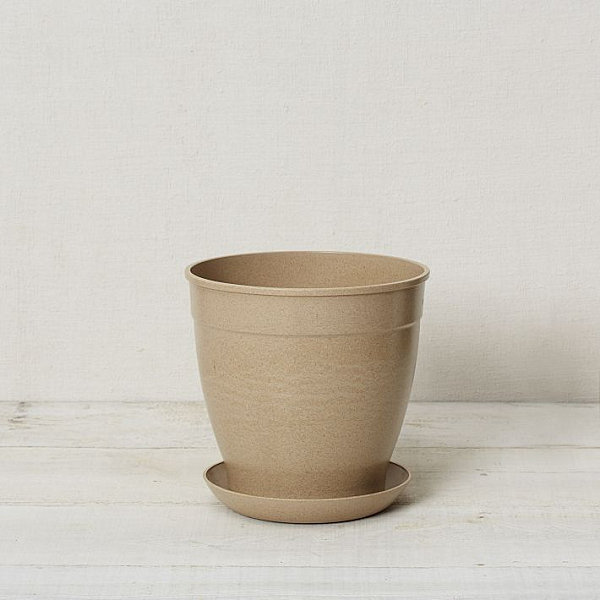 When it comes to eco-friendly design, do you prefer a modern look or an earthier style? Would you purchase furniture, bedding, lighting and outdoor items that uphold the principles of sustainable living? Share your favorite Earth-friendly products with us by leaving a comment below. Don't forget to tell us which of today's picks caught your eye…