Ready for a little shine? We're not going to lie–the metallic finds in today's post won't knock you over with their sparkle. In fact, we love them precisely because of their subtlety. Many of this year's most interesting metallic pieces combine looks that are both shimmering and earthy. The result: a new, modern take on silver and gold.
Need a few more reasons to love this updated spin on metallic decor? How about the fact that this style of silver and gold decor piques your interest with a little dazzle, then leaves you wanting more. Or the ability of subtle metallics to make a chic statement without dominating a room. Or the fact that you can pair them with other metallics without going over the top. Need another reason? Check out the images below for more shining inspiration…
Metallic Decorative Accents
We begin with a series of decorative accents in metallic tones. From metal furniture to napkin rings, these pieces are big and small. And everything in between! First we spotlight the Faceted Ceramic Side Table from West Elm, complete with a shine of burnt gold. Would you believe that this item is actually constructed of glazed terracotta?!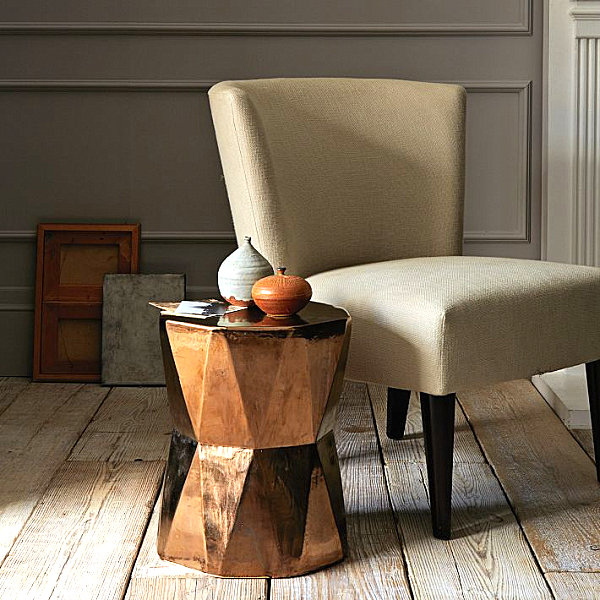 If you're feeling crafty, you can make your own substantial metallic pieces. One popular DIY trend? Mixing metallics with muted tones, such as the neutral gray of concrete. In fact, these DIY Concrete Votives are made with the help of various containers, as well as gold leaf or metallic spray paint, and a few other key supplies. Check out all the details at Monsterscircus.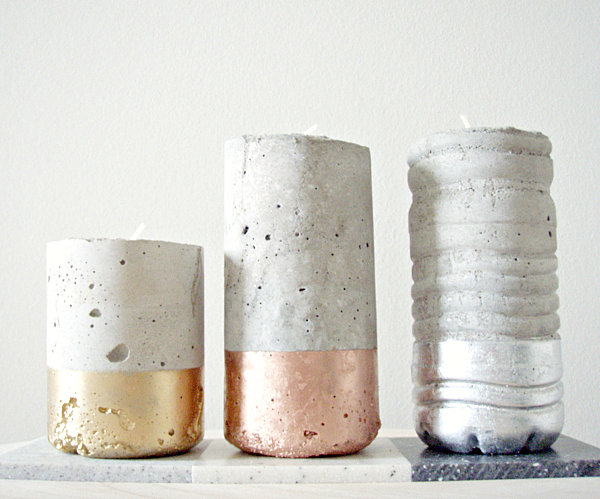 On a similar note, the Cement Planter DIY project below was created by Claire Zinnecker of Camille Styles. And they certainly wouldn't be the same without the metallic touches! This project also includes a supply list of Rapid Set Cement, containers of various sizes, spray paint, and a few other ingredients. They are well worth the time and effort, don't you think?!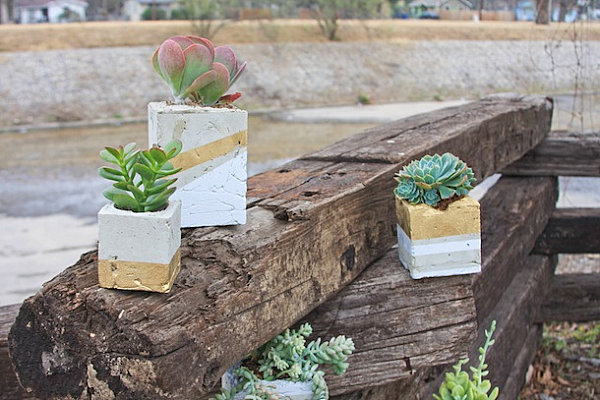 For one more DIY project with metallic flair, check out these Metallic Brick Bookends, also created by Claire Zinnecker of Camille Styles. We love the way Claire incorporated lace detailing with the help of white and gold spray paint. And of course, you just have to love a creative use for bricks! Anyone else think this golden nugget looks good enough to eat?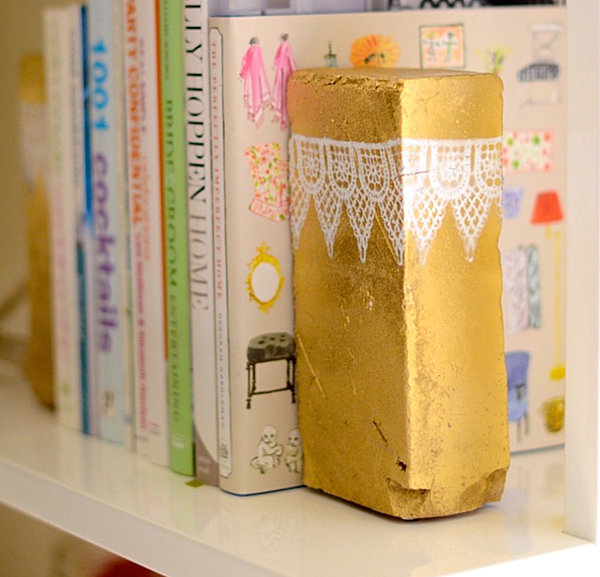 Next we go silver with this Pair of Metal Peacocks from Dwell Studio. These charming pieces are crafted of nickel-plated iron. Handmade in India, they were actually inspired by a flea market find! We're enjoying the Chinoiserie effect created by placing the birds in front of floral wallpaper…
Also from Dwell Studio are these Converge Votives in Nickel, complete with a big dose of geometric style despite their small stature. While the pieces are sold individually, we like the idea of pairing or grouping them for a hefty geo statement!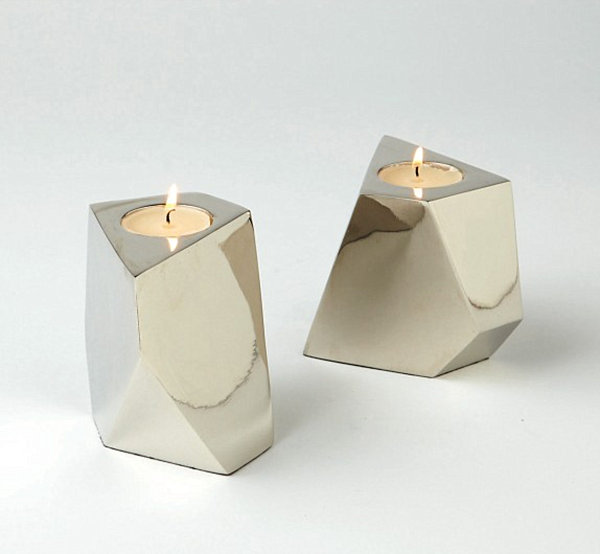 In fact, candleholders are a great way to add metallic shine to your interior. Especially when the pieces are as radiant as the Dahlia Candleholder Set from CB2. Below we see one of the pieces, which is crafted of stoneware with a glossy golden glaze. FYI: The second piece is similar, yet the petals are closed. And yes, they make an amazing pair!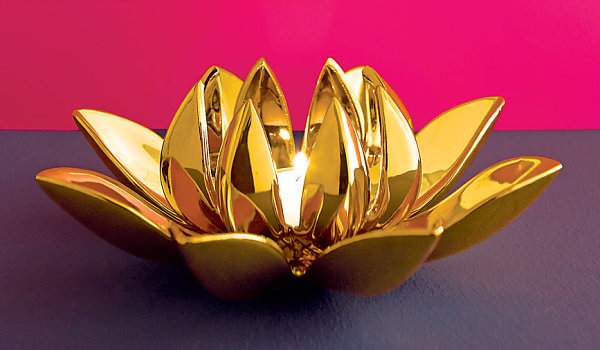 From the candleholder to the vase… The Sea Star Vase in Matte Silver from Dwell Studio isn't made of metal–it's crafted from ceramic! The vase also comes in gold or white, but we find the silver-toned version irresistible, especially since it evokes the shimmer of the sea…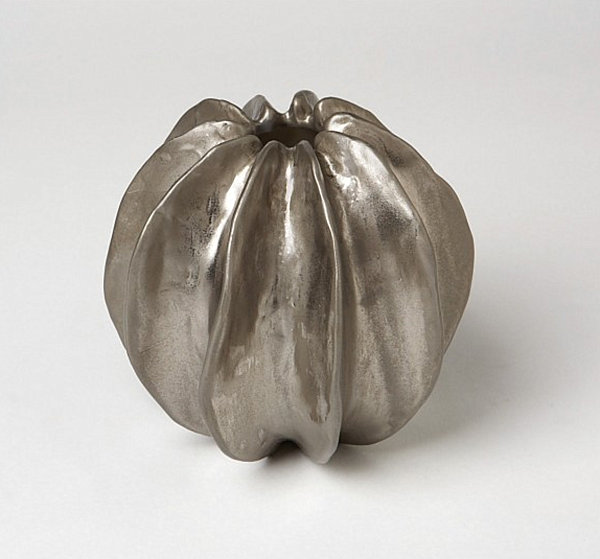 Also from Dwell Studio are these Gold Ribbons Glass Vases, which are available in three different sizes. Made in Poland, they shine with the help of 14k gold detailing on glass cylinders. Imagine how they'd glisten on the dining room table with a candle flickering nearby. Perfect for holiday entertaining or for adding a modern metallic touch on any day of the year!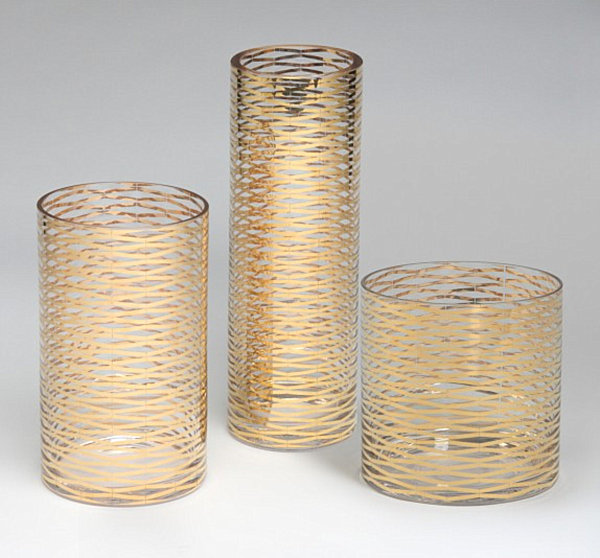 Now we see the vases with a variety of other items, such as the Tubular Burst Objet, complete with a solid white marble base and tubular brass sculpture (shown below, right). The piece has a vintage look that makes it perfect for mixing and matching with retro finds. Yet we can't deny its modern appeal, especially since the gold tones stand out against the crisp white base.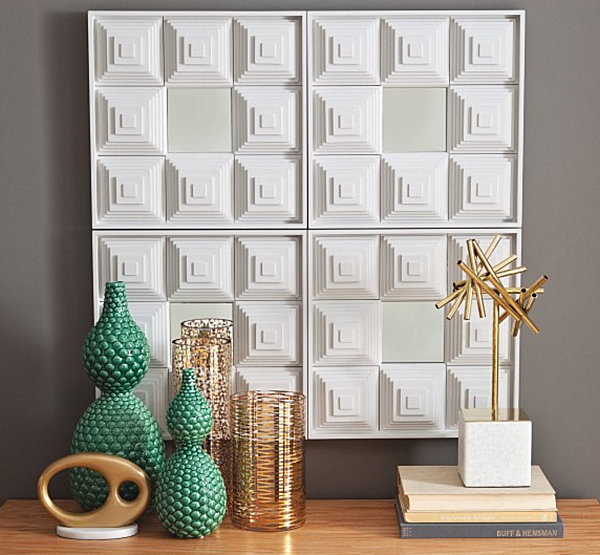 Ready to serve up some delicious food, along with a dose of metallic style? This Antique-Silver Tiered Stand from Pottery Barn will get the job done! Designed to evoke the look of vintage hotel silver, this piece is great for presenting desserts or appetizers. Its understated shine won't compete with the food, yet the layered look clearly makes a big statement!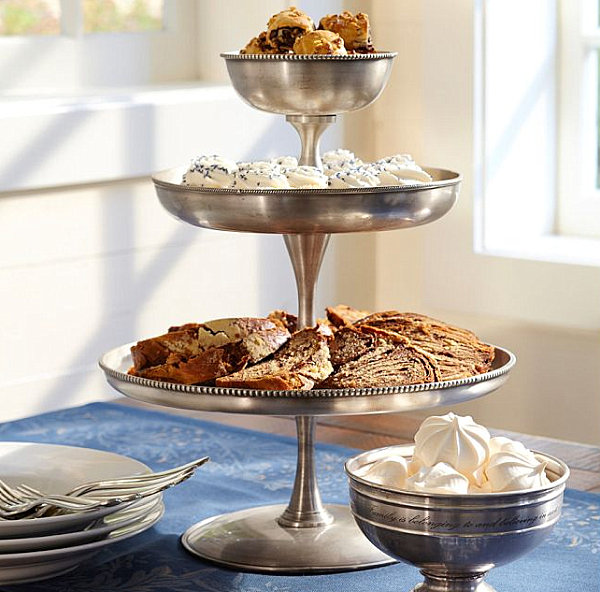 You know that moment at the end of a festive meal when you pull apart the wishbone to see who gets the bigger piece? This Metallic Gold Napkin Ring Gift Set from Pottery Barn evokes that tradition, this time with the help of cast aluminum and a gold finish…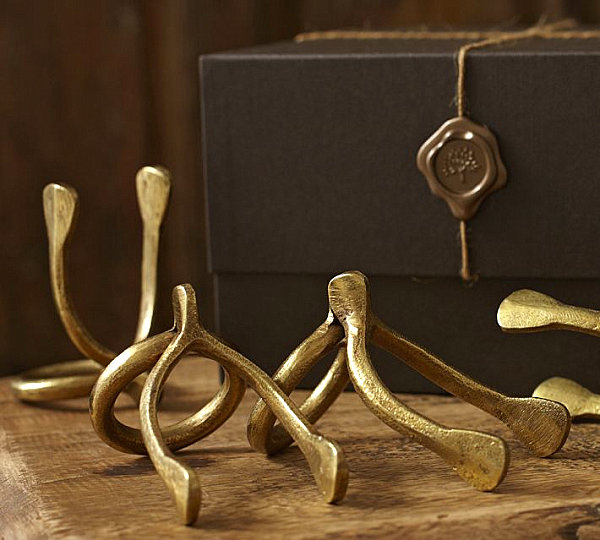 Who says metallic pieces can't enhance the powder room? These Clover Bath Accessories from West Elm are made from porcelain decorated with clover-shaped metallic print. The silver detailing is both modern and timeless, especially when set against the background of crisp white and simple forms…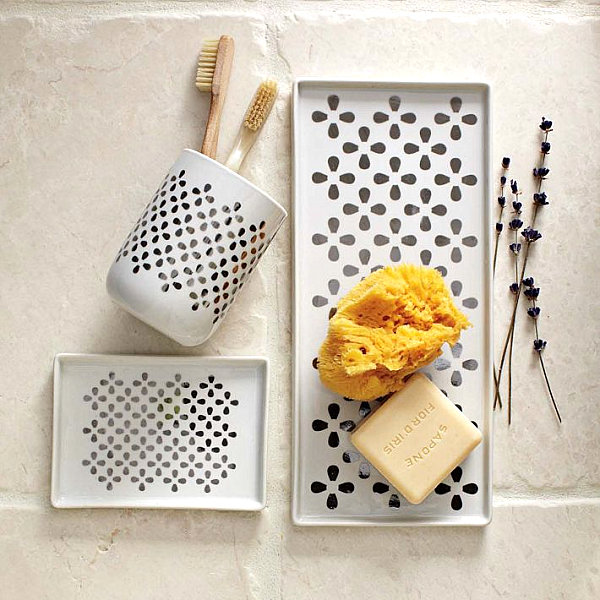 Metallic Rugs and Textiles
We now see the softer side of metallics in the form of rugs, pillows, napkins and more. These Cotton + Metallic Throw Rugs from Maxwell-Silver New York are hand-woven dhurrie rag rugs. Crafted of strips of recycled cotton and metallic recycled plastic, they fit well into today's theme of metallic pieces are anything but overbearing. Sometimes a hint of sparkle is all your need…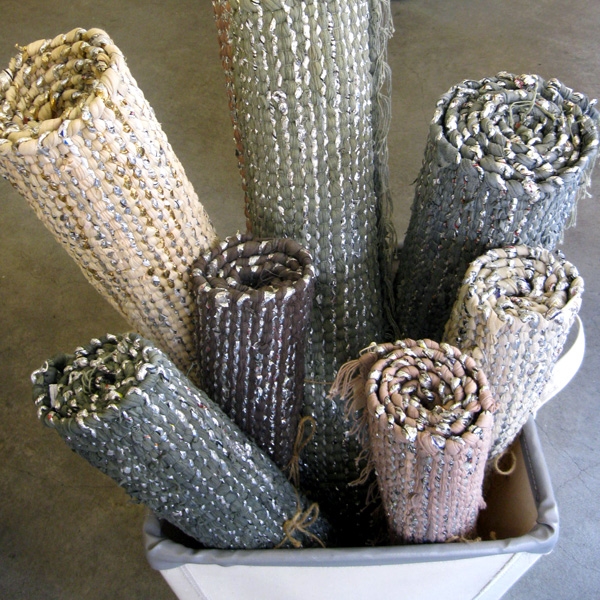 These Rustic Luxe Sequin Tile Pillow Covers from Pottery Barn evoke the look of tile work with shimmering trim. A neutral background is enhanced with detailing in gold or pewter, and each curve and angle pops thanks to a glittering finish.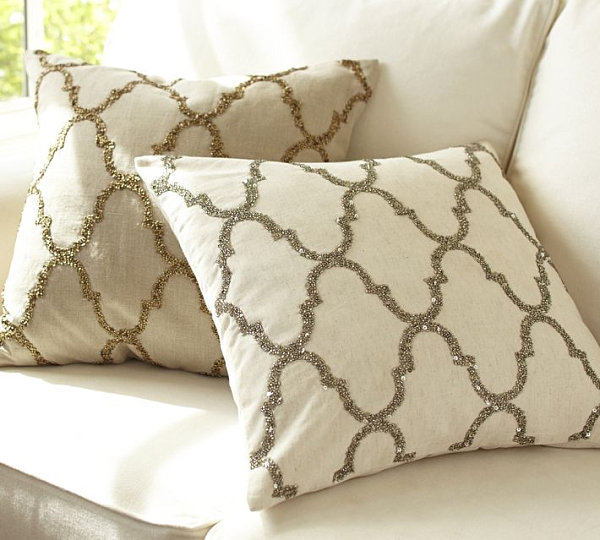 We're crazy about these Metallic Brush Pillow Covers from West Elm. Earthy and shiny at the same time, they achieve their signature look with shades of silver and gold. But these aren't hit-you-over-the-head versions of metallic tones. Instead, it's as if a subtle shimmering wash swept over each cushion. Note: the insert is sold separately.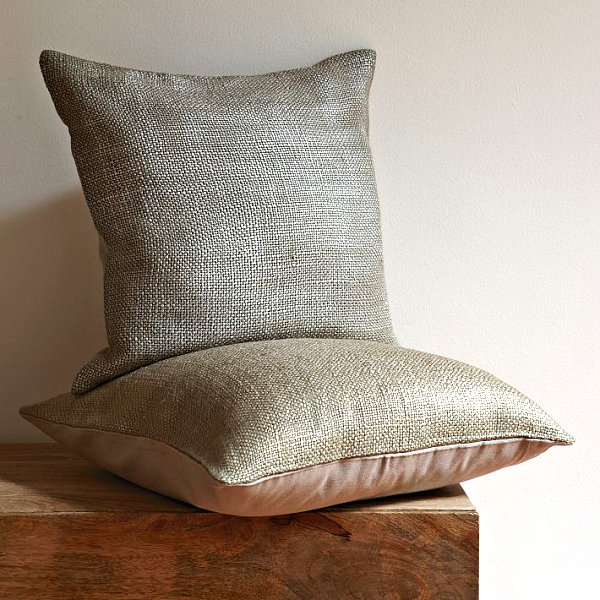 Also subtle from West Elm is this Metallic Cable Knit Placemat Set, which has the look of your favorite winter sweater. Created with a silver foil printing process, these versatile pieces can be dressed up or down. Crafted of linen and cotton, they pack a powerful punch, don't you think?!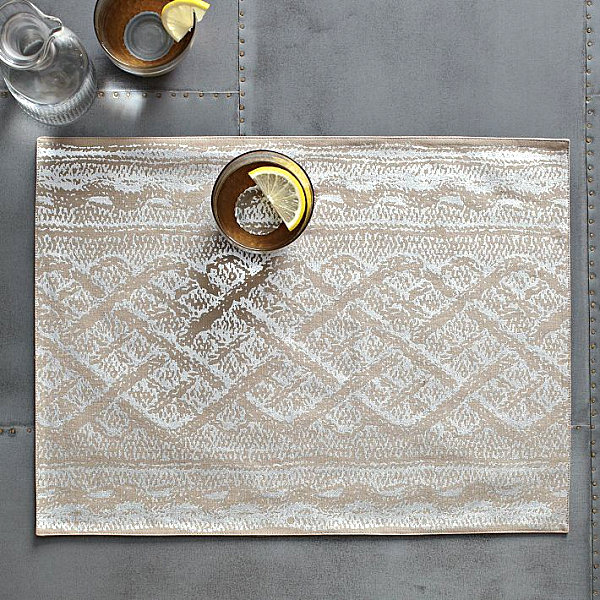 We end with the Metallic Diamond Printed Napkin Set from West Elm, enhanced by a shiny print on linen and cotton. Made in India, these tabletop pieces are perfect for festive entertaining. Or for dressing up a simple dinner at home with loved ones…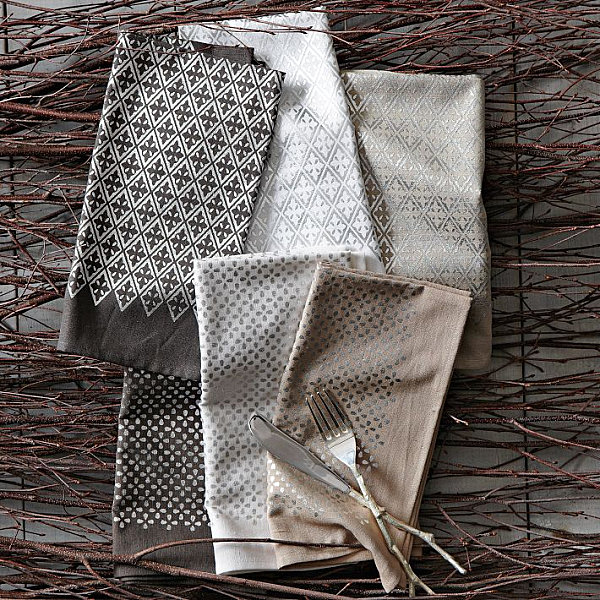 Are you a fan of this new take on metallic decor? Do you like its subtle shine, or do you prefer a lot of sparkle? How have you incorporated metallic decor into your space? Tell us about your design style by leaving a comment below…